Drinks
Grab Drinks on Springfield's Best Scenic Patios
Sunny days and warm nights call for a little breath of fresh air on Springfield's most scenic outdoor patios. Gather a few friends or buddy up with your boo for an evening spent entirely outdoors.
By Claire Porter
Apr 2020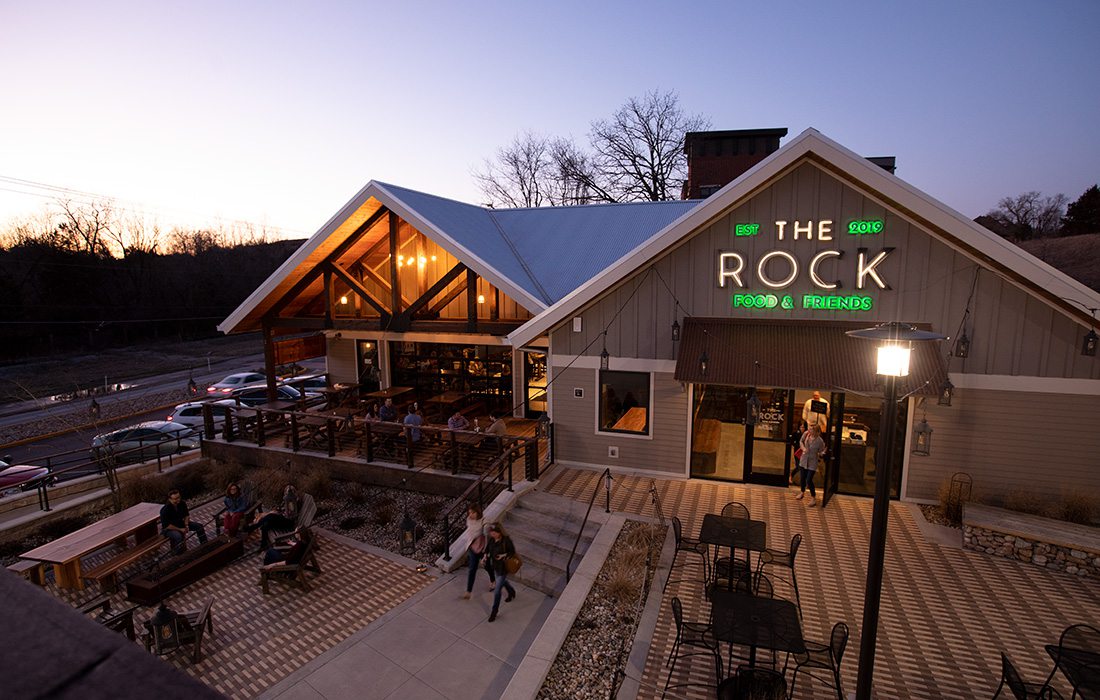 4 p.m. Your patio prowl begins at the scenic The Rock Food & Friends (4108 S. Lone Pine Ave., Springfield, 417-986-0632) in the Galloway district. Because this is just the start of the evening, stick to drinks or small apps like the buffalo cauliflower at a patio picnic table. Or if you want to skip the noshing and just catch up with friends, huddle around a crackling firepit on the lower patio, just a few steps from the front door.
5 p.m. Get the endorphins rushing—and counteract a few calories—with a quick stroll on the Galloway Creek Greenway trail, which is just a few steps away from The Rock. You can head straight to your next destination from here, or turn right and meander through Sequiota Park to spot the swans before dinner.
5:30 p.m. Have you worked up an appetite? Luckily, Galloway Grill (4211 S. Lone Pine Ave., Springfield, 417-882-5300) has a vast food menu—fan favorites include The Redbird spicy chicken sandwich and the ahi tuna sandwich—and a creekside covered patio for a little ambiance.
6:30 p.m. Aviary Café (2144 E. Republic Road, Springfield, 417-881-9736) in Farmers Park is your dessert destination. Choose from the sweet crepe menu (we're partial to the Lemoncello with mascarpone and lemon curd) devoured under the patio's twinkly lights.
8:30 p.m. While you're in Farmers Park, head to rooftop bar Reverie (2144 E. Republic Road, Springfield, 417-799-9387). Lounge in the ample patio seating, sip the Horsefeather house cocktail made with whiskey and ginger beer, and, if you're still hungry—hey, it happens—go for one or two of the carnitas street tacos.
For More Patio Ideas, Check Out These Stories
Build Your Best Night Out
From date nights and girls nights out to family weekends and dinner excursions, there are a lot of things to do in Springfield and beyond. Try these itineraries that make the most of your nights out.