Health
Returning to Peace Retreat
9 a.m. to 5 p.m.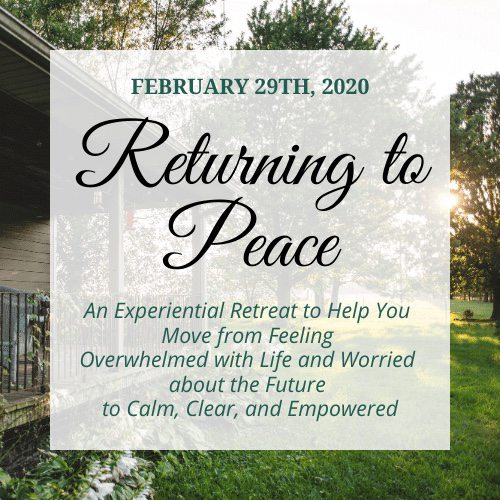 About This Event
---
Join life coach, Denise Bischof, CLC and naturopathic doctor, Katrina Bogdon, ND in beautiful Seymour, Missouri for a day to restore peace and learn useful strategies to feel calm, clear, and empowered!
This retreat is perfect for you if:
Your life feels so hectic or busy that you have no time for self-care.
You feel overwhelmed with the expectations of your job, school, or others.
You feel anxious, worried or fearful about the future and feel "stuck" or unable to make a change.
You feel frustrated or resentful because you are focused on giving everything to others and are unable to "fill up your tank."
Your life feels out of control after a recent life event such as the loss of a loved one, or a job.
You have become the primary caregiver for parent or loved one and you don't know how to manage it all without losing yourself.
Register with a friend using code FRIEND25OFF and BOTH receive $25 off your retreats!
At the retreat, we will explore: underlying causes of anxiety, herbs and flower essences to support the nervous system, how to use the breath to feel at peace where ever you are, reframing difficult situations, as well as restorative relaxation and meditation techniques you can use at home.
At the end of the day you will: understand your barriers to feeling calm and at peace, receive practical tools to release anxiety and restore peace in your daily life, enjoy a peaceful and restorative day in the beautiful, rural Missouri Ozarks, and feel calm, clear, and empowered!
Date: Saturday, February 29th, 2020
Time: 9am – 5pm
Location: Our Healing Roots, LLC, Seymour, MO
Cost: $197
Lunch catered, all you need to bring is you!
Pre-registration and payment required by February 14th.
Space for this special event limited to 8 people, so REGISTER TODAY or call 2B Well at 417-883-5180 for more information.