Travel
52 Weekend Getaways
Are you ready for an adventure? You don't have to travel the globe to find one. All you need is a weekend and a plan.
By Ettie Berneking, Katie Pollock Estes, Rose Marthis, Savannah Waszczuk and Joan Whitaker
Apr 2015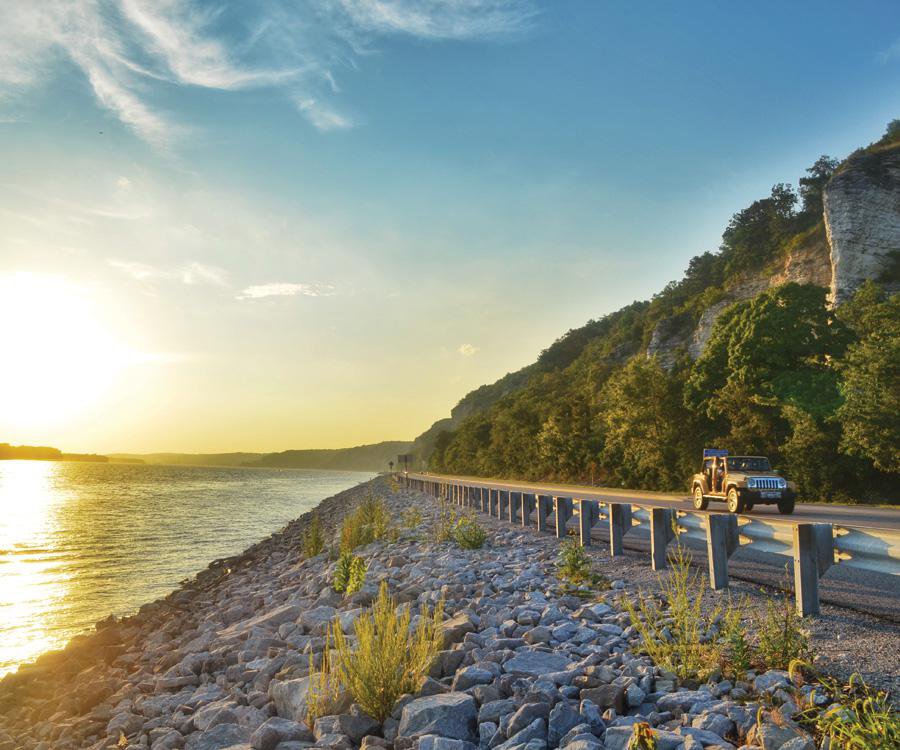 Lucky for you, this feature contains 52 plans. One fun trip for every single weekend of the year. We have family-friendly getaways, wine-laced sojourns, romantic weekends for you and your sweetie and so much more—including a jaunt to Mexico thanks to Branson Airport's newest flight destination. Work hard for the weekend, then pack up and hit the open road.




Shreveport's Fairfield Place Bed and Breakfast serves up a tasty breakfast with a side of Southern charm.


Taste the South
Take a road trip to Shreveport, Louisiana, located seven hours south of Springfield via US-65 S and I-30 W, and don't miss these 10 awesome things to see and do while you're there.

1. Shop your heart out at the Line Avenue Shopping District, a five-mile stretch of antiques and specialty shops, boutiques and delicious restaurants.
2.  See nature at its finest and learn about the Louisiana environment at Red River National Wildlife Refuge (150 Eagle Bend Point, Bossier City, 318-742-1219).
3. Take in extensive collections of European and American art at the R.W. Norton Art Gallery (4747 Creswell Ave., Shreveport, 318-865-4201). 
4. Get some hands-on learning and check out the hundreds of science, math and space exhibits at Sci-Port: Louisiana's Science Center (820 Clyde Fant Pkwy., Shreveport, 318-424-3466).
5.  See some cool bomber aircraft and learn the history of the Air Force at Barksdale Global Power Museum on the Barksdale Air Force Base (88 Shreveport Rd., Shreveport, 318-752-0055).  
6. Sign up for a Saturday tour at Great Raft Brewing Company (1251 Dalzell St., Shreveport, 318-734-9881) to taste some of Shreveport's favorite craft beer.




Harvey Kenney, Chief Brewer at Shreveport's Great Raft Brewing Company, has a background in biochemistry and brewing science. Yes, that means delicious beer! 


7. Stay right in the heart of Shreveport at the Fairfield Place Bed and Breakfast (2221 Fairfield Ave., Shreveport, 318-848-7776).
8. Try the famous Shrimp Buster meal at Herby K's (1833 Pierre Ave., Shreveport, 318-424-2724), which serves delicious seafood creole style.
9. Satisfy your sweet tooth with an icebox pie at Strawn's Eat Shop (125 E. Kings Hwy., Shreveport, 318-868-0634).
10. See the adorable rescued chimpanzees at Chimp Haven (13600 Chimpanzee Place, Keithville, 318-925-9575), the National Chimpanzee Sanctuary that provides care for chimps used in medical research and the entertainment industry. 



Cain's Ballroom in Tulsa hosts modern musical acts in an historic venue. 


Rock Out in Tulsa
A musical Mecca surprisingly close to 417-land, Tulsa offers tons of  musical fun, a little gambling and more. Here are our top picks.
Sing Along With a Star. Music lovers regularly flock to Tulsa to enjoy live music at BOK center and Cain's Ballroom. BOK Center has greeted Paul McCartney, Garth Brooks, Bruce Springsteen, Elton John, Carrie Underwood and many more of music's biggest celebrities, and Cain's ballroom is a great space for enjoying live music that ranges from country and rock to hip-hop, metal, funk and punk.
Take in a Live Performance. Both the Tulsa Ballet and the Tulsa Opera have been regarded as among the best in the nation for decades, and you can see the groups perform live at Tulsa Performing Arts Center.
Try Your Luck. Whether you like to double down at the blackjack table or wager it all at the slot machines, you'll likely have a great time at Hard Rock Hotel & Casino. If you want to stay the night, we suggest ending at Hard Rock and renting a room; each of the 454 rooms and suites here is sleek and stylish, and they'll make you feel like you are a rockstar!
Explore Art. Once a 72-room Italian villa of oil baron Waite Phillips, Tulsa's Philbrook Museum of Art boasts beautiful architecture along with its breathtaking collection of classic, modern, Native American and contemporary art.
Monkey Around. There's an abundance of fun waiting for you and the little ones at the Tulsa Zoo. The Tulsa Zoo and Living Museum features more than 1,500 animals.
Take a Hike. If you're a lover of the outdoors, check out Turkey Mountain for a little adventure. The trailhead is only 7 miles from downtown Tulsa, so you can quickly go from busy city streets to a woodsy wonderland.
Imagine Yourself Under the Sea. A trip to the Oklahoma Aquarium will give you a chance to walk through a tunnel and see the largest bull shark in captivity, pet stingrays, feed turtles and much more. There are more than 100 exhibits here, so you'll see dozens of amazing aquatic creatures!
 
---
The yurts at StoneWind Retreat offer a picturesque view and hotel-room luxuries.


Sleep in a Yurt
(So You Can Say That You Did)
If you're looking for a getaway where you do nothing but relax, head to StoneWind Retreat just outside of Chester, Arkansas. A little less than three hours southwest of Springfield, this 160-acre mountaintop retreat is located in northwest Arkansas's Boston Mountains. The quaint little slice of heaven is gorgeous, and each of its beautiful yurt cabins is the ideal setting for a romantic getaway. And when we say yurt, we aren't talking about a typical yurt that isn't much more than a permanent dome-shaped tent. These yurts are heated and cooled, and have hot tubs, privacy screening, luxurious furnishings and peaceful views of the rolling Boston Mountains. StoneWind also has walking trails, and it's a super-quick drive to Lake Fort Smith and Devil's Den State Park. 


---
Get Presidential in Little Rock
Leave in the afternoon, and get to Little Rock, Arkansas, by dinner. The city is located four hours south of Springfield via US-65. There you can fully embrace the Natural State by visiting one of Little Rock's many farmers' markets, nature centers, family farms, parks, hiking trails and more. Learn about our 42nd president at the Clinton Presidential Center (1200 President Clinton Ave., Little Rock, 501-374-4242), which houses the Clinton Library and museum showcasing the Clinton Administration and Bill Clinton's time in the White House—and it's located right along the Arkansas River. After catching an Arkansas Travelers game at Dickey Stephens Park (400 W. Broadway St., North Little Rock, 501-664-7559), travel back in time to the Victorian era by staying at the beautiful bed and breakfast The Empress of Little Rock (2120 Louisiana St., Little Rock, 501-374-7966). 


---


Guests who visit Weston Red Barn Farm during the fall enjoy picking apples and pumpkins. Photo by wildflowerphotgraphy.com.


Pick Apples!
Located roughly 30 minutes past Kansas City, Weston, Missouri is the perfect place to make memories during Missouri's most scenic season: fall.
Pick Pumpkins and Apples
Load up the family and head to Weston Red Barn Farm for a one-of-a-kind experience on a real working farmstead. In addition to seeing farm animals and crops, guests who visit during the summer can pick blackberries. Fall is complete with hayrides, a fall festival and pumpkin and apple picking. 
Grab a Brew
While in Weston, make sure to check out Weston Brewing Company. This spot boasts a pub and brewing system in its underground cellars (awesome!), so you'll sip on some tasty suds. 
Wine and Dine
What's that? You prefer wine to beer? Have no fear: Weston is also home to Pirtle Winery. If you're looking for an elegant evening out, head in for a tasting and take a tour of the winery, then get dinner at the four-star The Vineyards Restaurant next door.
Get Down on the Farm
Finding a way to visit Green Dirt Farm is a must. It's a working farm, so the farmers are usually busy making cheeses and yogurt, and the spot isn't generally open to the public. But it hosts special events like tour days, cheese appreciation events and even a farm-to-table dinner series.
Make a Night of it
Weston is loaded with a ton of bed and breakfasts. Visit westonmo.com to find one that's perfect for you.
 


A group called Farmer and the Markets performs at the Bentonville Farmers Market. Photo by: Jeremy Mason McGraw


Find Art in Arkansas
Located just two hours southwest of Springfield, Bentonville, Arkansas is a thriving city rich in arts, fine dining and a bit of history.
Explore
If you make the journey to Bentonville, put visiting Crystal Bridges on the top of your to-do list. A museum of American Art, this destination welcomes guests to celebrate the American spirit on its grounds, where it unites the power of art with the beauty of surrounding nature. In addition to seeing galleries, guests of Crystal Bridges stroll along more than three miles of walking and biking trails on the museum's 120-acre grounds. Before you leave, grab a bite at Eleven at Crystal Bridges, a first-class restaurant that prides itself on modern American comfort food with an emphasis on traditions that hail from the high Southern and lower Midwestern regions of the country.
Mingle With the Locals
If you want to live like a true Bentonville resident, visit on the first Friday of the month and head toward the square for the First Fridays event. You'll enjoy great food, live music, children's activities, gallery openings and more. It's like a giant block party for the entire community! Head back to the square on Saturday morning and explore the Bentonville Farmers Market. You're sure to bring some farm-fresh produce back to Springfield. Find more info on both events at downtownbentonville.org.
Stay the Night
When it's time for bed, tuck in at the 21C Museum Hotel. It's anchored by world-class contemporary art.
 
---


Sweeten up your trip to Jefferson City with a banana split at Central Dairy.  Photo by Lindsey Pantaleo


Dig In To JC
Plan an escape to Jefferson City to enjoy a town rich in history, a super-sweet treat and even a haunted penitentiary. Bonus for you: We planned your weekend itinerary.
Day 1:
10 a.m.: Start your trip off with a free guided tour at the Missouri State Capitol (573-751-4127). Simply meet at the tour desk on the first floor, then enjoy seeing where Missouri magic is made on this hour-long tour through the beautiful building.
11:30 a.m.: Hungry yet? Make your way to Ria's Restaurant for lunch. You'll find Greek specialties like gyros and spinach pie here, plus homemade lasagna, pizza and so much more.
1 p.m.: We hope you saved a little room. It's time to visit Central Dairy. Originally established in Columbia in 1920, Central Dairy opened a branch in Jeff City in 1932, and has been serving up ice cream ever since.
2 p.m.: If you like history, you have to tour the Missouri State Penitentiary. Referred to as the bloodiest 47 acres in America, this old penitentiary first opened in 1836 and housed 5,200 inmates at its peak, making it once the largest prison in the United States If you have little ones with you, be warned: you have to be 10 years old or older for the history tours and 14 years or older for the ghost tours.
6 p.m.: When it's time for dinner, head to Madison's Café. This restaurant is a favorite in the capitol city.
8 p.m.: After dinner, enjoy a few drinks at Prison Brews and a few games of bocce ball on the patio.
10 p.m.: Spend your evening at Huber's Ferry Bed & Breakfast, a beautiful old brick B&B situated atop the bluffs overlooking the Osage and Maries Rivers.


Day 2:
8 a.m.: On your way back to Springfield, make a stop at the Missouri River Bridge Pedestrian Walkway. Attached to the Hwy. 54 Missouri River Bridge, this is a fun spot to walk across and take in beautiful river views.
 
---
Go on a St. James Day Date
Follow these five steps to enjoy the perfect getaway with your sweetie in the adorable little city of St. James.
1. Enjoy the afternoon at St. James Winery
After making the one-hour, 45-minute drive from Springfield, pull your car directly into the parking lot of St. James Winery. Take a tour of the working winery and sip some of its tastiest wines.
2. Share a sundae at Ruby's Ice Cream
The homemade ice cream at Ruby's Ice Cream is some of the tastiest around. Share the Nedra Berry Sundae with strawberry cheesecake and vanilla ice creams, strawberries, blueberry topping, whipped cream, chocolate-covered blueberries and a chocolate-dipped waffle roll.
3. Grab dinner at Sybill's Saint James
A town favorite, Sybill's Saint James has a menu filled with mouthwatering items such as lobster shrimp bisque and gnocchi Florentine.
4. Cozy up in a room at The Painted Lady Bed and Breakfast
Best described as a life-size dollhouse, The Painted Lady Bed and Breakfast is a gorgeous Victorian home with one-of-a-kind country Victorian charm.
5. Stroll around Maramec Spring Park
Before you head back to 417-land, drive six miles southeast of town to Maramec Spring Park to see the fifth-largest spring in the state. 
---


See beautiful blooms at the Better Homes and Gardens Test Garden.


Be a Better Homes and Gardens Insider
With big city adventure and a small town feel, Des Moines is a great weekend getaway located just five and a half hours north of Springfield via MO-13 N and I-35 N. Find your way there for a tour of the Better Homes and Gardens Test Garden and more.
ROME
Better Homes and Gardens
Test Garden
(1716 Locust St., Des Moines, 515-284-3994)
Way more than your average backyard garden, the expansive grounds showcase every plant and flower you can imagine in three different gardens. The prairie garden is filled with perennials, the shade garden houses a typical woodland garden, and the path garden takes your eyes around the entire landscape. Come back for a tour every season to see how the blooms change.
 
Des Moines Botanical Center
(909 Robert D. Ray Dr., Des Moines, 515-323-6290)
Gorgeous no matter when you go, this botanical center has different exhibits year round in both indoor and outdoor gardens displaying hundreds of plants and flowers in their peak seasons. Stroll right along the Des Moines river, and eat lunch at the cafe before visiting the conservatory.


The Des Moines Botanical Center hosts exhibits all year long.


TOUR
The Governor's Mansion
(2300 Grand Ave., Des Moines, 515-281-7205)
First built as a mansion for Iowa's wealthiest man in the late 1800s, Terrace Hill is now home to Iowa's first family, who live on the third floor. Take a guided tour.

PLAY
The Fleur Cinema & Cafe
(4545 Fleur Dr., Des Moines, 515-287-4545)
Get dinner and a show at Des Moines' independent movie theater, playing independent and foreign films. Stop in at the cafe for coffee, wine, beer, desserts and snacks.
LEARN
Des Moines Art Center
(4700 Grand Ave., Des Moines, 515-277-4405)
Take in one of the midwest's best collections of contemporary art, with artists' work from the 19th and 20th centuries. It's all free.
EAT
Django
(210 10th St., Des Moines, 515-288-0268)
Indulge in French fare at Django. You'll enjoy everything from classic French dishes like steak frites, duck confit, oysters and crepes to delicious burgers and sandwiches. 
STAY
Des Lux Hotel
(800 Locust St., Des Moines, 515-288-5800)
When you're done exploring, head to downtown Des Moines and relax in this boutique hotel that has comforting saunas, whirlpools and fireplaces in almost every room. 


---
Visitors enjoy outdoor shows, such as Hello Dolly, at The Muny.
Take in Some Fine Theatre
In the mood for a show? Take a trip to theatre-hop in St. Louis. We found six must-dos for a memorable theatre weekend that has a little something for every culture-lover in your family.

Visit The Fabulous Fox Theatre for year-round shows—including Broadway shows—in a gorgeous, ornate, historic theatre in downtown St. Louis.
If opera is your thing, visit the Opera Theatre of Saint Louis to see one of the 11 shows of the season.
The Muny is an outdoor theatre and a summertime tradition in St. Louis. The theatre shows Broadway musicals in the fresh air of Forest Park.
St. Louis Symphony Orchestra brings beautiful classical and pops concerts to Powell Hall.
The Repertory Theatre of St. Louis has been producing great shows since 1966 and has a full schedule of productions from September through April.
Stay at the Four Seasons Hotel St. Louis for accommodations that are as elegant and sophisticated as your artsy weekend. 




Tamales are hot in the Mississippi Delta, and you can enjoy them at a plethora of restaurants in and around Greenville.


Head South for Tamales
The South is well known for its hospitality, and you'll discover why when you visit the charming little southern town of Greenville, Mississippi. Located on the Mississippi Delta, Greenville is the place to enjoy everything from museums to tasty food. Start things out by taking in a bit of history as you explore museums at The Delta Museum Mile, where you'll see everything from Pre-Columbian treasures to World War II memorabilia. After you work up an appetite, stop in for a massive meal at the original Doe's Eat Place (662-334-3315). The restaurant is best known for its giant steaks and its tamales, so you'll want to order both. And speaking of tamales, you will want to order some more later, too. They're a big part of life in the Delta, and you can snag the tasty little treats at food carts, restaurants and more before you head back home (find a list at tamaletrail.com). After your day of exploring, check into The Thompson House Bed & Breakfast for a little R&R. This beautiful home boasts Southern architecture along with creek and garden views. Before you drive six hours back to Springfield, take in classical architecture and history with a walk around Cotton Row.


---


Salt Safaris at Strataca invite guests to  join miners in exploring raw, open salt mines.


Go On a Salt Safari
Hutchinson, Kansas, is home to Strataca, an underground salt museum built within one of the world's largest deposits of rock salt. Guests of Strataca have the chance to travel 650 feet below the earth's surface to explore museum galleries and learn about salt mining and its history. They'll also hop aboard the Salt Mine Express train and explore the raw salt mine just as it was left by miners more than 50 years ago. Last but certainly not least, they'll take The Dark Ride tram ride to explore gorgeous geological features and even collect a souvenir piece of salt. For even more thrilling fun, schedule your trip around a Salt Safari, a three-hour mine adventure hike offered once per month that gives thrill-seekers the chance to go out with miners and hike in raw, open mines. If your day of exploring leaves you a bit too tired to drive the five hours back east to Springfield, rest your head at Whitetail Acres Bed and Breakfast.


---
Take Over the Lake
With six bedrooms, a game room, a kid zone and plenty of indoor and outdoor entertainment, the Grand Property at Dream Catcher Point Resort is the perfect spot to host this year's family reunion. This multi-million dollar house was a private home until early last year when it was sold and became the second resort within Dream Catcher Point. This luxury retreat is on the south side of Grand Lake in Oklahoma (less than two and a half hours west of Springfield via I-44), and the experience starts as you head down Gatsby drive to the house. The drive is lined with trees and leads you deep in to the 37-acre property. Everything your family could desire is housed within the 7,000 square-foot home, and the huge kitchen is equipped for nearly any culinary endeavor. The best part—three decks offer fabulous views of Grand Lake. 


---
Experience Oklahoma at its Finest
Once you see all there is to do in Oklahoma City, located just four hours west of Springfield, you'll wonder why you haven't already made it a regular weekend road trip.
1. Stay at the luxe Colcord Hotel, which puts you right in the thick of downtown.
2. Keep the city views coming with dinner at Vast, an upscale modern restaurant that focuses on locally sourced ingredients and is located on the 49th floor of the tallest building downtown.
3. Treat yourself to something from Pinkitzel Cupcakes and Candy, a lovely little shop that will appeal to your sense of style as much as your sweet tooth.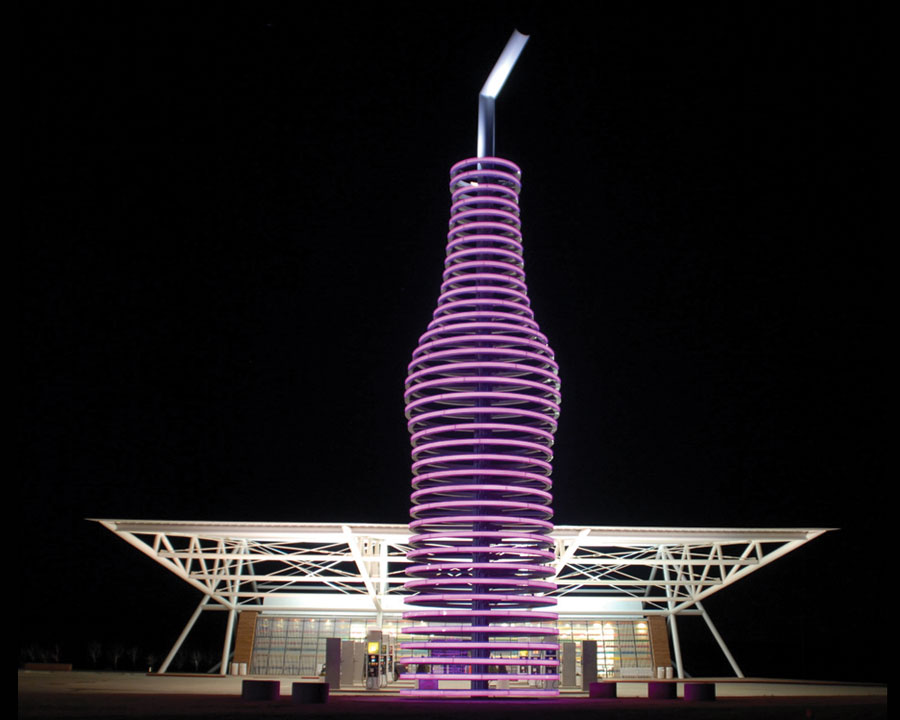 4. Get a little Route 66 wacky at Pop's, a futuristic, ultra-modern gas station beside a giant 66-foot-tall soda bottle. And inside? Well, there are more than 600 kinds of soda on the menu along with burgers, shakes, floats (of course!) and more.
5. If you're a daredevil, visit Riversport Adventures for the Sky Trail (think ropes course that ends in a 72-foot slide), the Rumble Drop free fall experience, zip line, stand-up paddleboarding and more. There's even a kids area.
6. For something a little more finger-licking good, try the fried chicken at Eischen's. A local told us it's the very best ever.
7. Experience beautiful art and spend an afternoon at the Oklahoma City Museum of Art. Don't miss the ongoing Dale Chihuly exhibit to have your mind blown by his gorgeous glasswork. 



8. Myriad Botanical Gardens offers up 15 acres of all things blooming and beautiful. It's a must-do all year round, with splash fountains in the summer and an outdoor ice skating rink in the winter.



9. Bleu Garten is a hopping food truck park that even has a bar. You know, so after you snag some delicious eats, you can sip a tasty beer and make a night of it.
10. Enjoy entertainment, fine dining and even a cruise on a water taxi with a trip to the Bricktown District.


---


On your Route 66 road trip, catch a flick at the 66 Drive-in Theatre, which opens for the season in May.


Road Trip Down Route 66
Springfield is the birthplace of Route 66, which makes it the perfect starting point for a road trip! Pack a bag, then roll down the windows, turn up the tunes and head west to explore some Route 66 sights. 
Gay Parita One of the most-famous spots on the route, this recreated 1920s gas station is roughly 25 miles west of Springfield and is full of colorful vintage finds. Spencer Located just a few miles from Gay Parita, this ghost town is home to a gas station and a feed store, and it's another must-stop photo opp. 
66 Drive-In Theatre Located in Carthage, this drive-in theatre is the absolute perfect spot for a date night after spending a long day on the road. It opens for the season in May. Find more details at 66drivein.com. 
Rainbow Bridge Located in Kansas, the Rainbow Bridge is a single-span concrete Marsh arch bridge that is the sole surviving bridge of this type on the entire length of the former highway.




A road trip along Route 66 isn't complete without a picture with the famous blue whale. 
Blue Whale Located in Catoosa, Oklahoma, this giant blue whale is one of the most popular attractions on Route 66. After it was constructed in 1972, it quickly grew into a summer hotspot for the locals, and at 20 feet tall and 80 feet long, it is still a popular spot for pictures.
Tulsa Visit Expo Square in Tulsa to get a glimpse of the famous Golden Driller. This one-of-a-kind monument weighs 43,500 pounds and stands 76 feet tall, making it one of the tallest freestanding statues in the entire United States. 


---


The Main Street Inn Bed & Breakfast is a scenic spot to stay, all year long.


Take in Small Town Charm
Whether you're a lover of good beer, homemade pasta or putt putt golf, Parkville, Missouri has something for you. We break the town down for every potential visitor.
For Dad
Calling all beer lovers: The 12th Annual Parkville Microbrew Fest is happening on Saturday, April 25! (Editor's note: This event has passed, but visit the Fest website for info on the next fest.) This annual event invites guests to enjoy a day of sampling beers from 50-plus breweries that are made both locally and from other areas of the country. There's also great food and live music, and it all happens in the beautiful English Landing Park.
For Date Night
Enjoy dinner at Café Italia Bistro. (Editor's note: This restaurant has closed since the publication of this article.) This family-owned restaurant specializes in hand-made pastas, ravioli and a variety of authentic Southern Italian cuisine that's perfect for enjoying as you look deep into your sweetie's eyes.
For a Girlfriends Trip
Located just northeast of Kansas City, this small town boasts a beautiful historic downtown area that's great for an afternoon of shopping. You'll find boutiques with everything from art and antiques to home décor and fashionable clothing.
For the Kids
Parkville Mini Golf is guaranteed fun for the little ones. Bonus: It's located on a bluff overlooking downtown Parkville. 
Spend the Night
If you're too tired to drive home, check into the Main Street Inn Bed & Breakfast, which is located in historic downtown Parkville.


---


Fly high in the MonstroCity interactive sculpture and playground at The City Museum in St. Louis. 


Give Your Kids the St. Louis Experience
If one of your weekend getaways this year is a theatre trip to St. Louis,  then make another getaway to St. Louis a more kid-focused affair. There is a ton to do in the city that your little ones will love.
Great Forest Park Balloon Race. See gorgeous hot air balloons soaring through the sky every September. It's free and an incredible experience.

Purina Farms. On the way back to Springfield, make a detour at Gray Summit off I-44 and visit this darling little spot where kids can milk cows, pet bunnies and meet all kinds of other farm animals. 

The City Museum. Climb through an outdoor jungle gym that includes an airplane fuselage, slip down a 10-story slide and climb through an indoor cave simulation at this larger-than-life combination of art and exploration.
The Magic House. Kids big and little can get some hands-on fun at this educational wonderland.
The St. Louis Science Center. Explore everything from dinosaurs to the night sky at this super-fun, super-educational St. Louis staple.
St. Louis Zoo. This free zoo is massive and features some must-do attractions. Don't miss the sea lion show, the beautiful  bird house and the indoor Living World exhibits.
---


To make the most of fall color, head to the East Mountain Overlook on East Mountain Road while you're in Eureka Springs. Photo by Jeremy Mason McGraw
 
See the Seasons
Located just an hour and 45 minutes southwest of Springfield, Eureka Springs offers something fun to enjoy in every season of the year.
Spring 
Eureka Springs is an extra-popular spot in the springtime for one very specific reason: the flowers. Every one of the 17 historic springs scattered throughout the city is home to gorgeous blooming buds, and when they come to life every year, they make the town as pretty as a painting. If you plan a springtime visit, simply walk down historic Spring Street to enjoy the eclectic mix of shops, restaurants and, as an added bonus, pocket parks of springs and flowers.
Summer
Summer is all about the outdoors in Eureka Springs. Plan a boating adventure on Beaver Lake, or get a glimpse of Eureka's beautiful trees and limestone cliffs from 200 feet in the air with a zipline adventure at Ozark Mountain Ziplines. If you're a lover of some good ol' blues, visit for Eureka Springs Blues Weekend June 18 to 21.
Fall
If you like hearing about things that go bump in the night, you'll love a visit to Eureka Springs during the fall. The city is home to The Crescent Hotel & Spa, a gorgeous resort hotel that's also known as America's Most Haunted Hotel and offers thrilling ghost tours. And since it's alive with plenty of trees and other scenery, the city provides a ton of outdoor beauty on fall visits as well. Pack your walking shoes.
Winter
If you don't feel like driving all the way to New Orleans for Mardis Gras, head to Eureka. The city celebrates the annual wintertime event with its own festival, Eureka Gras, that is complete with a parade, a ball and much more. If you can't make it that weekend, visit for the Chocolate Lovers' Festival, which also happens in February. An entire festival for just chocolate? We'll see you there. 


---
Find Adventures in KC
Did you know that Kansas City is the ideal getaway for anybody with an adventurous streak? Start by spending your first vacay day at Schlitterbahn Waterpark. After you've had your fill of fun in the sun, check into Great Wolf Lodge, where an indoor waterpark means you can keep the fun going even after you settle in for your overnight stay. The next day, visit the Kansas Speedway. Check the calendar for Richard Petty Driving Experience events, where you can sign up to drive or ride along in a NASCAR race car. Ride-alongs hit speeds up to 165 mph! 


---
Go Mill-Hopping
Beautiful Ozark County is a great place to mill hop. There you can see Dawt Mill, Rockbridge Mill, Hodgson Mill and Hammond Mill. Hammond Mill is located along the scenic Glade Top Trail driving route, and Hodgson Mill is one of the most photographed grist mills in the state. Try to hit Rockbridge Mill around dinnertime, so you can grab a tasty meal of freshly caught trout. Make Dawt Mill your last stop for the day, so you can spend the night in one of their cabins. Take your trip in the fall, so you can see the mills on a backdrop of fiery autumn color. 
---


Dotted with wineries and a brewery, Hermann is the perfect spot for a boozy weekend.


Be German for a Day
We planned the perfect itinerary so you can take in gorgeous landscapes, sip on locally made wine and enjoy a plethora of quirky and charming attractions in the picturesque German community of Hermann, Missouri.
Day 1:
7 a.m.: Get up and hit the road! Hermann is located three hours northeast of Springfield.
10 a.m.: Park your car near the Amtrak station downtown or at your B&B of choice (see our recommendation in the 5:30 p.m. blurb below), then make a call to Hermann Trolley Co. For a day fee of only $15 per person, Hermann Trolley will pick you and your pals up and safely deliver you to some of the town's wineries, restaurants or lodging destinations.
10:30 a.m.to 5 p.m.: You'll love touring and tasting at each winery in Hermann, including Stone Hill Winery, Missouri's oldest winery that's listed on the National Historic Register. You can check out a native stone wine cellar and taste medal-winning wines when you visit Adam Puchta Winery, and munch on some locally made sausages and cheese and freshly baked bread at Hermannhof Winery. And for all you beer-lovers out there, stop by Tin Mill Brewery for a tasting and self-guided tour.
5:30 p.m.: Enjoy a quick break in your room before heading to dinner. The first-class, luxurious Hermann Hill inn has several guestrooms available. Or, if you want some privacy, rent a river bluff cottage and take in the views!
7 p.m.: After you freshen up, head to The Cottage Restaurant & Studio for dinner. Nestled on a bluff just outside of Hermann, this restaurant offers a menu of freshly prepared gourmet entrees (including several German selections) in a dining room filled with works from local artists. There's a gorgeous patio here, too, which makes it extra-fun in spring and summer.
Day 2:
10 a.m.: Before you head back to 417-land, stop at Swiss Meat & Sausage Company (swissmeats.com) and grab some meaty goodies to take home. Swiss Meat makes 66 varieties of brats, and there's even a deli where you can grab lunch if you're hungry.


---
Climb Big Boulders
A rcadia Valley is the ideal summertime road trip with the kids. Start with a hike at Taum Sauk Mountain State Park, where you can find the highest point in Missouri. Then take a quick drive to Johnson Shut-Ins State Park to take a dip in natural pools and waterslides that have formed in the Black River. After that, have a picnic lunch at Elephant Rocks State Park before taking some time to climb around on the gigantic granite boulders that are the park's namesake. Plan to spend the night at the bed & breakfast at Arcadia Academy, where you can also grab a meal at Thee Abbey Kitchen. Find info on all your state park destinations at mostateparks.com.


---
Bask in Some Christmas History
If you're a fan of the Christmas season, visit St. Charles, Missouri, located roughly three and a half hours northeast of Springfield via I-44. Starting the weekend after Thanksgiving and going until December 24, the town is transformed into a magical holiday destination for its Christmas Traditions celebration. On Wednesday and Friday nights and all day on Saturdays and Sundays, a cast of 70 Christmas characters set up shop on the town's Historic Main Street to entertain and interact with visitors. There's a variety of Santas from around the world on display, as well as Jack Frost, the Nutcracker Prince and swarms of other bright and merry performers. Extend your stay with a night at Boone's Lick Trail Inn, an 1840s inn on the Missouri River.


---
Enjoy a Quaint River Town
Located just three hours northeast of Springfield via US-65 North, Rocheport is located along the Katy Trail. Hit the trail for hiking or biking, or if canoeing is more your style, reserve a canoe online at Mighty Mo Canoe Rentals, then paddle your way down the Missouri River. After exploring, get cleaned up and head to Les Bourgeois Bistro for a gourmet meal. Located at Les Bourgeois Vineyards, this first-class restaurant offers a variety of wines. When it's time for bed, get your rest at School House Bed & Breakfast, located in a restored three-story brick building that was once a schoolhouse. 


---
Visit Wine Country
Love your vino? Well, lucky for you, you don't have to travel to California to enjoy a wine country getaway. Missouri is loaded with wine trails all over the state (find a complete list at missouriwine.org). Rather than saving up for airfare, grab your sweetie and plan a road trip to one of Missouri's five wine regions. In the Northwest region there are plenty of great wineries to tour, including Belvoir Winery, where you can take in the gorgeous architecture of the Odd Fellows Historic District. If you head to the central region, check out Westphalia Vineyard and take in gorgeous views along with your wine. If you visit the southeast region, check out the Route Du Vin wine trail, which includes a visit to Chaumette Vineyards & Winery. For the ultimate treat, stick around for dinner at the winery's Grapevine Grill restaurant.


---
Dive Into the Lake Out East
If you are a lake lover who wants a change of pace from our much-loved local waterways, try spending a weekend on the clean, quiet waters of Kentucky Lake. It's located about six hours due east from Springfield—take Highway 60 to the state border, then let your GPS help you navigate the little towns between there and the lake—and it's the ideal place to turn off the technology and disappear for a couple of days. The lake is right next to Lake Barkley, and the area that separates the two is called, appropriately, The Land Between the Lakes National Recreation Area. It's a great place to go horseback riding, visit an 1850s living history farm, see some wild buffalo roam and get your nature on.


---
Hop a Scenic Ferry Ride
Located three and a half hours northeast of Springfield via I-44, Alton, Illinois, is a small city on the Mississippi River. The Meeting of the Great Rivers National Scenic Byway, which starts in the nearby city of Hartford where the Missouri and Mississippi Rivers meet, runs through Alton. You should definitely take a drive along the scenic stretch to get a glimpse of the river and an impressive bluff line.
After you finish sightseeing, head to Broadway Street and explore the plethora of antique stores and specialty shops to find the perfect souvenir.
Next head down Route 100 to catch the Brussels Ferry, which takes you to the cute little peninsula of Brussels. Here, you can enjoy dinner in the picturesque Wittmond Hotel, which serves family-style meals consisting of meals like fried chicken, roast beef and other stick-to-your-ribs goodies. If you're too tired to drive back to Springfield, check into the Beall Mansion, a cozy bed and breakfast for an elegant overnight stay.
And while you're in the area, make some time to visit a few other hotspots. Check out Pere Marquette State Park, which boasts more than 8,000 acres of picturesque beauty and is the perfect spot for an afternoon of exploring. And before you go home, grab a Fat Eddie Burger or a homemade bratwurst at Fast Eddie's Bon Air, a road house that once appeared on Food Network. 


---
Befriend Lady Luck
Take a drive out to Downstream Casino and check yourself into your room at the casino's hotel. Start the day with a relaxing morning kicking back and getting a massage at Nee Spa. Then hit the bar for a little liquid courage before you start pouring your pennies into the machines. Don't worry; you plan to win them back, right? When dinnertime rolls around, treat yourself to a wagyu rib eye at Red Oak Steakhouse before spending the evening taking your chances at blackjack. The next day, indulge in a round of golf at Eagle Creek Golf Club before heading back home. On your way back home, make a stop in Joplin on to order a fancy dog from  Instant Karma Gourmet Hot Dogs to get you feeling tanked up for the drive ahead.


---
Spend a Weekend on the Water
Lake of the Ozarks is probably the most hopping waterway in Missouri. Make a weekend of it by staying at Camden on the Lake for modern rooms with lake views, on-site eateries and a swim-up bar at the very lovely pool. If you have the kids with you, make a detour to Big Surf Waterpark to enjoy the hot sun, then cool down with a tour of Bridal Cave. To see the lake from the water without the work, set up a cruise with Lake of the Ozarks Yacht Charters, and let one of the company's captains chauffeur you around. There are tons of marinas offering things like boat rental and parasailing and golf (visit funlake.com for options). On the way home, visit Ha Ha Tonka State Park to explore 15 miles of trails and the ruins of a castle. (Yep! A castle.)


---
Bet on All the Pretty Horses
We found three ways to have an awesome weekend in Hot Springs, Arkansas, located four and a half hours south of Springfield via US-65 South. Start at the races. Every weekend from January through until mid April, you can catch horse races at Oaklawn Racing & Gaming (2705 Central Ave., Hot Springs, AR, 800-625-5296) Take in a century's worth of horse racing history, and you might even win some money by betting on your favorite stallion. Later, relax for an hour (or two!) at Buckstaff Bath House (509 Central Ave., Hot Springs National Park, 501-623-2308), one of Hot Spring's oldest spas  in the middle of bathhouse row. Get the Traditional Bathing Package, and top off your healing soaks with a Swedish massage. Finally, stay at the gorgeous 1890 Williams House Bed and Breakfast (420 Quapaw Ave., Hot Springs, 501-624-4275) to take in peace and quiet with Victorian era decor as you enjoy your delicious homemade breakfast served the next morning. 
 
---
Tramp, Tramp, Tramp Around the Columns
Next football season, make the three-hour trek to Columbia to cheer for the Mizzou Tigers at Faurot Field. It's the perfect getaway for Mizzou grads looking for a trip down memory lane, or for football fans in the mood for a good game.
1. Visit the bookstore. Mizzou alums will love the nostalgia of trudging through campus, but anyone can get an extra perk at the bookstore on game day: a discount on Mizzou gear! If you didn't pack a gold shirt to wear, buy it now.
2. See a game. You can find 2015 home game dates online at mutigers.com.
3. Taste a little greasy nostalgia. Ah, Booches. Remember those greasy little griddle burgers, served up on wax paper? You can still get the goods at Booches Billiard Hall (110 S. Ninth St., Columbia).
4. Pre-game. A game is not a game without a little tailgating. Make the most of it by doing the prepwork to create a killer tailgate spread. Find some tailgating rules and regulations at mutigers.com.
5. Keep the party going. If (wait… I mean when) the Tigers win, you'll want one more beer to celebrate, and Flat Branch Pub & Brewing is a great place to do it. Try a classic with the Katy Trail Pale Ale, or go crazy with a glass of green chili beer. The food is pretty darn tasty, too. We love the Chokes 'n Cheese artichoke dip appetizer.
6. Indulge in hangover therapy. The day after the game, you know you're going to need something to soak up all the team spirit in your stomach. Here's our advice: Go to Ernie's Cafe, grab a cup of black coffee and a Belgian Waffle, and sit quietly until the headache goes away.
7. Walk it off. Before you head back home, visit Rock Bridge Memorial State Park and take a leisurely hike along the scenic boardwalk all the way to Devil's Icebox and a view of an underground stream.  You can even explore Conner's Cave while you're there.


---
Dig for Diamonds
Imagine this: You hop in your car with your sweetie, and you two make a 5-and-a-half hour drive southwest of Springfield to Arkansas's Crater of Diamonds State Park. And then, after a couple of hours of digging, it happens. You find it! With your very own two hands, you dig up a diamond. Although it sounds too good to be true, it could totally happen. In fact, it totally does happen. This Arkansas park is the only diamond-producing site in North America that's open to the public. And here's the best part: the park's policy is "finders, keepers," so any diamonds, semi-precious stones, minerals or rocks you find are yours to keep, regardless of their value. And did we mention that admission is only $8? If you're too busy to drive home after your day of digging, check into a rustic retreat at Diamonds Old West Cabins.

---
Tour Victorian Beauties
Plan your weekend jaunt to Carthage for early December so you'll be able to get tickets for the Christmas Historic Homes Tour. The town is known for its lovely Victorian homes, and the tour is your chance to see them all decked in their Christmas best. If you aren't able to make it to the Christmastime event, you can always take the Historic Homes Driving Tour to see six gorgeous homes that were all built between 1870 and 1910. Springfieldians who love Whisler's Old Fashioned Burgers in Springfield will relish the chance to visit the original Whisler's in Carthage. Stay at the Boots Court and step back in time to when classic cars ruled the road.

---
Absorb the KC Art Scene
From well-established art museums to new up-and-coming galleries, Kansas City has a better-than-ever arts scene that's worthy of exploration.


Explore
If you're an art lover visiting Kansas City, a visit to the Nelson-Atkins Museum of Art is a must. This art museum, well known for its neoclassical architecture and extensive collections, is recognized internationally as one of the finest general art museums in the U.S. and currently maintains more than 33,500 works.
The Kemper Museum of Contemporary Art is another hot spot. As a museum that tries to represent artists that include a variety of nationalities, artistic influences and media, it has a variety of gorgeous, one-of-a-kind pieces on display.
For even more artsy exploration, head to the West Bottoms historic district. Located immediately to the west of downtown KC, this area is one of the oldest areas in the city, but it's alive and growing with many of its old buildings now housing artists' studios, antique shops, restaurants and more.




The Nelson-Atkins Museum of Art

Dine
Once you're finished exploring all the art your heart desires, it'll be time for dinner. If you're in the mood for some delicious farm-to-table fare, head to Webster House. Highlighting fresh ingredients from local Kansas City producers in many of its dishes, this restaurant prepares items such as southern fried green tomatoes and a tasty roasted beet bruschetta with red and yellow beets, goat cheese, kale pesto and balsamico. Delicious!
Stay
After your day of fine dining and taking in a variety of artwork, check in to The Raphael Hotel for a little rest. This 126-room hotel is a piece of art itself and is housed in a landmark 1920s Renaissance Revival-style building.


---
Escape to an Idyllic Lake
Did you know that there's a lovely little lake-filled vacation home community just west of St. Louis called Innsbrook Resort? Well there is, and you don't even have to be a vacation home owner to enjoy the place. There are lakeside condos you can rent for mini-vacays and packages available for families, couples, golf enthusiasts, girlfriend getaways and more—so it's a spot with a little something for everybody. And there's a ton to do. While you're there, you can golf, ride bikes, play sand volleyball, canoe, ride horses, play on a sandy beach, walk one of the on-site nature trails or just sit back and enjoy the peaceful, scenic community.

---
Get Your Small-Town Fix
Atchison, Kansas, located an hour north of Kansas City is a charming little city that offers something for everyone from art lovers to history buffs. Dive into history with a tour of the Amelia Earhart Birthplace Museum, where you can explore Earhart's old home, then head to the Muchnic Art Gallery to see impressive displays of art by regional and national artists all displayed in an 1885 Queen Ann Victorian Mansion. When your belly starts to grumble, head to Snow Ball Eight Street Bistro (913-367-7632) for lunch. Reminiscent of an old-school soda fountain, this cute little spot serves up sandwiches and soups as well as ice cream, old-fashioned candy and goodies from a full service espresso bar. Check into Tuck U Inn at Glick Mansion, a cutesy and historic B&B, when it's time for bed. 


---

There are 15 destinations that you can fly to from Springfield-Branson National Airport and Branson Airport. It'll take a little planning to cram a city's worth of travel into one little weekend, but we know you can do it. Bon voyage!
1. Cancun 
Fly via Branson Air Express
Don't miss: Beautiful Caribbean beaches! Trek to Chichén Itzá ruins while you're there for a little Mayan history.
2. Chicago
Fly via  American Airlines, United Airlines or Branson Air Express
Don't miss: Lots and lots of high-end shopping on The Magnificent Mile.
3. Dallas
Fly via American Airlines
Don't miss: See the city from above at the Geo-Dek at Reunion Tower.
4. Los Angeles
Fly via Allegiant (seasonal)
Don't miss: Go classic Hollywood, and take a stroll down the Walk of Fame.
5. Las Vegas
Fly via Allegiant Air
Don't miss: Get tickets to see a Cirque du Soleil show, and splurge on O if you can.
6. Orlando
Fly via Allegiant Air
Don't miss: Take the kids to Disney World, and revel in the magic along with them.
7. Tampa/St. Petersburg
Fly via Allegiant Air
Don't miss: Stay on the beach at Loews Don Cesar, the brightest, pinkest marshmallow of a hotel we've ever seen.
8. Phoenix 
Fly via Allegiant Air
Don't miss: See gorgeous plants unlike anything we have in Missouri at the Desert Botanical Garden.
9. Punta Gorda/Ft. Meyers
Fly via Allegiant (seasonal)
Don't miss: Rent a bike, and enjoy the Punta Gorda waterfront Harborwalk from two wheels.
10. Atlanta
Fly via Delta Airlines
Don't miss: See a Falcons game at the Georgia Dome.
11. Denver
Fly via United Airlines or Branson Air Express
Don't miss: Nearby ski destinations like Winter Park and more.
12. Austin
Fly via Branson Air Express
Don't miss: South by Southwest music and film festival every March.
13. Houston 
Fly via Branson Air Express
Don't miss: Feed your inner science geek at Space Center Houston.
14. Cincinnati
Fly via Branson Air Express
Don't miss: Get wild at Kings Island, a huge amusement park with a 10-acre, 80-mile-per-hour coaster.
15. New Orleans 
Fly via Branson Air Express
Don't miss: Experience great nightlife on Bourbon Street.
Send us your photos!
While you're traveling, take a photo with 417 Magazine.
Send it our way and it will be featured on this page and in the magazine!