Life
Wet-Weather Wonders
In the Ozarks, April showers bring more than just May flowers. After the next big rain, plan an outdoor adventure to explore these gorgeous wet-weather waterfalls at their best.
Written by Savannah Waszczuk | Photos by Casey Crocker, Du MasBen
Apr 2016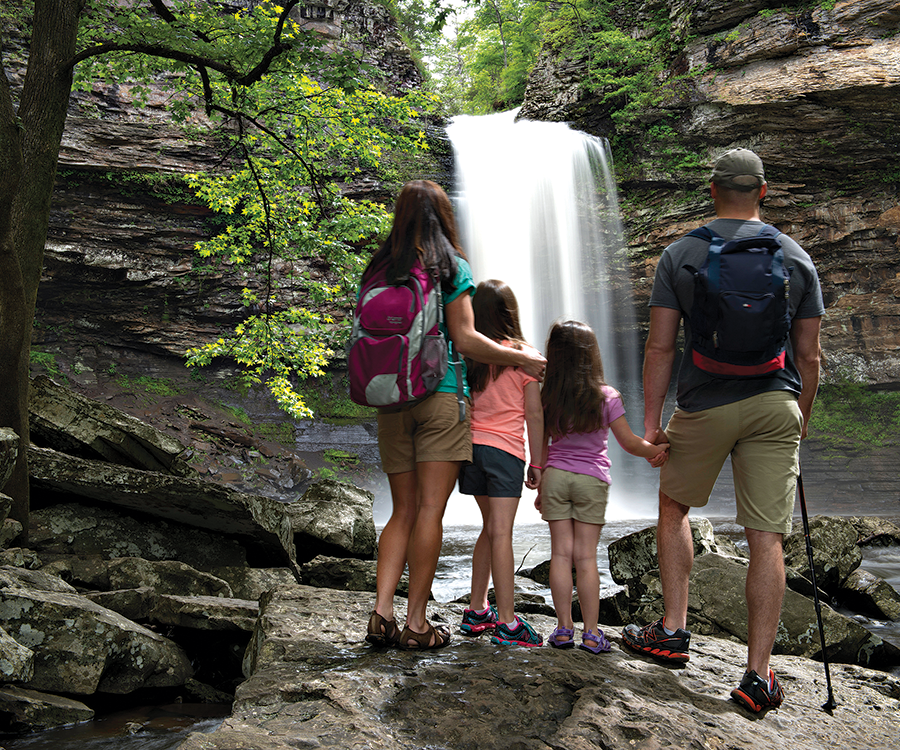 Nearby Natural Wonder
Dewey Cove Falls, Henning Conservation Area, Branson
The closest waterfall on this list, Dewey Cove Falls is hidden away in Branson's Henning Conservation Area. After just a quick drive to B-town, you can set out to explore the gorgeous natural wonder. Particularly beautiful after a good rain, these falls flow from Dewey Cove Creek and generously expand over a wide stretch of rock before landing in a bottom pool of water.  
Rocks that Rock
Rocky Falls, east of Eminence, Missouri
Jagged rows of reddish-brown rock make up Rocky Falls, a beautiful waterfall located 9 miles southeast of Eminence, Missouri. Rather than the traditional tall and steep look, Rocky Falls features row after row of descending rocks that compete for the finest geological examples in the state. The cascading waterfall pours down 60 feet of igneous rock into a large pool of water near a picnic area. Like most waterfalls, Rocky Falls looks particularly beautiful when they're covered in rushing water after a heavy rain.
The Tallest of Them All
Hemmed-In Hollow Falls, Ponca Wilderness Area, Arkansas
Standing at a towering 220 feet, Hemmed-In Hollow is the tallest waterfall between the Appalachians and the Rockies. But getting to see it isn't exactly easy. If you're up for a strenuous hike, the Compton Trailhead along State Highway 43 north of Ponca leads to the Hemmed-In Hollow trail. It's a mostly downhill 2.5-mile trail in, but the route out is steep and difficult. An easier way to access the falls is by floating the Buffalo River from Ponca to Kyle's Landing—the falls are an easy half-mile walk from the river trailhead. 
Arkansas's Finest
Cedar Falls, Petit Jean State Park, Arkansas
While there are many gorgeous things to see in Arkansas's Petit Jean State Park, Cedar Falls is perhaps the best of the best. Cedar Falls stands at 95 feet, making it among one of the tallest continuously flowing waterfalls in the state. How's that for a photo op?