Trails
Best Hiking Trails in the Ozarks
The Ozarks are a wonderland of trails, both hidden and super-accessible. From a stroll on the Ozark Greenways to an adventurous hike to a spectacular outlook on Mount Magazine, there are plenty of ways to get outside and enjoy nature.
By Sony Hocklander, Savannah Waszczuk and Katie Pollock Estes
May 2019
Where Would You Like to Walk or Hike?

There's something that just feels right about leaving the indoors or the city behind and setting out into the wild—just you, maybe a backpack and some shoes to ground you. Southwest Missouri and Northern Arkansas are a wonderland of walking and hiking trails, both hidden and super-accessible. All you have to do is get outside and enjoy them.

Remember to Eat Before, During & After
Proper fuel is essential for a good experience on the trail. On average, people take a break about every hour. This makes a great opportunity for snacks throughout the day that will help with your muscle recovery and energy levels.

Pack Extra Socks
You never know if you'll be hit with a surprise rain shower or have to cross a stream. Hiking in wet socks is never fun and can be very bad for your feet, so keep an extra pair of socks in your bag for those moments when you're in need.

Don't Overestimate Your Fitness
Most people think they are in much better shape than they really are, but the outdoors can humble you quickly, especially if carrying weight in a backpack and navigating steep or rugged terrain. Be realistic about your fitness level, and don't get yourself in a position that becomes dangerous.

Wear Properly Fitting Shoes
Make sure your hiking shoes or boots fit correctly. Try on boots later in the day to get the correct fit, and always try on shoes or boots with the socks you will be wearing, along with any aftermarket insoles to get just the right fit.

Know the Area & Carry a Map 
Too often, people get turned around on the trail or get off the trail to look at something and can't find their way back. It's much better to be safe than sorry and have a map handy if you were to need it.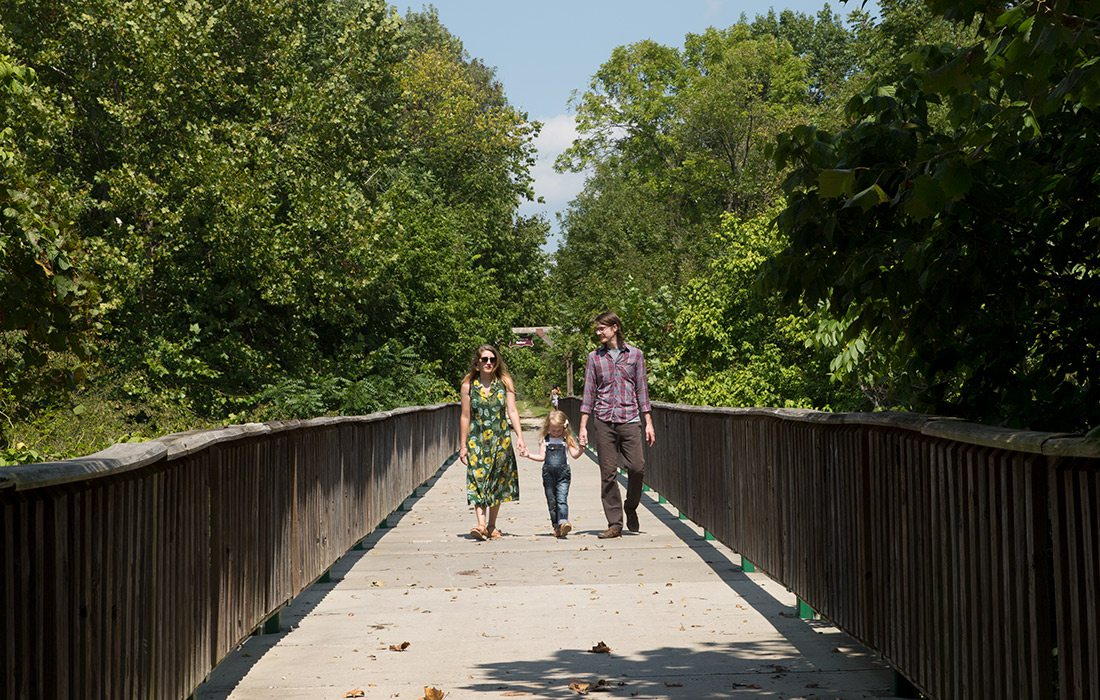 Around Springfield | Level of Difficulty: Very Easy
Have you made your way through the "cow trail" or discovered the wooded south-side path enjoyed by early morning walkers? If not, you're missing out. And don't let summer go by without experiencing the Ozarks' own rail to trail. With 72 miles of Greenways in all parts of the city and beyond, it's a snap to get walking, running or biking outdoors without leaving our metro community.
Springfield's robust trail system is one of its greatest assets, and thanks to Ozark Greenways, it gets better every year. Projects in 2017 include breaking ground on the Trail of Honor through the Missouri Veteran's Cemetery and along James River. Find maps and descriptions for all the trails at ozarkgreenways.org. Meanwhile, try one of these:

Runners, walkers and bikers enjoy Missouri's second longest rail-to-trail path. The 35-mile route connects Springfield to Bolivar with four trailheads, 16 railroad bridges and lots of rural character. With relatively low elevation changes, it's a great trail for people of all ages. The first eight miles from Springfield into Willard are paved; about two-thirds of the trail, starting at Mile 8, is crushed gravel. The photo-worthy bridges are clustered between Miles 18 and 31—a particularly aesthetic section for selfie-lovers and nature photographers alike. Don't miss crossing the bridge at Mile 23 for a beautiful view of the Little Sac River.
If you like a more urban trail experience with easy access to dining, libations, a great city park and a notable point of interest, then Galloway Creek Greenway is for you. Head south from the trailhead near Pershing Middle School—look for the oversized wheelchair sculpture along the way—or start at the more central Sequiota Park on Lone Pine Avenue. Whether on foot or on wheels, you'll find plenty of pit stops along the route including 4 By 4 Brewing Company, Galloway Grill or Great Escape Beer Works farther south or Bambino's Italian Cafe near Lone Pine and Battlefield Road. 
A 1.2-mile stretch of the Ward Branch trail runs between the Missouri Institute of Natural Science (Riverbluff Cave museum) and Wanda Grey Elementary School. Meandering along the Ward Branch Creek, the wooded trail is popular with south-side walkers and runners. Find the trailhead off South Farm Road 139, south of Plainview Road near Rivercut Golf Course. The gravel area isn't well-marked; look for a couple of vine-covered silos. Some walkers park at the nearby museum, visible from the trailhead off Farm Road 190. Access the other end of the trail just east of Wanda Grey.
This southwest Springfield Greenway enjoyed a facelift last year with the new Tal's Trailhead. Located near Battlefield Road and West Bypass, Tal's connects the Wilson's Creek and South Creek Greenways. About four miles of paved trail between Tal's Trailhead and the popular Rutledge-Wilson Farm Park makes a pleasant route particularly great for biking and running. Wilson's Creek Greenway travels through pretty wooded and rural landscapes and into Wilson's Creek National Battlefield where you can find five walking trails that range from one-quarter of a mile to three-qusrters of a mile. Plus there's a 7-mile trail system for hiking that is accessible from the main tour road. It crosses a couple of bridges and passes through several gated farmland pastures complete with resident cows.
There are plenty of scenic stops along this 8-mile trail as it weaves through the heart of Springfield. Plan to slow down and take your time through Nathanael Greene/Close Memorial Park. There are plenty of picnic spots as well as play ground equipment and gardens galore, including the Dr. Bill Roston Native Butterfly House and the picture worth Mizumoto Japanese Stroll Garden. This trail starts at the McDaniel Park trailhead at the intersection of National Avenue and Sunset Street.
Springfield, MO | Level of Difficulty: Very Easy

This is a great place to unwind and get back in touch with nature. There are several great hiking trails at the Nature Center, but The Long Trail, which is an easy 1-and-2/3-mile jaunt, offers some of the best scenery. Stop and peer off the three observation decks that are peppered along the way. One overlooks the forest, and the others offer a great view of Galloway creek. As the trail winds around the nature center, ramblers get to see different habitats including a woodland area, a restored bottomland prairie, a glade and an upland and bottomland forest. When you're crossing the bridge that goes over Galloway Creek, keep your eyes peeled for waterfowl, great blue herons and turtles basking on logs. Remember to leave your pets at home when planning your visit. Your furry, four-legged pals are a no, no here. 
Cory Flatrocks 

West of Dadeville, Missouri | Approximately 40 miles northwest of Springfield | Level of Difficulty: Easy to Moderate 
Exploring the Unexplored
When it comes to Cory Flatrocks, you have the power to see things that few have seen before you—the Missouri Conservation Commission recently approved this 135-acre tract of land that sits just west of Dadeville as a conservation area. If you visit the Flatrocks, you'll have the chance to explore grounds that have rarely been explored by hikers—grounds that aren't even developed yet.
Be Prepared 
Before heading to Cory Flatrocks, keep in mind that it's pretty primitive out there. There are no trails at this time, and no trails means no maintenance of trails (so you'll have to hike through weeds and other natural vegetation in late spring through the thick of summer), warns Francis Skalicky, media specialist for the Southwest Region of the Missouri Department of Conservation. Don't let this stop you, though—if you want to see it, simply plan for a non-weedy time of year, or wear pants and brave the brush.  
True Ozarks Landscape
On your visit, you'll hike over lands made up of primarily rocky sandstone glade. Of course, as with many areas, these glades are surrounded by forests, streams and beautiful wildflowers. Glades are one of the most defining features in Ozarks hiking, and this is the perfect spot to see them. With these glades, of course, critters such as scorpions and tarantulas often roam, so be sure to keep your eyes peeled.
Lakeview Trail

Stockton, Missouri | 50 miles northwest of Springfield | Level of Difficulty: Moderate
Looking for a trail getaway that's not so far away? Try the Lakeview Trail at Stockton State Park. The hiking and mountain-bike route that follows the shoreline of Stockton Lake features woodland, beach and bluff views. Best of all, it's only one lake area thing to do. Here are five ways to make a day of your visit to Stockton Lake.
Catch the views on Lakeview Trail
The state park's longest trail can be hiked (or mountain-biked) as an 8-mile loop or in two smaller loops via a connector trail. The main trailhead is near the marina, but for quicker access to bluff overlooks, Park Superintendent Justin Adams suggests starting at the northern trailhead. From there, go counterclockwise, he says. You'll reach the bluffs overlook after the trail crosses Highway 215. "It's a great spot to look for eagles and loons and water fowl," he says. (Find more information here.)
Paddle the water trail
Rent a kayak or canoe from the marina to follow the Stockton State Park Water Trail about 6.5 miles around the peninsula. It's a great way to look for wildlife and water fowl, see limestone bluffs, explore coves and try your luck fishing. "It just offers a different perspective," Adams says. "You are seeing the park from the water." 
Rent a boat or waverunner
The marina also rents motorized vessels. Spend part of your day on the trail, another part of it out on the lake.  
Kick back at the beach.
Cool off and relax at the beach, whether you drive over or make it part of your hike. The beach is located in the northern loop.  
Lunch, anyone?
The State Park Marina Snak Shack serves grill menu items and more. "We've been told we have some of the best burgers people have ever had," Manager Mary Fidler says. The menu also includes chicken strips, grilled chicken paninis, a catfish dinner and even breakfast—a sandwich on weekdays; full breakfast on weekends. Sit inside, or enjoy lake views from the dock. Thirsty for a cold beer? They've got that, too.
Explore more trails. 
The state park isn't the only area to hike. Check out Stockton Lake Corps trails, too, which are maintained by the U.S. Army Corps of Engineers. Cross the Highway 215 bridge to reach Corps land. The closest hike is the Rudledge Bluff Overlook Trail, an 18-mile route between the northern Orleans Campground and southern Hawker Point. Several entrance points between trailheads can be found along Corps lake access roads.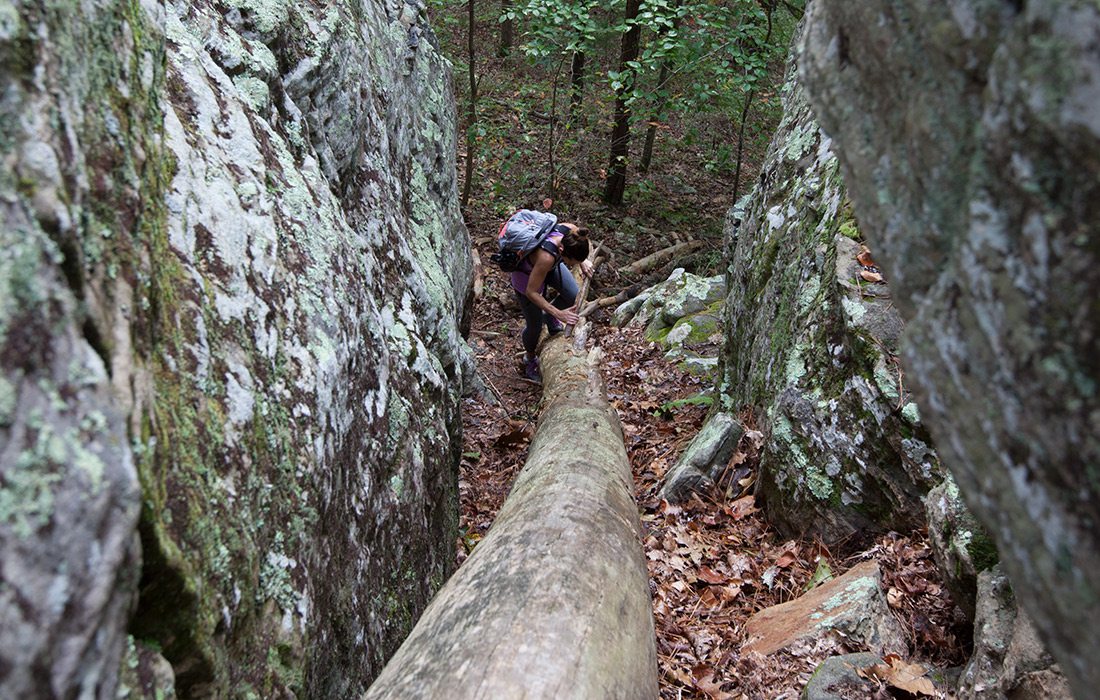 Big Piney Trail
Licking, Missouri | 85 miles northeast of Springfield | Level of Difficulty: Moderate to Challenging
Get your nature therapy in a more primitive way along the 17-mile Big Piney Trail in the Paddy Creek Wilderness area west of Licking. The rugged loop trail is popular with overnight backpackers and horseback riders. Shorter loops are accessible for those who can't do the entire trail. Hikers pass by scenic bluff overlooks and rock outcrops, and cross Big Paddy and Little Paddy creeks. You may see "little waterfalls along the way, depending on when you go," says Recreation Forester Carol Trokey with the U.S. Forest Service. Whether you overnight in one of three primitive campgrounds or somewhere along the trail, here's what to know before you go.
Plan your route.
If you're up for the 17-mile loop, start at the Big Piney Trail Camp or the Roby Lake Recreation Area campground. Both are open year-round. For shorter trail experiences, Trokey says, choose the 7-mile south loop or the 9-mile north loop. A third trailhead is at the Paddy Creek Campground (open April 1). Campsites are free to use and include vaulted toilets.
Be prepared.
Pack in everything you might need including plenty of food and portable water. Bring rain gear in case of weather changes and shelter if you plan to stay overnight. Don't forget the little things: first aid, a way to start your campfire, flashlights and insect repellent.  
Respect the wilderness.
The route is mostly moderate with a few more difficult spots; the elevation changes up to about 500 feet, Trokey says. Be aware of your surroundings and watch for hazards, such as falling limbs after a storm. It's the wilderness, so trails aren't well-marked or as developed as other areas, she says. Bring a map and compass—your GPS or cellphone will be unlikely to have service. Trokey suggests registering at trailheads. "We track usage of the area, but it's also a safety thing," she says. "In case someone doesn't return, we can at least check where they might have started."
Check regulations.
For instance, groups of more than 10 are prohibited to camp or travel together, and wilderness camping is not allowed within 100 feet of trails, streams or other campsites. Wheeled vehicles and motorized tools are prohibited. Establish campfires in areas cleared of debris; extinguish them fully before leaving. (Learn more here.) 
Consider the calendar.
Avoid late summer when ticks are terrible, and the best scenic views are blocked by leafy foliage. Instead, the best times to hike are spring, fall and winter. Be aware that hunting is allowed in season, though weapons are restricted within 150 yards of trails and occupied areas, Trokey says. 
Make it short.
Trokey offers day hike suggestions, roughly four miles each, round trip. Hike between Big Piney and Paddy Creek campgrounds for a trek that includes a scenic overlook and creek crossing. Or hike from the Roby Lake area, turn left at the junction, and follow the north loop trail to find a small waterfall and pool when the trail crosses a creek.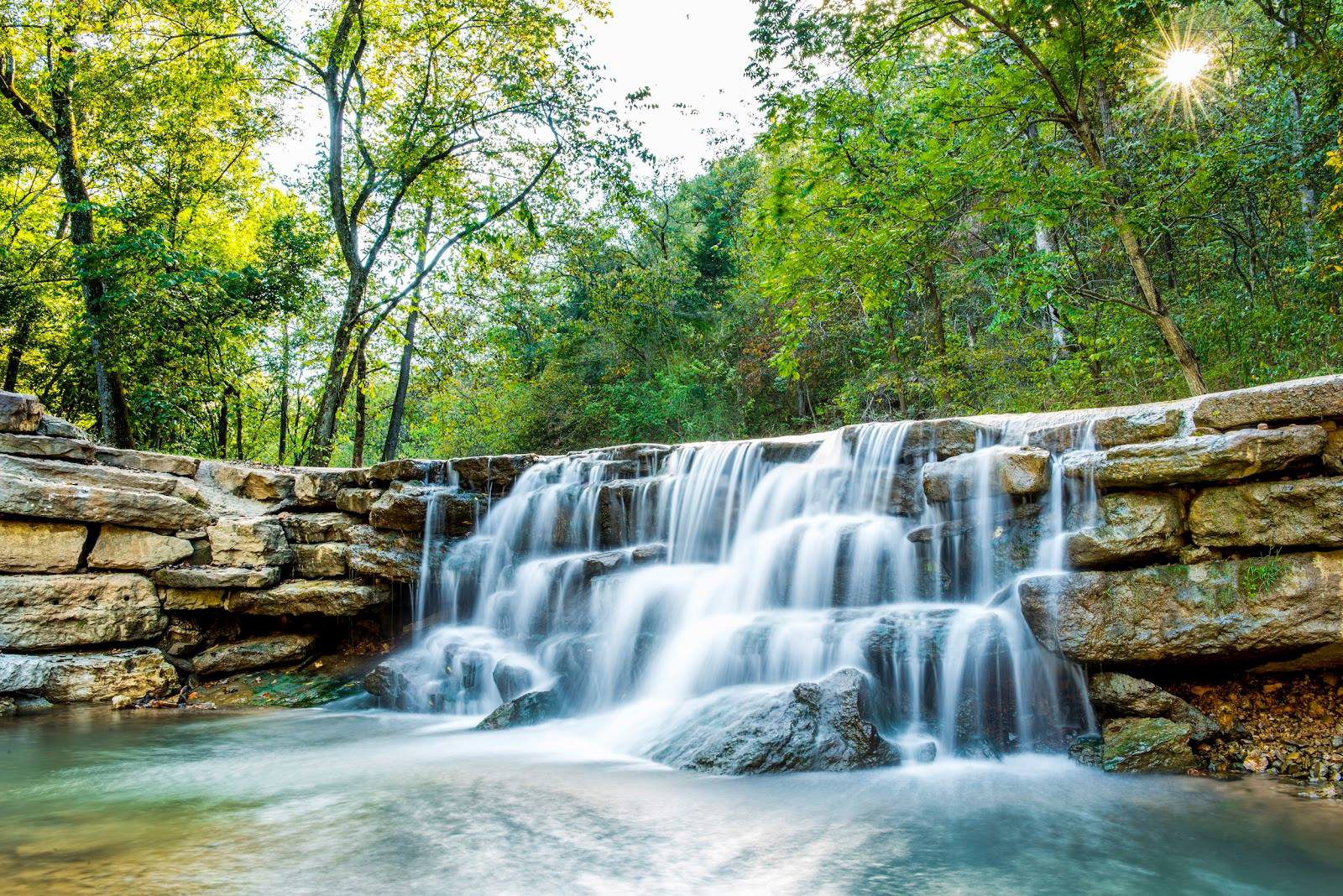 Dogwood Canyon Nature Park
Lampe, Missouri | 60 miles south of Springfield | Level of Difficulty: Very Easy
It really doesn't get any easier than this. The 6.5-mile paved trail runs the length of a long canyon and is mostly flat, making it perfect for kiddos who want to a bike ride but aren't ready to tackle hills. In fact, you can even rent bicycles at Dogwood Canyon Nature Park for the family. Or, if cycling isn't your thing, just enjoy the walk. Along the way you'll see multiple waterfalls, clear fish-filled streams, ancient burial caves and more. If you're lucky, you'll even spy a weasel or mink scampering around. Have lunch at the restaurant, and visit the tree house while you're there.
[MORE: How Tiger Woods and Johnny Morris Built a Gold Oasis in Branson, MO]


---

Cedar Gap Conservation Area
45 minutes east of Springfield | 
The trailhead can be accessed from taking Highway 60 east to Highway O and making a right. This leads you straight to the trailhead parking lot.
If you're looking for a new spot to hike but don't feel like traveling too terribly far, head over to the Cedar Gap Conservation Area. You'll hike through wooded areas downhill (there are some beautiful dogwoods to see in the spring), then reach an open field area with a valley overlook. Next, you'll go farther to more wooded areas and the headwaters of Bryant Creek, where you can walk along the stream and enjoy limestone glades.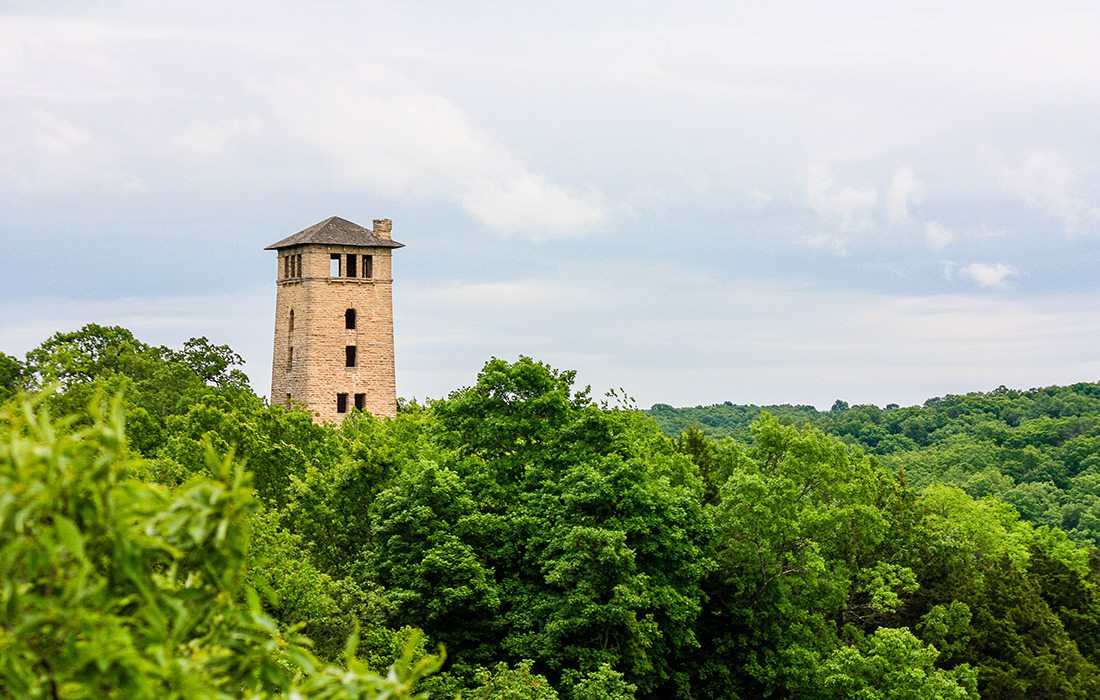 Castle Trail
Camdenton, Missouri | 75 miles north of Springfield | Level of Difficulty: Easy
Kids with wild imaginations will enjoy a trek through Castle Trail at Ha Ha Tonka State Park. The not-quite-half-mile path takes visitors to the ruins of a stone castle that was built on a tall bluff around the turn of the 20th century. But make believe princes, princesses and knights can pretend the ruins are much older. Continue on the trail all the way to a few scenic overlooks that give hikers a place to peek at the waters of Lake of the Ozarks. Keep an eye on your littlest kiddos as you take this walk; there are steep grades and bluffs along the trail.


---

Ruth & Paul Henning Conservation Area
Branson, Missouri | 53 miles south of Springfield | Level of Difficulty: Easy
For Springfieldians, this nearby location is perfect for families with antsy kids who won't fare well on a long car ride. Just pop down to Branson to take in natural beauties like bottomland forest and glades. (Fun fact: Those glades are also called knobs, and they inspired the term Baldknobber.) Bigger kids can tackle the longer Henning Homesteaders' Trail, but smaller children might fare better on the little 0.4-mile Dewey Bald Trail. Yet even the short trail has a payoff: A 40-foot viewing tower. Leave the bikes at home because this trail is only for travelers who come on foot.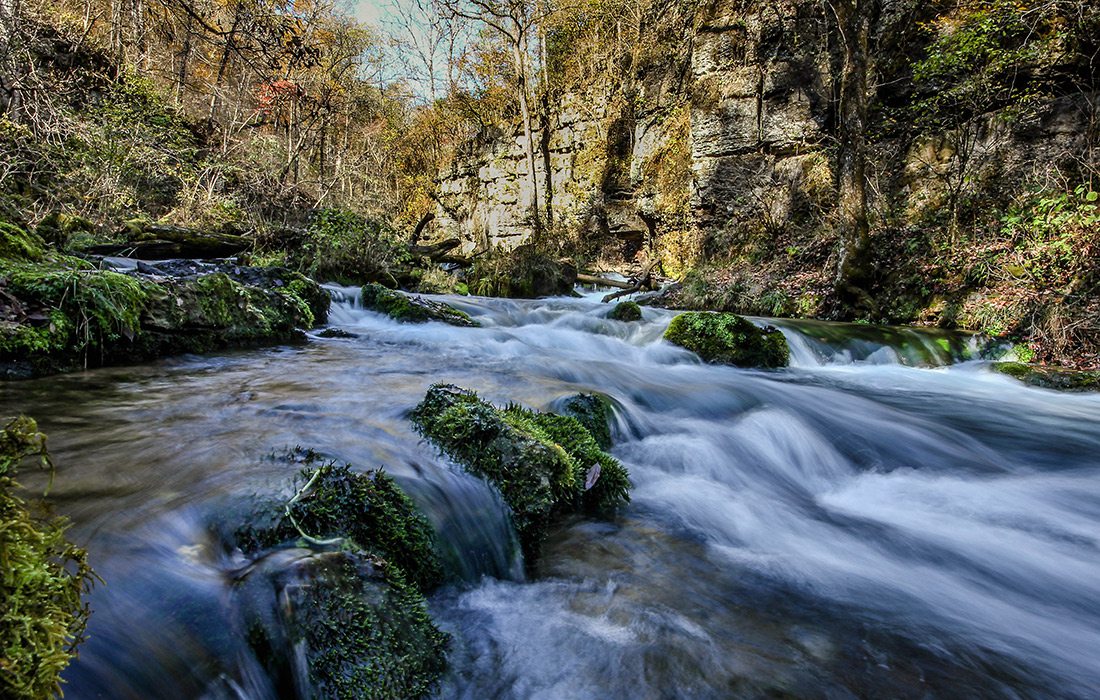 Greer Spring Trail
Alton, Missouri | 145 miles southeast of Springfield | Level of Difficulty: Moderate
Greer Spring is nature's gift at the end of a mile-long shaded trail into a steep ravine. And it's well worth the trek. We hiked the trail last year with a dozen friends: a Sunday morning side trip after a weekend B & B getaway. It took our group less than 30 minutes to descend. All told we spent around 90 minutes, including half an hour exploring Missouri's second largest spring, noted for its secluded wilderness setting. 
The trailhead is about eight miles north of Alton on the scenic Missouri 19 highway—about 1.5 miles south of the bridge over the Eleven Point National Scenic River. Parking is convenient, and the trailhead is well-marked. The groomed forest trail traverses gently down the slope and is easy to navigate, so much so that we encountered families along the way. It's likely considered moderate for the uphill return, a 250-foot change in elevation. We took our time, stopping to shoot photos and take in the hush of woodland solitude. 
Near trail's end, a platform overlook provides the first scenic view of the rushing spring, which flows from two sources. 
The largest influx bubbles up from the gorge in a visible streambed boil. (Look slightly downstream from the overlook.) The other spring, about 250 feet upstream, flows from a cave you can't see from this spot.
We continued down steps to the end of the trail, which opens onto the spring stream bank, a jumble of rock formations and foliage. 
We clambered around in the area shooting photos, wowed by the natural beauty. This is a place worth lingering, and 30 minutes wasn't long enough for me. While some in our group headed back to the overlook, a few of us picked our way upstream to view the small cave. It was gorgeous!
Alas, we couldn't stay forever. We burned off our waffle breakfast hiking the trail back up. But the slope really isn't bad, and there are also occasional benches that provide rest spots if needed.
Our group agreed the short but scenic hike was indeed a lovely side trip. Later I learned more than 200 million gallons of water a day on average flow the mile and a quarter from Greer Spring to feed the Eleven Point National Scenic River, more than doubling the river's size. (You can find more details and travel tips here.)
I know we'll be back. And when we float the nearby Eleven Point River, we'll appreciate Greer Spring even more.—Sony Hocklander 


---

Ozark Trail
Eastern Missouri | 200 miles east of Springfield | Level of Difficulty: Very Challenging
The Ozark Trail, at a massive 390 miles of linked trail sections, winds through eastern Missouri and is the perfect place to immerse yourself in unspoiled nature. There you can see tall bluffs, hidden caves, hardwood forests, waterfalls and wildflower-dotted glades and take in views of the Courtois, Current, North Folk and Eleven Point rivers among other smaller waterways. The area is home to plenty of flora and fauna including, most surprisingly, elusive wild horses. We recommend focusing your trip on the Taum Sauk trail section. Although it's a hefty 35 miles long, it can be broken into three smaller subsections. It's there that you can see the three unbeatable spots listed below.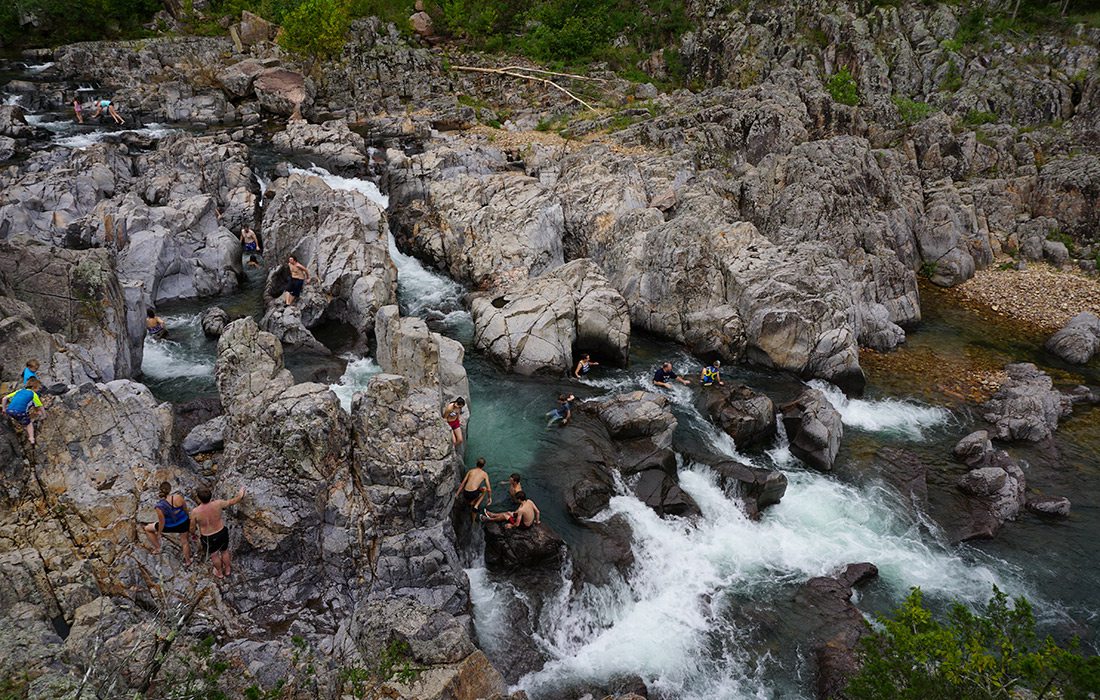 Johnson's Shut-Ins
One of the most beautiful locations in Missouri, Johnson's Shut-Ins State Park is located along the Black River and features cool and clear water that flows through dips and divots in smooth igneous rock to create shut-ins and little waterfalls. The spot is great for adults and kids who are big enough to be careful and hold their own on the slippery rocks. But even for the most sure-footed, it can be a little treacherous when the water levels are high. So use caution. If you have smaller kids, take a dip in the swimming hole at the bottom of the shut-ins for a more serene experience. Bonus: This gorgeous area is as much fun to simply view as it is to play in. 
Devil's Tollgate
Between Mina Sauk Falls and Johnson's Shut-Ins is the towering vista of Devil's Tollgate. There, an 8-foot-wide path cuts through a 30-foot-tall volcanic rhyolite formation. With stippled sunlight cutting through the shade from surrounding trees, the spot is much more serene than the ominous name implies.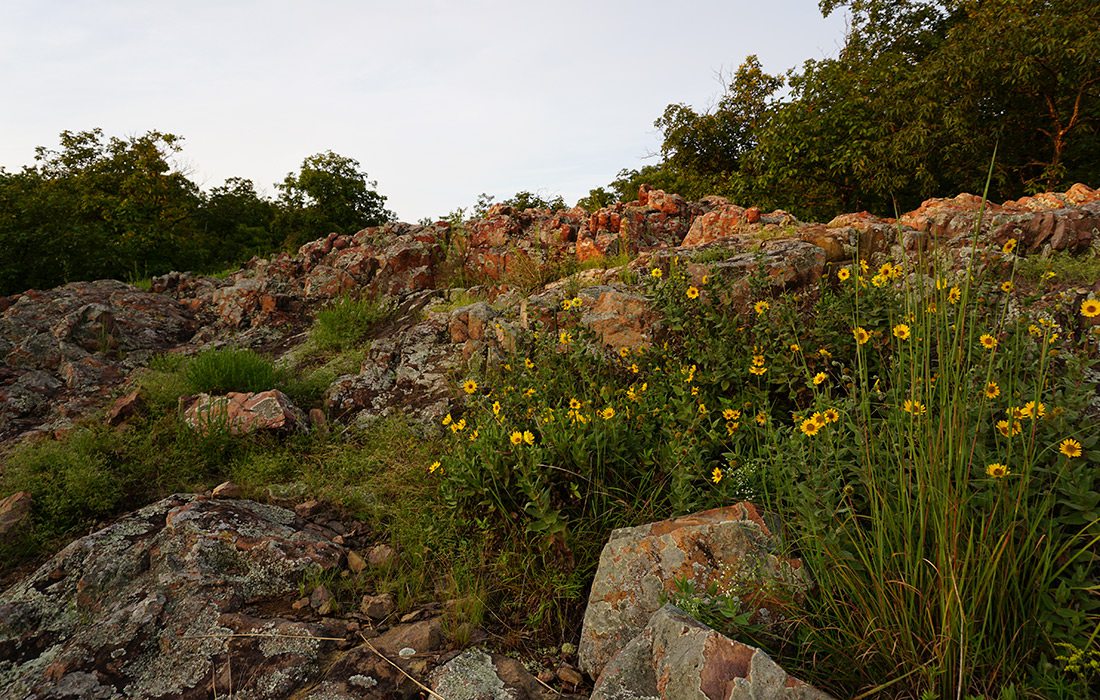 Mina Sauk Falls
With all the waterways and mountainous terrain that the Ozark Trail cuts through, it should come as no surprise that there is a waterfall along the way. On the Taum Sauk section of the trail, you can get a glimpse of Mina Sauk Falls. It's a steep and rocky climb to get to the falls, but it's worth every grueling step. The wet-weather waterfall is the tallest waterfall in the state of Missouri. Although all you'll see is a trickle if you come at the wrong time, you can enjoy quite a bit of flowing water if you take your hike after some heavy rainfall when Mina Sauk is at its peak. But even if you miss the rushing water, the area is still worth the hike. You can spy some gorgeous wildflowers there.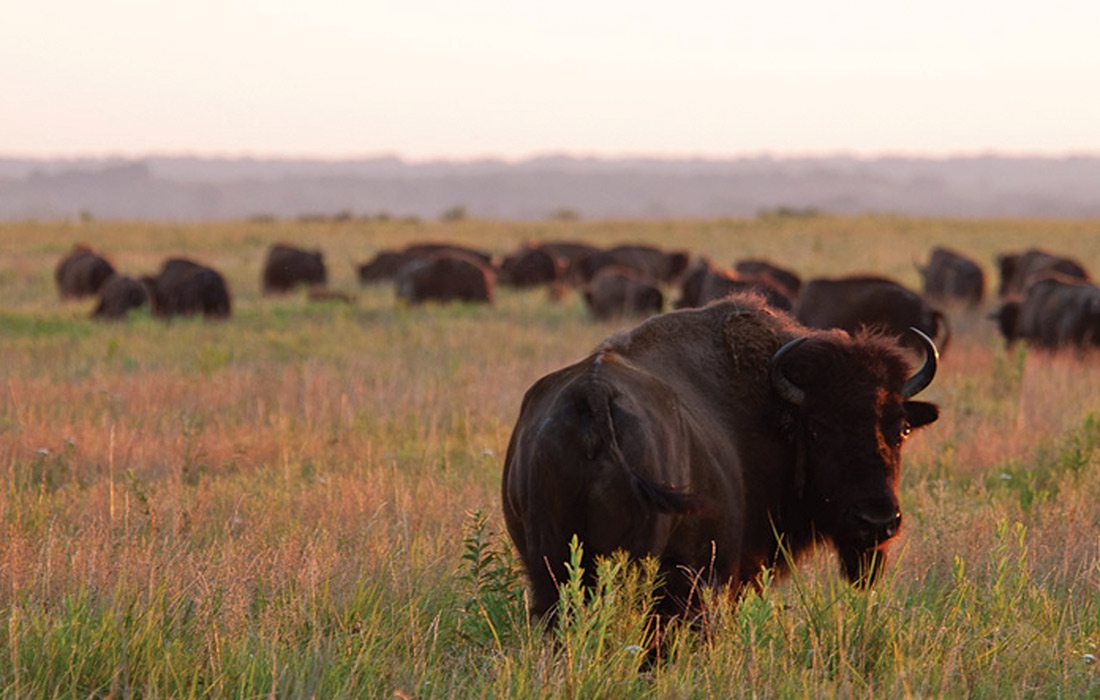 Missouri's state parks are teeming with trails and must-see sights, and we rounded up five of our favorites that are located right here in 417-land.

Prairie State Park
Instead of rolling hills and rugged landscape, this park features the tall grass prairies that once covered more than a third of Missouri. Today, less than one percent of the prairies remain, and visitors can see panoramic views of these sprawling fields at Prairie State Park in Mindenmines. You can hike and even backpack here. Check out Drover's Trail. It's 2.5 miles long and gets its name from when the cowboys drove cattle across the prairie on the way to market. Bison often roam this small patch of land, and it's a good spot to see Indian paintbrush in the early spring. There are small and large loops available for hiking. 

Payoff: Make your way to the top of the large loop to see more of the prairie and bison.
Busiek State Forest and Wildlife Area
If you're in the mood for a leisurely romp through a woodsy Ozarks hillside, then head over to Busiek near Highlandville. This 2,701-acre spot is owned by the Missouri Department of Conservation, and it features two trail systems that wind through the ever-changing landscape. Thick forest opens onto grassy fields, woodlands and glades. The west trail system offers 8 miles of mixed-use trails, and the east trail system boasts 10 miles of meandering trails. Look for trailheads to get info on difficulty, terrain and length of each trail. If you're strapping on your hiking boots in the fall or winter, the purple trail off the west loop is a must. Especially when the leaves have dropped, the purple trail offers great views from its high rocky ledges. Even at a short 3 miles in length, it comes in at moderate difficulty, so bring plenty of water and snacks. Speaking of snack time, hikers will find a scenic lunch stop at the flat ridge that's halfway through the trail. 
Payoff: There's an old cemetery off the red trail on the east loop, so keep your eyes peeled for this spooky piece of Ozarks history. 
Grand Gulf State Park
The impressive rock formation at Grand Gulf State Park in Thayer serves as one of southwest Missouri's natural wonders. Dubbed the Little Grand Canyon, this collapsed cave system has formed an expansive gulf that stretches for three-quarters of a mile with towering rock walls that reach 130 feet in the air. Visitors can view the gulf from high up on the trails or on the ground floor where they can walk under the natural bridge, which spans 250 feet with a 75-foot opening. (Use caution if you plan on walking to the bottom. There is no official trail leading the way.) 
There are two hiking trails here: Natural Bridge Trail and Interpretive Loop Trail. The Natural Bridge Trail is about 0.8-mile long and takes 40 minutes to complete. It takes visitors over the remnant of the collapsed cave system that has formed a bridge. The best time to hit this trail is in the late fall and winter months when the leaves on the trees don't block the view. 
Payoff: Call the Visitors Center at 417-264-7600 and ask about the losing stream where you can hear the water flowing underground. 
Bennett Springs State Park
It's a short drive to Lebanon, and this state park offers seven hiking trails that range from 0.6-mile up to the 7.5-mile Natural Tunnel Trail. Its signature feature is the Bennett Spring Natural Tunnel, which is 296 feet long and forms an "S" curve through the hill. A large gravel creek bed runs through the cave. The trail is a combination of roads and rugged wooded area, so even beginning hikers can tackle this track with ease.  
Payoff: The Natural Tunnel Trail passes near a small two-family cemetery.
Prairie State Park
Instead of rolling hills and rugged landscape, this park features the tall grass prairies that once covered more than a third of Missouri. Today, less than one percent of the prairies remain, and visitors can see panoramic views of these sprawling fields at Prairie State Park in Mindenmines. You can hike and even backpack here. Check out Drover's Trail. It's 2.5 miles long and gets its name from when the cowboys drove cattle across the prairie on the way to market. Bison often roam this small patch of land, and it's a good spot to see Indian paintbrush in the early spring. There are small and large loops available for hiking. 
Payoff: Make your way to the top of the large loop to see more of the prairie and bison.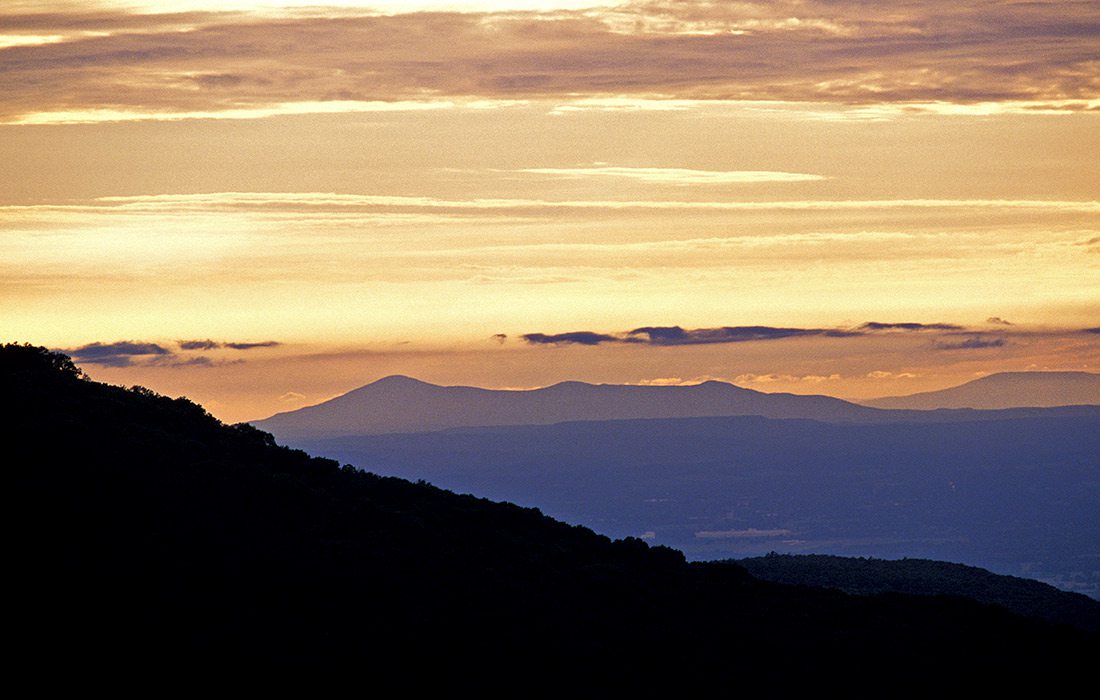 Hike Arkansas
While we have a plethora of great hiking and biking options in 417-land, there are dozens more beautiful sites to be seen that are just a short drive away. If you want to make a weekend of your next adventure, check out these hiking destinations in Northwest and Northern Arkansas.
If visiting a state's high point is on your bucket list, head over to Arkansas's Mount Magazine. Located about four hours from Springfield with an elevation of 2,753 feet, the massive mountain is a popular destination for hikers, horseback riders and other visitors who stay at the luxurious lodge that overlooks the Petit Jean River Valley and Blue Mountain Lake. Those looking to hike this monstrous mountain can choose from trails that range from a simple 2-mile loop with views of wildflowers, plant life and breathtaking scenery to the much more strenuous 9.7-mile Cove Lake trail that starts in a bluff and descends over 1,500 feet to Cove Lake. To reach the high point (a must on your trip), hike the Signal Hill Trail. At 1.5 miles, it's moderate in difficulty, and the top features a 400-square-foot stone map of Arkansas. If your whole goal is a good view, start with the easy Benefield Loop trail, then try the North Rim Trail. While the North Rim is a moderate to strenuous hike, the 2.2-miles-one-way trail follows the north rim of the mountain to Cameron Bluff Overlook Drive and offers some of the best views on the mountain. Think of all of the great photos you'll get to take! This is one hike that will definitely be worth the work—we promise.
To explore some of the most photographed spots in Arkansas, plan a hiking adventure in the small-yet-hopping towns of Ponca and Jasper. Near the upper Buffalo National River about two hours from Springfield, these towns are the beating heart of a beautiful mountainous region that's carved with streams, dotted with waterfalls and peppered with bluffs, ledges and other high spots. While the area is fully loaded with trails that offer truly breathtaking scenery, there are a few that are visited a bit more than the rest. 
At a round trip of 3 miles, the Whitaker Point Trail is a moderately easy hike that's a must-do for first-time visitors. The trail leads explorers to Hawksbill Crag, a rock outcrop that jets out from a tall bluff. The crag offers a spectacular view of the surrounding upper Buffalo Wilderness area. 
Those who are up for a bit of a longer, more strenuous hike should check out the Centerpoint trail to Big Bluff. At 6 miles round-trip, this trail leads hikers through the woods for a couple of miles before taking a sharp right turn that leads to Big Bluff spur. At 550 feet tall, Big Bluff is the tallest sheer bluff face between the Rocky and Appalachian mountains, and you'll be standing on it. (This hike isn't recommended for young children.) While here, you'll take in spectacular views of the surrounding wilderness area, plus you'll have a great view of the Buffalo River.
Other hikes in this area include Lost Valley, a kid-friendly spot where you'll see a natural bridge, cliffs, a waterfall and a cave; Hemmed-in Hollow, where you'll see the tallest waterfall between the Rockies and the Appalachians, and The Glory Hole, where you'll take in a 30-foot waterfall that flows through a hole in a bluff. 
The Ozark Highlands Trail stretches for 218 miles through seven counties in northwest Arkansas. Located about four hours from Springfield, the trail itself was designed and constructed by hikers, so it's the perfect spot for those who love to explore the natural Ozarks landscapes. While there are many scenic areas here, Dan Nash of Hiking the Ozarks recommends hiking the Hurricane Creek section, which can be reached from Pelsor, Arkansas, by traveling west on Arkansas 123 until you cross the Big Piney Bridge. You can park at the old school just west of the bridge on the south side of 123. To access the trail, walk east across the bridge and down the gravel road to the north. The trail is marked and runs east from the road. On this scenic stretch, you'll see pine and hardwood forests, giant boulders, waterfalls and a natural bridge that is the largest arch formation in the Ozarks. Also, this area of the trail runs along Hurricane Creek.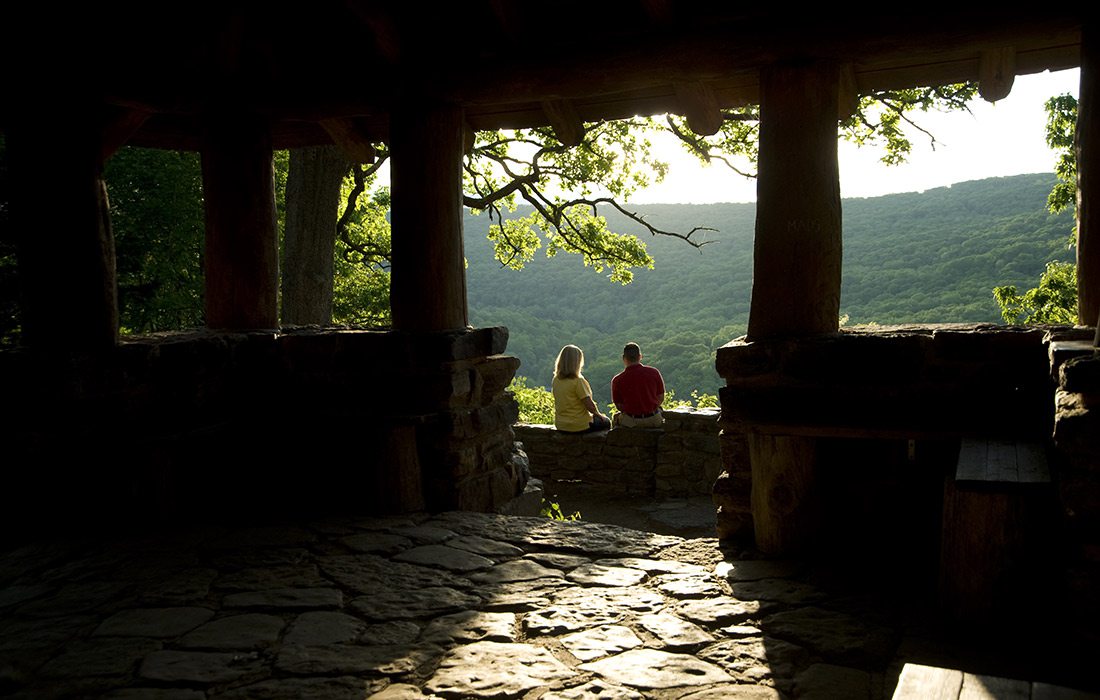 Located almost three hours from Springfield in the Lee Creek Valley in the Boston Mountains, northwest Arkansas's Devil's Den State Park is a popular destination for hikers, mountain bikers and horseback riders. Adventure enthusiasts have their choice of some 64 miles among 7 trails, including the 4.5-mile old road trail through Lee Creek Valley that passes nearby a yellow rock bluff, the 9-mile vista trail that ascends Mount Olive and the 15-mile cross-country mountain bike trail that is divided into three loops and features creek crossing, dirt roads, single-track riding and long uphills and downhills. Don't miss the water flowing over a gorgeous native stone dam.
Located in western Arkansas (3 and a half hours from Springfield) and rising 1,350 feet, Mount Nebo offers magnificent views of the Arkansas River Valley. The park has 14 miles of trails, many that offer fabulous terrain and views for hikers. Mountain bikers are allowed on the bench trail, which is 4.5 miles long and fairly level, running along a natural terrace that encircles the mountain and passes several springs and Fern Lake. If you only have time for one hike, try the rim trail, but be warned: it's 3.5 miles long and ranges from easy to difficult. But's worth it—the trail circles the mountain top.
While many of northwest Arkansas's hiking spots have become hotspots, this place has remained a little secret. Recommended by Dan Nash of Hiking the Ozarks, this hike consists of following Graves Creek as it works its way to the Big Piney River. There are no trail markings here (after all, it is a hidden gem), but the spot is gorgeous—the creek has eroded the earth and rock away from the ground and created a gorge. You'll see numerous rock formations, waterfalls and boulders, as Nash compares hiking at Graves Creek Gorge to hiking near a Colorado mountain stream. 
How to Find It: This spot can be reached from Sand Gap, Arkansas, by traveling south on Highway 7 and turning west on Arkansas 164. From 164, turn right onto Pilot Rock Road, follow the road to the top of the mountain and take Graves Creek Road on the right. Follow this to a small parking area, then cross the road and travel west through the wilderness and down a hillside to find Graves Creek, which you'll follow downstream.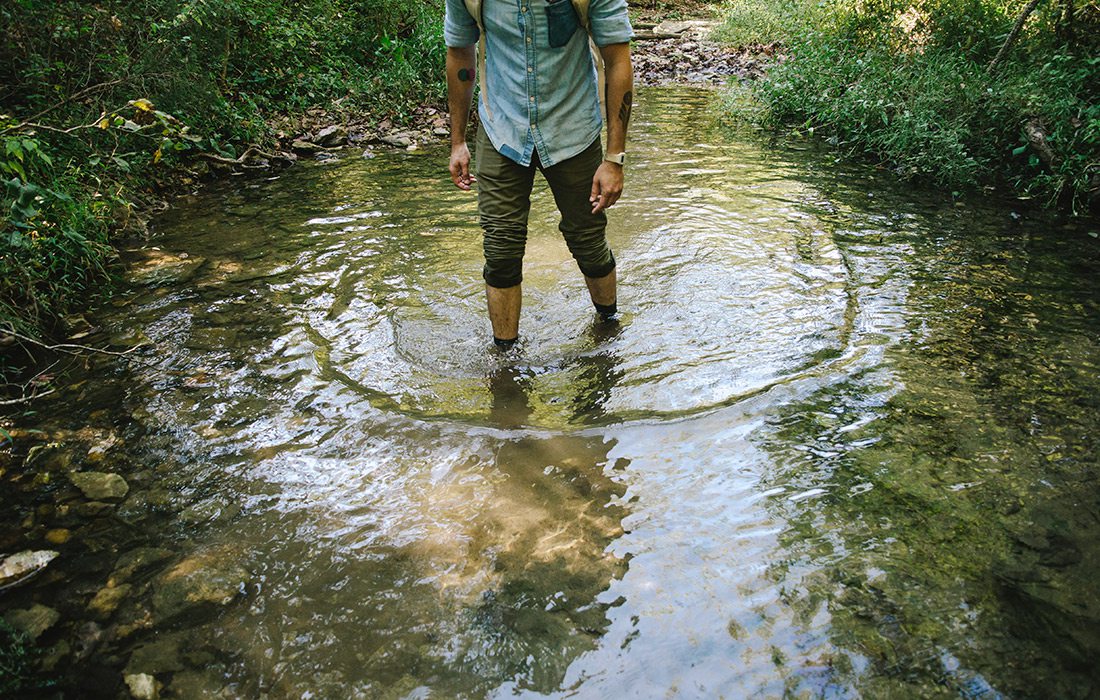 Devil's Eyebrow
Garfield, Arkansas | Approximately 77 miles southwest of Springfield | Level of Difficulty: Moderate to Challenging

5 Reasons to visit Devil's Eyebrow
Just a quick drive past the Arkansas state line, Devil's Eyebrow Natural Area is situated at the northern end of Beaver Lake along Indian Creek and its tributaries. It's an area that's somewhat unknown to many in the Ozarks, making its 11.8-mile roundtrip hike a perfect unprecedented escape for even the most avid hikers. We talked to Dan Nash, founder and president of Satori Adventures and Expeditions and Hiking the Ozarks, to learn a bit about the area. 
There are Plenty of Ways to Make a Splash.
If you're a fan of waterfalls, visit the Devil's Eyebrow area after a good rain. That will have the several small and large falls here looking their best. Not visiting in the rainy season? There's a scenic spring that flows year round about 1.5 miles from the parking area, and you can follow the flow along part of your hike—perfect for those who find serenity from the sound of babbling brooks. If it's hot, beating that heat is a cinch. Just take off your boots and socks, find one of the area's flowing creeks, and do a little wading. 
You'll see Rocks that Rock.
One-of-a-kind rock formations are one of the best things about this area. While it's easy to fall into the habit of "eyes on the trail," slow down a bit so you can take time to look around, and keep it up at every turn.
It's Where the Buffalo, er Collared Lizards, Roam.
This is the Ozarks, and we have wildlife everywhere, right? Right. But the wildlife at Devil's Eyebrow is even more abundant. Thanks to the area's proximity to Mark Twain National Forest and Beaver Lake, there are plenty of critters roaming about. You'll find the usual suspects—think deer, turkey, birds—as well as rare creatures like collared lizards and bald eagles.
You'll See Plants You've Never Seen Before.
The wildness at the 'brow doesn't stop with animals. There are more than 650 species of plants that have been documented here, making it one of the most diverse natural areas in Arkansas.
...And So Much More.
Sure, coming to Devil's Eyebrow and sticking on the trail will provide you a fun day outdoors and a more-than-sufficient workout. But the area is huge, and there's so much to explore. If you're willing to go off trail, you'll find many more wild and rare plants and even some deep canyons. Live a little!


---

Buzzard Roost Trail
Clarksville, Arkansas | 125 miles south of Springfield | Level of Difficulty: Moderate
You won't find the trail to Buzzard Roost on any official websites. But clearly the scenic overlook on U.S. Forest land attracts plenty of visitors. If they know where to look.
Finding Buzzard Roost is a word-of-mouth adventure among fellow hikers, bloggers and outdoor writers. The U.S. Forest Service doesn't promote it because the unofficial trail to access the area—with rocky outcrops, caves and two natural arches—crosses a small portion of private land. That said, it's a place worth seeing.  
Why go?
The roughly 4-mile round-trip trail is the means to a scenic end. The trails aren't marked, but they are easy to follow, says hiking expert Dan Nash.
Nash says Buzzard Roost is an unusual overlook. "Instead of having a regular bluff line, it's these really cool rock formations the weather and rain and wind have carved," he says. "It's a nice little place to explore."
It's also a great place to picnic, says Russellville hiker/blogger Danny Hale. The formations (he calls them turtle rocks) are beautiful, but beware of gaps. "You don't want to fall down between the rocks," he adds.
Not far from Buzzard Roost is a large natural arch known by some as Rainbow Rock. It's best accessed by a connector trail (see "Access the Trail").
Get there
From Jasper, take Arkansas 7 south to the junction of Arkansas 123. (Tip: On maps you might see that junction called Pelsor or Sand Gap, Arkansas.) Turn west onto Route 123; in about 4.7 miles, according to Hale, turn left onto a gravel road (called Farm Road 1805, County Road 14 and Treat Road, he says; a "Treat Road" sign has been spotted there in the past).
Travel the gravel road about 6.5 miles until you reach a white house. Park along the road; don't block driveways or enter private property (including a field east of the house).
Tip: Cellular service might not work in this rather remote area. Bring written directions and a map. Hale also cautions that road signs might be removed during logging season.
Access the trail
Once you park, head down a little road south of the white house, near an old barn. (Some hikers describe it as a four-wheeler path.) 
Hale suggests going to the large arch first. Continue straight about 500 feet until the trail turns right a second time. Follow this a short distance to find a trail heading down the hillside, Hale says. This leads to the arch, which has two nice grottos below on either side.
Backtrack to the first intersection, turn toward Buzzard Roost and explore.
After about a mile and a half, you'll encounter a choice; the path continues straight or offers an offshoot to the right. Go straight to find your way to the large arch, or turn right to head for Buzzard Roost.


---

Lost Valley Trail
Kingston, Arkansas | 103 miles south of Springfield | Level of Difficulty: Easy
This 1.9-mile hike near the Buffalo National River takes about two hours on foot and leads you through a towering box canyon. It ends at Cobb Cave and a bluff shelter that's a whole lot of fun to explore. Tip: Consider the weather before you visit. If you go after heavy rains, you'll have the best chance of seeing flowing waterfalls. If you go when weather conditions have been dry and water levels are low, you can play around in the rocks of the mostly dry riverbed and explore the cave-like area beneath a natural bridge. Both options are fun for kids and grown-ups alike.


How to Train
Exploring the Ozarks is great, but if you have the hiking bug, you likely won't limit yourself to our little corner of the globe. We talked to outdoor enthusiast Dan Nash, the founder and president of both Hiking the Ozarks and worldwide travel and adventure company Satori Adventures and Expeditions, about how you can prepare for landmark out-of-state hiking and climbing adventures while training right here in 417-land.
If you're looking to hike: A fourteener (a popular group of more than 50 Colorado mountain peaks that exceed 14,000 feet)

Popular fourteeners: Grays Peak, Mt. Bierstadt, Torreys Peak, Longs Peak and Mt. Elbert 
Training plan: You can do a lot of your fourteener training in the gym. Nash recommends a good mix of longer slow cardio workouts and strength training, plus an interval workout one day per week. Training four to five days each week is recommended. 

Local practice hikes: Very close to home, the Silver Trail in Busiek State Forest is a great place to train thanks to several good hills. The Compton Trail in Arkansas is also a great place to train, as it raises some 1,600 feet from the Buffalo River to the top of the trailhead in just 2.5 miles. 


If you're looking to hike: A thru-hike on a long-distance trail.

Popular long distance trails: Appalachian Trail, Pacific Crest Trail (PCT) and Continental Divide Trail
Training plan: There's truth behind the idea that the best way to train for an activity is to do that very activity. "Long hiking days with a pack are a good way to train for long-distance hiking," Nash says. 
Local practice hikes: If you want your own taste of a thru-hike, load up your pack (but not too heavy!), and head to one of our nearby long-distance hiking trails. The Ozark Trail in our Missouri Ozarks and the Ozark Highlands Trail in Arkansas are both good options with lots of terrain and elevation changes.


If you're looking to hike: In a Canyon

Popular canyon hikes: Grand Canyon National Park, Bryce National Park, Canyonlands and Death Valley National Park 
Training plan: "A good way to train for a canyon hike is a combination of long hiking days plus some strength and interval workout days," Nash says. "This will help to improve cardio and strength for those climbs out of the canyons." 

Local practice hike: Arkansas's Hemmed-in Hollow Trail that can be reached from the Compton Trailhead is a nice way to train for a canyon hike, as it provides a similar landscape—lots of steep stepping and rock navigation on both the way down and the way back up. 


---

Book It
There are likely dozens and dozens of hikes in the Ozarks you've never heard about (and we promise—you're not just going to stumble upon all of them on Google). Check out these guide and hiking books before planning your next outdoor adventure.  
Trails & Treks of Missouri & Northern Arkansas
by Kelly Frey and Steve Baron
The second title from the authors of Trails of Missouri, this book is packed with 79 hikes peppered throughout the entire state of Missouri and the top slice of heavily trekked Arkansas. Each trail outline was written with experience, as every mile featured in the book was hiked by the authors. All descriptions include a map, driving directions, length and perks of the trail.
Buffalo River Hiking Trails 
by Tim Ernst
Tim Ernst is the author of several popular area guidebooks, and this one about northwest Arkansas's oh-so-popular (and oh-so-beautiful) Buffalo River area is one of our favorites. It has complete descriptions of more than 30 hiking trails in the Buffalo River area, including both the hotspots and the hidden gems. Bonus: there are even descriptions on how to get to some scenic spots that don't have developed trails leading to them.
Best Easy Day Hikes: Missouri Ozarks 
by JD Tanner and Emily Ressler
Sure, this book is a part of the Falcon Publishing giant that produces guidebooks from Yosemite to Acadia—but that's why we think it's extra cool (and extra legit) that they created a book about hiking in our very own little corner of the world. The book includes descriptions and detailed maps for 20 trails, including scenic ridgetops, quiet valleys and cool hollows.
---
The Great Bear Scare
No stranger to the outdoors, 417-lander Jenna Clouse has been hiking since she was a young girl. She spent much of her childhood logging countless miles at the Cedar Gap Conservation Area that backs up to her family's land. It wasn't until last September, though, that 20-year-old Clouse came across something that she'd never seen while hiking before: a bear. Read on for her first-hand experience, and learn what to do if you're ever in the same situation with tips from Francis Skalicky, media specialist for the Southwest Region of the Missouri Department of Conservation.
By Jenna Clouse, as told to Savannah Waszczuk
We were out of school for Labor Day, so we decided we would go hiking—I took a couple of my friends to the Cedar Gap area where I've always hiked. After we got done and we started making our way back up to the car, Alex and Lena went ahead of me. I was taking pictures and taking my time. I didn't hear the bear, but I looked over, and he was standing right there. Immediately I froze. Most people have that fight-or-flight response, but I didn't have either of those. I didn't want to run because I didn't want it to chase me; I didn't want to trigger any predatory responses. 

Check out the nine-second video of Clouse's experience below: