Life
Cutest Baby Winner 2017
Say hello to Canaan Reed, the winner of 417 Magazine's fourth annual Cutest Baby contest.
By Claire Porter
Apr 2017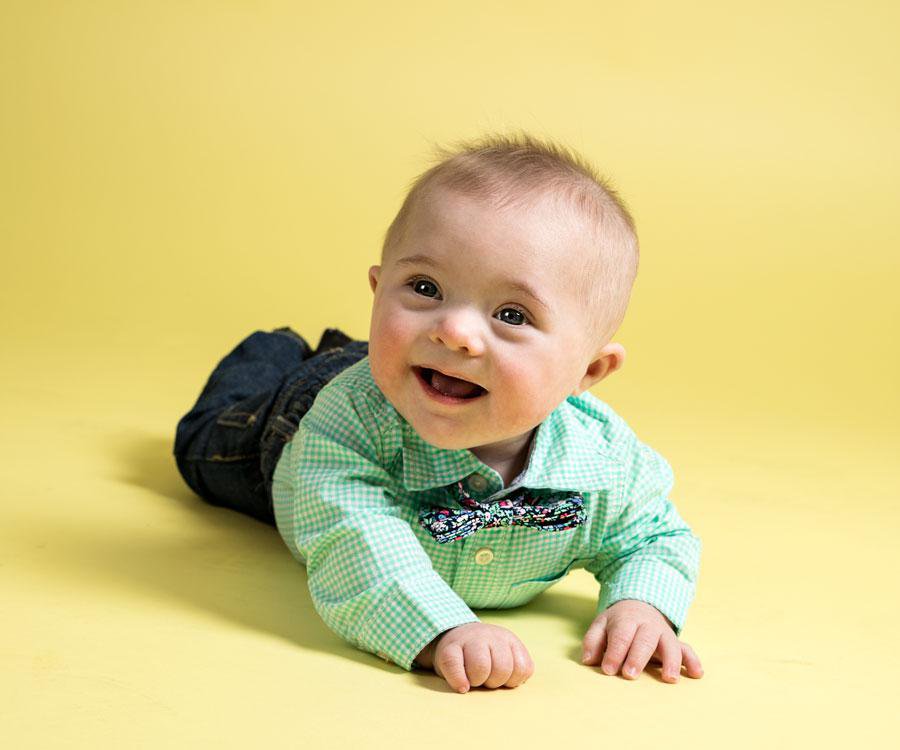 Canaan the Cutest
We have to apologize. We're sorry for asking you, our dear readers, to take on the unimaginably difficult task of looking through 20 photos of 417-land's wiggliest, smiliest, happiest babies and choosing one to be named 417 Magazine's Cutest Baby presented by CoxHealth. When we first reached out to parents to submit photos of their bundles of joy, our inboxes were flooded with almost 100 submissions. Each nominator paid a $5 fee to benefit their choice of Care to Learn, Children's Miracle Network, Doula Foundation, Isabel's House or Pregnancy Care Center. Of the submissions, we selected 20 finalists to appear online. Readers then voted for the cutest of the bunch to be featured in the magazine and receive a prize pack valued at more than $1,000.

That winner was 8-month-old Canaan Reed, who won over readers with a photo of his sleepy yawn in front of a black-and-white chevron background under a dangly heart banner. Canaan came into our studio for an adorable springtime photo shoot. He was dressed to the nines in a floral bow tie and black leather loafers. His mother, Leann Reed, says they love to go shopping together, and she frequently dresses him in a button-down shirt and bow tie to match his dad, Bradley Reed, who is a bit of a bow tie aficionado. Leann says for spring she's been putting Canaan in hats and fedoras. "He's a good sport about it," she says. "But if he had to choose, he'd be running around in a diaper." (In fact, when Canaan stays with Nanny, grandma Joleen Reed, he gets to break all the rules and run around clothes-free.)
At home, Canaan has a mind of his own. He loves to play with the family's two dogs, Kimber and Lola, and he wiggles along to his favorite Southern gospel and bluegrass music, songs he often hears thanks to Bradley's work as the assistant pastor at Faith Pentecostal Church. Leann says Canaan does everything on his own terms. "When he's ready, he's ready," she says.
Name: Canaan Reed
Age: 8 months
Favorite Food: Sweet potatoes
Favorite Activity: Bath time
Preferred Music Genre: Southern gospel and bluegrass
Fun Fact: Although his parents have dark brown and hazel eyes, Canaan has bright blue eyes.
That attitude started the day he was born. Leann and Bradley tried for two years to conceive, and she went through fertility treatments before becoming pregnant with Canaan, whom they call their "miracle baby." And when he was ready, he wasn't waiting any longer. The couple didn't even have time to park the car at the hospital before Canaan was born. The very next day, he was diagnosed with Down syndrome.
Leann, who is a kindergarten teacher at Esther Elementary in Lebanon, knew the importance of early therapy, so within a week Canaan had started occupational therapy. Leann and Bradley, who is also a lifestyle coordinator at Americare Assisted Living, connected with the Down Syndrome Group of the Ozarks, which helped the couple find occupational, physical and speech therapists to perform in-home therapy for Canaan. The therapy is paying off, and Leann says Canaan's doctors chart him right on track for healthy development for his age. 
The Reeds also have his doctors to thank for their son's newfound fame. His pediatrician, Dr. Laura Waters, suggested Leann entered Canaan's photo into the contest, and thanks to the support—and votes!—of friends and family (plus some Facebook campaigning by Mom, Dad and the grandparents), his bubbly grin is gracing our pages today. The Reeds are so in love with little Canaan that they're working on opening their hearts and home to even more children. Leann and Bradley are attending classes to get their foster care license so that Canaan might soon have a sibling to make him smile every day.