Travel
Seven Stops on an I-44 Road Trip
On your way to St. Louis for a Cardinals game, a concert or a weekend away with friends? Don't rush through that drive down I-44. We found seven stops that will make the Route 66 journey as much fun as the destination.
Written by Katie Pollock Estes | Photos courtesy Meramec Caverns, The Blue Duck, Shutterstock, by Kevin O'Riley
Apr 2017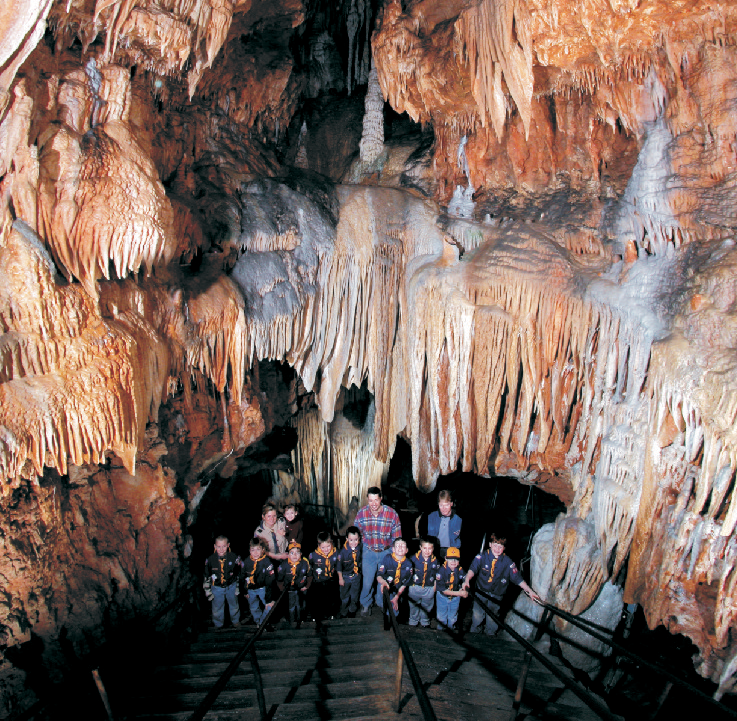 Meramec Caverns
1135 Highway W, Sullivan, americascave.com
You've seen the billboards that boast a toasty warm 58-degree tour for winter visits, and a nice and cool 58-degree tour for summer visits. But the steady and comfortable underground temps aren't the only reason to visit Missouri's largest commercial cave. While you're there, you can ride a zip line, pan for gold and more—if you want to make a day of it, of course.
Maramec Spring Park
21880 Maramec Spring Dr., St. James, maramecspringpark.com
While you're in St. James, pop over to Maramec Spring Park to catch a glimpse of Missouri's fifth largest natural spring. It pumps out 100 million gallons of water daily from beneath a beautiful Gasconade dolomite bluff and into the Meramec River. (Yes, the two really are spelled differently.) If your kids are in tow, don't miss the park's playgrounds.
Public House Brewing Company
551 State Route B, St. James, publichousebrewery.com
As long as you have a DD for the rest of your road trip, a stop at Public House Brewing Company in St. James is a great mid-trip pick-me-up. The craft brewery offers numerous year-round and seasonal beers in its tasting room. Try the Revelation Stout to see if it lives up to its name.
Redmon's Candy Factory
330 Pine St., Conway, redmonscandy.com
You know you're going to need a bathroom break at some point during this trip, so see if you can time it so you stop at Redmon's Candy Factory. You can pair your pit stop with homemade sweet fun or choose your own hand-selected baskets full of bulk penny candy. If you're a fan of nostalgic sweets, there are some goodies here to spark childhood memories.
Bennett Spring State Park
25250 Highway 64A, Lebanon, bennettspringstatepark.com
If you have time to take it slow, stop by Bennett Spring State Park for a little fishing and relaxation. The well-known fishing hole is a great place to snag some rainbow trout, stretch your legs on a trail or just enjoy the scenery before you get back on the highway. There's even an old, scenic mill to add to ambience. 
The Blue Duck
516 W. Front St., Suite 100, Washington, blueduckwashmo.com
You're probably getting hungry by now. Take a detour off the highway at Washington, and visit The Blue Duck. It's a small-town gem, offering elegant eats like the Risotto Cake Napoleon that features duck ham and basil honey among the super-luscious ingredients. (Bonus: If you plan to stick around the area, Washington is just a hop away from east-central Missouri wineries.)
Ted Drewes Frozen Custard
6726 Chippewa St., St. Louis, teddrewes.com
End your long trek with a classic St. Louis treat located on old Route 66. Ted Drewes Frozen Custard has been serving St. Louisans since 1930. A longtime favorite flavor is the Terramizzou, a concoction made with "Ted's secret blend of chocolate and pistachio nuts." It's the perfect reward for a day of travel. Be sure to take a pint to-go—they'll pack it all up on dry ice for you.