Features
Best Breakfasts
Go all out for the most important meal of the day.
By Ettie Berneking, Katie Pollock Estes, Savannah Wasczcuk, Dylan Whitaker | Photos by Kevin O'Riley and Amy Pennington
Jan 2013
Breakfast is the most important meal of the day, right? That's what they always say, anyway. And we believe it. Sure it's the fuel that gets you going and fills you up so you can face the day. But it's also a great way to connect with your breakfast companions. Whether you're meeting some friends for brunch or dining out with your family, breakfast is the perfect comforting meal to dig into while you talk about the day's gossip and sip a hot and steamy cup of coffee.
So skip the lazy bowl of cereal and the way-too-sweet toaster pastry. Put away your packets of instant oatmeal. And for goodness sake, don't get your stove all greasy by frying up a batch of bacon at home. Leave that to the pros, and venture out to 417-land's tastiest breakfast destinations.
We found local spots that do breakfast right, whether they are known for their extensive omelet menus or their famous French toast. No matter what type of breakfast fare you prefer, there's a 417-land restaurant that can cook it up—fresh for you. So grab your favorite breakfast buddies, and get breakfast out on the town today. Let somebody else do the sticky syrup-covered dishes for a change.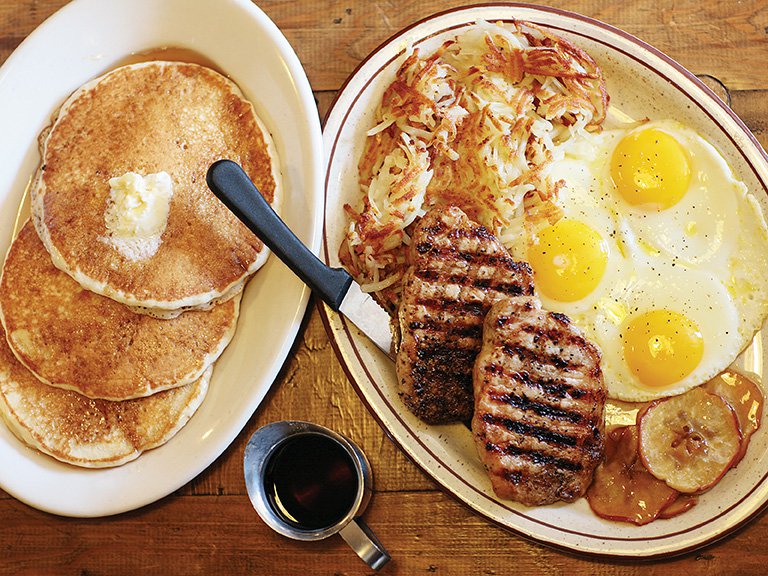 Country Breakfast
107 W. Mt. Vernon Blvd., Mt. Vernon, 417-466-4650; 101 N. Hickory, Mt. Vernon, 417-466-3460
Eating at Red Barn Café and Hen House Bakery feels just like you're eating at your mom's house, if your mom cooks up fresh, gigantic, beyond-delicious meals every day. The original Red Barn Café is located in a large metal red building, and the interior is cozy and welcoming with cutesy old signage, plaid curtains and all the accessories you'd expect to find in a country-style kitchen. 
The most popular breakfast option is the Country Style buffet, which is well stocked with eggs, sausage, bacon and country chunks (country fries), pancakes, waffles and even a fresh fruit bar. The spot also has a sit-down breakfast menu. A favorite choice is the Plowboy Breakfast ($7.25–13.95). First, you choose your meat (bacon, sausage, chopped steak, country ham, country-fried steak, two pork chops or a 12-ounce ribeye). Yes, you can eat pork chops for breakfast. The chops come well seasoned, seared and juicy. And if you're more of a steak eater—this is ribeye for breakfast! The Plowboy includes eggs cooked to your preference, a choice of potatoes and a choice of a biscuit and gravy, silver dollar pancakes or toast. The meal is as big as it sounds, so be sure to bring a massive appetite. And also make sure to save some room for dessert—Red Barn has a huge selection of made-from-scratch sweet treats, including pies, cakes and cinnamon rolls that take up an entire dinner plate.


915 W. Jackson St., Ozark, 417-581-6047
In 2001, Rosemary Griffin and Carla Joline Veach combined their names and their cooking skills to open up Rosie Jo's Café in Ozark. In 2003, the restaurant moved to a larger location in a shopping center off the main drag of the city's Jackson Street, and it's still located there today. Now Griffin is the sole owner of the café, and you can often find her in the kitchen preparing some stick-to-your-ribs, country-style cooking. 
The restaurant is usually hopping in the mornings, when a favorite dish is the three-egg breakfast served with ham steak, sausage or bacon, hash browns and toast or biscuits and gravy (all for $5.29!). Eggs come cooked any way you want them, including the usual options, but Rosie Jo's also offers to prepare your eggs basted. "If you're frying an egg in a pan, you don't flip it to turn it," Griffin says. "You have a lot of butter in there, and you baste it to turn it white." And the hash browns served here have never seen the inside of a freezer. "We bake the potatoes, peel them, hash them and cook them on the grill," Griffin says. 
Other favorites at Rosie Jo's include made-from-scratch biscuits and homemade sausage gravy, pancakes, French toast, omelets and breakfast specials for $3.49. It's simple, but it's simple done right. "We're a meat and potatoes kind of place," Griffin says. Friendly faces and tasty food make this a country-style café well worth a visit.  


513 N. West Bypass, Springfield, 417-865-3646; 3322 DD S. Campbell Ave., Springfield, 417-890-1984
If you order the chicken fried steak breakfast at Cedars Restaurant, you're in for a real treat. "That's kind of what made us," says Dennis Butzlaff, who co-owns the restaurants with Jim Dillard. "We take it, dip it in buttermilk and then hand bread each one to order." At breakfast time, this No. 1-selling steak is served with sausage cream gravy; two eggs any style; your choice of hash browns, American fries or grits; and your choice of toast, biscuits and gravy or an English muffin. It's a whole lotta food, especially for the $5.69 price tag. And if you're feeling extra-hungry, you can upgrade your hash browns to the Cedars hash browns, which are another customer favorite. "It's our hash browns with onions, tomato, green peppers, ham and Monterey jack and cheddar cheese," Butzlaff says.   


2415 W. Division St., Springfield, 417-831-0883
Originally called Vaughn's Drive In, this northwest Springfield eatery has been serving 417-landers stick-to-your-ribs cooking since 1949. It's best known for its lunchtime favorites of hand-dipped shakes, hand-cut fries, burgers and pork tenderloin sandwiches, but it's also a popular a.m. spot for everything from biscuits and gravy to omelets or breakfast burritos. A belly-warming option for breakfast is Louie's Platter, which comes with the choice of a massive slice of hand-carved ham or giant breaded hunk of pork tenderloin, plus hash browns, toast and three eggs. Both the ham and pork are great options, but the crispy breaded pork tastes great smothered in a couple of scoops of peppery white gravy. The spot also has a popular chili, and some frequent diners order it on top of their hash browns. The drive-in itself is teensy, with the inside having only 12 seats. If there isn't any room, it's a great spot to order food to-go.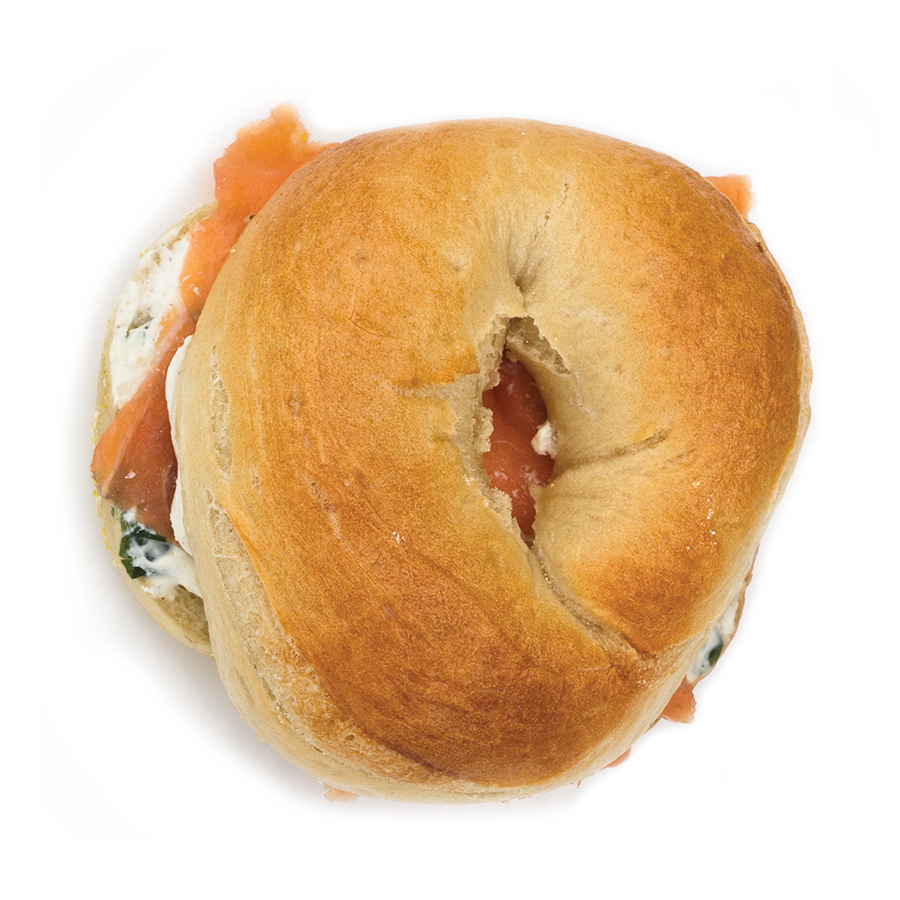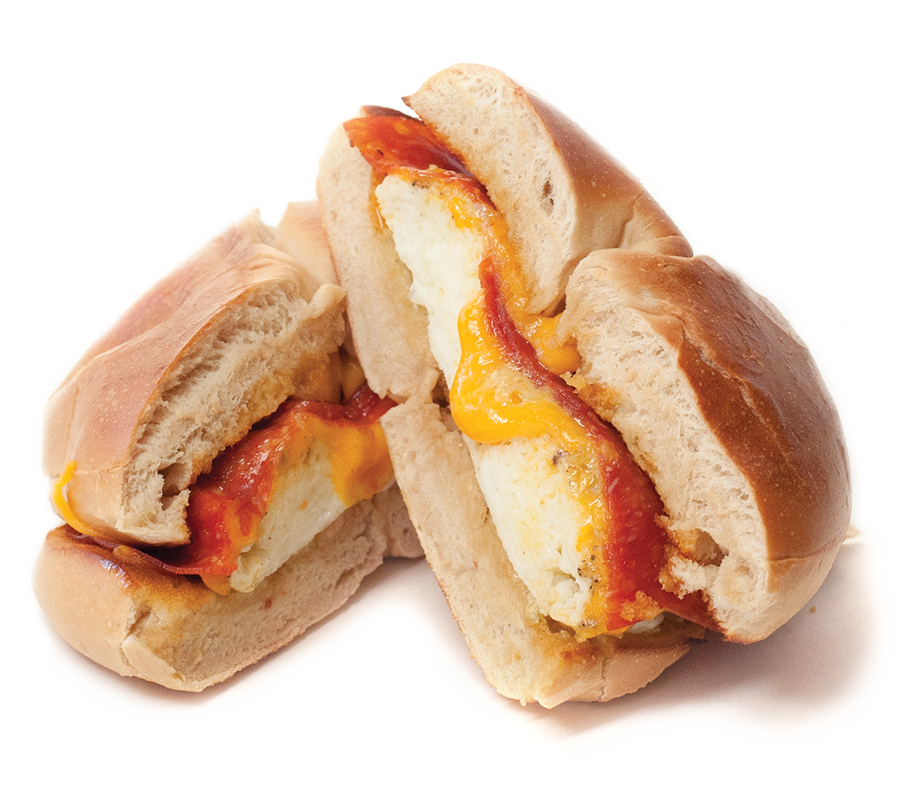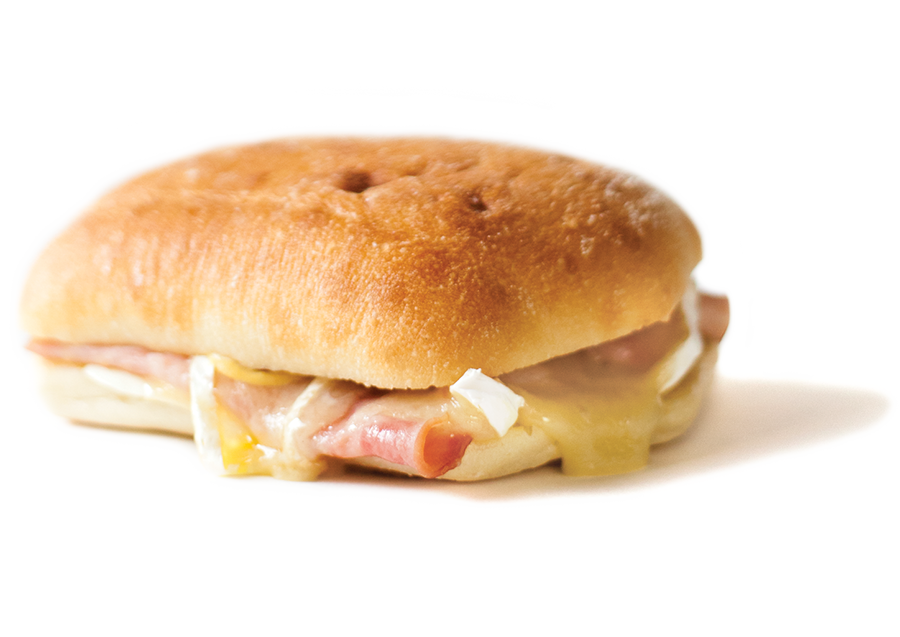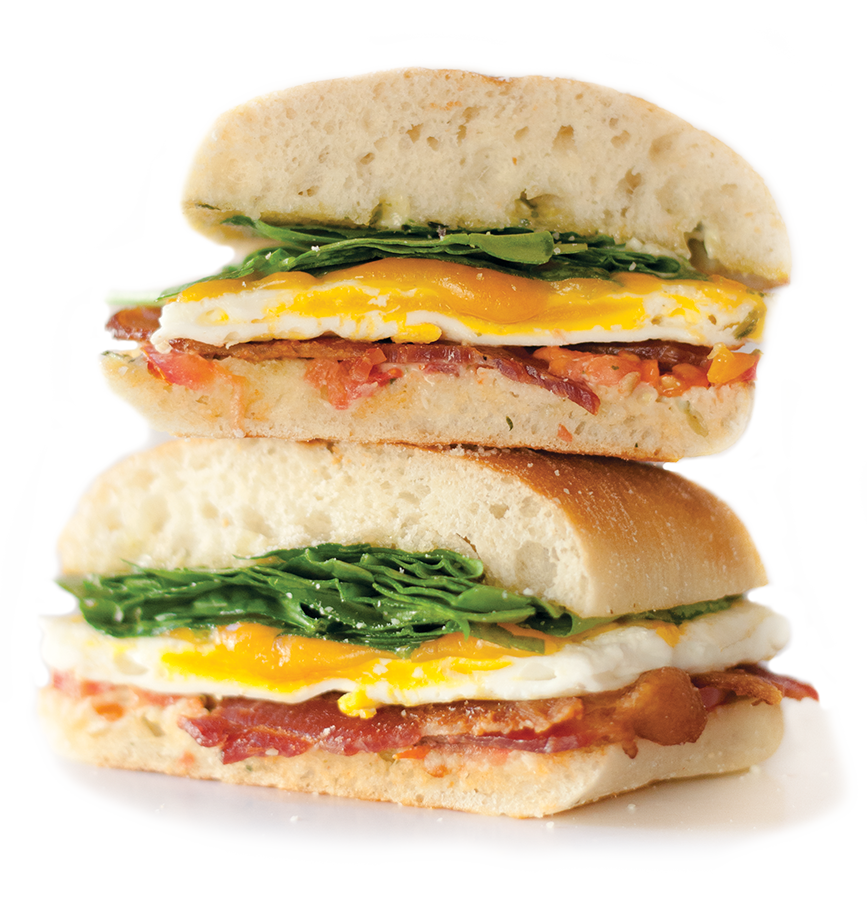 Sandwiches
Watch their Facebook page for updates on when and where you can pick up your Mighty Bagel
At this little bagel cart, you can get a boiled bagel toasted over fire with a number of toppings, including cream cheese, smoked salmon and capers, as pictured here. Our favorite, though, is The Almighty. Don't be scared by The Almighty's odd mix of flavors: Cream cheese, butter, onions, apples, cucumber, raisins, sunflower seeds, cinnamon and garlic powder. We know, we know—garlic powder and raisins? But it's so delicious. It is crunchy, chewy, sweet and savory all at once. Plus the fire-toasted bagel has just a hint of smokiness, the cucumber a hint of cool brightness. After you've eaten The Almighty, you'll feel powered up and ready to hit the day. 


Ben's on the Square
103-A W. Church St., Ozark, 417-485-0900
(Editor's note: This restaurant has closed since the publication of this article.) The breakfast menu is small here, with typical coffee items and only three sandwich items. We chose The Phoenix because it had an unusual item that you don't typically find at breakfast time: pepperoni. The sandwich also came with eggs, cheddar cheese and jalopy sauce (jalapeño ranch sauce). The heat from the jalopy sauce combined with the spicy pepperoni sure did make for a surprising first bite. And we loved it.


The Buzz
2810 E. Battlefield Rd. Ste-D, Springfield, 417-881-4442
(Editor's note: This restaurant has closed since the publication of this article.) Breakfast at The Buzz is pretty fancy and totally delicious. We ordered the Parisian breakfast sandwich that came with farm-fresh eggs, ham and creamy brie all squished between two toasted pieces of soft ciabatta bread and topped with tangy Dijon mustard. It was heavenly. The Buzz also has ricotta pancakes, French omelets, quiche and cinnamon rolls the size of softballs. 


621 S. Pickwick, Springfield, 417-866-7500
Tea Bar and Bites is located in the cutest neighborhood and might even be the cutest restaurant in 417-land. Situated on Pickwick in the Roundtree neighborhood, Tea Bar is a fun little tea room serving some of the tastiest breakfast Springfield has to offer.
On our visit we ordered the fried egg sandwich along with the spinach and cheese quiche and a cup of coffee. The light and fluffy fried eggs on this big sandwich are wedged between thick slices of ripe tomatoes, crisp greens, bacon and two slices of toasted focaccia with pesto mayo. Our favorite part was the pesto mayo. It really gave the sandwich a rich and creamy flavor.
Tea Bar also has the most amazing crust for its delicious quiches. It is so buttery and rich. Other breakfast options include the omelet bagel sandwich that comes with eggs, cheddar cheese, herbed cream cheese and greens on a toasted bagel.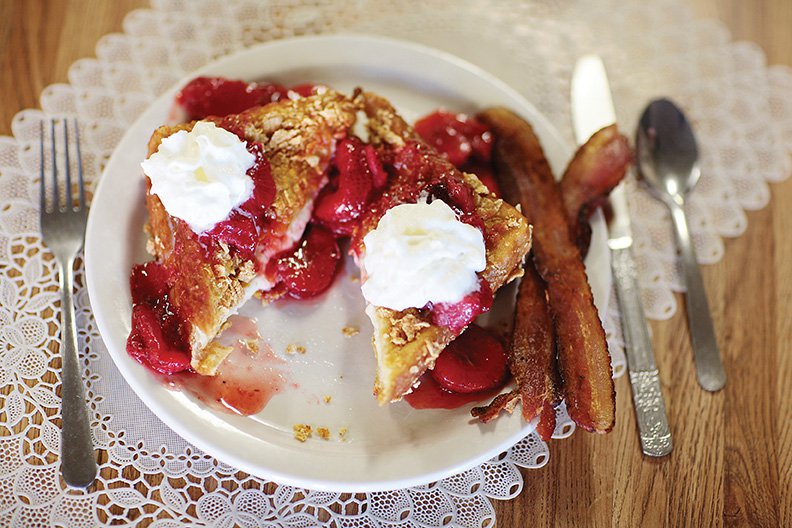 Pancakes, Waffles & French Toast
210 W. Jackson St., Marshfield, 417-859-7251
This small-town diner is famous for its stuffed French toast. This family recipe uses thick slices of Texas toast that are dipped in egg, breaded with corn flakes then fried. The stuffing selections are just as scrumptious as the battered and fried toast. There's the usual blueberry or blackberry stuffed French toast, then there's the seasonal variety like the cranberry or pumpkin. 
While this crispy rendition of French toast is reason enough to travel to Marshfield, there are other menu items that have customers raving. From the chili, biscuits and pancakes, this kitchen stays busy serving up made-from-scratch treats. The crepes and burgers are also sought after lunch items. Come early: Freda's fills up quickly and closes up at 2 p.m. seven days a week.


Route 66 Café at Tubby's Diner
2204 W. College St., Springfield, 417-501-8633
(Editor's note: This restaurant has closed since the publication of this article.) Everything at Route 66 Café is homemade, and you can taste the difference. The crusted French toast is a close-guarded recipe that has customers raving. The key to its crunchy coating, fluffy filling and the hint of vanilla: the batter is spiked with vanilla beans instead of vanilla extract. The result is a not-too-sweet French toast that gets a dusting of powdered sugar and a drizzle of fruit compote. The servers at Route 66 recommend skipping butter and syrup when digging into this breakfast favorite. The sweet vanilla flavoring of the toast stands well on its own. For a more stick-to-your-ribs breakfast, try the catfish and eggs. It might not sound like breakfast food, but when this flaky fish gets dunked in warm egg yolk, the breakfast gods sing hallelujah.  Breakfast served all day, and they take cash and credit.


Aunt Martha's Pancake House
1700 E. Cherokee St., Springfield, 417-881-3505
(Editor's note: This restaurant has closed since the publication of this article.) There are more than 17 kinds of pancakes at Aunt Martha's, where flapjacks are serious business. There's the pumpkin spice pancake, the banana pecan pancake with caramel topping and the gingerbread pancake with whipped cream, butter and hot maple syrup. But one of the most sought-after flapjacks is the peanut butter pancake. And everything is made from scratch. The pancake recipe is a family secret; only two people know it. Breakfast is served all day, and the down-home atmosphere keeps hungry hordes of folks coming in. 


135 W. Elm St., Lebanon, 417-588-2700
If you're like most of us and hit snooze a few too many times, have no fear: The Elm Street Eatery's breakfast menu is served all day long. Popular options here include a variety of famous pancakes. The flapjacks come in several varieties, including strawberry and blueberry, and pecan upon request. The pecan pancakes are drizzled with heavenly caramel syrup and topped with crunchy nuts. Fluffy buttermilk pancakes with salty pecans and sweet caramel sauce? Yes, please. 


1882 James River Rd., Ozark, 417-582-2600
The waffles at Bric's have made this pancake house a batter-lover's heaven. The pecan waffle is especially sinful and should be enjoyed with a hearty pour of maple syrup. Each bite is a mix of sweet and nutty with a bit of crunch. And while breakfast is served all day, it can be nice to double up on breakfast and lunch and splurge on the chicken and waffles. This savory-sweet combination is a breakfast/lunch champion.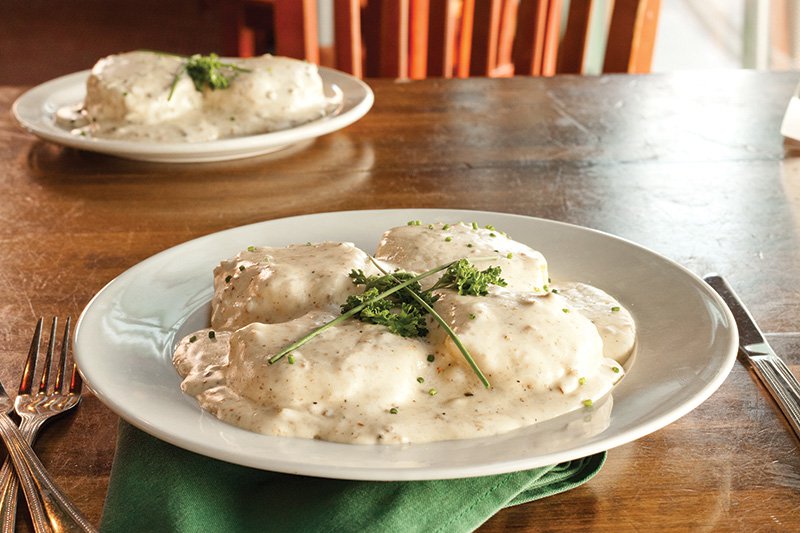 Biscuits & Gravy
305 S. Market St, Springfield, 417-832-8277
Local brewery and restaurant, Springfield Brewing Company brought breakfast back to the restaurant for the first time in 15 years. The pancakes and biscuits and gravy recipes come from Brew Co.'s Chef Brandon Moore, who used them on Saturday mornings to keep his kids happy. These kid-tested and father-approved recipes are now being served at Brew Co. for your enjoyment. 
We know one thing: Chef Moore and Brew Co. have set the bar pretty high for all makers of biscuits and gravy. Our first bite was one of those "oh wow!" moments. Brew Co. uses duck fat instead of bacon or sausage grease to create its delicious gravy. By doing this, you end up with super-rich gravy with a silky smooth mouth feel. It's decadent to say the least. Big jagged chunks of spicy sausage are speckled throughout the gravy that covers every nook and cranny of the pillow-soft biscuits. 
Other breakfast notables are Brew Co.'s Walnut Street Pancakes. The massive pancakes are made with a batter that uses Brew Co.'s Walnut Street Wheat beer and is packed with hunks of sausage and crisp pecan-smoked bacon. They come stacked three-deep and capped with eggs cooked to your preference. These moist pancakes are a perfect combination of sweet and savory. The Brewers Benedict is also a solid choice and a little lighter than the other two. The basted eggs are placed on a bed of capicola ham that sits on an English muffin, and it's all drizzled with a tangy and buttery house-made hollandaise sauce. 
If you need a little hair of the dog with your breakfast, the bloody mary with a tabasco salt lined rim is just what the doctor ordered.


Brown Egg Café and Coffee House
607 E. Madison, Springfield, 417-865-3223
(Editor's note: This restaurant has closed since the publication of this article.) Brown Egg Café and Coffee House is a quaint little place located just one block west of the Missouri State campus. It serves breakfast all day long, and the Breakfast Biscuit Bowl has quickly become a fan favorite.
"This is the greatest thing ever," is what the waitress said when she brought us the dish. It's prepared in layers in a sizeable bowl. A big buttery, flaky biscuit is situated in the bottom, then doused with scrambled eggs and smothered with rich sausage gravy. The very top is lightly dusted with shredded cheddar cheese. It's served with a fork and a spoon, but after one bite you'll abandon the fork and use the spoon to dig deep down to the bottom of the bowl. The best part is the ground sausage crumbled in the gravy. Little hunks of spicy sausage are distributed throughout the peppered gravy, and bite after bite delivers a nice little kick.
Not a B&G fan? Brown Egg also has 10 signature breakfast burritos, three breakfast sandwiches, a handful of vegetarian options and a couple of classic breakfast items like pancakes and quiche. If you are a sweet and savory kind of person, order the pancake sandwich. It comes with sausage, eggs and cheese sandwiched between two piping-hot pancakes and served with butter and syrup. Sounds killer.


5291 State Highway 265, Branson, 417-338-8883
It's safe to say that Billy Gail's Café is a hidden gem in 417-land. If you blink, you will drive right past the rustic building with almost over-the-top Ozarks charm. The old-timey decorations, kitschy atmosphere and friendly service have made it an endearing spot. Oh and make sure you bring cash. No credit cards here.
A dish worth trekking to Billy Gail's for is the made-from-scratch Sloppy Biscuit. Billy Gail's splits open one of its homemade biscuits and puts eggs, cheddar cheese and a sausage patty inside to form a biscuit sandwich. Then the whole thing is smothered in a creamy white gravy and served with a ridiculously large side of crisp hash browns. It's one of those dishes that turns people's heads as the waitress brings it out. There are lots of black pepper flakes in the gravy, and man is it good. The biscuit is soft and delicious, and the whole dish is so filling that you might not have room for your crispy hash browns.
Billy Gail's also serves giant pancakes that literally flop over the edge of the plate. These things are laughably large and one is plenty. The stuffed French toast is also a big seller. Billy Gail's takes sausage, egg and cheese and sandwiches it between pieces of golden brown grilled Texas toast. Or if you are feeling bold, order the Billy's Belly Buster Breakfast. The name speaks for itself. You get three eggs; a short stack (two cakes) of the buttermilk pancakes; bacon, sausage patties or ham; hash browns and toast. Wowza! 
Bunches of Brunches
We've scrounged up a handful of 417-land restaurants that dish out scrumptious brunch items, each offering their own twist to this Sunday morning staple.
Chateau Grille
Located at Chateau on the Lake Resort Spa & Convention Center, 415 N. State Hwy. 265, Branson, 417-334-1161
Sundays 11 a.m.–2 p.m. 
$32 adults; $16 children; kids 5 and younger are free.
What's offered: A seafood display, a meat carving station with prime rib, omelet and waffle stations, eggs Benedict, French toast, scrambled eggs and specialty salads. Brunch includes two mimosas.
Standouts: Look for seafood entrées like chardonnay-poached salmon. 
Farmers Gastropub
431 S. Jefferson Ave., Ste. 160, Springfield, 417-864-6994
Sundays 11 a.m.–3 p.m.
Prices range from $7–19
What's offered: A full English breakfast with bacon, sausage, eggs, English baked beans, toast, grilled tomatoes and mushrooms and breakfast potatoes. Entrées include burgers, fish and chips and bangers and mash and more.
Standouts: $4 mimosas and $6 bloody marys made with house-infused vodkas. 
Hemingway's Blue Water Café
Inside Bass Pro Shops, 1935 S. Campbell Ave., Springfield, 417-891-5100
Sundays 9 a.m.–3 p.m.
$18.95 for adults; $7.50 for children
What's offered: Carved roast beef, vegetables, omelets cooked-to-order, scrambled eggs and Belgian waffles. Entrées change weekly. For two dollars more, guests can enjoy a Champagne brunch.
Standouts: An array of desserts are spiced up with a chocolate fountain. 
The Keeter Center
1 Opportunity Ave., Point Lookout, 417-239-1900
Sundays 10 a.m.–2 p.m.
$23.95 for adults, $9.95 for children
What's offered: Omelet and waffle stations, plus entrées like the rosemary pork loin and side dishes like deviled eggs. There's also a shrimp and oyster bar, carved meat station and more than 30 desserts. 
Standouts: The carved ham and bacon is campus-raised.
Nonna's Italian Café
3512 S. National Ave., Springfield, 417-890-8300
Sundays 11 a.m.–4 p.m.
Prices vary, usually around $8.99
What's offered: Spiced French toast with a peanut butter caramel syrup is made in-house and served with ham and a mixed berry cup. The brunch menu changes every Sunday. 
Standouts: Specialty bloody marys and mimosas.
Spring River Buffet 
Located at Downstream Casino Resort, 69300 E. Nee Road, Quapaw, Oklahoma, 918-919-6000
Sundays 10 a.m.–3 p.m.
$10.95 for adults, $5.95 for kids 6–12
What's offered: Iconic breakfast fare like omelets, hash browns, sausage, and pancakes are mixed with fried chicken, catfish, and Asian favorites.
Standouts: An ice cream machine joins the selection of pies and cookies.
Worman House
Located at Big Cedar Lodge, 612 Devil's Pool Rd., Ridgedale, 417- 339-5200
Sundays 9:30 a.m.–2 p.m. 
$32.95 adults; $11.95 children 4–12
What's offered: Fresh fruits and breads, salads, omelets, Belgian waffles, desserts and charcuterie. Hot entrées like smoked chicken and shiitake manicotti change weekly. 
Standouts: Seafood includes crab and jumbo shrimp. And the cold-smoked salmon is cured and smoked in-house.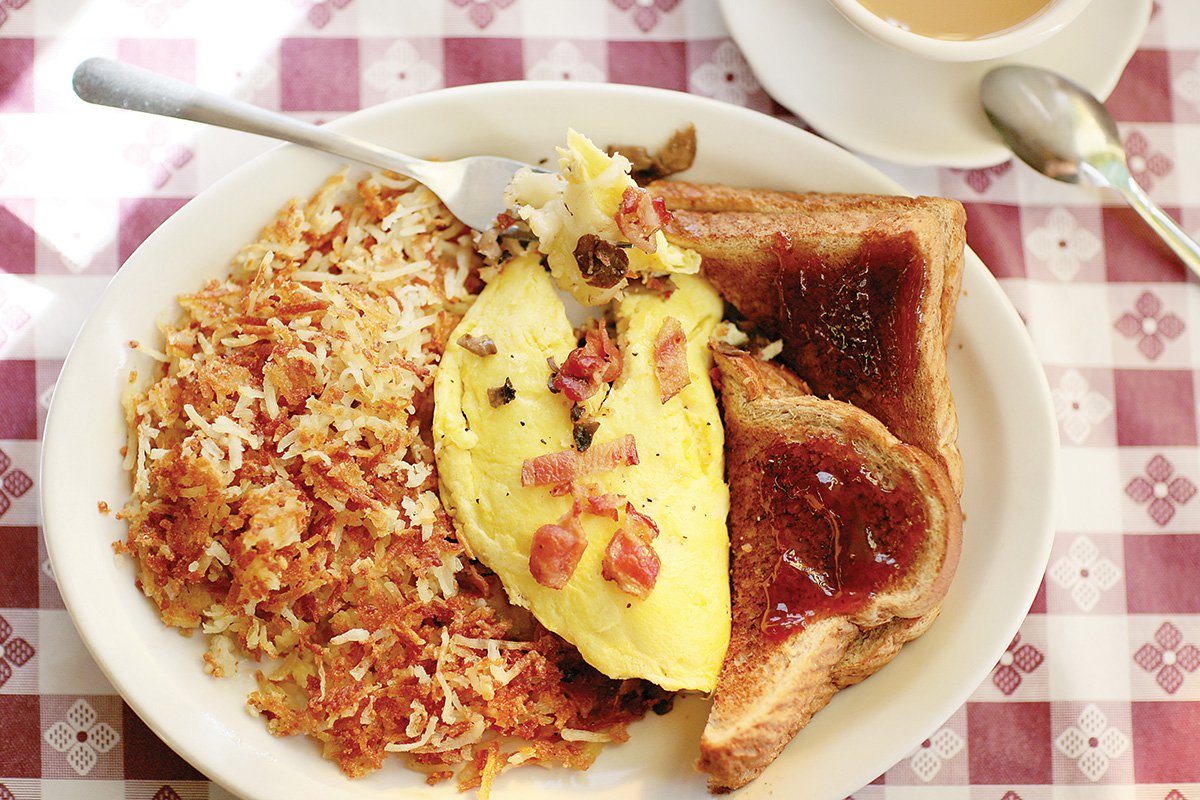 Omelets
937 S. Glenstone Ave., Springfield, 417-869-7681
An omelet must be good when it's been dubbed the "Opulent" omelet. This fluffy mountain of eggy-goodness is stuffed with mushrooms, crumbled bacon and Swiss cheese and is accompanied by an equally massive pile of crispy hash browns and a side of toast. But because breakfast is best eaten super-sized, we recommend swapping the toast for a hearty biscuit and gravy. It's only a 50-cent upcharge and will make your stomach bulge with contentment. 
Anton's is known for its omelets. An entire page of the breakfast menu is dedicated to the dish, but other items like the malted Belgium waffle and the buttermilk biscuits make the list of customer favorites. Be sure to bring cash when dining at Anton's, and get there early. Only open until 2 p.m. Wednesday–Monday, this retro-kitchy breakfast nook fills up quickly. The low ceiling and décor of hanging frying pans, spatulas and menus from a bunch of restaurants give this joint a definite country vibe.


220 E. Walnut St., Springfield,  417-866-5500
The Mediterranean Omelet at Gailey's unites traditional American breakfast with some more savory counterparts. This omelet is jazzed-up with avocado, roasted red peppers, eggplant, mushrooms, sundried tomatoes, oregano, feta cheese and hummus. Now try saying that with your mouth full! Another crowd pleaser is the sweet potato hash browns. They come with a sprinkle of brown sugar, and true regulars know to order the starchy treat with a dash of cinnamon and sugar. 


1622 W. College St., Springfield, 417-631-8375
This tiny café sits on the corner of Kansas Expressway and College Street and is cash-only. The recipes used back in the kitchen have been passed down through family and old girlfriends and keep the menu stocked with homemade items like from-scratch biscuits and a ham and bean chili that only makes an appearance during the winter. While the omelets are massive and filling, several lunch items like the fried catfish and the open-faced roast beef sandwich bring in a steady lunch crowd. Being so small, it's said that the servers here will know your birthday and your wife's name after just a few visits. 


Mary Lee's Café
712½ W. 20th Street, Joplin, 417-623-9666
(Editor's note: This restaurant has closed since the publication of this article.) Omelet lovers wake up early to get to Mary Lee's, especially if they're part of the omelet club. Much like a coffee punch card, customers at this café get their sixth omelet on the house once. The veggie omelet along with the three-meat omelet and Western omelet are the most popular choices. Breakfast is served Monday through Saturday 6 a.m. to 1:30 p.m. and Sunday 6:30 a.m. to 1:30 p.m.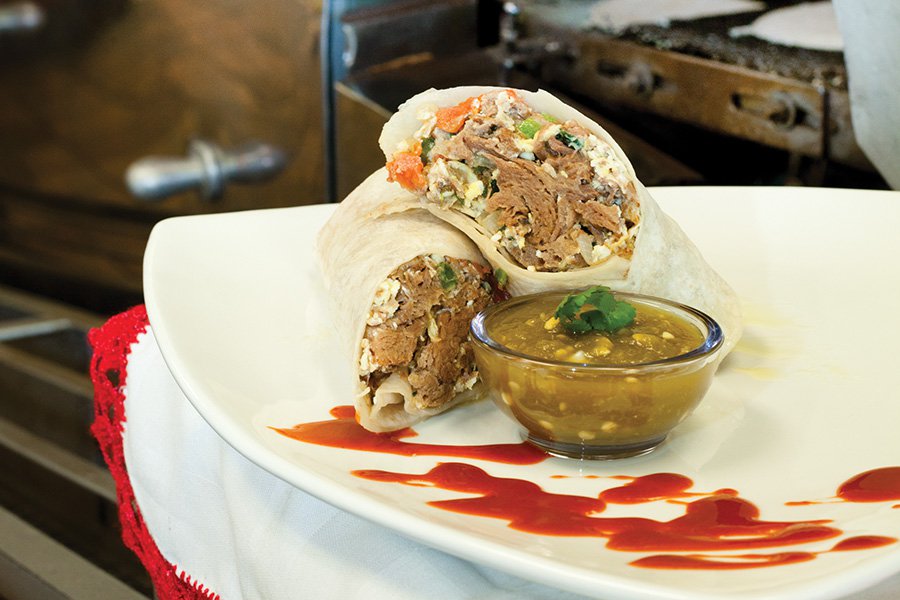 Burritos
1601 W. Sunshine St., Suite M, Springfield, 417-864-8195
This authentic Mexican restaurant offers a lot of things we adore on its lunch menu (not least of which are the homemade tortillas), but did you know Tortilleria Perches also serves breakfast? At this tiny hole-in-the-wall, you can find all kinds of Mexican morning fare, from the chorizo y huevos plate (Mexican sausage and eggs) to classic huevos rancheros. But our favorite is the machaca y huevo a la Mexicana Burrito that comes packed with eggs and some truly delicious machaca, a type of dried and rehydrated shredded beef served at breakfast and bursting with flavor. Best part? It's only $4.25. Order it as a taco, and it's a mere $1.75.


Cook's Kettle
1715 N. Boonville, Springfield, 417-864-2210
(Editor's note: This restaurant has closed since the publication of this article.) Cook's Kettle, the restaurant at Victory Trade School, doesn't have a huge breakfast menu. But it does offer the El Kettle Burrito. It comes stuffed with classic breakfast ingredients: eggs, sausage and shredded cheese. Plus there are a few tasty Mexican flavors wrapped up in the tortilla as well, in the form of a mild green chili sauce, sour cream and salsa for a little kick.


Migulito's Wrap & Roll Café
3650 S. Campbell Ave., Springfield, 417-719-4250
(Editor's note: This restaurant has closed since the publication of this article.) If you venture to Migulito's for breakfast, you'll find breakfast burritos that are pretty inexpensive, ringing up at $6 or $7 each. And they come full of creative flavors. The Ski Bum breakfast burrito is one example. The big tortilla is filled with a mixture of chorizo, eggs, fresh sautéed vegetables, bacon and of course cheese.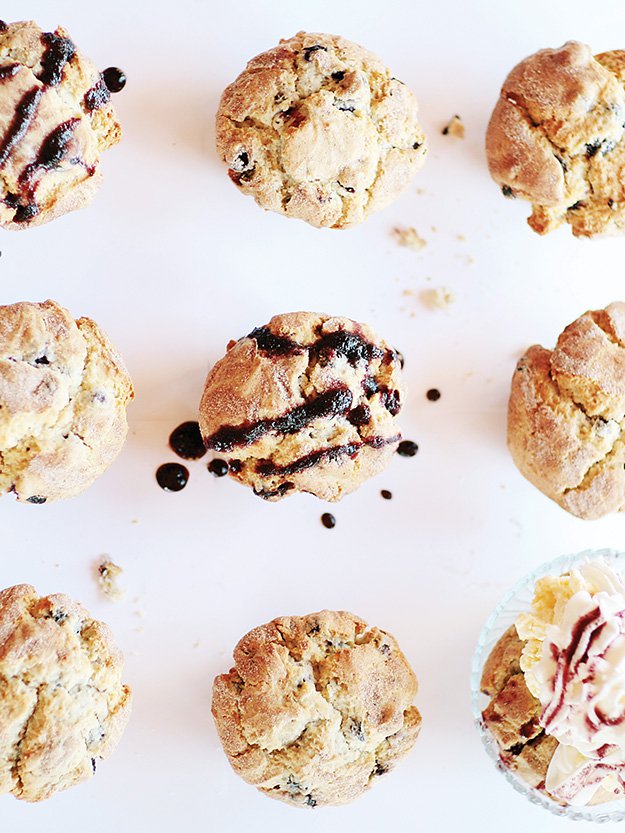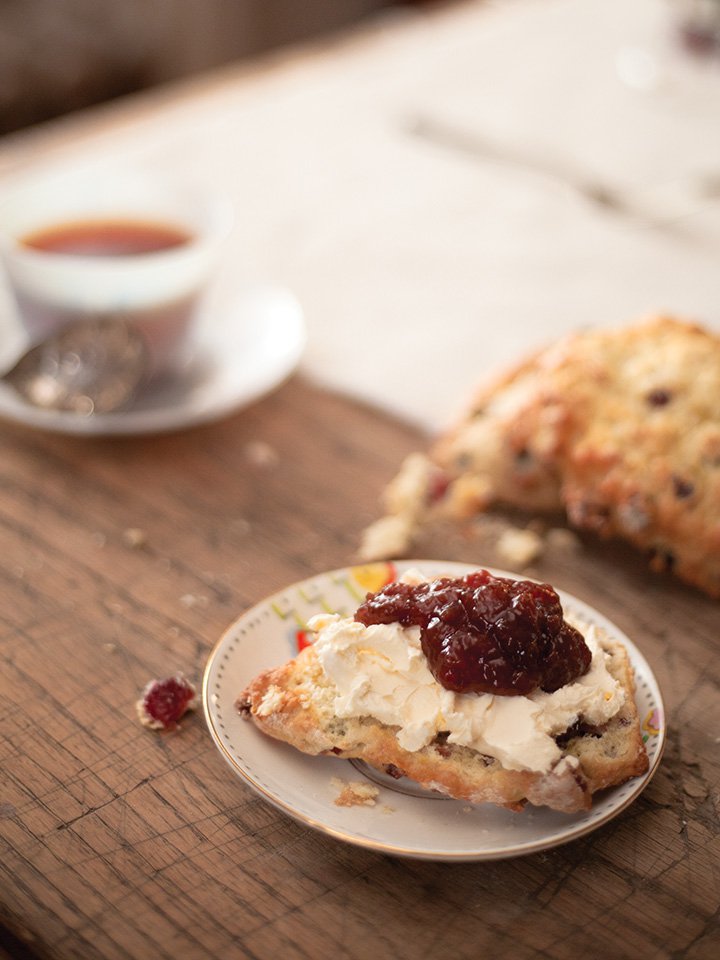 (Left) Persimmon Hill Farm's Thunder Muffins make a statement. They're massive and made from scratch with farm-fresh eggs, butter, flour and blueberries that are grown right on the farm, which you can see from the dining area's windows. (Right) Give the Cranberry Orange Scones from The Artisan's Oven a try as a sweet breakfast treat.
Pastries & Baked Goods
367 Persimmon Hill Ln., Lampe, 417-779-5443
Persimmon Hill Farm's Thunder Muffins make a statement. First off, the things are massive. "They have a great big top, and no two are the same," says Earnie Bohner, who owns the farm with his wife, Martha. "They look like big thunderheads, which is how they got their name." The muffins are made from scratch with farm-fresh eggs, butter, flour and blueberries that are grown right on the farm, which you can see from the dining area's windows. They're topped with cinnamon and sugar for a crispy finish, and they're served with butter. "We've made as many as 1,500 in a day," Bohner says. 
Persimmon Hill also serves up a little something called the Cumulobluebus. "We split the hot blueberry muffin in two, put a big scoop of ice cream inside, put whipped cream on top of that, sail blueberries into the whipped cream, then top it with either blueberry, blueberry maple or blueberry amaretto syrup," Bohner says. If that's not enough to fulfill your wildest foodie dreams, we don't know what is.
Also on the menu: Blueberry pancakes. If you're in the mood for a meal you can wrap your hands around, Persimmon Hill also serves a breakfast burrito made from shiitake mushrooms (also grown at the farm), fresh eggs, cheddar cheese, diced tomatoes and salsa. 


1108 E. McDaniel St., Springfield, 417-831-6095
It's no secret that Amy McGehee can make a mean cinnamon roll. In fact, her pillowy, gooey swirled wonders developed such a following that she had several requests for a take-and-bake form. She and her bakery team developed those, and now the rolls are only sold by custom order in pans of six and can be baked fresh in your own kitchen. The par-baked rolls are available in regular or maple pecan and come with instructions and glaze, so you can drizzle the delightful treats with glazy goodness while they're still hot.  
Don't Miss The: Take-and-bake cinnamon rolls in maple pecan or regular with instructions and a tasty glaze.


206 E. Commercial St., Springfield, 417-885-5030
In May 2006, Craig Crosby opened a bakery. This bakery quickly earned a following, and now it provides fresh baked breads and goodies for many 417-land restaurants. Crosby kept up with the demand, and at the same time, he continued to offer customers delicious fresh-baked breads and goodies. About a year ago after getting a request from a client, Crosby developed a Paleo Muffin. "They had a lot of clientele that were familiar with the Paleo Diet and they wanted to offer something for them in their dessert case," Crosby says. The wheat-free muffin is made of almond meal, dates, bananas and eggs and comes in a mini loaf form, and it's been popular among the healthy crowd. Another favorite in this take-out spot is the breakfast scone, which is offered in blueberry, cinnamon chip, orange and cranberry. At press time, The Artisan's Oven was soon planning to move to a new location on Commercial Street with in-house seating and an expanded breakfast pastry menu. We can't wait to give it a try!  
Don't Miss The: The Paleo Muffin, a wheat-free muffin made of almond meal, dates, bananas and eggs or the blueberry, cinnamon chip, orange and cranberry breakfast scones.


1645 W. Republic Rd., Springfield, 417-866-5533
This spot is always hopping at lunch, but if you're in the mood for something sweet a bit earlier in the day, it actually opens at 10 a.m. You can buy whole quiches here in several varieties, including spinach and artichoke; a club quiche with turkey, bacon, ham and cheese; a four-cheese; ham and cheese and more. "My favorite is anything with mushrooms in it," says owner Beth Perry. While you're picking up a quiche for your brunch, grab some of Beth's fresh-baked cookies—the most popular are the ever-so-soft chocolate chip, and the oatmeal Craisin white chocolate chip.
Don't Miss The: Whole quiches, available in several varieties including spinach and artichoke and a club quiche with turkey, bacon, ham and cheese or the oatmeal Craisin white chocolate chip cookies.


Elle's Patisserie
1454 E. Cherry St., Springfield, 417-832-2171
(Editor's note: This restaurant has closed since the publication of this article.) Elle Feldman makes many delicious things. Scrumptious breakfast pastries offered at her cute little purple patisserie include cherry and apple turnovers, cinnamon rolls, sticky buns and pamiers, a light French puff pastry that many French customers say are spot on. But also on her list of fresh-baked goodies are croissants, which come plain or filled. The savory croissants include ham and cheese and spinach and cheese, and the sweet come in chocolate, almond and apricot. "Chocolate and almond are the most popular," Elle says. The chocolate are loaded with a chocolate filling and drizzled with more chocolaty goodness, and the almond are filled with a creamy almond paste and dusted with powder sugar. These magical, flaky wonders are created with the help of Elle's husband, Jon, and a pastry chef. Elle's Patisserie is also a great spot to enjoy French press coffee or signature blended tea. 
Don't Miss The: Palmier, a light French puff pastry; the cinnamon rolls or the croissants filled with ham and cheese, spinach and cheese, chocolate, almond or apricot.
 
2426 Grand Ave., Carthage, 417-359-9988
Most people don't know that Carthage is home to a popular coffee shop that offers up a handful of top-notch breakfast goodies. Humble Pie & Blaize'n Coffee offers gourmet coffee, lattes and espresso as well as scones, muffins, turnovers, mini danishes, cookies and other sweet treats. But what's the most popular here is the maple pecan danish. "It tastes like a small piece of pecan pie," says owner Becky DeCrescenzo, who runs the spot with her mom, Barbara Bass. "It has the same filling, but it's a braided Danish made out of puff pastry. It has pecans and maple glaze on top." We'll take two, please.  
Don't Miss The: Scones, turnovers or the maple pecan Danish, a braided Danish made out of puff pastry with a filling like a pecan pie and pecans and maple glaze on top.


323 B South Ave., Springfield, 417-832-1720
No matter how many times you visit, MudHouse Coffee never disappoints. The coffee options here are near limitless, and the spot serves up everything from breakfast quiche, fruit and yogurt to bagels and cinnamon rolls in the line of food. But at at breakfast time, there has been a long-standing favorite—the cranberry walnut muffin. Made fresh at the coffee house, this tasty, moist hand-held breakfast combines sweet-tart cranberries with crunchy walnuts into a hand-held work of art that packs a sweet-hearty punch. It's perfect for enjoying in the spot's ideal coffee house setting, great for chatting with friends or enjoying a good book.
Don't Miss The: Cinnamon rolls or the cranberry walnut muffins made fresh at the coffee house and packing a sweet-hearty punch.


3314 S. National Ave., Springfield, 417-881-5226
Supreme Bakery sells everything from danishes and donuts to cakes and muffins. Although it's all delicious, there is one thing that this spot does unlike anywhere else. This thing is called the kringle, or, as we like to call it, a big, wonderful O-shaped danish of deliciousness. The treat is made of 39 layers of flaky Danish phyllo dough, and there's butter between each and every delectable layer. Yes, 39 layers of butter. Kringles are filled with your choice of fruit, fruit and cream cheese, chocolate cake, pecans or cinnamon streusel. Then, they're iced. The most popular flavors of this delicate pastry are raspberry and pecan, but they're all beyond yummy. 
Don't Miss The: Donuts and muffins or the kringle, Supreme Bakery's signature O-shaped danish with 39 layers of dough and fillings of fruit, fruit and cream cheese, chocolate cake or pecans.


105 Martingale Dr., Conway, 417-589-6191
This quaint little country restaurant is known for it's gigantic, packed-with-flavor cinnamon rolls. In fact, the breakfast treats are so popular that people are talking about them a few towns over! When we called the Lebanon Chamber of Commerce for our research, they mentioned Rocking Chair Restaurant's tasty plate-sized cinnamon-swirled treats, and we confirmed it. If you're a fan of cinnamon rolls, this spot's definitely worth the drive.
Don't Miss The: Gigantic cinnamon rolls the size of a plate!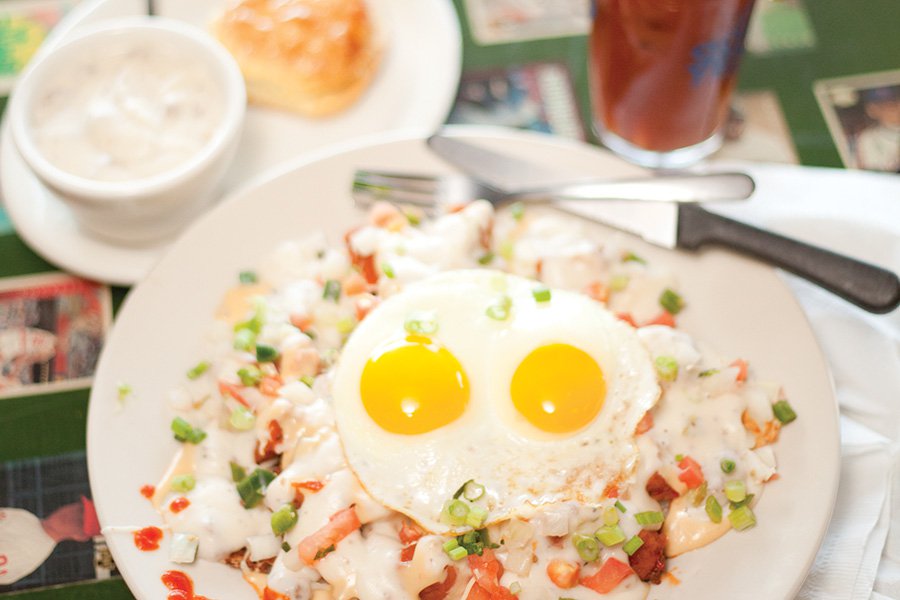 Skillets, Pile-Ups and Hash Browns
1742 S. Glenstone Ave., Springfield, 417-889-7120
The Glenstone Pile-Up is the signature item at Coyote's Adobe Café, where breakfast is served starting at 9 a.m. on Saturday and Sunday. It's a bit legendary, and it deserves it. This heaping pile of food starts with the restaurant's southwest hash browns featuring onions and bell peppers. Then comes the fun part: Two crispy chicken tenders are doused in buffalo wing sauce, cut up and sprinkled over the hash browns. On top is pico de gallo, lots of warm and chunky sausage gravy and two eggs. On the side, you get toast, a biscuit and gravy or two super-thick pancakes. You might not think buffalo chicken is a breakfast food (or that it would play nice with sausage gravy). Don't knock it until you try it. All of those savory ingredients come together beautifully. And since you can get plenty of the hair of the dog that bit you while at Coyote's, the Glenstone Pile-up is—let's admit it—a great hangover food.
While you're there, don't bypass the menu's skillet dishes. The Chuck Wagon Skillet is a hearty mountain of food that starts with chunky skillet potatoes that are topped with strips of country fried steak, doused in a hefty smattering of sausage gravy and then topped with two eggs. Add a little hot sauce, and you have yourself a feast.


Several 417-land locations.
Village Inn is one of those one-stop-shop breakfast spots that offers a little bit of everything and morning fare for every taste bud. If you have a sweet tooth, go for crepes or pancakes. If you don't, try one of the tasty skillet meals. We satisfy our craving for a big, huge skillet with the Rio Grande Skillet. It's one of a handful of piled-high one-plate meals on the menu, and it comes topped with pork carnitas, green chilis, jalapeños, sour cream, salsa, red peppers, onions and two kinds of shredded cheese. It's hot enough to spice up your morning, and it's packed with southwest flavor for a nice change of pace from typical breakfast fare.


1131 E. Republic Rd., Springfield, 417-886-4224
Whether you're in the mood for a homemade cinnamon roll or one of several takes on the classic eggs Benedict, Scramblers most likely has you covered with a menu full of breakfast classics. Our favorite section on that menu: The Scramblers and Skillets. That's where you can find the kind of meals that combine all your favorite ingredients into one big pile of food. If you're hungry for... well... everything you can order the Everything But The Kitchen Sink Skillet. It comes with fried potatoes that are buried underneath ham, sausage, bacon (yes, all three types of breakfast pig), several veggies (mushrooms, olives, bell peppers, tomatoes, jalapeños and onions) and lots of cheddar and Monterey Jack cheese. It's all topped off with two eggs, and it comes with a side of either toast or a biscuit and gravy.