Life
Trivia Nights in Springfield MO
417-land has so many trivia nights, your brain will stay warm all winter long.
By Rose Marthis
Jan 2015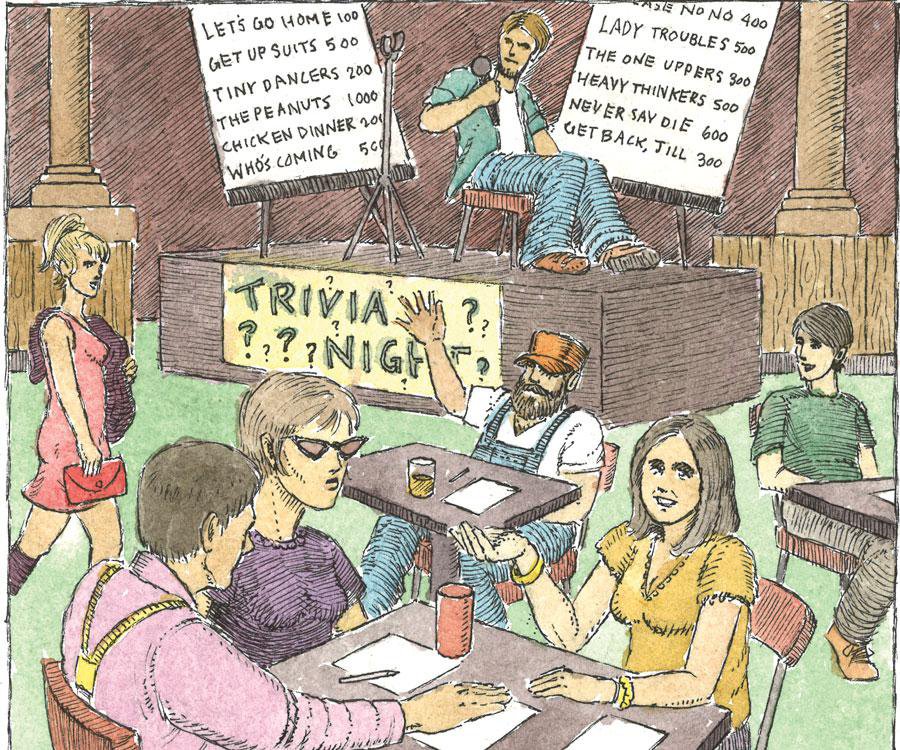 Don't let the winter cold keep you from exercising your brain. 417-land has many restaurants and bars putting you to the test every week. Grab your smartest friends, order some good food and a cold brew, and join the battle of the brains.


Monday Night Trivia
Where: Dublin's Pass, 317 Park Central East, Springfield, 417-862-7625; 2767 W. Republic Rd., Springfield, 417-877-7625, dublinspass.com
When: Monday at 8 p.m.
What It's Like: Both the downtown and south side locations of Dublin's Pass have trivia at the same time, so pick the pub closest to you. Six people can make a team to join the four rounds of competition. Chow down on wing and pint specials while you're there. The downtown location also adds a game of dirty trivia after the regular game is over.
Cost: Free
Prize: The winning team of each round gets either a free appetizer or a round of shots. The first and second place winners of the game get gift cards to use at future trivia nights.


Quizzical
Where: Q Enoteca, 308 W. Commercial St., Springfield, 417-865-9911, qenoteca.com
When: Wednesdays at 7 p.m.  
What It's Like: The crowd is full of dedicated competitors, but new people are welcomed to take on the challenge of this competitive trivia hosted by Joe Terry. The four-year host makes up his own questions in categories ranging from general to obscure. Terry even brings his keyboard to play wacky songs in between rounds. Get five to eight people together to join in the camaraderie of drinking wine and craft beer and exercising their brains.
Cost: Free
Prize: Gift certificates to the bar


Trivia Binge
Where: Patton Alley Pub, 313 S. Patton Ave., Springfield, 417-865-1188, thepattonalleypub.com
When: Sundays at 7:30 p.m.
What It's Like: Teams of  two to five people compete in six rounds of questions featuring everything from pop culture to sports to physics. The questions are worth more points each round, and in the middle of the game there is a themed round worth bonus points. Make sure to brainstorm a creative team name so you can enjoy listening to the hosts say it out loud every round. Enjoy a seasonal brew Patton carries on tap and dig in to a great sandwich or some fried pickle chips while you're there.
Cost: Free
Prize: First and second place teams earn gift certificates to put towards food.


Trivia Night at Gusano's
Where: Gusano's Pizza, 3929 E. Seventh St., Ste. E, Joplin, 417-623-9090, gusanos.pizza
When: Wednesdays at 7 p.m.
What It's Like: This digital trivia has teams of four people or fewer read questions off a computer and text answers to the host's phone number. Locals make Gusano's their regular spot on Wednesday nights to eat traditional Chicago-style pizza and engage in friendly competition.
Cost: Free
Prize: Free pints of beer


Trivia at The Flea
Where: The Flea, 637 S. Kimbrough Ave., Springfield, 417-862-0220, facebook.com/thefleabarsgf
When: Tuesdays at 6:45 p.m.
What It's Like: Newcomers join every week to try to take down the regulars in a fun trivia match sponsored by Boulevard Brewing Company. The bartenders host this TV screen game and serve up drink specials to teams of six to eight people. Watch The Flea's Facebook page on Monday for hints on upcoming categories.
Cost: Free
Prize: Bar swag, The Flea T-shirts, gift cards, and cumulative monthly prizes