Life
5 Best Patios in Springfield
We found the five top spots to dine al fresco in Springfield.
By Katie Pollock Estes
Jul 2010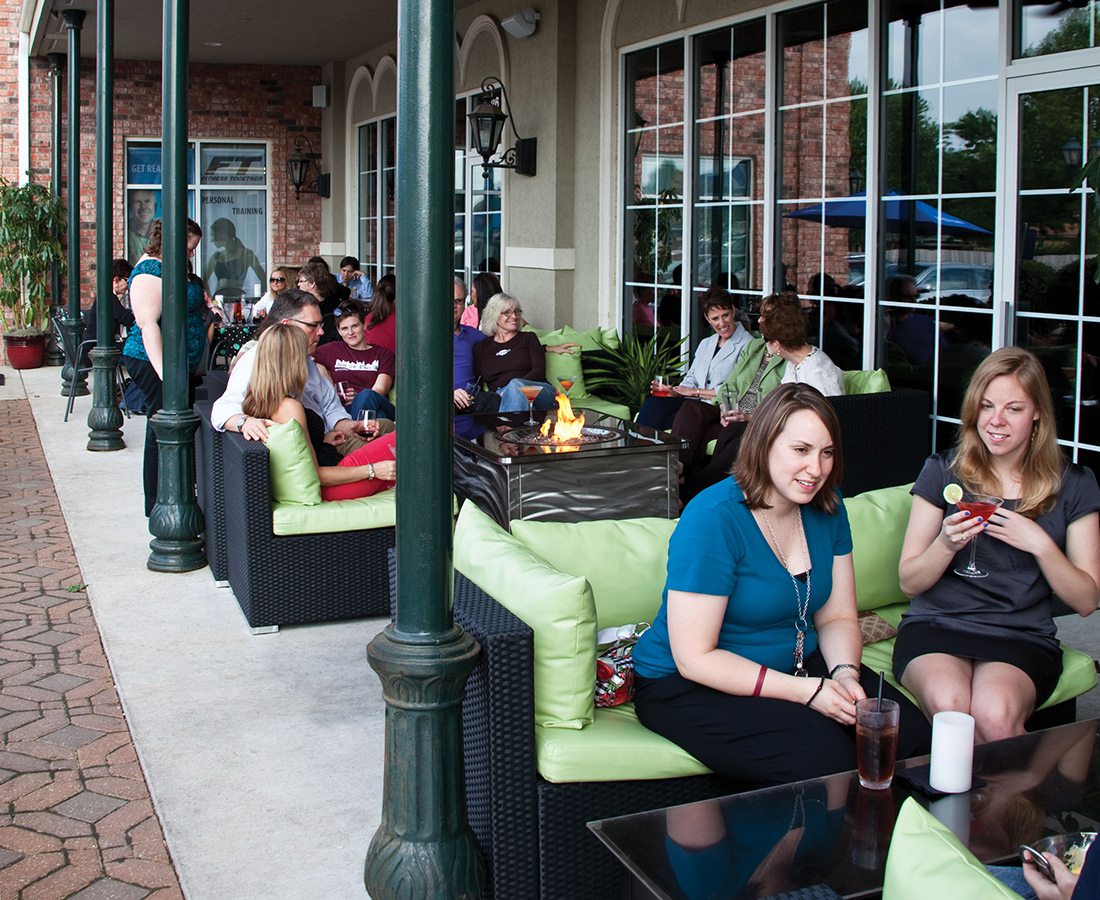 Summertime in 417-land means hot, sunny days. But it also means blaring air conditioners that make us want to run right back out into that heat. Enter: The restaurant patio. At certain times of the day (dusk, especially), the fresh air and warmth from a setting sun is about as satisfying as the food we're ordering. The best patios succeed not only in giving you a way to dine al fresco; they can also make you feel like you're somewhere else. At Touch, you leave 417-land for the wicker near a beach. At Tea Bar & Bites, you leave 417-land for a European street café. This summer, we're celebrating the best patio experiences in Springfield, and we found five that'll make you feel good about eating lunch in sunglasses.
And fear not, non-Springfield dwellers. We haven't forgotten your patios. This story focuses on Springfield's outdoor dining options, but we have plans for future stories about sunshiny dining in other towns, too.


The Swank Patio
Touch Restaurant
1620 E. Republic Rd., Springfield, 417-823-8383, touch-restaurant.com
Why We Love It: The furniture is a bright and modern green-on-black color combo, and it almost feels like you should be sitting on those cushioned sofas overlooking a beach somewhere. With the combination of a lounge-like atmosphere and a fresh breeze, this is a spot that would feel oh-so-good during an after-work happy hour or a wine-laced dinner with your sweetie near the fire pit. If you're wondering what to order, Touch has a pretty fantastic happy-hour menu, and it includes tapas. Shareable and patio-worthy? We think so.


The Beer-And-Bikes Patio
Galloway Grill
4211 S. Lone Pine Ave., Springfield, 417-881-9730, gallowaygrill.com
Why We Love It: This patio feels simultaneously secluded and packed with camaraderie. With cyclists and dog-walkers passing by on the Galloway Creek Greenway behind the restaurant, the occasional live music wafting through it, and plenty of fresh air and sunshine, this is a true summertime hotspot. It's where happy hour goers bask in the sun with a cold one after work, where cyclists enjoy a Red Ribbon Run after-party, and where people of all stripes get a little Greek on Greek Night.


The Sweetest Patio
Tea Bar & Bites
621 S. Pickwick Ave., Springfield, 417-866-7500, teabarandbites.com
Why We Love It: This quaint little spot in the Rountree neighborhood has a patio that feels like it was ripped right from a Spanish streetscape. With white walls, bricks below your feet, a burbling fountain and just enough sunshine, the courtyard-style patio is the perfect place to go for a relaxing lunch.


The Rooftop Patio
Springfield Brewing Company
305 S. Market Ave., Springfield, 417-832-8277, springfieldbrewingco.com
Why We Love It: Jutting out from the second floor of Brew Co., this rooftop patio is far enough above street level to feel cozy, but close enough that you can still hear the hustle and bustle below (and the live music escaping from inside the restaurant). It's fresh air, just a wee bit closer to the sky. And it has the same laid-back atmosphere as the rest of Brew Co (minus the view of beer being brewed).


The Golf Course–View Patio
Mikayla's Grille
Millwood Golf & Racquet Club, 3700 E. Millwood Dr., 417-889-4200, millwoodgolf.com
Why We Love It: You can enjoy the outdoor dining at Mikayla's Grille without having to buy a full membership to Millwood Golf & Racquet Club. A dining membership is $50 per year, and the views from the two open-air porches and one screened-in porch include the ninth and 18th holes of the golf course and the lake.