Life
Quick Trip to Hot Springs, Arkansas
Treat yourself to a long weekend in the cute little town of Hot Springs, Arkansas. About 260 miles south of Springfield, there are numerous opportunities to relax and take in a bit of nature.
Written by Katie Pollock Estes | Photos courtesy Garvan Woodland Gardens, Hilltop Manor Bed & Breakfast, Rolando's Nuevo Latino Restaurant, Shutterstock
Jul 2017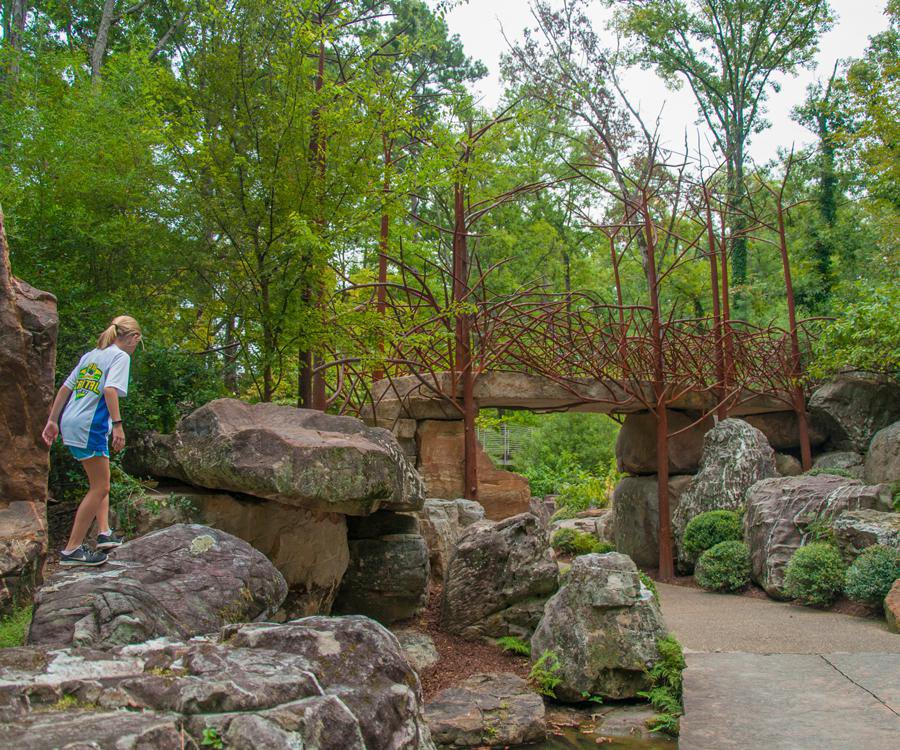 Garvan Woodland Gardens packs in picturesque views plus adventure and train gardens perfect for kids.
Soak
TRIP INFO
Drive Time and Route:
4 hours and 45 minutes from Springfield via I-65 south to I-49 south

Suggested Trip Length:
A long weekend

Don't forget to pack:
Your beach towel. We can't imagine you'll make it out of Hot Springs without experiencing the town's famed geothermal pools.
You know what they say: When in Rome… Well, when in Hot Springs, you just have to dip a finger into a geothermal pool or indulge in a spa service.

At Hot Springs National Park, which sprawls out across the north end of the city itself, there are a handful of outdoor geothermal pools within lovely rock encasements where you can actually touch the naturally warm water that gave this city its name.

For a more traditionally spa-like experience with the thermal waters, visit Quapaw Baths & Spa on Historic Bathhouse Row. There are tiled and tiered indoor thermal pools where you can take a warm soak, or you can spend some time in the steam cave before indulging in a nice, long massage.
 
See
Next up: a selfie opp with your newly refreshed face in front of a scenic backdrop. Go to the top of Hot Springs Mountain Tower, where you can peer out over Hot Springs Mountain, the Ouachita Mountains and Diamond Lalkes from 216 feet above the ground.

After that, opt for a stroll through the greenery at Garvan Woodland Gardens, where you can walk across the gorgeous Joy Manning Scott Bridge of the Full Moon, relax in a serene bonsai garden, listen to the water rush down a waterfall, peer down into a ravine from atop the Wallace-Walker Floating Cloud Bridge and more. There's even an adventure garden and a train garden to entertain any little kiddos who came with you on the trip.
You can't leave Hot Springs without exploring the town's geothermal springs.
Eat
By now you're probably hungry and ready to round out the day with some tasty dinner. Get a table at Vina Morita. This Mexican restaurant offers flavors from across the country, from Baja to Mexico City and from the Pacific Coast to the Caribbean. Grab one of the fresh and bright ceviche dishes or the pozole verde that's only available on the weekends. And don't miss out on the homemade salsa varieties, such as the zacatecana with charred poblano, sour cream and butter or the cacahuate made with toasted peanuts.

Another well-loved eatery is Rolando's Nuevo Latino Restaurant. There you'll find more fresh Latin flavors, like the perfect little pulled pork tacos topped with so much crunchy goodness in the form of pickled red onions, shredded lettuce and cabbage and even some cucumbers.
 
Stay
At the end of your day exploring Hot Springs, rest your head for the night at Hilltop Manor Bed & Breakfast. The 5-acre property provides a lovely scenic setting and is packed with cozy comfort. There's an outdoor stone fireplace, spa services and delicious breakfast every morning. Think soft, fluffy pancakes or savory, stuffed croissants.
‡Don't miss the pulled pork tacos at Rolando's Nuevo Latino Restaurant.