Reviews
Thanksgiving to Go
Feeling extra busy this holiday season? Have no fear—you can serve a feast in a flash with the help of these 417-land caterers, restaurants and grocery stores.
By Kathryn Bennett
Nov 2013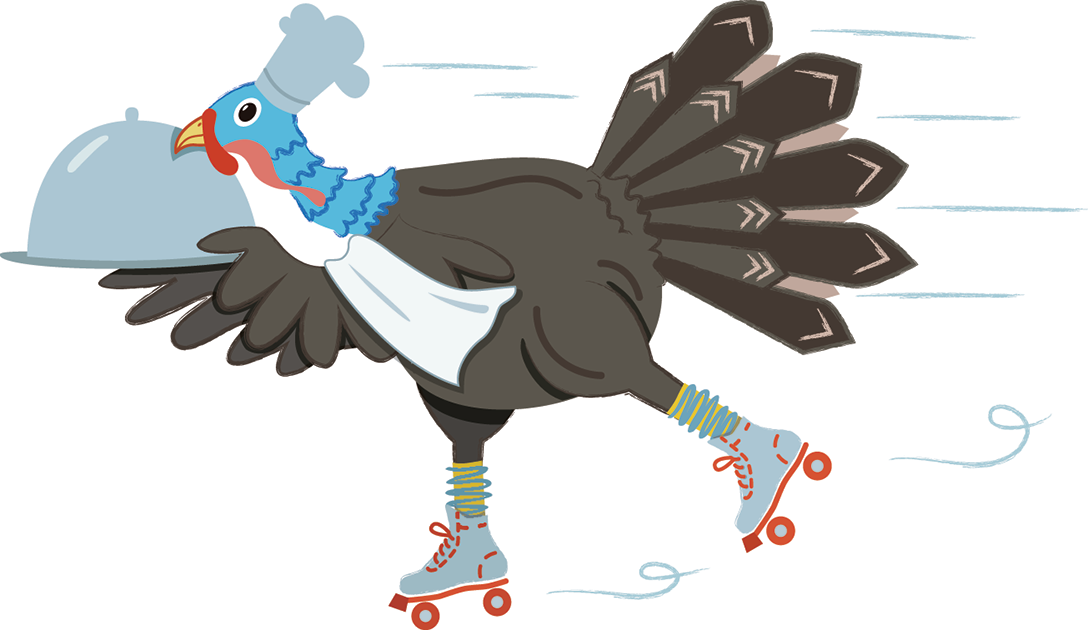 Hy-Vee
720 W. Battlefield Rd., Springfield, 417-991-1950, hy-vee.com
Hy-Vee offers Thanksgiving meals in take-home boxes that can be heated up in the store or your own kitchen. The most popular offering is a traditional take-home turkey dinner that serves eight with a full-size turkey and three family-sized side items, but there are many other packages available, ranging from $39.99 to $119.99. Options for meat include turkey, ham or prime rib. Customers should order two to three days in advance, and know the packages are available through the Christmas season as well. 


Price Cutter
417-land Price Cutter stores, pricecutteronline.com
You can order a fully cooked dinner to heat up at home from local Price Cutter stores. The Deluxe Turkey Dinner includes a 10- to 12-pound baked turkey, 2 pounds of home-style dressing, 2 pounds of mashed potatoes, 1 pound of turkey giblet gravy, 1 pound of cranberry orange relish and an 8-inch Tippin's pumpkin pie for $49.99. A smaller turkey dinner is available for $39.99, and a spiral-cut ham dinner is $49.99. Custom orders should be scheduled three to four days in advance and picked up at the 3260 E. Battlefield Price Cutter.


Big Cedar Lodge
612 Devil's Pool Rd., Ridgedale, 1-800-225-6343, bigcedar.com
Need to get away for Thanksgiving, but you still want to have a traditional family meal? Stay at Big Cedar Lodge, where you can have the staff set up and clean up a meal of turkey, trimmings and dessert. They even wrap up the leftovers for you to keep. Pricing depends on the size of the basket, but the option for four to six people costs $275. Customers should schedule this service when they make their room reservations.


Heritage Cafeteria (Editor's note: This restaurant has closed since the publication of this article)
364 E. Battlefield Rd., Springfield, 417-883-3033, heritagecafeteria.com
One of the most popular Thanksgiving meal packages at Heritage Cafeteria is available for $88.99 and serves 20 to 25 people with a 20- to 22-pound turkey, cornbread dressing, giblet gravy and cranberry sauce. Add two dozen rolls, two pumpkin pies and sides for a fee. Orders should be placed about a week in advance.


Level 2 Steakhouse
200 E. Main St., Branson, 417-243-3433, level2steakhouse.com
Level 2 Steakhouse in Branson offers a delicious Thanksgiving-to-go menu with traditional dishes such as sage-crusted turkey, Ozarks sausage stuffing, giblet gravy, side items and a choice of pumpkin or pecan pie. A meal that serves four is $89.95. You must order and pay by November 19. 


Granny Shaffer's Restaurant
2728 N. Rangeline, Joplin, 417-659-9393, grannyshaffers.com
This Joplin-based business offers an in-restaurant buffet on Thanksgiving but also takes custom orders for Thanksgiving meals to-go and sells items by the pint or by the pound. Options include turkey, ham, cornbread dressing, sweet potatoes, macaroni and cheese, cranberry sauce, green beans, salad and pie. Custom orders should be requested a day or two in advance.


Club 1201
1201 E. 32nd St., Joplin, 417-626-0032, club1201.com
Club 1201 in Joplin takes custom orders for Thanksgiving meals to go. Traditional meals and trimmings are available, including turkey, dressing, mashed potatoes, cranberry sauce, pies and other desserts. The restaurant is closed on turkey day, so you must pick it up the day before. Call at least two days in advance to place your order.