Health
Why Pickleball is the New "It" Sport
The number of places to play pickleball has doubled since 2010. Digital Director Dayle Duggins (aka Dill Duggins) loves pickles, so we sent her to try out the sport with a funny name.
By Dayle Duggins
Nov 2017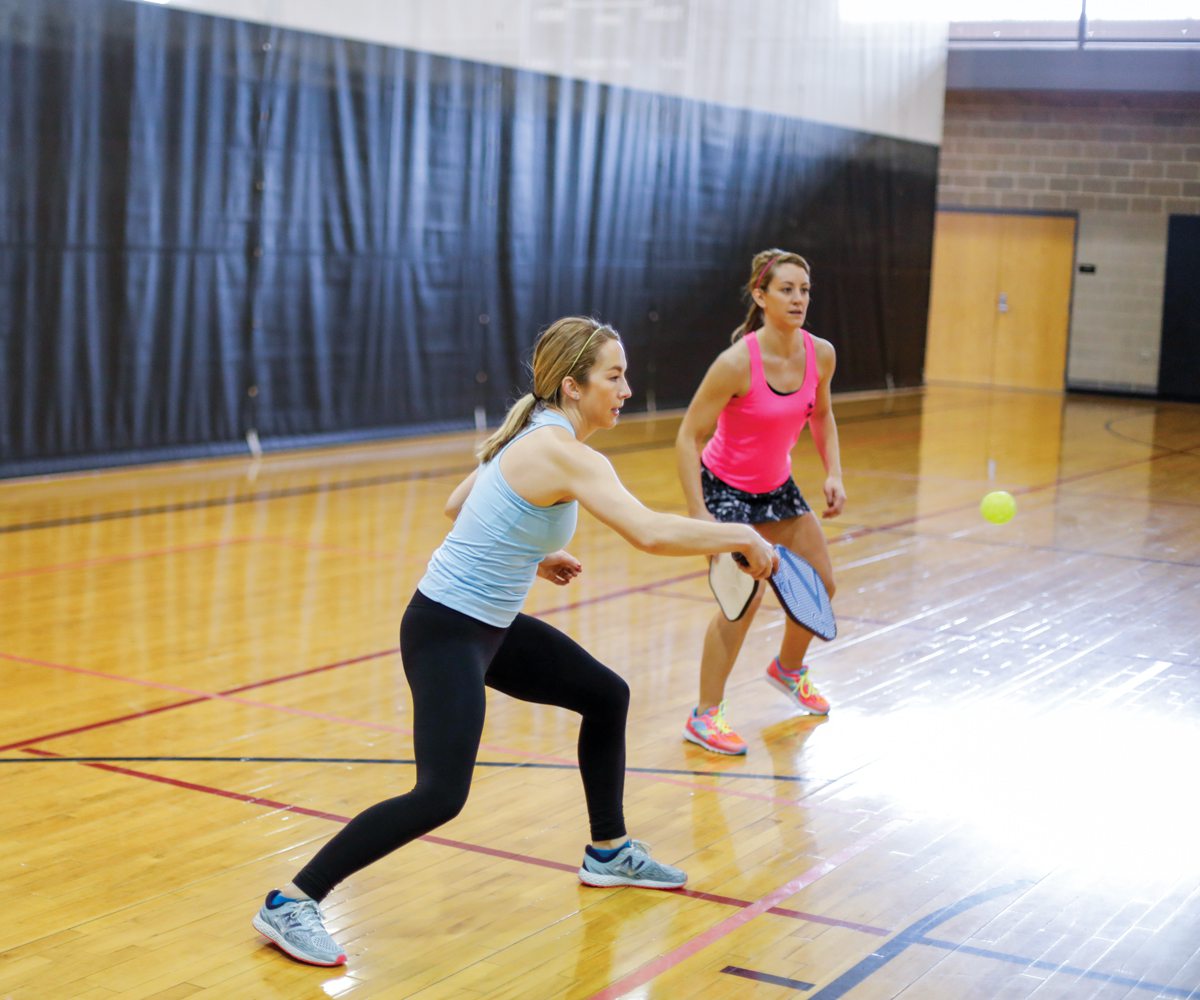 Pickleball is poppin'. I open Snapchat and see friends playing—beer in hand—at bars that are built entirely around the sport. Others are playing with their grandparents while on vacation. Local country clubs are hopping aboard, too. When I realized that it was trending, I knew I had to try the sport. I had high hopes: pickles are pretty much my favorite food, grandmas can play the sport and, if I found the right venue, I could even get a little tipsy while exercising.
I called up my pal and former co-worker Dylan Whitaker, who had very aggressively picked up the sport as a hobby. I needed the scoop. Who plays pickleball? Where do people play? Who's the best? I needed him to tell me everything, and he delivered. Dylan told me that RaNay Riffe was a pickleball star who would probably be tickled to show me the ropes. Quickly, I got in touch with her, and next thing I knew, I was scheduled to play pickleball with her for a few hours on a Friday morning. 
 
PICKLEBALL 101
Upon researching the sport, I was saddened to learn that pickleball incorporates zero pickles. But relief swept over me when I found that the oddly named sport might have been inspired by a cocker spaniel named Pickles. What a great name. I already loved the game. 
According to the United States of America Pickleball Association (USAPA), the paddle sport combines elements of tennis, badminton and pingpong and can be played indoors or outdoors on a badminton-sized court with a slightly modified tennis net. In the game, which is suitable for all ages and skill levels, a plastic ball with holes is volleyed back and forth between players.
Impressively, the number of places to play pickleball has doubled since 2010, according to USAPA. To find a spot near you, visit usapa.org. "You're seeing cities that are converting tennis courts to pickleball courts or building their own pickleball courts," says Mike Porter, Springfield's USAPA ambassador. Most recently, Meador Park in Springfield converted six tennis courts into pickleball courts.
Riffe primarily plays in Republic. When she isn't on the court, she's a hair stylist in Springfield. "It's horribly addicting," Riffe says. "If you want to, there are places to play every day of the week." She started out playing singles in 2015, got addicted, played a tournament in Branson and won. After trying out men's and women's doubles, she took up mixed doubles at the beginning of 2017. To develop her skills, she watched endless matches on YouTube, sat in the stands during high-level tournament matches and now plays about nine hours a week. After only two-and-a-half years of playing, she's now a 5.0 according to USAPA—the highest ranking a player can get. According to Porter, there are only two five-star paddlers in 417-land besides Riffe.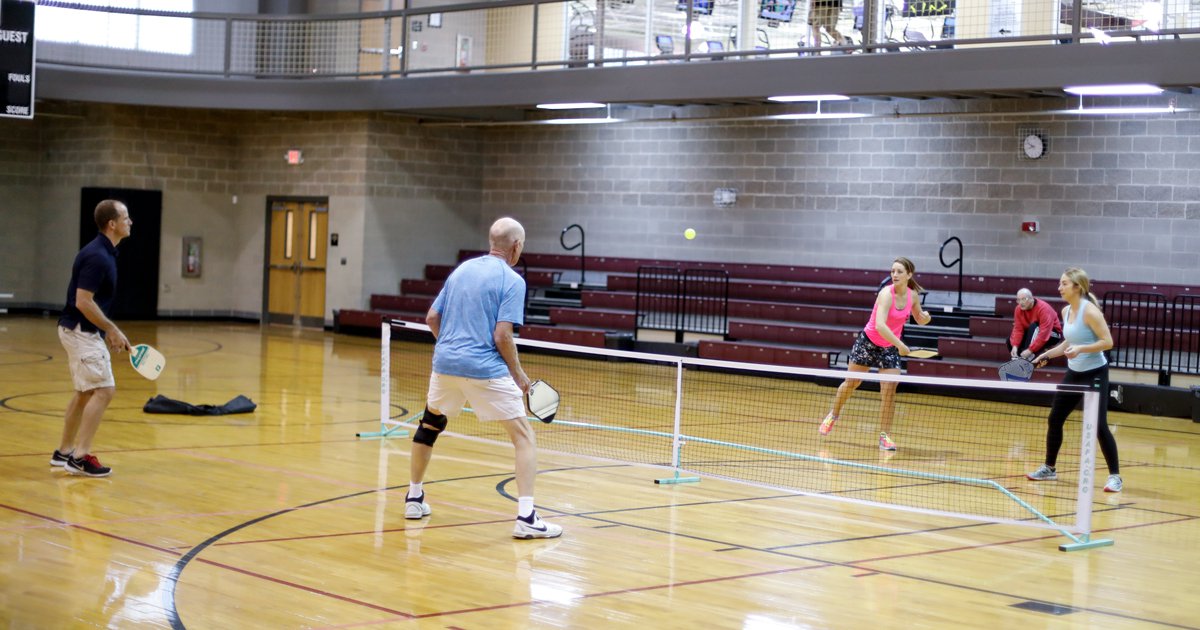 PLAY (PICKLE)BALL
When I got to the Republic Community Center, it was easy to spot Riffe. She was adorably dressed and bounced right over to greet me. We introduced ourselves, she handed me a paddle and we hit the court. Our first opponents were two gentlemen who gave us a run for our money. 
As we hit the ball, Riffe explained the game. During live play, I learned all about the kitchen, dinking, how to give a pickleball high-five and how serving works, which I really struggled to understand at first. Play was much faster and less leisurely than I expected because we played close to the net. We lost our first game, but I was pretty impressed with myself. I was smashing the ball over the net, diving to make returns and making pretty good serves. Riffe threw me in with the sharks. Her style of play is very aggressive and fast-paced, and I was loving every minute of it.
As we continued to play match after match, we won the majority of the games, and I was surprisingly breaking a sweat. Most of the people we played were older than us, but their skill level always surprised me. "It's a fun sport because you can't judge anybody by what they look like," Riffe says. It's true, but Riffe is an exception. If you look at her, you can tell she's in shape. "It gives me the same cardio burn without running, which is huge." Because Riffe plays two to three times a week for two to four hours, it's her primary workout.
 
THE EFFECTS
Three hours on the pickleball court flew by. I was sweaty and had finally figured out the serving rules, so I didn't want to leave. The volleys were intense and required quick reflexes, but I got the hang of it quickly.
All of the pickleball players were very welcoming. They knew I was a newbie, so they went out of their way to make me feel welcome, give me a hard time every once in awhile and compliment me on successful serves, dinks and smashes.
I'm looking forward to picking up the paddle again during the colder months. I think I might just bring along my own pickles.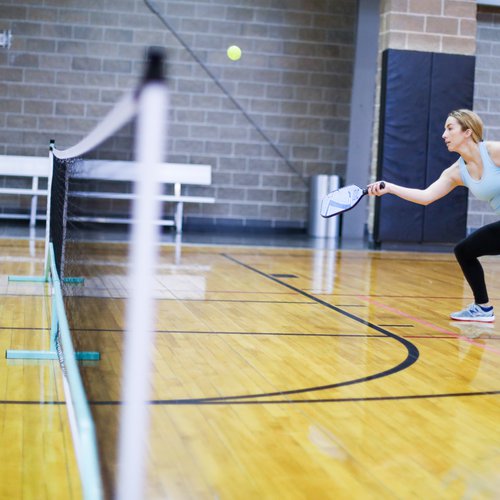 Try It: Find playing locations at usapa.org, and find upcoming tournaments at pickleballtournaments.com.
What to Bring: A pickleball paddle and balls, which you can buy online. Wear sporty clothes and bring water.
Players of all ages: Pickleball is a sport for everyone. An 80-year-old player could whoop you just as easily as a 20-year-old could.
Social Pickles: Follow Ozarks Pickleball Club on Facebook for local pickleball updates. Or, shoot them a message with any questions.