Things to Do
The Best Fall Drives in the Ozarks
Although 417-land's beautiful scenery warrants exploration throughout the year, fall is the perfect time to venture out and enjoy the Ozarks' natural wonders, rolling countryside and dramatic vistas by traveling the scenic roads that connect them all.
By Stephanie Towne Benoit and Lillian Stone
Oct 2016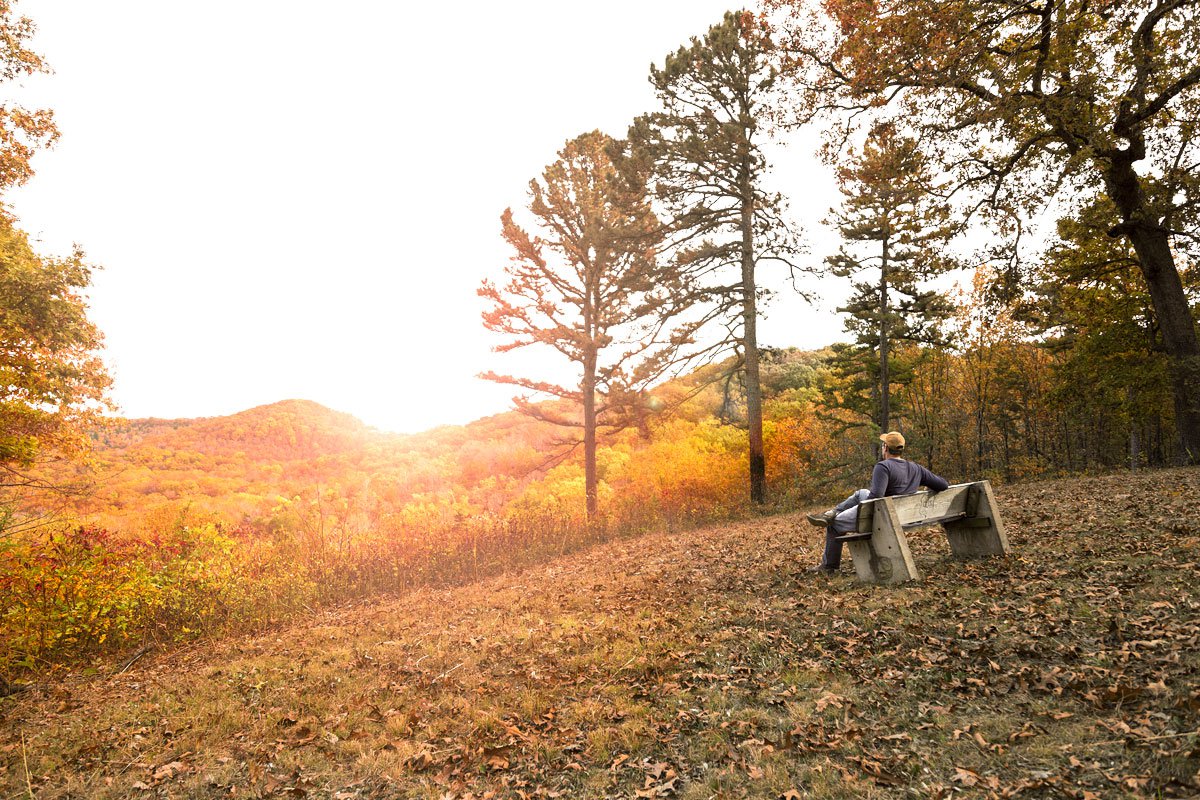 Fall is finally here, bringing with it cooler temps, misty mornings and forests full of blazing color. And although 417-land's beautiful scenery warrants exploration throughout the year, now's the perfect time to venture out and enjoy the Ozarks' natural wonders, rolling countryside and dramatic vistas by traveling the scenic roads that connect them all. With paths including picturesque byways, nationally known treks and roads less traveled, we journeyed far and wide across the region to find the remarkable roadways that are just as worthy of adventure as the destinations they reach. Pack a bag, fuel up and get out on the road again. 

Scenic views aren't all you'll find at Hodgson Mill. The sound of gurgling water makes for ultimate relaxation. Photo by Brandon Alms.


A Road Trip Through Scenic Mills
Getting There: From Highway 60, go south on Highway 5 to the starting point of Gainesville, about 80 miles from Springfield. The end point is in Tecumseh where Highway PP meets Highway 160. 
Miles on the Road: 50 miles
What You'll See: Get a glimpse of Missouri's historic heritage while touring the handful of old mills speckling Ozark County. From Gainesville, go east on Highway 160, which soon meets Highway 181. Go north on 181, which brings you to the entrance of Caney Mountain Conservation Area (417-256-7161,mdc.mo.gov). Here, you can see glades, tall knobs and forests of black and white oaks and hickory. Next, head north on Highway N, which takes you on a beautiful jog through rolling hills and pretty pastures to Rockbridge Mill, located at the Rockbridge Rainbow Trout & Game Ranch (4297 County Rd. 142, Rockbridge, 417-679-3619). Turn the road trip into a getaway by booking a stay here (there's a two-night minimum on weekends). At the very least, have a drink in the Grist Mill Club, which is housed inside the historic mill. Next, reverse course and continue east along Highway 181, which soon crosses beautiful Bryant Creek (pull off at the Sycamore Access area to see the stream up close). Next, go south on Highway H, which meets 181 about 4 miles after that crossing. Follow H to Highway PP, where you turn right. About four miles later you reach County Road 318, which leads right to Dawt Mill Resort (417-284-3540). Located on the North Fork of the White River, the resort has idyllic lodgings plus eateries including the renowned Chef's Table. Be sure to drink in the view of the river and surrounding hills that blaze with brilliant color in the fall. 
Selfie Stop: Pull over when you see the bright red Hodgson Mill, a charming picnic spot and oft-photographed landmark, on the right shortly after crossing Bryant Creek.
What to Bring: Poles and gear to take advantage of fishing areas like Rockbridge Rainbow Trout & Game Ranch and the North Fork of the White River. 
On the Way: Explore the beauty of unexpected hiking trails and the natural wonders of Cedar Gap Conservation Area (417-256-7161, mdc.mo.gov) while on the road to Gainesville. From Highway 60 just east of Seymour, head south on Highway O to reach Cedar Gap.

Inject your drive with a splash of history by stopping by the Noblett Lake dam, built in the 1930s. Photo by Kevin O'Riley.


Blue Buck Knob N

ational Forest 

Scenic Byway
Getting There: Take Highway 181 south from Cabool, situated about 70 miles east of Springfield. In 4 miles you'll reach the border of the Mark Twain National Forest and the starting point of the byway, which ends at its junction with Highway 14.
Miles on the Road: 24 miles
What You'll See: Picturesque views abound on this scenic byway meandering through farmland, valleys, creeks and hills in Mark Twain National Forest. You traverse beautiful hills and hollows that are covered with oak, hickory and other trees that turn striking, rich colors in the fall. After a few miles on Highway 181, you come to a junction with Highway 76; turn left to stay on 181. (Periodic signs along the byway indicate that you're on the right track.) Shortly afterward, cross Indian Creek, which later joins the North Fork of the White River. Eventually you'll reach the junction with Highway AP, where you take a left turn, which takes you to Forest Road 857, leading to Noblett Lake Recreation Area (417-683-4428, fs.usda.gov). An idyllic place to relax and enjoy the secluded environs, this must-visit site offers fishing, bird watching, canoeing and more. Be sure to check out the Noblett Lake dam built by the Civilian Conservation Corps in the 1930s before continuing your excursion. 
Selfie Stop: Keep an eye out for a photo-worthy scenic pullout on the left about a mile after the junction of Highway 181 with Highway 76. 
What to Bring: Comfortable hiking or walking shoes so you can venture out along the trails near the byway like the Ridge Runner National Recreation Trail, which has a trailhead near Noblett Lake.
On the Way: Take the long way home by hopping on Highway 160 in West Plains and going east. When you reach Alton, head north on Highway 19 to see spectacular scenery, particularly Greer Spring, the second largest spring in Missouri, and the Eleven Point River. There's also Greer Mill, which is on the National Register of Historic Places and is visible from the highway about a half mile south of the river. You'll soon reach Highway 60, but if you want to go chasing waterfalls, Ozark National Scenic Riverways' Rocky Falls, which Southern Living recently touted, is a worthy stop nearby.

While your mouth is wide open because of the jaw-dropping vistas from the overlook on Forest Road 197, use the opportunity to gobble up a picnic lunch. Photo by Vivian Wheeler.


Sugar Camp National Forest Scenic Byway
Getting There: From Cassville, about 60 miles from Springfield, head south on Highway 112. The byway begins where Highway 76 meets 112. Continue south on 112. After passing through Roaring River State Park, turn left onto Forest Road 197. Continue on Forest Road 197 for about 8 miles until the road meets Highway 86. Go north on 86. The byway ends at the point where 86 meets Highway 76 near Bates Corner. 
Miles on the Road: 28 miles 
What You'll See: This pleasant winding route is a lovely excursion, and our favorite section is the roughly 8-mile gravel stretch that takes you deeper and deeper into the woods with every turn. Look for a sign pointing out the turn to this portion of the byway not long after passing through Roaring River State Park (12716 Farm Rd. 2239, Cassville, 417-847-2539). (Before heading onward, take a few minutes to explore the park and fish for an hour or two.) The gravel section of the byway traverses hills, valleys and forests that turn marvel-inducing shades in autumn. Among the varied trees are sugar maples, which settlers used to tap for sap in years gone by. Shortly after joining Forest Road 197, take a right at Forest Road 1004 to see a cool fire tower built by the Civilian Conservation Corps in the 1930s. About 1-and-a-half miles later, pull off at a small picnic area from which you can take a short hike down the hill to Onyx Cave. Although the cave is off-limits, you can still peer a short ways inside. The gravel road eventually returns to civilization where it meets Highway 86 near Table Rock Lake. The remainder of the route winds through more swaths of forest before returning you to the Cassville area.   



Sugar Camp Scenic Byway lives up to its name with sweet sunset views. Photo by Vivian Wheeler.


Selfie Stop: Snap a photo of Roaring River State Park's stunning, deep-blue natural spring from which an average of 20 million gallons of water surge each day.
What to Bring: A picnic meal so you can relax and fully enjoy the dramatic vista from a scenic pullout on Forest Road 197 about five miles from Highway 112.
On the Way: For a fun pit stop on the way to Cassville, take a side trip over to Jolly Mill Park (31630 Jolly Mill Rd., Pierce City, 417-476-5421) in
Newtown County. Home to a historic 19th-century mill, this park has a rustic wooden play area for kids, interpretive signs explaining the history of the area and a pretty pedestrian bridge over Capps Creek.

Pull-off spots like the Arkansas View scenic pullover dot the Glade Top Trail. Signage at the stops highlights the area's history, wildlife and habitat. Photo by Abby Gust.


Glade Top National Forest Scenic Byway
Getting There: Drive south on Highway 5 from Ava. Turn right onto Highway A. After a few miles, turn left onto County Road A409. Drive for a little over 3 miles. About 65 miles from Springfield, the pavement ends and the trail begins. The byway eventually splits, leading to two possible endpoints: the tiny town of Longrun, or the junction with State Highway 125.  
Miles on the Road: 23 miles (including both legs after the split)
What You'll See: This ribbon of gravel follows a ridgetop affording spectacular views of the surrounding hills. In autumn, expect stunning color as the smoke trees, sumac and other varieties transform and create bursts of yellow, orange and red. Along the route, venture over to the numerous pullouts you'll come across, many of which have picnic areas with grand vistas of the Mark Twain National Forest. There's a particularly nice pullout from which the Boston Mountains are visible in the distance. Some of these spots will soon have QR codes you can scan to learn about the site. When you pull over, look out for tarantulas, roadrunners, eastern collared lizards and other species that thrive in the area's abundant limestone and dolomite glades. The drive is worthwhile any time, but consider making the trek on October 16, when the Glade Top Trail Flaming Fall Revue—an annual event celebrating the beautiful fall color—takes place along the byway at the Caney Picnic Area. Families will soon be able to explore this picnic area using Discovery Agents, an educational app highlighting the area's history, flora and fauna. Eventually, the Glade Top Trail comes to a fork at Wolf Junction; either way takes you through more lovely country. 
Selfie Stop: Look for the Watershed Divide pullout, where thick forest opens up to a picture-perfect setting with mile after mile of rolling hills in the distance.
What to Bring: The ground is rocky in some spots, so bring chairs for a comfy place to sit if you choose to stop to eat or relax somewhere without picnic tables. 
On the Way: Take a pit stop in downtown Ava at True Brew (130 E. Washington Ave., Ava, 417-683-4500). The cute cafe offers picnic-ready sandwiches and wraps, plus specialty coffee drinks that are just right for a chilly morning.

Mornings in the Mark Twain National Forest are a sight to be seen. Photo by Bhanu Tadinada.


The Drive to Peel Ferry
Getting There: From Springfield, head about 35 miles south to the starting point where Highway 160 meets Highway 65. Drive east on 160 through Forsyth, south on Highway 125 to the Peel Ferry, and north on 125 to the end point of Sparta. 
Miles on the Road: About 70 miles
What You'll See: You don't have to venture too far from Springfield to find dramatic vistas and remarkable fall color. Take Highway 160 east to Highway 125 and drive south to our favorite part of this trek traversing a finger of Bull Shoals Lake on the Peel Ferry, the last public ferryboat operating in Arkansas. It's free to ride the ferry; just roll up to the landing, board when it arrives and glide across the water's glassy surface. After the fun ride to and fro on the ferry, reverse course on Highway 125. You're sure to pass The Dinner Bell (9647 S. State Highway 125, Protem, 417-785-4240), an inviting, super-casual spot for a hot cup of coffee and down-home eats. There are a handful of great nature-viewing areas along the highway, which cuts the through swaths of thick woods in the Mark Twain National Forest. One worthy stop to get out and walk around near Highway 125 is the Bar-K Wrangler Camp. Take a break at one of a few picnic tables, walk down to the edge of Swan Creek and enjoy the peace and quiet of the area. 



Perry Ferry.  
Photo 
courtesy Arkansas Highways. 


Selfie Stop: On the first leg of the drive, pull off at a scenic overlook on Highway 160 as you approach Forsyth. Snap a scenic selfie with Lake Taneycomo and the brightly colored canopy beyond as your backdrop. 
What to Bring: Camping gear so you can take advantage of the sites along the shores of Bull Shoals Lake near the Peel Ferry, like Highway 125 Park (32 Marina Dr., Peel, Arkansas, 870-436-5711), which is open to the public for camping through October. 
On the Way: While heading down Highway 65, pull off for a respite at Bear Creek Wine Company (1320 Keithley Rd., Walnut Shade, 417-443-0036). Sit out on the patio or by the fireplace in a cozy hall and enjoy tastings of eight wines (including a blackberry wine made on-site), plus tasty, rustic pizzas and other light fare.  

You won't want to miss the Rotary Ann Outlook, which affords breathtaking views of hills and gorges fogged with misty, hanging clouds. Photo by Steve Radke.


Arkansas's Scenic 7 Byway
Getting There: From the starting point of Harrison, Arkansas, about 70 miles from Springfield, go south on Highway 7 to Russellville, Arkansas. The latter is a great turnaround spot, although Highway 7 continues onward to other spots like Hot Springs National Park. 
Miles on the Road: 85 miles from Harrison to Russellville
What You'll See: Arkansas's first state-designated scenic byway, Scenic 7 Byway, is a must-do for fall foliage–seekers. The highway rises and descends along undulating hillsides as it ambles south through areas like the Buffalo National River and Ozarks National Forest, deservedly famous for its autumn scenes. Mystic Caverns (341 Cavern Dr., Harrison, Arkansas, 888-743-1739) offers jaw-dropping geologic marvels just a few miles into the drive. Not long after, leave your car at a parking area on the right immediately after crossing the Buffalo River so you can check out the dramatic bluffs along the water's edge. Cruise a little farther and walk the quaint streets of the town of Jasper, six miles beyond which is the Cliff House Inn (870-446-2292), which boasts stunning views of what's known as Arkansas's Grand Canyon and is a great spot for a meal or overnight stay. The road continues along a ridgeline eventually bringing you to the Rotary Ann rest stop. Pull over here for an especially breathtaking view of steep slopes and deep gorges. Next the road descends into the Arkansas River Valley and Russellville, home to Lake Dardanelle State Park (2428 Marina Rd., Russellville, Arkansas, 479-967-5516). Before heading home, check out the park and its visitor center featuring interpretive exhibits and aquariums of local fish. 
Selfie Stop: At the Scenic Point shop (102 S. Highway 7, Jasper, Arkansas, 870-446-5594), climb up its roughly 35-foot observation tower and take a photo looking across the magnificent Buffalo River canyon. Afterward, tuck into the cute shop and grab some fudge and souvenirs. 
What to Bring: A thermos of warm coffee to sip as you admire the magnificent vista from Rotary Ann and other scenic lookouts. 
On the Way: While trekking down Highway 65 toward Harrison, enjoy a bird's-eye view of the fall color at Branson Zipline Canopy Tours at Wolfe Creek Preserve (2339 US Highway 65, Walnut Shade, 417-561-2500). Try the Ozarks Xplorer Zipline Canopy Tour and enjoy seven zip-lines, ten suspension bridges and other thrills. 

Your hog belongs on the Pig Trail Scenic Byway, tightly wound with twists and curves, which guarantee a thrilling ride on two wheels. Photo by Andrew Jared.


Pig Trail 

Scenic Byway
Getting There: From Eureka Springs, Arkansas, about 80 miles from Springfield, head south on Highway 23. Highway 23 becomes the Pig Trail Scenic Byway roughly where it meets Highway 16. The drive's end point is near the south boundary of the Ozark National Forest and the town of Ozark. 
Miles on the Road: 19 miles 
What You'll See: There is some argument about how Arkansas's Pig Trail got its name—some say its switchbacks resemble a pig's curly tail; others say it references the University of Arkansas Razorbacks fans traveling to nearby Fayetteville. But either way, there is no disagreement about the famed drive's beauty and uniqueness. Extremely popular among motorcyclists, the scenic byway winds through gorgeous woods and rugged mountains in the Ozark National Forest. Heads up: this road is no place to speed—it's extremely curvy in places, but that's part of the fun. For a perfect pit stop, check out the charming store at Turner Bend (20034 N. Highway 23, Ozark, Arkansas, 479-667-3641). The shop can be found shortly after crossing the Mulberry River and sells Pig Trail T-shirts and memorabilia, plus locally made goodies like honey, jam and candles. Walk a short way from the shop to a mellow picnic area across the highway for a respite. The next few miles continue through thick forest and open valleys that slowly get more populated as the byway ends and you approach Ozark. Consider making the trip on October 22 so you can stop by the 53rd annual Wiederkehr Weinfest at Wiederkehr Wine Cellars (3324 Swiss Family Dr., Wiederkehr Village, Arkansas, 479-468-9463) near Ozark. Tour the winery's historic cellars, watch a grape-stomping contest and reminisce about the gorgeous drive as you sip vino. 



No matter how souped up your ride is, the speed limit is no joke on the curvy and winding Pig Trail. Photo courtesy Arkansas Department of Parks and Tourism.


Selfie Stop: After passing the pullout for the Ozark Highland Trail, look for a particularly stunning scenic overlook on your left (there's a sign pointing it out as you approach).
What to Bring: A camera so you can capture dramatic snapshots of the Pig Trail's memorable fall color.  
On the Way: Eureka Springs' charm is amplified in the fall. Stretch your legs by wandering its funky nooks and crannies. Fuel up for your trek at Oscar's Cafe (17 White St., Eureka Springs, Arkansas, 479-981-1436), a whimsical breakfast and lunch spot offering an eclectic menu with gems like Norwegian waffles with lemon curd.
---
Peep 

the Peak
Some scenic drives require a bit of planning. The Missouri Department of Conservation can help you decide when to take your drive for the best show of fall color.
According to the Missouri Department of Conservation, Missouri's fall color season can last up to six weeks. But which of those weeks is the best for your fall drive? We spoke with Jon Skinner, an expert at the Missouri Department of Conservation, to hear his predictions for this fall's peak color times. Skinner points out that it's tough to predict peak fall color; any predictions are just educated guesses based on weather and past fall color. Take your chances with Skinner's predictions below, or check the Conservation Department's fall color database (nature.mdc.mo.gov/discover-nature/fall-colors) for up-to-date information when planning your trip. 
September 23–30
Plants like sumac, sassafras and Virginia creepers usually turn early in the season, while late September brings out the fall colors in trees like black gum and dogwood.
October 15–21
Mid-October usually marks the peak of Missouri's fall color. Catch trees like maples, ashes, red and black oaks and hickories at the height of their display.
October 24–31
White oaks are generally some of the last trees to turn, giving a vibrant red display while other trees begin to fade.
---

No worries if you can't nab the yurt at Table Rock State Park. There are plenty of campsites with water views.


Happy 

Camper
You've scouted out the perfect fall drive. But who says your picture-perfect adventure has to end when the engine cools? Grab your crew and make a weekend out of it with these 
nearby camping destinations.
IF YOU WANT: SCENIC VIEWS
Tucked into a lush cluster of oak and hickory trees, Table Rock State Park (5272 Missouri 165, Branson) offers easy access to a scenic overlook. The park offers a spacious campground, trails for walking and biking and a number of picnic areas. Try a night in the yurt—a circular dwelling with a tent-like fabric cover—or simply stake your claim at one of the park's standard campsites. With plenty of fancy foliage, Table Rock State Park is the perfect place to be when those late-fall leaves begin to change hues.
IF YOU WANT: A RUGGED ESCAPE
Honey Creek Conservation Area is a great option for nature enthusiasts. The rugged area offers a landscape of Missouri's more uncommon shrubs and trees. Enjoy a challenging hike through the park's heavily shaded woodlands, or scope out the fall views from a scenic rock ledge. The area is also home to a number of fields, which feature native grasses in their full fall splendor. There are also several multi-use trails and service roads available for hiking. The conservation area is definitely off the beaten path; visit nature.mdc.mo.gov/discover-nature/places for directions and more information.
IF YOU WANT: COMFORT
Echo Bluff State Park (35244 Echo Bluff Dr., Eminence) is Missouri's newest camping destination, and it truly has something for everyone. The park offers breathtaking views of its namesake, Echo Bluff, and the surrounding woodland and natural landmarks. Not interested in roughing it? The park has a number of primitive camping and RV sites, but it also offers modern cabins, a restaurant and a lodge for the finicky camper in your group.
IF YOU WANT: SCIENCE!
Campers interested in Missouri's geological history should look no further than Johnson's Shut-Ins State Park (148 Taum Sauk Trail, Middle Brook). The park is located in the heart of the Ozark Mountains and offers stunning—and unusual—fall views. Park at a campground and enjoy a hike through the exquisite foliage. Don't forget to check out the park's remarkable "shut-ins," which are natural formations confining the Black River to a small channel. This summer favorite shouldn't be overlooked come fall.
IF YOU WANT: TRAIL ACCESS
The Mark Twain National Forest (401 Fairgrounds Rd., Rolla) is one of Missouri's most popular outdoor destinations. Campers can call the forest home for a night at the North Fork recreation area (call 573-364-4621 for directions and more information). The spot serves as a trailhead for Ridge Runner National Recreation Trail and the Blue Spring Trail. More importantly, it offers a healthy dose of fall color. The recreation area is nestled in a tranquil area bursting with mature trees that are sure to put on a flashy display this fall.
---

Photos by Vivian Wheeler, courtesy Branson Scenic Railway.


All
Aboard
Some of the best fall views can be found slightly off the beaten path. That's where the Branson Scenic Railway comes in. It's the perfect opportunity to relax and soak up your stunning surroundings.
Sometimes you need to sit back and enjoy the view without worrying about being behind the wheel. Take a break from the driver's seat and experience some of the most stunning fall color around with a ride on the Branson Scenic Railway (417-334-6110), a working commercial rail line with exquisite views inaccessible by road. The railway winds along the original White River rail line, named for Branson's White River. 
Constructed in the early 1900s, the railway helped pave the way for Branson as a tourist destination. Today, the reimagined Scenic Railway line oozes vintage charm with features like the historic depot built in 1905 and unique passenger cars that take visitors on a tour of the Ozark Mountain foothills. The family-friendly trip goes either north to Galena or south to northern Arkansas depending on freight traffic. Either way, passengers are carried about 20 miles from the Branson depot before reversing for the return trip. The average ride takes about one hour and 45 minutes—the perfect amount of time to take in some stunning fall views. 
Passengers are also invited to wander through the train to check out each unique feature, including three dome cars with gorgeous panoramic views. Looking for a unique date night? A dinner train is offered from May to October on Saturday nights at 5 p.m. The dinner train features a reservation-only, four-course candlelit meal. There are also refreshments available for purchase during every ride.
---

Photo courtesy Roy and Terri Osborn.


417-Land on
 T
wo Wheels
Springfield resident Roy Osborn and his wife, Terri, love to hit the open road on their motorcycle. Read on for a recap of one of their favorite leaf-peeping adventures from last year.
There is so much to see in 417-land, all within a short drive.  Seasonal changes, rivers, lakes, caverns, historical towns, rolling hills, knobs and glades all offer scenic views and enjoyable experiences. Regardless of your mode of travel, there is something for everyone within an hour or two's drive.
Me and my wife of 37-plus years, Terri, enjoy the sport of motorcycling and currently ride a Suzuki Burgman 650, a so-called maxi scooter built for two adults and highway speeds. Although we occasionally venture out on the interstate, you are more likely to find us touring the back roads of 417-land and surrounding areas.  
We most recently went jaunting in southwest Missouri to Bluff Dwellers Cavern and Roaring River State Park and stayed overnight in Branson.  Our excursion began with planning and packing for an overnight stay using roughly six percent of the cargo capacity our cross-over SUV offers.  Achieving that first milestone, we double-checked the necessities, donned our riding gear, fueled up the scooter and headed west from Springfield. 
I should mention that when riding on two wheels, we don't normally take the most direct route—part of the adventure in riding is finding those out-of-the-way places.  I had planned a route and taped some travel notes to the handlebar support for reference, and that was good until about Monett when we veered south off our planned route and headed on to Route 37.  
Southward we found Route 76 in the dense fog near Cassville and headed west again through Exeter, Rocky Comfort and Longview.  We found a C Store at the intersection of Route 76 and Interstate 71/49, and we stopped briefly to stretch and take care of necessaries. 
Continuing south on 71/49, we exited at Route H and wound along the Elk River bottomland into Noel and south on Route 59 to Bluff Dwellers Cavern.  We toured the well-preserved cavern that takes about an hour, visited the museum and spent a little more time with our host and hostess Doug and Mary Jane.  We then headed back into Noel for lunch at The Lodge Café where we enjoyed home-cooked food that's served throughout the day. 
After getting our gear back on, we fueled up and trekked east on Route 90 and found ourselves making another unscheduled stop at The Jane Store in Jane, Missouri, before taking  windy and scenic Route 90 into Washburn, south on Route 37 to Route 112 and to the Roaring River State Park.  The park was packed with visitors, and we stopped to enjoy its offerings, took some photos, visited the Park Store and continued east on Route F where we found Route 86 and followed it through Eagle Rock, Carr Lane and Highway 13 north into Branson West. We were once again on Route 76 and arrived in Branson, finding our lodging at the Ozark Regal Hotel for a long-awaited evening of relaxing and resting our bodies from the day's ride.  
We toured the Branson area, Table Rock Lake and Dam and The Landing the following morning before making our final leg of the trip toward home. The leaves were starting to change, the smell of the fall air was invigorating and traffic was light on the back roads, and discount coupons helped us keep our cost to a minimum.  After making it home, we both are already looking forward to the next outing in the Ozarks.—Roy and Terri Osborn
---
Micro D
rives
You don't have to go far to find gorgeous fall views. These quick micro-drives can all be enjoyed as detours from your normal commute.

East Langston Street, Springfield
With South Glenstone Avenue as a reference point, head east on East Sunshine Street until you hit South Lone Pine Avenue. Take a right on Lone Pine, then turn right on Langston. The arch-lined residential street is stunning in the fall, offering bursts of color without leaving city limits. It's worth altering your commute to enjoy splashes of color from the street's mature trees.
East Delmar Street, Springfield
Picture-perfect East Delmar Street is located between Fremont and National Avenues in Springfield's Rountree neighborhood. Head north on Fremont from the intersection at Catalpa and take a left onto Delmar. The neighborhood's classic homes are shaded by massive trees and the fall color is breathtaking. Take it slow so you don't miss the scenic bend in the road—it's lovely in the fall.
State Highway B, Rogersville
From Clay Street in Rogersville, head west toward State Highway VV. You can follow that route to State Highway B, which is lined with huge, leafy trees that produce brilliant fall color. This drive can be extended all the way to Marshfield for a round-trip distance of about one hour. The stretch is perfect for a quick getaway on a crisp fall afternoon.
Blackhawk Road/South Farm Road 181, Springfield
Take the road less traveled: Follow Blackhawk Road from the Highland Springs neighborhood all the way to Millwood; it's a less-crowded way to get from Point A to Point B. Farm roads like this one are always laid-back alternatives to the daily commute, but there's something special about the seasonal beauty that shades this stretch every year.
North Fremont Avenue, Springfield
From the intersection at East Sunshine Street, head north on Fremont until you hit the picturesque Rountree neighborhood past Meadowmere Street—that's where things get really good. The most brilliant fall color on Fremont usually occurs between Meadowmere and Cherry Streets. The neighborhood's mature trees frame picturesque houses, making for a gorgeous, shaded display with a nostalgic touch.
MO-165, Branson
Take a quick detour on your next trip to Branson—you won't be disappointed. From MO-165 highway, exit at the Keeter Center and drive toward the scenic overlook at Table Rock Lake dam (5329 MO-165, Hollister). The overlook is across from Scoops (7900 MO-165, Hollister), a tiny ice cream shop that makes stopping for ice cream practically mandatory. Pull over and check out the shades of Missouri's brilliant fall foliage.
Devil's Pool Road, Ridgedale
The entrance to Big Cedar Lodge (612 Devil's Pool Rd, Ridgedale) features movie-quality views. Follow the wooded road outside of the lodge to a tucked-away scenic overlook. This is one view that can't be fully enjoyed with the engine running; we suggest pulling over to take in the overlook's views of the Ozark Mountains and Table Rock Lake.