Drinks
Springfield's Ultimate Craft Brewery Crawl
With three new breweries on the horizon, this fall is the perfect time for a Springfield-centric craft brewery crawl.
By Adrienne Donica
Oct 2017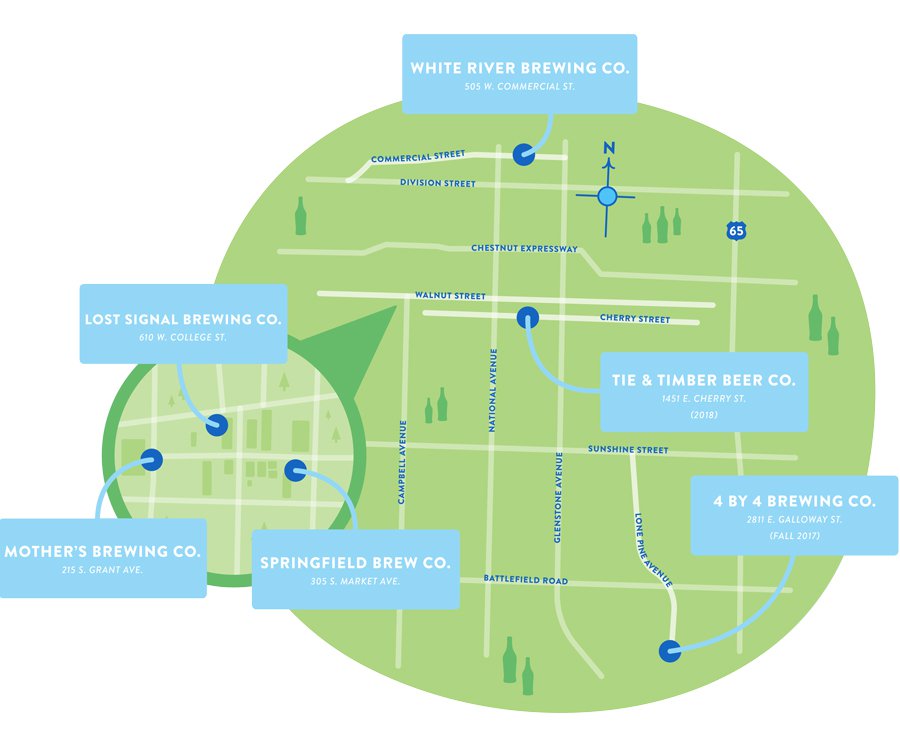 If you've been watching Springfield's microbrewery scene explode recently, you might be wondering if the city can handle it. New brewers on the block not only say yes, but they also say it's about time. Compared to other cities, Springfield has a very low number of breweries.
"We are now seeing a brewery community being built," says Derek Shimeall, one of the co-owners of 4 By 4 Brewing Co. "It's exciting." Shimeall, his wife and the three other couples behind 4 By 4 are working to have the brewery open by the end of fall and were inspired after years of traveling together. On these trips, the couples frequently found themselves visiting the local breweries, and with each visit, they realized 4 By 4's soon-to-be head brewer (a silent partner for now) made brews just as good as, if not better than, what they were trying. After years of talking about opening a taproom, they finally got serious in fall 2016. They researched, planned and looked for the perfect location to match their community-minded brewery. "We really wanted to provide something to the south side of town," Shimeall says. The Galloway district was a natural fit. In addition to long, shareable tables and games, 4 By 4 intends to add to that community feel by eventually hosting events. 
That sense of community is also something the teams at Prehistoric Brewing Co. and Tie & Timber Beer Co. are focused on. Although they don't yet have a location, Charley Norton and Keith Davis at Prehistoric envision an open environment with games and magazines where patrons can bring in food to enjoy. The duo is currently seeking funding but plans to open in southeast Springfield next year. 
Unlike 4 By 4 and Prehistoric, Tie & Timber Beer Co., coming in March 2018, is more centrally located. Co-owners Jennifer Leonard and Curtis Marshall loved the idea of building the Tie & Timber taproom in Rountree because of the strong neighborhood ties and the proximity to Missouri State University. Their kid- and pet-friendly concept will include a patio, handmade sodas and a space for live music and food trucks. But Leonard and Marshall say that's just the beginning. "Craft beer tourism is a huge thing throughout the entire United States, and the goal, for me at least—and I hope for the rest of the breweries—is to truly make Springfield a craft beer destination," Marshall says. Luckily, you won't have to travel too far to enjoy drafts from old standbys like Springfield Brew Co. and Mother's Brewing Co. or newbies like Lost Signal Brewing Co., which opened in February. Grab your crew, jump in an Uber or Lyft and drink up.