Features
Let's Do Brunch
Relax, Kick back and indulge in the best meal of the week at these dining hot spots.
Written by Stephanie Towne Benoit | Illustrated by Elizabeth Behnke & Abby Gust | Photographed by Brandon Alms with additional photos by Abby Gust, Kevin O'Riley, Chuck Travers, Vivian Wheeler and Starboard & Port Creative
Sep 2016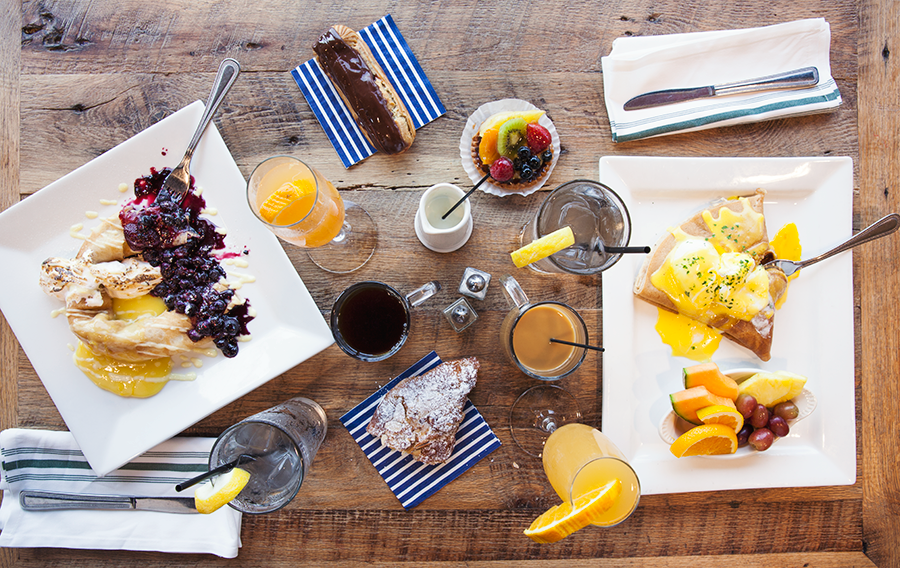 Whether you're recuperating from a tough week, reconnecting with your best girlfriends or capping off festivities from the night before, weekend brunch is the deliciously perfect occasion. And in 417-land, options abound when it comes to destinations where you can feast on lavish fare, indulge with fully sanctioned day drinking and take a break from the week's stressors and worries. Eateries from Springfield to Branson to Joplin and beyond offer their own distinct takes on the meal, so we devised our guide to the region's best brunches so you can make the most of your preciously few commitment-free weekends. And whatever your dining disposition, there's a 417-land brunch that's just right for you, whether you crave a sumptuous buffet with stunning views, a laid-back experience with down-home eats, a stylish spot with creative cocktails or farm-to-table food prepared with a gourmet touch. So sit back, relax and get ready to enjoy our region's tastiest weekend morning glories.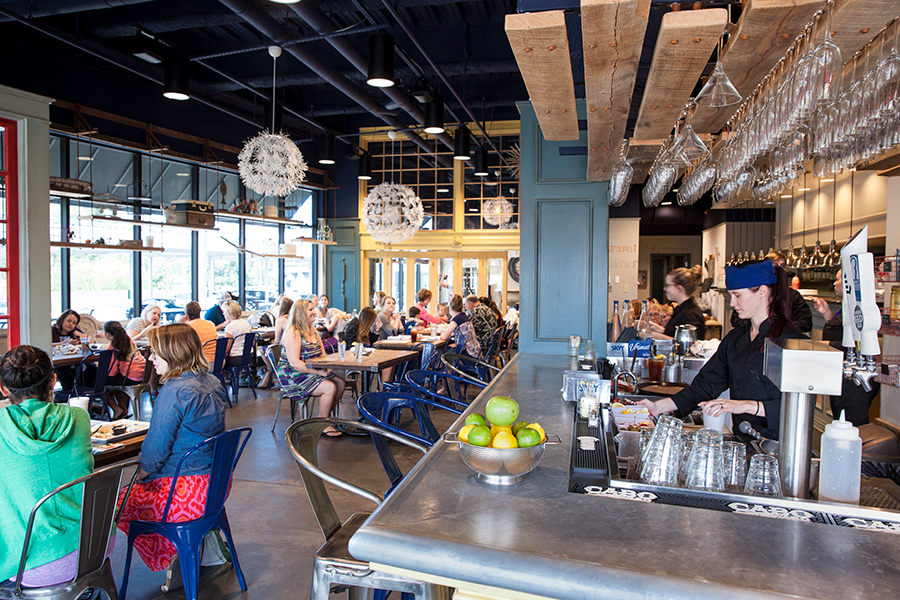 Aviary Café
So you sit down for brunch, excited for what is arguably the world's greatest meal. And then, it hits you: Do you go for an indulgent sweet dish, or some salty, savory goodness? It's a never-ending debate, one that is even more difficult at Aviary Café (Downtown: 400 E. Walnut St., Ste. 100, Springfield, 417-866-6378; Farmers Park: 2144 E. Republic Rd., Ste. E120, Springfield, 417-881-9736; aviarycafe.com), the charming, chic eatery offering indulgent brunch eats all day long. That's because the menu features equally tantalizing sweet and savory options. There are choices like the Crepes Benedict with salty diced ham steak and rich Mornay sauce wrapped in a savory crepe and topped with two perfectly poached eggs and a drizzle of hollandaise. For those with sweet dreams, it's tough to pass up the lemon curd- and marshmallow fluff–topped Lemoncello crepe filled with mascarpone and warm berry compote. "It's definitely a customer favorite," says Kevin Mueller, executive chef of Aviary's downtown location. "Everybody loves berry lemonade, and that's really kind of the flavor you get out of it." Diners stuck in the middle of the debate can kill two birds with one stone with The Farmer, which has scrambled eggs, cheddar jack cheese, and a choice of ham, bacon, or sausage, all of which is wrapped in a sweet crepe and served with maple syrup. Whether you decide to satisfy your sweet tooth, seek salty satiation or wind up somewhere in between, Aviary's delectable French-inspired fare rules the roost.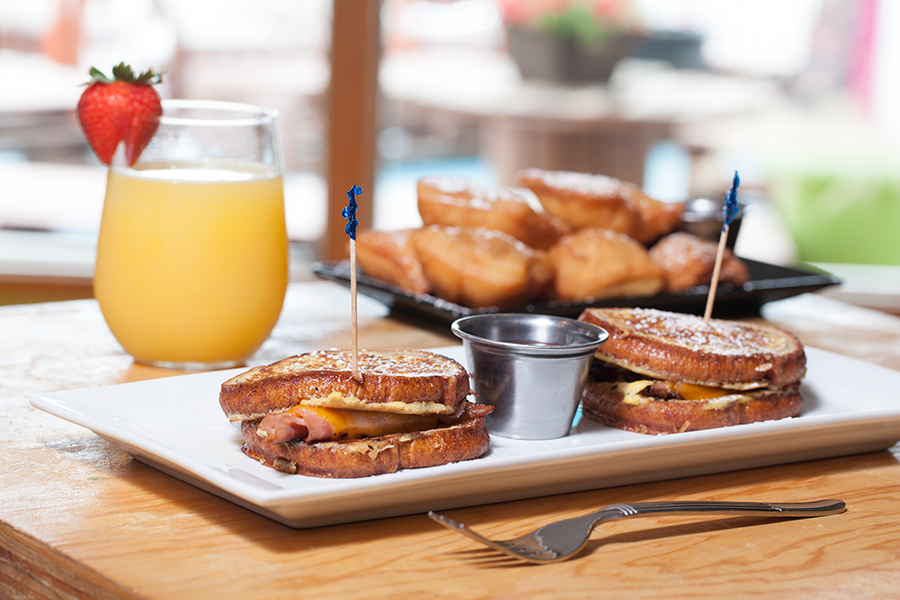 Club 1201
Of course there's plenty to love about good ole' breakfast grub. But when it comes to brunch, we crave something beyond glorified breakfast with later hours and a different name. For an occasion offering creative cuisine and an elevated experience, the Sunday brunch served from 9 a.m. to 2 p.m. at Joplin's Club 1201 (1201 E. 32nd St., Joplin, 417-626-0032, club1201.com) hits the spot. That's because the eclectic, well-appointed restaurant was intended to provide 417-landers a delicious meal in a more refined environment. "We wanted it to be affordable so that anyone could come, but we wanted them to feel like when they were here that they were doing something sophisticated and special," says Manager Arianne Jones. Club 1201's brunch perfectly embodies that goal thanks to its inviting atmosphere and wide-ranging menu, which runs the culinary gamut with options like Monta Cristo sliders, panko-coated fried chicken with Belgian waffles, scrambled-egg-topped flatbreads and fruit-stuffed French toast made with cinnamon swirl bread. Whatever main dish you choose, a Club 1201 brunch isn't complete without the signature airy, fresh-from-the-fryer beignets. Those light, fluffy fried pastries are artfully presented in cone-shaped stands, dusted with powdered sugar and served warm with either raspberry coulis or Nutella. A word of advice to those with late-to-rise tendencies: it's not unusual for the popular New Orleanian treat to sell out. "The dough requires 24 hours to rise and do its thing," Jones says. "We make it Saturday, so once it's gone on Sunday, it's gone." Duly noted, and alarm set.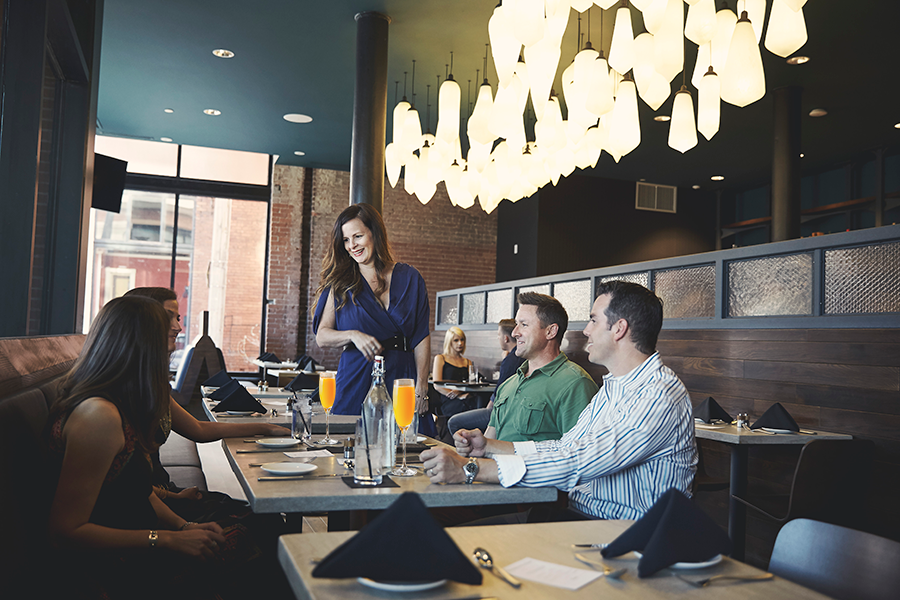 The Order
A perfect balance of comfort and luxury, a platter of eggs Benedict is a gift from above to brunch lovers everywhere. And The Order (305 E. Walnut St., Springfield, 417-832-1515, theordersgf.com), Hotel Vandivort's buzzy, stylish restaurant serving brunch on Saturdays and Sundays from 8 a.m. to 2 p.m., is whipping up some of the most heavenly Benedicts around. "We pride ourselves on the Benedicts," says Zach White, The Order's executive chef. The eatery serves up four varieties, including a classic Benny, one with smoked salmon and another with crab cakes made from Alaskan king crab. There's also White's favorite, the Ozarks Benedict composed of scrumptious house-made biscuits, Circle B Ranch pork belly, sage and sausage gravy and poached eggs. "If you've had a rough night, come in and get an Irish coffee and have an Ozarks Benedict—that's going to take care of it," he says. "It's pretty phenomenal." If a hefty, stick-to-your-ribs entree sounds too heavy, try one of the clever, shareable small plates populating the menu like the pancake-encased bacon strips, pork belly corn dogs and duck confit sliders. "You'll see tables with multiple items like that," he says. "It makes it much more fun and interactive when you are able to do that and enjoy it with two, three or four other friends and make a whole day out of it." Sharing may be caring, but you'll have to forgive us if we keep the French toast dippers—flattop-cooked, custard-dredged Hurts donuts with three delightful, alcohol-infused sauces—to ourselves.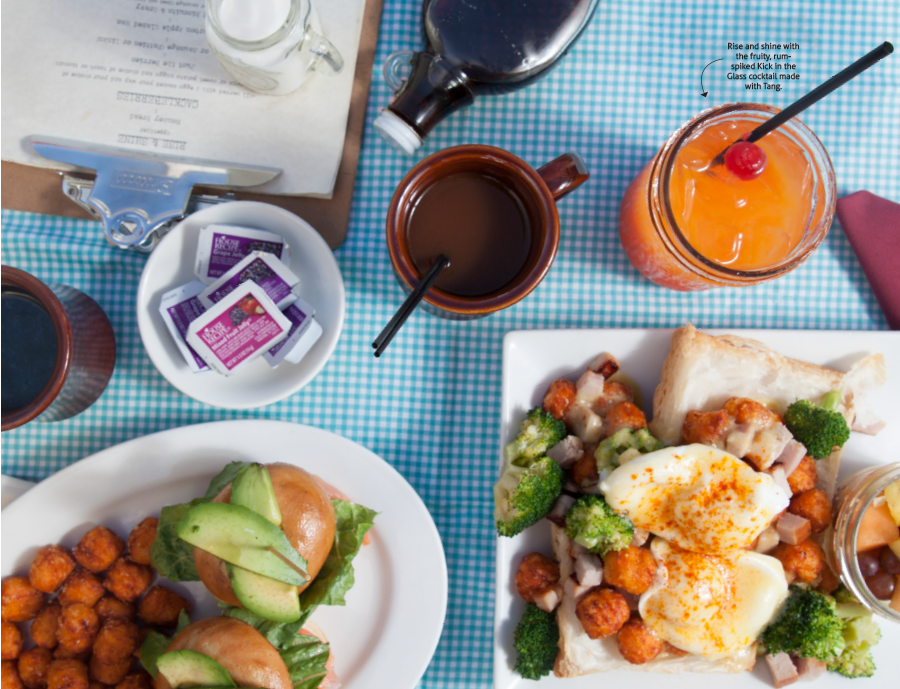 Early Bird Breakfast Pub
By design, most pubs are destinations for grown-up beverages and a kid-free evening. By those standards, Early Bird Breakfast Pub (1717 E. Cherokee St., Springfield, 417-885-8088) is a bit of a rare bird—one that since opening in 2015 has spread its wings and developed into a wildly popular 417-land mecca for well-crafted, stick-to-your-ribs morning meals that the whole family can enjoy. Started by brothers Shawn and Stephen Washburn, Early Bird is an ideal spot for a laid-back brunch in a fun, relaxing environment. "The atmosphere of the restaurant and attitude in general, you come in here and you have a good time," Shawn says. As for the menu, there are four impressive pages from which to choose, each filled with creative, satisfying selections like finger-licking-good monkey bread, a breakfast mac and cheese (tossed with goodies like hash browns, scrambled eggs and bacon) and the Breakfast Club with fried eggs, sweet apple-bacon butter and bacon or sausage all sandwiched between waffles or French toast. Tempting as those options are, don't miss the signature Bird's Nests. Each features a fluffy puff-pastry base that's topped with unique combos like bourbon-apple ham, steamed broccoli, eggs, hollandaise and sweet potato nuggs in the Robin Bird's Nest. There's also a great cocktail list that's chock full of libations that are just as clever, like the rum-spiked Kick in the Glass. "It has Tang in it, which people love when they try it," Shawn says. "I think it brings them back to their childhood." It's these and other bird-brained creations that will keep us coming back for more of Early Bird's brunch-time goodness.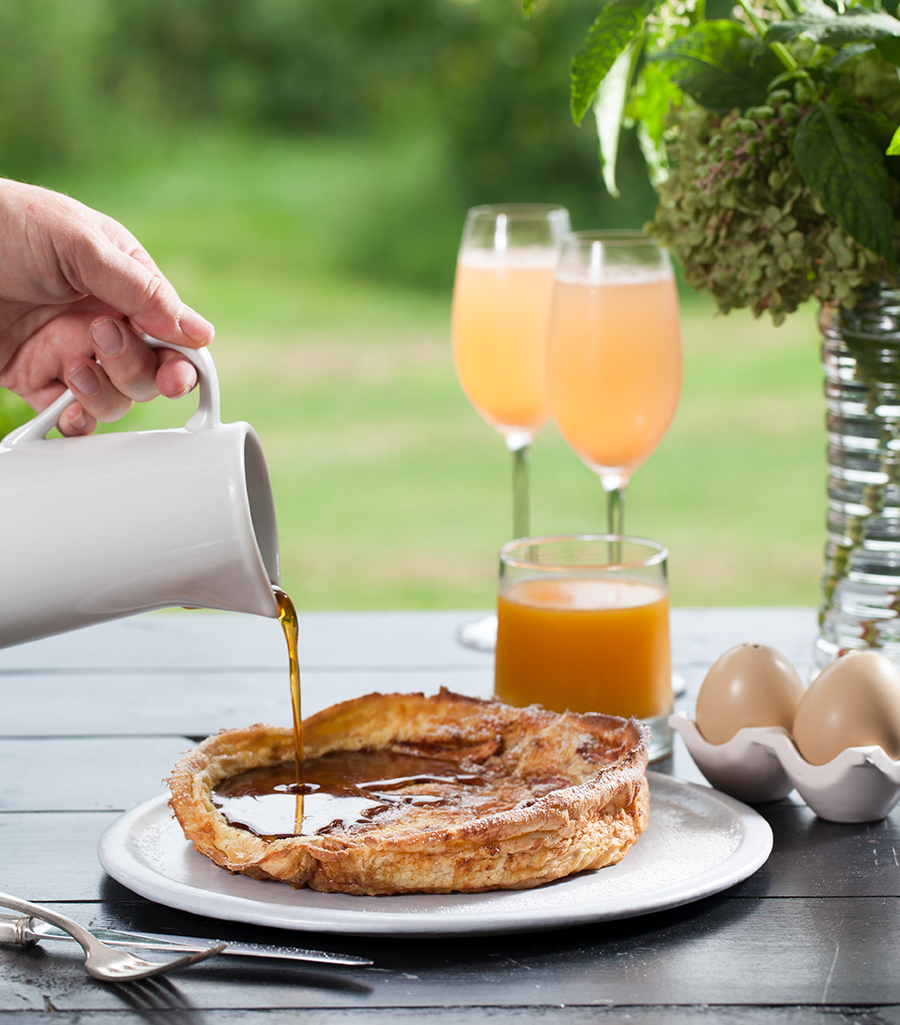 Harvest Restaurant
In some cases, culinary buzzwords like locally procured, sustainably sourced and the like are trendy rather than tried-and-true. But at Harvest Restaurant (8011 E. State Hwy. AD, Rogersville, 417-830-3656, harvestmo.com), owners Craig and Tamara von Foerster have built their establishment on the sincerest farm-to-fork foundations. That approach has been the base of Craig's culinary philosophy for decades, including when he was executive chef of the acclaimed Sierra Mar Restaurant at Post Ranch Inn in Big Sur, California. After moving to Missouri and becoming the third generation in Tamara's family to farm land that her grandparents began farming in 1932, the von Foersters opened Harvest to offer an experience highlighting the bounty from that farm, which is equally as present in the newly launched Sunday brunch as in Harvest's gourmet dinner service. "The quality of the product—it starts there," Tamara says. In addition to careful sourcing, each ingredient is handled with precision and attention to detail. For instance, Craig brines the salmon in one of Harvest's luscious eggs Benedicts for two days before smoking it in-house, allowing him to control the flavor and level of smoke present in the final dish. Featuring Belgian waffles, seasonal frittata and scratch-made baked goods, the menu is built around those skillfully prepared ingredients, the vast majority of which come from within Missouri, some from just a stone's throw from the restaurant. Take, for example, the light, airy Harvest German apple pancake featuring apples picked fresh from an orchard within view of diners on the patio. That proximity allows diners to truly appreciate the relationship between farm and fare. "It's a morning in the country where you can actually sit in surroundings where your produce actually came from," she says. "You can gaze at the apple trees on the patio and eat the apple pancake. It's a direct connection with where the ingredients are sourced from."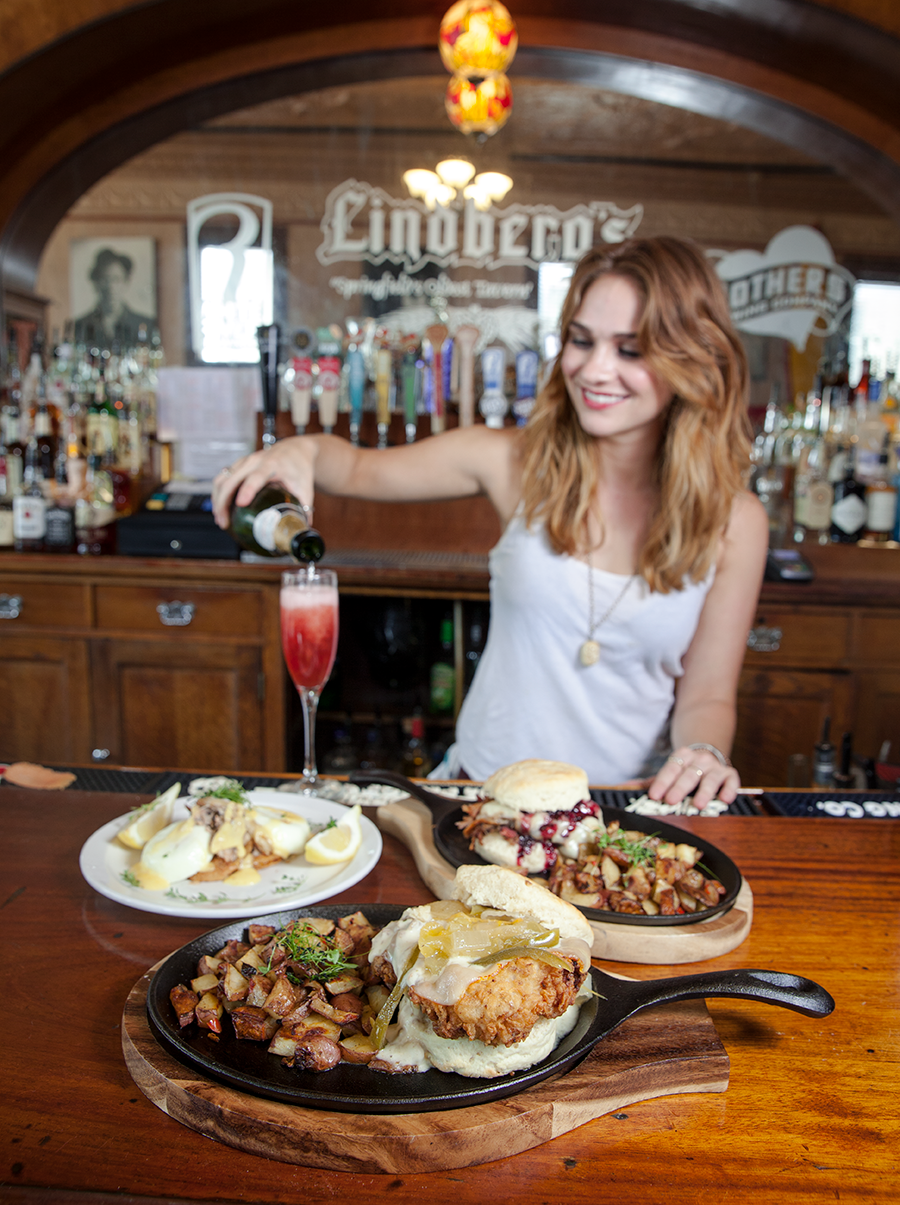 Lindberg's Tavern
When diners think of bars, exceptional food might not be the first thing that comes to mind. But at Lindberg's Tavern (318 W. Commercial St., 417-868-8900, lindbergsbar.com), that's exactly what's on the menu, including at brunch, which the storied watering hole and music venue now offers on Sundays from noon all the way until 10 p.m. "We like to do the sort of high-end stuff from scratch and use classic techniques to do something a little more than what they expect typically when they get bar food or when they think of bar food," says owner Ryan Dock, who alternates cooking duties with fellow owner Eric Weiler. "We like it when people leave here and they say, 'Wow, we didn't expect that.' They expected regular bar food, and they got something different." At brunch time, that wow-factor comes from unpretentious, well-prepared soul food like the scrumptious chicken and waffles platter with juicy buttermilk-soaked chicken that's breaded and fried to order. Bread pudding, which isn't technically on the brunch menu but is so popular and beloved by regulars that it's still available then, is another comforting favorite. "We make that like bread pudding should be—real buttery, with a lot of eggs, sugar and cream," Dock says. There are also fun brunch specials, which change from week to week; a fried green tomatoes dish with champagne-poached lump crab, a runny egg and hollandaise is a recent example. Be sure to also try one of the frequently rotating specialty brunch cocktails whipped up by Lindberg's creative bartenders. Add to the mix mellow live acoustic tunes from 2 to 4 p.m. and Lindberg's cool, historic setting and you have a spot-on recipe for lazy Sunday bliss.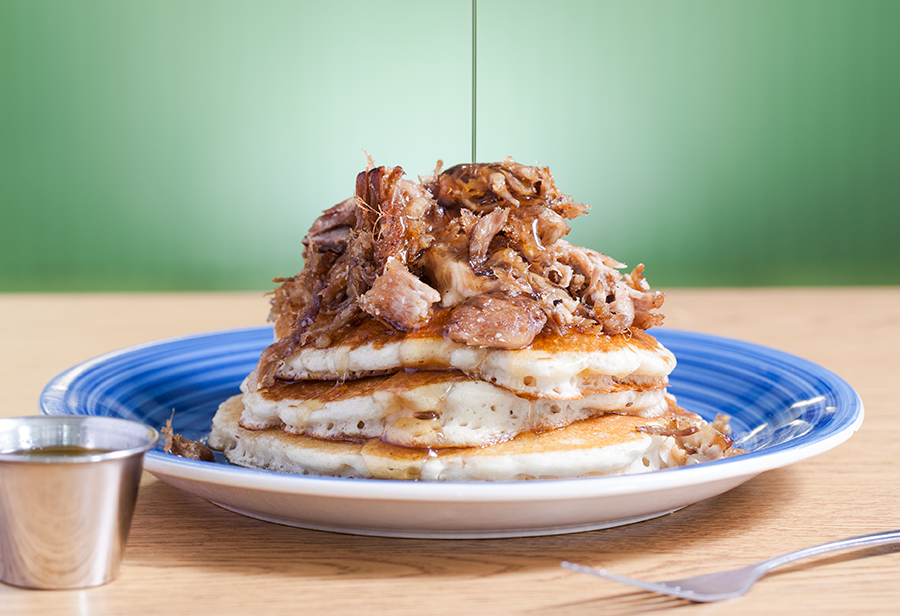 The Bruncheonette
​At The Bruncheonette (424 N. Main St., Joplin, 417-781-3447, thebruncheonette.net), regulars have come to expect the unexpected from Chef Sean Flanagan, who owns the popular, cozy eatery with his wife, Chas. That's because Flanagan finds inspiration in inventive, out-of-the-ordinary sources for the brunch menu, which is available all day during restaurant hours (Wednesday through Friday from 8:30 a.m. to 2 p.m. and Saturday and Sunday from 9 a.m. until supplies last). Take for example the Cuban B, an eggs Benedict featuring components of a Cubano sandwich including pulled pork, sliced ham and cheese. Elsewhere on the menu, the toast made with house-made gluten-free brioche comes with a rotating variety of toppings; recently, those toppings were inspired by no less than the king of rock 'n' roll when it was served "Elvis style"—slathered with peanut butter and topped with banana slices, chopped bacon and local honey. Even conventional items have a special twist to them, like the King's Hawaiian sweet bread that's used in the French toast platter, the butter-fried pulled pork served atop buttermilk pancakes and the Boulevard 80-Acre beer that's used to make the syrup that comes with both dishes. Regardless of what you try, you can always expect locally grown ingredients. Flanagan and his team work hard to procure products from nearby sources wherever possible, including the Webb City Farmers Market and regional growers Center Creek Farms in Sarcoxie and Fredrickson Farms in Carl Junction.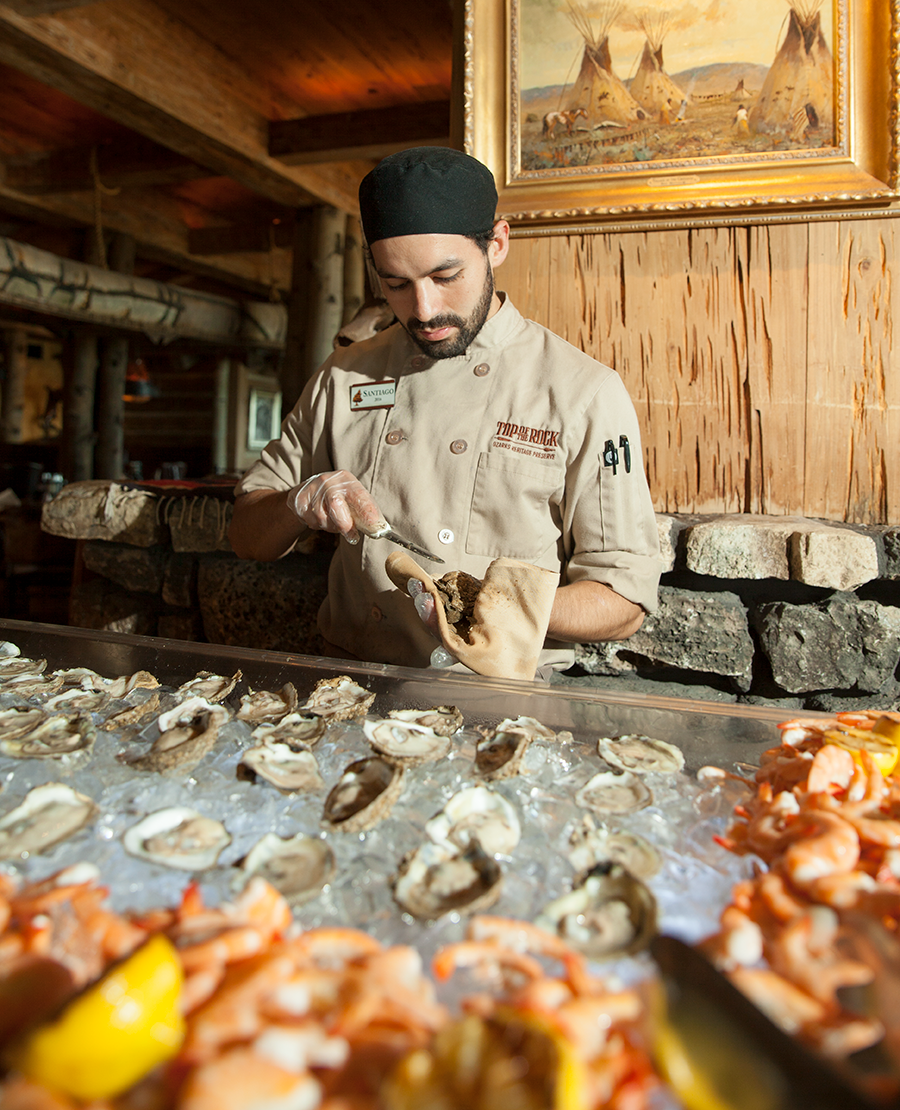 Osage Restaurant
With ample champagne, endless selection and an air of indulgence, there's something so lavish and satisfying about a brunch buffet. And in 417-land, the one at Osage Restaurant (150 Top of the Rock Rd., Hollister, topoftherock.com, 417-335-2777) on Sundays from 9:30 a.m. to 2 p.m. is an ideal spot for a special morning. Once located at Big Cedar's stately Worman House, the Sunday brunch moved to Osage Restaurant at Top of the Rock for its handsomely appointed space and gorgeous view. The move also provided access to functional kitchen features like an open meat pit, where the rotisserie-cooked prime rib roasts over oak within view of diners. Not only is that a mouthwatering visual, but that preparation also gives the meat depth of flavor and a hint of char and smokiness. "Everybody loves the prime rib," says Osage Restaurant and Buffalo Bar Sous Chef Stephanie A. Holmes, who creates each week's brunch menu. Diners also enjoy fresh oysters, a luxurious touch. "We have oysters flown in on Fridays," says Mike Halbert, Big Cedar's executive chef. "We have a guy out there shucking them out in the dining room, so it's nice, fresh, beautiful oysters." When sampling the smorgasbord of salads, charcuterie, made-to-order omelets and other goodies, be sure to save room for the eye-catching spread of desserts, often including items like cake pops, macarons, cupcakes and house-made candies, all beautifully presented near the entrance to the dining room. "The dessert [station] always has the wow-factor," Halbert says. That wow-factor is also due to the restaurant's spectacular surroundings. For the peak experience, request a table in the atrium room. Its picturesque, unbroken view of Table Rock Lake provides the perfect scenic backdrop for the sumptuous meal.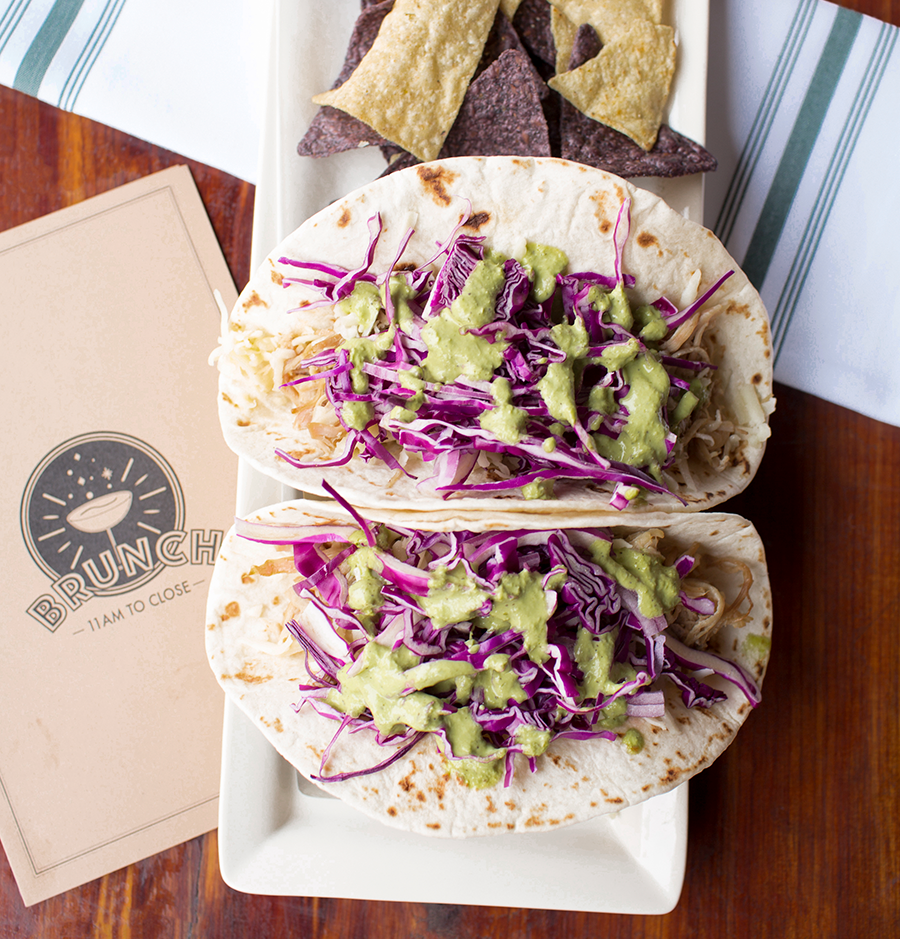 Scotch & Soda
With its stylish vintage vibe, hip clientele and jaw-dropping array of libations, Scotch & Soda (310 South Ave., Springfield, 417-719-4224, thescotchandsoda.com) is a top-notch spot for a nice night out and a classic cocktail. For a dressed-down version of that experience, stop by for Sunday brunch. Served from 11 a.m. to 3 p.m. and available to those 21 and older, the atmosphere is more casual than it is in the evening, but diners can still enjoy drinks and eats that are equally as cool and high quality. "It's a little bit more laid-back than the traditional Scotch & Soda atmosphere," says co-owner Joshua Widner. As for the food, inventive waffles and tacos with slow-roasted meats are popular fixtures on the menu, which Widner and fellow co-owner Andrew Heilman developed over several months. "We tried to write our own menu that was true to our style but would still pair well with champagne, beer or a cocktail," Widner says. If you over-indulged with any of those beverages the night before, Scotch & Soda has just the ticket: the Pete and Pete, an open-faced, gravy-smothered sandwich that pairs beautifully with Grandpa's Breakfast, a porter or stout with a whole raw egg. "That would put you right back on your feet," he says of the old-school hangover cure. There's also a bloody mary bar with an eye-popping variety of toppings and fixings, plus rotating varieties of refreshing punches served out of hammered steel bowls. Boozy punch and a tasty brunch? Talk about a match made in heaven. 
Best Hair of the Dog
A little worse for wear after a big night out on the town? We've all been there. Nurse your wounds with one of these boozy remedies from some of 417-land's brunch hot spots.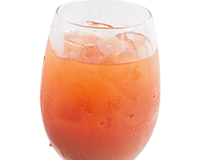 Bloody Ninja
The Bruncheonette 
Beverage Basics: smoked tomato house bloody mary mix, sake, fresh lime and lemon juices, Sambal hot sauce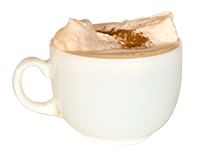 Italian Coffee
Civil Kitchen 
Beverage Basics: French press coffee from European Café, Gozio Amaretto, Aperol, Averna, house-made whipped cream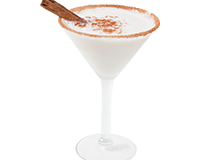 French Toast Martini
Crabbys Seafood Bar & Grill
Beverage Basics: Crown Royal Maple Finished Whiskey, RumChata, cinnamon-sugar rim, half-and-half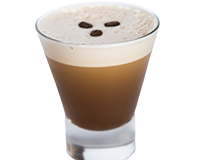 The Kracken of Dawn
The Order 
Beverage Basics: The Kraken Black Spiced Rum, cold brew coffee from The Coffee Ethic, demerara syrup, egg white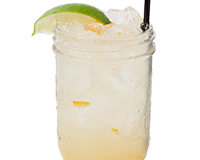 Breakfast Margarita
Early Bird Breakfast Pub
Beverage Basics: Jose Cuervo Silver tequila, Hiram Walker Triple Sec, lime juice, orange marmalade, agave nectar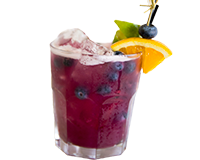 Uncle Micah's Punch
Scotch & Soda
Beverage Basics: Wild Turkey Straight Rye Whiskey, blueberry cognac liqueur, orange zest, Charles Smith Secco Italian Bubbles Bianco, lime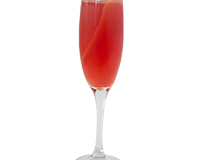 Mimosa Rubino
Lindberg's Tavern
Beverage Basics: grapefruit and pomegranate juices, Aperol, champagne, a dash of bitters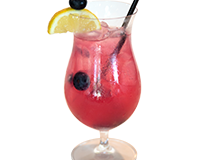 Blueberry Lavender Lemonade
Farmers Gastropub 
Beverage Basics: lemonade, Persimmon Hill Farm blueberry–infused vodka, simple syrup made with lavender grown on-site 
Butcher + Baker
607 S. Pickwick Ave., Springfield, 417-315-8602, butcherplusbaker.com
Cuisine: Meat-centric carry-out brunch
Price range: $7.50 to $9 for entrees
Hours: Weather-permitting Sundays throughout the summer and fall, 10 a.m–2:30 p.m. 
Must-try dishes: Cowboy Breakfast Bowl with pulled pork and Capresimo breakfast sandwich
Kid-friendly: Yes
Reservations needed: No
Just for fun: The bakers are constantly coming up with new pastries; hertzoggies, a South African treat, are one of their recent creations.  
Cantina Laredo
Springfield: 4109 S. National Ave., 417-881-7200
Branson: 1001 Branson Landing Blvd., 417-334-6062, cantinalaredo.com 
Cuisine: Modern Mexican
Price range: $10.29 to $14.79 for entrees
Hours: Sundays, 11 a.m.–3 p.m. 
Must-try dishes: Crab cakes Benedict with chipotle-wine hollandaise, chicken fajita omelet
Kid-friendly: Yes
Reservations 
recommended: Yes
Just for fun: Both locations have lovely patios; Branson's has a picturesque view of Lake Taneycomo, and Springfield's has a cozy fire pit. 
Chateau Grille 
415 North State Highway 265, Branson, 417-334-1161, chateauonthelake.com
Cuisine: Elegant champagne buffet
Price range: $17 for kids (free for ages 5 and younger); $34.25 for adults
Hours: Sundays, 11 a.m.–2 p.m. 
Must-try dishes: Prime rib, oysters on the half shell, bread pudding, cherries jubilee and bananas Foster dessert stations
Must-try drinks: Sunset Punch, bloody mary with bacon salt or celery salt 
Kid-friendly: Yes
Reservations recommended: Yes
Just for fun: Every table affords a view of Table Rock Lake; the veranda seating, weather permitting, makes an especially lovely spot.   
Civil Kitchen
107 Park Central Square, Springfield, 417-501-8456, civilsgf.com
Cuisine: Menu of simple fare with a twist
Price range: $7 to $11 for entrees
Hours: Sundays, 9 a.m.–2 p.m.
Must-try dishes: The Kitchen Sink plate, Breakfast Oscar served 
with poached eggs and toast points
Must-try drinks: Italian coffee (read more about this drink on p. 110), grapefruit mimosa made with elderflower liqueur and Campari 
Kid-friendly: Yes
Reservations recommended: Yes
Just for fun: A spot on the patio affords a picture-perfect view of downtown Park Central Square. 
Crabbys Seafood Bar & Grill
815 W. 7th St., Joplin, 417-206-3474, crabbysjoplin.com
Cuisine: New American menu with a seafood emphasis
Price range: $8 to $13 for entrees
Hours: Sundays, 10:30 a.m.–3 p.m. 
Must-try dishes: Eggs Benedict with filet medallions, seafood frittata 
Must-try drinks: French toast martini (read more about this drink on p. 110), fresh strawberry Bellini   
Kid-friendly: Yes
Reservations recommended: Yes
Just for fun: Don't miss chef-owner Damien Tiregol's rotating special; recent hits include bread pudding French toast and burnt-end hash. 
Devil's Pool Restaurant
612 Devil's Pool Rd., Ridgedale, 417-335-2777, bigcedar.com
Cuisine: Country-style champagne brunch buffet 
Price range: $12.95 for kids; $23.95 for adults
Hours: Sundays, 10 a.m.–2 p.m.
Must-try dishes: Fried catfish, hushpuppies, fried chicken, ribs with the signature Big Cedar rub 
Must-try drinks: Peach Pit, apple-sage Old Fashioned
Kid-friendly: Yes
Reservations needed: No, except for holidays
Just for fun: Request a spot on the deck for a magnificent view of Table Rock Lake. 
Downing Street Bistro at The Old English Inn
24 Downing St., Hollister, 417-544-9056
Cuisine: traditional with modern style 
Price range: $8 kids, $20 adults for buffet; $8 to $12 for a la carte entrees
Hours: Sundays, 10 a.m.–2 p.m. 
Must-try dishes: Sunday pot roast and trout-topped Taneycomo Eggs Benedict
Kid-friendly: Yes
Reservations recommended: Yes
Just for fun: The Old English Inn was built in 1907, so arrive early to check out historic photographs and news clippings tucked throughout the building.  
Farmers Gastropub
2620 S. Glenstone Ave., Springfield, 417-864-6994, farmersgastropub.com
Cuisine: British with an Ozarks twist
Price range: $8 to $22 for entrees
Hours: Sundays, 10 a.m.–3 p.m.
Must-try dishes: Farmers Full English breakfast or house-smoked salmon with chive cream cheese and an Albright Hippie Hillbilly Farm bagel 
Must-try drink: Bloody mary with chili-pepper-infused vodka, blueberry lavender lemonade (read more about this drink on p. 111)
Kid-friendly: Yes
Reservations needed: No
Just for fun: Farmers Gatstropub is all about local love, using local ingredients in every dish possible with goods from producers like Circle B Ranch, Black Gate Farms and Edgewood Creamery.
The Fork & Spoon by Simply Delicious Catering
2340 W. Grand St., Springfield, 417-761-4838, theforkandspoon.org
Cuisine: Modern American buffet
Price range: $14.99 for adults; $7.49 for kids
Hours: First Sunday of the month, 10:30 a.m.–2 p.m.
Must-try dishes: Creme brulee French toast, live-action stations serving rotating items like crepes, omelets or pasta  
Kid-friendly: Yes
Reservations recommended: Yes
Just for fun: Want to feel in-the-know? A chalkboard wall is packed to the gills with info about upcoming events and concerts. 
Galloway Station 
1281 E. Republic Rd., Springfield, 417-881-9730, gallowaystation.com
Cuisine: Modern, eclectic American 
Price range: $5 to $9.50 for entrees 
Hours: Saturday, 11 a.m.–2 p.m.
Must-try dishes: Morning Glory breakfast sandwich nestled between two glazed donuts, French Connection burger with a French toast bun
Must-try drinks: Pineapple mimosa, strawberry-mango Bellini 
Kid-friendly: Yes
Reservations needed: No
Just for fun: For a great appetizer or dessert, try the Before-N-After mini made-to-order waffles served with strawberry frosting, Nutella, peanut butter and syrup served on the side.   
Hemingway's Blue Water Café 
1935 S. Campbell Ave., Springfield, 417-891-5100, hemingwaysbluewater-cafe.com
Cuisine: Casual buffet
Price range: $6 for kids; $18 for adults
Hours: Sundays, 9 a.m.–3 p.m.
Must-try dishes: Made-to-order omelets, French toast station, Ghirardelli chocolate fountain   
Must-try drink: Bloody mary made with Smirnoff Lime vodka
Kid-friendly: Yes
Reservations recommended: Welcomed, but not necessary
Just for fun: A massive 30,000-gallon saltwater aquarium filled with colorful fish is an eye-catching feature.
The Keeter Center at College of the Ozarks
1 Opportunity Ave., Point Lookout, 417-690-2146, keetercenter.edu
Cuisine: Casual buffet 
Price range: $10.95 for kids; $25.95 for adults
Hours: Sundays, 10 a.m.–2 p.m.
Must-try dishes: Made-to-order waffles, smoked ham, house-made pasta station
Kid-friendly: Yes
Reservations recommended: Yes
Just for fun: The Keeter Center's brunch spread is even more lavish on holidays like Thanksgiving, Easter and Mother's Day.
Nonna's Italian Cafe
306 South Ave., Springfield, 417-831-1222, nonnascafe.com
Cuisine: Italian-inspired brunch
Price range: $6.99 to $8.99 for entrees
Hours: Sundays, 11 a.m.–1 p.m.
Must-try dishes: Italian biscuits and gravy, amaretto-flavored tiramisu made into pancakes 
Must-try drink: Italian margarita  
Kid-friendly: Yes
Reservations recommended: For groups of six or more
Just for fun: The secret to the biscuits and gravy's Italian flair? A touch of polenta in the biscuits and Italian sausage and Alfredo in the gravy. 
Spring River Buffet at Downstream Casino Resort
69300 East Nee Rd., Quapaw, Oklahoma, 918-919-6000, downstreamcasino.com
Cuisine: Buffet with country- and Mexican-inspired fare
Price range: $5.95 for kids; $10.95 for adults
Hours: Sundays, 10 a.m.–3 p.m. 
Must-try dishes: Cooked-to-order French toast and waffles, tri-tip with rosemary demi glace, chorizo hominy hash
Kid-friendly: Yes
Reservations needed: No
Just for fun: The beef served at Downstream is supplied by Quapaw Cattle Company, located just a few miles from the casino resort. 
Springfield Brewing Company
305 S. Market Ave., Springfield, 417-832-8277, springfieldbrewingco.com
Cuisine: Hearty American classics
Price range: $7 to $9 for entrees
Hours: Saturdays and Sundays, 9 a.m.–1 p.m.
Must-try dishes: Walnut Street pancakes, homemade biscuits and gravy
Must-try drinks: Bloody mary with house-pickled seasonal veggies and 5 ounces of Paul's Pale Ale on the side
Kid-friendly: Yes
Reservations needed: No
Just for fun: The signature gravy is made with duck fat, adding extra richness. 
The Tower Club
901 Saint Louis St., Springfield, 417-866-4466, towerclubspringfield.com
Cuisine: Upscale buffet
Price range: $10 for kids; $18.95 for adults
Hours: Second Sunday of every month, seatings at 11 a.m. and 1 p.m.
Must-try dishes: The menu changes monthly; the rustic Italian torta and tiramisu French toast are recent standouts.
Must-try drinks: Orange sherbet mimosa, strawberry prosecco mojito, pink grapefruit gin fizz (read more about this drink on p. 110)
Kid-friendly: Yes
Reservations recommended: Yes
Just for fun: Good luck avoiding the indulgent desserts. Favorites from the ever-changing spread include apple fritters and a Belgian waffle cake with Bailey's Chantilly cream.
Brunch Road Trips
We're always up for a road trip, especially if that excursion leads to delicious food. We found brunch destinations that more than justify the trek, plus suggestions for what to do and see after dining.
Local Flavor Café
Where: Eureka Springs, Arkansas
Drive time: 2 hours from Springfield 
What's to love: Grab a spot on the shady deck and watch the world go by at Local Flavor Café, which, as the name suggests, specializes in dishes highlighting regional bounty. 
Try the: veggie omelet with a rotating variety of seasonal produce, spinach sauce and avocado
While you're there: Observe cool creatures at Turpentine Creek Wildlife Refuge.
The Tavern
Where: Tulsa, Oklahoma 
Drive time: Two hours and 45 minutes from Springfield
What's to love: Located in the hip Brady Arts District, this pub-inspired spot offers modern takes on comforting brunch basics in a stylish, low-key atmosphere. 
Try the: steak hash with pearl onions, potatoes, mushrooms and an over-easy egg 
While you're there: See a show at the Tulsa Performing Arts Center.
Tusk & Trotter American Brasserie
Where: Bentonville, Arkansas
Drive time: 2 hours from Springfield 
What's to love: This eatery, housed in what was once Sam Walton's general office and warehouse, boasts a seasonally rotating brunch menu and inventive house-infused cocktails.
Try the: soufflé-style lemon pancakes with vanilla butter, bloody mary flight
While you're there: Explore Crystal Bridges Museum of American Art.
Half & Half
Where: St. Louis
Drive time: 3 hours and 15 minutes from Springfield
What's to love: A semifinalist for the James Beard Foundation's 2016 Restaurant and Chef Awards, Mike Randolph is co-owner and executive chef of this wildly popular spot with fresh, seasonal brunch goodies and a noteworthy coffee program. 
Try the: Clara Cakes, named one of America's 15 best pancakes by Time Out
While you're there: Unleash your inner child at the City Museum.
Voltaire
Where: Kansas City 
Drive time: 2 hours and 45 minutes from Springfield
What's to love: Inventive takes on well-loved favorites and globally inspired dishes populate the menu of this Kansas City eatery. 
Try the: Pozole Rojo con Nuevo, eggs benedict three ways
While you're there: Catch a Sporting KC match.
Sophia's
Where: Columbia
Drive time: 2 hours and 45 minutes from Springfield
What's to love: Expect a sophisticated atmosphere and brunch classics with an upscale twist, like the quiche prepared with lobster and finished with white truffle oil. 
Try the: tiramisu French toast, baked-fresh-to-order monkey bread
While you're there: See a show at The Blue Note and wander the Shelter Gardens.