Life
Fall Festivals in Southwest Missouri
It's festival season! Get out and embrace small town fun with southwest Missouri's best fall festivals.
By Dru Berry
Sep 2018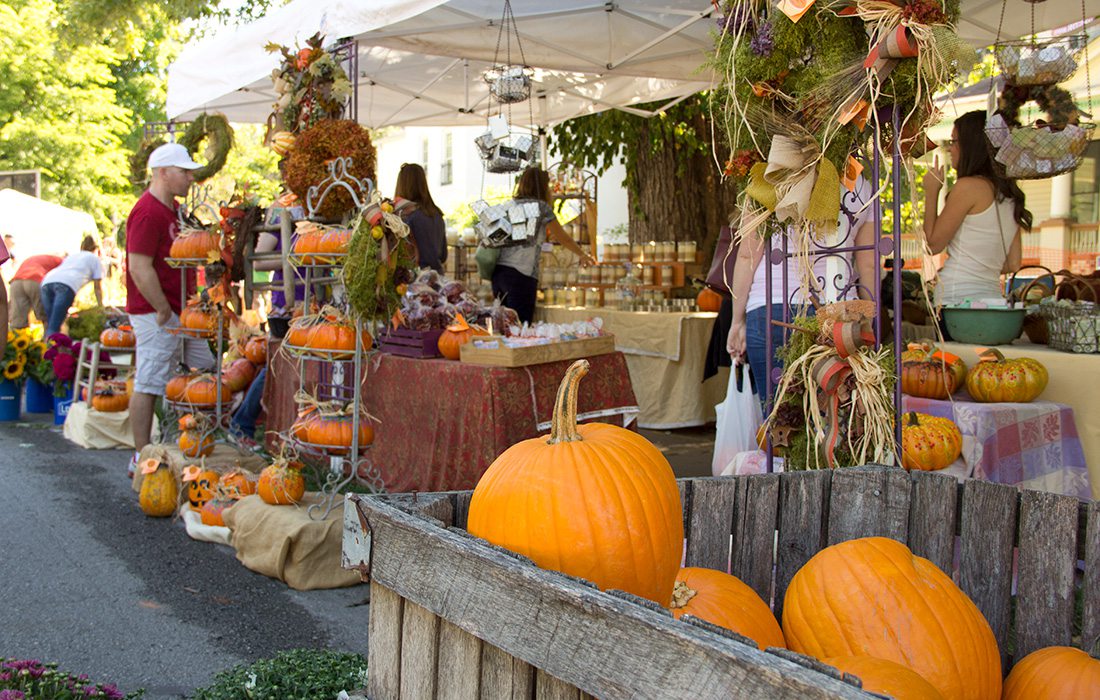 Seymour Apple Festival
September 6–8 
Seymour
What to Expect: Apples abound during Seymour's 45th annual Apple Festival with apple contests and auctions, including an apple peeling contest. There's also a pet show and live music, with the annual parade starting at 10 a.m. Saturday.
Can't Miss: Get to know the Apple Princess contestants Thursday, then witness the coronation of the Apple Princess at 9 p.m. on Friday.
For More Information: Free admission. Visit seymourapplefestival.com for more information.


Japanese Fall Festival
September 7–9
Mizumoto Japanese Stroll Garden, Springfield
What to Expect: Celebrate Springfield's sister city, Isesaki, Japan, with live music, dancing and Japanese foods.
Can't Miss: Live performances, calligraphy and authentic art are a few of many reasons to check out the Japanese Fall Festival.
For More Information: Adults: $10 Friday and Sunday, $15 Saturday. Children 12 years old and younger: $3. For more information go to peacethroughpeople.org.


Branson 
Autumn Daze

September 13–15
Corner of East Atlantic Street and Commercial Street, Branson
What to Expect: Head to downtown Branson for arts and crafts exhibits along with food trucks full of hearty food like Polish sausages, walking tacos and corn dogs.
Can't Miss: Meet each local Branson musician after they finish performing. They might even hand out a discount to their next show or sign autographs!
For More Information: Free admission. Contact admin@downtownbranson.org for more information.


Wilder Days
September 14–15
Downtown Mansfield and Laura Ingalls Wilder Home
What to Expect: Go to Mansfield for Wilder Days, a two-day celebration with homemade food and cool lemonade. September 15 is Wilder Day in honor of Laura Ingalls Wilder and her Little House on the Prairie books.
Can't Miss: This year Mansfield's fifth annual Fiddle Contest is at the Laura Ingalls Wilder Historic Home and Museum. Pa's fiddle is played twice on Saturday.
For More Information: Call 417-924-7126 or visit lauraingallswilderhome.com for more information.


Cider Days 
on Historic 
Walnut Street

September 15–16
Historic Walnut Street, Springfield
What to Expect: With three performance stages, kids activities and an array of handmade products to buy, historic Walnut Street in downtown Springfield is the place to be. And of course, there's apple cider!
Can't Miss: Walk through the Scarecrow Village contest and see contestants' handiwork. There are prizes for the Best Crow in Show, Best Name and Most Creative Crow.
For More Information: $4 per person. Children 10 and younger are free. Visit itsalldowntown.com/cider-days-walnut for more information.


Hootin' an 
Hollarin' Festival

September 20–22
Gainesville
What to Expect: Have some good old country fun during Gainesville's 58th annual Hootin' an Hollarin' Festival. Bed races, horseshoe pitching and square dances to live fiddle music are a sampling of what to expect.
Can't Miss: Accurate with a bow and arrow or behind a gun? Test your aim during the archery and gun shoots then fill up with beans and cornbread after.
For More Information: Entry is free. Visit hootinanhollarin.com for more information.


Marionville 
Applefest

September 21–22
Marionville
What to Expect: Marionville's 30th annual Applefest Parade features many participants; live music, including Motown Downtown from Branson; and a car show sure to catch the ear and eye. A free carnival keeps the kids entertained. 
Can't Miss: Snow Whites and Johnny Appleseeds will be out in large numbers for the Snow White and Johnny Appleseed contests. The winner of each contest is determined by crowd applause.
For More Information: Free admission. For more information visit marionvilleapplefest.com.


Black Walnut Festival
September 27–29
Stockton
What to Expect: Take in the live music, tractor pull, cutest baby contests and the annual Nut Run at the Black Walnut Festival. Before leaving, make sure to try the tasty black walnut.
Can't Miss: The Pet Parade is a certifiable hit. Dogs, cats, ponies and more put on a show.
For More Information: Call 417-276-5988 for more information.


Pioneer Days
September 29
Downtown Mountain View
What to Expect: Grab those dancing shoes and go to Mountain View for a day full of line dancing, square dancing and clogging. An antique car show, live music and a bucket brigade competition are just a few of the attractions besides the big parade.
Can't Miss: Kick off the day with a tasty flapjack breakfast served fresh at 6:30 a.m. 
For More Information: Free admission. Go to mountainviewmo.com or contact 417-934-2794 for more information.


Fair Grove 
Heritage Reunion

September 29–30
Corner of Main Street and Old Mill Road, Fair Grove
What to Expect: Dedicated to preserving and restoring the century-old Wommack Mill, the Fair Grove Heritage Reunion has hundreds of craft booths and presentations about early settlers' lives.
Can't Miss: During Heritage Reunion the mill is running, grinding corn and oats. Fair Grove's steam corn mill is one of two active running steam corn mills in the country.
For More Information: Visit fghps.org for more information.


Maple Leaf 
Festival

Ongoing throughout October
Carthage
What to Expect: Carthage provides fun for an entire month during its 52nd annual Maple Leaf Festival. A lobster boil, dog show and a lip-sync competition are just a tasting of what the festival offers.
Can't Miss: Grab two friends and test your basketball skills during the three-on-three basketball tournament October 14.
For More Information: Head over to carthagechamber.com/maple-leaf for a brochure and a detailed breakdown of what each day offers.


Ozark Arts & Crafts Show
October 5–7
Finley River Park, Ozark
What to Expect: Handmade arts and crafts of all types are on display at Finley River Park. Pottery, furniture, birdhouses and lotions are for sale, along with handmade children's clothing to get the kids looking right.
Can't Miss: Wind chimes made from utensils are for sale, giving your yard a musical touch. Fall and Christmas wreaths are also for sale.
For More Information: Free entry. Visit ozarkcraftfair.com for more information.


Pumpkin Daze
October 6
Republic
What to Expect: There are pumpkins galore for a day in Republic. Some of the largest pumpkins, watermelons, squashes and gourds you could hope to see will be on display.
Can't Miss: Don't miss the giant gourds. In 2014, Doug English set a world record when his bushel gourd weighed in at 279.5 pounds. Last year, Richard Bottorf of Republic set a state record with his 1,563-pound pumpkin. 
For More Information: Call 417-732-6210 or head to  republicpumpkindaze.com for more information.


Apple Butter Makin' Days

October 12–14
Mount Vernon Courthouse Square, Mount Vernon
What to Expect: Witness the process of making apple butter and watch the Apple Butter Queen be crowned at Apple Butter Makin' Days. There are contests for the kids, too, like the bubble gum–blowing contest.
Can't Miss: Big fan of scampering little dogs? Well you're in luck because the Wiener Dog Races are held Saturday in Spirit of '76 Park.
For More Information: Parking and entry are free. For more information, head to mtvchamber.com/apple-butter-makin-days.
Ozarktoberfest
October 13 
East Towne Village, 1369 Bill Virdon Blvd., West Plains
What to Expect: Take in the fifth annual Ozarktoberfest, where beer flows all day. Keep an eye out for the acrobats and take a historical tour of West Plains on a trolley bike.
Can't Miss: Beer is great, especially when it's for a cause. Proceeds from ticket sales benefit The Boys and Girls Club of the Greater West Plains Area.
For More Information: Go to ozarktoberfest.org for more information. 
Looking For More Fall Fun?
From pumpkin picking to football to trick-or-treating in Rountree, we've packed your Ozarks fall bucket list.