Travel
Place Your Bets in Hot Springs, Arkansas
Hot Springs, AR not only has great options for food and drink, but there's plenty to explore outdoors from expansive gardens to the racetrack.
By Jenna deJong | Art Direction by Fried Design Co.
Jan 2019
FRIDAY
3 p.m. Garvan Woodland Gardens

Exploring a fairy-like garden is the way to go after spending hours on the road. Mixing architecture with natural landscape, the trails at Garvan Woodland Gardens allow guests to meander through the property at their own pace. Snap a photo at the Anthony Chapel.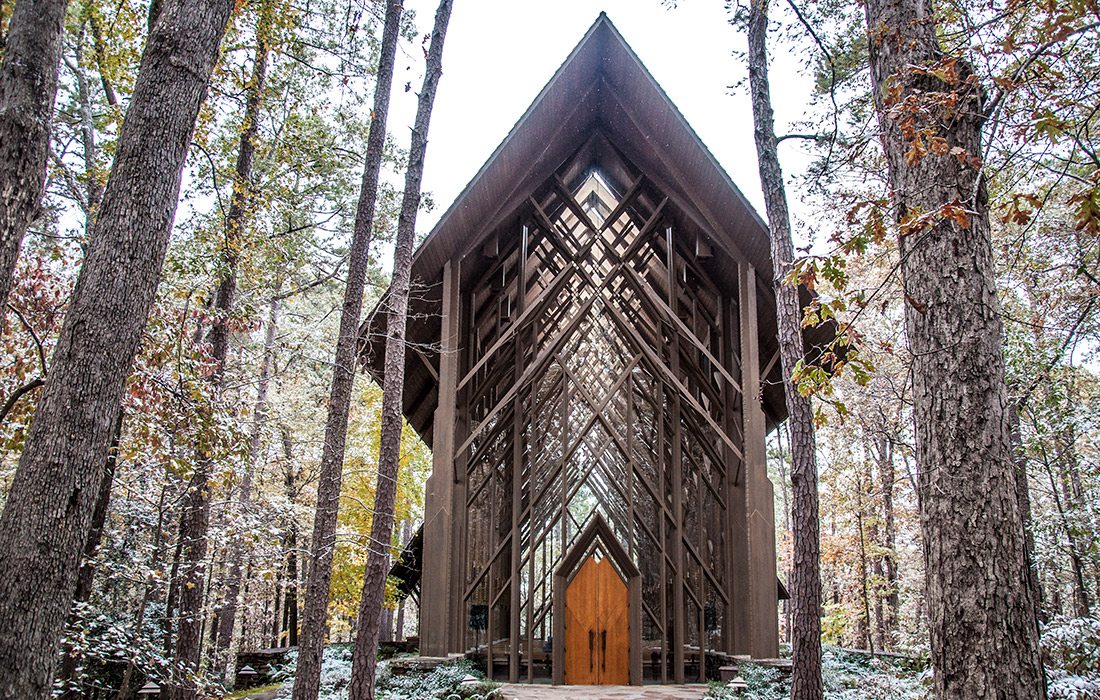 5 p.m. Hilltop Manor Bed & Breakfast 
The Hilltop Manor Bed & Breakfast's five-acre estate backs up to Hot Springs National Park. Relax on the front porch and take in the view of a water feature as you eat breakfast. Afterward, take some time to explore the historic house and property. Bonus: It's just a 10-minute drive to Oaklawn Racing & Gaming.
7 p.m. Via Roma Italian Restaurant
To make your first night in Hot Springs extra-special, devour pasta and enjoy the full bar at Via Roma. Choose from more than 250 wines to add to your meal, and ask for a cigar to smoke on the patio. On Friday and Saturday nights, the restaurant offers valet parking.


SATURDAY
10 a.m. Oaklawn Racing & Gaming  
After you've had a lazy morning, head over to the racetrack at Oaklawn Racing & Gaming and place your bets before the gun goes off. Home of the $1 million Arkansas Derby and $1 million Rebel Stakes, this venue is a premier Thoroughbred racetrack and hosts events all year long, even during the offseason. Reserve seating before you go. 

2 p.m. A Bite of Hot Springs 
Go on this culinary and history tour, A Bite of Hot Springs, to visit six or seven restaurants and shops in and around downtown Hot Springs. The tour lasts three hours and teaches attendees about the history of Hot Springs and about the chefs behind the businesses. Groups of 10 are the norm, and you must reserve your spot.  

6 p.m. Hot Springs Mountain Tower 
Once your bellies are full from your A Bite of Hot Springs tour, ride up a 216-foot tower overlooking Hot Springs. Snap a photo at the top on the observation deck to capture the gorgeous views of the sprawling Ouachita Mountains, Hot Springs Mountain and the Diamond Lakes area. Ticket prices vary. 
9 p.m. The Ohio Club
End your day at the same bar Al Capone, Bugsy Siegel and Bugs Morgan ended theirs. What used to be a bar and casino is now a go-to place for live music seven nights a week. Patrons at The Ohio Club must be 21. While you are there, snack on the spicy green beans. 


SUNDAY
9 a.m. Bathhouse Row 
Bathhouse Row is what first put Hot Springs on the map. At the birthplace of the spa movement, it would only be right to cleanse away the remnants of the night before by taking a bath in one of the six original bathhouses. Some now hold only offices, but check into Busckstaff Bathhouse or Quapaw Baths & Spa to schedule a treatment.
Noon: SQZBX 

Named after an accordion term—the owner is an accordion player—SQZBX is a family-run pizza joint and brewery. It is located downtown and offers tasty pizza, in addition to salads, subs, desserts and appetizers. Order online if you're running low on time.

Interested in making the trip? Learn about everything that Hot Springs, Arkansas has to offer!