Things to Do
Spring Blooming Trees in Southwest Missouri
We've gathered up four of our favorite local spots to stroll into spring and catch a bud in bloom.
By Colin Shea Denniston
Apr 2022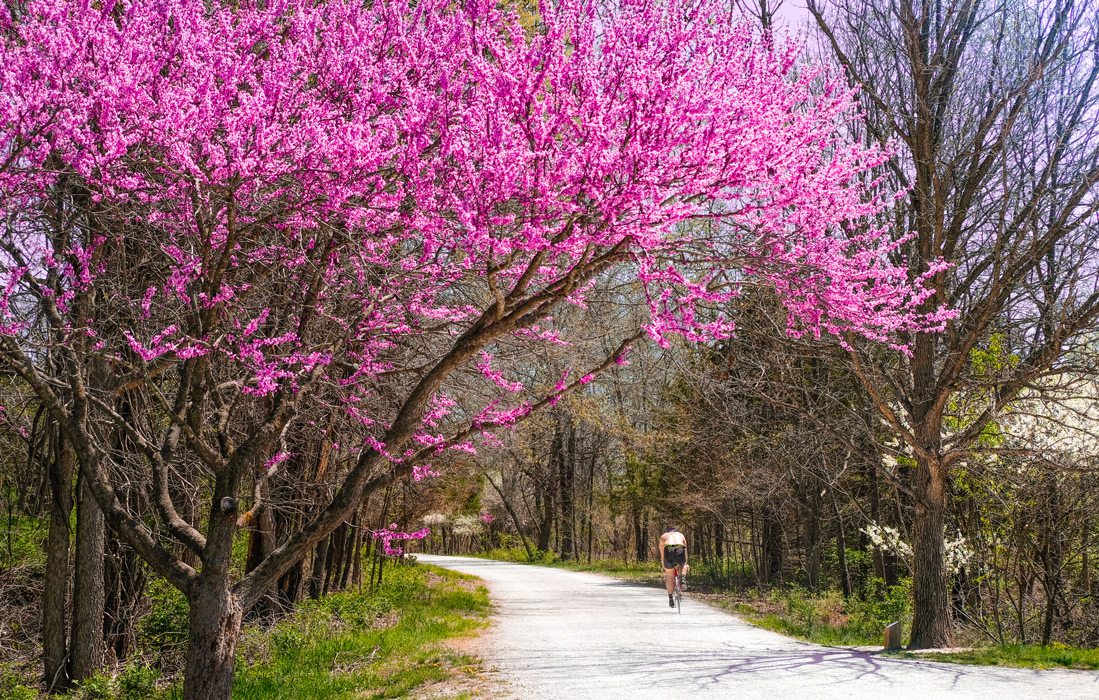 Redbud Trees
We love visiting the Springfield Botanical Gardens/Nathanael Greene Park during wintertime to catch the oh-so-festive Gardens Aglow holiday light tour. But if you head back out for a visit between now and May, you'll catch another stunning sight—blossoming redbud trees in The Redbud Garden. This garden is full of flowering trees and features an oval-shaped gazebo in the center for 360-degree views. These rosy-pink blooms evoke the whimsical feeling of spring before turning green.
Dogwood Trees
As the name suggests, Dogwood Canyon in Lampe, Missouri, is the perfect spot to enjoy the state tree of Missouri while also taking in the beautiful Ozark Mountains setting. These flowering trees deliver delicate white and sometimes pink egg-shaped flowers with a slightly scalloped edge. Blooms arrive April through mid-May, making them a true springtime-only indulgence. With a variety of activities available, Dogwood Canyon is perfect for a family stroll or romantic getaway.
Cherry Blossom Trees
Washington, DC may be synonymous with cherry blossoms, but the Missouri Cherry Blossom Festival in Marshfield may just give them a run for their money (and not to mention it's a lot closer). The national flower of Japan, cherry blossoms represent renewal and optimism as the pink buds emerge and we say farewell to gray winter days. Running April 28 to 30, you may even spot some celebrities while enjoying your stroll. The event is known for hosting actors from shows like the Little House on the Prairie and descendants of past presidents and other history makers.
Serviceberry Trees 
If you visit the Fulbright Spring Greenway Trail between now and the end of May, you can feast your eyes on slightly fragrant, wispy spring flowers of a serviceberry tree. While the name may suggest a deeper purpose, we appreciate these blooms for their bright punch of white against the newly emerging green of spring. The trail comes in at right around 6 miles and with its hard surface and moderate inclines, it's perfect for walkers, runners, cyclists, skaters and even strollers.