Trails
Ozarks Hikes With Water Crossings to Stay Cool in the Summer
Too hot to hike? Never! These southwest Missouri and northwest Arkansas trails are weaved with water crossings that will help you keep your cool in the summer heat.
By Savannah Waszczuk
Jul 2019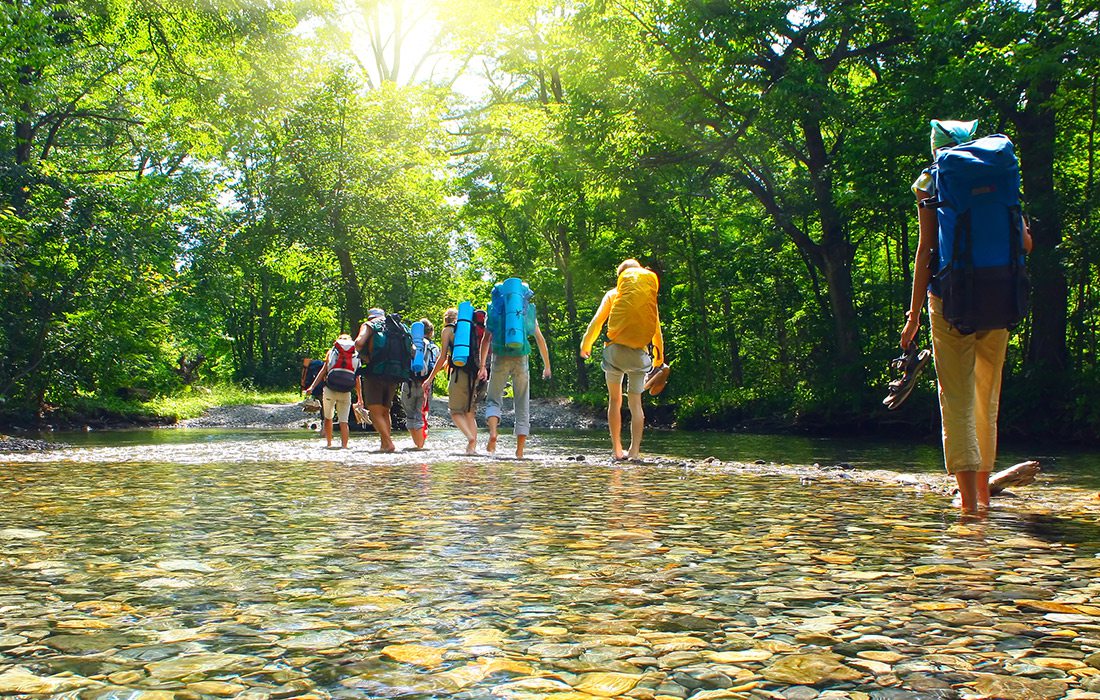 Coy Bald Trail at 
Hercules Glades Wilderness
Trailhead: Located at the end of Cross Timbers Road near Hilda, Missouri
Length: 6.7 miles
Get Wet: Take a dip in Long Creek Falls 
Trail Details: Hikers who head out on this loop are faced with a decision just a few hundred yards in—there's a fork in the trail, and a left turn shaves off some mileage to Long Creek Falls. But if you take the longer route, you'll get to enjoy multiple creek crossings. You can also consider trekking a bit north of the trail to the pilots—the two highest mountains in Hercules Glades Wilderness that offer breathtaking views in all directions. Either option will direct you to the scenic falls. Once you arrive at the falls, you'll find plenty of flat rocks to sit on and take in the view. Be sure to pack a swimsuit, sunscreen and some lunch! 
Fulbright Spring G
reenway in 
North Springfield
Trailhead: Located at Lost Hill Park on Farm Road 151
Length: 3.75 miles
Get Wet: Cross over the South Dry Sac River 
Trail Details: The Fulbright Spring Greenway provides locals with an all-natural escape within the Springfield city limits. Start your adventure by exploring the many geological features at Lost Hill Park, then head to the trail to meander for a few miles on mixed asphalt and concrete terrain. Because this trail is mostly paved path, it is an appealing option for cyclists, but consider yourself warned. Those on two wheels should watch for slippery surfaces. The water crossing can be really slippery after a heavy rain. If you're heading out on foot, bring along your water shoes, sunscreen and your favorite hiking buds.

Yellow Trail at 
Busiek State Forest & Wildlife Area 
Trailhead: 20 miles south of Springfield, east of U.S. Highway 65
Length: 4.3 miles
Get Wet: Wade your way across Woods Fork Creek
Trail Details: When you're looking to tackle a hike with a variety of mixed terrain, Busiek State Forest & Wildlife Area never disappoints. The Yellow Trail starts south of the Busiek parking area just past the new bridge and greets adventure seekers with a switchback section. Next it weaves into the woods and later crisscrosses Woods Fork Creek multiple times. These water crossings can be knee to waist deep after a large rain, so come prepared! You might need a towel. If you want a longer hike, head over to the Purple Trail on the west side of U.S. Highway 65 before you head back to your car. This section of trail is also peppered with water crossings, so enjoy the dip!
Old River Trail at Buffalo River National Park

Trailhead: A two-hour drive south of Springfield in Ponca, Arkansas. Park at the Ponca low water bridge.
Length: 8.6 miles
Get Wet: Brave the Buffalo
Trail Details: Whether you're a novice hiker or a seasoned pro, you've likely heard of northwest Arkansas's Buffalo River Trail. But have you heard of the Old River Trail? Unlike the oh-so-popular BRT, this elder route is fairly flat and crosses the Buffalo River at least a dozen times! Old River Trail hikers enjoy many of the same scenic bluffs and water views as those on the classic BRT, with the addition of water access. Leave your boots at home, and wear your water shoes or hiking sandals. Also, plan ahead—the point-to-point stretch ends at Kyle's Landing, so arrange for shuttle service with the Buffalo Outdoor Center (870-861-5514).


More Local Trails and Hikes to Try