Waterways
Your Guide to the Best Lake Getaways in Missouri
We love lake season here in the Ozarks. Whether you're looking for a family friendly getaway, an afternoon of sailing or a quiet cove to relax in, Table Rock Lake, Bull Shoals Lake and Stockton Lake have exactly what you need.
By Nevada Moening, Briley Rakow, Chloe Sierks and Jamie Thomas
May 2020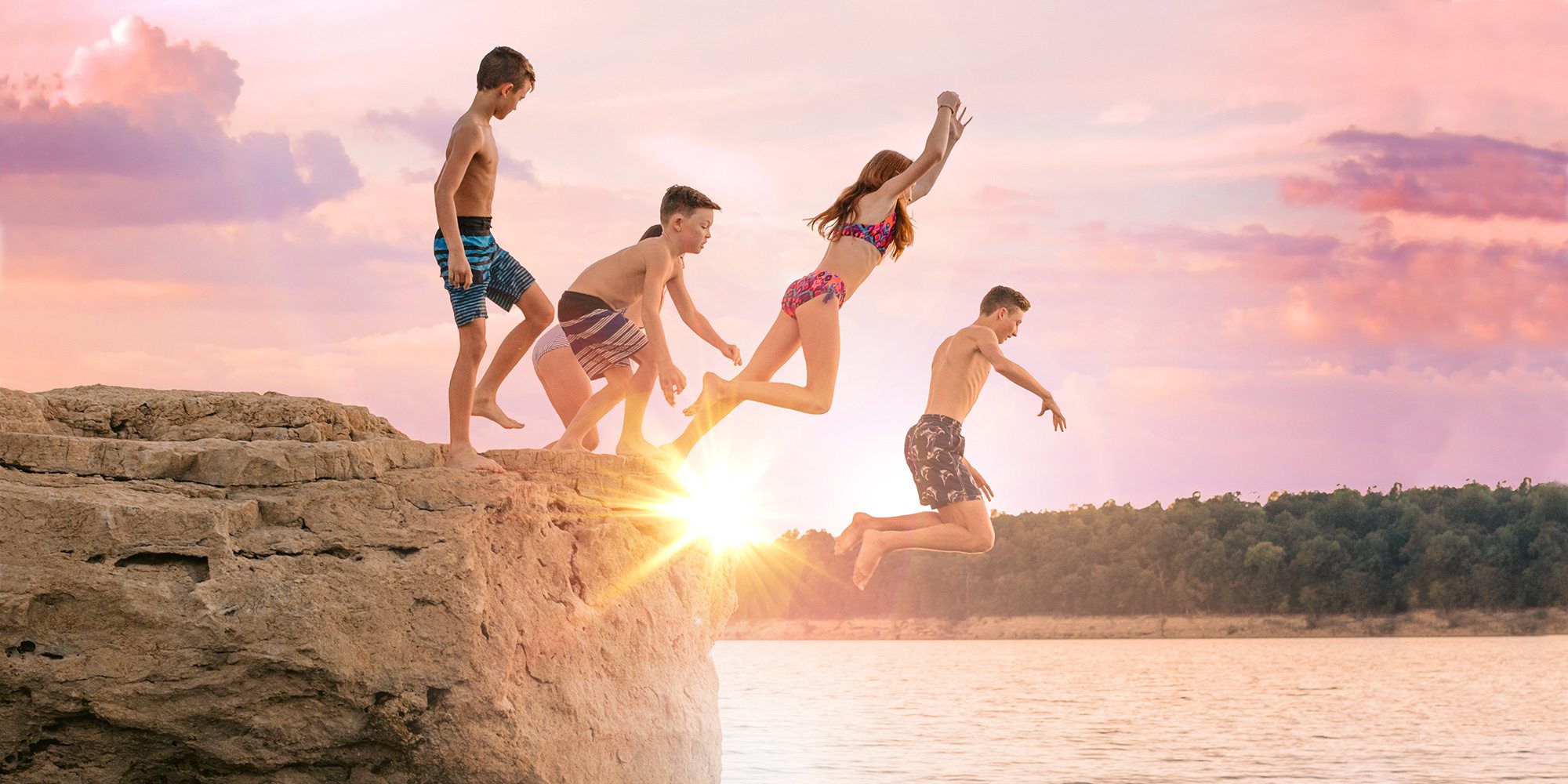 When the hot, heavy, humid summer days hit (which, let's be honest, starts in late spring around here), nothing feels better than taking a dip in cool water or puttering around in a boat on one of our local lakes. This month, take some time to get outside and enjoy what southwest Missouri has to offer by spending your weekends on the water. These itineraries can help you plan full weekends and can be used once everything opens up for business again. In the meantime, you can use the parks and waterways while practicing safe social distancing. So pack your bags, get out there and take in the great outdoors at Missouri's most beautiful lakes.
Table Rock Lake
With activities available for all ages and levels of adventurer, Table Rock Lake makes for a great family trip.
Friday on Table Rock Lake
2 p.m. Rent equipment from Ski Shack and go wakeboarding
3443 Indian Point Road, Branson, 417-338-8481
Start your weekend with some adventure by renting a boat at the marina and equipment from Ski Shack, and wakeboarding all afternoon. Take turns watching your family members ride the waves, or, do their best to attempt to ride the waves at least. 
4 p.m. Check in to Table Rock Resorts at Indian Point
71 Dogwood Park Trail, Branson, 417-739-4311
With cabins and condos of various sizes to choose from, these lakefront rooms won't disappoint. Stay close to the water in a cozy cabin large enough to fit all your family and friends. 
Saturday on Table Rock Lake
10 a.m. Take a Paddleboard Yoga Class
Meet for classes at Jake's Point, Branson, 417-230-7551
Take sun salutations to the next level and try paddleboard yoga at Ozarks SUP Yoga. Enjoy a peaceful practice on the water, but don't get too zen—if you fall out of your pose, your hair will get wet! 
Noon Cove out at Cow Creek 
Point 6 in between Table Rock State Park and the Port of Kimberling 
Pack a lunch and hang out at one of Missouri's most popular coves. Swim, eat, drink and enjoy some quality time with the whole family. 
3 p.m. Boat In and Get a Drink at Tiki Bar
627 Rock Lane, Branson 
Get out of the sun for a little while with a visit to Tiki Bar, where swings take the place of bar stools. Dock your boat and head to shore for a quick drink and some fun before heading to the next activity. 
5 p.m. Bluff Jump at J-Ro's Cliff Jumps 
Right at Point 23 
Close out your day with a little excitement by visiting J-Ro's Cliff Jumps between Point 2 and Point 3 on the west bank of the lake. The bluff is the perfect size for all levels of adventurers. 
8 p.m.  Eat at Osage Restaurant 
150 Top of the Rock Road, Ridgedale, 800-225-6343
Make the drive over to Top of the Rock and enjoy a meal at Osage Restaurant where you can dine while looking out over views of the Ozark Mountains. 

Sunday on Table Rock Lake
10 a.m. Rent a Waverunner from Chateau Marina
415 N State Highway 265, Branson, 417-243-1744 
Let your hair down and take a turn riding the wind on a waverunner.  
Noon Eat at Pop's Smoke Stack
13272 State Highway 13, Suite C, Kimberling City, 417-988-7155
You'll probably be hungry after a morning of riding the waves, so head to Pop's Smoke Stack for some barbecue before ending your trip. (Hot tip: The Funky Twig is right next door. Stop in for great ice cream treats after lunch.)
2 p.m. Tour Talking Rocks Cavern
423 Fairy Cave Lane, Branson West, 417-272-3366
Close out the weekend with a tour of one of southwest Missouri's best known caves. Once you're done, look around the gift shop, let the kids enjoy the play area or tee up for a game of mini-golf.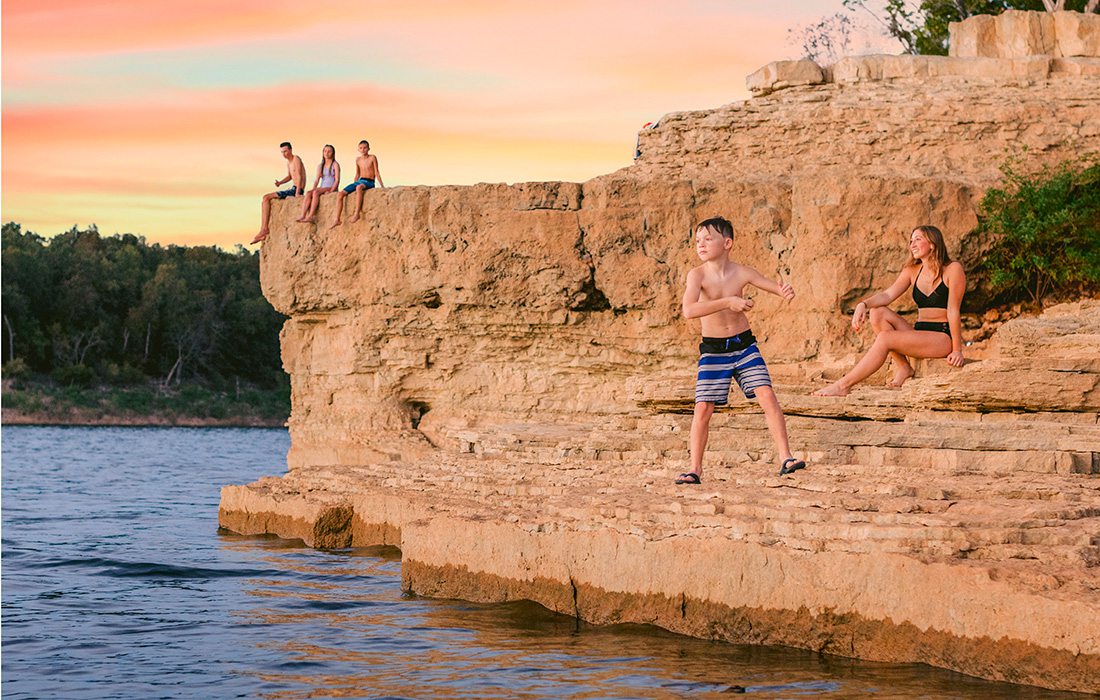 Bull Shoals Lake
One of the quietest and calmest waterways in southwest Missouri and Northwest Arkansas is Bull Shoals Lake, and it's the perfect place to enjoy the scenery.
Friday on Bull Shoals Lake
4 p.m. Check in to Gaston's White River Resort
1777 River Road, Lakeview, Arkansas, 870-431-5202
Located along the White River as it exits into the lake, Gaston's provides a rustic experience with first-class amenities. Guests can dine, rent equipment and fish here, too.
6 p.m. Dine at Gaston's First Class Restaurant 
1777 River Road, Lakeview, Arkansas, 870-431-5203
You don't have to leave the resort to enjoy upscale cuisine. Even better, Gaston's First Class Restaurant offers a scenic view of the river and dishes like no other in the area.
Saturday on Bull Shoals Lake
10 a.m. Rent a boat from Bull Shoals Lake Dock & Marina
Putter around on the water, swim in quiet coves and admire the bluffs. But before you go, spend the morning fishing right off the dock. 
12 p.m. Boat to the Best Sites
Head to Buzzard's Bluff, a beautiful rock formation that juts out into the lake. Then navigate your boat between points 17 and 18 to find Secret Cove, the perfect quiet spot to cove out.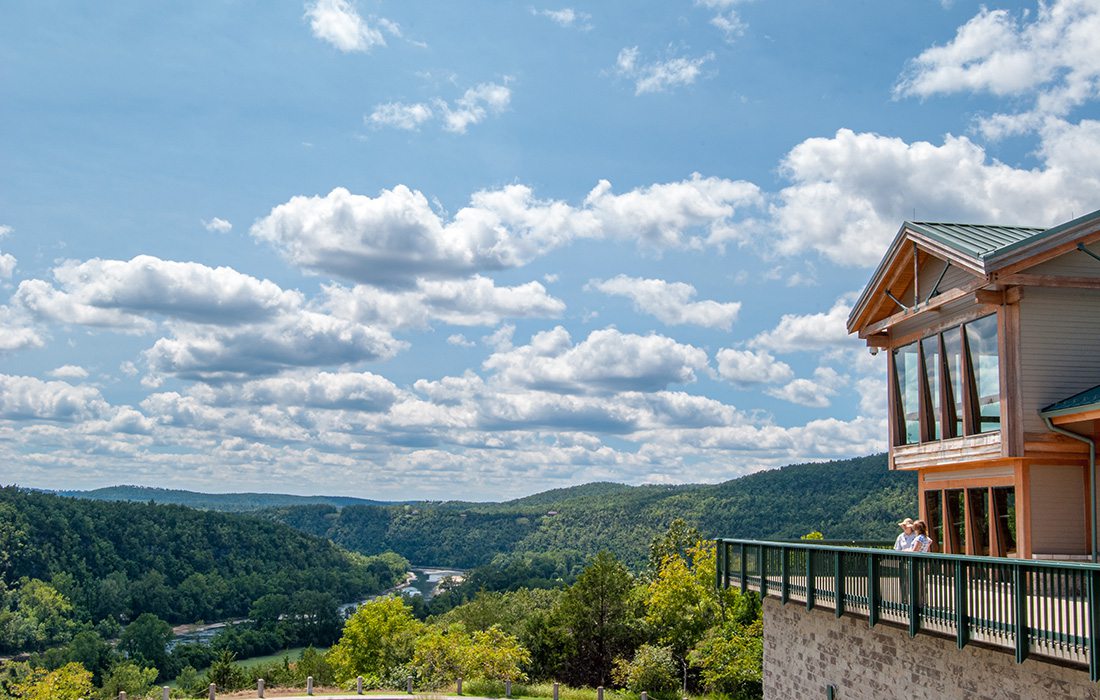 3 p.m. Visit the James A. Gaston Visitor Center
153 Dam Overlook Lane, Bull Shoals, Arkansas, 870-445-3629
Drive over the Bull Shoals dam to experience the educational learning center where the observation deck offers sweeping views of the lake. 
6 p.m. Dine at 178 Club Restaurant
2109 Central Blvd., Bull Shoals, Arkansas, 870-445-4949
Indulge in a menu that has it all—pasta, steaks, seafood and more—at the 178 Club. Returning customers can't get enough of the Walleye and the melt-in-your-mouth filets. 
8 p.m. Explore the grounds at Gaston's
Gaston's can be its own little isolated oasis. The playground and game center make for a great family night, or walk along the riverside for a more serene getaway experience.

Sunday on Bull Shoals Lake
10 a.m. Spend the morning at Bull Shoals-White River State Park
153 Dam Overlook Lane, Lakeview, Arkansas, 870-445-3629
The state park offers a variety of trails, each with a different level of difficulty and its own sights. The morning is the perfect time to take the Bluebird trail and witness the flurry of activity.
12 p.m. Dine at Bush's Pizza
803 Central Blvd., Bull Shoals, Arkansas, 870-445-4100
A quaint lunch stop with some hearty pizza, Bush's Pizza is a long-standing favorite in the area. Fresh ingredients, a thin and crispy crust and some of the tastiest hand-crafted specialties—do we even need to say more?  
2 p.m. Take a Tour at Bull Shoals Caverns
1011 CS Woods Blvd., Bull Shoals, Arkansas, 870-445-7177
A 45-minute tour of one of the oldest limestone caverns in the Ozarks is a perfect ending to your weekend. The up-close experience is perfect for the kids with promised sightings of small wildlife, and of course, some of the coolest rock formations.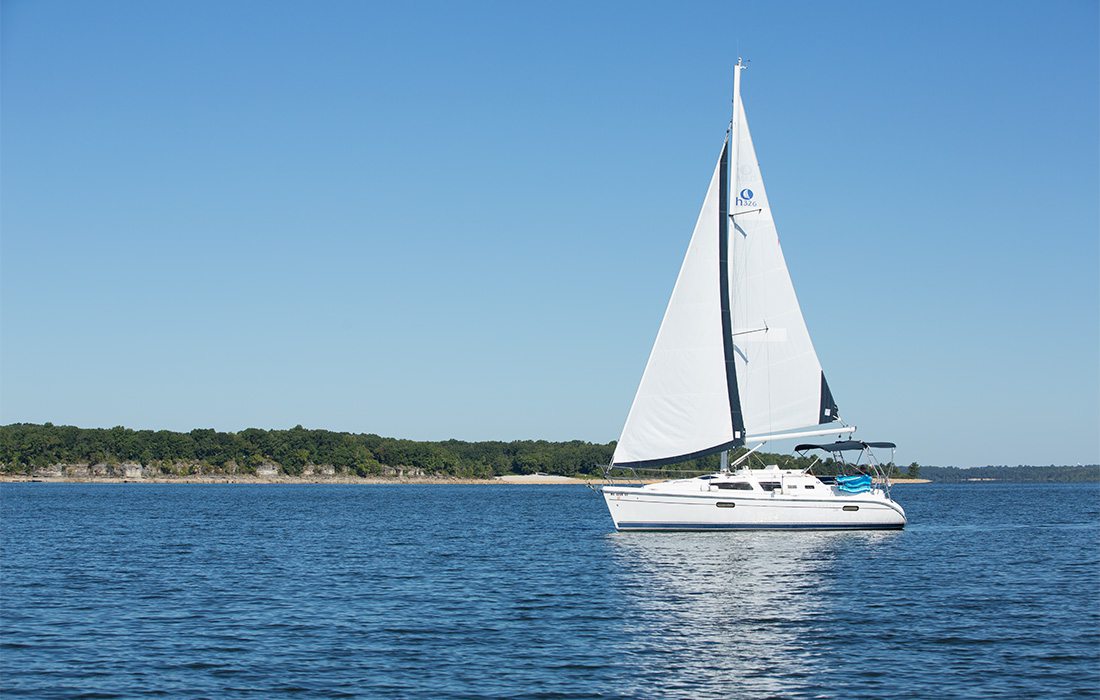 Stockton Lake
Spot sailboats, take to the lake, eat a signature cheeseburger and get out in some beautiful natural surroundings.
Friday on Stockton Lake
3 p.m. Take the Scenic Route
Creator Delights, 1303 E. Broadway St., Bolivar, 417-326-8337
It might not be the most direct route, but if you head to Stockton via Bolivar you can stop off for some sweet treats at Creator Delights. Indulge in candy, iced coffee and marshmallow sodas.
4 p.m. Check In to Stockton Lake Retreat 
1392 East Rd. 22, Aldrich, 417-619-2479
Stockton Lake Retreat Lake House is a modern rental house located minutes from all the lakeside activities at Stockton.
6 p.m. Eat at Orleans Trail Restaurant 
15828 S 1525 Rd., Stockton, 417-276-3566
A half hour drive through beautiful Stockton Lake Park will get you to the Orleans Trail Restaurant. This is the perfect place to gather for a lakeview dinner after a day of driving.
8 p.m. Sunset Sightseeing at Stockton Lake
Orleans Trail Public Use Area
Not quite ready to call it a day? Stop off at one of the public use areas around Stockton to take in some evening lakeside sights.
Saturday on Stockton Lake
10 a.m. Walk the Lakeview Trail 
18610 2000 Rd., Dadeville
A walk on the Lakeview Trail is the perfect way to start your Stockton weekend. Depending on your pace, this easy trail takes about an hour to walk and has many opportunities for sightseeing and summery selfies.
Noon Take to the Lake
18610 2000 Rd., Dadeville, 417-276-5329
Head to Stockton State Park Marina to rent a boat and get out on the lake. Stockton Lake is perfect for spending a day on the water, whether you're relaxing, want to spot some wildlife (bald eagles are a common sight at Stockton) or want to jump in for a dip.
6 p.m. Squeeze with Cheese at 
The Squeeze Inn
404 Highway RB, Stockton, 417-276-6302
When you're done swimming, sunning and sailing, it's time for a Stockton staple. Head to The Squeeze Inn and indulge with a Squeeze with Cheese. It is a vacation, after all.

8 p.m. Sunset Sailboat Spotting on Stockton Lake
18610 2000 Rd., Dadeville, 417-276-5329
Another day, another gorgeous sunset. At Stockton public use area, you can lounge the last of the day away and spot sailboats on the water. Bonus: It is just a short walk away from The Squeeze Inn.
Sunday on Stockton Lake
Noon. Stop Off at 7C's Winery
502 E 560th Rd., Walnut Grove, 417-788-2263 
On your way home, there's another diversion you could take through Walnut Grove if you want to stock up on some local wine. The 7C's Winery sells locally made wine and even mead. Just remember you still have to drive the rest of the way back.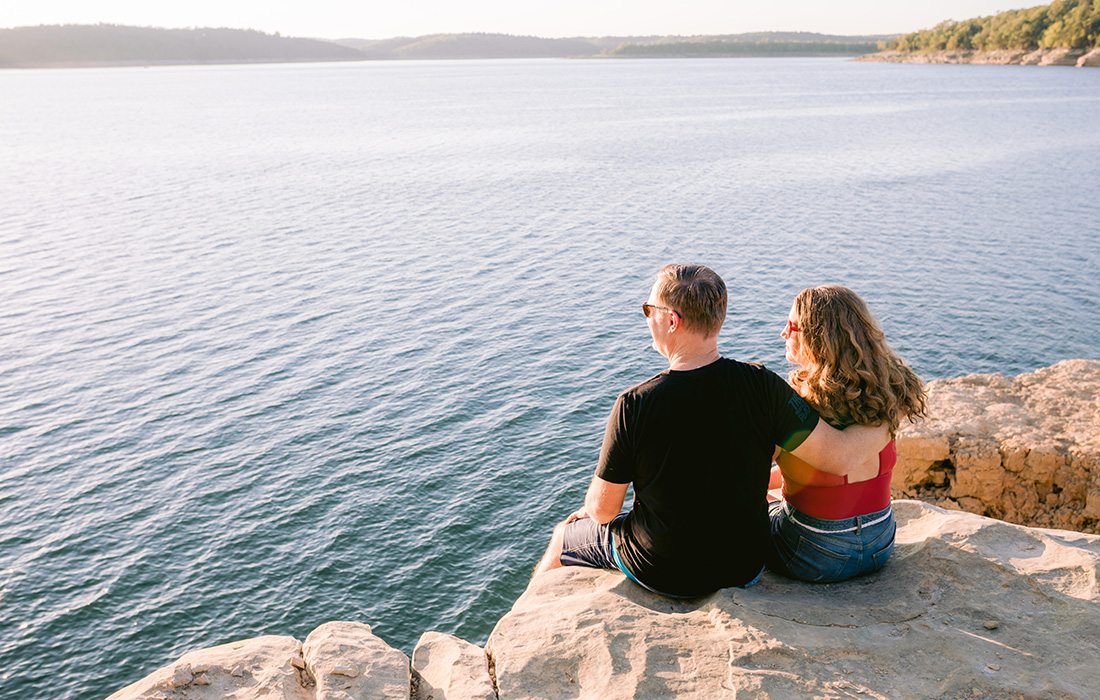 Which Missouri Lake Should You Visit?
Each lake around southwest Missouri has its own unique personality, so whether you're looking to catch a muskie or get some sun, this roundup has you covered.
Go to Beaver Lake to check out the limestone bluffs 
Make the trip down to Northwest Arkansas for a chance to see the towering limestone bluffs at Beaver Lake. Explore the natural caves, discover the history of how the lake was made or just hang out on the water and marvel at the limestone formations. No worries about it being too far, either; the lake has modern campsites perfect for an overnight stay with the whole family.  Just don't forget the s'mores.
Go to Fellows Lake to fish for muskie
Make the trip to Fellows Lake for an all-day fishing spot with a chance to catch a large muskie. Rent a boat and get an all-day permit at the marina before heading out on the water to look for the muskie this lake is famous for. While you're waiting for a muskie to bite, you might catch a few other types of fish, like walleye and largemouth bass.  The bait shop also has a few snacks and ice cream treats.
Go to Norfork Lake for white sand swimming beaches
Explore the crystal clear waters and white sand beaches of Norfork Lake in Arkansas if you're looking to unwind. Rent a boat at one of the many marinas or resorts around the lake and boat to Jordan Island—known locally as Sand Island—for plenty of shallow water to float or play in. Just remember to uphold Norfork's long-standing "Leave No Trace" rule! 
Go to Pomme de Terre Lake for great swimming beaches
For those who are looking for a more relaxed way to spend your lake day, make your way to one of Pomme de Terre Lake's two swimming beaches. Lounge out in your beach chair and watch the kids swim or hop in the water with a floaty and enjoy the waves from the jet-skiers. Either way, this lake offers a sandy beach where you can lie back and enjoy your weekend, the sun, the water and the family.
Go to Lake Springfield to rent a canoe or kayak
Visit the Lake Springfield Boathouse this season to rent a canoe, kayak, or paddleboard. Take your pick of transportation and spend the day exploring the lake along the 4.5 mile long James River Water Trail, which passes by Galloway Creek and Crighton Access. Rent hourly or, for those who don't skip arm day, go ahead and choose the four-hour option for a full day of paddling. 
Go to Stockton Lake for sailing
Looking for a way to sail on open waters without traveling hundreds of miles to the ocean? Stockton Lake offers 25,000 acres of unspoiled water and a chance to sail on one of the best sailing lakes in the country. Rent your own boat and spend the day with the wind in your hair or head to the marina to have a guide take you out on one of the many sailboats. 
Go to Table Rock Lake for a classic cove out
Table Rock Lake is a consistent favorite in the Ozarks, and a trip out to this popular destination will show you why. Stay at one of the many lakeside resorts, rent a boat at the closest marina, and head to one of the many coves along the lake. One of the most visited is the Cow Creek Party Cove. Drop the anchor, grab a drink, and enjoy!  There are also some boat-up bars and restaurants to check out.
Go to Lake Taneycomo for trout fishing
If you're on the hunt for a place to catch trout up to 20 inches long, head to Lake Taneycomo. The lake is stocked annually with hundreds of thousands of rainbow and brown trout. If you're looking to change it up a bit, the headwaters of the lake have been known to be a good place to fly fish. Most of the lake is fairly shallow, so bring your waders and spend the day, literally, waist-deep in trout.