Home Profiles
Best Bathroom 2022 Winner
The winning designer for the Best Bathroom category in 2022 set out to expand and modernize a dated primary bathroom to meet the lifestyle and demands of the busy homeowners' everyday lives.
by Colin Shea Denniston
Jun 2022
Winning Designer: Fernanda Edwards of GMI Design Group

Project Goal Summary
To expand and modernize a dated primary bathroom to meet the lifestyle and demands of the busy homeowners' everyday lives.
Upon entering this freshly remodeled, ultra-modern primary bathroom, there's no shortage of innovative, eye-catching details. But the room's main attention grabber: the striking red tiles covering the sleek, zero entry shower ceiling.
Though it's not uncommon for a designer to draw inspiration from a client's cherished art collection, this bold statement ceiling came from a most surprising source. "The sculpture was red lips—it was like a 3D geometric red lip and I'm like, 'Hm, this is really interesting,'" says Fernanda Edwards, senior designer at GMI Design Group. "That red kept coming back into my brain so I thought, 'How can I incorporate red without being super overpowering?'"  Edwards settled on bold red mosaic tiles for the shower ceiling, bringing an unexpected splash of color to the otherwise neutral space. "I knew it would be a pop, I knew it would be a surprise—a peekaboo moment—and it would just brighten up things in there and be an unexpected element. Just like the red lips that the client showed me," Edwards says. "Modern clean and fun all at the same time."
The bold choices didn't stop with the ceiling—nearly every inch of this formerly dark and dated 1980s bathroom was thoroughly re-imagined. By reconfiguring the floor plan, simplifying lines and designing a wall-to-wall vanity with storage and organization in mind, Edwards' thoughtful redesign elevates the space to what we now expect from a modern-day primary bathroom.
In addition to bringing in all new lighting and adding carefully selected finishes and hardware, Edwards did make one crucial structural change. "We actually moved a wall 18 inches out," says Edwards. By taking a foot and a half from the large primary bedroom, Edwards was able to add the zero-entry shower with double shower head, helping to create the true primary bathroom feel the homeowners were looking for.
"I know that 18 inches doesn't sound like a lot, but for this bathroom it was all that we needed to make this room look so much bigger, give more shower space, give more walking space and really open up the space," says Edwards.
From the oversized sink with two wall-mounted faucets to the custom designed overlapping backlit round mirrors, Edwards's uniquely elegant touches all come together to create this truly one-of-a-kind modern bathroom oasis.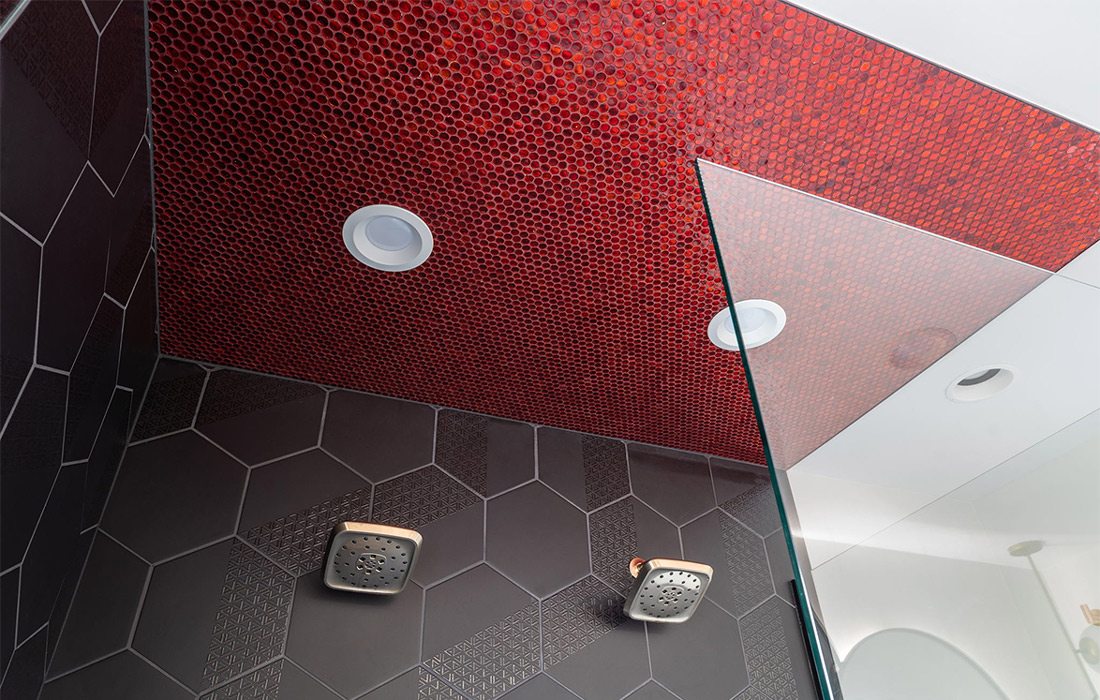 Interior Design/Decorating Project Lead(s)
Fernanda Edwards
Builder(s)
Harris Custom Homes
Contractor(s)
GMI Design Group
Tile Installer
Willden Flooring
Photographer of Project
Watson Media House
Hardware (knobs, cabinet pulls, etc.)
Amerock
Plumbing Fixtures (faucets, spa, etc.)
Delta - Edge Supply
Light Fixtures
Elegant Lighting
Bath Cabinets
Quality Cabinets
6013 W. Farm Rd. 114, Springfield, 417-866-8301

Bath Countertops
Wilgus IQ
3045 S. Scenic Ave., Springfield, 417-581-8775
Stone/Tile
TileBar
ProSource Wholesalers
2745 B, S. Kansas Expy, Springfield, 417-203-0544
Paint (brand)
Sherwin Williams
Shower Enclosure
College Street Glass and Screen
1005 W. College St., Springfield, 417-414-1519
Additional Wall Framing
Harris Custom Homes