Life
This Week in Springfield, Missouri
Find the best things to do this weekend in Springfield and around southwest Missouri.
by Colin Shea Denniston
Nov 24 2022 at 8 a.m.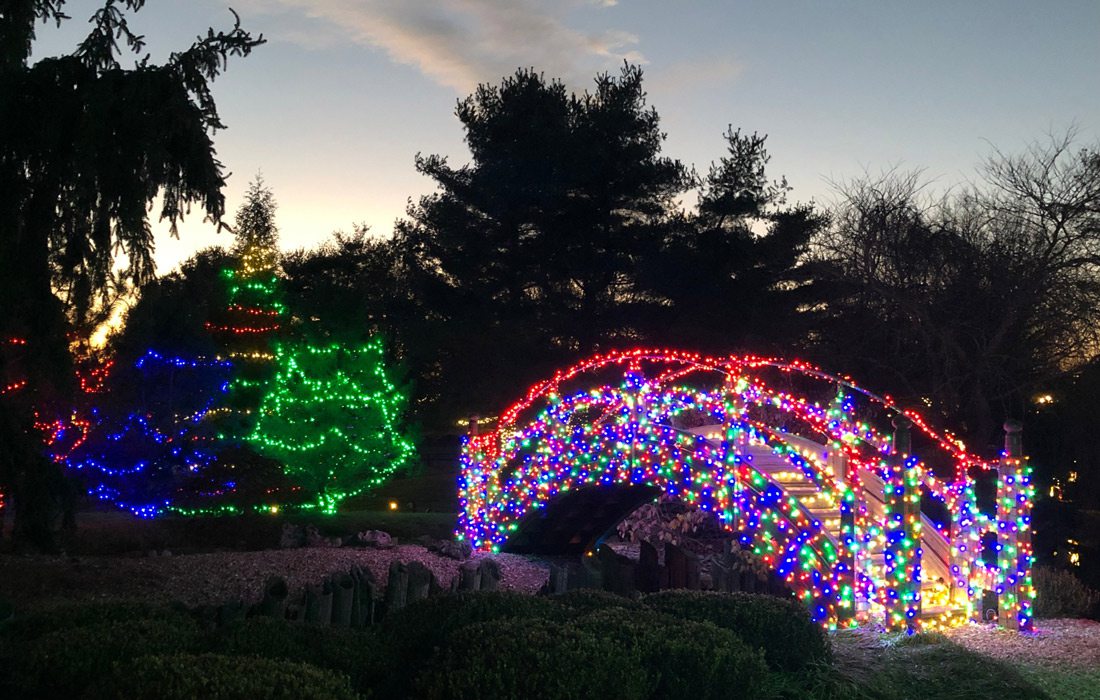 November 24–December 1
We're always looking for new photos, and you can help! Whether you're at home or abroad, submit your snaps of where you're reading 417 Magazine and you could see yourself in a future issue.

Top Picks
Mizumoto Japanese Stroll Garden, Friday, Saturday, Sunday 5–8:30 p.m.

The popular 417-land botanical-themed light festival is back! Returning for its fourth year, Gardens Aglow features 175,000 festive lights decorating the grounds of the Mizumoto Japanese Stroll Garden. In addition to the impressive display of lights, enjoy yummy treats from on-site vendors like SnoNut, Whatzpoppin, A.M. Donuts & Coffee and more. Tickets range from $2 to $5 with proceeds benefiting the Friends of the Garden's mission.

Eurasia Coffee Co, 11 a.m.–4 p.m.

417-land has no shortage of talented small business owners, and now's the perfect time to show those folks a little love. Celebrate Small Business Saturday on Commercial Street at Eurasia Coffee Co's Small Business Saturday Market. Shop from a variety of local artists and makers while enjoying festive eats and drinks and from the cafe.
This Week
Silver Dollar City, Wednesday-Friday 1–9 p.m., Saturday 11 a.m.–10 p.m., Sunday 1–9 p.m.

Silver Dollar City gets a sparkly makeover each holiday season with their annual Old Time Christmas. A four-time winner of USA Today 10 Best Readers' Choice poll for the nation's Best Theme Park Holiday Event, An Old Time Christmas features a park decked out in 6.5 million twinkling lights, lots of yummy seasonal treats and live holiday shows daily.
Big Cedar Lodge, times vary

Sip hot cocoa and cozy up by the fire while you enjoy the holiday season at Big Cedar Lodge. The 4,600-acre resort transforms into a winter wonderland featuring an outdoor ice skating rink, towering gingerbread creations, over two million twinkling lights, and activities for all ages. Check out their website for details and information.

Branson, MO, Daily

Who needs Dasher and Dancer when you've got holiday-themed Pink Jeep Tours in Branson? According to the company's website, this one-hour holiday tour treks across Baird Mountain and into a humble narrative that celebrates the spirit of the season. Guests may enjoy a cup of warm wassail before embarking on this one-of-a-kind, illuminated Branson holiday adventure.
Branson, MO, Times Vary.
Make way for St. Nick, because the holiday season has landed in Branson, Missouri! The Shepherd of the Hills presents a dinner theater production of A Christmas Story, The Doug Gabriel Christmas Show includes a wide variety of holiday hits and comedy skits and Legends in Concert debuts A Merry Country Christmas at Dick Clark's American Bandstand Theater!
Landers Theatre, Thursday, Friday, Saturday 7:30 p.m., Saturday & Sunday 2 p.m.

We all have those Christmas movies that we have to watch every year—White Christmas is one of mine. It also happens to be one of my favorite holiday-themed stage musicals, and if you love tap dancing and Irving Berlin music, I think you'll love it too. The show opens this Friday night and runs through early December at the Landers Theatre.

AR Workshop, 10 a.m.–noon.
If you've still got family hanging around the day after Thanksgiving, chances are you'll be looking for an excuse to get everyone out of the house. From 10 a.m. to noon, visit AR Workshop to create a one-of-a-kind candle made up of all of your favorite scents. While you're there, pick up a to-go ornament kit to keep the crafting going once you return home.

Farmers Market of the Ozarks, 9 a.m.–4 p.m.
Back for its fourth year, the 417 Craft Crawl is a perfect opportunity to celebrate Small Business Saturday. Held at the Farmers Market of the Ozarks, the event features some of the best local handmade goods brought directly to you by the people who make them.
Culture Flock, 10 a.m.–7 p.m.
Culture Flock is always a great go-to when looking for fun and creative gifts. This Small Business Saturday is the perfect time to support this local business while checking a few things off of your holiday shopping list. Doors open at 10 a.m. with goodie bags for the first 25 shoppers.

Big Cedar Lodge, 5–6 p.m.
The Swimmin' Hole Lawn at Big Cedar Lodge gets a festive makeover this time of year. At this complimentary big tree lighting ceremony (featuring Mr. Claus himself) one special child will even be selected to help Santa light the Christmas tree. Following the lighting, all kids will have the chance to sit on Santa's lap and receive a special gift.
Ellis Hall, 7:30 p.m.
Take a break from your Thanksgiving dinner prep to enjoy this free concert by the MSU Concert Chorale. "The Song We Sing" is the work of composer William Averitt and lyricist Robert Bode.
Coming Up
Brown Derby Wine Center & Marketplace, Thursday-Saturday 4–8 p.m.

If you attended our April 2022 Best Patios Issue Release Party at Finley Farms, you probably took some time to enjoy local musician Jo Majerus serenading us on the patio. On select days from December 9 through Christmas Eve, Majerus—a modern violinist—will be playing Christmas favorites inside the Brown Derby Wine Center market. Order a charcuterie board, your favorite glass of wine and settle down to enjoy some festive holiday tunes.

Immaculate Conception Parish, 7:30 p.m.

Get in the holiday spirit with the Springfield Mid-America Singer's Christmas concert "Christmastide" on Saturday December 13 at Immaculate Conception. Sponsored by Piano Craft, this concert features festive carols from the British choral tradition, including works by Bob Chilcott & Philip Stopford.
Need to know more about what's going on in 417-land right now? Check out the calendar for local resources. Visit our Events & Promotions page to stay up to date on the latest 417 events, contests, promotions and more!