Waterways
Your Guide to the Best Swimming Holes in the Ozarks
Explore the coolest places to swim in the great outdoors—that you can only find in Missouri and Arkansas.
By Vivian Wheeler with additional reporting by Jeff Rose
Jul 2023
Looking for a Family Friendly Getaway?
Take a look at our guide to all the best things to do in Branson, Missouri
There is something about swimming holes that evokes nostalgia and excitement in the same moment. It's the way summers felt as a child, when every day contained the feeling of freedom and endless possibility, of adventure and exploration. Here in the Ozarks, you're never far from capturing that feeling. All across the region, rivers and lakes abound, filling our little corner of the world with incredible swimming holes.
We have our region's unusual topography to thank for our plethora of swimming spots. For thousands of years, long before it had a name, the Springfield aquifer flowed beneath the Ozarks hills, carving out cracks and crevices in the soft dolomite and limestone rock, eventually allowing the water to make its way to the surface. As a result, the Ozarks has some of the most abundant and clearest sources of groundwater in the country.
I spent a summer researching and visiting swimming holes in and around southwest Missouri, and because there are too many to include all of them here, I've rounded up 13 of my favorites. Whether you're looking for a day of family fun, a romantic escape for the weekend or the perfect place to hang out with friends, there is something for everyone. So strap on your water shoes, slather on some sunscreen and get out there to explore one of the best parts of living in the Ozarks. 
Ready to hit the road?
Although most of the destinations are easy enough to find, some are a little off the beaten path (which is what we want, right?). We did the research and put together a set of printable directions—because cell service is spotty at times—that you can take on your journey.
Don't forget to read our handy swimming holes safety guide before you go.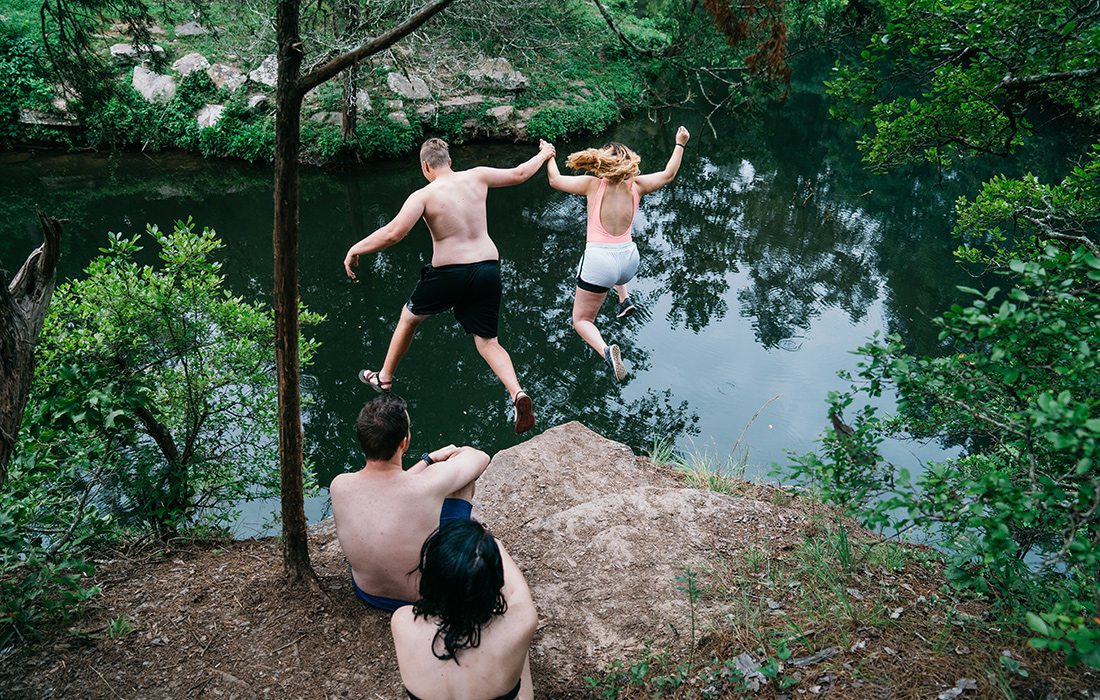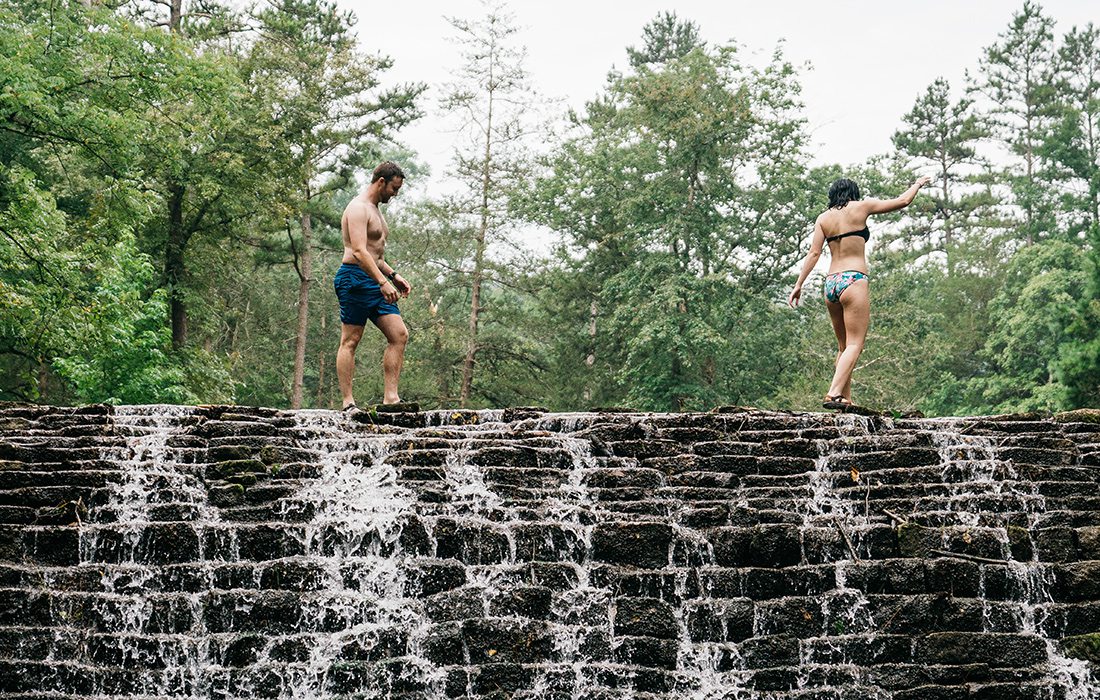 GUNNER POOL
The Gunner Pool dam is probably unlike anything you've seen before. Constructed in the 1930s, the wall was built on North Sylamore Creek by the Civil Conservation Corps and was crafted from local stones. At a glance, the dam almost looks like it's naturally occurring, or maybe like something you would read about in a J.R.R. Tolkien novel. The stair-stepped design of the wall creates a striking visual effect, but it's not just pretty to look at. You can climb and play on the dam, and the shallow pool below it is a great spot for kids to wade and splash around in.
The dam, part of Gunner Pool Recreation Area, is located near campsites 16 and 17. There's a jumping cliff close to the dam. To get there, cross the dam and follow the trail to the other side of the bluff.
The water at this spot can get a little murky, due to the dam holding in leaves and debris, so, as always, check the water where you will be jumping to make sure there are no limbs or rocks lurking below. 
Along with swimming, Gunner Pool Recreation Area, which is run by the U.S. Forest Service, offers camping, fishing and hiking. The trailhead for the North Sylamore hiking trail is located within the campground and leads to 15 miles of gorgeous hiking along the creek through the Ozark–St. Francis National Forest. Whether you're camping or just visiting for the day, there is a $7 usage fee. The camping spots are private and shady, and there is even one right by the swimming hole if you're lucky enough to grab it. A steep dirt road leads into the recreation area, so large campers and RVs might want to steer clear.
The Ozark–St. Francis National Forest offers tons of great swimming places, and we don't have space to mention them all here, but Mirror Lake is only about 15 minutes away, and it is definitely worth a visit if you have the time. 
KNOW BEFORE YOU GO:
GUNNER POOL
Discovery Difficulty:
Location: 
Three hours southeast of Springfield, close to Fifty-Six, Arkansas
Bring the Kids:
What to Pack: 
Your Instagram game. You're going to want to "gram" a shot of the dam. 
You don't have to go far to cool down. These local spots are close enough for an afternoon getaway or a lunchtime dip. 
Ritter Springs
You can't technically swim at Ritter Springs Park, but there is a creek to splash around in. From Kearney Street, head north on Highway 13 for about three miles. The entrance to the park is on your left.
Pecker's Beach
This little spot on the James River has shady trees and picnic tables and is within the Springfield city limits. From Battlefield Road, take a right onto South Farm Road 187. Take a left onto Kinser Road and then turn left onto South Farm Road 193. It is on your right.
Lindenlure
Editor's Note: Lindenlure public access has frequently been closed and reopened in recent years. Be sure to check that access is open before you go.
Located near the intersection of Highway 125 and State Highway JJ in Rogersville is a public access area on the Finley River that is a popular swimming spot. Sit on the dam and let your legs dangle in the rushing water.
Moonshine Beach
Head to Table Rock Lake for a day at the beach—Moonshine Beach, that is. To enjoy some fun in the sand, take Highway 165 from Branson to Table Rock Dam. Moonshine Beach Recreation Area is just north of the dam.
Joe Crighton Beach Access
Located in Springfield for when you just have a few hours available in the afternoon and need something nearby to do with the kids. They can splash and play, and you can enjoy a good book on the beach. Also known colloquially as Peckers Beach, this spot on the James River is a great place to dip your toes in the water. Located at 3100 S. Farm Road 193 on the eastern edge of town, the blink-and-you'll-miss-it pull off from the road is super-close to town and easy to access. Bring floaties for the little ones, find a spot to park along the river, and jump in!
Pittsburg Swimming Beach
Located at Pomme de Terre State Park and perfect for when you want the serene, still waters of a lake but without the overwhelming crowds that frequent weekends on the water. Pomme de Terre State Park and Pomme de Terre Lake feel like hidden gems, but they are only about an hour north of Springfield. This peaceful spot has a really nice gravel swimming beach with plenty of room to spread out and enjoy a serene day beside the water.
More Places to Dip Your Toes
We really love summer and swimming, so we've been rounding up some of the best swimming hole destinations in Missouri and Arkansas, like Patrick Bridge and Turner Falls Park, over the years to share with you, our readers.

STEEL CREEK
We would be remiss if we didn't include at least one spot on the Buffalo River, and Steel Creek Campground was recommended to us by Arkansas photographer and back-road wanderer Jeff Rose, whose job pretty much consists of finding the coolest outdoor spots in the Ozarks. 
Steel Creek is located about two miles east of Ponca, Arkansas, off of Highway 74 and is a National Park Service campground. Campsites are first come, first served with camping fees starting at $12 a night. However, if you're just looking to swim, there is no usage fee. There are several swimming holes near Steel Creek, including a couple right in front of the tent camping site. There are also swimming holes downstream and upstream from the camping area.
The Buffalo River's characteristic bluffs are part of what makes this spot worthy of a visit. Roark Bluff runs down along the campground, and it's a real stunner. In addition to gorgeous views, the swimming holes here are deep, so there should be good water even late in the season. However, it never hurts to call and check the water level ahead of time. Once you're done swimming, take a two-mile hike up to Steel Creek Overlook for some killer views of Roark Bluff, considered by many to be the most beautiful bluff on the river. Steel Creek is close to other noteworthy locations. Whitaker Point, Big Bluff and Lost Valley are within a short drive.
KNOW BEFORE YOU GO:
STEEL CREEK
Discovery Difficulty:
Location: 
Four hours south of Springfield, near Perryville, Arkansas
Bring the Kids:
What to Pack: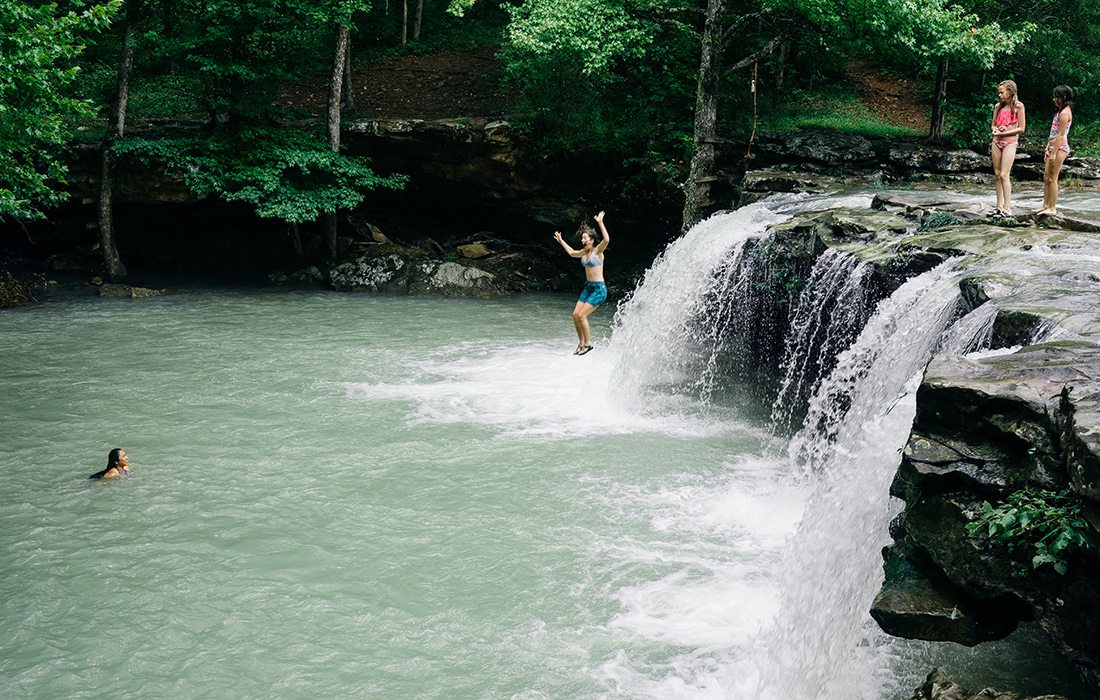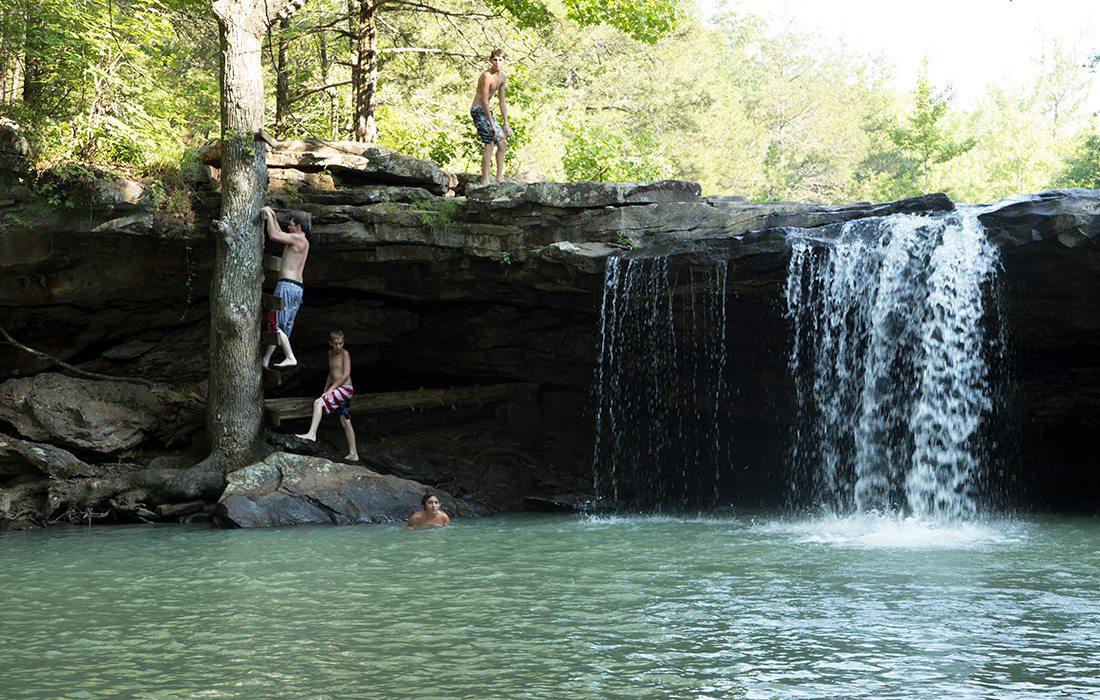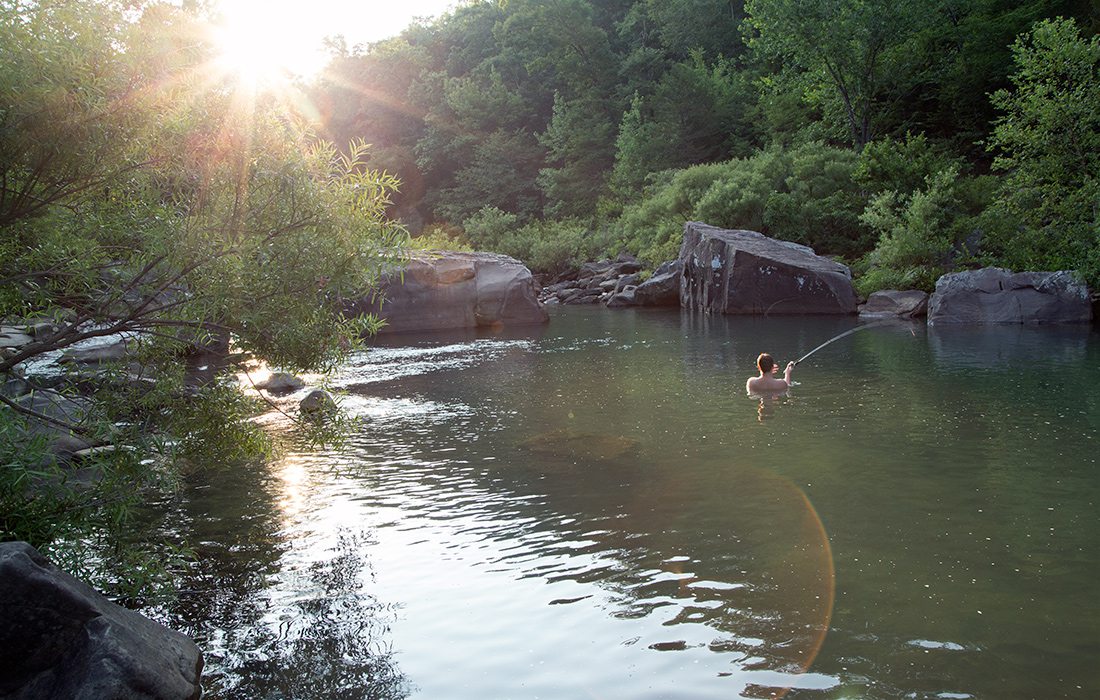 FALLING WATER ROAD
There's a stretch of gravel road in the Ozark National Forest, about halfway between Springfield and Little Rock, Arkansas, that is simply magical. Deep pools, cascading waterfalls, rope swings and peaceful camping spots can be found along a 7-mile section of County Road 68 near Sand Gap, Arkansas. (Editor's note: County Road 68, Forest Road 1205 and Falling Water Road are all the same road.) This is one of those places that, once you visit, you'll want to return to time and time again. There's a lot to experience in the area, and to make sure you have time to enjoy it all, I recommend making a weekend of it. 
Start your weekend off by pitching a tent at Richland Creek Recreation Area campground. Run by the U.S. Forest Service, this quiet campground has 11 family camping units and offers easy access to several fantastic swimming holes. The gravel road to get to this site is a bit rough (hello, potholes!), but it's nothing a regular car can't manage as long as you slow down and drive carefully. However, the Forest Service does recommend, due to the rough roads, that camping trailers avoid this spot. The campsite falls on the rustic side, as far as these things go—there's no running water—but the serene location more than makes up for it. 
If you can get to the campground before nightfall, I suggest setting your camping equipment aside and heading straight to the water. The main swimming hole is a short walk from the campsites, and Richland Creek is a sight to behold at dusk. The setting sun, filtered through the trees that line the bank of the river, casts a golden glow over the swimming area, which is large and deep. There are several big boulders close by that are ideal for sunbathing on, jumping off of or fishing from. There are also a couple of other decent swimming holes upstream, if you feel like exploring. Just don't wear yourself out too much; there's plenty more fun to be had. 

In the morning, head 3.3 miles south of Richland campground on County Road 68 to find Six Finger Falls. The falls are on the right if you're facing south. You'll see a sign and a small parking area, which lets you know you're in the right spot. Six Finger Falls isn't an amazing swimming hole, especially if the water is low, but the unique stair-stepped rock formations make the visit worth your time. You'll still be able to splash around, and the location is totally Instagram-worthy. 
Once you've had your fill of Six Finger Falls, hop back in your car and drive another 3.6 miles south. Falling Water Falls is on the left. Of all the swimming holes I've visited, this is far and above my favorite. With its 10-foot waterfall, rope swing, turquoise water and lush scenery, Falling Water Falls is a little slice of swimming hole heaven. You can see the spot from the road, and from there it's just a short climb down an embankment to the water. The swimming hole here is deep and wide, and it's surrounded by small bluffs on three sides. Depending on how high the water is running, there could be several waterfalls flowing, but the water tends to be pretty decent here all season, so you should get to see at least one. 
Off to the side, there's a tree ladder that you can climb to get to the top of the bluff. I dare you to climb it and not feel a little bit like Tom Sawyer.
If you're still hankering for adventure, there are several other neat spots close by. Fuzzybutt Falls, Horsetail Falls, Twin Falls and Keefe Falls would all be easy to hit in the same weekend. For details and directions, check out Tim Ernst's Arkansas Waterfalls Guidebook.
KNOW BEFORE YOU GO:
FALLING WATER ROAD
Discovery Difficulty:
Location: 
Two hours and 55 minutes south of Springfield, near Sand Gap, Arkansas

Find It: 
Fuel Your Body:
Pack a lunch because there are no restaurants nearby.
Bring the Kids:
What to Pack: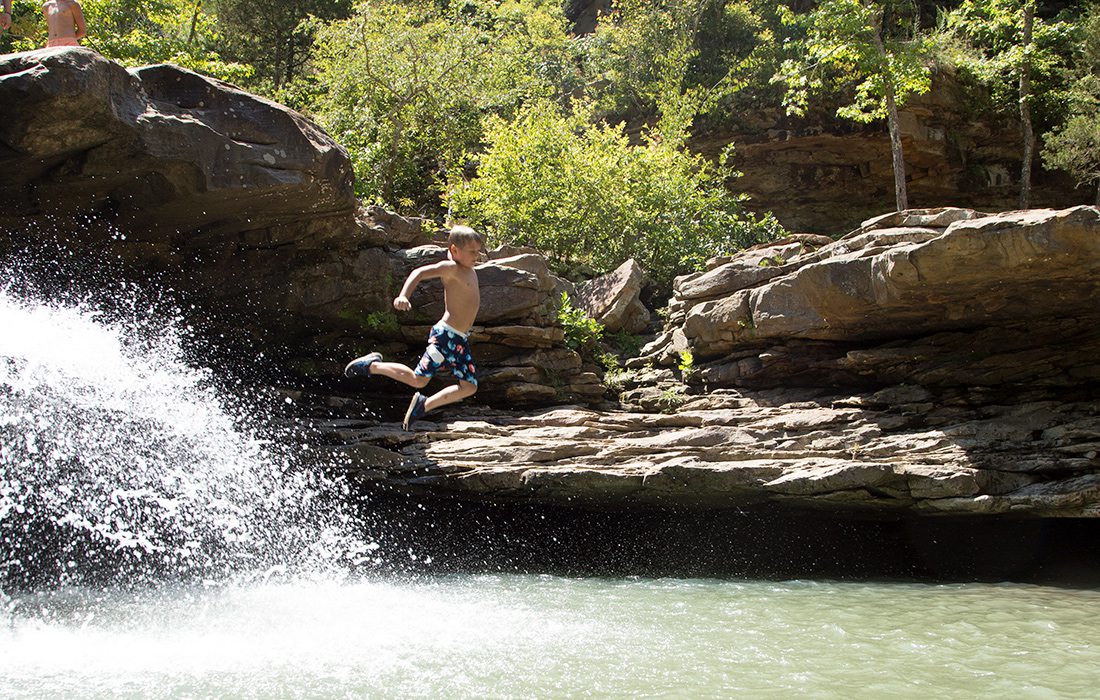 KINGS FALLS
Full disclosure here, folks, I got lost—really lost—on my way to this Arkansas spot. I spent a long time wandering down gravel roads before I found the trailhead to Kings River Falls, and although it was worth it in the end, I would recommend printing out your directions ahead of time because there is a good chance you will lose service on your way to this swimming hole. However, once you find it, you can easily spend a day here. 
Find the trailhead across the creek from the parking lot. From there, it's a little over a half-mile walk to the swimming hole. This tends to be a pretty popular spot, and it can get quite busy. If you can swing it, visit on a weekday. This is also a spot that is better visited earlier in the season or when the water is up. The swimming area isn't huge, and when the water is low, it can feel crowded. The big draw to King River Falls is, unsurprisingly, the falls, and when the water is up, there can be several shoots pouring over the rock ledge. There are also several large, flat rocks surrounding the pool, so in between jumping and swimming you can enjoy a catnap or partake in a picnic. 
KNOW BEFORE YOU GO:
KINGS FALLS
Discovery Difficulty:
Location: 
Two and a half hours south of Springfield, near Aurora, Arkansas

Bring the Kids:
As long as they're up for a short hike

What to Pack: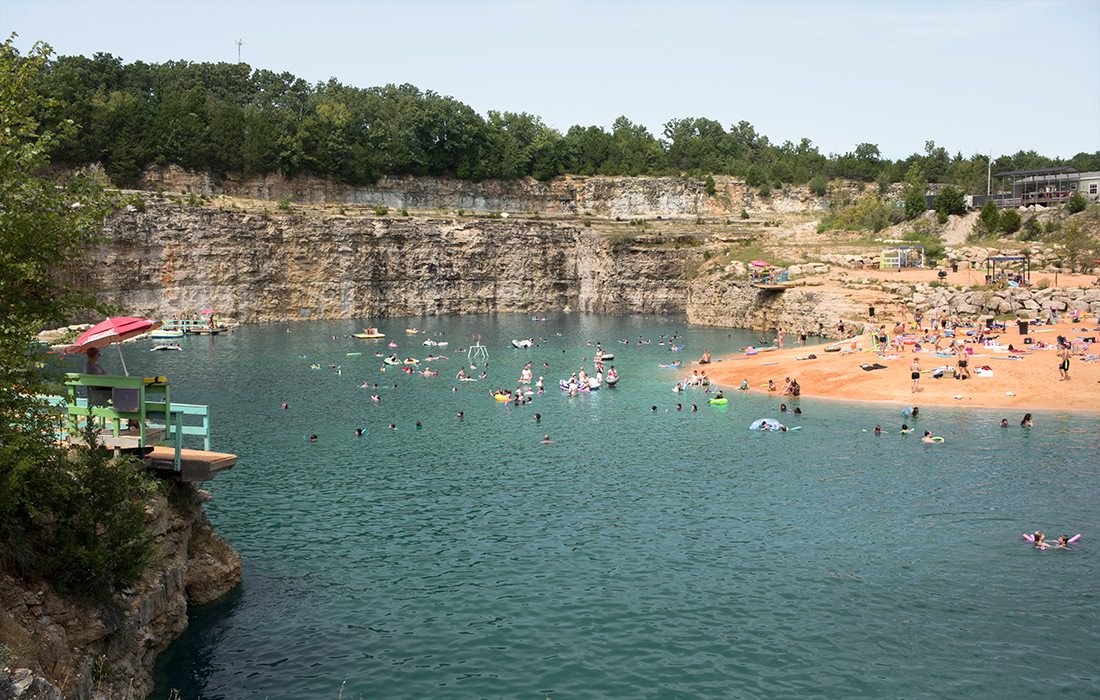 FUGITIVE BEACH
Okay, okay. We admit it. Rolla's Fugitive Beach doesn't really fall under the traditional definition of a swimming hole, but we couldn't help but include it anyway. This repurposed rock quarry offers a huge swimming area, a 65-foot waterslide, several jumping cliffs, sand volleyball courts and, starting this summer, another waterslide 50 feet long. Stepping onto the sandy shores of Fugitive Beach, you'll feel more like you're on spring break somewhere in Florida than in the Ozarks, but that's part of the fun. If you want a relaxing day in a serene locale, this probably isn't the spot for you. But if you're willing to take a swim on the wild side, Fugitive Beach might just be what the doctor ordered. 
Fugitive Beach bills itself as family-friendly; there are lifeguards on duty, and you will definitely see lots of kids while you're there. But alcohol is sold on-site, and the vibe can tend to skew pretty heavy on the party side. If you are going with youngsters, children 10 and under are required to wear a life jacket, and all guests are required to wear one if they swim past the buoyed area or are using the jumps or 65-foot slide. You can bring your own life jacket or rent one for $5. Entrance to the park starts at $5 a person.
When you're planning your trip to Fugitive Beach, it's best to prepare as if you were actually going to spend a day at the beach. Don't forget to consider flotation devices, chairs, water shoes and shade. You can rent or buy just about everything you might want for a day on the water at Fugitive Beach, but that can quickly start to add up. If you're going with a large group, it might be worth it to splurge on one of the pavilions or cabanas, which can be booked ahead of time online (fugitive-beach.com). 
If Fugitive Beach sounds like your kind of place, all of the fun starts Memorial Day weekend. The water park is open seven days a week until August 12, when it's open only on weekends through Labor Day weekend. 
KNOW BEFORE YOU GO:
FUGITIVE BEACH
Discovery Difficulty:
Location: 
Two hours northeast of Springfield, near Rolla

Bring the Kids:
Use your discretion

What to Pack: 
A beach umbrella or 
pop-up canopy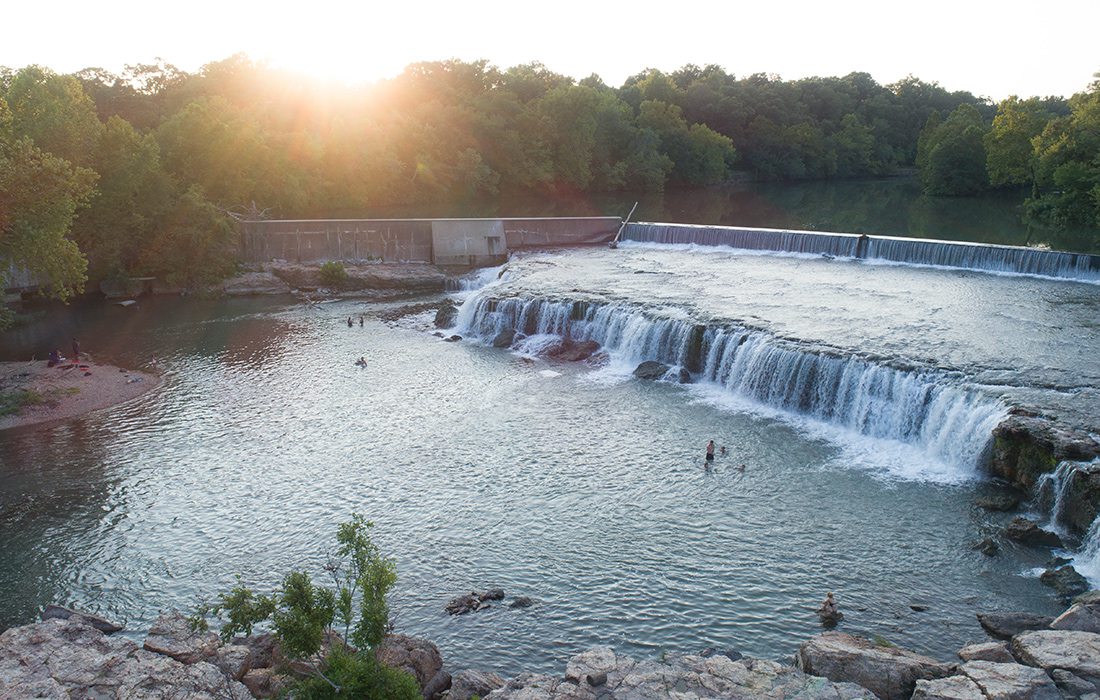 GRAND FALLS
Did you know Missouri's largest continuous waterfall is right here in 417-land? Yep, you read that right. Spanning 163 feet across Shoal Creek, Grand Falls in Joplin is a sight to behold and an exceptional place to cool off during the hottest days of summer. All year long, water gushes over a 12-foot ledge of chert rock, cascading into a wide pool below. The water flows continuously because Shoal Creek has been dammed to provide water to the city of Joplin—the fact that Grand Falls is one of the coolest swimming holes in 417-land is just a bonus. Another bonus is how easy it is to reach. Grand Falls sits just off of Highway 44, within the town limits of Joplin.
Once you reach Grand Falls, there's plenty to do. This would be a great spot to visit if you have a group of people with varying ideas of how they like to relax. Even if you're not a swimmer, the falls are beautiful and make a great picnic location. If kicking back in an inner tube is more your style, there's plenty of room to soak up the sun on the water. However, if you're like me and your inner child is always looking for something to climb on and jump off of, there's plenty of adventure to be had. By watching a little kid who clearly knew all the secrets of Grand Falls, I learned that you can traverse a good portion of the length of the waterfall behind it. Once you're behind the falls, the roar of the water is all you can hear, and you feel as if you're in your own little world, a thick sheet of rushing water separating you from everything else. 
On top of the waterfall is a large shallow rock shelf that runs back to the dam. This is a great spot for kids to splash around and hunt for crawdads. This is also a popular spot for jumping; however, the falls make it tricky to see what's under the water, so be careful if you decide to take the plunge.
KNOW BEFORE YOU GO:
GRAND FALLS
Discovery Difficulty:
Location: 
One hour and 15 minutes west of Springfield in Joplin
Bring the Kids:
Yes

What to Pack: 
Chairs. The ground is a rock shelf. 
ANDERSON
Just 34 miles south of Joplin is the small town of Anderson, which has two swimming holes that are not to be missed: Dabbs Greer Town Hole and Flat Rock. Unsurprisingly, Dabbs Greer Town Hole is in the middle of the town. You'll find this quaint spot across from the post office. When you stroll down the grassy slope to the swimming hole, you'll feel a bit like you've stepped right into a Norman Rockwell painting. The swimming hole isn't huge, but there are picnic tables, grills and a public restroom. Once you've thoroughly explored Dabbs Greer, another swimming hole is only a 10-minute drive away. 
Dubbed Flat Rock by the locals, this charming little spot is downright picturesque. To get there, start at the entrance to Indian Creek Campground and take County Road NE7111 for 2.9 miles. You can't miss the spot. There's a big flat rock—hence the name—and a rope swing that's easily visible from the road. The rope swing and idyllic setting are big draws of the swimming hole, but the spot can get a bit rowdy, and there is some explicit graffiti on the nearby bluffs. When I visited last summer, some people were drinking, but things didn't get out of hand. If you're lucky enough to get the spot to yourself, you're in for a real treat.
KNOW BEFORE YOU GO:
DABBS GREER TOWN HOLE
Discovery Difficulty:
Location: 
One hour and 30 minutes southwest of Springfield in Anderson
Bring the Kids:
Yes

What to Pack: 
Discovery Difficulty:
Location: 
One hour and 30 minutes southwest of Springfield in Anderson
Bring the Kids:
Only if they're older and can hold their own in the river

What to Pack: 
Binoculars to spot wildlife along the creek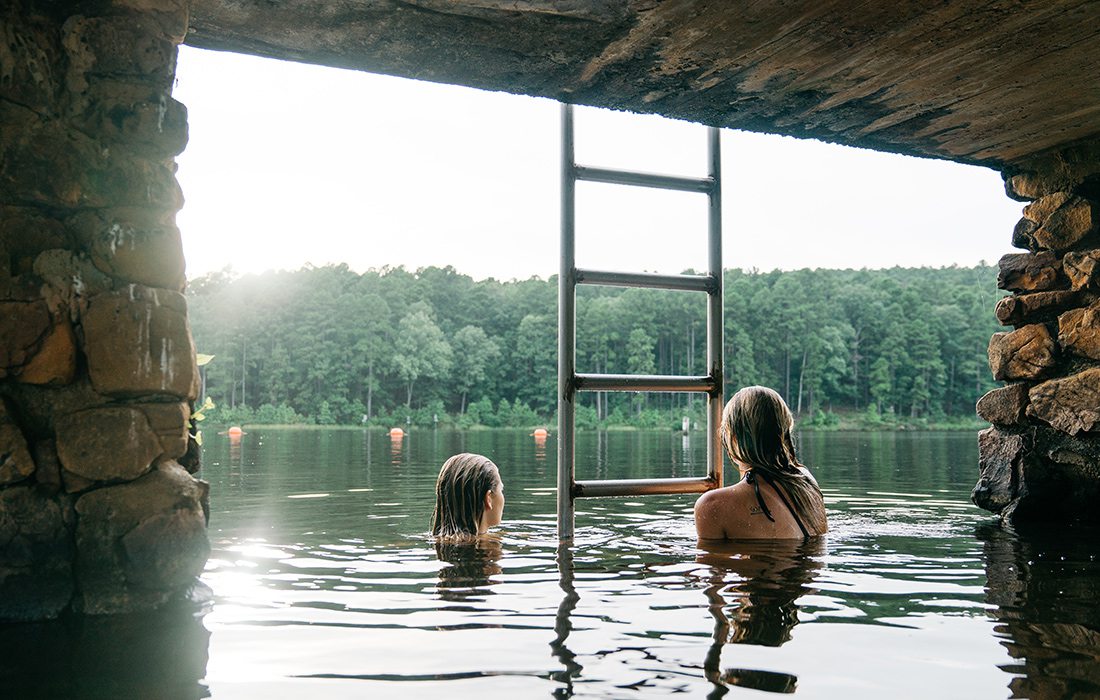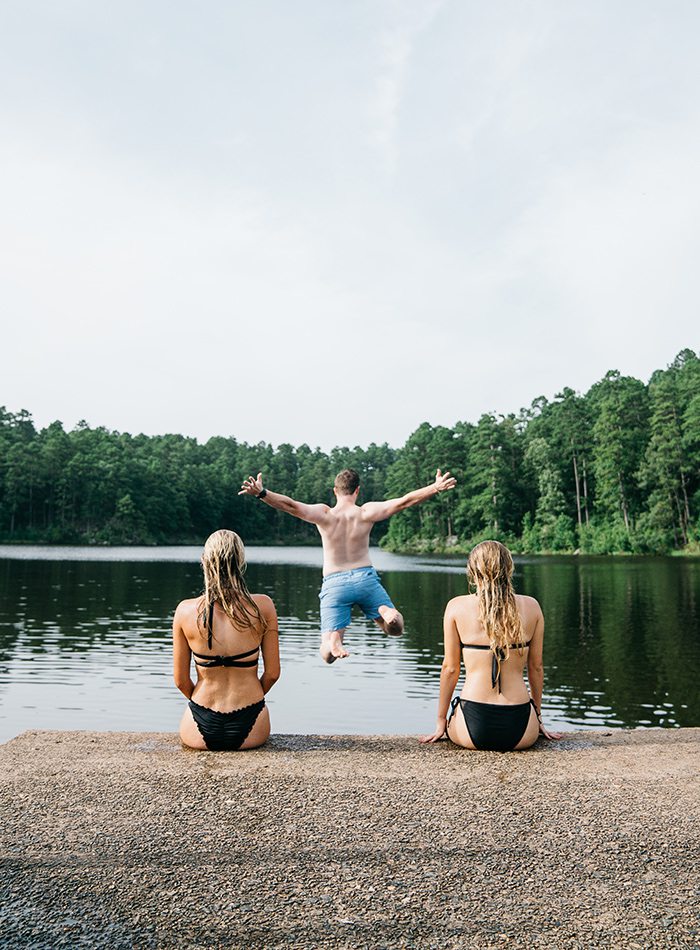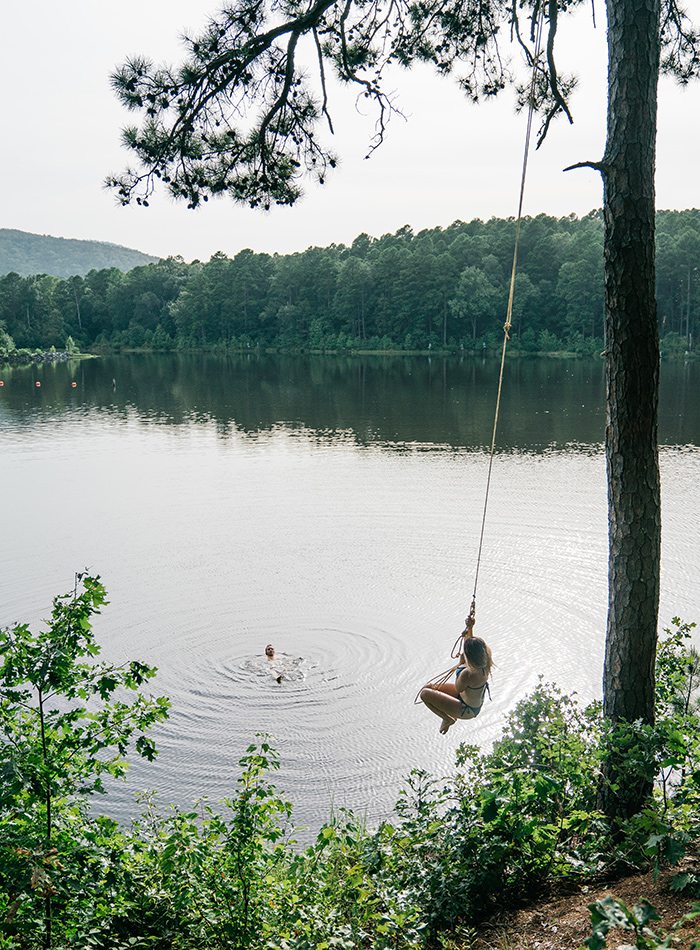 LAKE SYLVIA
Located on the northeast corner of the Ouachita National Forest, Lake Sylvia a little slice of Ozarks paradise. Towering pine and oak trees surround the lake, creating an idyllic location that feels far, far away from the everyday worries of life. When you're shoulder-deep in the lake, looking out over the water and into the green kaleidoscope of the Ouachita Forest, you won't have a care in the world. 
Besides the beautiful scenery, one of the great things about Lake Sylvia is its accessibility. This is a spot you can bring the whole family. The swimming area is just a short walk from the day use parking lot, and there is a nice big dock here with a roped off swimming area. 

Looking for some high-flying fun? Head right from the dock toward the campsites and follow the trail. Cross the footbridge and follow the trail until you reach the rope swing. 
The water here tends to stay nice and clear all season long. Along with swimming, Lake Sylvia offers camping, hiking and fishing. The day-use fee is $3 per vehicle, with camping fees starting at $10 per night. 
KNOW BEFORE YOU GO:
LAKE SYLVIA
Discovery Difficulty:
Location: 
Four hours south of Springfield, near Perryville, Arkansas
Bring the Kids:
Yes

What to Pack: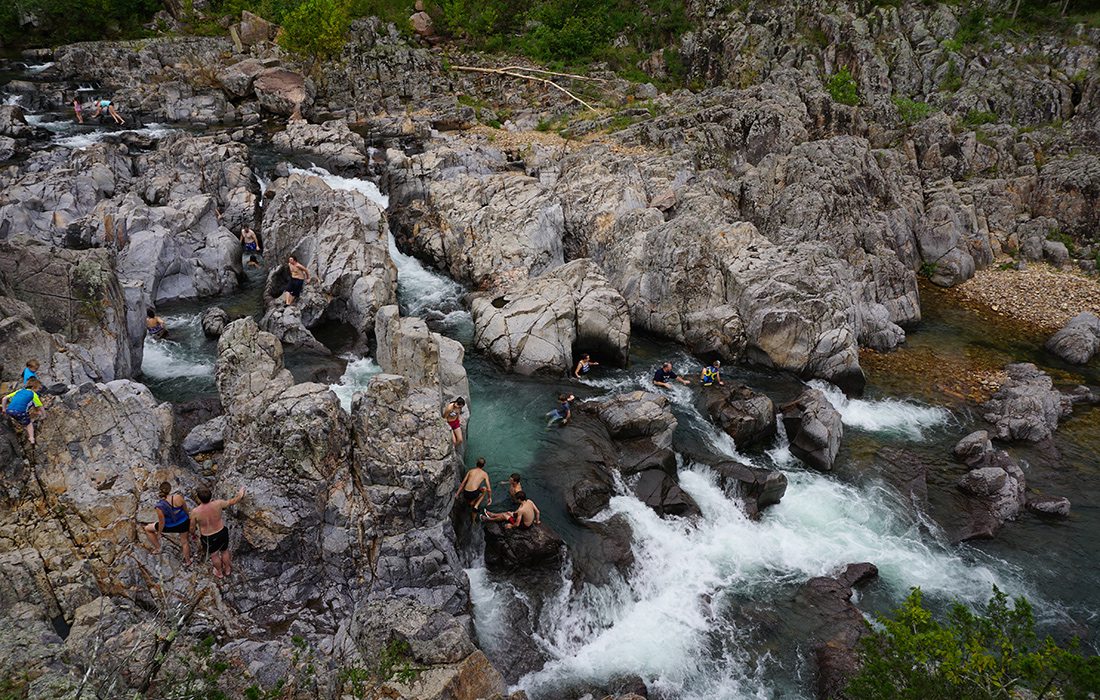 JOHNSON'S SHUT-INS
I would argue that this is the best swimming hole in Missouri. In fact, Johnson's Shut-Ins is more like a water park than a swimming hole, complete with natural slides, waterfalls, jumping cliffs and pools. The rock formations here have been carved out by the east fork of the Black River, and centuries of erosion have worn them smooth, leaving the rocks perfect for slipping and sliding over. The one downside to this place is it can get crowded, and there is a limit to the number of people the park rangers let in for the day, so if you're going on a weekend, be sure to get there early. 
One way to beat the crowds and guarantee entrance to the park is to camp at Johnson's Shut-Ins. There is a plethora of camping options, and the area is beautiful, so you might as well stay for a bit. Before you head down to the water, there are a few things to know. First of all, although Johnson's Shut-Ins is a blast, it can be dangerous, and if the water is moving too fast, you'll want to steer clear. Second, there is a huge cliff at the bottom of the shut-ins that is a popular jumping spot. Don't jump from here. It's illegal, and several people have died attempting to do so. What you can do, though, is enjoy the large, serene pool below the cliff. This is a great spot to relax if the rushing water of the shut-ins is not your speed or if you have little kids.
KNOW BEFORE YOU GO:
JOHNSON'S SHUT-INS
Discovery Difficulty:
Location: 
Three hours and 20 minutes northeast of Springfield, near Black, Missouri
Bring the Kids:
Yes

What to Pack: 
A pair of water shorts so you don't tear your swimsuit
ROCKY FALLS SHUT-INS
Rocky Falls is the other shut-ins on our list, and although it isn't as big as Johnson's Shut-Ins, this swimming spot has its own charm. According to the National Park Service, Rocky Falls was formed when molten rock from deep within the earth burst onto the surface about 1.5 billion years ago. The result is a sloping rock wall dotted by small ledges, shoots and natural pools, which you can easily climb on and explore. Find one of the natural pools, sit back, relax and enjoy the view looking out over Rocky Creek. Or, depending on the water flow, you might be able to find a natural waterslide running down the rock wall, but don't blame us if you end up with a bruised bum. If you'd rather take it easy, below the falls lies a large swimming hole where you can enjoy calm waters.

KNOW BEFORE YOU GO:
ROCKY FALLS SHUT-INS
Discovery Difficulty:
Location: 
Two hours and 20 minutes east of Springfield, near Eminence
Bring the Kids:
Yes

What to Pack: 
A waterproof phone case so you can take videos of the shut-ins
DOG'S BLUFF ON THE PINEY RIVER
Located on the Piney River, Dog's Bluff is a nice little swimming hole that is easy to find and easy to access. To get to Dog's Bluff, head west on Highway 17 from Houston, Missouri, for three miles. Once you cross the bridge, turn right into the parking lot. The fact that Dog's Bluff is right off of the highway does mean traffic can be noisy at times, but the water here is cool and clear, and a small picturesque bluff runs along the swimming hole. There is plenty of grass and shady trees near the river if you feel like spreading out a blanket for a snooze. Or swing by Piney River Brewing, which is less than 20 minutes from Dog's Bluff, and pick up a six-pack to enjoy while you dip your feet in the water.

KNOW BEFORE YOU GO:
DOG'S BLUFF
Discovery Difficulty:
Location: 
One hour and 45 minutes east of Springfield near Houston, Missouri
Bring the Kids:
Yes

What to Pack: 
A blanket to spread out on the grass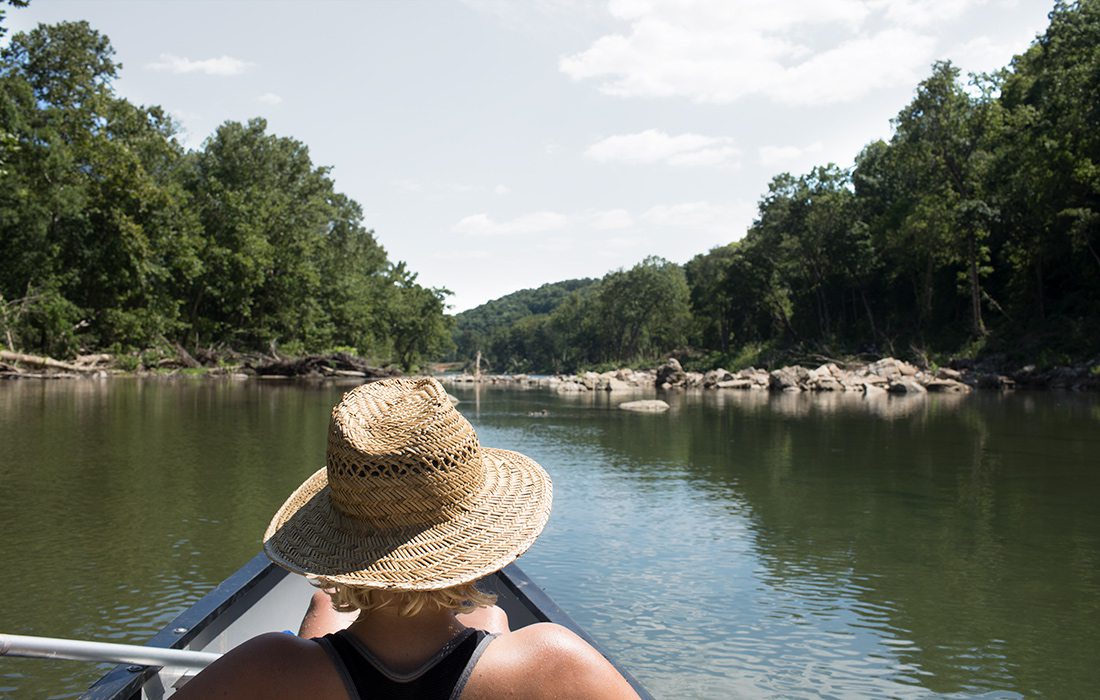 NORTH FORK RIVER
We're pretty lucky here in 417-land. Spring-fed rivers crisscross our gorgeous region. And if you've ever swum in a spring-fed river on a 100-degree day in the middle of August, you know just how lucky we are. 
Summers can be brutal in the Ozarks, and nothing eases the sting of a sunburn or jolts you out of mid-afternoon lethargy like a dip into a 40-degree spring. And nowhere is it more fun to take advantage of the gift that is cold, clear water than on the North Fork River. 
There are several options to float on the North Fork, but if you're like most of us, it's easiest to go through an outfitter. Last summer, when I floated the North Fork, my friends and I camped at and floated from Twin Bridges Canoe and Campground in West Plains. 
The main reason I chose Twin Bridges has to do with the reason I choose a lot of things in life: food. Along with offering canoe rentals, a shuttle service and camping, Twin Bridges has a restaurant, and I liked the idea of not having to worry about packing coolers full of food and cooking over a campfire after a long day of floating. When we pulled in on Friday night, it became clear we made the right choice. The restaurant was housed in a building that felt like a cross between a cabin and a lodge, and when we walked in for dinner, there was live music and a nice selection of craft beer on tap. Twin Bridges Bar and Grill has live music most weekends during floating season and offers a selection of bar food and home-style cooking. The restaurant serves breakfast, lunch and dinner. In the mornings, I would grab a cup of coffee and enjoy it on the deck overlooking the river.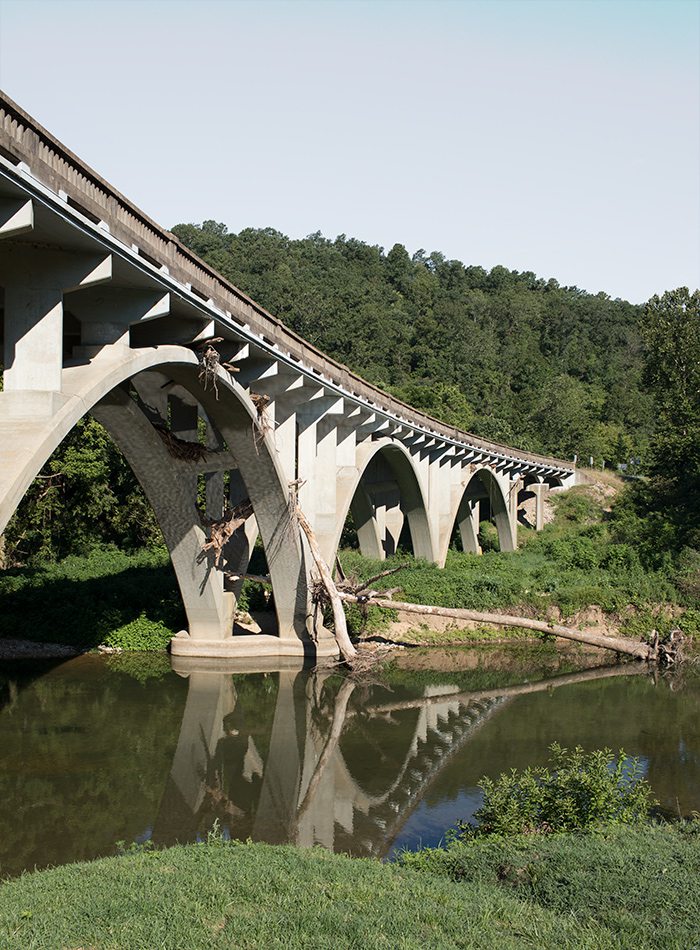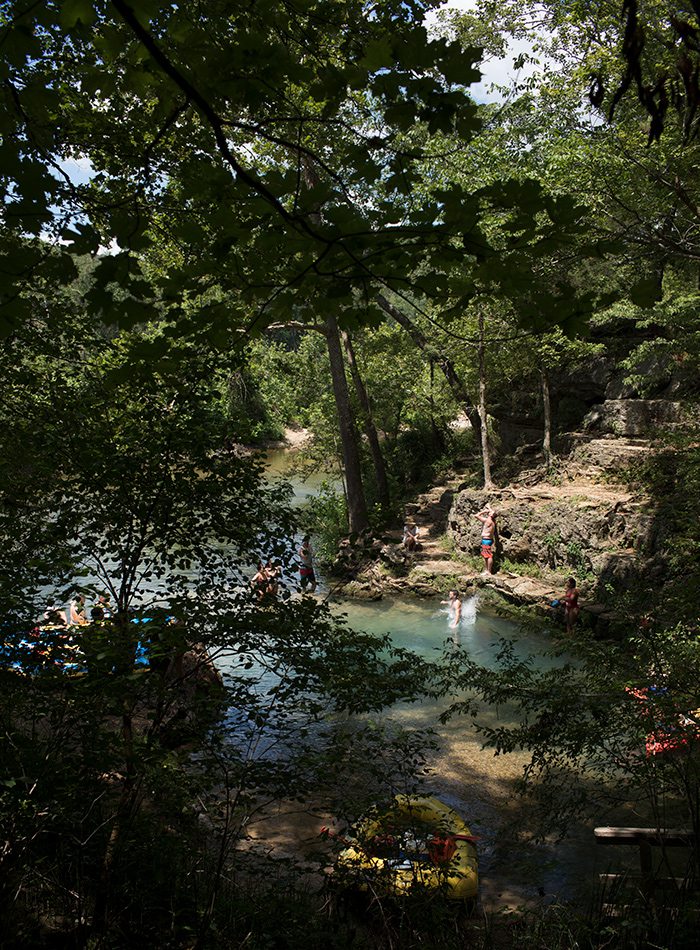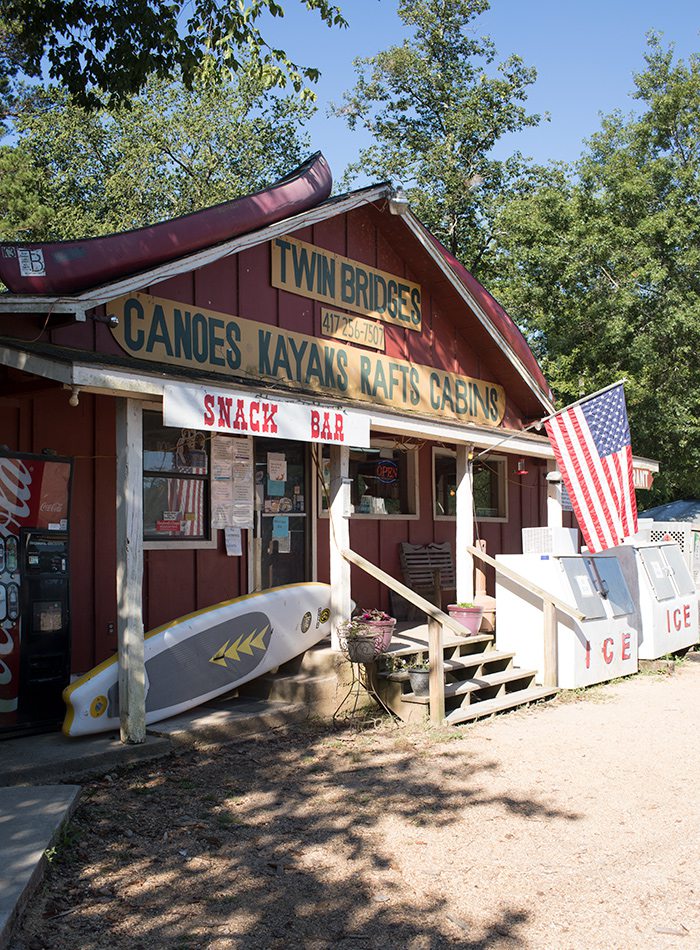 The North Fork is close enough that you could make it a day trip, but where's the fun in that? Especially if you plan to enjoy a few adult beverages on the river. The place can fill up, though, and I recommend reserving a camping spot or calling ahead to check availability. Twin Bridges offers several different lengths of floats. We opted for the longest single day float, which is 15 miles long and runs from Twin Bridges to Blair Bridge. 
On Saturday morning, we left for our float around 8:30 a.m. The earlier you get on the river, the less crowded it will be, and I wish we had left sooner than we did. The river is gorgeous. Bluffs, sandbars and crystal clear water abound along this float, with ample opportunities to pull over and go for a dip. If water patrol hasn't recently cut it down, you'll typically see a rope swing somewhere on the banks of the river. Indulge your inner Tarzan, and give it a go. (Bonus points if you can pull off a flip.) Once you make it about 6 miles into the float, Blue Spring will be on your left. You'll definitely want to stop here. 
On average, Blue Spring pumps out 7 million gallons of water a day at a temperature that hovers around 40 degrees. To have the complete North Fork experience, jumping into the bone-chillingly cold spring is a must. The spring is surrounded by a semicircle of small bluffs and rocks, and you'll often see people jumping from the rocks on the north side of the spring. When I jumped last summer, I ended up hitting the bottom and bruising my foot. It wasn't serious, but it's good to always err on the side of safety if you have any doubts. 
Back in the canoe, you have another 9 miles of river to enjoy, so kick back and relax. You'll want to watch for McKee Bridge around mile 11, which can be dangerous when the water is high. Before the float is over, you'll also have to navigate The Falls, a 2- to 3-foot rock ledge, but if you stay left you should be fine. When you see Blair Bridge, start heading for shore. This is your takeout point where buses will be waiting to take you back to the Twin Bridges campground. 
In the morning, on your way home, make a side trip to Althea Springs for one more jolt from the North Fork. Located close to Dawt Mill, this spring is damned, and the resulting waterfall is a darling little spot to splash around.
KNOW BEFORE YOU GO:
NORTH FORK RIVER
Discovery Difficulty:
Location: 
One hour and 45 minutes east of Springfield, near West Plains
Bring the Kids:
Use your discretion. There were lots of kids on the water, but as with any float trip, you'll run into some partiers.  
What to Pack: 
Sunscreen. You don't want to get caught on the river without it.
Ozark
A gravel bar beach area along the Buffalo River is easily accessed at the Ozark Campground (Off Arkansas 7 between Marble Falls and Jasper, 1.5 miles down County Road 129). Bring a picnic lunch and park your chairs or blanket on the wide gravel beach for a peaceful meal. Then spend the afternoon splashing in the deep pool backdropped by Briar Bluff. Swim across the pool and climb up on a bluff ledge for another cool view. Forgot your floaties? Pick up some pool noodles and cheap straw hats at the Family Dollar store just 10 minutes south.
Steel Creek
The Steel Creek Campground has a wonderful gravel bar that's even wider than Ozark's. Steel Creek (10 minutes northeast of Ponca on Arkansas 74) is a nice access point for many activities, including floating, hiking and horseback riding. The swimming area behind Steel Creek Campground features deep pools with some fun cascades in front of the soaring walls of Roark Bluff. There's plenty of space so you won't feel crowded on a hot day. Several short pathways from the campground cut through the woods to the riverbank with an easy path near the upstream area. 
Shine Eye
In the Buffalo River's middle section downstream from the popular—and busy—Grinder's Ferry access point and swim spot, Shine Eye is typically less visited but has a large gravel bar swimming hole and colorful bluff. The riverbank at the end of Shine Eye Road (off U.S. 65 between St. Joe and Marshall) makes a nice pull-off for paddlers, and the gravel bar is large enough to camp overnight for two-day floats. But with road access, it's a nice swimming spot for day-trippers, too. Bring your umbrella and plan to stay awhile in this pretty, out-of-the-way spot.
Buffalo Point 
Lower sections of the Buffalo National River have great places to cool off, too, and one of the best is at Buffalo Point (south of Yellville on Arkansas 14; east on Arkansas 268). This campground and float access has nice facilities, nearby trails and a restaurant operating in summer months. The swimming hole along a tall bluff features a wide gravel bar with plenty of space for visitors. A recently added concrete ramp makes the gravel bar easier to access. A perfect day trip might include hiking the Indian Rockhouse Trail, then cooling off at Buffalo Point.