Waterways
5 Swimming Hole Road Trips
The mercury is starting to creep up, which means it's time to gather the family, hit the road and make a splash at one of these gorgeous swimming holes within driving distance of 417-land.
Written by Stephanie Towne Benoit | Photos by Mary Ellen Chiles, Brian Sirimaturos, Curtis Simmons
Jun 2017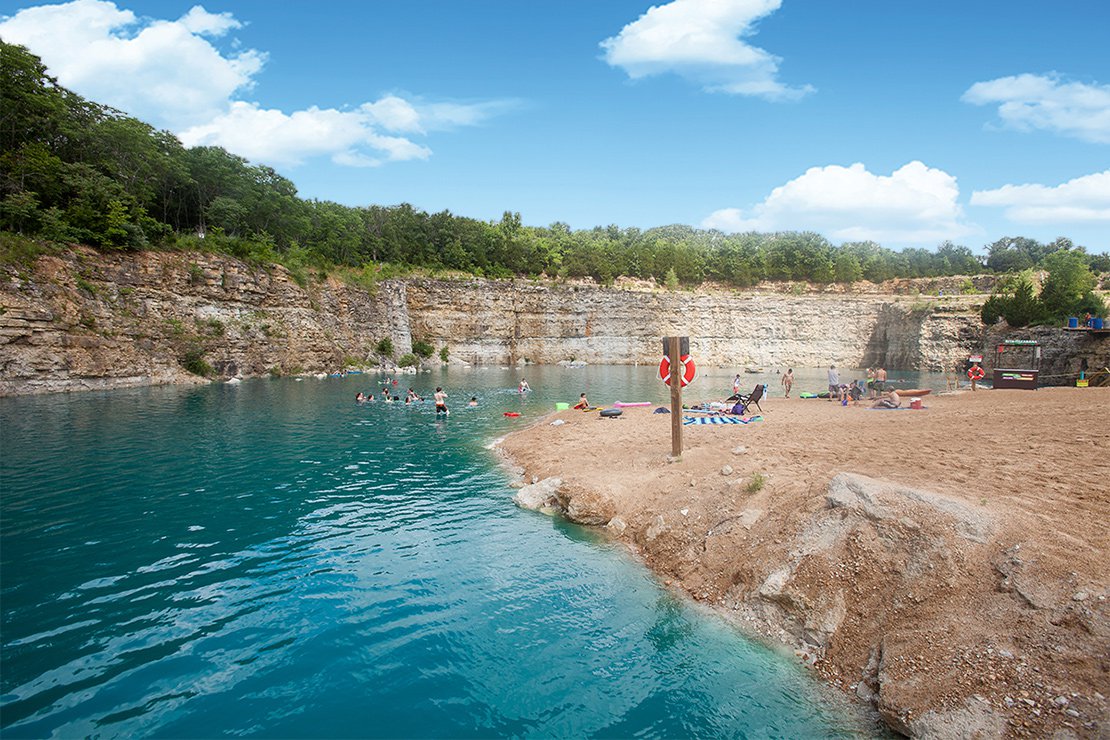 Fugitive Beach
A quick cruise up I-44 brings you to the sandy shores of Fugitive Beach, a onetime quarry transformed into a spectacular swimming hole that's open to the public beginning in May through a portion of September. Adventurous visitors jump off cliffs or zoom down a waterslide into the pool of clear, sparkling water, which is 22 feet deep at its greatest depth, while chill-seekers play sand volleyball, relax in covered pavilions or simply sunbathe and enjoy the beachy scene. There's also an on-site bar and grill.
2 hours from Springfield; $10 per person, $6 for ages 10 and under; 16875 County Road 5285, Rolla; thefugitivebeach.com
Johnson's Shut-Ins State Park
Splash around in the shut-ins nestled in the gorges of the East Fork of the Black River, which thanks to thousands of years of erosion is replete with waterfalls, chutes and pretty pools of varying sizes that beckon swimmers of all ages. There's also a serene swimming hole that the river tumbles into at the base of the shut-ins. Bear in mind that the smooth rocks can be a little slippery, so keep an eye on your kiddos if you decide to make the trip a family outing.
3 hours and 15 minutes from Springfield; Free; 148 Taum Sauk Trail, Lesterville; 573-546-2450; mostateparks.com
Medicine Park
Officially established in 1908, Medicine Park, a charming resort town tucked in the Wichita Mountains, has hosted generations of Oklahomans seeking a respite from summertime temperatures. The centerpiece of the cobblestone community is Bath Lake, a placid, family-friendly swimming hole situated on a dammed section of Medicine Creek that's open through Labor Day. Stroll across the creek on historic foot bridges, grab a snow cone from nearby concession stands, soak in some rays and take a dip in the refreshing waters.
5 hours and 30 minutes from Springfield; $2 per person; 154 E. Lake Drive, Medicine Park, Oklahoma; medicinepark.com
Natural Dam
Deep in the Boston Mountains of Arkansas, Mountain Fork Creek cascades over a nearly 200-foot-long natural wall of rock that is so uniform that it resembles a man-made dam. Just upstream of that striking rock formation is a wide, relatively shallow pool that's perfect for wading, splashing around and floating in the gentle water. Depending on the amount of rainfall in the days and weeks prior, the water either trickles or tumbles over the ledge, forming pretty falls and wading pools along the dam.
3 hours and 15 minutes from Springfield; free; Natural Dam Road and Highway 59, Natural Dam, Arkansas; 479-667-2191; fs.usda.gov
Turner Falls Park
One of Oklahoma's largest waterfalls, 77-foot-tall Turner Falls tumbles down an impressive rock face, forming a lovely, brisk pool below where locals and tourists flock every summer to swim or simply to relax on the beach and admire the stunning, forested surroundings. Turner Falls Park, nestled in the Arbuckle Mountains, is also home to hiking trails, cabins, campsites and the Blue Hole, a second natural swimming pool downstream of the waterfall with two water slides and a diving board.
5 hours and 20 minutes from Springfield; summer park admission is $12 per person, $6 ages 6 through 12, free ages 5 and under; I-35 and Highway 77, Davis, Oklahoma; 580-369-2988; turnerfallspark.com
Want for More Places to Swim?
We can't get enough of the natural landscape we call home. Check out this expanded list of swimming holes, then grab your suits and shades and get outside!