Travel
Your Guide to Branson
Take a trip down to Branson this winter for some quality time and adventure. There's plenty to enjoy this holiday season.
Nov 01 2019 at 9 a.m.
Looking for a little magic this holiday season? Pack all your little elves into the car and make the short trip to Branson! Christmas lights twinkle a little bit brighter there. Christmas treats taste a little bit sweeter. And Christmas carols warm your heart just a little bit more in Branson! You can't help but feel festive in America's Christmas Tree City. They've decked all the halls and are ready to share the joy of the season with you and your family!
Are you ready? Use this guide to the best things to do in Branson to start planning your next adventure now.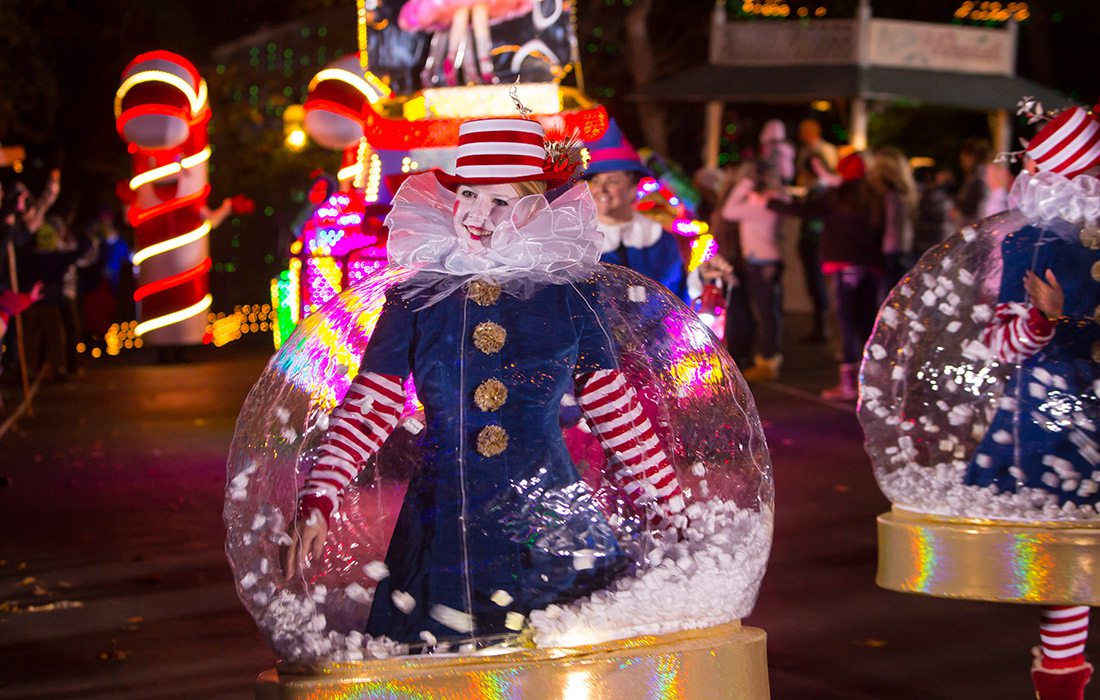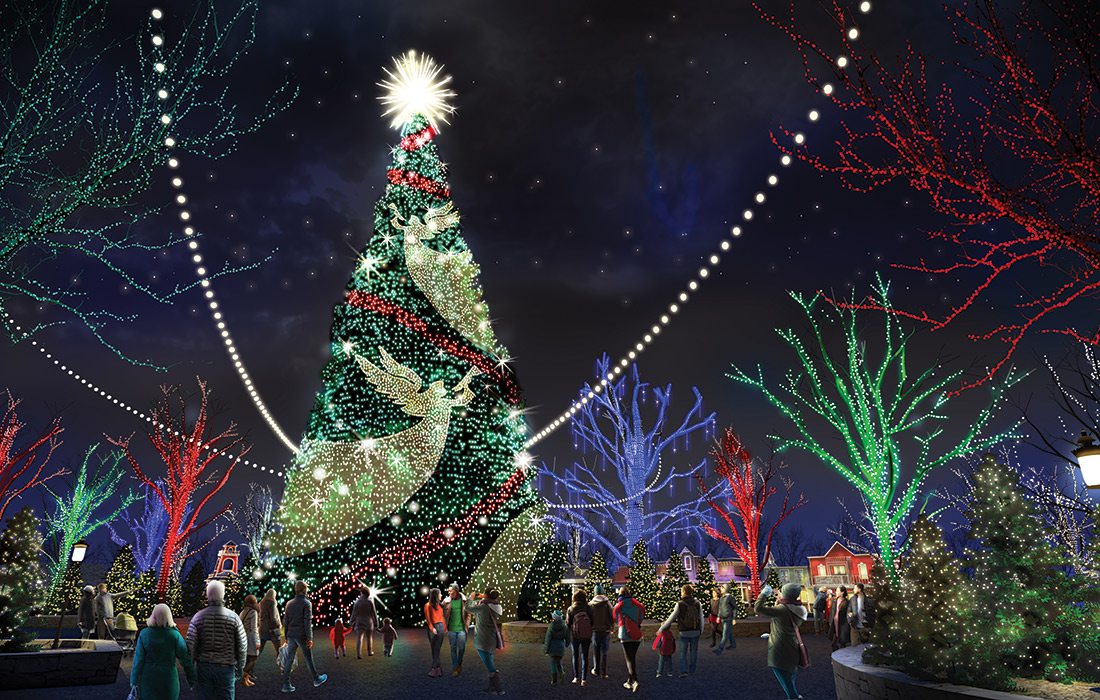 Silver Dollar City
Christmas is even bigger this year at Silver Dollar City's "An Old Time Christmas," with a brand new, custom-engineered and designed Christmas tree, towering eight stories in the air with state-of-the-art LED lights and special effects. "Joy on Town Square," a $1.5 million investment, combines color, music and animated imagery to create an immersive experience during An Old Time Christmas, three-time winner of "Best Theme Park Holiday Event" in the nation by USA Today's 10 Best poll.
The new tree will feature hundreds of thousands of dancing high-resolution lights with an infinite color-spectrum. With the entire tree's output, along with the enhanced Square experience, it equals to more than one million LED lights.
"Joy on Town Square" joins Old Time Christmas festival favorites like "Christmas in Midtown," the park's 1.5 million LED light display—145 miles of lights covering 70,000 square feet—in the Midtown area of the park. Wreaths that are 24 feet high by 24 feet wide mark the entrance to 50-foot light tunnels, leading into "Christmas in Midtown" with light displays nine stories high, with dozens of stars, snowflakes and a massive turning globe.
The festival also features two original musical productions: "A Dickens' Christmas Carol" and "It's a Wonderful Life," along with the 45 colorful costumed characters of Rudolph's Holly Jolly™ Christmas Light Parade, a Living Nativity, a talking Christmas tree, strolling carolers and the park's 100 craftsmen creating one-of-a-kind holiday items. Foods are holiday-focused too, with a prime rib buffet, fresh-made fruitcakes, ginger cookies and hot wassail.
Information at silverdollarcity.com or at 800-831-4FUN(386).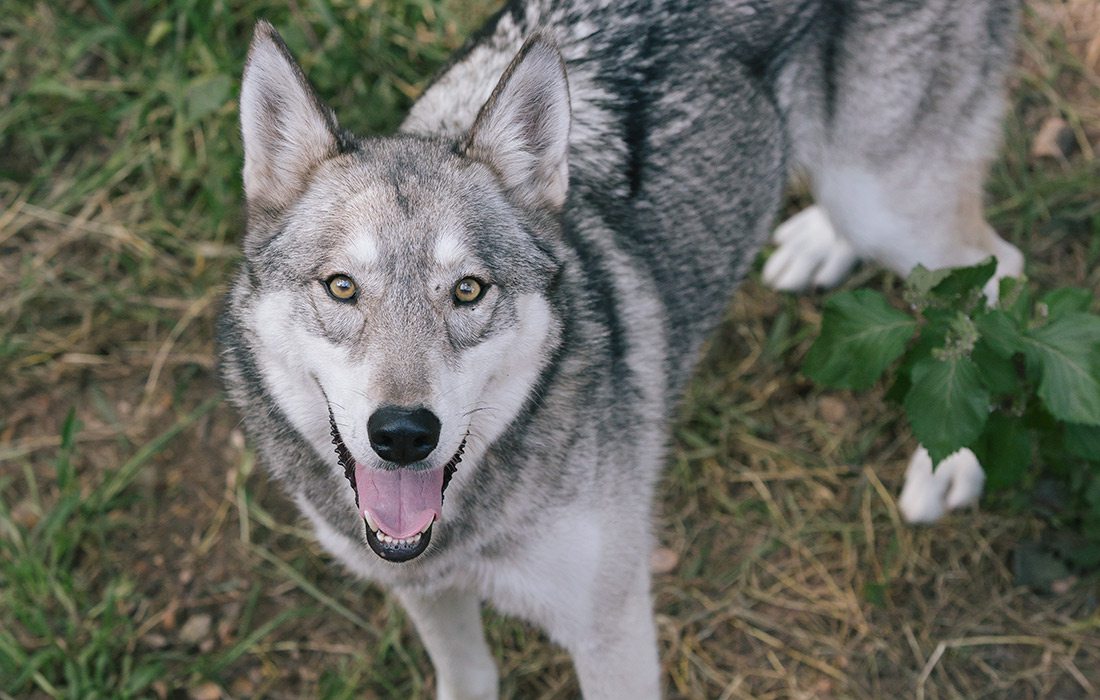 National Tiger Sanctuary
Lions and tigers and…wolves? Yes, the National Tiger Sanctuary is home to more than just big cats! Even if you've visited before, you'll want to come back this year to meet the wolves—the newest residents of the sanctuary that is also home to leopards, Arctic foxes, mountain lions, lemurs, lions and, of course, tigers.
National Tiger Sanctuary is a non-profit rescue organization that provides a permanent home for exotic and domestic animals. Their diverse learning campus is dedicated to education, preservation of the environment and exemplary animal care. Guided tours are available Wednesday through Sunday year-round. Meet the sanctuary's animal residents up close and personal in a safe environment, and see big cats and other exotic animals like you've never seen them before. Riding and walking tour options are available and can offer visitors the opportunity to learn about the animals, watch them eat and even feed them yourself!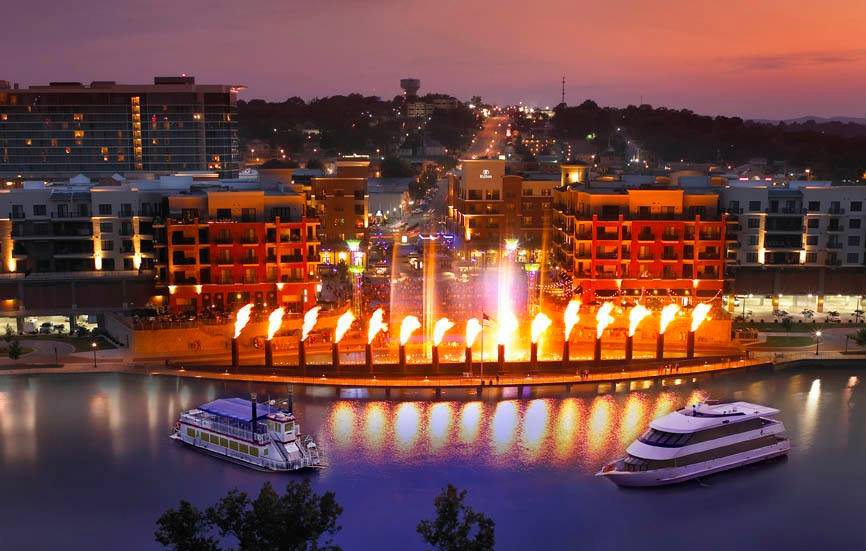 Branson Landing
Branson Landing features a scenic boardwalk along the 1.5-mile Taneycomo Lakefront. At the heart of the Landing is a vibrant Town Square terracing down to the $7.5 million spectacular water attraction that features the first-ever merging of water, fire, light and music. Visitors are amazed by the dazzling interplay of water fountains shooting 120-foot geysers and blasting fire cannons. The entire show is choreographed to light and music for a true one-of-a-kind experience. Voted Best Free Attraction for 2018! Discover waterfront shopping, dining, live entertainment and exciting adventures with over 100 shops, restaurants, attractions, the Hilton Promenade Hotel, a zipline, arcade, balloon ride, bowling, lake cruises and so much more! View the sales, specials and complete Branson Landing events schedule online at bransonlanding.com!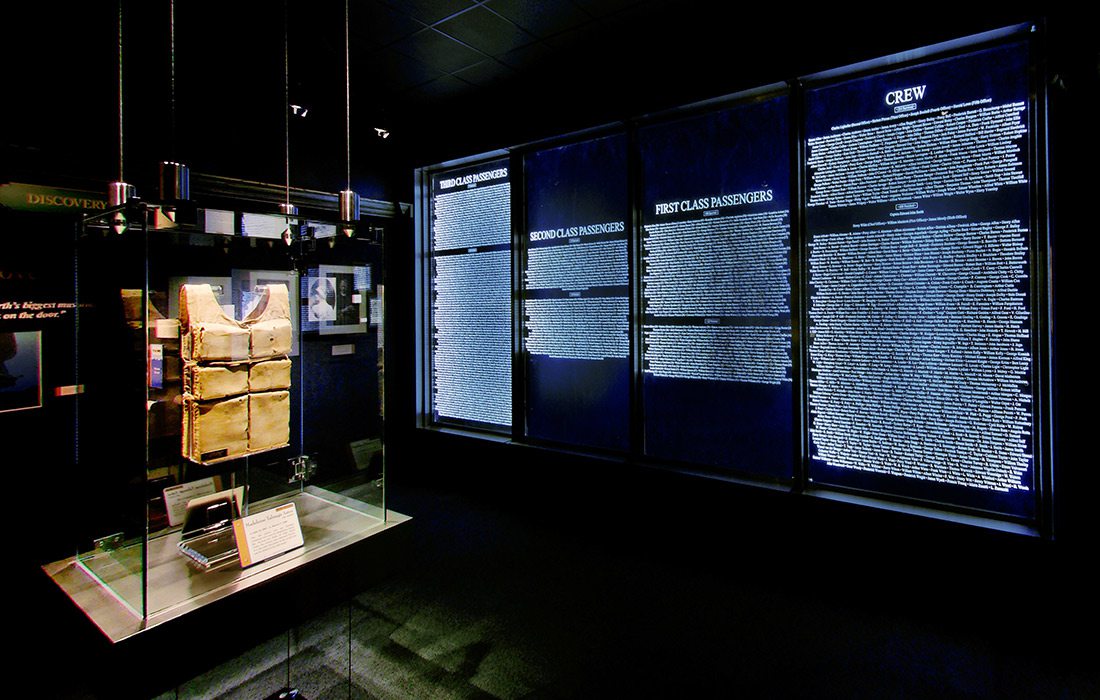 Titanic Museum Attraction
For the last three years, the Titanic Museum Attraction has ushered in the holiday season with an enchanting Luminaries Festival of Lights display. This year, by popular request, this Great Light Way will once again guide guests and visitors along a candlelit path leading to the museum attraction's main entrance and the magical family adventure that awaits inside. 
"The lighting of luminaries has been a glowing, ceremonial way of welcoming the Christ Child into the world," says Titanic Museum Attraction President/COO & Co-Owner, Mary Kellogg.  "Our luminaries continue this welcoming tradition and also serve as a spiritual tribute to the 2,208 men, women and children who sailed on the RMS Titanic."
With the beautification of Highway 76 complete, the Titanic Museum Attraction's luminaries are certain to add an inviting sparkle and shine to Titanic's new gateway corner at highway 76 and Gretna Road. Visitors to the famed ship-shaped attraction will find exciting, outdoor photo opportunities as they follow the Great Light Way past a giant iceberg to the ship's entrance. Here they can purchase tickets and join the special yuletide festivities underway throughout the ship.
"Once on board, guests will experience Christmas as it might have been celebrated on Titanic in 1912," explains Kellogg. "In keeping with tradition, a lavish, turn-of-the-century, holiday look — both inside and outside the ship — has been created. The Titanic crew and I can't wait to share it with one and all. So plan ahead and pick a date to be part of a new season of joyful thanksgiving at the Titanic Museum Attraction."
Level 2 Steakhouse
Visit Level 2 Steakhouse in the Hilton Branson Convention Center Hotel, and dine a level above the rest. At Level 2, they pride themselves on having the highest quality meat and ingredients, from their 28-day aged, corn-fed, Midwest beef, highest quality and responsibly harvested seafood and heritage Missouri pork to locally grown produce and signature house-made desserts. Their 1600 degree infrared oven quickly sears the outside of the meat, producing very tender and juicy steaks. Level 2 Steakhouse offers five distinct steak knives to choose from while dining with them. You can even join their Kut Klub and have an engraved steak knife all your own. They also offer complimentary valet parking!
Be sure to try their fall specials, like the pumpkin butter cake. It is delicious! You can also make your reservations now for Level 2's popular Thanksgiving Brunch! Make reservations online at Level2Steakhouse.com or call 417-243-3433.
Chateau on the Lake

Welcome to Chateau on the Lake Resort Spa & Convention Center, Branson's only AAA Four Diamond Resort. At Chateau on the Lake, upscale resort amenities, elegant lake views and friendly Midwestern hospitality converge in an idyllic Ozark Mountain oasis for your getaway. 
Just minutes from Branson's entertainment district on 76 Country Boulevard, Chateau on the Lake is the perfect holiday retreat to experience Table Rock Lake, Silver Dollar City and  Branson's many live shows and attractions. Resort amenities include a full-service marina, spa, indoor pools, a supervised kids' club, a movie theater and more than 50,000 square feet of event space. And the resort's award-winning onsite dining options—including local favorite Chateau Grille—are truly a destination unto themselves. 
At Chateau on the Lake, you will discover everything you need to create a spectacular family vacation this holiday season, romantic getaway, wedding or other special event.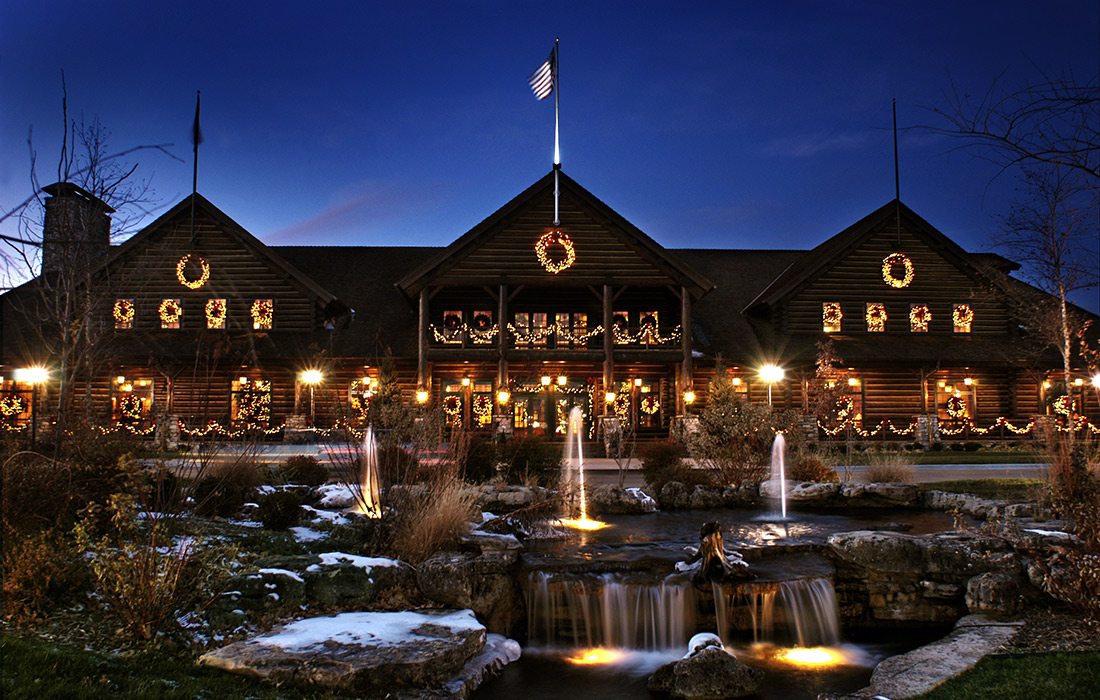 The Keeter Center
Start a new Christmas tradition by visiting The Keeter Center at College of the Ozarks®. You will enjoy shopping for one-of-a-kind, student-made products at the gift shop located inside The Keeter Center.
Delight in finding handcrafted items that include a variety of fruit spreads, as well as delectable mixes from Edwards Mill. (Tip: Edwards Mill Pancake & Waffle Mix and Scone Mix are delicious with blueberry lemon fruit spreads.) You will also enjoy browsing the custom stained-glass nightlights, a perfect student-made stocking stuffer. Before visiting in person, browse available student-made products online at store.cofo.edu.
During your shopping experience at The Keeter Center, be sure to include dining at the award-winning restaurant. Enjoy a meal like none other in Missouri with farm-to-fork cuisine, sourced from both campus and local vendors. Savor desserts made from scratch daily by The Keeter Center's pastry chefs.  Beyond the delicious selections, you will appreciate the exceptional service provided by College of the Ozarks student-servers.
After a day of shopping and dining, choose to extend your visit by staying in The Keeter Center's award-winning lodge. This lodge exclusively offers suite accommodations, renowned turn-down service with fresh baked cookies and milk, and in-room continental breakfast the following morning.
Whether it is handcrafted goods, dining, or lodging, you will find many reasons to share the gift of The Keeter Center this Christmas. Visit The Keeter Center online for gift certificates, reservations, and more at keetercenter.edu.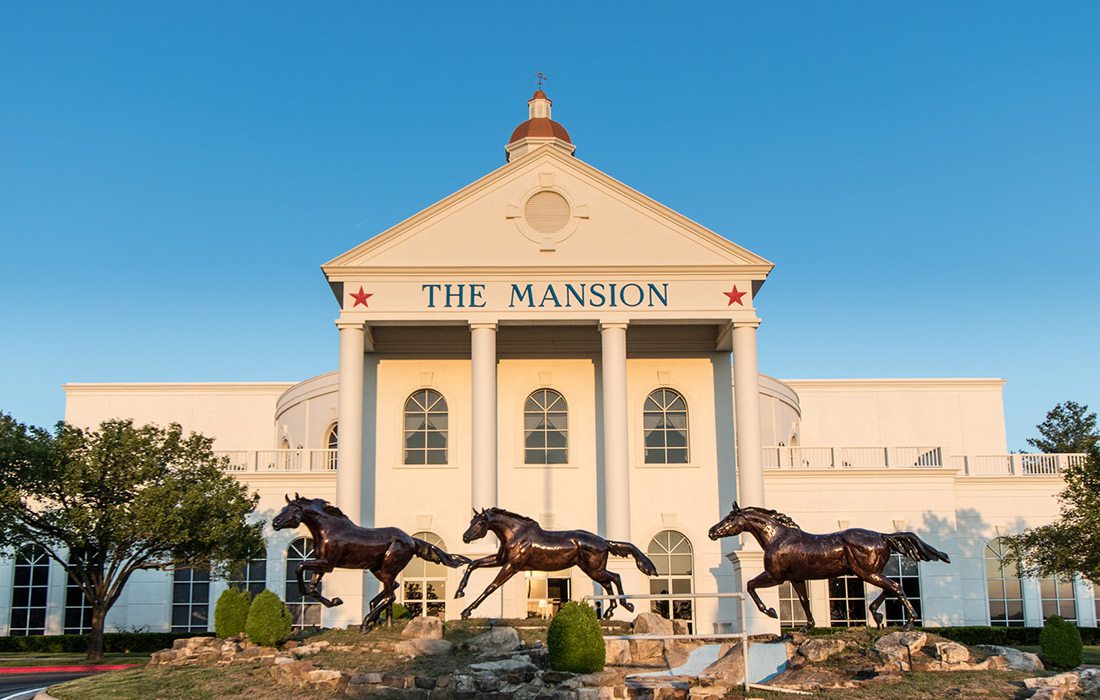 The Mansion Theatre
Do you love live music? The Mansion Theatre in Branson is southwest Missouri's premium concert venue! You can visit themansiontheatre.com to see their full lineup of concerts and events and to plan your visit. What sets The Mansion Theatre apart from the other options in Branson? The Mansion Theatre is the perfect setting for concert goers who appreciate a quality venue. They're not only a great spot for entertainment, but also rent out their space for events and festivals. The Mansion Theatre is the largest indoor music venue in the Branson area with 3,000 seats in a state of the art facility. But the biggest thing that sets them apart is that they focus on only hosting nationally-known entertainers! You'll recognize the names of their guests, like The Oak Ridge Boys, Neal McCoy, The Bellamy Brothers and so many more. Their tickets are affordable for such an unforgettable experience, but of course their most popular shows sell out quickly, so reserve your spot soon to not only get a seat, but the best seat! The Mansion Theatre provides "the best entertainment Branson has to offer!"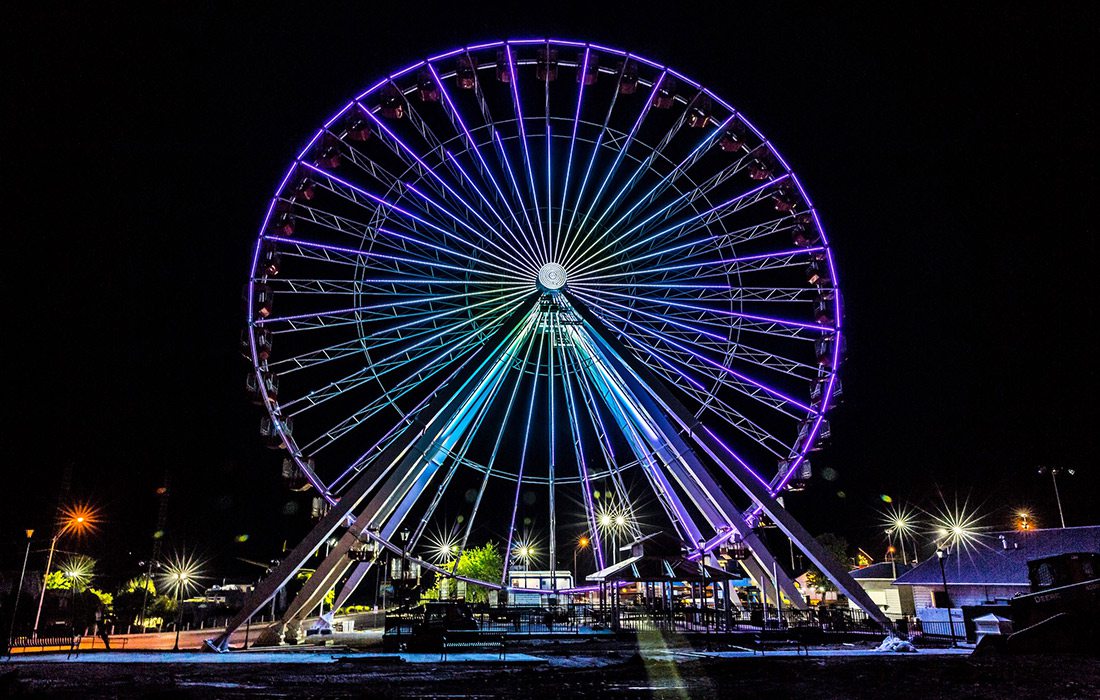 The Track Family Fun Parks
For over 30 years, The Track Family Fun Parks has been creating unforgettable moments for families! With 12 go-kart tracks and various kiddie rides, to the newest thrill ride, Skyscraper, there is something fun for the whole family! At three locations all located on Hwy 76, you'll find three unique high-rise go-kart tracks, classic go-karts, laser tag, bumper boats/cars, batting cages, mini golf, arcades and so much more! And towering over the Branson skyline is the Branson Ferris Wheel, formerly the iconic Navy Pier Ferris Wheel in Chicago! Ridden by nearly 17 million people, the wheel stands 150 feet tall and holds 240 passengers in 40 gondolas! And every hour on the hour, it lights up the sky with 16,000 color changing LED lights in "Electrify—A Music and Light Spectacular!"

 Visit bransontracks.com to learn more!