Travel
Things to do in Branson
When you think "Spring Break," think Branson, Missouri! It's the perfect time to check out all of the attractions, shows, adventures and fun Branson has to offer. No matter what you decide to do, the family is in for a treat!
Mar 01 2020 at 9 a.m.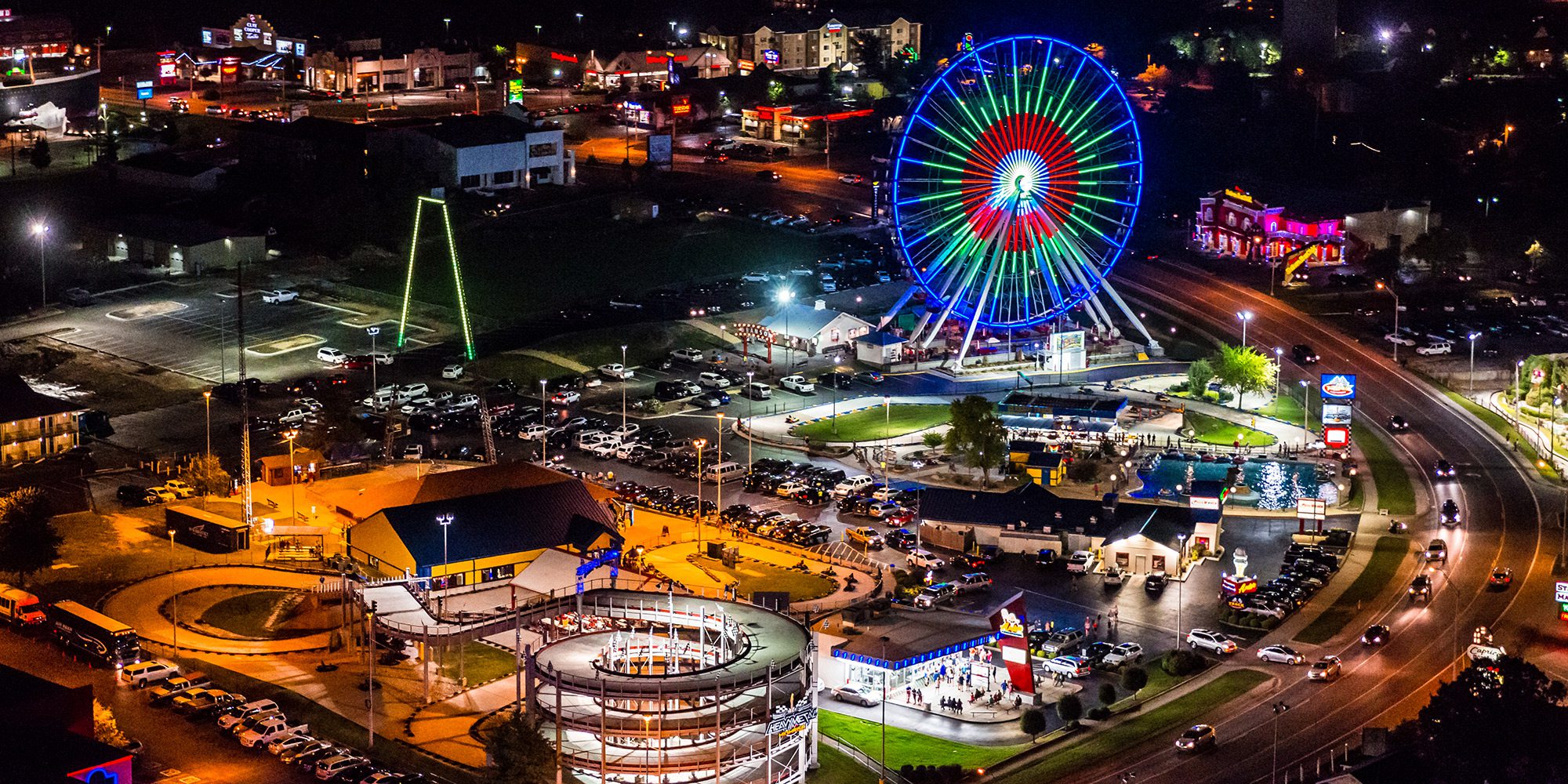 When you think "Spring Break," think Branson! It's the perfect time to check out all of the attractions, shows, adventures and fun Branson has to offer. Ride the rides and check out the seasonal festivals at Silver Dollar City. Hear big cats roar at National Tiger Sanctuary. Shop till you drop, then grab a bite to eat at the Branson Landing. Hear tails of long ago at the Titanic Museum Attraction. Make it a trip and rest easy at the Hampton Inn or Chateau on the Lake. Burn off some energy at Andy B's Bowl Social and The Track Family Fun Parks. And finally, refuel in the best way possible at Level 2 Steakhouse.
Are you ready? Use this guide to the best things to do in Branson to start planning your next adventure now.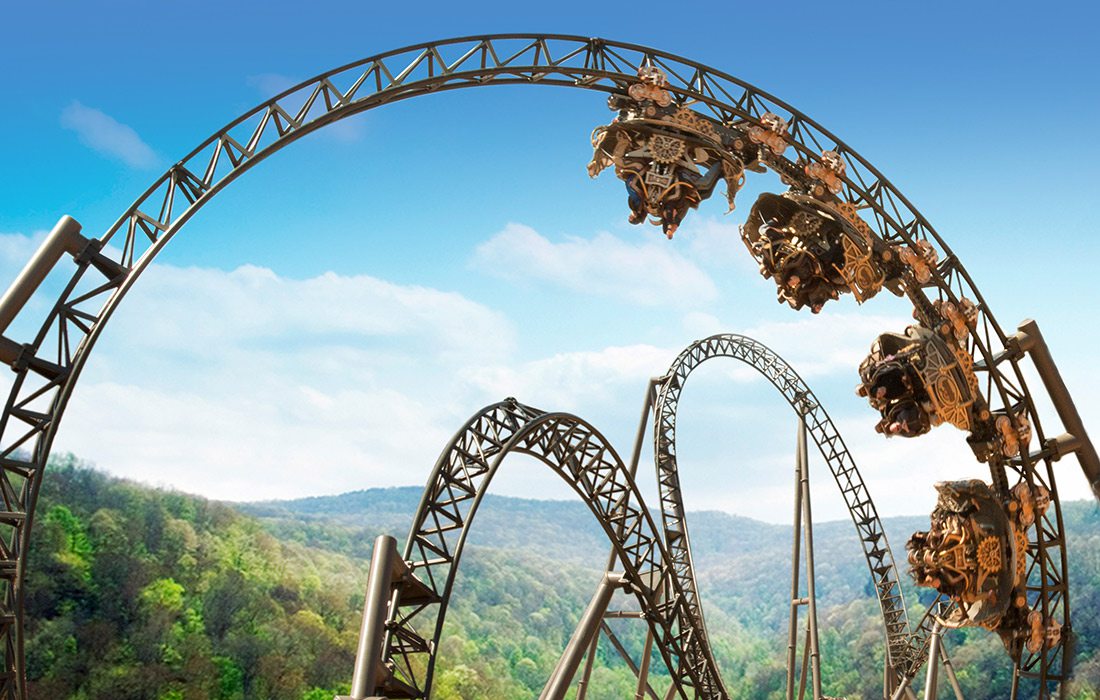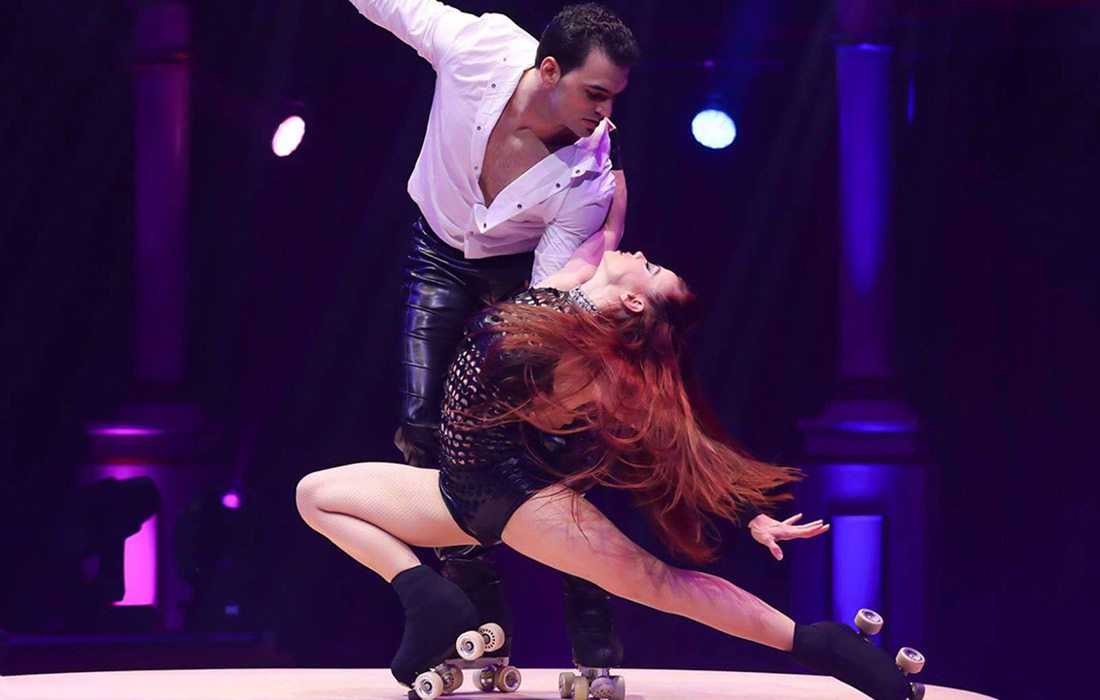 Silver Dollar City
From "A Hole in the Ground" to "One of America's Top Five Theme Parks" (as titled by USA Today), Silver Dollar City celebrates its 60th Anniversary Diamond Jubilee all season long! It's packed with 10 world-class festivals and special events, plus an early summer opening of the family-friendly Mystic River Falls water ride, which features the tallest raft ride drop in the western hemisphere.
Spring breakers venture to "Spring Ride Days" (March 17–22, 24–29 and April 3–5, presented by Humana®) where record-breaking, world-footprint roller coasters like Time Traveler and Outlaw Run roar into action from winter hibernation, along with the park's other 40 rides and attractions.
CirqUnique is reimagined during The Festival of Wonder, "A Most Amazing Entertainment Experience" (April 8–26) with five brand new acts, including a trapeze cradle duo high above the stage, a flipping and spinning Russian Bar Trio and high-speed roller skating stunts. Other curious acts include precision card throwing, speed painting and a one-man band. Meanwhile, "Foods of Wonder" serves up new, one-of-a-kind foods like shrimp and grits tacos, sweet and sour pork waffle cones and Wagyu beef burgers.
The four-day 60th Jubilee Homecoming (April 30–May 3) commemorates the park's 60-year opening anniversary with a Special Opening Ceremony (5-1), evening Diamond Rio concert with fireworks (5-2) and praise concert with The Martins (5-3).
Spring heats up for the coming summer season with one of the most renowned bluegrass festivals in the world, Bluegrass & BBQ (May 5–25), with visiting celebrity artists Ricky Skaggs, Rhonda Vincent and Doyle Lawson, along with award-winning slow-smoked BBQ.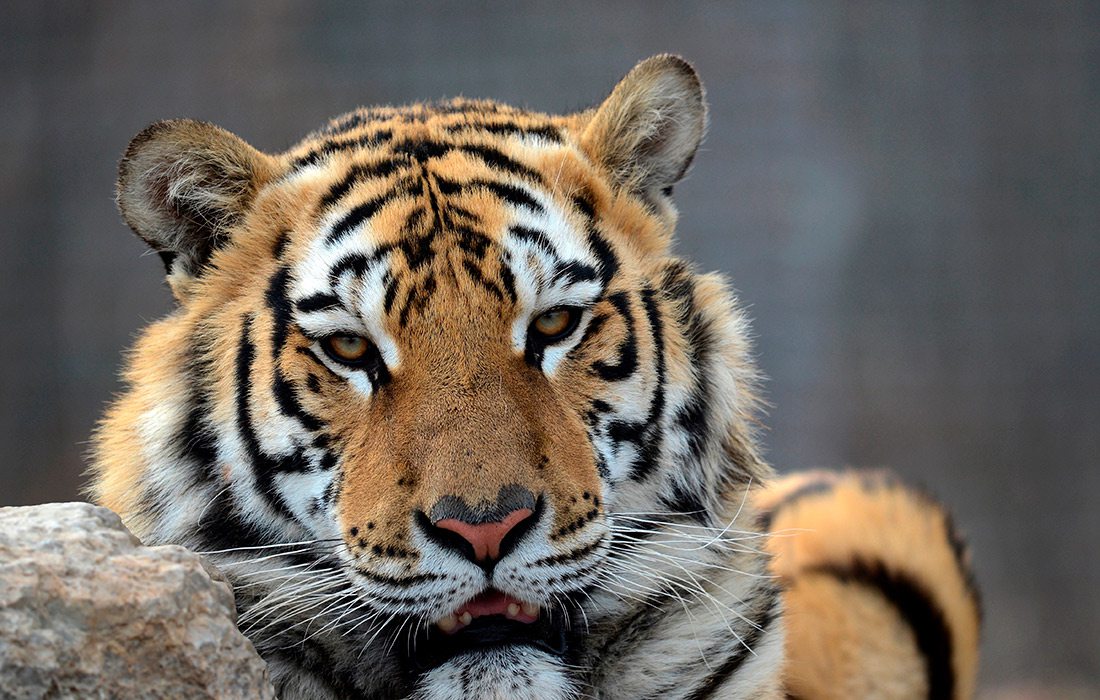 National Tiger Sanctuary
It's spring, and it's time to break out of hibernation! Gather your pack and trot over to the National Tiger Sanctuary! Meet their animal residents up close and personal with guided tours seven days a week from 9:30–5:00, including Memorial Day.  They house more than tigers—see lions, wolves, leopards, Artic foxes, mountain lions, lemurs and more! Visiting the National Tiger Sanctuary is more than a thrill… your visit helps to support their mission! They are a non-profit rescue organization that is dedicated to education, environmental preservation and exemplary animal care, providing a permanent home for exotic and domestic animals. Both riding and walking tours are available.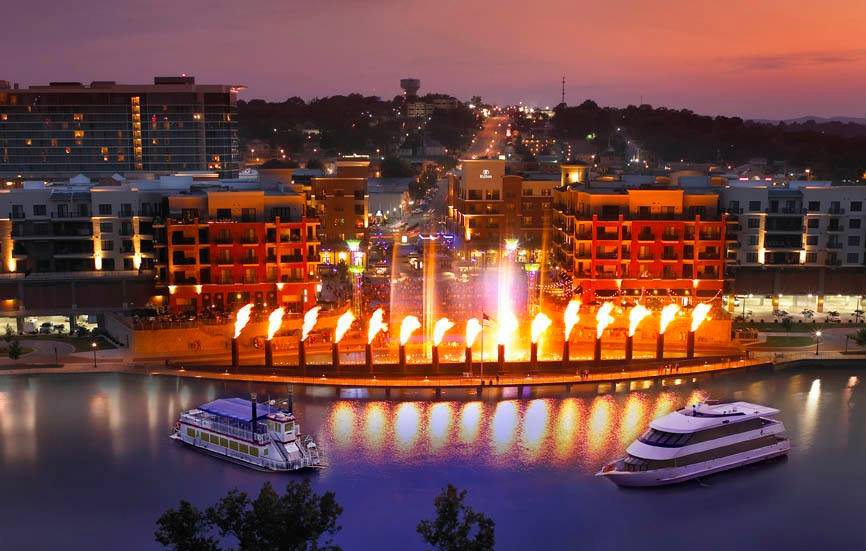 Branson Landing
Branson Landing features a scenic boardwalk along the 1.5-mile Taneycomo Lakefront. At the heart of the Landing is a vibrant Town Square terracing down to the $7.5 million spectacular water attraction that features the first-ever merging of water, fire, lights and music. Visitors are amazed by the dazzling interplay of water fountains shooting 120-foot geysers and blasting fire cannons. The entire show is choreographed to light and music for a true one-of-a-kind experience. Branson Landing was voted Best Free Attraction and Best Shopping in 2019! Discover waterfront shopping, dining, live entertainment, exciting adventures with over 100 shops, restaurants, attractions, the Hilton Promenade Hotel, a zipline, arcade, balloon ride, bowling, lake cruises and so much more! Dine at one of the 16 restaurants, like Jimmy Buffet's Landshark Bar & Grill, Paula Deen's Family Kitchen, Mellow Mushroom Pizza and Guy Fieri's Kitchen & Bar opening this summer. View Branson Landing events online at  bransonlanding.com.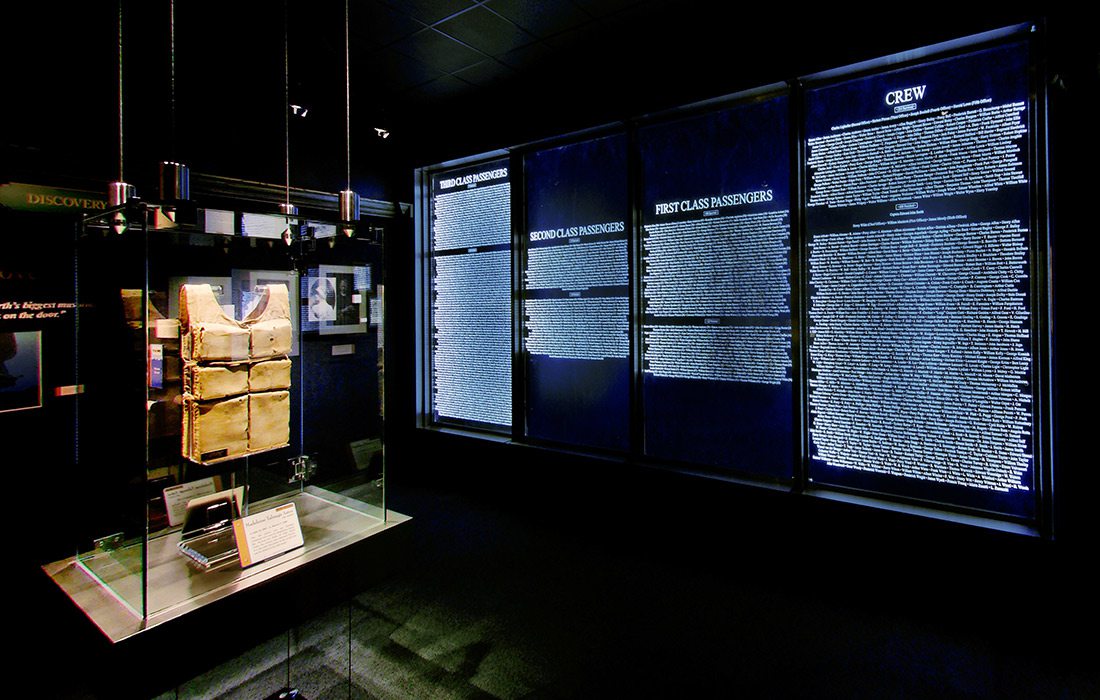 Titanic Museum Attraction
Make plans to visit Titanic in Branson for more stories and experiences like this one. 
There is a hush in the room and a sense of intimacy in the touring group's collective breathing as they listen to the story of Titanic's bandmaster Wallace Hartley and his fiancée, Maria Robinson.
This violin, hanging suspended in its glass case, is the very instrument Wallace played on the night Titanic was sinking. Tradition has it that the last song played that night—with Wallace leading the band—was the hymn Nearer My God to Thee.
Perhaps it is the story, though, even more than the violin itself, that most deeply affects the museum's guests. The violin: a gift from Maria to her Wallace on the occasion of their engagement. 
Is it any wonder that even as twenty-eight-degree saltwater rises around his ankles, Wallace desperately attempts to save the violin, shoving it into an improvised case and strapping it over his life vest?
No doubt he says a prayer that he will somehow survive—he and the violin.
This is a story of unrequited love as powerful as Shakespeare's Romeo and Juliet. Or, more recently, Jack and Rose.
No wonder Titanic's guests become still, scarcely breathing as the museum guide recounts the story. Wallace and Maria remind them of themselves, of the fragility of romantic love. There is joy, and yet such sorrow and pain when that love is lost. Wallace did not survive, and Maria never married. She never recovered from the loss of her Wallace.
Level 2 Steakhouse
Visit Level 2 Steakhouse in the Hilton Branson Convention Center Hotel, and dine a level above the rest. At Level 2, they pride themselves on having the highest quality meat and ingredients, from their 28-day aged, corn-fed, Midwest beef, highest quality and responsibly harvested seafood and heritage Missouri pork to locally grown produce and signature house-made desserts. Their 1600 degree infrared oven quickly sears the outside of the meat, producing very tender and juicy steaks. Level 2 Steakhouse offers five distinct steak knives to choose from while dining with them. You can even join their Kut Klub and have an engraved steak knife all your own. They also offer complimentary valet parking!
Make reservations online at Level2Steakhouse.com or call 417-243-3433.
The Hampton Inn
Put your feet up and stay a while on your next visit to Branson. Hampton Inn has two locations in the Live Entertainment Capital of the World. The Hampton Inn Branson on the Strip is an ideal place to stay, near the Titanic Museum, live theaters, theme parks and many other legendary attractions. Or, if you appreciate being close to the thrills but in the quiet hills, choose Hampton Inn Branson Hills, conveniently located next door to Payne Stewart Golf Club and just off of Highway 65. Your family will love both locations' indoor pools, free hot breakfast and free wi-fi, plus fitness centers, business centers and much more! Book online at hilton.com.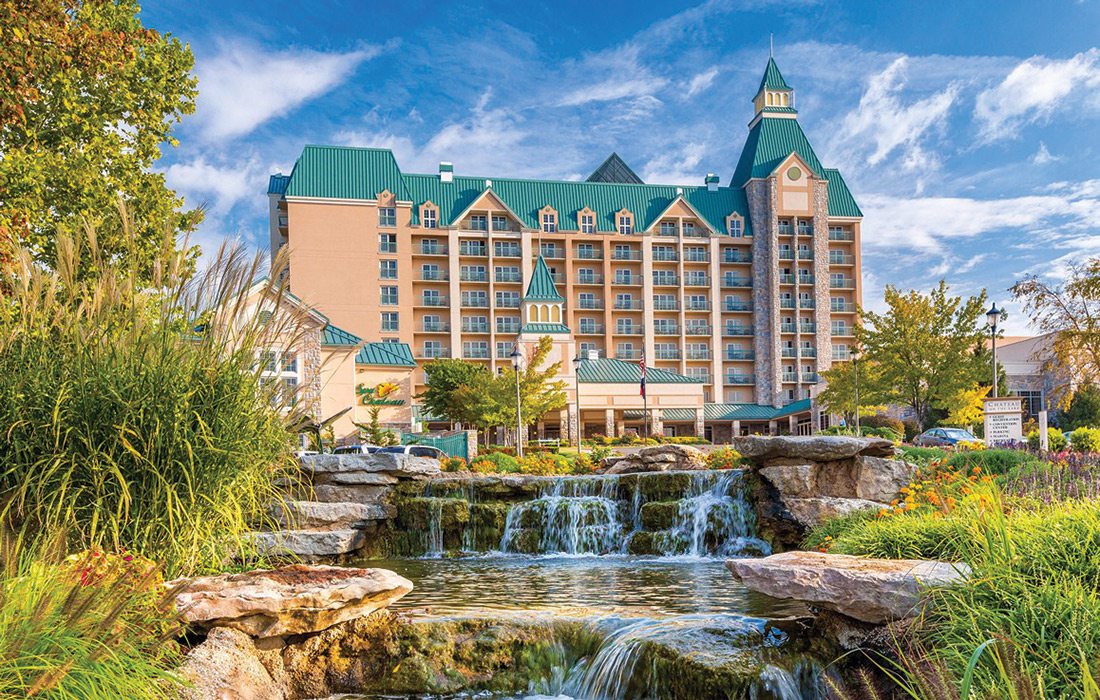 Chateau on the Lake

Welcome to Chateau on the Lake Resort Spa & Convention Center, Branson's only AAA Four Diamond Resort. At Chateau on the Lake, upscale resort amenities, elegant lake views and friendly Midwestern hospitality converge in an idyllic Ozark Mountain oasis for your getaway. 
Just minutes from Branson's entertainment district on 76 Country Boulevard, Chateau on the Lake is the perfect spring break retreat to experience Table Rock Lake, Silver Dollar City and  Branson's many live shows and attractions. Resort amenities include a full-service marina, spa, indoor pools, a supervised kids' club, a movie theater and more than 50,000 square feet of event space. And the resort's award-winning onsite dining options—including local favorite Chateau Grille—are truly a destination unto themselves. 
At Chateau on the Lake, you will discover everything you need to create a spectacular spring break, romantic getaway, wedding or other special event.
Andy B's Bowl Social
Situated on the Branson Landing, Andy B's is your go-to entertainment destination. Whether you're planning a mid-week happy hour, date night, family fun night or casual get-together with friends or colleagues, Andy B's has you covered. There you'll find undeniable eats, hand-crafted beverages and a handful of games and attractions, bottled up into a modern, industrial hangout with some mid-century attitude. 
The extensive list of attractions at Andy B's Bowl Social goes well beyond the boutique bowling the Andy B's brand is known for. From private karaoke rooms and escape rooms to a new interactive arcade with virtual reality attractions Hologate VR and Virtual Rabbids, Andy B's Bowl Social offers something fun for everyone in your crew. Add to that a full-service restaurant and bar featuring irresistible eats, craft cocktails and local brews, and you have all the ingredients for an experience to remember.
Dine, play, bowl, let loose and live it up!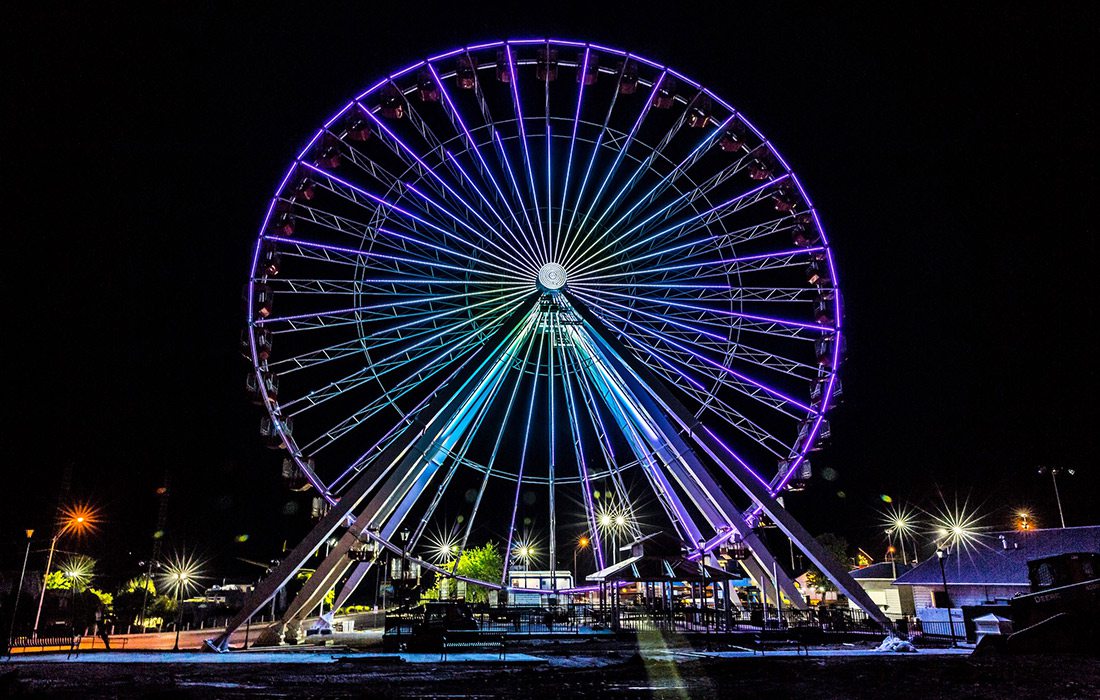 The Track Family Fun Parks
The Track Family Fun Parks feature three locations in Branson that will take your fun to new heights! With three high-rise go-kart tracks, classic go-karts, laser tag, bumper boats, Skycoaster, Skyscraper, the Branson Ferris Wheel and more, you're sure to find something fun for all ages! You can get the best value by purchasing an unlimited pass, with options for unlimited rides for two hours, one day or all year! You can save even more money by easily purchasing your unlimited ride passes online—just go to bransontracks.com to get a special online-only discount! Want to learn more? Call 417-334-1612.