Travel
How Tiger Woods and Johnny Morris Built a Golf Oasis in Branson, Mo.
Golf experts and enthusiasts across the globe have proposed Branson as one of golf's next great destinations. Why? It all comes back to a prodigious rookie, a local legend and a fishing boat.
By Megan Dollar
Mar 2021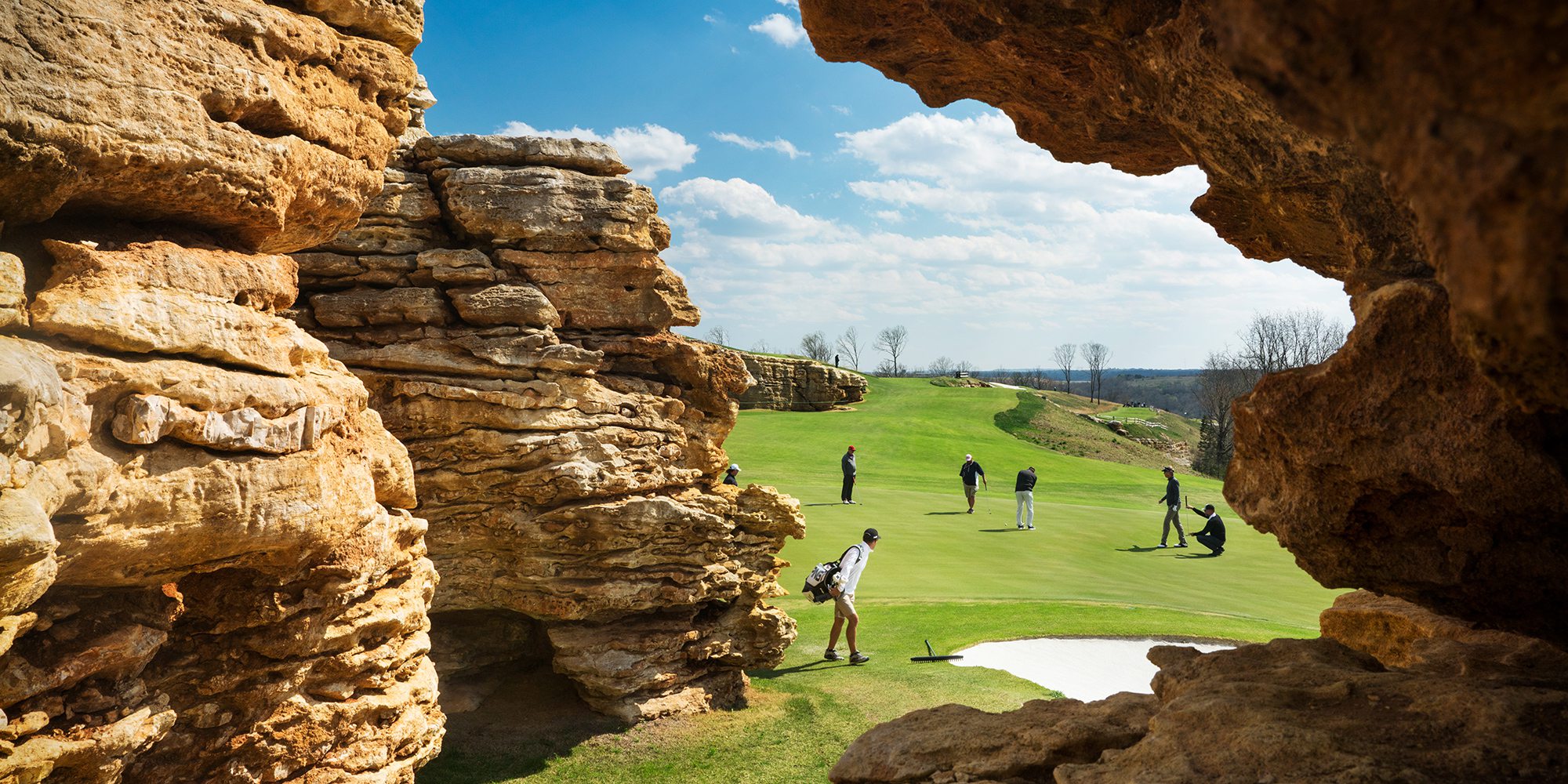 Editor's note: This article was written in full weeks before Woods was injured in a single car crash on Tuesday, February 23.
When Aaron Stewart teed off at the Payne's Valley Cup last September, he wasn't just opening a golf course or honoring his late father. He was consummating an empire. An empire in Branson, Missouri, for which the foundation was laid some 20 years ago when a young Tiger Woods was named champion of the PGA Masters Tournament.
Woods had moved to Orlando the year before his win and taken up bass fishing on a lake near his new home. Perhaps fishing was a respite from the sudden, new-found fame, or maybe the interest was born solely out of a love for the outdoors. Either way, he fed the passion with a new Bass Tracker Fishing Boat from southwest Missouri following his Masters win. Tracker founder and owner, Johnny Morris, traveled from Springfield to Orlando, with his 9-year-old son John Paul in tow, and personally delivered the boat. The three spent a day on the water, bonding over their favorite sports. It was the start of a friendship that, soon enough, would bear bountiful fruit for the world.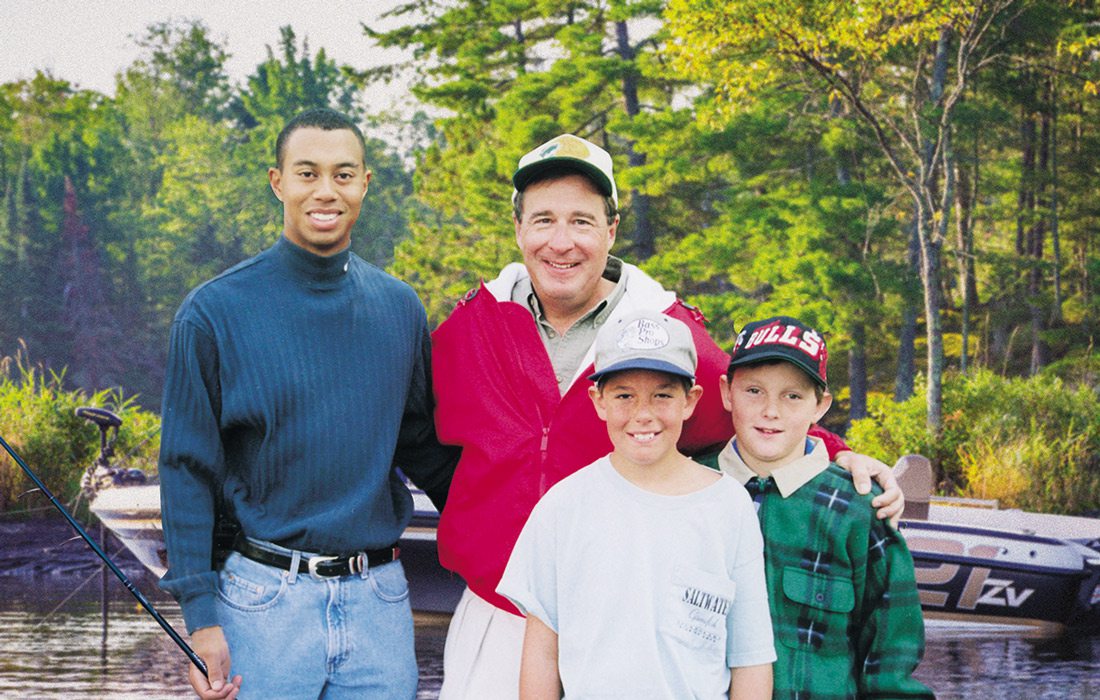 Tiger Woods and Johnny Morris on a fishing trip some 20 years ago with Morris' son, John Paul (left), and a friend.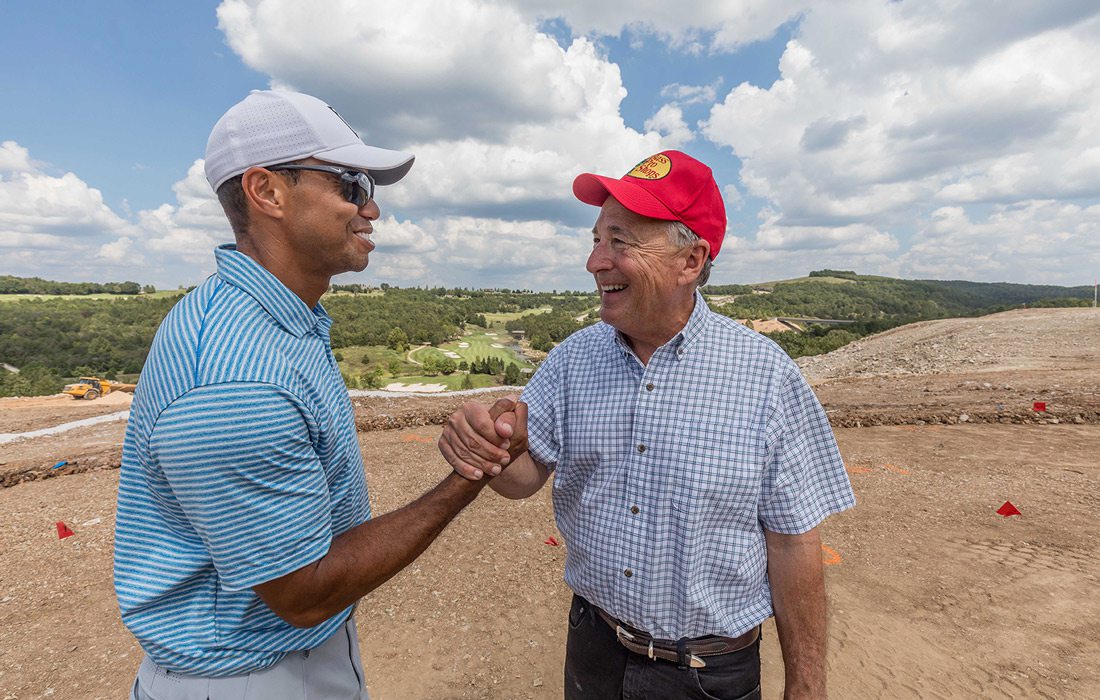 Together, Tiger Woods and Johnny Morris perfectly meld golf and conservation.
Photos courtesy Big Cedar Lodge
But the connection between Woods and Morris goes deeper—deeper than their interests that also identify each man to the world. The two are tethered by their connections to Payne Stewart: the Springfield-born and raised, always colorfully dressed PGA Tour Champion who tragically died in a 1999 plane crash at just 42 years old. "[We have] long dreamed of designing and building a truly special experience for golf and conservation right here in the Ozarks," Morris said in a Bass Pro Shops news release. "Payne's Valley fulfills that dream and doing it … in honor of our late friend Payne makes it deeply special to me."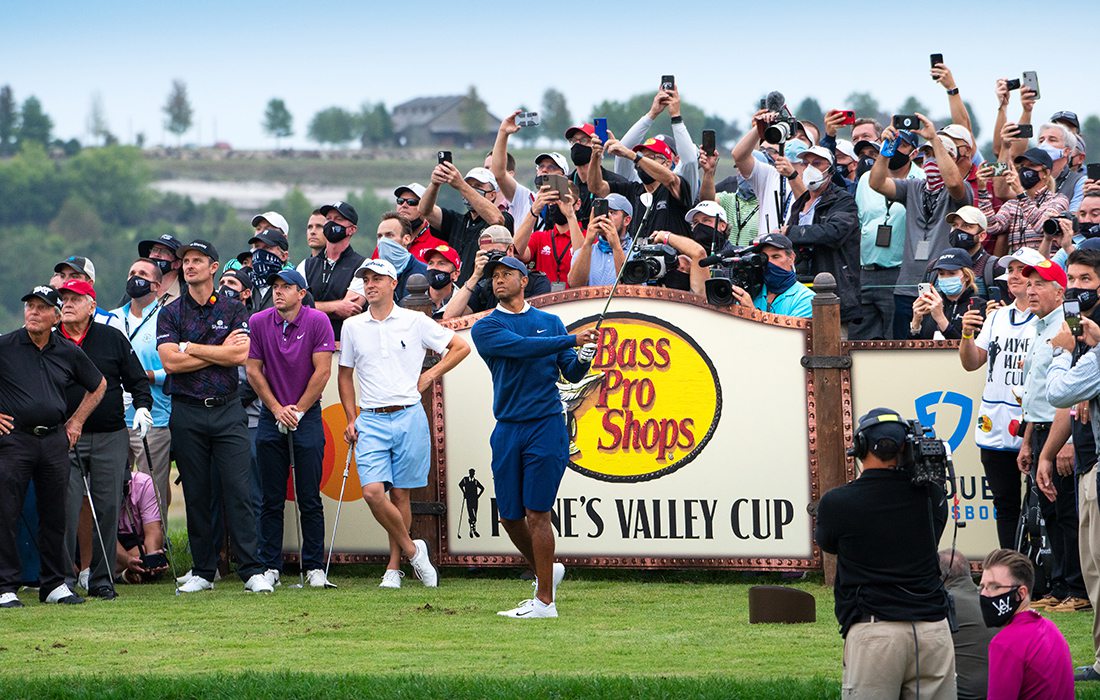 Payne's Valley is the first public-access project in the United States from Woods' design firm, TGR Design, and was built over three years. It's an opulent 19-hole course, nestled into the slopes of the Ozark Mountains. The 19th hole is a marvel—a true work of Ozarkian beauty—designed by Morris himself. "When Johnny called about the Payne's Valley opportunity, we knew it was something that we would be interested in," Bryon Bell, president of TGR Design, said in an email. "After visiting the spectacular site and hearing Johnny's vision of creating the next best public golf destination, we were thrilled to take on the challenge."
Payne's Valley is just a fraction of the Big Cedar Golf oasis, which exploded last year with the debut of Payne's Valley and a rise in golf participation amid the pandemic.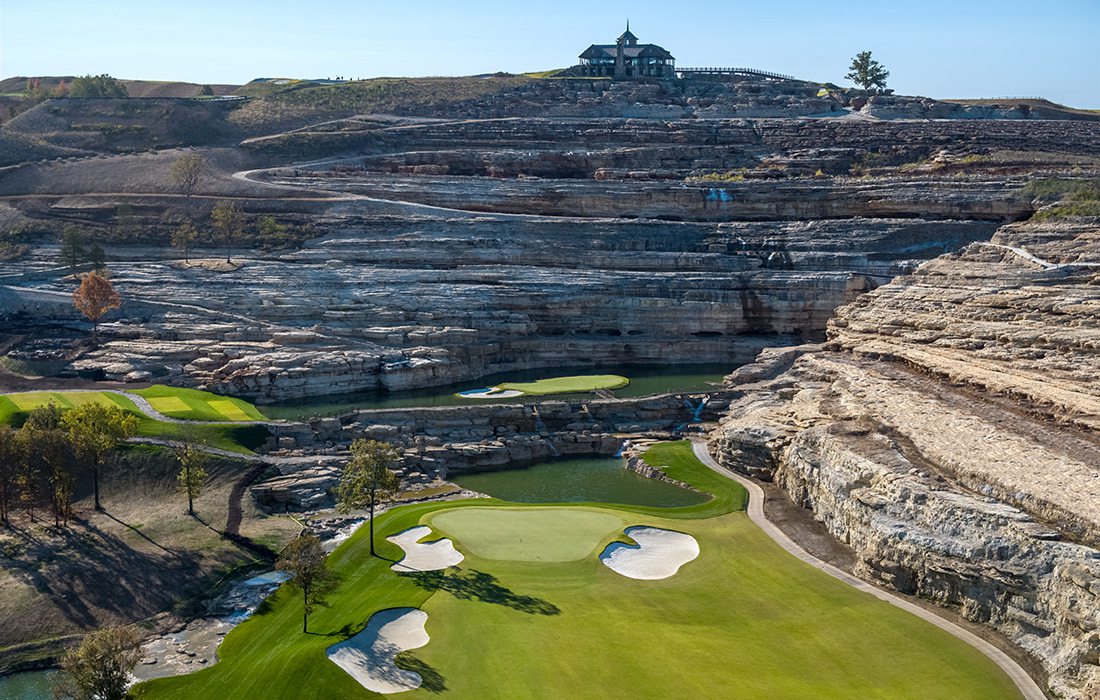 Payne's Valley is Tiger Woods' first public-access golf course in the United States.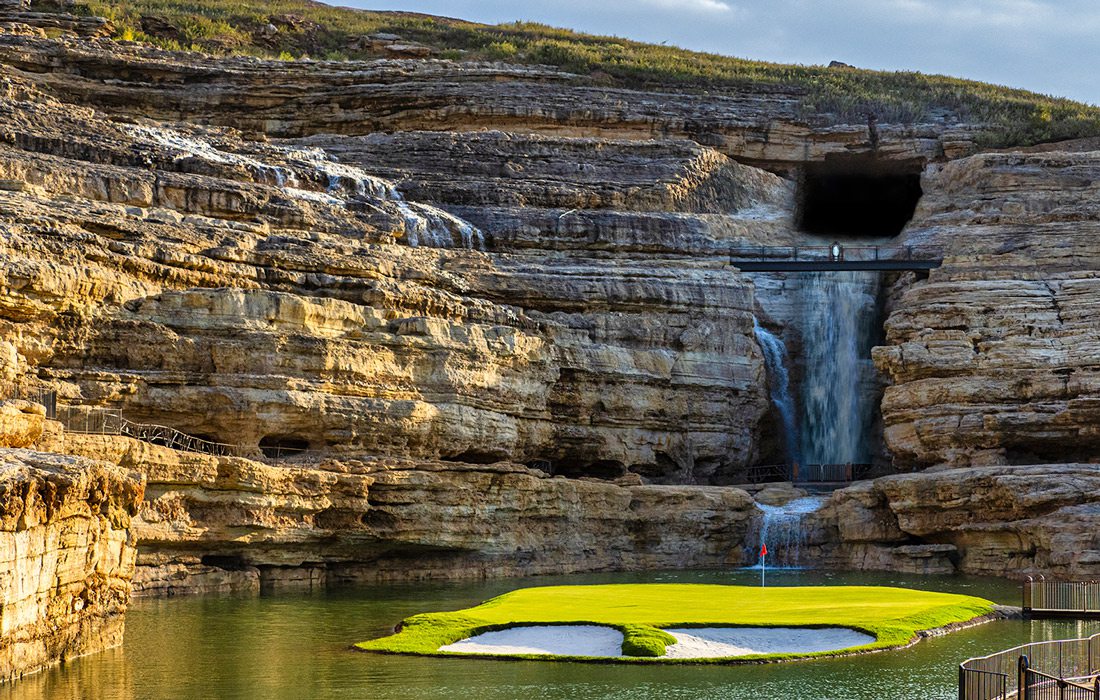 The 19th hole at Payne's Valley features a stunning waterfall and an island green.
Photos courtesy Big Cedar Lodge
The Next Great Golf Destination
"It's not inaccurate to say Branson is the fastest growing, most compelling golf destination in the country," says Dan Shepherd, a golf consultant and public relations specialist for the Branson/Lakes Area Convention and Visitors Bureau as well as other, international clients. "What Johnny Morris did was take Branson, which was a modest little golf destination with five courses, and he doubled it."
Big Cedar Golf started with just one course—the flagship Top of the Rock. Construction on the project began in 1995 after Morris purchased the property from former College of the Ozarks president Dr. Graham Clark. Morris then saw the piece of land and the views that it boasted and decided that a golf course might fit nicely. So, he recruited Jack Nicklaus—one of the top names in golf—for the project. Kirk Elmquist, vice president of sports development for the Branson Chamber of Commerce and former tournament director for the Bass Pro Shops Legends of Golf from 2014–2019, says he thinks that Morris reached out to Nicklaus out of admiration and respect. "(Morris') style and his approach, everything he does, he wants to do it first-class." After a fire destroyed the restaurant on the property in 2005, Morris closed Top of the Rock and spent the next nine years making significant changes to the course.


Top of the Rock as we now know it opened on June 6, 2014—the first day of the first Bass Pro Legends of Golf tournament. In addition to the Nicklaus-designed par-3 course, a 150-year-old barn was transported from Arnold Palmer's backyard in Latrobe, Pennsylvania.
"When he brought Jack Nicklaus in here to build the par-3 Top of the Rock, that gave him his first adventure into golf," Elmquist says about Morris. But, before the course could even be completed, Morris set his sights on something larger. About 8 miles north on Highway 65 was a Tom Fazio-designed course located on an equally stunning piece of land. The course, originally called Branson Creek, had opened back in the '90s and was located near another property called Murder Rock. Morris purchased both courses in 2009. "(Morris) became very intrigued at how nature and golf and fishing is kind of a nice trifecta," Elmquist says. "I think he saw some beautiful views and vistas out here and created a masterpiece for a golf resort."

[MORE: Fun Golf Outings in Southwest Missouri]

For his creations, such as Bass Pro Shops itself, Dogwood Canyon, Wonders of Wildlife and more, Morris has frequently been called the "Walt Disney of the Outdoors." With Big Cedar Golf, it's as if Morris waved a magic wand and brought his nature golf empire to life. On the Fazio course, adjustments and updates were made to incorporate all the natural features of the courses' homeland (i.e. buffalo roam freely just adjacent to the course). Additional property, which backed up to Murder Rock, was purchased and the combined land was parsed out to make way for three more of Morris' "nature golf courses."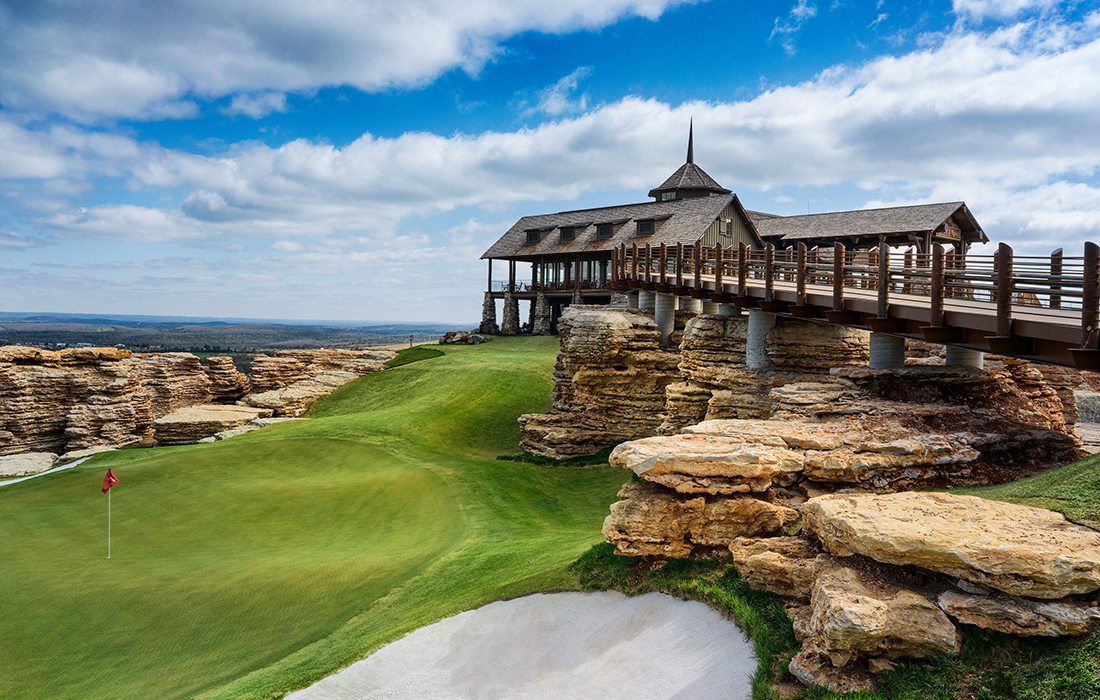 The Fazio-designed golf course, now known as the award-winning Buffalo Ridge, opened the same day as Top of the Rock. The rest of the courses opened gradually, starting with a Gary Player-designed course called Mountain Top, which opened in 2017, then Ozark's National by Coore/Crenshaw, which opened in 2019. "Those guys are considered in the top 2% of the bell curve in their craft," says Shepherd. "They're in big demand and their work is universally esteemed. It's not unusual for their courses to end up on all of the best in kind lists that are produced in the industry."
Big names and celebrity visitors—Justin Timberlake, Mark Wahlberg, Kid Rock—aren't the only draws of Morris' courses: his fusion of nature and golf, what is usually seen as a buttoned-up, country club sport, is unlike any other. "There are things that you're not going to find anywhere else in the world," Shepherd says. Top of the Rock, on its own, features a number of unique attractions, like a replica of a giant, 1,358-pound black marlin that Jack Nicklaus once caught, and the Cathedral of Nature, a massive cave system that was exposed and explored by Morris when land adjacent to the course and a Tom Watson-designed practice facility fell into a sinkhole in mid-2015. And that's in addition to The Lost Canyon Cave and Nature Trail Cart Tour, which is a 2.5 mile journey through the Ozarks hills, featuring waterfalls, sweeping panoramic views and an underground  bar in a cave. Not to mention Big Cedar Lodge, the very first property Morris owned in the area. The family-centric resort, purchased by Morris in 1987, features more than five restaurants, five pools, two marinas, a spa, hiking trails, a shooting academy and more. Big Cedar Lodge has been named among the top resorts in the Midwest by Travel+Leisure and was named North America's No. 1 family resort by Golf magazine in 2020.
But, as Shepherd and Elmquist, both golfers themselves, emphasized: No one moves the golf needle like Tiger Woods. And, as it seems, there might never be a better year for Woods to have launched his first public course on American soil. "It was the perfect confluence last year," Shepherd says.
The Industry That Thrived
While 2020 may have been a year of turmoil for most industries, it was potentially the perfect year for golf. The National Golf Foundation (NGF), a business that provides golf-business data and consulting services, reported a 10.8% increase in rounds played in the United States last year. The last time American golfers saw this statistic reach the double digits was 1997: the year Woods won his first Masters Tournament. Maybe it's a coincidence that Woods' long-anticipated course opened last fall, or maybe he knew something no one else cared to acknowledge: The sleeping giant will wake when it is time.
Much like everything else in the world, golf shut down early last March. Many researchers, including those at the NGF, estimated a combined loss of 20 million rounds during March, April and May. But, unlike other industries, it didn't take golf too long to spring back. By late May, many courses across the United States had reopened, largely thanks to a coalition of golf organizations that worked with the Centers for Disease Control and Prevention and the federal government to develop safety measures for the game. Participation outpaced even peak numbers from the years of Woods' prime. In early June, the PGA Tour was one of the first professional sports to reopen play, preceded only by the Ultimate Fighting Championship.
Where to Practice Your Golf Swing in Southwest Missouri
Fine-tune your golf swing and your short game before your next round. Curious what kind of golfer you are? Take our quiz here.

Golf is already a somewhat socially distanced sport by nature, and with additional safety measures in place, its reach went far last year. "This pandemic really gave a boost to the golf industry," says Shepherd. According to the NGF, a more diverse group of golfers took to courses last year than in many years past. Last August, the organization predicted that the number of junior golfers (ages 6–17) could increase 20% by year's end. As of January, those numbers had yet to be finalized, but the trends that led to that prediction remained the same. Even Woods' own 11-year-old son Charlie made his public debut late last year, capturing the attention of the nation with headlines in ESPN, PEOPLE and The New York Times.
[MORE: Top of the Rock's Ancient Ozarks Natural History Museum]
Golfers were willing to face many more obstacles to reach courses in 2020 than they were willing to in the past. Pre-pandemic, golf trips weren't much different from luxurious, transatlantic vacations. That's not to say a pandemic golf trip isn't a vacation, but these days the destinations are usually reached via U.S. interstates and highways. According to the NGF, three out of four golfers said they were willing to travel more than four hours each way for a golf getaway in 2020. Almost one-third of core golfers, those who played eight or more rounds in the past 12 months, said they were willing to drive more than eight hours each way.
Branson, for all of its attractions and amenities, has always leaned most heavily on tourists traveling by vehicle and often with their families. Lynn Berry, director of communications at the Branson Convention and Visitors Bureau, says one-third of the country, or about 100 million people, live within driving distance (10 hours or fewer) of the city. According to the NGF more than 5.5 million golfers live within a 500-mile radius of Branson. Now, they're more willing to drive that distance just for golf.
Lifting the Tides
"You can just see the global impact on what's happened in golf due to Johnny Morris' energy, investment and strategy to bring more visitors to the Ozarks," Shepherd says. "What's nice about it is that the tide is lifting all other boats, all other golf courses." In total, there are 10 public golf courses in the greater Branson area, which means only half of the region's great golf offerings are located on the Big Cedar properties. Branson Hills, a par-72 course a few miles north of Branson's downtown, was voted the No. 1 course in Missouri in Golf Advisor's Golfers' Choice 2021 Awards. The other four courses—Thousand Hills, Holiday Hills Golf Club, Ledgestone Country Club and The Pointe—have all earned their own recognition, and experienced growth in recent years, too. Phillip Drips, golf pro at Ledgestone Country Club, says last year, total rounds at Ledgestone increased more than 7% from 2019.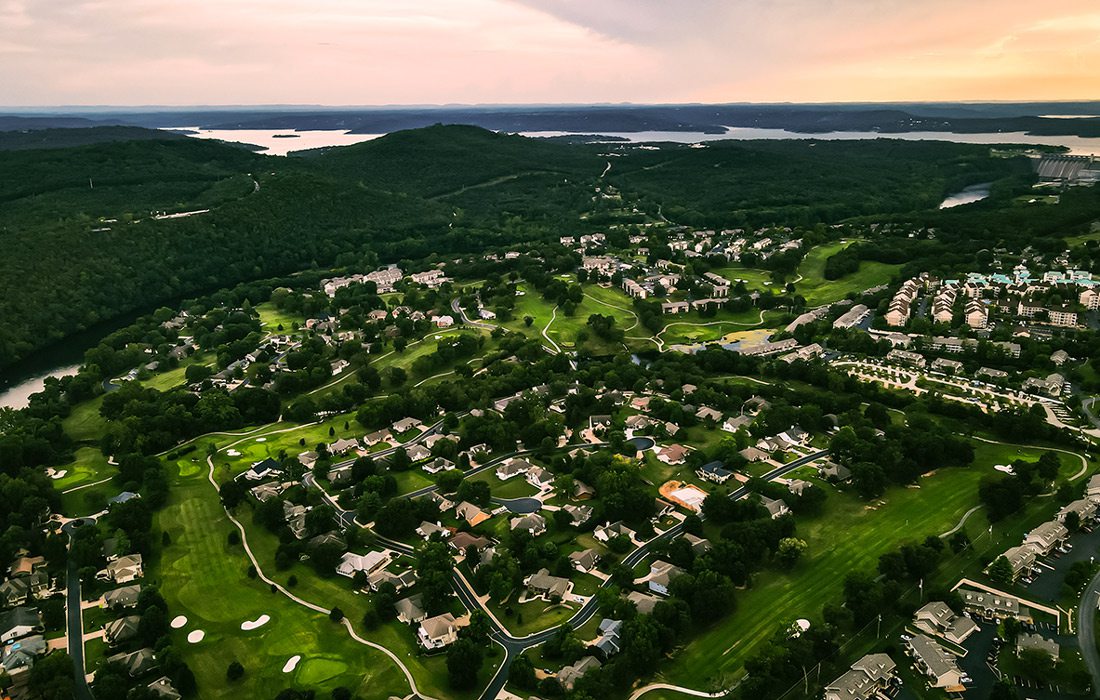 "There's a diverse collection (of courses): different terrain, different price points and different design features. There's something for everybody in the destination," Shepherd says. He says this, plus the family attractions in Branson, creates the "perfect situation" for golfers. If you want to play golf all day, and splurge a bit too, there's Payne's Valley and Ozarks National. But, if you're looking for something a little lower key, or at a lower price point, one of the courses off of the Big Cedar properties, like Branson Hills or Ledgestone Country Club might be the course for you. And, there are ample entertainment options for members of the family who may prefer other activities, too.
Where to Stay While in Branson
Make it a weekend, and spend a few days in Branson to bookend your golf excursions. 

"Not at every golf destination do you have the amenities and the family tourist attractions like you do in Branson," Elmquist says. As a long-time family vacation destination, Branson has more to offer than just golf. "Sometimes when a golfer travels with their family and maybe just the mom plays, maybe the dad goes fishing and the mom plays golf and maybe the kids are out at Silver Dollar City. Yet, they all come together for dinner on The Landing or stop by Pasghetti's and have dinner together," Elmquist says. Branson is full of family-friendly activities such as the Titanic Museum, Silver Dollar City, White Water, Dolly Parton's Stampede or a country music show.
[MORE: Strolling Around Downtown Branson, MO]
It's already become clear that demand for lodging in the Branson area is increasing, too. Big Cedar Lodge is building 20 cottages adjacent to four of their five courses, at Buffalo Ridge. They're scheduled to be open by Memorial Day. Twenty-five cottages will be added to the main Big Cedar Lodge property, as well as 15 additional glamping units. The company also plans to open a second "Angler's Lodge" location, like the one near Bass Pro's flagship, in Hollister this month.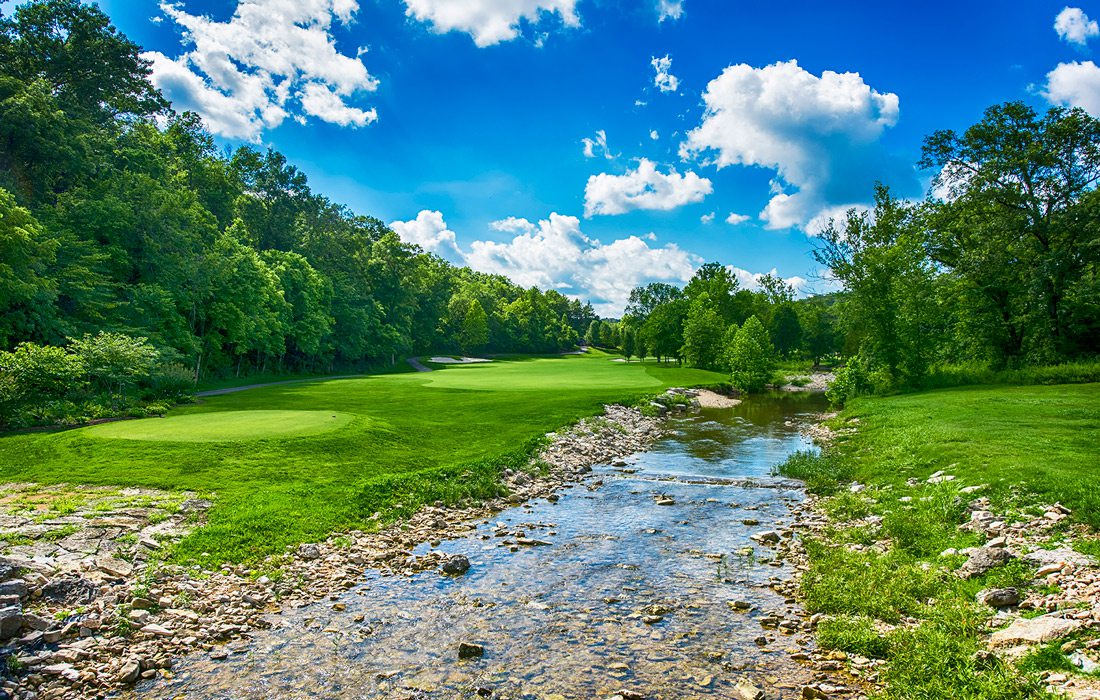 It's peculiar to think that such a grandiose golf gamble came from such humble beginnings. As a young prodigy in the '70s and '80s, there were still a number of clubs that refused to let Woods play their course because of the color of his skin. Perhaps, they wouldn't have allowed Morris, a self-proclaimed "redneck," on their course either, in his signature jeans, casual button down and red Bass Pro Shops baseball cap. So, it really is quite odd that these two men have turned the industry on its head, and in the middle of America, nonetheless. But, in a weird way, it does all make sense—two unexpected victors, quietly putting in the work and creating the industry's next best experience. Branson is a golf destination for all: families, friends, locals, travelers, skilled and beginners. All of the pieces fell perfectly into place and came together right in the Ozarks to create the next great golf destination.
Golf Courses in Branson, Missouri
Curious which golf course you're best suited for? Take our quiz here.
Things to Do in Branson, Missouri
If you're planning a trip to Branson, there are plenty of great activities for adults, kids and the whole family.