Waterways
Float The Eleven Point in Alton Missouri
The Eleven Point River is wild and free and floatable all summer long.
By Vivian Wheeler
May 2019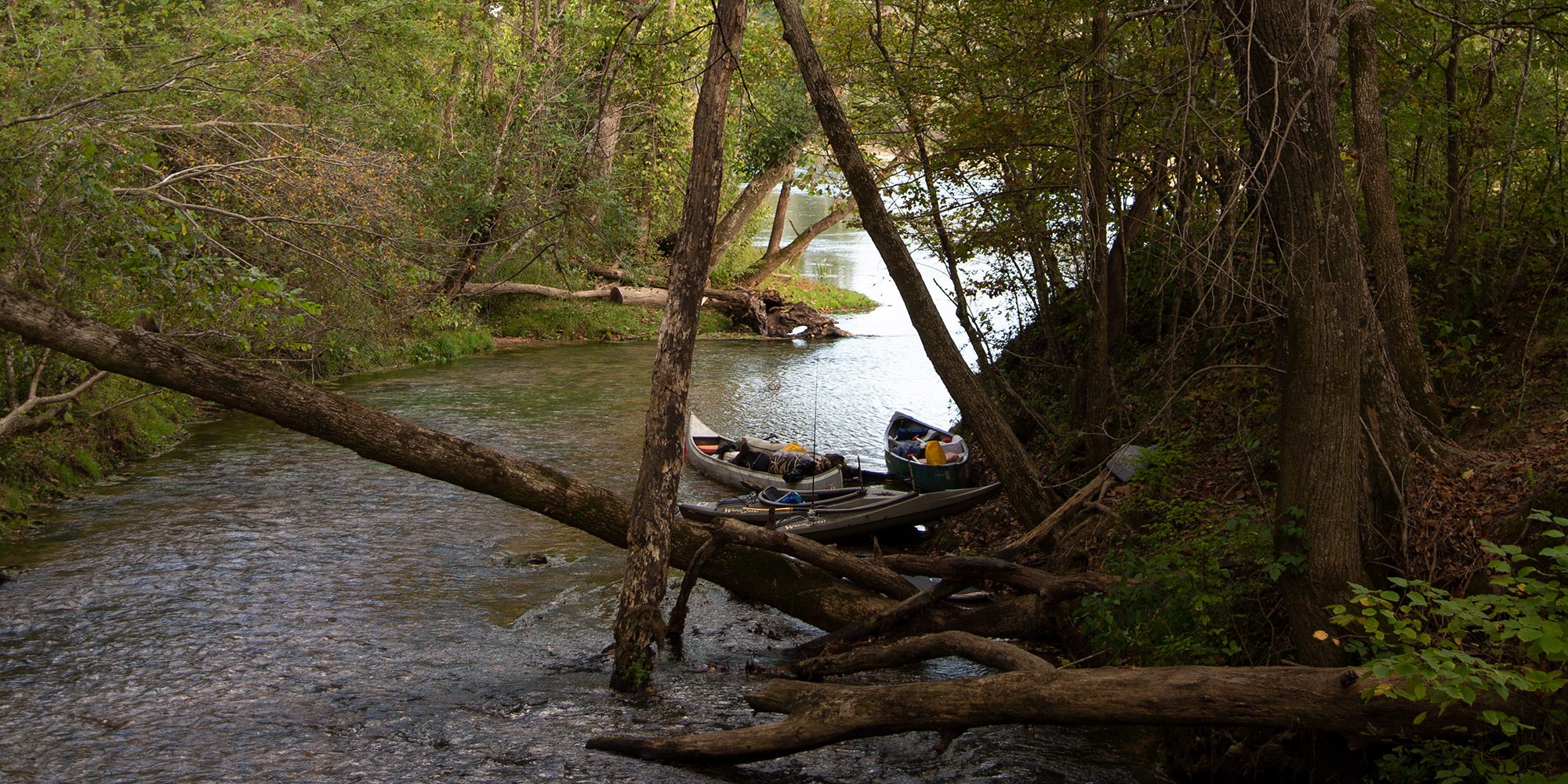 There's little better than the feeling of leaving town on a Friday night knowing you have a weekend filled with adventure ahead of you. As you drive away from the city and toward the great outdoors, the everyday cares of life start to slip away. As you drive farther from civilization and deeper into the rolling Ozark hills, the anticipation starts to build as you think about getting away from it all. When you drive into Alton, Missouri, you're firmly in the country, as this little town boasts a population of a whopping 871 people. But what Alton lacks in size, it makes up for with its access to one of the most gorgeous and wildest rivers in Missouri, the Eleven Point River. 
While its namesake remains a mystery, it's no secret as to why the Eleven Point River has become a favorite of many avid Missouri paddlers. Its remote location and abundance of springs means the Eleven Point offers much to love without the crowds. Arising in Mark Twain National Forest near Willow Springs, Missouri, the Eleven Point starts off as barely more than a small stream but grows considerably in size as springs feed into it along the river's 138-mile course, including Greer Spring, which doubles the river's size. Greer Spring is the second largest spring in Missouri and pumps out an astonishing 222 million gallons of water per day. The abundance of springs on the Eleven Point River means it supports floating all year long, and in the hottest months of summer, the water stays nice and cool. This is another river that's a good option for a weekend float in the middle of summer. 
In 1968, a 44-mile-long stretch of the Eleven Point was designated a National Wild and Scenic Riverway, creating a watershed and shoreline that is mostly undeveloped and free of impoundment. Starting in Thomasville, Missouri, and running northeast and then north to the Missouri-Arkansas state line, this stretch of the river is the most commonly paddled section of the Eleven Point in Missouri—Arkansas also has a popular stretch—and it cuts through a picturesque portion of the Ozarks. Tall sandstone and dolomite bluffs, sloping forested valleys, numerous caves and colorful wildflowers line the banks and provide lots to see and explore as you float. Depending on the season and recent rainfall, the rapids here are Class I or II, so it's probably not the best river for a newbie.
The springs are another popular draw of the river, and different floats offer options to see different springs. We're fond of the float from Turner Mill to Riverton, a 14-mile stretch that takes you past two historic springs. You start at Turner Spring, which flows from a tall rocky bluff and was previously used to power a 25-foot metal mill, which is still there today. Then, toward the end of your float you'll pass Boze Spring. Make sure to pull over and explore this quaint spot. At Boze Mill Spring you'll find a sparkling blue pool, hand-layered rock wall and historical turbine from the 1880s. There's also primitive camping here with no camping fees. It's the perfect spot to set up camp if you're looking to do a longer overnight float. From Boze Mill, the Riverton takeout is just another 2 miles downstream. 


Eleven Point River Float Trip Recommendations
Turner Mill to Riverton | Length: 14 miles | 
Difficulty: Moderate
The Ozarks has an abundance of rivers that crisscross the region. Check out the best float trips in Missouri.