Waterways
Float Missouri's North Fork
Take the plunge and enjoy floating 12 miles of spring fed, gorgeous scenery on the North Fork in Missouri.
By Vivian Wheeler and Nevada Moenning
May 2020
Editor's Note: This article was updated with additional information May 1, 2020.

When summer starts to get too hot, cool down in the spring-fed North Fork. Forming in Texas County in the Mark Twain National Forest, the North Fork of the White River offers floating options for beginning and experienced paddlers alike. Newbies can easily float the calmer sections, while those looking for a bit of adventure can play in the riffles and falls.  
The upper section of the North Fork is less crowded, but not quite as scenic. The most popular section of the North Fork runs from State Highway 14 to just below US Highway 160 in Tecumseh, Missouri. Here you'll find several large springs, idyllic scenery and very few signs of civilization—although the river can get crowded in the spring and summer months.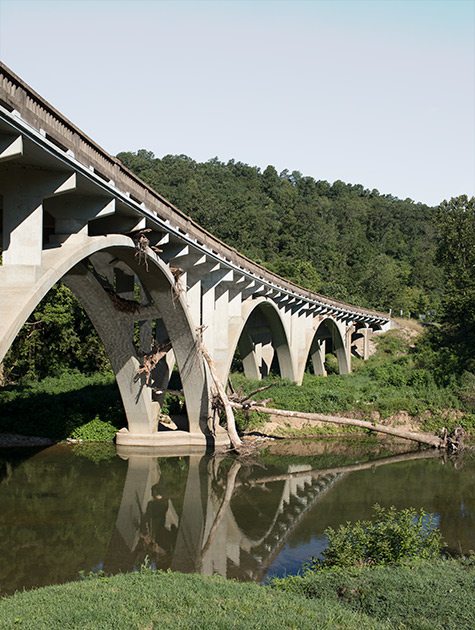 Photo by Chuck Travers
When the water is low, pass below the towering Twin Bridges.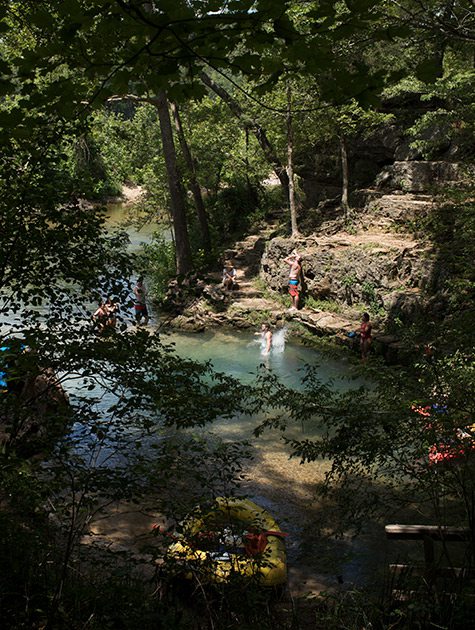 Photo by Chuck Travers
Be sure to pull aside for a dip in the chilly yet refreshing Blue Spring.
An ideal day float in this section of the river is the 12-mile stretch from Hammond Mill to Sunburst Ranch. Shortly after you put in at Hammond Mill, you'll come across Blue Spring on your left. The spring is surrounded by a semicircle of small bluffs, and it's easily spotted from the river. Paddle your canoe into the spring and take a dip in the 40-degree water. The water here bubbles up from the ground and creates a stunning turquoise blue color you're more likely to find on a tropical beach than on a river in the Ozarks. The spring is a popular jumping spot, but be sure to check for rocks in the water, as they can be hard to spot. 
Farther down the river you'll pass McKee Bridge, which can be dangerous when the water is high, so stay alert. Toward the end of your float you'll have to navigate The Falls, a 2- to 3-foot rock ledge, but if you stay to the right you should be fine. Once you see Blair Bridge, you're less than a half-mile from the takeout.


North Fork Float Trip Recommendations
Hammond Mill to Sunburst Ranch | Length: 12 miles | 
Difficulty: Moderate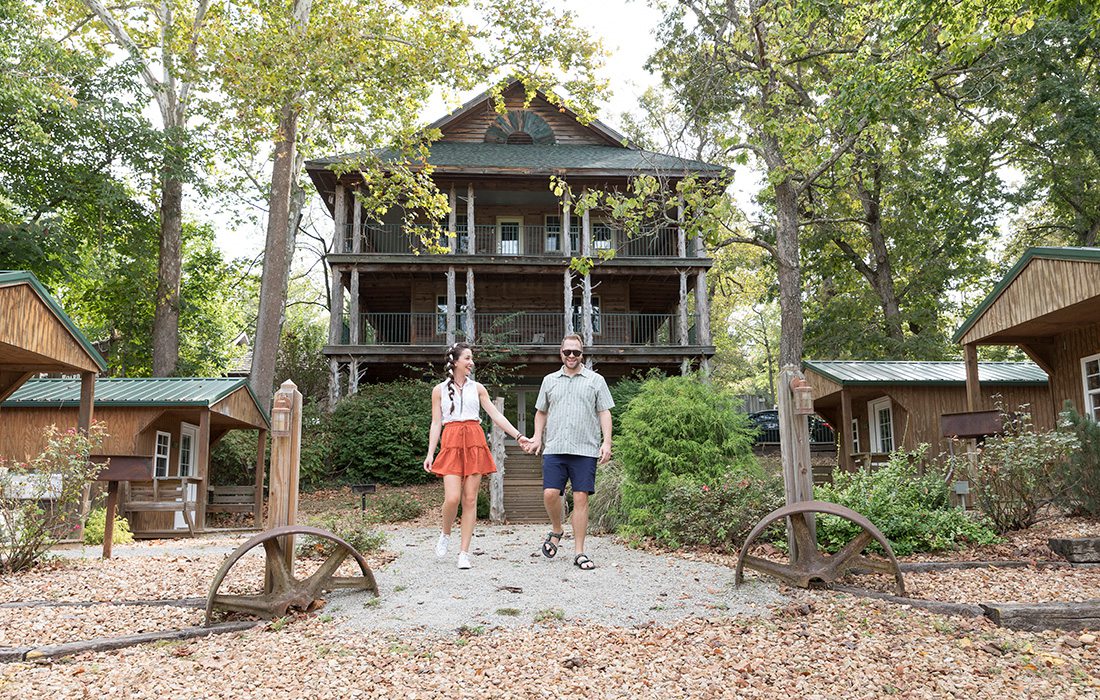 An Alternative Itinerary
Paddle your canoe through some of the clearest waters and among one of the greatest trout populations in 417-land. 
Friday on the North Fork River
3 p.m. Check in to The River Falls Cabin
1746 River of Life Dr., Dora, 417-261-7777
The scenic treetop cabins with their wide porch views of the North Fork River are a must at the River of Life Farm. 
4 p.m. Take a Hike at River of Life Farm
River of Life Farm offers hiking trails including the ominously named Twisted Ankle Trail. Be sure to take in the view from Inspiration Point.
6 p.m. Explore and Dine at Dawt Mill
8 Dawt Mill Drive Tecumseh, 417-284-3540
Not far down river is historic Dawt Mill, established in 1807 and packed with riverside charm. In addition to canoe rentals, lodging and regular live music events in the summertime, Dawt Mill also has several dining options. For dinner, The Chef's Table and Henegar's Grist Mill Lounge feature fine dining with chef Ryan VanWinkle. If you ever find yourself there at lunchtime, Sawyer's Deli serves quick options like sandwiches and ice cream. 
9 p.m. Reach for the Stars
Once you're back at River of Life Farm for the night, take in the expansive sky and brighly shining stars. It's a great place for stargazing. You can set up an appointment with the owner for an astronomy class, and he'll take you to an observing field to show you the constellations. Stay out there all night, or however long you want, and enjoy a peaceful evening. If you plan your trip ahead for August, go to the Upper Field to watch the Perseids Meteor Shower. Peak times will be August 11 through August 13.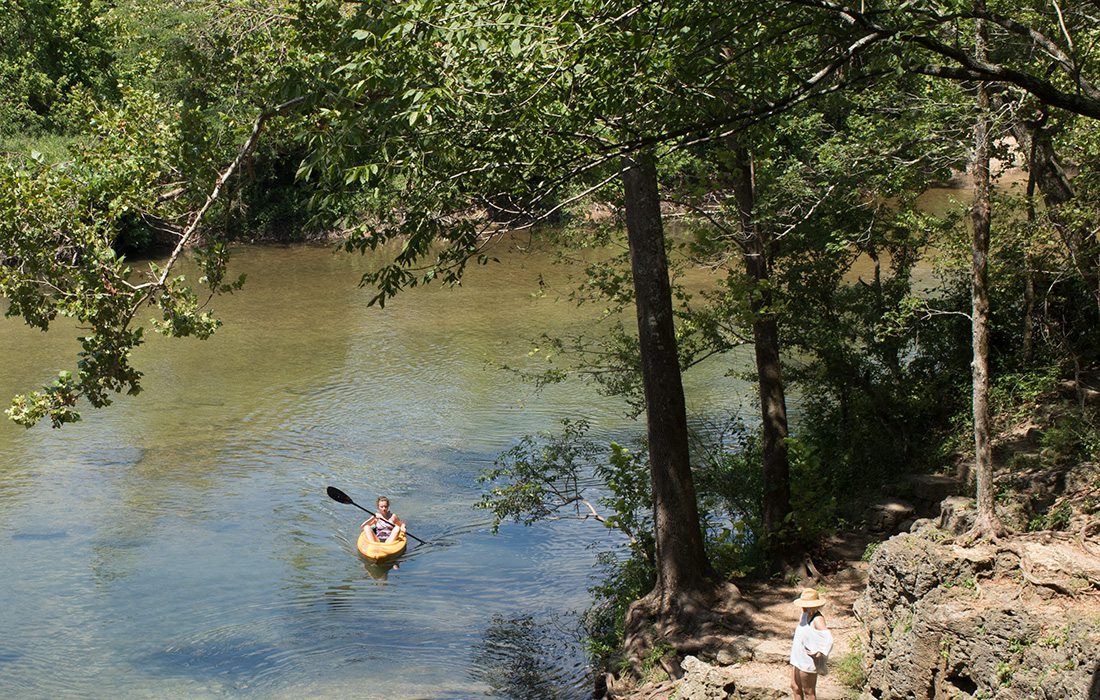 Saturday on the North Fork River
9 a.m. Hop in a Canoe at Twin Bridges
HC 64, Box 2300, West Plains, 417-256-7507
Ready to float? Begin your morning on the North Fork River at Twin Bridges outfitter, where you'll put in your canoe for a float to Blaire Bridge. It will take you past some of the best sites on the river. 
1:30 p.m. Paddle the Springs
Floating the river you'll find Blue Spring. Paddle in and explore or take a dip in the cool water. Two miles from Blue Spring, you'll see a limestone bluff where the river flows underneath. Paddle under the bluff and watch water drip down from the rock. Float a little over a mile to stop at North Fork Spring.
4 p.m. Navigate the Falls
As you pass The Falls (a well-known series of mini-waterfalls that can be navigated by canoe if you're an experienced paddler), you'll have the option to cross them on canoe or bypass them. If you tackle The Falls, make sure you approach the two-foot drop with caution. Do not go over the ledge from your side
Sunday on the North Fork River
11 a.m. Visit Hodgson Mill
5 Merrimack St., Dora
After checking out of the River of Life cabin, spend your last day mill-hopping. Hodgson Mill—just a 20 minute drive away—was built in 1861 to control the spring that was entering Bryant Creek. Three million gallons of cold water flow through it a day, and this water once powered a cotton gin, lumber mill and clothing factory and generated electricity. Some of the old machinery still sits in the building.
1 p.m. Eat lunch at the Rockbridge Rainbow Trout and Game Ranch
4297 County Road 142, Rockbridge, 417-679-3619
Stop at the restaurant at Rockbridge Rainbow Trout and Game Ranch to enjoy fresh-caught fish and a great view of the river, mill and hummingbirds.
The Ozarks has an abundance of rivers that crisscross the region. Check out the best float trips in Missouri.