Waterways
Float Missouri's North Fork
Take the plunge and enjoy floating 12 miles of spring fed, gorgeous scenery on the North Fork in Missouri.
By Vivian Wheeler
May 2019
When summer starts to get too hot, cool down in the spring-fed North Fork. Forming in Texas County in the Mark Twain National Forest, the North Fork of the White River offers floating options for beginning and experienced paddlers alike. Newbies can easily float the calmer sections, while those looking for a bit of adventure can play in the riffles and falls.  
The upper section of the North Fork is less crowded, but not quite as scenic. The most popular section of the North Fork runs from State Highway 14 to just below US Highway 160 in Tecumseh, Missouri. Here you'll find several large springs, idyllic scenery and very few signs of civilization—although the river can get crowded in the spring and summer months.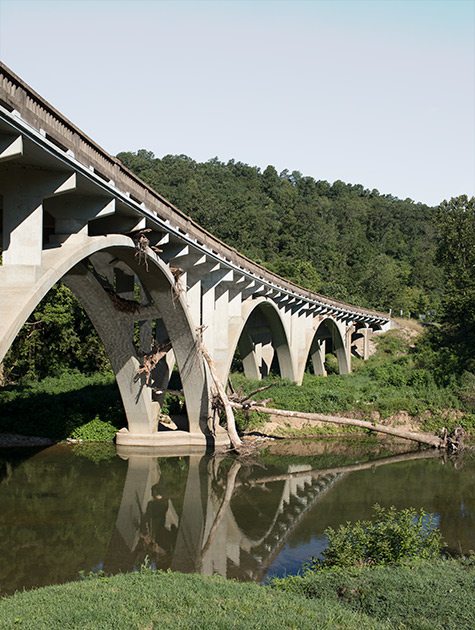 Photo by Chuck Travers
When the water is low, pass below the towering Twin Bridges.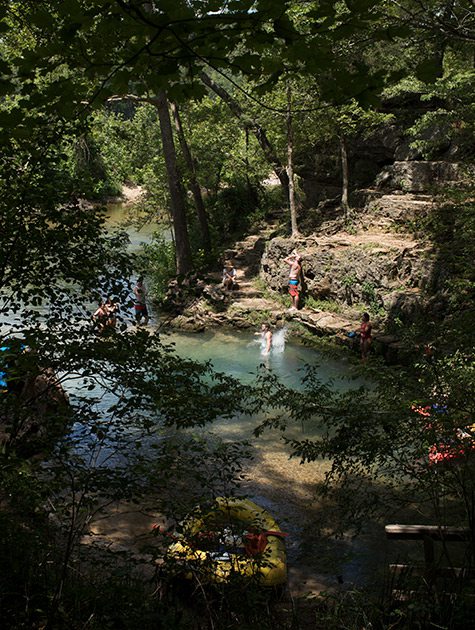 Photo by Chuck Travers
Be sure to pull aside for a dip in the chilly yet refreshing Blue Spring.
An ideal day float in this section of the river is the 12-mile stretch from Hammond Mill to Sunburst Ranch. Shortly after you put in at Hammond Mill, you'll come across Blue Spring on your left. The spring is surrounded by a semicircle of small bluffs, and it's easily spotted from the river. Paddle your canoe into the spring and take a dip in the 40-degree water. The water here bubbles up from the ground and creates a stunning turquoise blue color you're more likely to find on a tropical beach than on a river in the Ozarks. The spring is a popular jumping spot, but be sure to check for rocks in the water, as they can be hard to spot. 
Farther down the river you'll pass McKee Bridge, which can be dangerous when the water is high, so stay alert. Toward the end of your float you'll have to navigate The Falls, a 2- to 3-foot rock ledge, but if you stay to the right you should be fine. Once you see Blair Bridge, you're less than a half-mile from the takeout.


North Fork Float Trip Recommendations
Hammond Mill to Sunburst Ranch | Length: 12 miles | 
Difficulty: Moderate
The Ozarks has an abundance of rivers that crisscross the region. Check out the best float trips in Missouri.