Waterways
Float Missouri's Jacks Fork & Current Rivers
We would argue that some of the best floating in the Midwest is found on the Jacks Fork and Current rivers.
By Vivian Wheeler
May 2019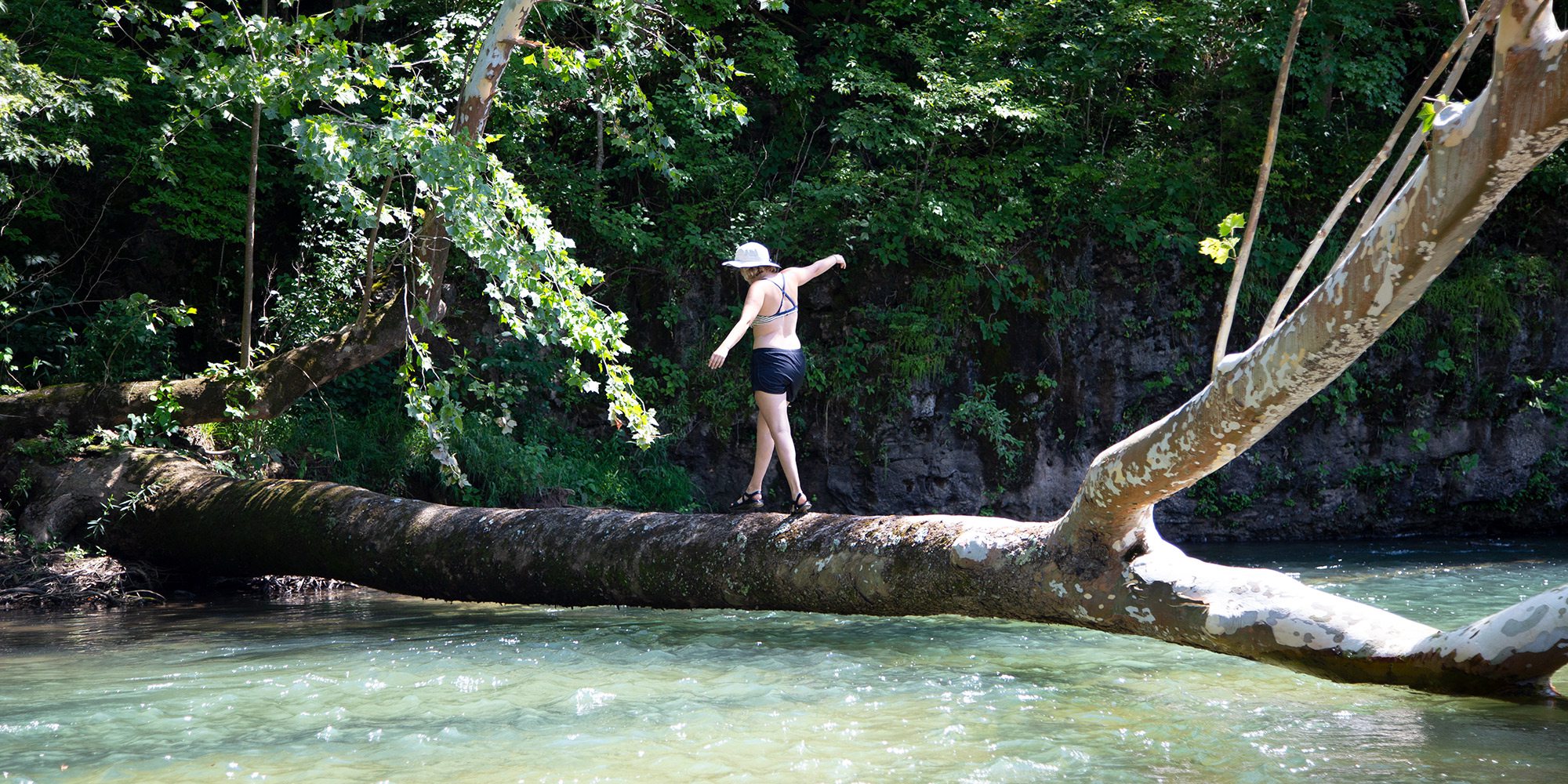 On their own, the Jacks Fork and Current Rivers are each destination-worthy, but their close proximity to each other means some of the best floating in the Midwest is found right here in the Ozarks. Designated the Ozarks National Scenic Riverways, the Jacks Fork, Current River and the surrounding 80,000 acres of land have been preserved by the National Parks Service since 1962. The area sees hundreds of thousands of visitors each year, and you could easily spend several weeks in the park and not run out of places to explore. But the biggest draw by far is the floating. Combined, the rivers flow for more than 220 miles, much of which is floatable. Both rivers are known for their crystal clear spring-fed water and wild and scenic landscape, but they each have their own distinct personality, which is why we highly recommend you float both of them during your trip.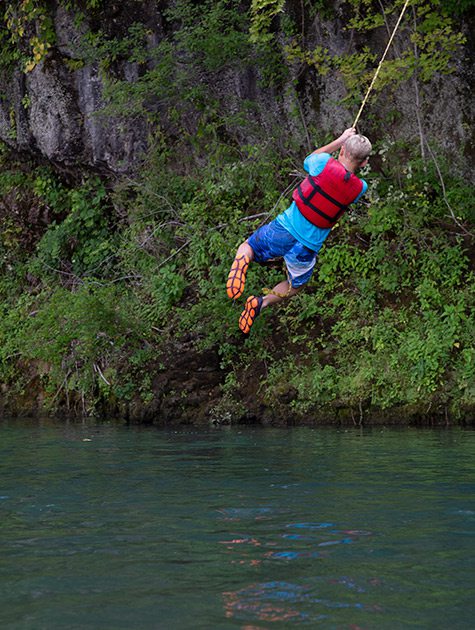 Photo by Vivian Wheeler
There are so many wonderful stops along the Jack's Fork and Current Rivers.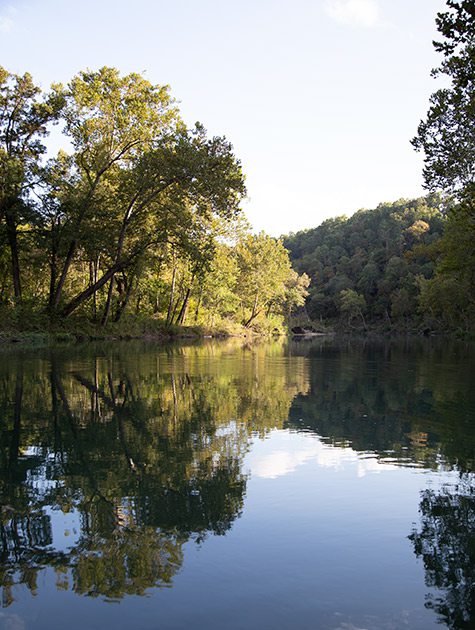 Photo by Vivian Wheeler
The wider Current River makes for a smooth and lazy float in calm, meandering waters.
Part of what makes the Jacks Fork and Current rivers so special is that you can access two prime floating rivers from one location. The Jacks Fork is the main tributary of the Current River, and the rivers' confluence is located in Eminence, Missouri, which has tons of camping and lodging options. If at all possible, try to plan your trip on a weekday. Both of these rivers are extremely popular and end up packed most weekends once school is out. Local outfitters have a cap on how many boats they're allowed to put on the river a day, so be sure to reserve your boat ahead of time. Motorized boats frequent the Current, so if you're going on the weekend, we recommend saving it for Sunday.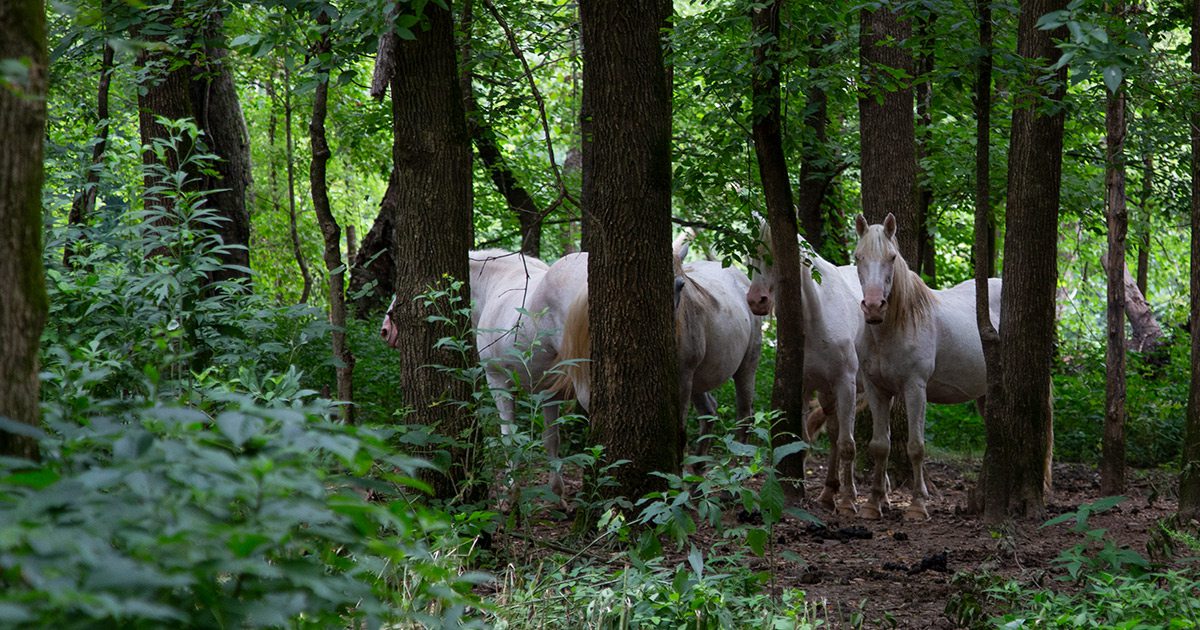 Even though the two rivers are so close to each other, the experience of floating them is very different. The Jacks Fork is swift and narrow at times and has several sharp turns. There are a few spots where, if you're not careful, you could easily tip over. On the other hand, the Current is much wider with a slower moving current. The Current is also frequented by motorized boats, so it's best to float above Big Spring in order to avoid congestion (and noise). 
There are a plethora of floating options in the Ozarks National Scenic Riverways, so you can tailor your trip to your preferred length and difficulty. On the Jacks Fork, we like the 15-mile stretch from Alley Spring to Two Rivers. As for the Current, check out the 11-mile float from Williams Landing to Two Rivers. There are also a variety of outfitters, but we're partial to the folks at Windy's Canoe Rental. Not only are they some of the nicest people you'll ever meet, but the owners Mike and Holly Smith are like living encyclopedias of local knowledge, especially Holly, who is a history buff. She can tell just about anything you'd want to know about the area. When we visited, they even arranged for us to find the infamous wild horses of Shannon County, something that had been on our Ozarks bucket list for years. However, our favorite thing about Windy's is that they'll pick you up and drop you off wherever you're staying. How can you beat service like that?


Jack's Fork & Current River Float Trip Recommendations
On the Jack's Fork, float Alley Spring to Two Rivers. On the Current, float Williams Landing to Two Rivers | Length: 15 miles; 11 miles | 
Difficulty: Moderate; Easy
The Ozarks has an abundance of rivers that crisscross the region. Check out the best float trips in Missouri.