Features
Best of 417 2022 Winners
We've compiled the best places to eat, dishes to try and bars to sit down and have a drink in southwest Missouri, as voted by our readers.
READERS' CHOICE AWARDS EDITED BY JO EVERHART | EDITORS' PICKS BY KATIE POLLOCK ESTES | ART DIRECTION BY DANIELLE GIARRATANO
Feb 2022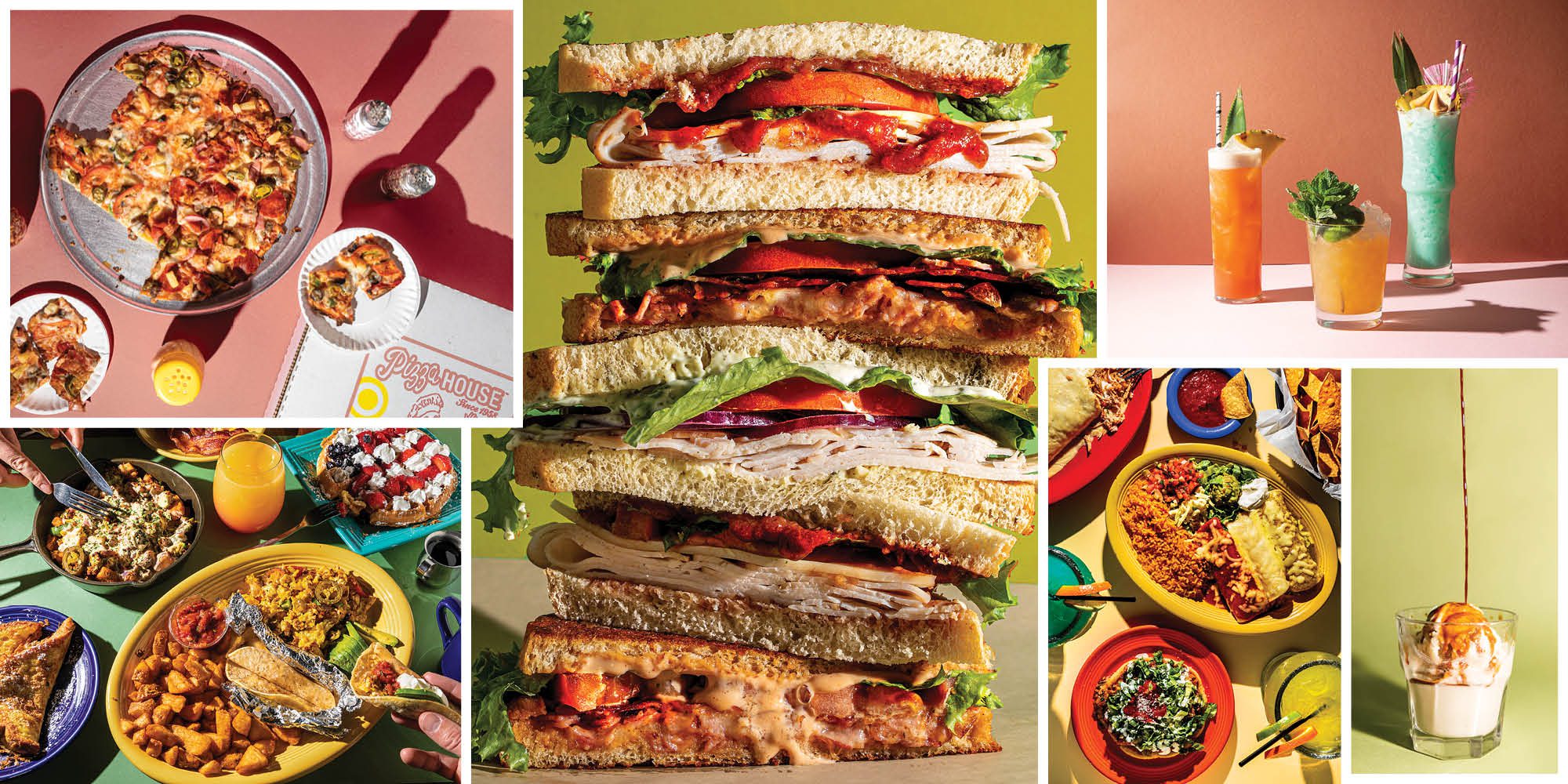 5 BEST SPRINGFIELD FINE DINING RESTAURANTS
(in alphabetical order)
Avanzare Italian Dining
Flame Steakhouse & Wine Bar
Jimm's Steakhouse & Pub
Metropolitan Grill
Ocean Zen Pacific Rim Restaurant
5 BEST PLACES FOR LUNCH
(in alphabetical order)
Bambinos Café
City Butcher and Barbecue
Jimm's Steakhouse & Pub
Nearly Famous Deli & Pasta House
Neighbor's Mill Bakery & Cafe
BEST SPRINGFIELD CASUAL RESTAURANT
Winner: Bambinos Café
Second Place: Black Sheep Burgers + Shakes 
Third Place: Farmer's Gastropub 
BEST BRANSON AREA RESTAURANT
Winner: The Keeter Center at College of the Ozarks
Second Place: Level 2 Steakhouse
Third Place: Chateau Grille (Chateau on the Lake)
BEST JOPLIN RESTAURANT
Winner: Red Oak Steakhouse
Second Place: Crabby's Seafood Bar & Grill
Third Place: Blackstone Gastropub
BEST NEW RESTAURANT
Winner: The Sandwich Scene
Second Place: RISE
Third Place: Retro Metro
BEST RESTAURANT SERVICE
Winner: Jimm's Steakhouse & Pub
Second Place: The Keeter Center at College of the Ozarks
Third Place: Flame Steakhouse & Wine Bar
BEST PLACE FOR BREAKFAST
Winner: Gailey's Breakfast Cafe
Second Place: Billy Gail's Restaurant
Third Place: Early Bird Breakfast Pub
BEST PLACE FOR BRUNCH
Winner: The Keeter Center at College of the Ozarks
Second Place: Aviary by Lavendar Falls
Third Place: The Order at Hotel Vandivort
BEST CATERER
Winner: Simply Delicious Catering
Second Place: Traveling Chef
Third Place: Char Steakhouse & Oyster Bar
BEST SALADS
Winner: Jimm's Steakhouse & Pub
Second Place: Bambinos Café
Third Place: Derby Deli
BEST BURGERS
Winner: Black Sheep Burgers + Shakes
Second Place: Bair's Sports Grill
Third Place: Lindberg's Tavern
BEST STEAKS
Winner: Jimm's Steakhouse & Pub
Second Place: Flame Steakhouse & Wine Bar
Third Place: Metropolitan Grill
BEST SANDWICHES
Winner: The Sub Shop
Second Place: The Sandwich Scene
Third Place: J. Parrino's Queen City Deli
BEST PIZZA
Winner: Pizza House
Second Place: Rocco's Pizza
Third Place: The Big Slice
BEST CHICKEN WINGS
Winner: Coyote's Adobe Cafe
Second Place: Lindberg's Tavern
Third Place: Ebbets Field
BEST BARBECUE
Winner: City Butcher and Barbecue
Second Place: Gettin' Basted
Third Place: Crosstown Barbecue
BEST ITALIAN FOOD
Winner: Piccolo Contemporary Italian
Second Place: Avanzare Italian Dining
Third Place: Bruno's Italian Restaurant
BEST MEXICAN FOOD
Winner: Cesar's Old Mexico
Second Place: La Paloma Mexican Grill
Third Place: Maria's Mexican Restaurant
BEST TACOS
Winner: Cesar's Old Mexico
Second Place: The Great American Taco Company
Third Place: Tinga Tacos
BEST THAI FOOD
Winner: Thai Express
Second Place: Everyday Thai
Third Place: Rama Thai Café
BEST CHINESE FOOD
Winner: Leong's Asian Diner
Second Place: Lucy's Chinese Food
Third Place: Chinese Chef
BEST RAMEN
Winner: Karai Ramen + Handroll
Second Place: Skully's Ramen
Third Place: OMO Japanese Soul Food
BEST SUSHI
Winner: Haruno Japanese Sushi
Second Place: Kai After Dark
Third Place: Nakato Japanese Steakhouse & Sushi Bar
BEST BEER MENU
Winner: 417 Taphouse
Second Place: The Backlot at Alamo Drafthouse
Third Place: MudLounge
BEST LOCAL BREWERY EXPERIENCE
Winner: Mother's Brewing Company
Second Place: Springfield Brewing Company
Third Place: 4 By 4 Brewing Company
BEST COCKTAIL MENU
Winner: The Golden Girl Rum Club
Second Place: Vantage Rooftop Lounge & Conservatory
Third Place: The Order at Hotel Vandivort
BEST WINE MENU
Winner: Flame Steakhouse & Wine Bar
Second Place: Metropolitan Grill
Third Place: Ocean Zen Pacific Rim Restaurant
BEST SWEET TREATS
Winner: Andy's Frozen Custard
Second Place: Pineapple Whip
Third Place: Prairie Pie
BEST COFFEE SHOP
Winner: Mudhouse Coffee
Second Place: Classic Rock Coffee
Third Place: Big Mamma's Coffee & Espresso
BEST FOOD TRUCK
Winner: London Calling Pasty Company
Second Place: The Wheelhouse
Third Place: Not'cho Ordinary Taco
BEST VEGETARIAN-FRIENDLY OPTIONS
Winner: Cafe Cusco
Second Place: Farmer's Gastropub
Third Place: Piccolo Contemporary Italian
BEST GLUTEN-FREE OPTIONS
Winner: Cafe Cusco
Second Place: Farmer's Gastropub
Third Place: Black Sheep Burgers + Shakes
BEST PATIO
Winner: Vantage Rooftop Lounge & Conservatory
Second Place: Galloway Grill
Third Place: Tie & Timber Beer Co.
BEST GIRLS NIGHT OUT
Winner: Vantage Rooftop Lounge & Conservatory
Second Place: Cherry & Pickwick in the Rountree Neighborhood
Third Place: Vineyard Market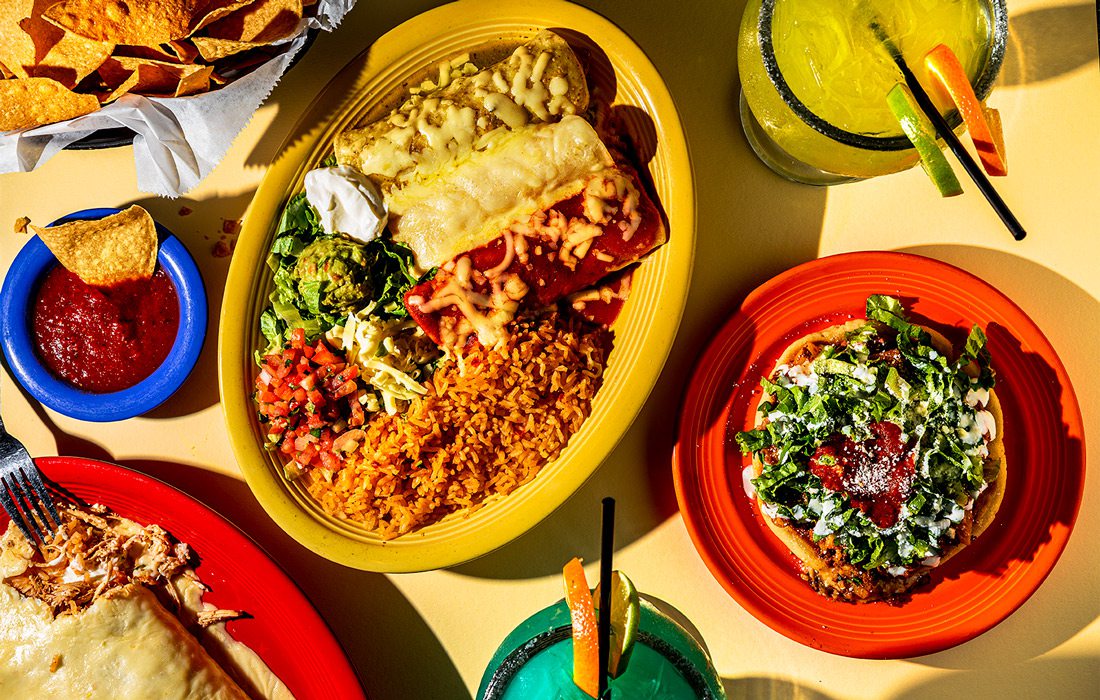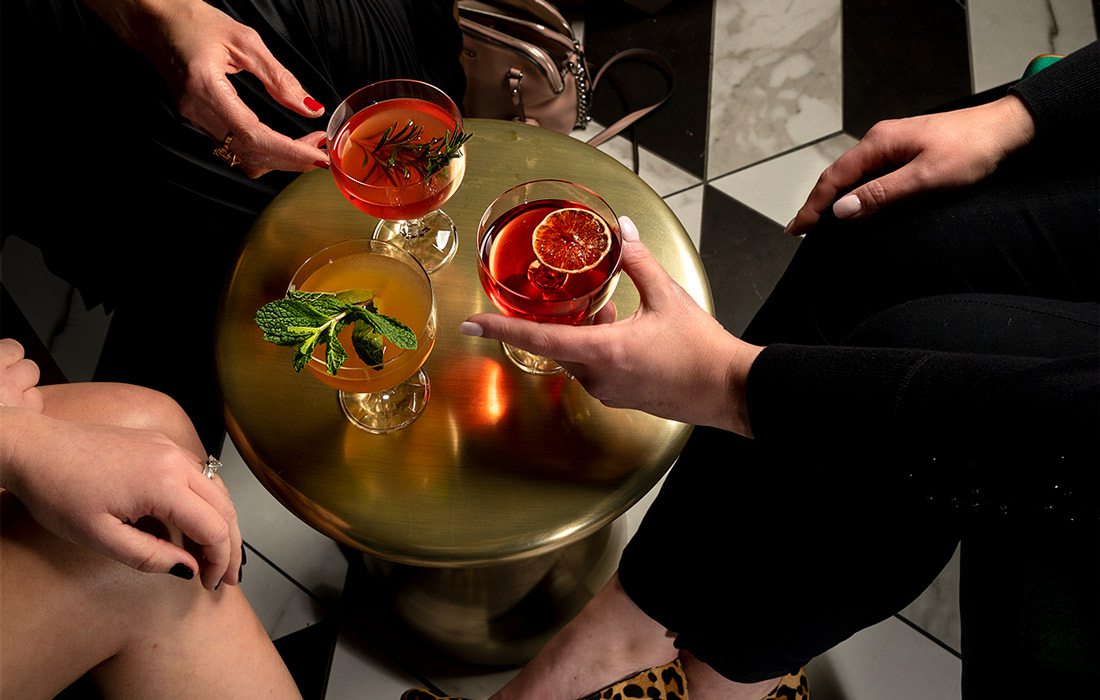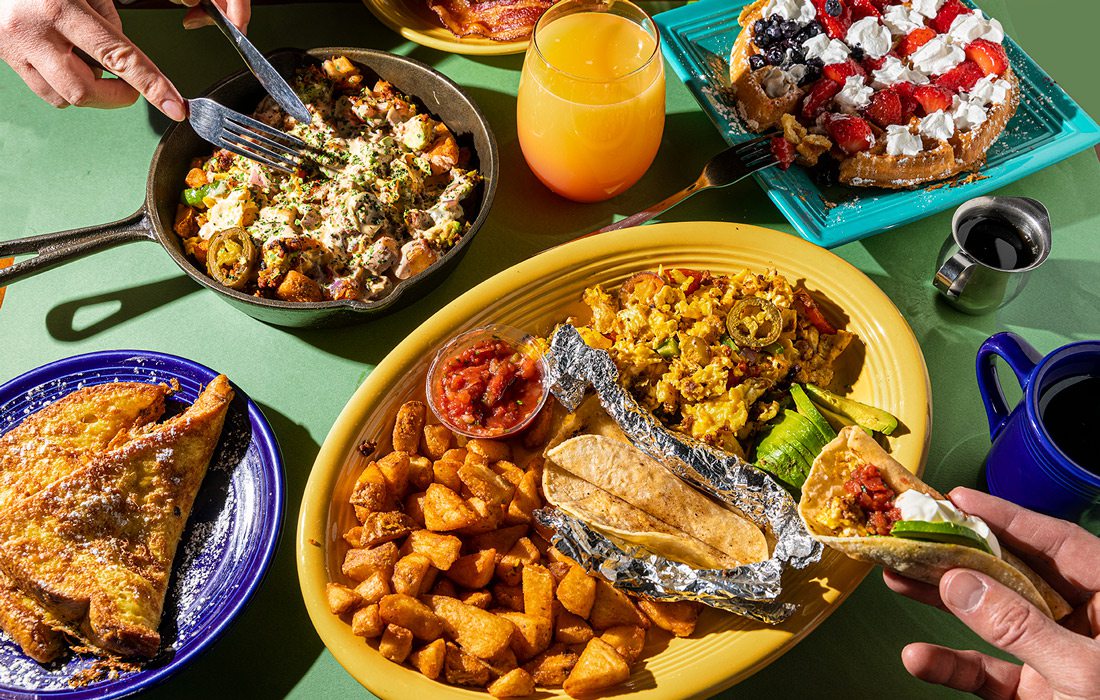 BEST RESTAURANT REINVENTION
Worman House Bistro
Southwest Missouri OGs probably remember the old days of The Worman House at Big Cedar Lodge (190 Top of the Rock Road, Ridgedale). The historical 1920s house has always stood near the center of the property's main drag, looking beautiful and—back then—serving killer brunches. But eventually the space was turned into an event venue, leaving us all craving that dining charm. Well, last spring it reopened as The Worman House Bistro and came back better than ever before, offering an upscale menu of French cuisine and those same gorgeous Table Rock Lake views. You really can't go wrong with anything on the menu there, but the pan-seared Chilean sea bass, the warm beet salad and the Firewood Honey Roasted Quail are sure bets.
BEST TACO TREND
Birria Tacos from Brothers Tacos
This taco joint has been steadily gaining a local following, first with a food truck in Springfield (3114 W. Sunshine St.) and then also at a brick and mortar shop in Ozark (519 N. 21st St.). Their solid taco selection (plus sopes and gorditas) keep customers coming back, and they're one of the best places around to try the hottest taco trend: birria. The birria (shredded beef) is tender and juicy and divinely tasty. Do yourself a favor, and order it inside the restaurant's Jarochos tacos, which are dipped in chili oil before being fried on the cooktop and served with a flavorful broth for dipping.
BEST CHEERS VIBE
Maso Pizza Bar
We can't get enough of the neighborhood vibe at Maso Pizza Bar (3653 E. Sunshine St., Springfield). Southsiders know when they shuffle in after a long day at work, they'll be greeted by faces they know—and it's a big pick-me-up. Not to mention how delightful it is to run into owner Nicola Gilardi while you're there. Order wine and a Nic Rise & Shine pizza to share with a friend, and you'll feel those Cheers vibes.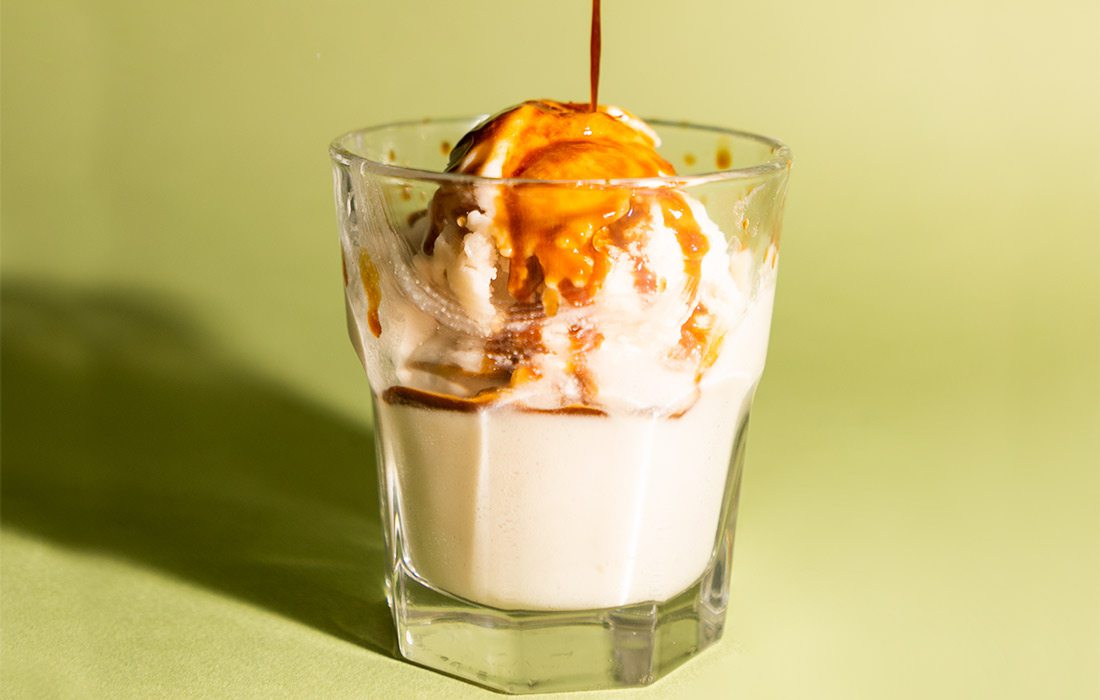 BEST TEAMWORK
Local Restaurant Collabs
Is there anything better than watching local restaurants support one another and do business together? We love it so much! And this past year, we've seen a few fun collabs that are matches made in heaven. First, Dani's Flour Pot Bakery began using The Royal's restaurant space, offering sweet and savory baked goods during the daytime hours, before The Royal opens in the evenings. Then, we started to see a sweet collab between Culture Counter and Cherry Picker Package x Fare as customers created DIY affogatos by buying a scoop of fresh Culture Counter ice cream and then taking it over to Cherry Picker to have it topped with espresso. And most recently, Prairie Pie has joined forces with Therefore, Pizza—a mobile wood fired pizza purveyor who is starting to serve fresh pizzas from an alleyway takeout window at Prairie Pie.

BEST HANDHELD INDULGENCE
Loukaniko Pita Wrap from Greek Belly
Our mouths water just thinking about the loukaniko pita wrap from Greek Belly (320 E. Walnut St., Springfield). A soft, warm pita is filled with Greek loukaniko sausage, fries, tomato, onion and the pièce de resistance: a hefty helping of spicy tirokafteri feta dip. It's perfect. One staffer unabashedly indulged in it twice in one week. The heart wants what the heart wants.
BEST GLOW UP
The Sandwich Scene
In 2020, Secret Sandwich Shop opened up as a mini-restaurant inside Sweet Boy's Neighborhood Bar, using their kitchen to create incredible sammies and then serving them from the Sweet Boy's space. They quickly became a beloved downtown spot, and in 2021 they moved out of the bar and down the road to their own space, re-opening as The Sandwich Scene (208 W. McDaniel St., Springfield) and serving those same delicious dishes from a colorfully branded walk-up window.
BEST USE OF SAGE
Filetto Parmigiana from Avanzare Italian Dining
There are a lot of reasons to love indulging in the Filetto Parmigiana entrée from Avanzare Italian Dining (1908 S. Glenstone Ave., Springfield). The hand-cut filet is always grilled to perfection, and sides are classically good. What really gets us isn't even the killer Parmesan cheese and butter-sage sauce that comes on top. No, the thing that puts this dish over the top is the little bit of fried sage leaves sprinkled over the dish. They are crispy perfection.
BEST HANDHELD BREAKFAST
Scrambled Egg Rolls from Morning Day Cafe
The bright artwork on the windows is enough to make you want to start your day at Morning Day Café (105 S. Main St., Nixa), and the food doesn't disappoint. We are fond of the Scrambled Egg Rolls, perfect handheld starters. They are made with bacon, sausage and avocado (one of each) plus cheese and eggs. Dip them in bacon gravy and poblano cheese sauce.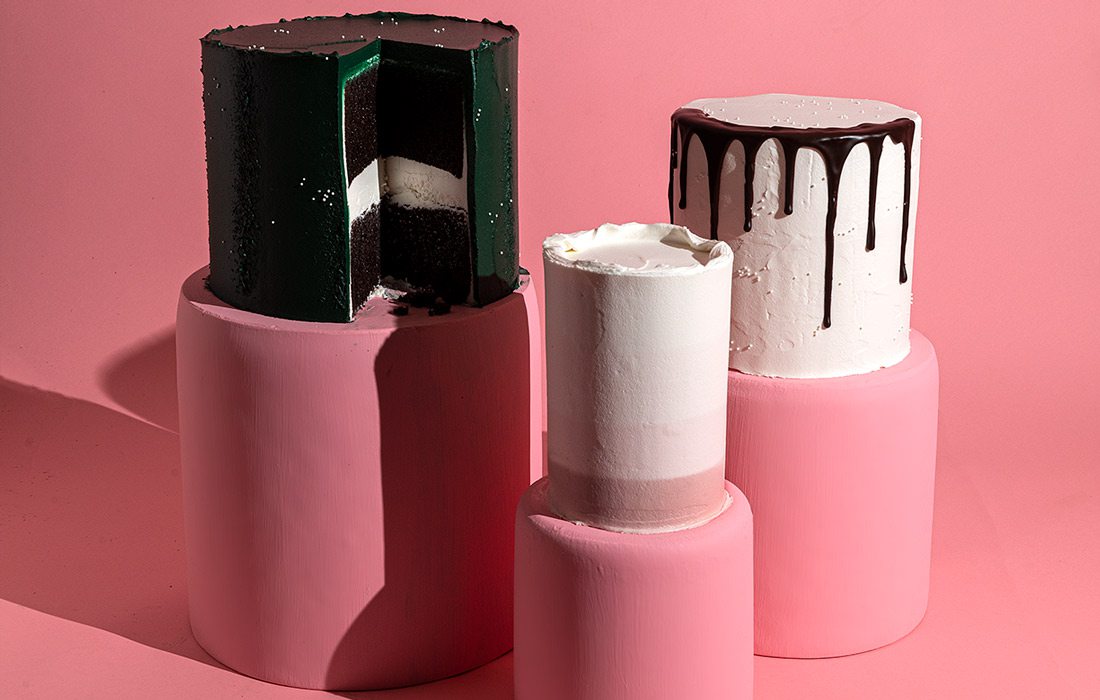 BEST EVERYDAY CELEBRATION
Fancy Cakes from Charity Fent Cake Design
Can we all agree to make 2022 the year of celebrating the little things, all the time? One of our favorite ways to bring the fun is with one of the pretty treats from Charity Fent Cake Designs (2648 S. Glenstone Ave., Springfield). The flavors are incredible.
BEST LITTLE SEASONAL BITES
Eurasia Coffee
On the menu at Eurasia Coffee Co.'s Culture Café (445 E. Commercial St., Springfield), you'll find all of your favorite coffee and espresso drinks, including a Slow Bar with preparations like Chemex pour-overs. But it's the food that we find most interesting. The menu features tastes inspired by the owners' world travels, such as the tikka wrap with hints of Indian flavors. The seasonal menu items are always faves, like the smoky chili we tried in the fall that blew us away.
BEST WAY TO EAT FRIED SQUID
Calamari from Level 2 Steakhouse
Fried calamari is the classic, crunchy, indulgent app that is supremely shareable. We've had it many different ways at many different restaurants, and one of the versions we love the most is found at Level 2 Steakhouse (inside Hilton Branson Convention Center, 200 E. Main St., Branson). Instead of the rings and tentacles you might expect to see, this calamari is sliced into strips. They're thicker and more tender, with a light batter that adds just the right amount crunch. On the side you'll find a zippy key lime miso mayo for dipping.
BEST PATIO MAKEOVER
Team Taco
We're a little obsessed with the patio expansion at Team Taco (1454 E. Cherry St., Springfield). The little dining room is no longer open, and instead guests order at the walk-up window and can choose a seat in one of the two outdoor patios. Both are fenced in for a cozy vibe, and one is covered. The result is more space for guests to sit and a bright, airy community vibe. Our favorite way to enjoy Team Taco? We grab some B.A. Baracus tacos and munch on them under the shade of the covered patio on a warm afternoon.
BEST FLOATS
Pineapple Bliss
If you haven't visited the cute little building in Joplin that houses Pineapple Bliss (1021 E. 20th St., Joplin), you're missing out. They serve a variety fruity soft serve flavors (plus dark chocolate), and you can opt to have them made into a super-creative float. Maybe you want mango soft serve in pineapple juice with spicy Chamoy on top. Or grapefruit soft serve in citrus-hibiscus-orange Stubborn soda and freeze-dried Skittles on top. No matter what ingredients you put together, you know it'll be creative, surprising and super-brightly Instagrammable.
BEST SUBTLE LATTE FLAVOR
Lavender-Sage Latte from Kingdom Coffee
With single-origin pour overs and a delicious house roast, the coffee is incredible at Kingdom Coffee (211 S. Market Ave., Suite 100; 2896 S. Lone Pine Ave., Springfield). And when we're in the mood for something a little sweet in our brew, they seriously deliver with their lavender-sage syrup. It's not too sweet, not too floral, and not too herbal. It's just the right amount of all of those things for a delightfully balanced latte indulgence that we truly can't resist.
BEST VEGGIE SURPRISE
Green Tomato Cake from The Ozark Mill Restaurant
When you think of the perfect dessert, do you think of microgreens and green tomatoes? No? Honestly, neither do we. Yet somehow both of those things come together beautifully in the green tomato cake from The Ozark Mill Restaurant (at Finley Farms, 802 Finley Farms Lane, Ozark). This layered cake is the sweetest sage-green hue thanks to its vegetal key ingredient, and the microgreens garnish somehow works oh-so-perfectly with this sweet concoction. If you're not sure you want a veggie in your cake, let us remind you how delightful carrot cake is. It's a flavor in that vein, but more moist and more subtle—and it's one of our favorite sweet local bites.
BEST MOCKTAILS
Tie & Timber Beer Co.
Usually it's the local brews and the amazing outdoor dining area that gets us excited about Tie & Timber Beer Co. (1451 E. Cherry St., Springfield). But on a recent visit, we were surprised by the well-crafted mocktails that we didn't even realize were on the menu. How had we missed them? They come in a handful of flavors, but the one we adore is a mango concoction that is sweet, tart and a little bit spicy thanks to the tangy Tajin rim. It turned out to be bright, refreshing and a super-fun sip for anyone interested in a change of pace.
BEST SURPRISE IN KIMBERLING CITY
Lake Time Bistro
On your next visit to Table Rock Lake, make sure you stop for a meal at Lake Time Bistro (13272 Missouri 13, Suites C-D, Kimberling City). This unassuming little restaurant is serving up some seriously delicious food. Take for example the shrimp New Orleans, with its flavorful broth, tender shrimp and crusty bread for dipping. Bonus: They also serve a Sunday brunch, so you can round out your lake weekend there before you head home.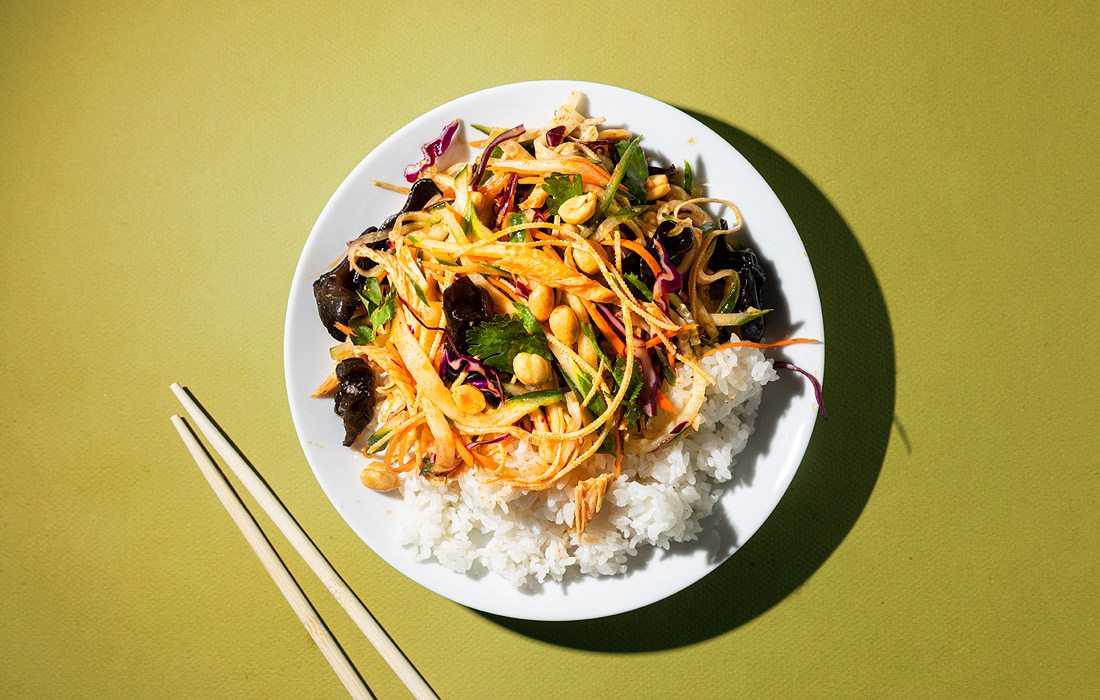 BEST SUPER-BRIGHT SIDE DISH
Mixed vegetables with special sauce from Corner 21 Chinese Cuisine
Corner 21 Chinese Cuisine (1369 E. Sunshine St., Springfield) has quickly become our go-to for great Chinese food, including several dishes that we haven't seen around town. We like to dine family-style at Corner 21 and can't get enough of the Hot Crisp Fish or the Twice-Cooked Pork. And in between bites of those heavier, richer dishes, we love nibbling on our very favorite item there: the Mixed Vegetables with Special Sauce. The julienned cucumber, carrot, cabbage and more are fresh and oh-so-crunchy, with chewy strips of bean curd and cloud ear mushrooms and a tart-sweet sauce that is the bright and refreshing highlight of any meal there.
BEST MESSY FLAVOR BOMB
Rotterdam pancake from Van Gogh's Eeterie
There's really no polite way to eat a Rotterdam Dutch pancake from Van Gogh's Eeterie (334 E. Commercial St., Springfield). Sure, you can go at it with a knife and fork—but you'll still have to do some creative stabbing, jabbing and piling in order to get all the flavors into one big bite. This massive pancake is topped with flavorful shwarma beef, lettuce, cucumber, tomato, pickled onion, garlic dill and a zippy curry ketchup. And trust us, you'll want a little of everything in every single nibble.
WHAT DO YOU LOVE MOST ABOUT SOUTHWEST MISSOURI?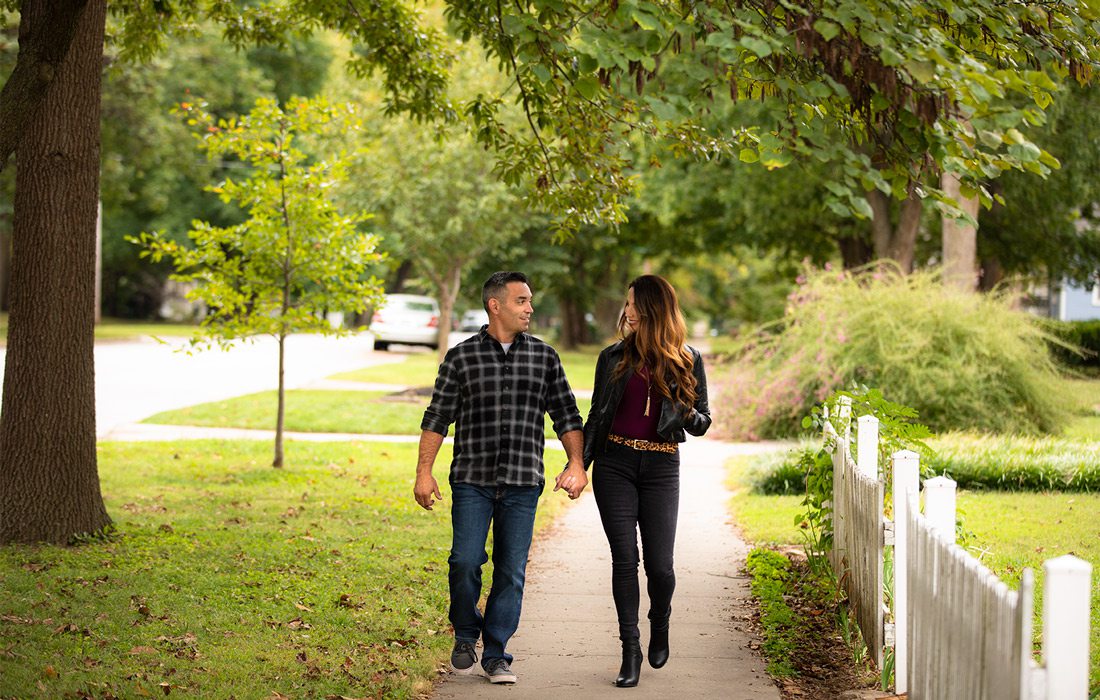 ABUNDANCE OF BREWERIES
Breweries came up so many times, in your "What do you love most about 417-land?" write-in answers. And there's good reason for this! Our local brewery scene is growing all the time, getting more robust and more interesting every day. In fact, just last month another new brewery opened up: Wire Road Brewing Company. Great outdoor spaces and access to good eats are kind of a theme among our breweries. Of course Mother's Brewing Company has our favorite downtown backyard, Springfield Brewing Company has a delish restaurant menu and Tie & Timber Beer Co.'s expansive patio is a dream.
THREE FOODIE CENTERS
Reader-favorite dining hotspots came up a lot in your responses. These are neighborhoods where the dining scene is hopping! You mentioned Cherry and Pickwick (home to Team Taco, The Royal, Skully's Ramen and more), Downtown Springfield (for Black Sheep Burgers & Shakes, The Coffee Ethic, The Order, RISE, Flame Steakhouse and more) and Commercial Street (with diverse eateries like Cafe Cusco for Peruvian food, Van Gogh's Eeterie for Indo-Dutch cuisine, Lindberg's Tavern for elevated burgers and more). Any of those foodie centers is a sure bet for a great meal with friends.
THE OUTDOORS
And finally, we can't talk about loving the Ozarks without talking about the great outdoors. Our hikeable hills and floatable rivers are easy to fall in love with. Pick your favorite place and pack a picnic so you can stay out and enjoy it all day. We recommend tossing in some locally made food to keep the 417-land love going: a pint of chicken salad from Derby Deli, an Askinosie Chocolate bar for dessert and a bottle of Good Clean Wine just for fun.
How does 417 Magazine pick the Best of 417 winners?

Throughout the year, our team has kept up with what's new, hot, in style, delicious, making waves, going viral, selling out and making a big impression in 417-land. Then our editors combined them into a slate of nominations for 417-land to vote on. There were killer contestants to vote on for each category, plus voters had the option to write in anyone we left off the list. (Ugh, why didn't we think of them?!) After the voting period ended, we compiled your votes, and the winners are published right here.
How do I tell you about my business?

If you think your business deserves to be on next year's ballot, we want to know about it! Send a note to our editorial staff at editor@417mag.com. We take calls, letters, emails and skywriting from our readers about what to check out. We're sure you're awesome, so tell us why. Don't be surprised if some of our staffers come around to check out what you have to offer. In fact, exploring new, fun local stuff is our favorite part of our jobs! We are always looking to share the best with our audience.
Do advertisers automatically win?

Nope! Let's put this rumor to rest. Still skeptical? Ask one of our advertisers who didn't win. We take serious measures to keep our integrity intact and maintain boundaries between our sales and editorial departments. In fact, we're required to in order to uphold our good standing with the City and Regional Magazine Association (CRMA). You can't buy a Best of 417 nomination or win with money. You can only earn a spot on the list by being the best, getting the word out and raking in the votes!
Didn't you do the readers' choice awards differently in the past?

We did! Aren't you a smart cookie. We've changed our Best of 417 procedure a tad from what we used to do. In recent years, our editors have compiled the list of nominees for 417-land to vote on. This meant readers had more comprehensive options for each category, and nominees could focus on getting votes (instead of getting nominations and then getting votes). It is similar to what a lot of other CRMA magazines do for their Best of competitions. If you have questions, we hope you'll ask us!