Life
Great Dates in 417-Land
Date night ideas for foodies, romantics, sports fanatics, creatives and adventurous couples in Southwest Missouri, Branson, Springfield, MO and more!
By Savannah Waszczuk
Sep 21 2011 at 10:21 a.m.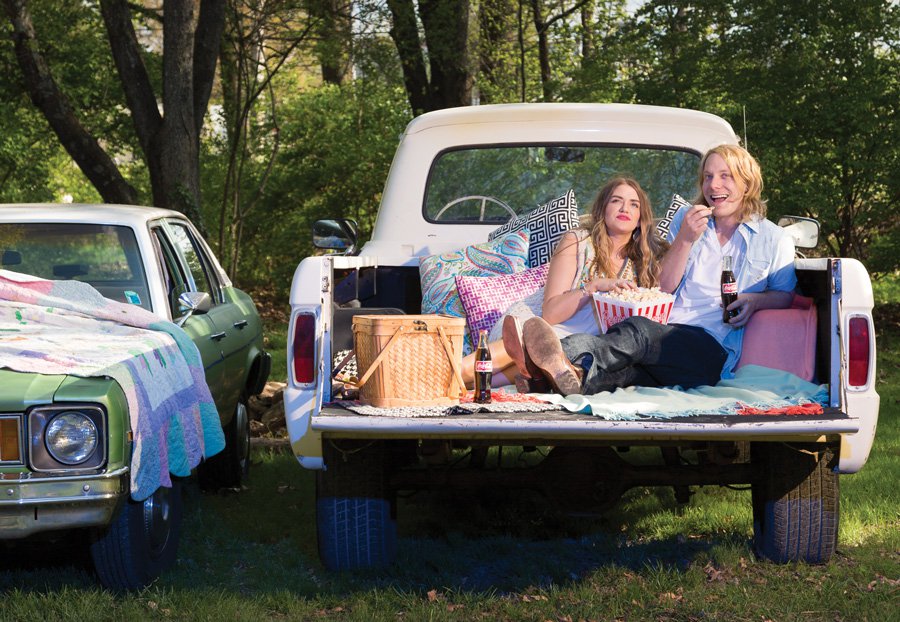 You deserve a little time for just you and yours. A night out when neither of you are worrying about work or meetings or deadlines. Or maybe an afternoon when you both completely forget about cleaning the house, mowing the yard and taking the kids to soccer practice. You deserve time that you spend together with each other, and away from everyone else. You deserve a great date.
We put together some of the most unusual, fun-filled, exciting dates possible in southwest Missouri. We found places where you and your fun-loving sweetie can act like kids as you race go-karts, battle it out on video games and have a batting contest. And places where foodies and romantics can enjoy fine wine, eat a first-class meal and spend the night in a treetop cabin. We also found dates for sports fanatics to learn trivia, for culture junkies to enjoy an independent film, and  for music–lovers to share their skills. No matter what you and your honey like to do, we found a date for you. So call up the sitter, and get to planning; it's time to reconnect.


Dates for Foodies
The Ultimate Food Date
So many restaurants, so little time. We know it can be hard picking just one place to eat dinner. If you and your sweetie are a couple of foodies, consider a progressive meal. It'll let you experience more flavors and a little dining adventure. Here's one way to do it: Start out your evening at Touch Restaurant & Oyster House (1620 E. Republic Rd., Springfield, 417-823-8383, touch-restaurant.com), a restaurant well-known for its delicious tapas menu.  You'll have your choice of a variety of mouthwatering apps, including baby burgers, lobster cream cheese wontons, steak tacos and salt and vinegar fries. The spot features a daily happy hour from 4–7 p.m. that has a $1, $2, $3 tapas menu every day except Friday.


The Wine-Lovers' Date
We all know a glass of wine is a great accompaniment to a date, but what if wine was the basis of the date itself? To learn a little about locally made vino, spend a day touring Branson wineries. Start your day at Curling Vine Winery (601 State Hwy. 165, Branson, 417-334-1897, stonehillwinery.com), where it is perfectly acceptable to start drinking when they open at 8:30 a.m. (and 10 a.m. on Sundays). Stone Hill offers free tours of the facility, and of course, wine samples. Next, head to Mt. Pleasant Winery (3125 Green Mountain Dr., Branson, 417-336-9463, mountpleasant.com), where you can take a Wine 101 class for $15 and sample a variety of wines with cheeses and chocolate. You'll even get a wine glass as a souvenir. The spot also has a wine basics class available. End your day watching the sun set at Lindwedel Wine Garden (3158 State Hwy. 265, Branson, 417-338-0256, lindwedelwinegarden.com), where you can also grab a few snack items and enjoy wine and food with a great view from the back deck.
Dates for Romantics
The Couple's Massage Date
We've all tried to give our significant other a massage. Yes, it's a sweet gesture, but let's face it: It just isn't the same. We suggest ditching that old bottle of massage oil and calling Zen 3 Spa and Bodyworks (619 S. Pickwick Ave., Springfield, 417-866-9363, zen3massage.com) to schedule the Cabana Night Dinner Package. For $285, you and yours each get a 60-minute full-body massage, which can take place in the spa's tropical couples' room or under a private outdoor cabana (weather permitting). The package also includes a romantic dinner for two catered by Simply Delicious with tasty entrée options of Z3 Trio Skewers of grilled beef, chicken and ahi tuna, fish tacos, pepper-crusted pork tenderloin and lemongrass beef or chicken. Guests receive alcohol-free mimosas, or they can bring in their own favorite bottle of wine or beer.


The Drive-in Date
Southwest Missouri is home to two drive-in movie theaters: Sunset Drive-In Theatre (1601 E. Church St., Aurora, 417-678-6609, facebook.com/AuroraSunsetDriveIn) and 66 Drive-In Theater. Find out which is playing a flick most appropriate for you and your sweetie, and hit the road. If you have a truck, drive it (so you can sit extra close). Or pack a blanket and a battery-operated radio and snuggle as you watch from under the stars. If you're more into your date than the movie, that's fine, too; just park in the very last row! We suggest hitting your favorite local candy store on the way out of town to load up on Raisinettes, Junior Mints, Whoppers and other sharable sweets to munch on. 


The B&B Date
Sometimes spending a night away from home can make all the difference. There's the excitement of packing, the enjoyment of having no real time constraints and the satisfaction of not having to make your bed in the morning. You and yours can have two of these luxurious nights away from home with the Anniversary Package at Bear Creek Bed and Breakfast (1320 Keithley Rd., Walnut Shade, 417-443-0036, bearcreekbedandbreakfast.com). This special date package comes with a miniature wedding cake (so it really is perfect for an anniversary), a bottle of wine, two flutes, a two-night stay in a two-person cabin or suite of your choice and home-cooked breakfasts both mornings for $429. Bear Creek Bed and Breakfast's entertainment options include massage therapy, horseback riding and a fishing guide, and all cabins and suites have private hot tubs. Go find your suitcase.
Dates for Sports Fanatics
The Game Day Date
If you and your significant other are a couple of football–lovers, there is no better date than a Missouri State Bears football game. Help cheer the Bears to victory at a football game at Plaster Sports Complex (1015 E. Grand St., Springfield, 417-836-7678, missouristatebears.com). A couple of hours before kick-off, hold hands with your sweetie as you wander around BearFest Village, located north of the stadium in the grass plaza in front of McDonald Arena. The spot has a massive free tailgate party before every home game. Local restaurants and vendors give away free food and swag, and there is a stage with live music or a DJ. 


The Sports Buffs' Date
Who knows more about sports, you or your other half? Test each other on Missouri sports trivia while you roam through the Missouri Sports Hall of Fame (3861 E. Stan Musial Dr., Springfield, 417-889-3100, mosportshalloffame.com). Guests of the hall of fame take a self-guided tour of the two-story museum, which features sports artifacts and tributes that highlight past Missouri athletes. Football fans will love seeing a jersey and helmet worn by a St. Louis Ram in the 2000 Super Bowl championship, and baseball lovers will drool when they get a glimpse of Stan Musial's old baseball glove. After you take in all the history, battle it out with basketball shooting and football throwing contests.
Dates for Creative Spirits
The Pottery-Painting Date
Couples are always welcome to come in and paint pottery at Firehouse Pottery and Art Studio (4150 S. Lone Pine, Springfield, 417-881-8381, firehousepottery.com), but the spot has a discounted date night every Wednesday evening. For this mid-week special, couples get half-off the Firehouse studio fee. Lovebirds are invited to bring in their own food and drinks to enjoy while they paint creations of their choice, from which there are hundreds to choose. Options include everything from coffee mugs to serving dishes. Set the mood by bringing a bottle of your favorite wine and a few cheeses, or even pack a meal and eat your dinner while you paint.
The Art Walk Date
Springfield's First Friday Art Walk (Downtown Springfield, ffaw.org) has been a fun date-night option for 417-land couples for 10 years. Grab your one and only and head to downtown Springfield to enjoy some fresh air, original art and complimentary snacks. First Friday Art Walk continually features more than 20 venues showing local, regional, national and even international art, so you're sure to find a piece to take home with you or a little inspiration to start a new project of your own. After making the rounds, continue the fun with dinner at one of downtown Springfield's hottest restaurants. 


The Learn-to-Dance Date
Spend a date night learning how to bust a move at Step by Step Dance (1722 S. Glenstone Ave., Suite G, Springfield, 417-689-4141, dancestepbystep.com). Couples have the option of learning many different types of dance, including swing, country, ballroom and salsa. After a first-time free session, group classes are available for $10 per person, or couples can get private lessons for $60 per hour or a package of five classes for $250. After completing these classes, you can go out and dance to your favorite cover band without worrying about who you may bump into. And just think of all the people you will wow the next time you dance at a wedding!
Dates For Culture Junkies
The Movie-Lovers' Date
A date to the movies doesn't have to include you and yours shoved in a crowded theater with giggling teeny boppers seeing the latest blockbuster. Springfield's Moxie Cinema (305 S Campbell Ave #101, Springfield, 417-429-0800, moxiecinema.com), a not-for-profit theater downtown, specializes in showing independent American and Canadian movies, foreign films and documentaries. To get a true cultural fix, check out what's playing at the Moxie, and while you're there, enjoy brownies, cookies and beer from local businesses. Since September is prime Oscars season, the independent theater is playing movies in Oscars contention. Movie tickets have a competitive $8 price tag, and matinees are only $6.

Family Art Night
While you and your sweetie enjoy downtown Springfield's First Friday Art Walk, drop the kids off at the YMCA. Kids as young as 3 months and as old as 11 years old are welcome. The children do an arts-and-crafts project, eat a healthy snack, climb the rock wall and participate in a gym activity or play in the bounce houses.

When: The first Friday of every month from 6:30–9 p.m.
Where: Downtown YMCA, 417 S. Jefferson Ave., Springfield, 417-862-7456, orymca.org
Cost: $10 per child for those who pre-register; $13 who do not pre-register (pre-register at either YMCA location or online at orymca.org).
Dates for Kids-at-Heart
The Throwback Date
Challenge your main squeeze to a game of Pong at 1984 (400 S. Jefferson Ave., Springfield, 417-831-3665, 1984arcarde.com). A date at this classic '80s arcade only costs $5 per person, and you can play an unlimited amount of games until the spot closes at 11 p.m.! Popular games at 1984 include Pac-Man, Ms. Pac-Man, Frogger, Q*Bert, and Tron, and many of the games have a two-player option. You can stand side-by-side as you play Tetris or work as a team to beat of opponents in Joust. If you're competitive, you can race one another in Final Lap or battle it out in Karate Champ. If you get the munchies, grab candy, chips, soda or a slice of pizza at the 1984 snack bar, or head to Springfield's Incredible Pizza (2850 S. Campbell Ave., Springfield, 417-887-3030, incrediblepizza.com) to enjoy a full buffet of pizzas, salads, pastas and desserts and a game of skee-ball.


The Day-at-the-Track Date
There are many ways to feel like a kid at The Track Family Fun Parks (multiple locations, Branson, 417-334-1612, bransontracks.com). Enjoy a little friendly competition as you race your sweetie to the finish line on one of the many ground-level go-kart tracks, which are filled with plenty of straightaways. If you're not in the mood to ride solo, enjoy a few laps together in one of the spot's double-rider cars. Daredevils can check out the Heavy Metal High-Rise at Track 4 (3345 W. 76 Country Blvd., Branson). This beast is a four-story tall steel and concrete track that has a crazy spiral up and an aggressive, thrilling down-hill slope. (Ladies, feel free to squeeze his arm if you get a little nervous.) Track 4 also has an Andy's Frozen Custard, so you can share a sundae after the thrilling ride. Before you leave, you can also crash into each other on the bumper boats, have a hole-in-one contest while playing putt putt golf, or see who can win the most tickets while playing arcade games. 


Roller Rink Date
Act like junior high sweethearts as you join hands and roll around the rink at Skateland (5163 S. Campbell Ave., Springfield, 417-881-8011, springfieldskateland.com). Public skate sessions, which are only $5 per person including skate rental, are a great way to enjoy conversation and a little exercise. If you're really good, you can show your sweetie some slick moves while playing limbo and the corner game, and if you're brave enough, you can dominate the rink during the reverse and speed skate specials. If you don't want to worry about bumping into kiddos (and you want to make a date at the skating rink a little more romantic), consider renting the rink out for yourselves. Prices to rent the place out start at $150 for an hour and a half. 
Dates for Adventurous Couples
The Hot Air Balloon Date
Up, up and away! If you really want to impress your sweetie, consider a date on a hot air balloon ride. For $200 per person, Balloon Sport USA (locations in Springfield, Joplin and Kansas City, 417-865-0800, facebook.com/balloonsportusa) takes baskets of six passengers 1,000 to 2,000 feet in the air and shows them a view of 417-land that most people never lay eyes on. As you coast through the air, you'll see wildlife and cityscapes. After the ride, which lasts anywhere from an hour to an hour and 15 minutes, all passengers get to take part in the traditional post-float toast. If you're feeling extra romantic, you can reserve the ride for just you and yours (for $350 per person).


The Exploration Date
Everyone knows how to get to Joplin from Springfield by Interstate 44. That's the traditional way. But what fun is that? We suggest taking a step back in time with your honey and road tripping on Historic Route 66. Take Chestnut Expressway west out of Springfield, which turns into Missouri 266 (which is Historic US-66). Continue west on Missouri 266 until you get to Gay Parita, an old-fashioned replica Sinclair station. After snapping a few pictures, get back in the car and continue west, crossing over Highway 96 to Highway N. The town of Spencer will be just ahead at the first right. Stop here. The place is no longer a live city, but is now a completely restored miniature village, complete with a picturesque gas station, feed store, general store and barbershop. After visiting Spencer, continue west along the narrow stretch of paved roadway until you once again intersect with Highway 96, then turn left and head towards Carthage. You will eventually pass through Joplin, and just after Joplin is perhaps the most fun part of the trip: Galena, Kansas. Galena is home to Four Women on the Route (119 N. Main St., Galena, 620-783-1366), a Kan-O-Tex service station. This site is home to "Tow Tater," a 1951 International Boom Truck that was the inspiration behind the Tow Mater character in the Disney movie Cars. While you are here, enjoy lunch at the spot's diner, a delicious greasy spoon that sells burgers and sandwiches.


The Bike-Riding Date
A leisurely bike ride with your sweetie is the perfect way to enjoy a little exercise and some time together. Load up your bicycles and head to the Galloway Creek Greenway Trail (start at the Pershing Middle School Trail Head at Pershing Middle School, on Seminole Street just east of Lone Pine Avenue, 417-864-2015, ozarkgreenways.org) to enjoy some pedaling, scenery and conversation. Since you're burning all those calories, consider treating yourselves to delicious snacks and drinks at Sequiota Bike Shop (3521 S. Lone Pine Ave.), which you will run into after riding a couple of miles. Continue your journey approximately three more miles, then turn right to head to the Springfield Nature Center (4601 S. Nature Center Way, Springfield, 417-888-4237), where you can park your bike and enjoy some more exercise with a nice walk on one of the spot's trails.


The On-the-Water Date
Are you the outdoorsy type of couple? If so, you'll love an afternoon on the river. But you don't have to worry about finding a canoe, loading it up and taking it countless miles to get on the water. The Springfield Boathouse (5324 S. Kissick Ave., Springfield, 417-891-1550) offers canoes and kayaks for rental for $10 per hour or $30 for four hours. You can each go solo in your own kayak, or you can share a canoe and paddle your way down the James River Water Trail. If you're not seasoned water rats, no worries, the spot also has double-kayaks, which are more stable and great for first-timers. Be sure to pack water and snacks, or even a lunch, which you can enjoy on a gravel bar.


The Dinner-in-the-Dark Date
For a truly one-of-a-kind evening out, consider the Civil War Dinner Tour ($29.95 per person at Smallin Cave, 3575 N. Smallin Rd., Ozark, 417-551-4545, smallincave.com). After arriving at the cave's gift shop, guests are led by lantern light to the campsite, which is set up like an old Civil War campsite. Guests scoop up their own meal of ham and beans, cornbread and fried potatoes catered by Rosie Jo's Café, and hosts dressed in old-fashioned garb tell the story of the Civil War and its connection to southwest Missouri and Smallin Cave. After eating and hearing stories around the campfire, guests are taken into the cave and told old legends, including why Native Americans believed the cave was haunted. Toward the end of the event, guests sit in the dark as they learn the story of the Baldknobbers, and a couple of the infamous gang members make an appearance. If you and yours cannot make the Civil War Dinner Tour, Smallin Cave also has Wild Cave Tours, with special couples pricing, all year long.