Life
Great Dates in Springfield, MO
Date ideas for foodies, romantics, sports fanatics, creatives and adventurous couples in Springfield, Branson and beyond.
By Savannah Waszczuk and Abigail Blaes
Sep 21 2011 at 10:21 a.m.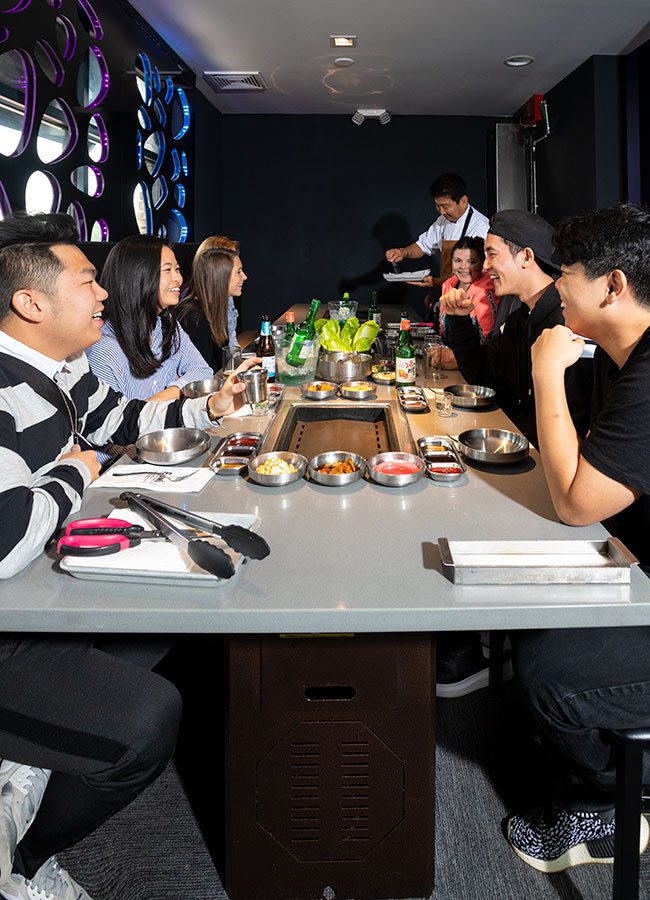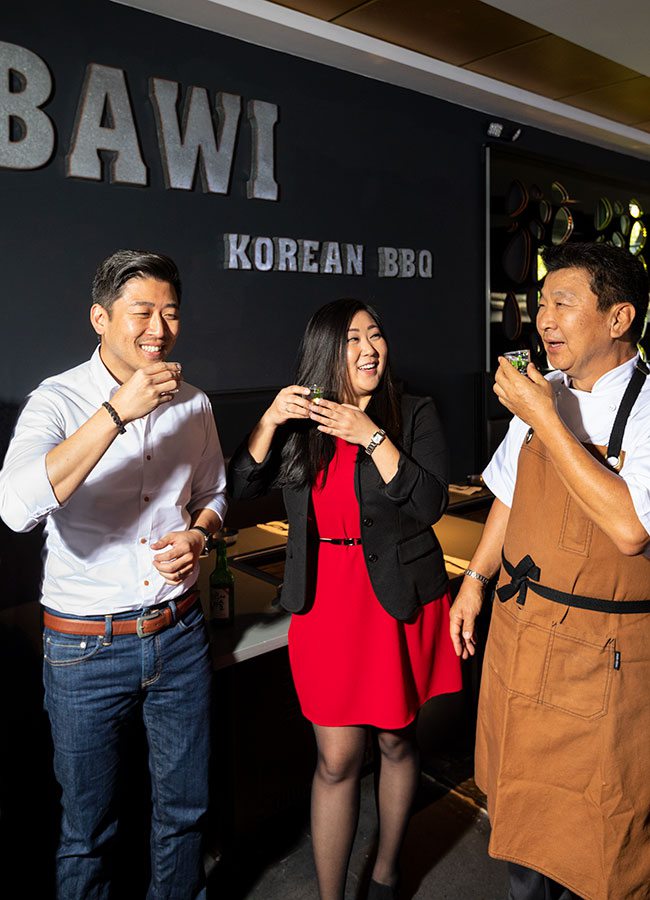 Photos by Brandon Alms
Do-It-Yourself Dinner Date
If you're wanting a more hands-on dining experience, Bawi Korean BBQ (4121 S National, Springfield, 417-886-2777, bawikbbq.com) offers a unique dining experience where customers cook their own food. There are grills built in to every table where servers help to guide guests through the experience and make sure the food is cooked and seasoned to perfect. While you wait for your meal, grab a bottle of Soju, the traditional Korean drink offered at Bawi. Make a reservation ahead of time because this place fills up quick!


Dinner for Seafood Aficionados
So many restaurants, so little time. We know it can be hard picking just one place to eat dinner. If you and your sweetie are a couple of foodies, consider a progressive meal. It'll let you experience more flavors and a little dining adventure. Here's one way to do it: Start out your evening at Touch Restaurant & Oyster House (1620 E. Republic Rd., Springfield, 417-823-8383, touch-restaurant.com), a restaurant well-known for its delicious seafood menu. But no worries if fish isn't your thing. You'll have your choice of a variety of mouthwatering apps, including baked zucchini, cheesy dips, steak tacos, and salt and vinegar fries. The spot features a daily happy hour from 4–7 p.m.


Give Us the Pizza!
If you and bae need another excuse to eat pizza once a week, get to know Millsap Farms (6593 Emu Ln, Springfield, 417-839-0847, millsapfarms.wordpress.com). Their seasonal Thursday night Millsap Farm Pizza Club gives you all access to the goods: wood-fired, gourmet pizza with all the decadent, delicious toppings you need. If you're wanting a more private picnic experience, bring along your own picnic basket, blanket and adult beverages to find a quiet spot on the grounds. During their May - October season, the reservations fill up quick, so be sure to sign up asap. Cuddle up and chow down under the twinkling lights!


The Wine-Lovers' Date
We all know a glass of wine is a great accompaniment to a date, but what if wine was the basis of the date itself? To learn a little about locally made vino, spend a day touring Branson wineries. Start your day at Curling Vine Winery (601 State Hwy. 165, Branson, 417-334-1897), where it is perfectly acceptable to start drinking when they open at 9 a.m. (and 10 a.m. on Sundays). Stone Hill offers tours of the facility, and of course, wine samples. Stop off at St. James Winery and Restaurant (405 State Highway 165, Branson, 417-544-8283, stjameswinery.com) for some good (and affordable) wine and eats.  End your day watching the sun set at Lindwedel Wine Garden (3158 State Hwy. 265, Branson, 417-338-0256, lindwedelwinegarden.com), where you can also grab a few snacks  and maybe even some live music with a great view from the back deck. 

For wine experience in Ozark, make your way over to The Vineyard Market (1759 West St. Hwy J, Ozark, 417-882-0399, thevineyardmarket.com). It's a perfect blend between a wine bar, bakery, coffee bar and cigar lounge. Browse their small boutique shop while you enjoy a glass of your favorite red or white. There's something for every couple!


Couples Wanting Dinner and an Adventure
Right down the road from Big Cedar, you'll find plenty of options for delicious eats and drinks at Top of the Rock (150 Top of the Rock Road, Ridgedale, 800-225-6343, topoftherock.com). Osage Restaurant features a stunning dining room with a beautiful view of the Ozark Mountains. All around Top of the Rock, you'll find walls filled with local artwork and Native American artifacts. The Osage Restaurant also offers the perfect view of the Top of the Rock sunset ceremony featuring civil war cannons, traditional bagpipers, and a beautiful sunset over Table Rock Lake. Arnie's Barn, named in honor of Arnold Palmer, offers Mexican cuisine in modern, rustic-inspired atmosphere. Lastly, if you're looking for some more relaxed dining or a place to grab some cocktails and watch the sunset, Buffalo Bar delivers. End the evening hitting balls on the Arnold Palmer-designed driving range under the moonlight.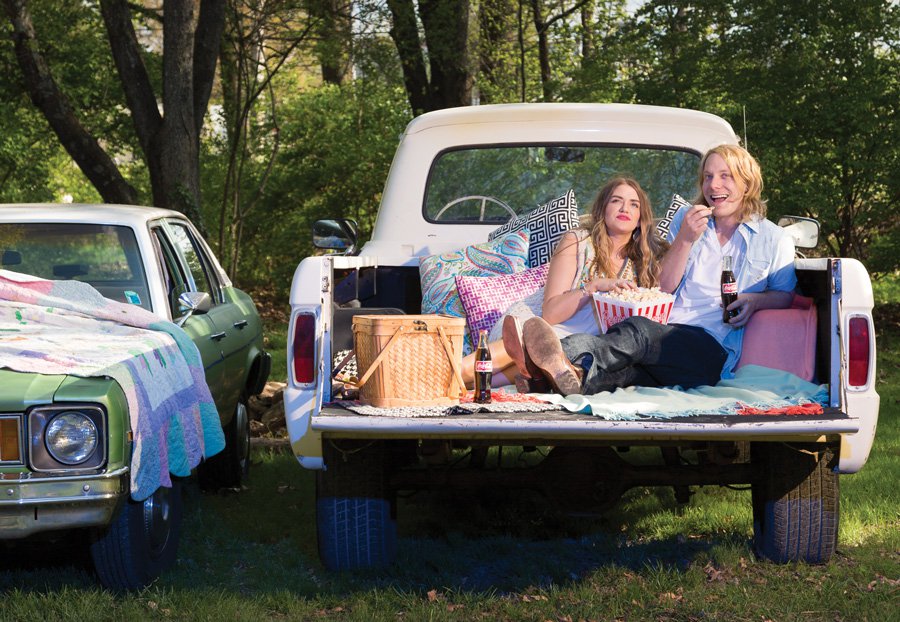 The Drive-in Date
Southwest Missouri is home to three drive-in movie theaters: Sunset Drive-In Theatre (1601 E. Church St., Aurora, 417-678-6609, sunsetdriveinaurora.com), Phoenix Drive-In (1665 Co Rd B, Houston, 417-967-3010, phoenixdrivein.com) and 66 Drive-In Theater (17231 Old 66 Blvd, Carthage, 417-359-5959, 66drivein.com). Find out which is playing a flick most appropriate for you and your sweetie, and hit the road. If you have a truck, drive it (so you can sit extra close). Or pack a blanket and a battery-operated radio and snuggle as you watch from under the stars. If you're more into your date than the movie, that's fine, too; just park in the very last row! We suggest hitting your favorite local candy store on the way out of town to load up on Raisinettes, Junior Mints, Whoppers and other sharable sweets to munch on. Keep in mind that the drive-ins operate seasonally, so in those winter months you'll have to settle for an indoor movie experience. 
The Couple's Massage Date
We've all tried to give our significant other a massage. Yes, it's a sweet gesture, but let's face it: It just isn't the same. We suggest ditching that old bottle of massage oil and calling Zen 3 Spa and Bodyworks (619 S. Pickwick Ave., Springfield, 417-866-9363, zen3massage.com) to schedule the Cabana Night Dinner Package. For $325, you and yours each get a 60-minute full-body massage, which can take place in the spa's tropical couples' room or under a private outdoor cabana (weather permitting). The package also includes a romantic dinner for two and complimentary mimosas. Or, bring in your favorite bottle of wine or beer to enjoy.

The B&B Date
Sometimes spending a night away from home can make all the difference. There's the excitement of packing, the enjoyment of having no real time constraints and the satisfaction of not having to make your bed in the morning. You and yours can have two of these luxurious nights away from home with the Honeymoon Package at Bear Creek Bed and Breakfast (1320 Keithley Rd., Walnut Shade, 417-443-0036, bearcreekbedandbreakfast.com). This special date package comes with a miniature wedding cake (so it really is perfect for any anniversary), a bottle of wine, two champagne flutes, a two-night stay in a two-person cabin or suite of your choice and home-cooked breakfasts both mornings for $429. Bear Creek Bed and Breakfast's entertainment options include massage therapy, horseback riding and a fishing guide, and all cabins and suites have private hot tubs. Go find your suitcase.

Or visit a historical bed and breakfast in Lebanon, The Manor House Inn (505 E Elm St., Lebanon, 417-718-6200, manorhouselebanon.com). The owners of the bed and breakfast recently finished their extensive remodel to the Inn while maintaining all of the historic quaintness. The 14 room home originally built in 1903 is described as a "Route 66 Retreat." Each of the six guest rooms has their own theme and decoration scheme. Decked with a game room, a library and a porch with a scenic view, you and your honey need not even leave the house for the weekend. 


Dates for Sports Fanatics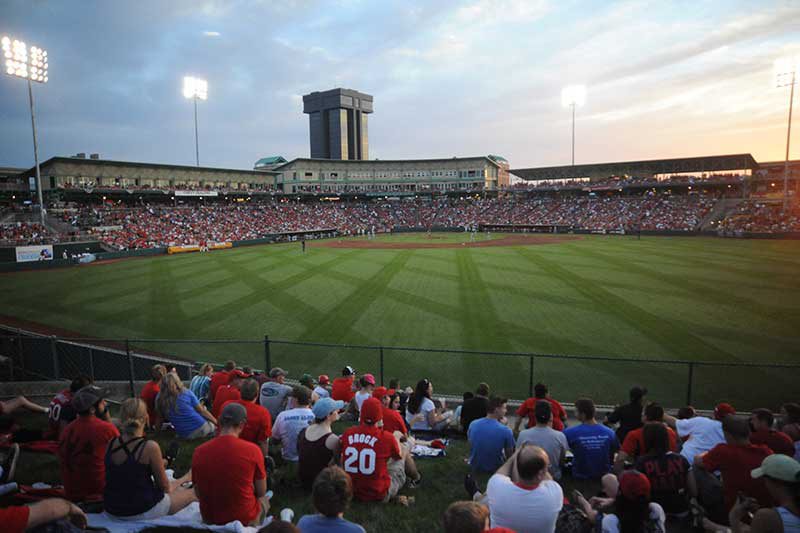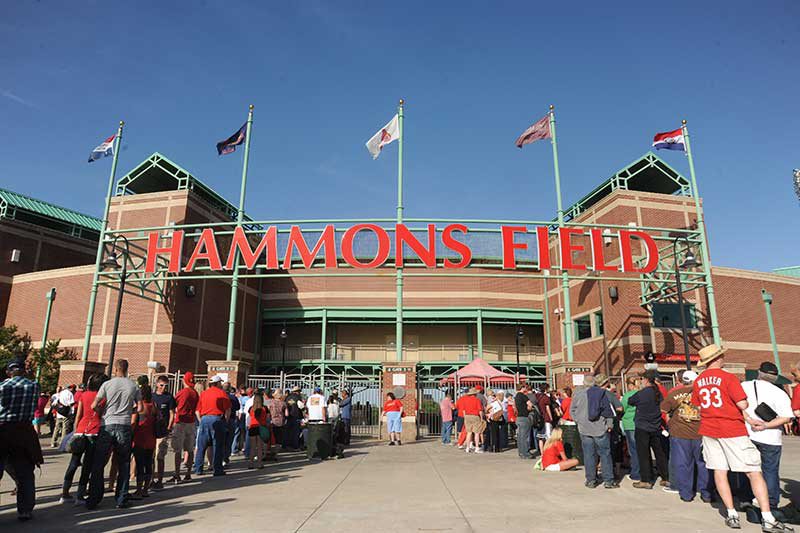 Photo courtesy Mark Harrell If you and your honey are the biggest sports fans, there are plenty of opportunities to get your game face on in Springfield.
The Game Day Date
If you and your significant other are a couple of football–lovers, there is no better date than a Missouri State Bears football game. Help cheer the Bears to victory at a football game at Plaster Sports Complex (1015 E. Grand St., Springfield, 417-836-7678, missouristatebears.com). A couple of hours before kick-off, hold hands with your sweetie as you wander around BearFest Village, located north of the stadium in the grass plaza in front of McDonald Arena. The spot has a massive free tailgate party before every home game. Local restaurants and vendors give away free food and swag, and the tailgate features live performances from the Missouri State pride band stage with live music or a DJ. 

If football isn't your sport of choice, check out a Missouri State University basketball game at JQH Arena. With Dana Ford at the helm of the men's team, things are looking up for the team just on the cusp of a big break.


The Sports Buffs' Date
Who knows more about sports—you or your other half? Test each other on Missouri sports trivia while you roam through the Missouri Sports Hall of Fame (3861 E. Stan Musial Dr., Springfield, 417-889-3100, mosportshalloffame.com). Guests of the hall of fame take a self-guided tour of the two-story museum, which features sports artifacts and tributes that highlight past Missouri athletes. Football fans will love seeing a jersey and helmet worn by a St. Louis Ram in the 2000 Super Bowl championship, and baseball lovers will drool when they get a glimpse of Stan Musial's old baseball glove. After you take in all the history, battle it out with basketball shooting and football throwing contests.


Springfield Cardinals Date
There's nothing quite like hearing the crack! of a home run hit. A Springfield Cardinals game is the perfect low-key, affordable baseball experience with all of the fun and excitement. Before the game, hit up Ebbets Field, a no-frills house bar on Historic Walnut Street, that's within walking distance of the stadium. Gear up with your Cardinals red and head over to the Hammons Field (955 E Trafficway St., Springfield, 417-863-0395, milb.com/springfield) for some beers and stadium-style hot dogs.


Dates for Creative Spirits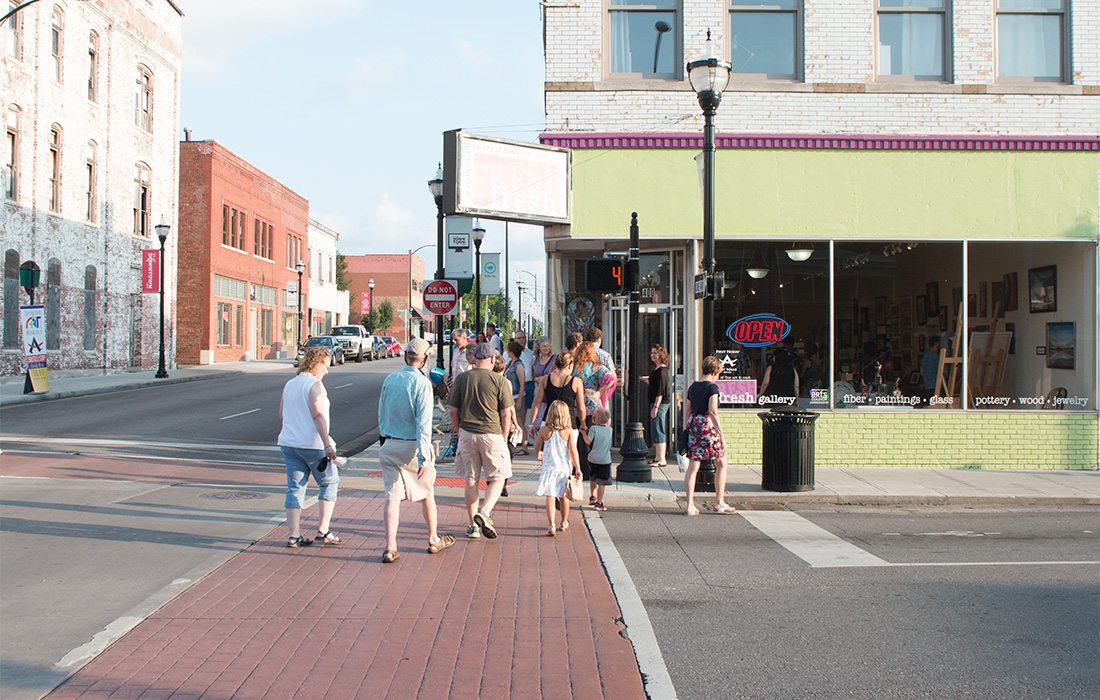 The Art Walk Date
Springfield's First Friday Art Walk (downtown Springfield, ffaw.org) has been a fun date-night option for 417-land couples for more than 15 years. Grab your one and only and head to downtown Springfield to enjoy some fresh air, original art and complimentary snacks. First Friday Art Walk continually features more than 25 venues showing local, regional, national and even international art, so you're sure to find a piece to take home with you or a little inspiration to start a new project of your own. After making the rounds, continue the fun with dinner at one of downtown Springfield's hottest restaurants. 
The Pottery-Painting Date
Couples are always welcome to come in and paint pottery at Firehouse Pottery and Art Studio (4150 S. Lone Pine, Springfield, 417-881-8381, firehousepottery.com), but the spot has a discounted date night every Wednesday evening. For this mid-week special, couples get half-off the Firehouse studio fee. Lovebirds are invited to bring in their own food and drinks to enjoy while they paint creations of their choice, from which there are hundreds to choose. Options include everything from coffee mugs to serving dishes. Set the mood by bringing a bottle of your favorite wine and a few cheeses, or even pack a meal and eat your dinner while you paint.

The Learn-to-Dance Date
Spend a date night learning how to bust a move at Step by Step Dance (1722 S. Glenstone Ave., Suite G, Springfield, 417-689-4141, dancestepbystep.com). Couples have the option of learning many different types of dance, including swing, country, ballroom and salsa. After a first-time free session, group classes are available for $10 per person, or couples can get private lessons for $60 per hour or a package of five classes for $250. Sycamore Creek Family Ranch (2657 Sunset Inn Rd., Branson, 417-593-9628, sycamorecreekfamilyranch.com) also offers Barn Dance Nights to get your feet movin' and groovin'. They teach a bit of of everything: Texas two step, country waltzing, swing dancing and line dancing. If you work up a sweat and need to refill, they have BBQ sandwiches and a concession stand to get you back on your feet. After completing these classes at Step by Step and Sycamore Creek, you can go out and dance to your favorite cover band without worrying about who you may bump into. And just think of all the people you will wow the next time you dance at a wedding!


Dates for Culture Junkies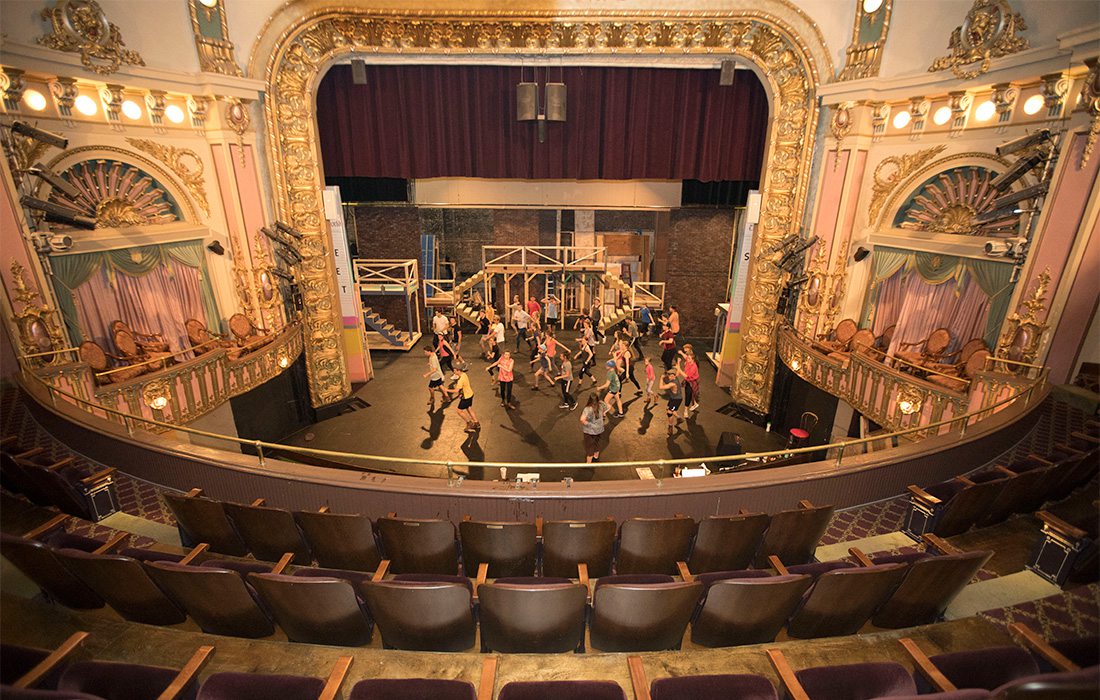 Theatre Geeks' Dreams Come True
Straight from Broadway, Juanita K. Hammons Hall for the Performing Arts (525 S John Q Hammons Pkwy, Springfield, 417-836-7678, hammonshall.com) continues to wow with its annual lineup. In its 2018–2019 run, award-winning shows including The Lion King, The King and I, Jersey Boys, Something Rotten! and Finding Neverland graced the stage. If you're wanting a more intimate show, check out Springfield Little Theatre (311 E Walnut St, Springfield, 417-869-1334, springfieldlittletheatre.org). This beautiful, historic theater may be compact, but it doesn't affect the quality of the shows. Plus, it allows for a more personal, intimate show for you and your love to get cozy and comfortable.


For the Couple Needing a Good Laugh
Laughter is the best medicine and the best date night, and Springfield has plenty of places to get your giggle-fix. Springfield Improv (308 S Ave, Springfield, 417-872-2658, springfieldimprov.com) has a variety of weekly shows. Check out The Home Team's weekly show for "Springfield Improv's flagship show." If you want less improv and more stand-up, Blue Room Comedy Club (541 E St. Louis St., Springfield, 417-228-8403, blueroomcomedyclub.com) is for you. With a selection of drinks and appetizers, you can relax, munch on a few jalapeno poppers, and have a good laugh. Lastly, if you've always wanted to see a talk show live, check out the The Mystery Hour (417-863-9491, themysteryhour.com), filmed at Gillioz Theatre. With three Emmy wins under its belt, host Jeff Houghton knows how to put on a good show. It's filmed monthly and features a wide-range of interesting, innovative and hilarious guests. Some of their notable guests in the past have included: Cailee Spaeny from Pacific Rim: Uprising and On the Basis of Sex, artist Julie Blackmon, Barry Williams from The Brady Bunch, comedian Emma Willman, Food Network celebrity chef Simon Majumdar, and New York Times bestselling author Cullen Bunn.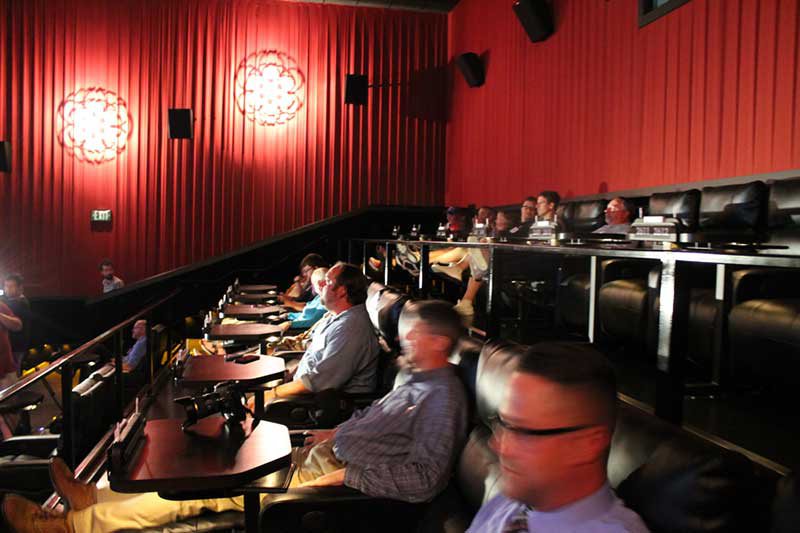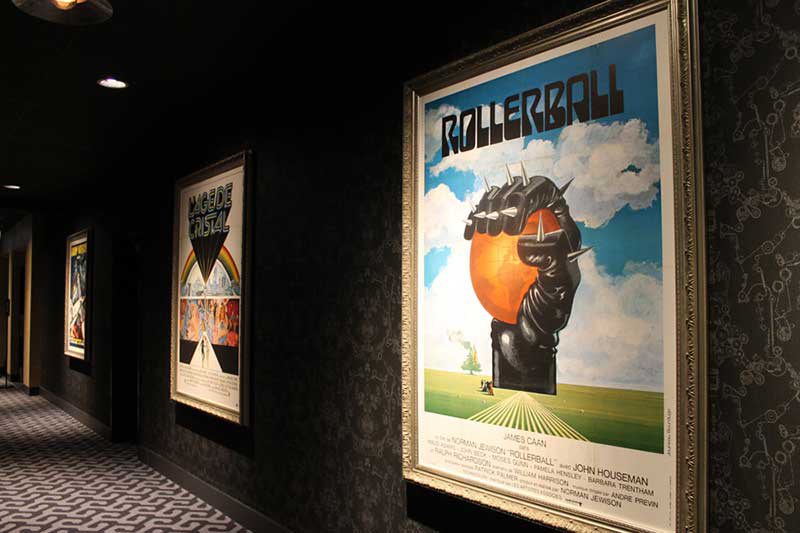 Photos by Dayle Duggins From the downtown theatre-scene to a cozy movie night, you and your honey will be able to get your fix of local and national talent.
The Movie-Lovers' Date
A date to the movies doesn't have to include you and yours shoved in a crowded theater with giggling teeny boppers seeing the latest blockbuster. Springfield's Moxie Cinema (305 S Campbell Ave #101, Springfield, 417-429-0800, moxiecinema.com), a not-for-profit theater downtown, specializes in showing independent American and Canadian movies, foreign films and documentaries. Movie tickets have a competitive $9 price tag, and matinees are only $7. For a full dinner and a movie date night, visit the Alamo Drafthouse (4005 South Avenue, Springfield, 417-708-9599, drafthouse.com/springfield). The fried dill pickles, pizzas, and gourmet hot dogs are to die for and make for great movie munchies. If you're wanting something to satisfy your sweet tooth, the shakes are just big enough to share with your date. Can we get two straws, please? After the movie, stop by the Backlot, Alamo's bar and restaurant, for a few extra cocktails. Keep an eye out for Tuesday Trivia nights, live music and game nights.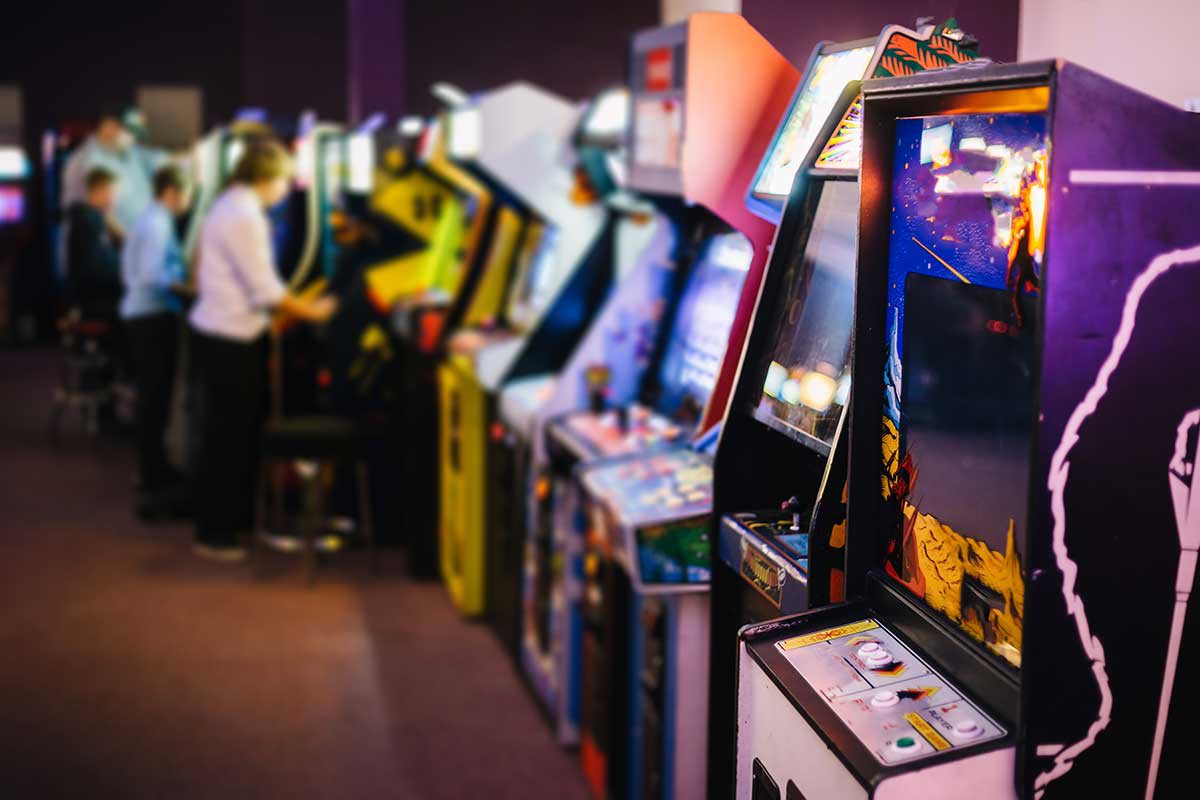 The Throwback Date
Challenge your main squeeze to a game of Pong at 1984 (400 S. Jefferson Ave., Springfield, 417-831-3665, 1984arcarde.com). A date at this classic '80s arcade only costs $7.50 per person, and you can play an unlimited amount of games until the spot closes at 11 p.m. Popular games at 1984 include Pac-Man, Ms. Pac-Man and Frogger, and many of the games have a two-player option. You can stand side-by-side as you play Tetris or work as a team to beat opponents in Joust. If you're competitive, you can race one another in Final Lap or battle it out in Karate Champ. If you get the munchies, grab candy, chips, soda or a slice of pizza at the 1984 snack bar, or head to Springfield's Incredible Pizza (2850 S. Campbell Ave., Springfield, 417-501-0826, incrediblepizza.com/springfield) to enjoy a full buffet of pizzas, salads, pastas and desserts and a game of skee-ball.


The Day-at-the-Track Date
There are many ways to feel like a kid at The Track Family Fun Parks (multiple locations, Branson, 417-334-1612, bransontracks.com). Enjoy a little friendly competition as you race your sweetie to the finish line on one of the many ground-level go-kart tracks, which are filled with plenty of straightaways. If you're not in the mood to ride solo, enjoy a few laps together in one of the spot's double-rider cars. Daredevils can check out the Heavy Metal High-Rise at Track 4 (3345 W. 76 Country Blvd., Branson). This beast is a four-story tall steel and concrete track that has a crazy spiral up and an aggressive, thrilling down-hill slope. Track 4 also has an Andy's Frozen Custard, so you can share a sundae after the thrilling ride. Before you leave, you can also crash into each other on the bumper boats, have a hole-in-one contest while playing putt-putt golf, or see who can win the most tickets while playing arcade games. 


Andy B's has upped their game significantly with killer food, a full-service bar, game zone, underground laser tag, luxury bowling lanes and the opening of their Branson location.
Not Just Bowling Date
Bowling is, of course, a classic date that can't be beat. But Andy B's (1127 Battlefield Rd., Springfield, 417-883-1234, andybspringfield.com) has a few more options to keep the night fresh and exciting. While Springfield's Andy B's will hold a special place in our hearts, the new Branson location is incredible (405 Branson Landing Blvd., Branson, 417-213-8631, andybbranson.com). After the third game of bowling gets a little tiresome, take a break and grab some lane-side food and beverages. If you're wanting to keep the competitive streak going, head over to the arcade and challenge your boo to a game of Space Invaders or Skee-Ball. Round up the tickets you win and see who ends up with the most before the end of the night. Then, trade in your winnings for some serious prizes. One giant teddy bear, please!


Roller Rink Date
Act like junior high sweethearts as you join hands and roll around the rink at Skateland (5163 S. Campbell Ave., Springfield, 417-881-8011, springfieldskateland.com). Public skate sessions, which start at only $5 per person including skate rental, are a great way to enjoy conversation and a little exercise. If you're really good, you can show your sweetie some slick moves while playing limbo and the corner game, and if you're brave enough, you can dominate the rink during the reverse and speed skate specials. If you don't want to worry about bumping into kiddos (and you want to make a date at the skating rink a little more romantic), consider attending the adults-only skate on the second Saturday of every month.


Dates for Outdoors Explorers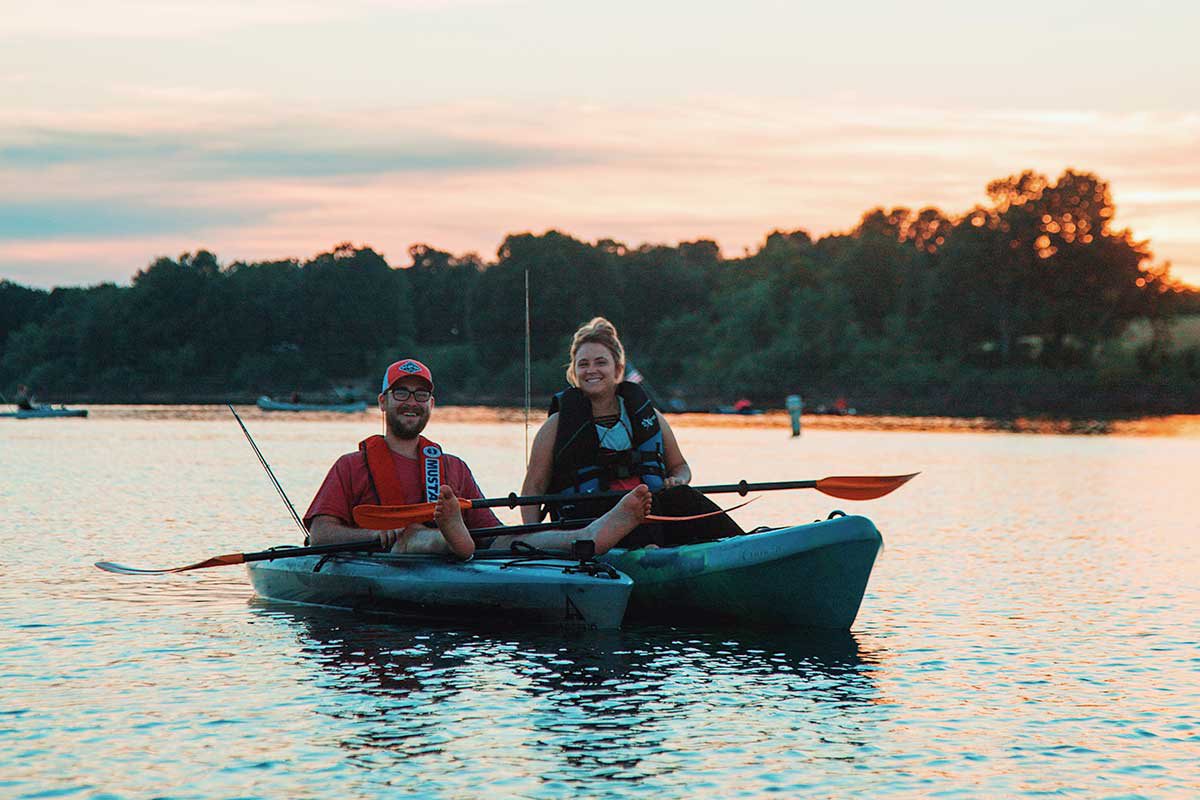 The On-the-Water Date
Are you the outdoorsy type of couple? If so, you'll love an afternoon on the river. But you don't have to worry about finding a canoe, loading it up and taking it countless miles to get on the water. Lake Springfield Park and Boathouse (5324 S. Kissick Ave., Springfield, 417-891-1550) offers canoes and kayaks for rental for $10 per hour or $30 for four hours. You can each go solo in your own kayak, or you can share a canoe and paddle your way down the James River Water Trail. If you're not seasoned water rats, no worries, the spot also has double-kayaks, which are more stable and great for first-timers. Be sure to pack water and snacks, or even a lunch, which you can enjoy on a gravel bar.


The Exploration Date
Everyone knows how to get to Joplin from Springfield by Interstate 44. That's the traditional way. But what fun is that? We suggest taking a step back in time with your honey and road tripping on Historic Route 66. Take Chestnut Expressway west out of Springfield, which turns into Missouri 266 (which is Historic US-66). Continue west on Missouri 266 until you get to Gay Parita, an old-fashioned replica Sinclair station. After snapping a few pictures, get back in the car and continue west, crossing over Highway 96 to Highway N. The town of Spencer will be just ahead at the first right. Stop here. The place is no longer a live city, but is now a completely restored miniature village, complete with a picturesque gas station, feed store, general store and barbershop. After visiting Spencer, continue west along the narrow stretch of paved roadway until you once again intersect with Highway 96, then turn left and head towards Carthage. You will eventually pass through Joplin, and just after Joplin is perhaps the most fun part of the trip: Galena, Kansas. Galena is home to Cars on the Route (119 N. Main St., Galena, 620-783-1366), a Kan-O-Tex service station. This site is home to "Tow Tater," a 1951 International Boom Truck that was the inspiration behind the Tow Mater character in the Disney movie Cars.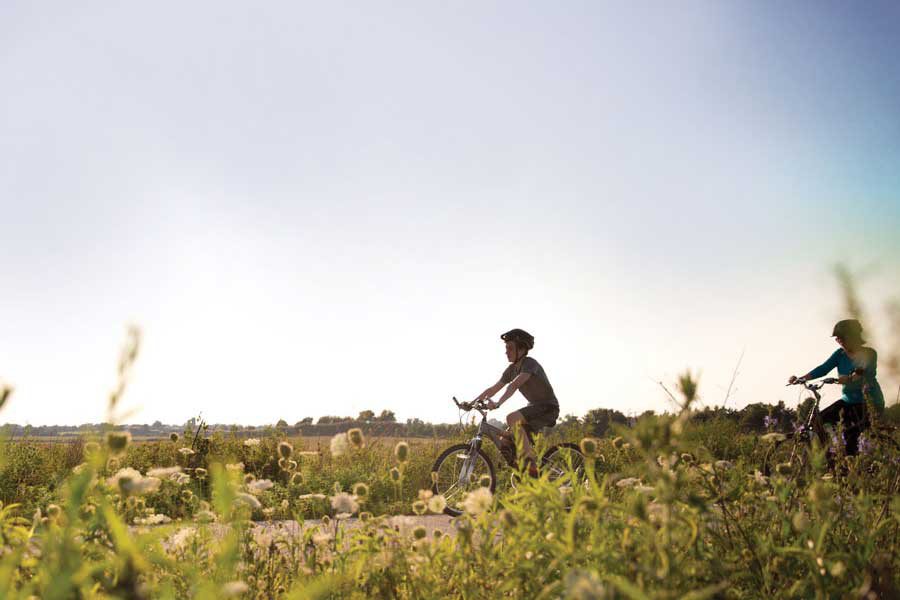 The Bike-Riding Date
A leisurely bike ride with your sweetie is the perfect way to enjoy a little exercise and some time together. Load up your bicycles and head to the Galloway Creek Greenway Trail (start at the Pershing Middle School Trail Head at Pershing Middle School, 417-864-2015, ozarkgreenways.org) to enjoy some pedaling, scenery and conversation. Continue your journey approximately three more miles, then either stop off at the Springfield Nature Center (4601 S. Nature Center Way, Springfield, 417-888-4237) or keeping going to cross a bridge that straddles the James River. Either way, it's a beautiful experience you'll want to have with your honey.  


The Dinner-in-the-Dark Date
For a truly one-of-a-kind evening out, consider the Civil War Dinner Tour ($29.95 per person at Smallin Cave, 3575 N. Smallin Rd., Ozark, 417-551-4545, smallincave.com). After arriving at the cave's gift shop, guests are led by lantern light to the campsite, which is set up like an old Civil War campsite. Guests scoop up their own meal of ham and beans, cornbread and fried potatoes, and hosts dressed in old-fashioned garb tell the story of the Civil War and its connection to southwest Missouri and Smallin Cave. After eating and hearing stories around the campfire, guests are taken into the cave and told old legends, including why Native Americans believed the cave was haunted. Toward the end of the event, guests sit in the dark as they learn the story of the Baldknobbers, and a couple of the infamous gang members make an appearance. If you and yours cannot make the Civil War Dinner Tour, Smallin Cave also has Wild Cave Tours, with special group pricing, all year long.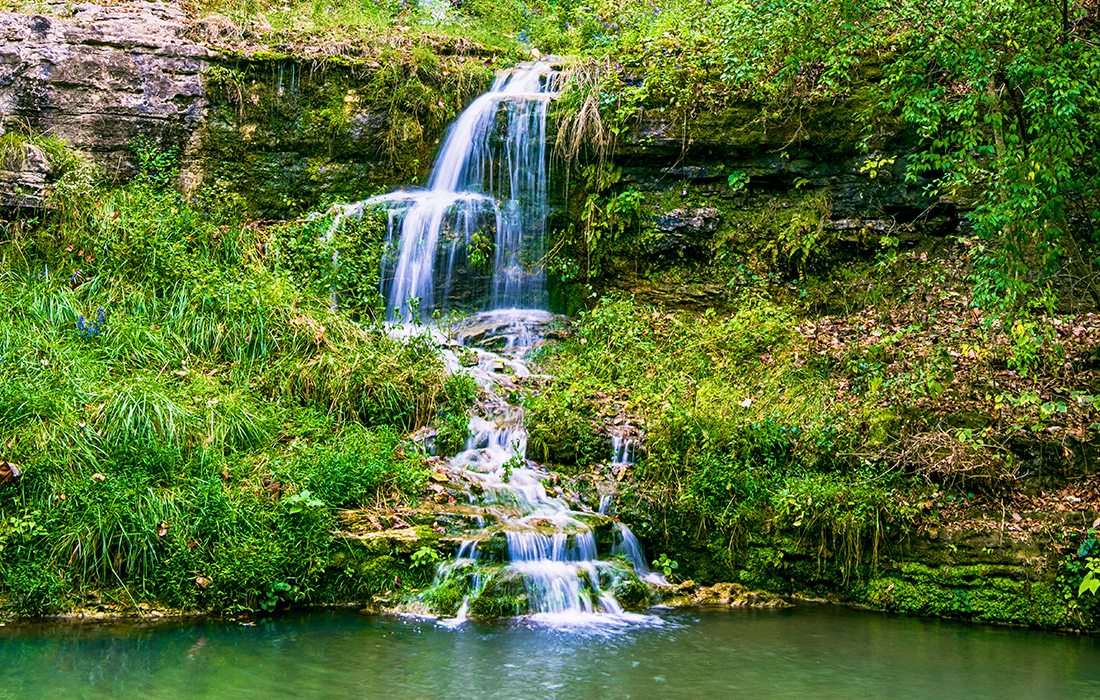 Nature-Filled Adventures
If you can only hit a few nature spots while in southwest Missouri, Dogwood Canyon and Fantastic Caverns have to top the list. At Dogwood Canyon Nature Park (2038 W. State Highway 86, Lampe, 1-800-225-6343, dogwoodcanyon.org), you can chase waterfalls, nature watch and (if the season is right) see some of the famous blooming dogwoods the park is named after. While you're there, you can stop by Dogwood Canyon Restaurant and enjoy the view of the nature preserve. Fantastic Caverns (4872 N Farm Rd 125, Springfield, 417-883-2010, fantasticcaverns.com) may seem a little cheesy, but it's one of those tourist things that you have to do at least once in your life. It's the only ride-through cave tour in America, and it lasts about an hour. Save this excursion for a bad weather day because the cavern is kept at 60 degrees year-round. So hop on into the Jeep trams and enjoy the ride!


Dates for Adrenaline Junkies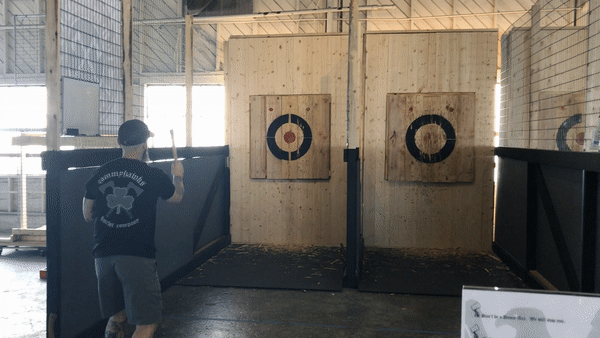 Video by Shannon Hoffman
If you're a newbie at ax throwing, there are coaches on staff to walk you through every step until you're comfortable to let your ax fly on your own.
Date for Competitive Couples
There's nothing wrong with a little healthy competition! Take your boo to TommyHawks (1631 W College St., Springfield, 417-350-1221, tommyhawks.net), and test your skills. Make a reservation that includes coaching, scoring and a champion's trophy OR walk-in and explore for yourself. It's the only facility of its kind in Springfield. Bring your own drinks (no hard alcohol though), and take turns aiming for success. Remember, at the end of the day, it doesn't really matter who won as long as you're having fun! Ok… Just kidding. Gear up!


Date for Couples Needing to Unleash Some Steam
Ever had a bad day at work and just feel the need to break something? Instead of taking your frustrations out on your significant other, schedule time with your cutie to bust a bunch of stuff in Springfield's Rage Room (1950 S Glenstone Ave, Springfield, 417-872-9055, therageroomspringfield.com). They provide the baseball bats and hammers as well as the stuff to smach. You've just gotta bring some excitement and a can-do attitude. Unwind, have a laugh and enjoy seeing your boo let loose in a safe, stress-relieving environment.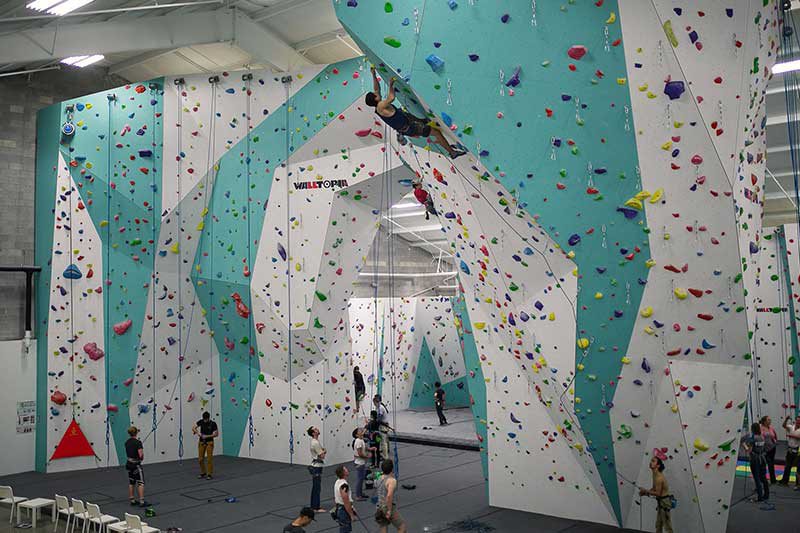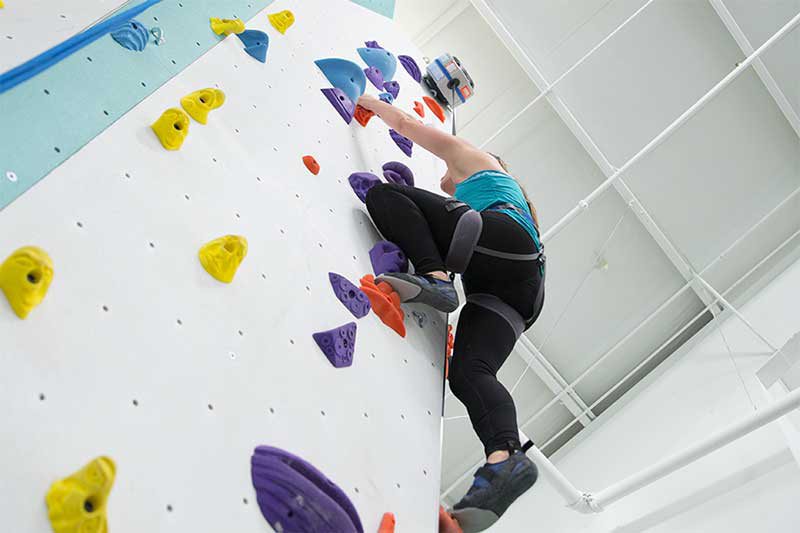 Photos courtesy Kevin O'Riley, Zenith Climbing Center It might take a little practice and some time to get geared up, but climbing is the perfect way to plan a unique date and get in a workout.
Belaying with Bae
Cheesy puns aside, Zenith Climbing Center (3534 E Sunshine St #3, Springfield, 417-986-3869, zenithclimbing.com) offers several great ways to keep date night interesting for active couples. There's plenty of climbing walls of varying difficulties to provide a great date for beginners or pros. A day pass is only $17 which includes access to climbing, yoga and workout facilities. Bond over belaying, try your hand at bouldering (climbing without ropes and harnesses), gear up for yoga or even give an aerial silks fitness class a shot.


The Date That Will Make You Soar
If you're honey makes you feel like you could fly, how about actually being in freefall with them? Fritz's Adventure's Aerodium in Branson (1425 MO-76, Branson, 417-320-6138, fritzadventure.com) and Skyzone in Springfield (2765 S Kansas Expressway, Springfield, 417-771-3883, skyzone.com/springfield) will have you and your date feeling weightless. At Skyzone, try your skills at freestyle jumps or in the foam zone. If you're wanting a bit more of a competition, challenge your date to a game of Skyslam (think basketball on a trampoline) or trampoline dodgeball. If you're wanting to fly even higher, check out Fritz's Adventure's Aerodium. This skydiving equivalent is safe but will give you an instant adrenaline rush. However, because the aerodium is outside, it is seasonal, so check the weather before you go! You can still get your kicks inside the rest of Fritz's Adventure by climbing utilities poles, rock wall climbing, and running through the ropes course. Basically, it's a jungle gym on a massive scale and will surely get your heart pumping.