Life
Explore Downtown Springfield's Sculpture Walk
Whether you're new to town or a seasoned citizen, what better way to explore a city than through its art? That's the idea behind Sculpture Walk Springfield, a rotating art exhibit stretching through downtown Springfield.
by Jamie Thomas, Haley Phillips
Apr 22 2022 at 8 a.m.
This week sees the kick-off of the seventh annual Sculpture Walk in downtown Springfield, Missouri. From April 23, downtown will host a total of 37 public sculptures for the next year. You might have strolled the Sculpture Walk yourself a few times in the past, but if it's been a while there are some new things to keep an eye out for. For the last couple of years, the sculptures have included an audio element, so anyone taking the Sculpture Walk can hear the artists behind the art talk about their work. This year also features 11 sculptures specifically dedicated to our local healthcare workers.
"The healthcare walk is a special portion of the Sculpture Walk that's dedicated to our community's healthcare workers," says Avery Parrish, executive director of the Sculpture Walk. "For those workers and leaders in our community, as well as individuals that had a hard time through the pandemic—we felt that the Sculpture Walk was one of the only things people could really do safely while the pandemic was going on." Parrish describes the 11 sculptures as being designed around themes of empathy, endurance, loss and "all the things that healthcare workers really help us navigate through. It's just a really great way for people to get out and talk about those topics [and] that can help them cope with the past two years."
Another first in their year's Sculpture Walk is an international artist: Canadian multimedia artist Mike Salisbury. "He really likes talking about landscape art and how it interacts with our modern society," says Parrish. "We often change the landscape to accommodate our needs, and he kind of wants to challenge that with his work and talk about how our environment is, what we should work around and not the other, the alternate."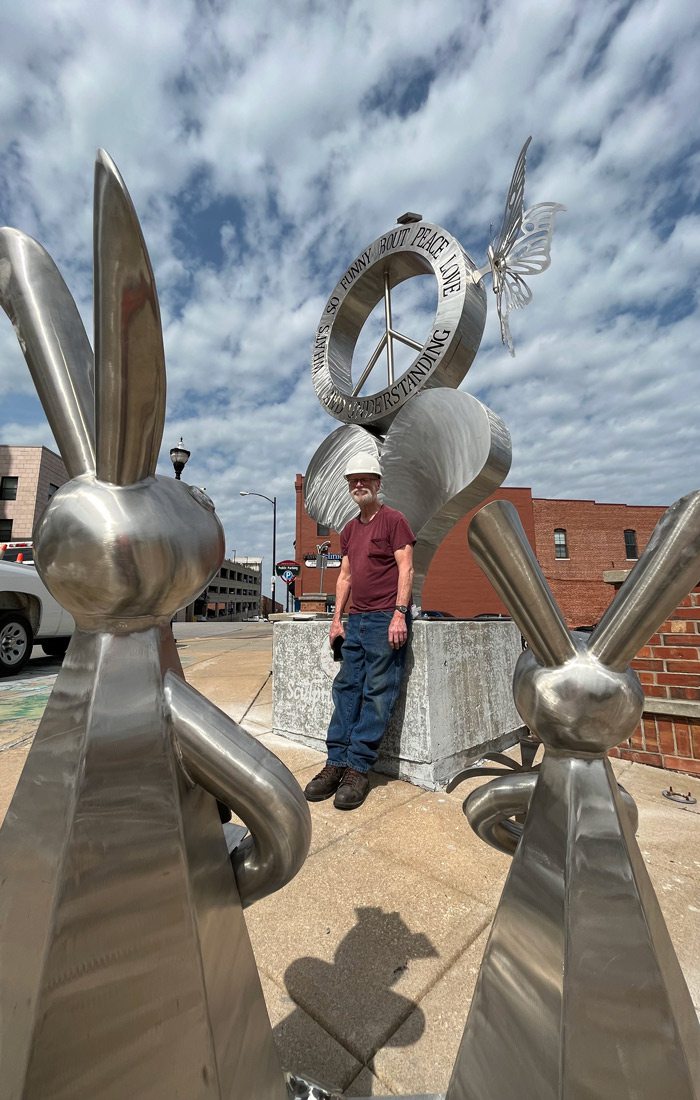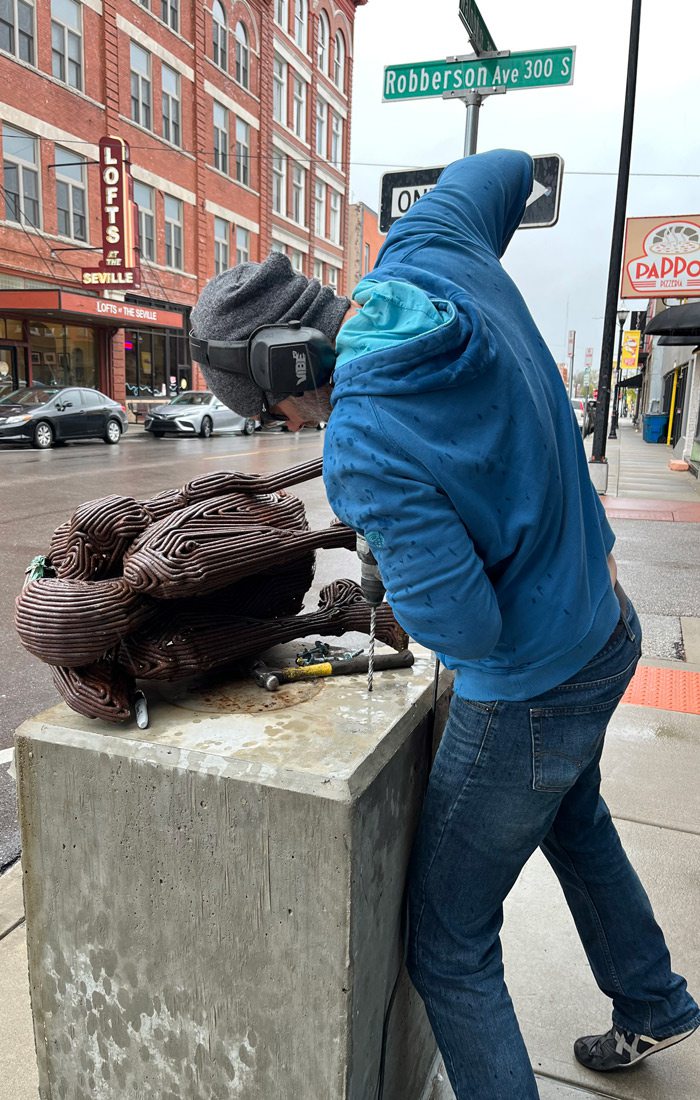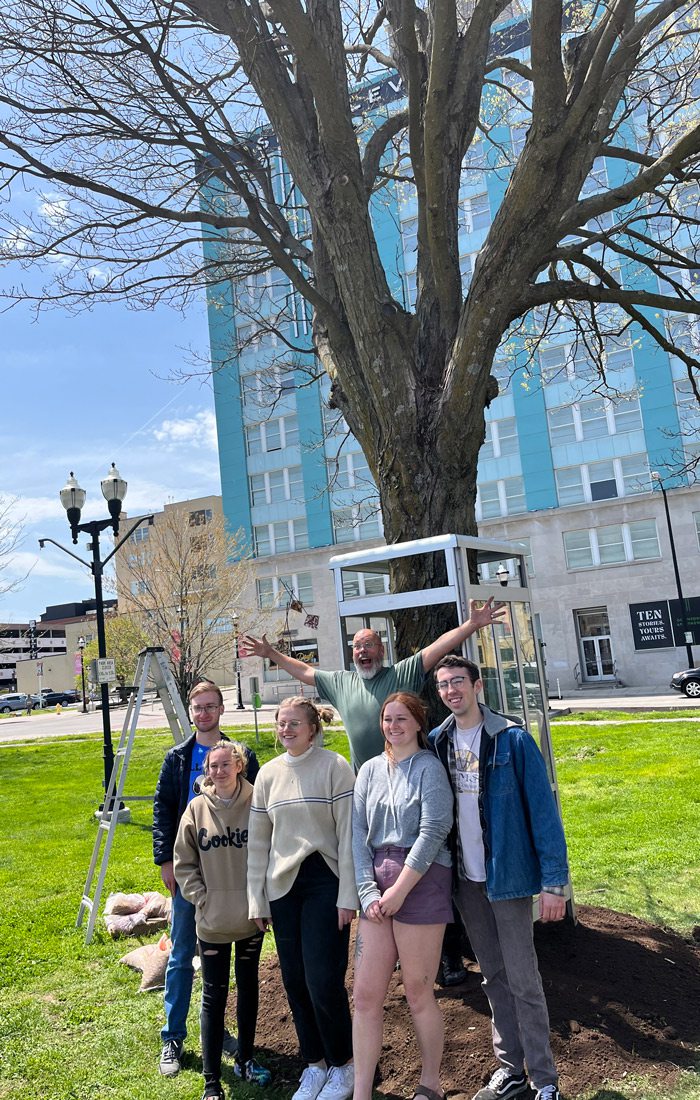 Photos courtesy Sculpture Walk Springfield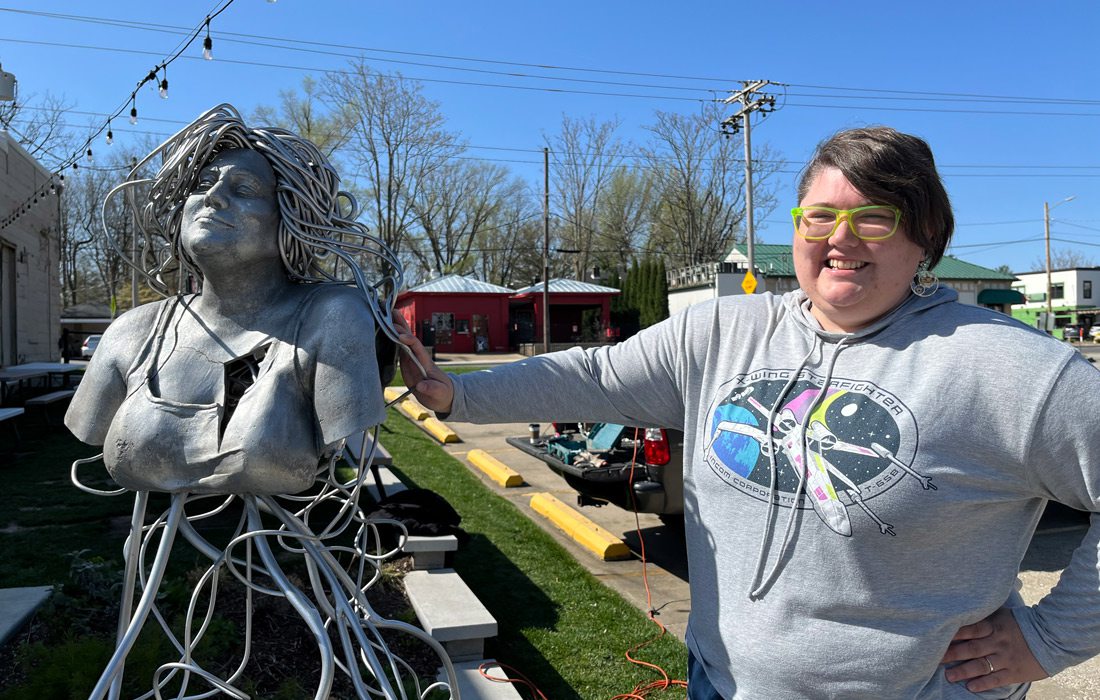 Other artists contributing sculptures this year include Nathan Pierce and Jenn Peek. Peek is originally from Appleton City, Missouri is currently a grad student at Texas A&M in Corpus Christi. "Springfield's grown quite a bit," says Peek, whose first piece of public art was installed in Jacksonville, Florida in 2017. "The art scene is more prevalent and flourishing."
Peek's own work focuses on community, and the piece she installs on Saturday, April 23 is titled Connection. "I love these art walks [because] there's no way that one person would be as successful trying to accomplish these huge projects," says Peek. "Everyone comes together and contributes—not just the artists, but all the logistics that go into it, like Avery keeping in contact with everybody and all the legwork that goes to actually installing them. It's a big group effort and I'm completely enamored with the process of all these people coming together. That's kind of the point of the piece, an illustration of how we grow and support each other."
The celebration starts Saturday, April 23 at 5 p.m. and features live music from Shaun Munday, drinks from Tie & Timber, opportunities to meet the artists and more. Find out full info on the Sculpture Walk's Facebook page. Keep an eye on this page for more photos from the Sculpture Walk.

NOTE: The story below was originally posted in August 2019, written by Haley Phillips.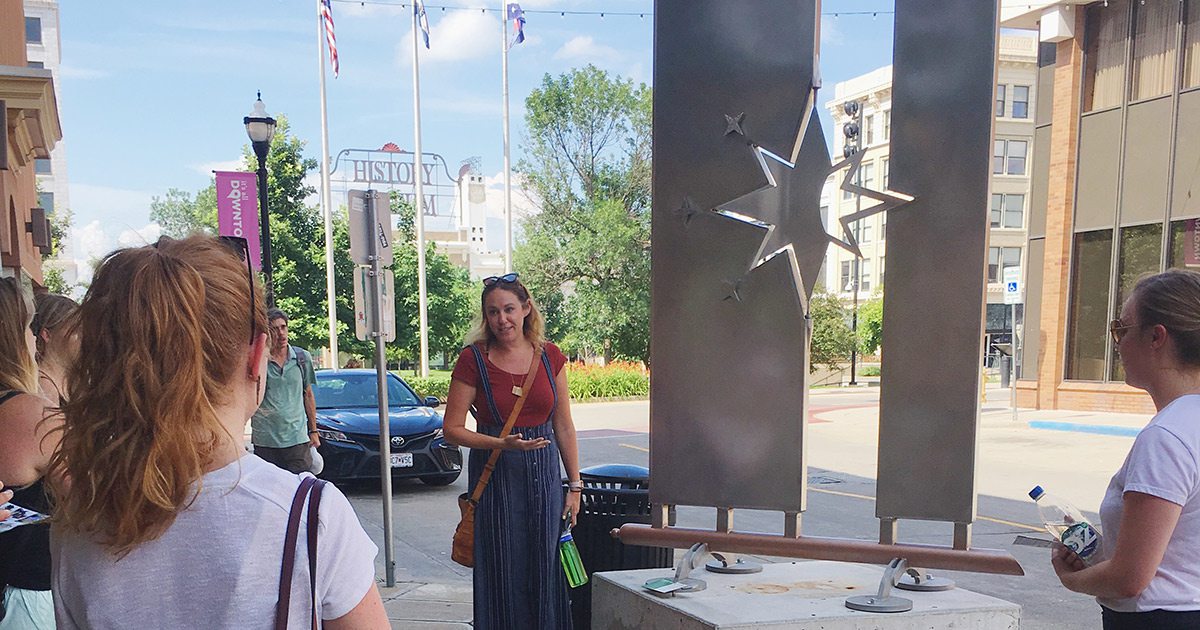 Over the course of the past four years, you might have noticed a sculpture or two crop up in some unlikely places around Springfield. But these larger-than-life sculptures aren't happenstance. They belong to Sculpture Walk Springfield, the first and only rotating art program in Springfield—and it's quickly becoming one of the largest in the Midwest.
The project began five years ago when two families from the Ozarks visited different cities and witnessed firsthand the positive effect an interactive art exhibit could have on a community. "When you see a community that is economically healthy, there's public art displayed," says Nicole Brown, executive director of the Walk. Inspired by the possibility of a similar exhibit for Springfield, the art community set a plan into motion to expand its reach. A couple years and a few road blocks later, the first Sculpture Walk debuted in April of 2016 with 14 sculptures in total.
Today, the Walk showcases 31 sculptures hand-picked each February by a selection committee composed of a mixture of art enthusiasts, businesspeople, community leaders and local artists. The Walk sends out a call to artists each fall, drawing interest from all over the country and even beyond U.S. borders. "We've had submissions from the Middle East, Europe, South America, but we haven't had a ton of international pieces displayed because the shipping is hard," Brown says. The selection process for the exhibit includes a series of questions: Is the artwork appropriate for the city? Will it last a year in the outside environment? Does the piece have artistic integrity? If the committee can answer yes to all three questions, then the lucky piece makes its way to the streets. "We want a good variety of art pieces; we want something for an art lover, [something] for children and something for those that aren't interested in abstract or concept art," Brown says.
The Walk also works closely with the MSU sculpture program, designating at least one spot for a student piece to be featured each year. This season, the committee selected four. "The craftsmanship is amazing for just beginning their career," Brown says. "They're really ambitious with the skills they have."
The long-term goal of the Sculpture Walk is to connect the entire city with sculptures, an impressive task that Brown is hopeful the organization achieves. "Whenever you see a sculpture, we want you to see the next one," Brown says of her desire to make art more prevalent throughout the city. With increasing community support, it just might be possible.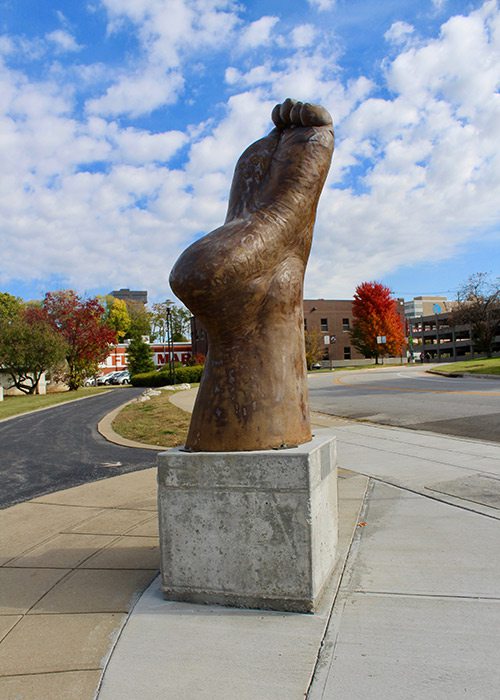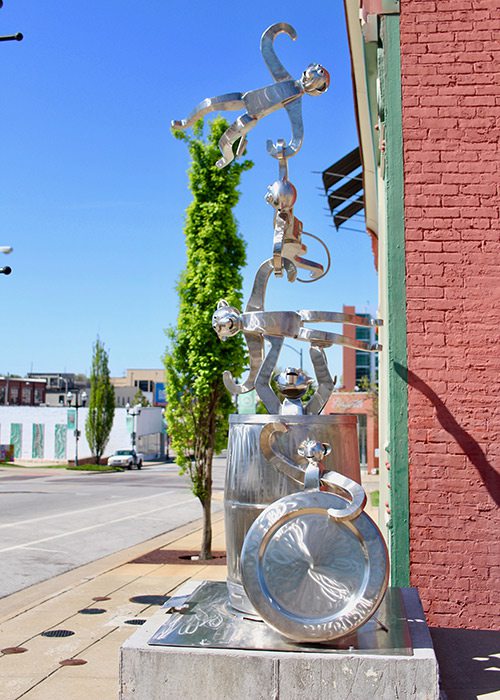 Photos by Shannon Hruska
Walk This Way
With over 30 sculptures in its repertoire, the Sculpture Walk has plenty to see. Here are four of our favorites to help you bring out your inner Michelangelo.

The Defeat of Bigfoot
NE Corner of Trafficway Street and Jefferson Avenue at the Jordan Creek Greenway Trailhead
Crafted by James Hall, this interesting piece has been quite the conversation starter for obvious reasons. Whether you're a folklore fanatic or just feeling a gigantic game of footsie, this sculpture is worth the second look.
Barrel of Monkeys
Outside of 326 N. Boonville Ave.
Initially envisioned as becoming a grill, the barrel ultimately became the perfect base for this whimsical piece. Reminiscent of the classic children's game, this one is for the kid in all of us.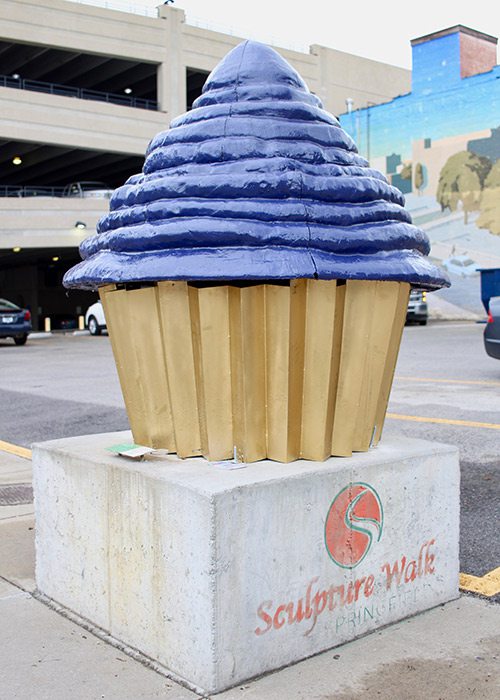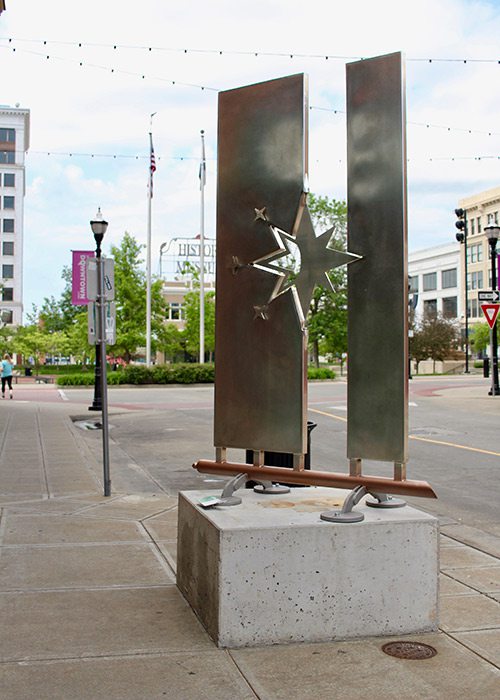 Photos by Shannon Hruska
Candy Mama Cupcake
Northeast corner of Campbell Avenue & Park Central West
Sugar, spice and everything nice is exactly what this cupcake sculpture is made of. Sure to cure even the largest sweet tooth, this unconventional confection just begs for a selfie.
Springfield Rising
South of the Historic Downtown Square on South Avenue
If you're looking for a dose of SGF pride, look no further than this stainless-steel version of the city flag. Paying homage to our community's past and its promising plans for the future, the flag waves proudly even on the quietest of days.
Get the Springfield Sculpture Walk Map
With 31 Sculpture Walk sculptures scattered throughout the downtown area, a handheld map can come in handy!