Life
Dana Ford Ushers in a New Era for Missouri State Basketball
There's a lot to be excited about as a new season of Missouri State Bears basketball approaches, including a new head coach leading the way. We sat down with the new man in charge, Dana Ford, for a wide-ranging Q&A.
By Evan Greenberg
Nov 2018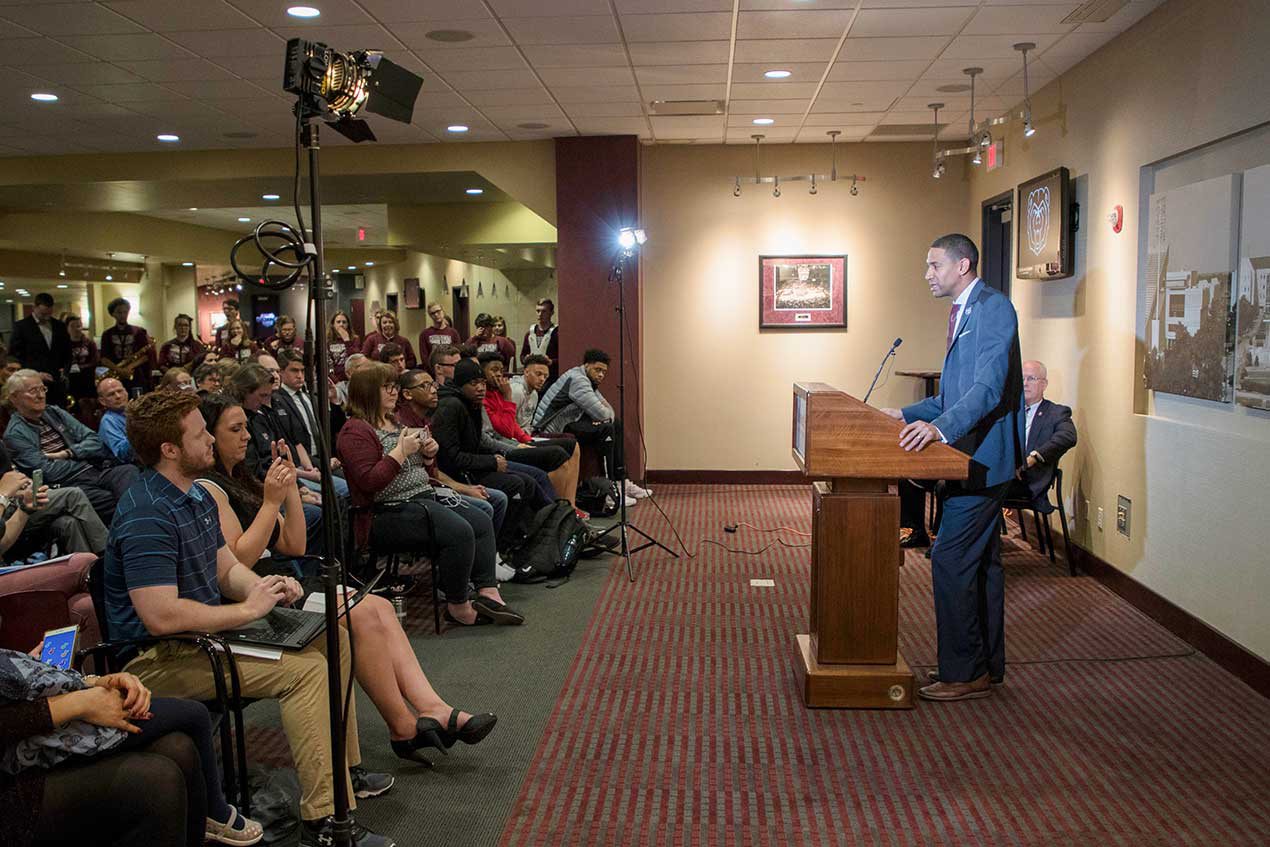 For the entirety of his basketball career, Missouri State's new head basketball coach, Dana Ford, has been playing a game of red rover with the Missouri Valley Conference (MVC). A native of Tamms, Illinois, Ford played college basketball at Illinois State. For three of those years, his coach was Porter Moser, who took Loyola Chicago, another MVC team, to the Final Four in 2018. 

After a stint as an assistant at Wichita State, Ford returned to Illinois State as an associate head coach. Ford was just 27 years old. In 2014, he became the youngest Division I coach in college basketball when he took the position at Tennessee State. The first year was rough—his team ended the season with a 5-26 record. But over the last three years, he led the team to a 52-39 record. It was that record that the administrators at Missouri State were drawn to when hiring Ford as the new head basketball coach. Now, at age 34, the 6-foot-4 coach (he's listed at 6-foot-4, but he modestly admits he's a few inches shorter), is tasked with returning Bears basketball to heights it hasn't reached since 1999. He arrives with a roster full of fresh faces—an illustration of the new chapter Ford's hiring represents. With graduates and transfers, Ford was able to go out and get a few players to  maximize what he calls the "cap space" he had coming into the job. 

Talking with Ford, it's easy to see why Athletic Director Kyle Moats and University President Clif Smart were so taken with the young coach. He is thoughtful and refreshingly avoids typical coachspeak in his answers, which are delivered as if he's anticipated any and all questions that might be thrown his way. Before the upcoming basketball season, we sat down with Ford to talk about how he plans to put Missouri State on a national stage again and the reasons to care about the direction the program is headed.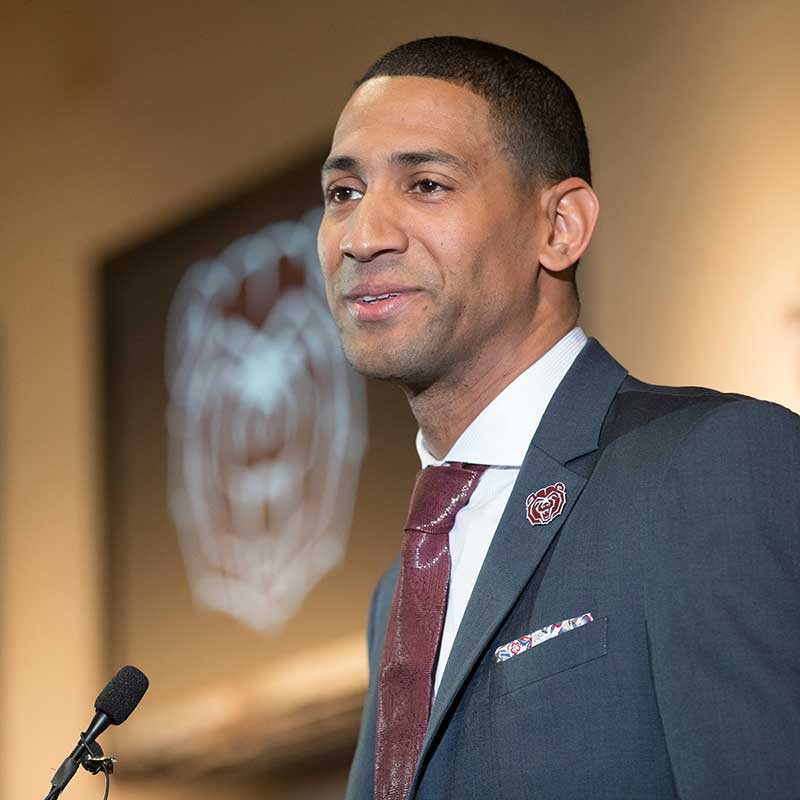 Photo by Jesse Scheve
At the press conference, Ford introduced his plans to revive the MSU Bear's record on the basketball court. A big part of Ford's wining game plan is to start each game with the intention to win and be the best.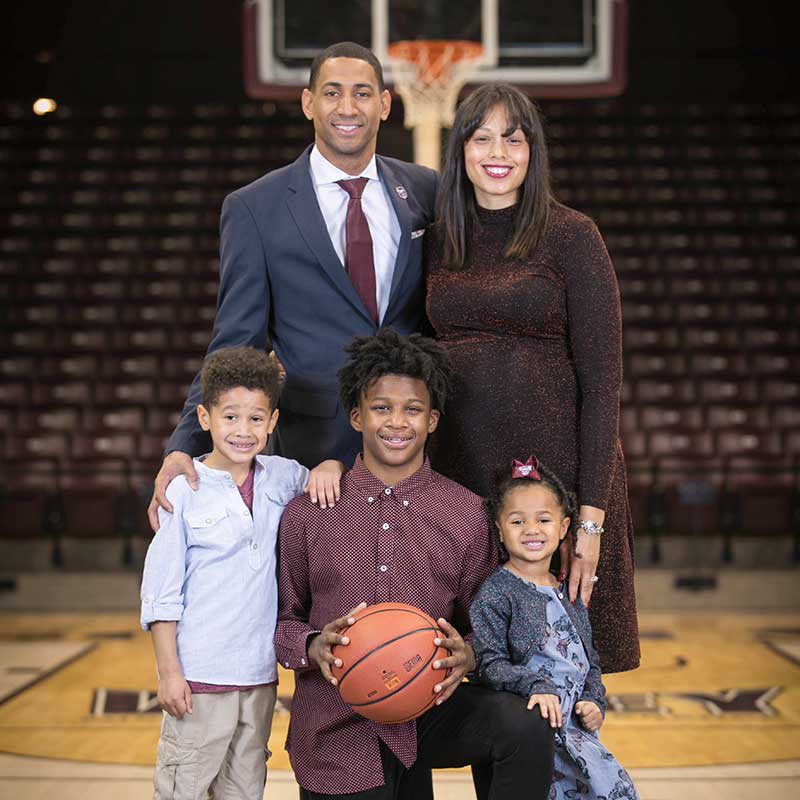 Photo by Kevin White
Dana Ford took over as head coach of MSU's men's basketball this year and made the move with his family to the Queen City to start a new chapter for the Bears.
417 Magazine: You were at Tennessee State, and this job opened up. What was your pitch to Missouri State?
Dana Ford: I was just honest with them. I just told them it was one of the best jobs in the country, which it honestly is. My thing was I felt like we had everything we needed in order to start to produce the product most of our fans wanted. Understanding the league and how to build a team in this league and what's not successful in this league. How to turn programs around, how to maximize the potential that we have and the fit, not only as the coach, but the fit here in town in terms of where I grew up and what I believe in and how I conduct myself. I just felt like it would be a really, really good fit all the way around.

417: Based off of that and the vision you pitched, how has it compared?
D.F.: It's been great. I think we're off to a great start. Obviously we haven't played any games yet. But as long as we continue to recruit the type of athletes who can win in this league, and we coach them and hold them accountable and instill in them the things that we believe can help them win, then I think things will be good. 

417: Did anyone reach out after you got the job?
D.F.: There were so many congratulations text messages and advice and voicemails. The fan base here, for like the first two months, every day was a new gift coming through the office. Cookies, bears and jewelry for my wife and clothes for my kids, letters of advice on how to recruit and how to coach. It was fun, and we take our time and we read them. You want to coach where it means something.
"We need to have a championship-level mindset."
— Dana Ford
417: One thing you said in your introductory press conference was "I was hired here to win championships." It's been awhile since Missouri State has made the tournament. Why was it important to you to make that particular statement early on?
D.F.: The only way to win is if that's what your mindset is. No matter what your history is, you're allowed to change your mindset. And that's the message I'm trying to get across. We need to have a championship-level mindset. 

417: What style of basketball is a Dana Ford–coached Missouri State team going to play?
D.F.: We want to be very unselfish, and we want to play a very hard-nosed brand of ball. If you can't defend, rebound and share the ball without turning it over, you're probably not going to play as much as you want. But if you can do those three things, you'll probably play a lot. 

417: Do you have any favorite Springfield haunts? 
D.F.: If my wife would let me eat City Butcher and Andy's every day, I'd be happy. I could do that every day. I love barbecue. 
Missouri State begins the season November 6 at home at JQH Arena against Oral Roberts. Tickets and upcoming games can be found on the team website at missouristatebears.com.