Reviews
Grill All-You-Can-Eat Meat at Bawi Korean BBQ
Try your hand at tabletop grilling when you dine at Bawi Korean BBQ, where hands-on cooking is part of the all-you-can-eat experience.
By Katie Pollock Estes
Nov 2018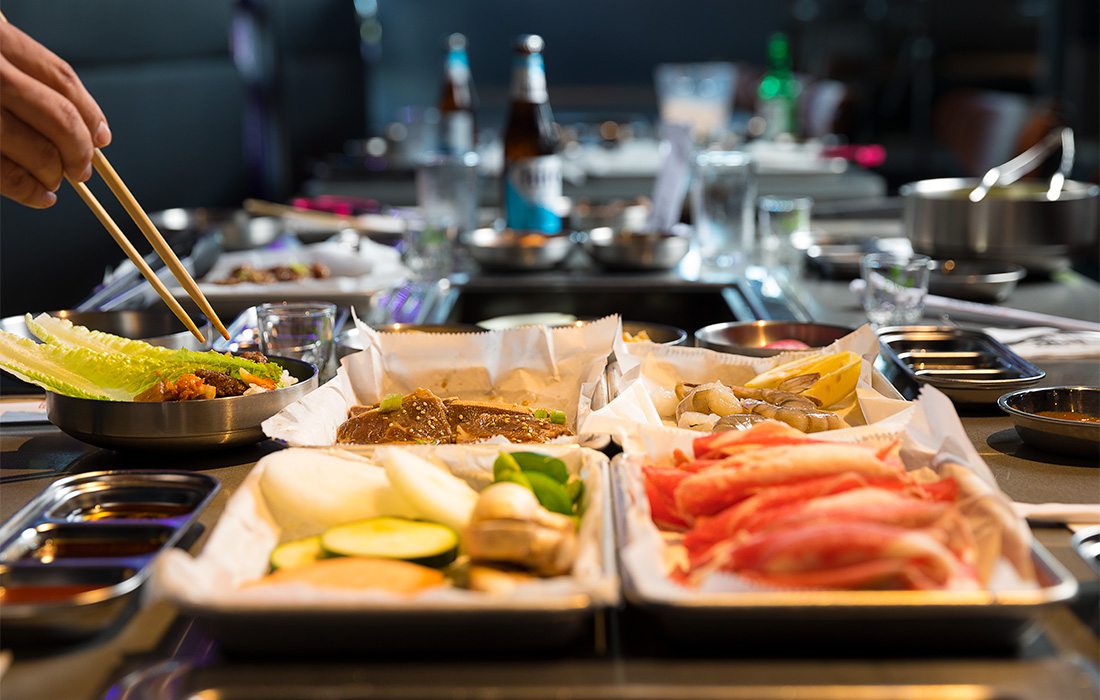 Ever since spending a week with my sister, Lizzy, in Seoul during her stint teaching English in South Korea, I have been more than a little obsessed with Korean food. The tastes and smells take me back to that trip from more than 10 years ago. One of my favorite meals during my visit with Lizzy was at a Korean barbecue. It was a true social experience—me, Lizzy and her friends sat on pillows on the floor, all gathered around a grill at the center of a long table. We talked and shared food that seemed like it would never stop coming: piping hot chicken dak galbi, followed by fried rice, followed by pajeon (crisp Korean scallion pancakes) and kimchi—with soju flowing throughout the meal.
Back in Springfield, I longed for that communal barbecue experience—for the extended meal where you're not rushed and the hands-on ritual is as important as the flavors. When Bawi Korean BBQ opened up, I was beyond ready for it. My husband, Eli, and I secured childcare and ventured out for a much anticipated date.
We arrived early and started our meal at the bar, where we sampled soju and chose which one we wanted to order. We landed on the plum soju, which was sweeter than what I would normally drink—but also delightful. The little bottle came to us plunged in a bucket of ice with two shot glasses. With an alcohol content akin to wine, it was perfect for sipping throughout our meal. 

At our table, the grill was warming up, and the pristinely clean table was soon covered by our banchan (side dishes), condiments, a menu and some cooking utensils. Our server, friendly and eager to initiate us to the Bawi experience, explained the dining process and took our first order: spicy pork bulgogi and sirloin steak.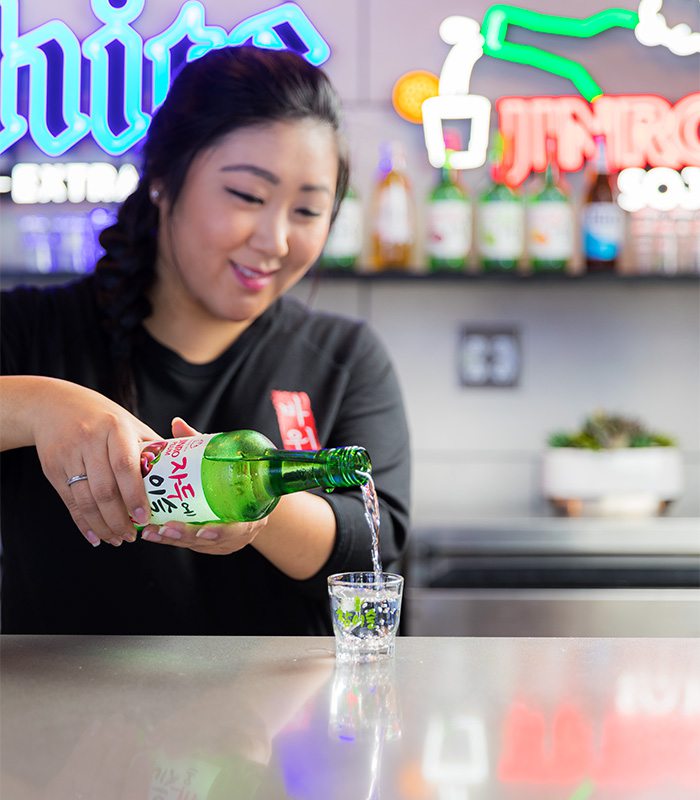 Photo by Brandon Alms
Bawi front of house manager Esther Kwon pours a shot of plum soju—one of the more popular Korean liquors available.
Purchase Photo
When our order arrived, the server added it to the grill then handed a set of tongs to us so we could take over cooking. As we pushed the meat around, we noticed that the slightly inclined sides of the smooth grill top allowed any grease to drain down and out of sight. At the same time, vents built into the grill sucked the smoke down and away. I had feared that I'd leave Bawi coated in the smell of what we had cooked, but thanks to those vents, that was not the case.
When the meat was cooked through, we dunked our chopsticks in and started to eat. I plopped a piece of pork bulgogi onto a wide, thinly sliced round of pickled radish, which served as the perfect mini wrap and added zip to the meat that would have been a little sweet for me otherwise. That pork bulgogi was Eli's favorite protein of the night, but I preferred the more savory steak.
If you think we limited the meal to two meats like two normal adults and called it a night, you're wrong. Bawi is an all-you-can-eat affair. For round two, we picked pork belly and shrimp. I didn't care for the shrimp (it was messy to peel), but I was all about that thick, luscious pork belly. We let it cook until the fat was crispy, like bacon on steroids. After that, we got and then regretted getting (because we were stuffed) the spicy chicken bulgogi and the beef galbi short ribs. I liked both but could barely touch them. Eli was in it to win it, and he did his part to polish off most of it. 
Throughout our meal, we replenished each other's glasses of soju while I did what just feels right when you find yourself around a communal Korean barbecue: I toasted what I am most thankful for: our kids and each other, our health, and good food enjoyed together.