Trails
The Best Bike Trails in Southwest Missouri
Pedal your way through acres of lush green forest and miles of rolling hills and take in views of flowing rivers, towering bluffs and bright blue skies. From in-town bike paths to rough mountain biking terrain, this is your guide to the best bike trails.
By Ettie Berneking and Savannah Waszczuk
Apr 2019
What Sort of Bike Ride Are You Looking For?

Beauty surrounds us in southwest Missouri, and the best way to enjoy it is to hop right in. Each season provides different weather conditions and sites for exploring the thousands of miles of biking and mountain biking trails that snake their way through the rolling Ozark Mountains. To help you find the greatest spots to explore, we researched the best local bike trails, and we talked to expert Dan Nash of Hiking the Ozarks and Satori Expeditions and mountain biker Matt O'Reilly of TrailSpring. The collection of trails following include everything from family-friendly recommendations to daring expeditions, all promising to take you to places you've never been and let you see things you've never seen. And the best part? They're all places you could never reach by car. Ready to pedal your way through acres of lush green forest and miles of rolling hills and take in million-dollar views of flowing rivers, towering bluffs and bright blue skies right in your own backyard? Get out, and start exploring.
BIKE SPRINGFIELD
Have you bike the "cow trail" or discovered the wooded south-side path? If not, you're missing out. And don't let summer go by without experiencing the Ozarks' own rail to trail. With 72 miles of Greenways in all parts of the city and beyond, it's a snap to get biking outdoors without leaving our metro community. Plus, it's a great opportunity to take your little ones on your next outdoor adventure.
Springfield's robust trail system is one of its greatest assets, and thanks to Ozark Greenways, it gets better every year. Projects in 2017 include breaking ground on the Trail of Honor through the Missouri Veteran's Cemetery and along James River. Whether you have a road bike, mountain bike or any bike in between, the Ozark Greenways are friendly to all. Find maps and descriptions for all the trails at ozarkgreenways.org. 
Stretching from Springfield to Bolivar, the Frisco Highline Trail is the longest rail trail in southwest Missouri and the second longest rail trail in the state. The Frisco runs a total of 35 miles, including 12 paved miles and 23 miles of crushed gravel. The complete trail runs over 16 railroad bridges that have been retrofitted for trail use, including the longest 317-foot Highline Bridge at mile marker 25. If you want to tackle a small section of the trail, we suggest traveling the northern portion heading south from Bolivar to Wishart. At mile marker 32, you'll see La Petite Gemme prairie, a beautiful native prairie that's covered in wildflowers during the spring, and you'll see the Highline Bridge when you reach marker 25. The ride will take 2 to 4 hours. To get the million-dollar shot, find La Petite Gemme prairie in spring, when all the wildflowers are in bloom. 
"Ride in groups. Especially if you're riding on the road, it's always best to ride in groups. This helps cars see you, and if you get a flat, run out of water or need help of some sort, there are others who can help you out."
— Ettie Berneking, RAGBRAI veteran and Freelance Writer for 417 Magazine
If you like a more urban trail experience with easy access to dining, libations, a great city park and a notable point of interest, then Galloway Creek Greenway is for you. Head south from the trailhead near Pershing Middle School—look for the oversized wheelchair sculpture along the way—or start at the more central Sequiota Park on Lone Pine Avenue. Whether on foot or on wheels, you'll find plenty of pit stops along the route including 4 By 4 Brewing Company, Galloway Grill or Great Escape Beer Works farther south or Bambino's Italian Cafe near Lone Pine and Battlefield Road. 
A 1.2-mile stretch of the Ward Branch trail runs between the Missouri Institute of Natural Science (Riverbluff Cave museum) and Wanda Grey Elementary School. Meandering along the Ward Branch Creek, the wooded trail is popular with south-side walkers and runners, so do use caution on a bike. Find the trailhead off South Farm Road 139, south of Plainview Road near Rivercut Golf Course. The gravel area isn't well-marked; look for a couple of vine-covered silos. Some walkers park at the nearby museum, visible from the trailhead off Farm Road 190. Access the other end of the trail just east of Wanda Grey.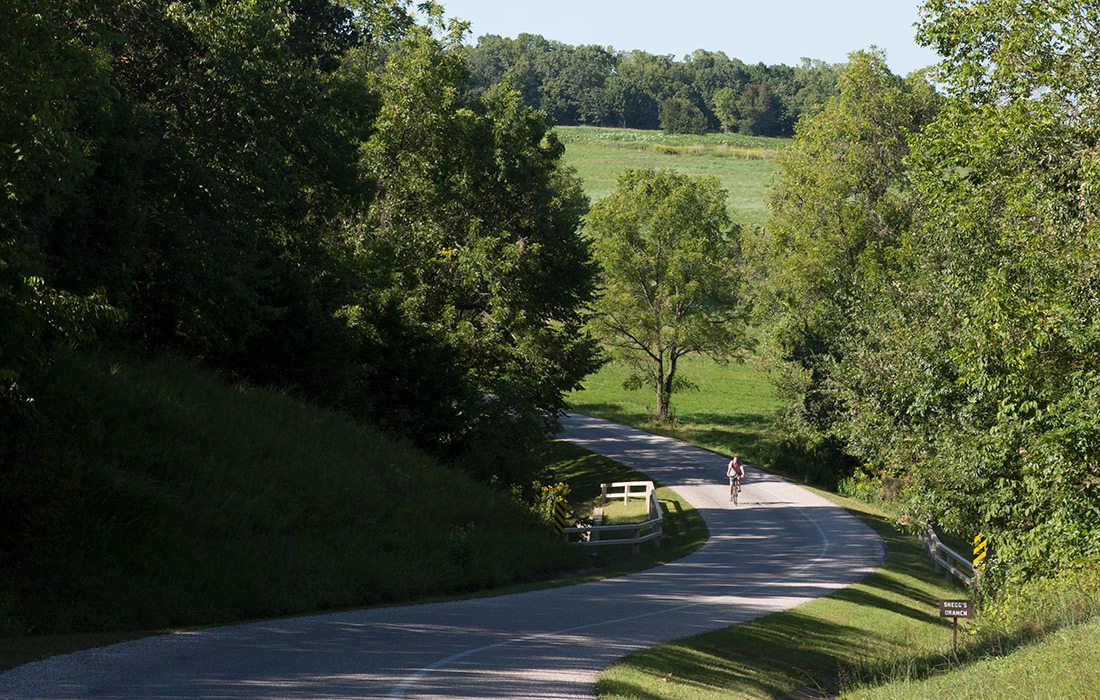 This southwest Springfield Greenway enjoyed a facelift last year with the new Tal's Trailhead. Located near Battlefield Road and West Bypass, Tal's connects the Wilson's Creek and South Creek Greenways. About four miles of paved trail between Tal's Trailhead and the popular Rutledge-Wilson Farm Park makes a pleasant route particularly great for biking and running. Wilson's Creek Greenway travels through pretty wooded and rural landscapes and into Wilson's Creek National Battlefield where bikes can ride on the paved tour road. It crosses a couple of bridges and passes through several gated farmland pastures complete with resident cows.
There are plenty of scenic stops along this 8-mile trail as it weaves through the heart of Springfield, starting at the McDaniel Park trailhead at the intersection of National Avenue and Sunset Street. Slow your roll and make stops along the way, especially as you ride through Nathanael Greene/Close Memorial Park. There are plenty of picnic spots, gardens and playground equipment to take advantage of. The Mizumoto Japanese Stroll Garden is a must-see, so be sure to bring your camera.

MORE BICYCLING ADVENTURES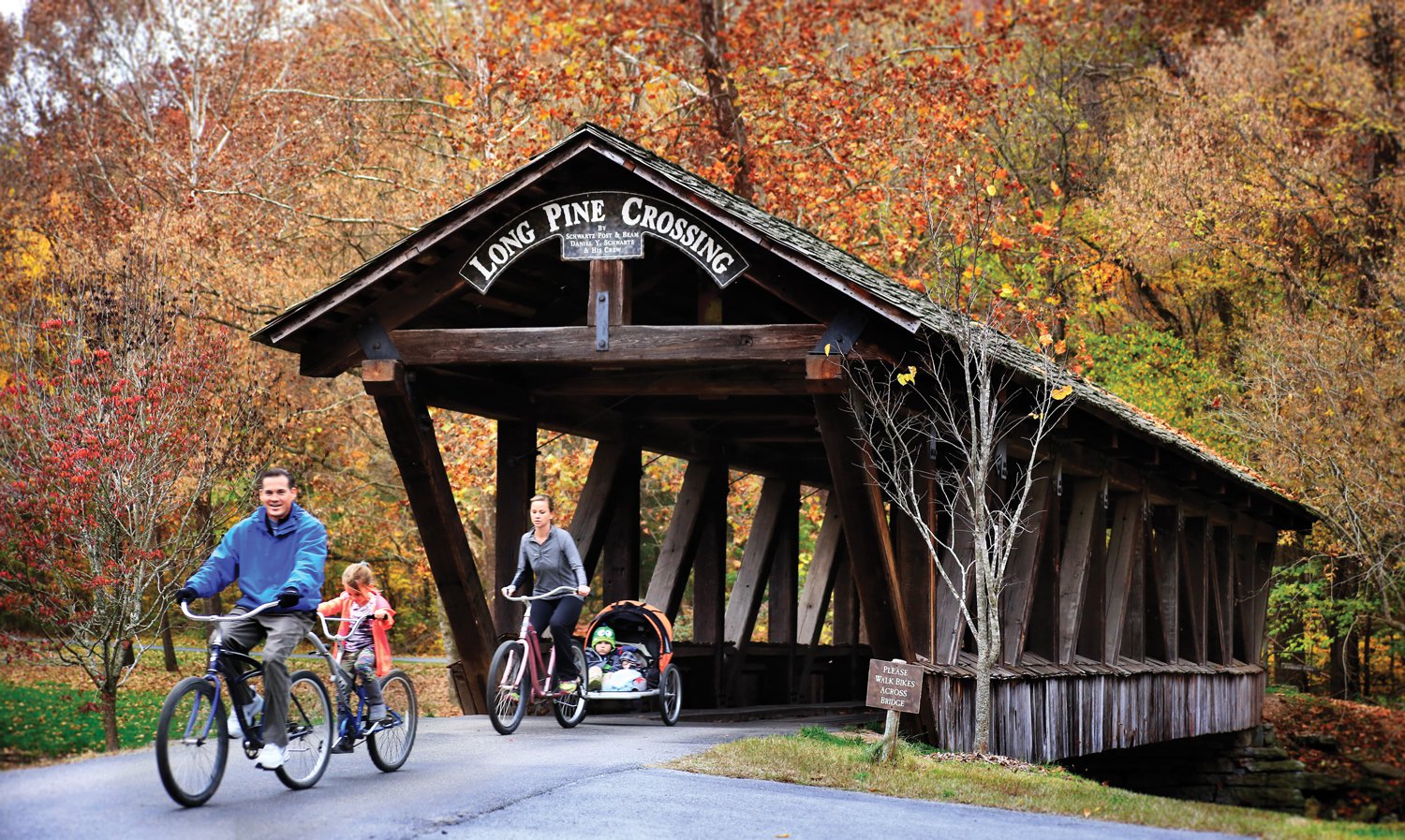 ROAD TRIP FOR A BIKING ADVENTURE
If you don't necessarily feel like loading up all the bikes before your next outdoor adventure, have no fear: you can rent bikes at Dogwood Canyon. The popular paved trail at this breathtaking nature park covers 6.5 miles. It follows creeks and offers views of limestone bluffs, tumbling waterfalls, native stone, wrought-iron bridges and more, all perfect for your next adventure on bike or on foot. You'll see several waterfalls throughout the hike, but at the end, you'll come to our favorite: Wishbowl Falls, which features a double waterfall. While you're there, look down into the water for a chance to spot some golden trout. Because the spot is a wilderness park, you also have a chance to spot native wildlife. The trail is paved and relatively level, so it's pretty easy. Cost for walking the trail is $9.95 for kids and $14.95 for adults, or you can rent bikes for $21.95. Also, if you want to bring your dog along, you can do that too for $3.95.
Located in western Arkansas (3 and a half hours from Springfield) and rising 1,350 feet, Mount Nebo offers magnificent views of the Arkansas River Valley. The park has 14 miles of trails, many that offer fabulous terrain and views for hikers. Mountain bikers are allowed on the bench trail, which is 4.5 miles long and fairly level, running along a natural terrace that encircles the mountain and passes several springs and Fern Lake. If you only have time for one hike, try the rim trail, but be warned: it's 3.5 miles long and ranges from easy to difficult. But's worth it—the trail circles the mountain top.
"Pack extra socks. You never know if you'll be hit with a surprise rain shower or have to cross a stream. Hiking in wet socks is the worst and bad for your feet, so keep an extra pair of socks in your bag."
— Savannah Waszczuk, avid hiker, Freelance Writer for 417 Magazine and Marketing & Engagement Manager for Springfield Public Schools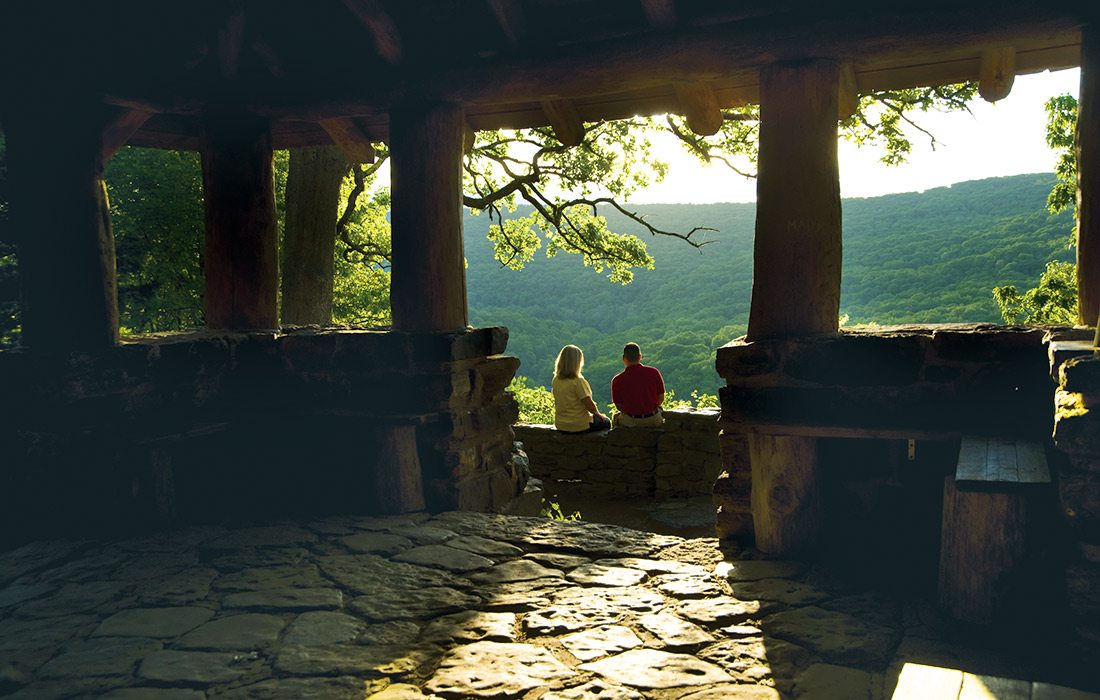 Located almost three hours from Springfield in the Lee Creek Valley in the Boston Mountains, northwest Arkansas's Devil's Den State Park is a popular destination for mountain bikers, hikers and horseback riders. Adventure enthusiasts have their choice of some 64 miles among 7 trails, including the 4.5-mile old road trail through Lee Creek Valley that passes nearby a yellow rock bluff, the 9-mile vista trail that ascends Mount Olive and the 15-mile cross-country mountain bike trail that is divided into three loops and features creek crossing, dirt roads, single-track riding and long uphills and downhills. Don't miss the water flowing over a gorgeous native stone dam.
Located in Arkansas's Bull Shoals-White River State Park, this 3-mile trail is a multi-use trail created for both hikers and mountain bikers. Built and maintained by the Bull Shoals-Lakeview Rotary Club, the trail traverses an oak-hickory upland forest and includes creek crossings, dirt roads, open meadows, long downhills and taxing uphills. Bonus: If you don't feel like lugging your bike here, rental bikes are available.

Berryman
Located near Potosi, Missouri, the 24-mile-long Berryman Trail is a well-known mountain biking trail that's been referred to as Missouri's finest single-track trail and is rated among the best single-track trails in the Midwest. The challenging trail snakes its way through a beautiful section of Mark Twain National Forest and offers a challenging ride along with its amazing scenery. You'll pass through woodsy creek bottoms, ride up rocky ridgetops and much more, and you'll even pass a cave that's rumored to have been the hiding place of Jesse James and his gang. For a brochure about the trail and directions to trailheads, contact the Potosi Ranger District Office at 573-438-5427.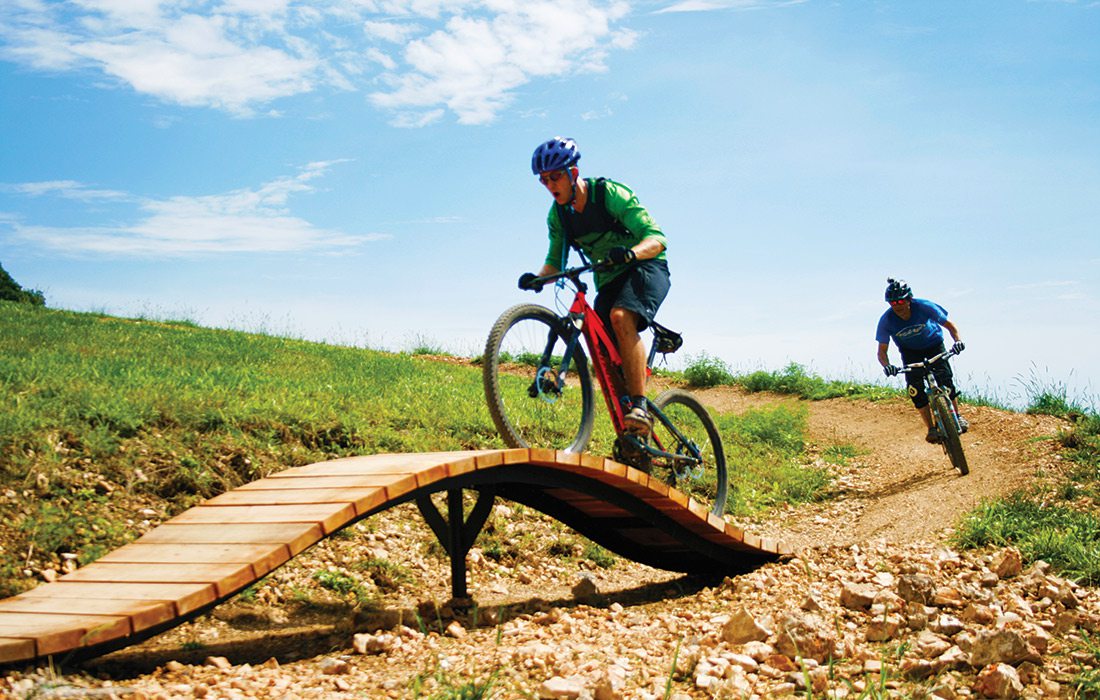 MOUNTAIN BIKING IN MISSOURI
Two Rivers Bike Park
At Two Rivers Bike Park (5055 2 Rivers Rd., Highlandville), the sprawling hillside is stitched with trails that twist and turn through tree-lined paths. It's quiet and serene, but there's an atmosphere of adventure and adrenaline that hangs in the air.
Located on the outskirts of Nixa, Two Rivers is the perfect example of the types of multiuse trails TrailSpring wants to build in and around Springfield. Since opening Two Rivers last year, the non-profit TrailSpring has seen riders from all over the country flock to this outdoor attraction. But while Two Rivers is already an impressive success story that demonstrates the value of investing in mountain bike trails, TrailSpring has much loftier goals that will take some work.
To get a better idea of TrailSpring's future plans, talk to its founder, Matt O'Reilly. Since moving back to Springfield from Colorado several years ago, O'Reilly traded his snowboard for a mountain bike, and when the mountain biking trails available in southwest Missouri didn't cut it for him, he decided to build his own. So with a sizeable investment from TrailSpring and plenty of aspiration, O'Reilly turned his family's farmland into a public mountain biking park.
Every trail at Two Rivers is purpose-built, which means these trails were built with mountain bikes in mind. There are steep downhill runs that offer plenty of jumps, cross country trails that offer longer jaunts and a skill course that's perfect for beginners. You won't find any dirt bikes or ATVs, but you will find runners and hikers.
"This idea of using private property for public use is very unique," O'Reilly says. There are legal hurdles, and maintenance is a constant issue, but the payoff is worth it. Just ask O'Reilly about the CAMBA Mountain Bike Trail System in northwest Wisconsin. "This is a town of 10,000 people," he explains. "They have 100 miles of mountain bike trails. So if a town this size can build a national attraction and be slammed with people coming out to use those trails, then surely building mountain bike trails can help our community, too."  
Enter TrailSpring. This non-profit's mission is to introduce more 417-landers to the sport of mountain biking and to provide them with top-notch trails. In fact, the organization has a 30-in-three goal—30 miles of trails in three years, with all of those trails located within 30 minutes of Springfield. 
"Trails are every bit as important to a community as having an art museum," O'Reilly says. "It's student retention, fitness, tourism dollars and job attraction. Trails are a great way to bring money into the community."
With plans to build more trails in the future, TrailSpring holds up Two Rivers Bike Park as the poster child of what purpose-built, single-track trails can offer. 
"Cotton is not your friend. Cotton clothing holds moisture and dries slowly and is not effective as a base layer or for socks in the outdoors. Try synthetic or merino wool clothing and socks."
— Dan Nash, Hiking the Ozarks
White River Valley Trail System
Nestled in the woods that surround Table Rock Lake and Lake Taneycomo, this trail system offers 11.75 miles of mountain bike trails. There are four loops that all offer something different, but all the loops are connected, so you can race your way through the whole 11.75 miles. The green loop has the highest elevation, the orange loop is the shortest loop, the blue loop is the longest and most diverse in scenery, and the red loop is the most challenging. Make sure you climb to the top of the green loop for a view of Table Rock Lake Dam. Find the office on the north side of Highway 165 at Table Rock Lake State Park (5272 State Hwy. 165, Branson; 417-334-4704). 
Chadwick
With more than 100 miles of trails, it can be easy to get lost here, and since trails are shared with motorcycles, dirtbikes and ATVs, we can't say enough about using caution. You need a permit to ride here, so pick one up for $5 at Kay's Country Store (6356 Missouri 125, Chadwick, 417-634-5225). Most trails are expert-level with large rocks, tree roots, berms and jumps. Trails range from 1-foot single track to full-on Jeep roads. Trail 108 is a must. It's a mile downhill with numerous big air jumps for those adrenaline junkies. From Springfield, take US 65 south to Ozark and then Hwy. 14 east to Sparta. Take a right at the fork and take Hwy. 125 to Chadwick. The trail system is in Mark Twain National Forest.
Sac River Mountain Bike Trail
Strap on your helmet, and get ready for an afternoon of mountain biking at this 300-acre public park that offers 8 miles of single-track mountain biking trails through the woods. These routes are good for all skill levels, and these are purpose-built trails, meaning they were built with mountain bikes in mind. Prepare yourself for rolling terrain, banked turns and plenty of jumps and boardwalks. These trails are tight and twisty with rocks, roots and more to navigate around. Pick up the trailhead in Northwest Springfield off Hwy. 13, 3 miles north of I-44. Watch for the brown highway sign marking a westbound turn onto an unnamed road.
Lakeview Trail
You don't have to travel too far to enjoy the Lakeview Trail at Stockton State Park. The mountain bike and hiking route that follows the shoreline of Stockton Lake features woodland, beach and bluff views. Best of all, it's only one lake area thing to do. 
The state park's longest trail can be mountain-biked (or hiked) as an 8-mile loop or in two smaller loops via a connector trail. The main trailhead is near the marina, but for quicker access to bluff overlooks, Park Superintendent Justin Adams suggests starting at the northern trailhead. From there, go counterclockwise, he says. You'll reach the bluffs overlook after the trail crosses Highway 215. "It's a great spot to look for eagles and loons and water fowl," he says. (Find more information here.) You can also rent a kayak or canoe from the marina to follow the Stockton State Park Water Trail about 6.5 miles around the peninsula. It's a great way to look for wildlife and water fowl, see limestone bluffs, explore coves and try your luck fishing. "It just offers a different perspective," Adams says. "You are seeing the park from the water."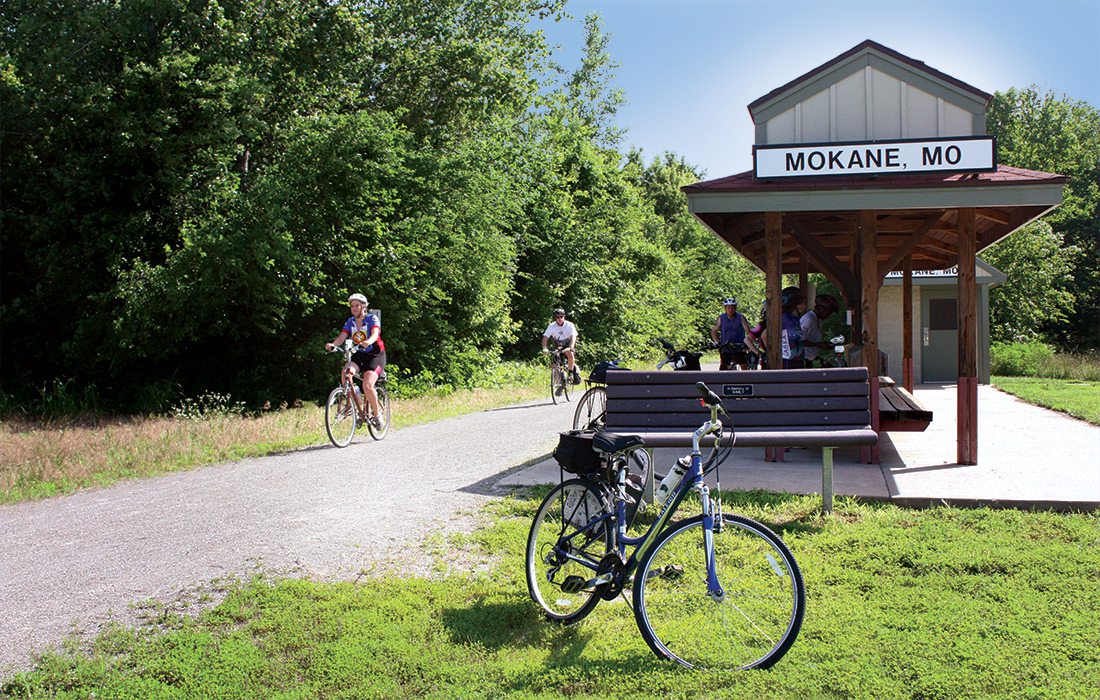 As the nation's longest rail-to-trail conversion, the Katy Trail stretches some 238 miles from Clinton to Machens, a town located just north of St. Louis. If you're super eager, you can bike the entire thing in a few days' time—just ask 417-landers David and Polly Letsch. "We did it in a long weekend from Friday to Sunday," David says of the couple's first trail adventure in 2011. 
Since then, the two have returned to the Katy Trail each year, but now they usually just do one- or two-day trips of their favorite sections on the tandem bike they bought shortly after their first time on the trail. While the couple agrees that the entire trail is enjoyable, they say the Boonville to St. Charles stretch is perfect for a leisurely three-day trek—there are tons of restaurants, B&Bs, wineries and breweries to stop at along the way. Whether you have a companion or are riding solo, plan your trip using this rough itinerary with some of the couple's most-favorite stops. 
Day 1: Boonville to North Jefferson
Spend the night before your trek at Hotel Frederick (660-882-2828, hotelfrederick.com) in Boonville. You'll be over-the-top comfortable here for your much-needed night's rest, and you'll remember the dinner you have at The Fred Restaurant & Lounge for years to come. 
In the morning, fuel up with coffee and a homemade pastry at Taylor's Bake Shop (660-882-8814), then hop on your bike and head to the trail—it begins running adjacent to the Missouri River just past Boonville. After pedaling along the scenic stretch for roughly 13.5 miles, take note after you pass through the trail's only tunnel: the picturesque town of Rocheport is just ahead. Rocheport is filled with several cozy B&B's, restaurants and Les Bourgeois Winery (missouriwine.com), where you can stop for a glass of vino, a quick snack or an early gourmet lunch. 
Your next stretch will take you along limestone bluffs as you pass through Huntsdale then McBaine and Providence, and you can pick up the MKT Trail to visit Columbia. Stop at Cooper's Landing Campgrounds Store & Marina (573-657-2544, cooperslanding.net) for home cooking, barbecue or even Thai food at Chim's Thai Kitchen (509-295-3810). Bonus: There's often live music here.
After filling up, hop back on your bike, and start pedaling away at the last stretch. If you want a bed, keep going til you reach nearby Hartsburg and stay at the Globe Hotel Bed & Breakfast (60 S. 2nd St., Hartsburg, 573-657-4529), or if you're willing to camp, check out North Jefferson's Noren Access Campsite area for $5 per night (drop-ins only). Keep your eyes peeled while on this section of the trail—you'll get a great view of the capitol. 
"Give your body time to recover. Chocolate milk does wonders to prevent muscle ache after a long ride. That and plenty of stretching are my recovery routine."
— Ettie Berneking, RAGBRAI veteran and Freelance Writer for 417 Magazine
Day 2: North Jefferson to McKittrick
​Load up on water and snacks before leaving North Jefferson because the next stretch of the trail is a bit quieter as it meanders through rural landscapes and early railroad towns. Stop for your first taste of day two's food, drinks and fun roughly 18 miles later in Mokane, where Mokane Bar and Grill (573-676-3119) greets bikers with cold booze, wings, burgers and plenty of other bar fare.
As you continue, you'll pass through Steedman and Portland before the trail snuggles up to the Missouri River on a 5-mile stretch to Bluffton, where the Grand Bluffs Conservation Area sits a mile east of town. Check it out for extra exploring. McKittrick isn't far from here, and it sits right across from Hermann—a popular German-esque winery town where you'll find plenty of options for dinner, drinks and lodging (visithermann.com). If you'd rather cover more ground, you'll find some small campgrounds down the road, and this will give you a less-lofty total to tackle on day three.
Day 3: McKittrick to St. Charles
Once you get to Marthasville on day three, plan to make some stops—there are small wineries, eateries and other attractions at nearly every stop from here on. Augusta, in particular, is one of the Letsches' favorite trail towns. Apple Gate Inn Bed & Breakfast (636-228-4248, applegate-inn.com) is one of their favorite places to stay. (No one will judge you if your three-day trip turns into four!) If you just stop to eat, go to Augusta Brew Haus (636-482-2337) for pub-style food, barbecue and a bier garden located along the trail. 
The next town, Defiance, is home to several more eateries, with Yellow Farmhouse Vineyard & Winery (314-409-6139, facebook.com/yellowfarmhousewinery) offering wines, snacks and confections with visits to its tasting room. After you leave this small city, you're on the last stretch—just 19.6 miles left to go! When you arrive in the city of St. Charles (historicstcharles.com), there are many options for dinner and lodging. Pick one, indulge, and pat yourself on the back for your successful three-day trek across one of the state's most enticing trails. 

GEAR UP
The Springfield region has numerous cycling shops, running shops and outdoor stores where you can find the perfect bike, shoes or gear for your outdoor adventure. Here are a few to check out.