Trails
45 Southwest Missouri Hiking and Biking Trails
Trek your way through acres of lush green forest and miles of rolling hills and take in million-dollar views of flowing rivers, towering bluffs and bright blue skies.
By Ettie Berneking and Savannah Waszczuk | Photo by Kevin O'Riley
Sep 2014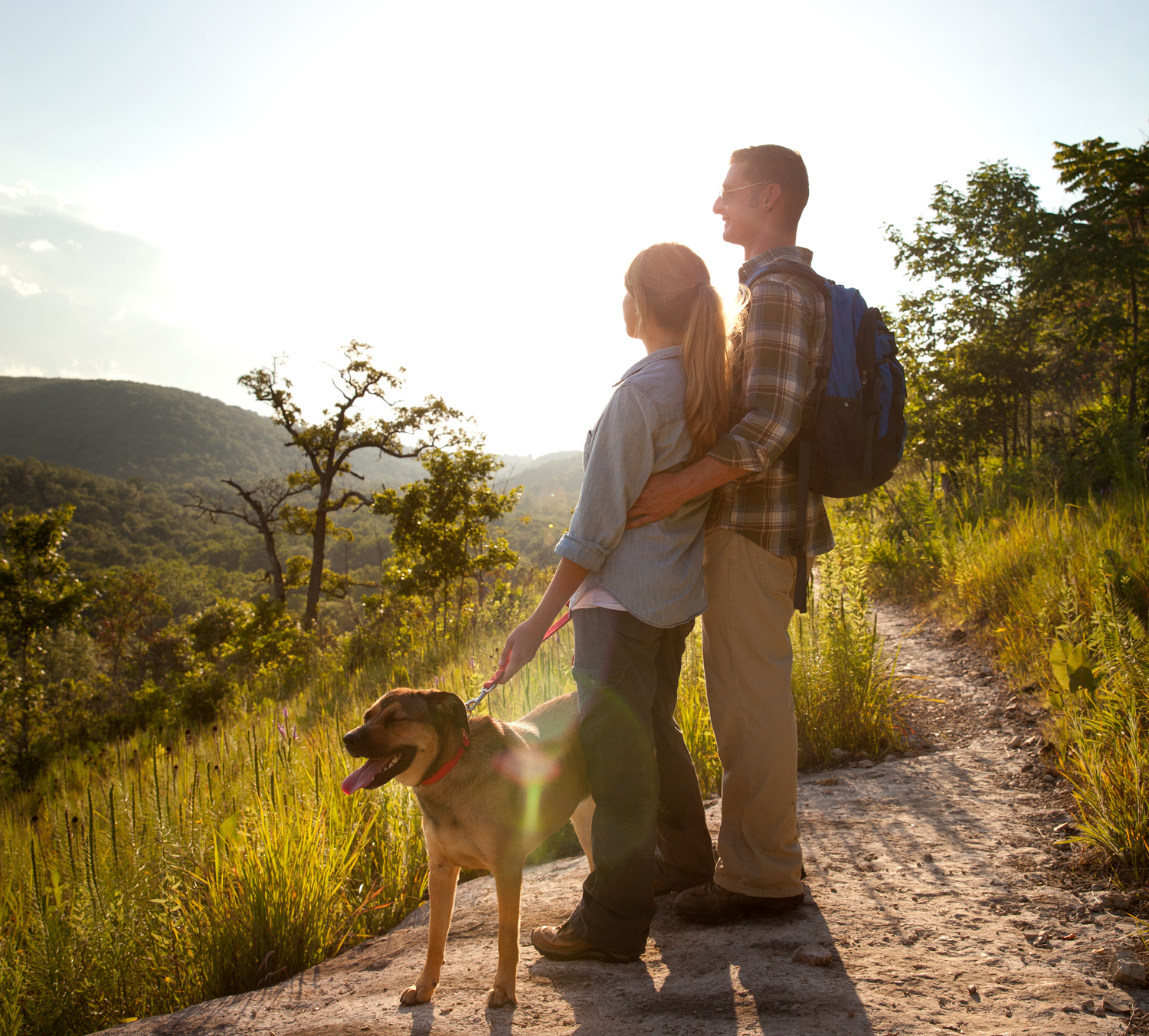 Beauty surrounds us in 417-land, and the best way to enjoy it is to hop right in. The best time to do it is now—fall provides the perfect weather for exploring the thousands of miles of hiking and mountain biking trails that snake their way through the rolling Ozark Mountains. To help you find the greatest spots to explore, we researched the best local trails, and we talked to hiking expert Dan Nash of Hiking the Ozarks and Satori Expeditions and mountain biker Matt O'Reilly of TrailSpring. The collection of trails on the following pages includes everything from family-friendly recommendations to daring expeditions, all promising to take you to places you've never been and let you see things you've never seen. And the best part? They're all places you could never reach by car. Ready to trek your way through acres of lush green forest and miles of rolling hills and take in million-dollar views of flowing rivers, towering bluffs and bright blue skies? Get out, and start exploring.
If you want to take your little ones on your next outdoor adventure, try out one of these family-friendly trails. They're all fairly easy for traveling on foot or on bike, and you'll see plenty of gorgeous scenery along the way.
Bikers on the Frisco Highline Trail enjoy many great views, including La Petite Gemme prairie, located at mile marker 32. The spot is especially beautiful in the spring.


1. Frisco Highline Trail
Stretching from Springfield to Bolivar, the Frisco Highline Trail is the longest rail trail in southwest Missouri and the second longest rail trail in the state. The Frisco runs a total of 35 miles, including 12 paved miles and 23 miles of crushed gravel. The complete trail runs over 16 railroad bridges that have been retrofitted for trail use, including the longest 317-foot Highline Bridge at mile marker 25. If you want to tackle a small section of the trail, we suggest traveling the northern portion heading south from Bolivar to Wishart. At mile marker 32, you'll see La Petite Gemme prairie, a beautiful native prairie that's covered in wildflowers during the spring, and you'll see the Highline Bridge when you reach marker 25. The ride will take 2 to 4 hours. 
Get the Million-Dollar Shot: Find La Petite Gemme prairie in spring, when all the wildflowers are in bloom.
Directions: From Springfield, take Highway 13 north to Bolivar. Exit on Highway 32 and turn east, then make a right into the trailhead parking area. 
2. The Paved Trail at Dogwood Canyon Nature Park
If you don't feel like loading up all the bikes before your next outdoor adventure, have no fear: you can rent bikes at Dogwood Canyon. The popular paved trail at this breathtaking nature park covers 6.5 miles. It follows creeks and offers views of limestone bluffs, tumbling waterfalls, native stone, wrought-iron bridges and more, all perfect for your next adventure on bike or on foot. Because the spot is a wilderness park, you also have a chance to spot native wildlife. The trail is paved and relatively level, so it's pretty easy. Cost for walking the trail is $9.95 for kids and $14.95 for adults, or you can rent bikes for $21.95. Also, if you want to bring your dog along, you can do that too for $3.95.
Get the Million-Dollar Shot: You'll see several waterfalls throughout the hike, but at the end, you'll come to our favorite: Wishbowl Falls, which features a double waterfall. While you're there, look down into the water for a chance to spot some golden trout.
Directions: From Springfield, take Highway 65 south to State Highway EE. Turn right on EE, then left on MO-13. When you get to MO-86 west, go right. Follow 2.4 miles, and the park is on your left.
3. 
Woodland Loop at Wildcat Glades Conservation & 
Audubon Center
Joplin's Wildcat Glades Conservation & Audubon Center is the perfect spot for both jogging and hiking, featuring a trail that stretches 5 miles and runs in a huge loop. For a quick, easy lap around the place, check out the half-mile Woodland loop. The well-maintained and manicured trail starts just down the hill from the Audubon Center, and it gives hikers a chance to see a variety of wildlife and spot lichens and lichen grasshoppers that live in the park. As a bonus, the entire trail shouldn't take more than 30 minutes to complete! If you have enough energy to explore other trails, we recommend the bluff trail that overlooks Shoal Creek. You'll see chert glades, which are primarily found in southwest Missouri. 
Get the Million-Dollar Shot: Woodland Loop is dotted with learning stations. At station no. 4, there's a giant boulder that fell off the bluff. It is used by heron and water fowl, and the giant boulder provides an awesome photo opportunity!
Directions: From Springfield, take I-44 West to exit 6 in Joplin. Turn south on Highway 86. The center is located on the right side of the road just past the round-about.
4. Castle Trail  
at Ha Ha Tonka State Park
From the lower parking lot, this .4-mile trail takes you on a shaded walk through an open oak woodland area. As you reach the upper portion of the short paved trail, you'll catch views of the carriage house ruins, and as you move on, the trail leads you to three scenic overlooks where you'll stand high above the treetops and take in views of bright blue skies above and Lake of the Ozarks below. (In the summer, you may even spot boaters out and about.) You'll also see ruins of a 20th-century castle, which is, of course, one of the coolest sites to see in all of the state park. The trail is paved and a super-easy walk, so it's a perfect place to bring the kids. If you're up for it, there are several other trails in the park, many that offer more strenuous hikes with great views of ledges and springs.
Get the Million-Dollar Shot: Snap a shot of the castle ruins.
Directions: From Springfield, take 65 North to MO-73 North, then turn right on US-54 East. Continue to Missouri D and drive to Natural Bridge Road. Parking for the trailhead is located along Castle Ruins Road.
5. 
Lost Hill Park Trail
Lost Hill Park is a great place for hiking and exploring, and it offers a chance to take in a variety of one-of-a-kind sights. There are fossils, bluffs, caves and other geological features that are the result of a shallow sea that occupied the area millions of years ago. If you feel like spending even more time in the great outdoors after your Lost Hill Park adventure, you can easily hop on the neighboring South Creek Greenway trail and get in another 1.5 miles. 
Get the Million-Dollar Shot: There are natural caves and bridges along the way. Snap a selfie!
Directions: From the intersection of Kearney Street and Kansas Expressway, travel east on Kearney to Grant Avenue. Travel north on Grant, which turns into Farm Road 151. Travel past Farm Road 96 and you will reach the park and trailhead on the left side of the road.
 PRO TIP: 
Cotton is not your friend. Cotton clothing holds moisture and dries slowly and is not effective as a base layer or for socks in the outdoors. Try synthetic or merino wool clothing and socks.—Dan Nash, Hiking the Ozarks  
While we have a plethora of great hiking and biking options in 417-land, there are dozens more beautiful sites to be seen that are just a short drive away. If you want to make a weekend of your next adventure, check out these hiking and biking destinations in Northwest and Northern Arkansas and throughout Missouri.
With an elevation of 2,753 feet, Mount Magazine is the highest point in Arkansas and offers many scenic hiking trails.
Mount Magazine
If visiting a state's high point is on your bucket list, head over to Arkansas's Mount Magazine. Located about four hours from Springfield with an elevation of 2,753 feet, the massive mountain is a popular destination for hikers, horseback riders and other visitors who stay at the luxurious lodge that overlooks the Petit Jean River Valley and Blue Mountain Lake. Those looking to hike this monstrous mountain can choose from trails that range from a simple 2-mile loop with views of wildflowers, plant life and breathtaking scenery to the much more strenuous 9.7-mile Cove Lake trail that starts in a bluff and descends over 1,500 feet to Cove Lake. To reach the high point (a must on your trip), hike the Signal Hill Trail. At 1.5 miles, it's moderate in difficulty, and the top features a 400-square-foot stone map of Arkansas. If your whole goal is a good view, start with the easy Benefield Loop trail, then try the North Rim Trail. While the North Rim is a moderate to strenuous hike, the 2.2-miles-one-way trail follows the north rim of the mountain to Cameron Bluff Overlook Drive and offers some of the best views on the mountain. Think of all of the great photos you'll get to take! This is one hike that will definitely be worth the work—we promise.
Plan Your Trip: mountmagazinestatepark.com
The Centerpoint Trail located just north of Ponca, Arkansas, leads adventurous hikers to the Big Bluff spur. If you decide to go on the bluff, you will be standing on the tallest sheer bluff face between the Rocky and Appalachian mountains.


Ponca and Jasper Area
To explore some of the most photographed spots in Arkansas, plan a hiking adventure in the small-yet-hopping towns of Ponca and Jasper. Near the upper Buffalo National River about two hours from Springfield, these towns are the beating heart of a beautiful mountainous region that's carved with streams, dotted with waterfalls and peppered with bluffs, ledges and other high spots. While the area is fully loaded with trails that offer truly breathtaking scenery, there are a few that are visited a bit more than the rest. 
At a round trip of 3 miles, the Whitaker Point Trail is a moderately easy hike that's a must-do for first-time visitors. The trail leads explorers to Hawksbill Crag, a rock outcrop that jets out from a tall bluff. The crag offers a spectacular view of the surrounding upper Buffalo Wilderness area. 
Those who are up for a bit of a longer, more strenuous hike should check out the Centerpoint trail to Big Bluff. At 6 miles round-trip, this trail leads hikers through the woods for a couple of miles before taking a sharp right turn that leads to Big Bluff spur. At 550 feet tall, Big Bluff is the tallest sheer bluff face between the Rocky and Appalachian mountains, and you'll be standing on it. (This hike isn't recommended for young children.) While here, you'll take in spectacular views of the surrounding wilderness area, plus you'll have a great view of the Buffalo River.
Other hikes in this area include Lost Valley, a kid-friendly spot where you'll see a natural bridge, cliffs, a waterfall and a cave; Hemmed-in Hollow, where you'll see the tallest waterfall between the Rockies and the Appalachians, and The Glory Hole, where you'll take in a 30-foot waterfall that flows through a hole in a bluff. 
Plan Your Trip:  buffaloriver.com, theozarkmountains.com/hikingtrails
PRO TIP
Eat. On average, people take a break on the trail about every hour. This makes a great opportunity for snacks throughout the day that will help with your muscle recovery and energy levels.—Dan Nash, Hiking the Ozarks
The Ozark Highlands Trail
The Ozark Highlands Trail stretches for 218 miles through seven counties in northwest Arkansas. Located about four hours from Springfield, the trail itself was designed and constructed by hikers, so it's the perfect spot for those who love to explore the natural Ozarks landscapes. While there are many scenic areas here, Dan Nash of Hiking the Ozarks recommends hiking the Hurricane Creek section, which can be reached from Pelsor, Arkansas, by traveling west on Arkansas 123 until you cross the Big Piney Bridge. You can park at the old school just west of the bridge on the south side of 123. To access the trail, walk east across the bridge and down the gravel road to the north. The trail is marked and runs east from the road. On this scenic stretch, you'll see pine and hardwood forests, giant boulders, waterfalls and a natural bridge that is the largest arch formation in the Ozarks. Also, this area of the trail runs along Hurricane Creek.
Plan Your Trip:  ozarkhighlandstrail.com 
There are many spots to take in gorgeous views at Devil's Den State Park, including the Civilian Conservation Corps (CCC) Scenic Overlook.
Devil's Den State Park
Located almost three hours from Springfield in the Lee Creek Valley in the Boston Mountains, northwest Arkansas's Devil's Den State Park is a popular destination for hikers, mountain bikers and horseback riders. Adventure enthusiasts have their choice of some 64 miles among 7 trails, including the 4.5-mile old road trail through Lee Creek Valley that passes nearby a yellow rock bluff, the 9-mile vista trail that ascends Mount Olive and the 15-mile cross-country mountain bike trail that is divided into three loops and features creek crossing, dirt roads, single-track riding and long uphills and downhills. Don't miss the water flowing over a gorgeous native stone dam.
Plan Your Trip:  arkansasstateparks.com/devilsden
Mount Nebo
Located in western Arkansas (3 and a half hours from Springfield) and rising 1,350 feet, Mount Nebo offers magnificent views of the Arkansas River Valley. The park has 14 miles of trails, many that offer fabulous terrain and views for hikers. Mountain bikers are allowed on the bench trail, which is 4.5 miles long and fairly level, running along a natural terrace that encircles the mountain and passes several springs and Fern Lake. If you only have time for one hike, try the rim trail, but be warned: it's 3.5 miles long and ranges from easy to difficult. But's worth it—the trail circles the mountain top.
Plan Your Trip:  arkansasstateparks.com/mountnebo
PRO TIP
Pack extra socks. You never know if you'll be hit with a surprise rain shower or have to cross a stream. Hiking in wet socks is the worst and bad for your feet, so keep an extra pair of socks in your bag.—Savannah Waszczuk, lover of hiking and senior editor of 417 Magazine
The Katy Trail passes through many scenic areas as it crosses Missouri from east to west.
Katy Trail
Especially popular for cyclists, the Katy Trail is the longest rail-trail project in Missouri and one of the largest rail-trail projects in the nation. The trail is 237 miles long and stretches east to west across the northern part of Missouri, occupying a segment of rail corridor that once carried trains of the Missouri-Kansas-Texas Railroad (a.k.a., the Katy). It passes through many scenic areas and much of it follows the Missouri River, so you'll get a chance to take in amazing bluff views. It's even dotted with B&Bs, restaurants, camping and more. 
Plan Your Trip: bikekatytrail.com
Oakridge Mountain Bike Trail 
Located in Arkansas's Bull Shoals-White River State Park, this 3-mile trail is a multi-use trail created for both hikers and mountain bikers. Built and maintained by the Bull Shoals-Lakeview Rotary Club, the trail traverses an oak-hickory upland forest and includes creek crossings, dirt roads, open meadows, long downhills and taxing uphills. Bonus: If you don't feel like lugging your bike here, rental bikes are available.  
Plan Your Trip:  Visit arkansasstateparks.com and search "Oakridge."
Berryman
Located near Potosi, Missouri, the 24-mile-long Berryman Trail is a well-known mountain biking trail that's been referred to as Missouri's finest single-track trail and is rated among the best single-track trails in the Midwest. The challenging trail snakes its way through a beautiful section of Mark Twain National Forest and offers a challenging ride along with its amazing scenery. You'll pass through woodsy creek bottoms, ride up rocky ridgetops and much more, and you'll even pass a cave that's rumored to have been the hiding place of Jesse James and his gang. 
Plan Your Trip:  For a brochure about the trail and directions to trailheads, contact the Potosi Ranger District Office at 573-438-5427. 
PRO TIP
Give your body time to recover. Chocolate milk does wonders to prevent muscle ache after a long ride. That and plenty of stretching are my recovery routine.—Ettie Berneking, RAGBRAI veteran and assistant editor at 417 Magazine
South Creek Greenway
Why We Love It: There are plenty of scenic stops along this 8-mile trail as it weaves through the heart of Springfield. 
Stop Along the Way: Slow your roll as you ride through Nathanael Greene/Close Memorial Park. There are plenty of picnic spots. 
Payoff: Mizumoto Japanese Stroll Garden is a must-see, so be sure to bring your camera. 
Location: Springfield; starts at the McDaniel Park trailhead at the intersection of National Avenue and Sunset Street
Wilson's Creek National Battlefield
Why We Love It: There are five walking trails that range from one-quarter of a mile to three-quarters of a mile. Plus there's a 7-mile trail system for hiking that is accessible from the main tour road. Bikes are only allowed on the paved tour road. 
Stop Along the Way: Make a pit-stop at the Visitor Center to pick up a map and see the many Civil War exhibits. 
Payoff: Mixing history and fitness!
Location: West Springfield
Frisco Greenway Mountain Bike Trail
Why We Love It: Even though this 13-mile single-track route is great for beginners, it dips through a few streams and promises to get you nice and dirty. The trail is littered with roots, small rocks, challenging uphills and speedy descents. 
Stop Along the Way: Rumor has it there's a graveyard somewhere along the trail. See if you can spot it.
Payoff: There are a few jumps scattered along this ride.
Location: In the heart of Joplin; find the trailhead at Zora Street and St. Louis Avenue. 
Springfield Conservation Nature Center
Why We Love It: There are several great hiking trails at the Nature Center, but The Long Trail, which is an easy 1-and-2/3-mile jaunt, offers some of the best scenery. As the trail winds around the nature center, ramblers get to see different habitats including a woodland area, a restored bottomland prairie, a glade and an upland and bottomland forest. Remember to leave your pets at home when planning your visit. Your furry, four-legged pals are a no, no here.
Stop Along The Way: Stop and peer off the three observation decks that are peppered along The Long Trail. One overlooks the forest, and the others offer a great view of Galloway creek.
Payoff: This is a great place to unwind and get back in touch with nature. When you're crossing the bridge that goes over Galloway Creek, on the long trail, keep your eyes peeled for waterfowl, great blue herons and turtles basking on logs.
Location: West Springfield on Nature Center Way, near James River Expressway and Republic Road
Galloway Creek Greenway
Why We Love It: Running 6 miles north–south, this paved recreation trail is the perfect roadway for that dusty Schwinn. Pack a light lunch, and cruise on over to the Nature Center for a mid-day picnic. You can't bike on the Nature Center trails, but they are perfect for taking a quick break. 
Stop Along the Way: Make a pit-stop at The Inside Scoop (3521 S. Lone Pine Ave., Springfield, 417-720-1637) to get a double dip of ice cream before heading back home. (Editor's note: The Inside Scoop has closed since the publication of this article. Sequiota Bike Shop has opened in its place, which is another great pit stop!)
Payoff: Wind your way to the Old Iron Bridge that overlooks the James River. 
Location: Southeast Springfield; find a map of the Greenways at ozarkgreenways.org

As mountain biking grows in popularity, one 417-land non-profit is seizing the chance to make Springfield a hotspot for trail riders. 
With steep downhill runs, cross country trails and a practice course perfect for beginners, Two Rivers Bike Park appeals to a variety of mountain bikers.


Two Rivers Bike Park
At Two Rivers Bike Park (5055 2 Rivers Rd., Highlandville, trailspring.org), the sprawling hillside is stitched with trails that twist and turn through tree-lined paths. It's quiet and serene, but there's an atmosphere of adventure and adrenaline that hangs in the air.
Located on the outskirts of Nixa, Two Rivers is the perfect example of the types of multiuse trails TrailSpring wants to build in and around Springfield. Since opening Two Rivers last year, the non-profit TrailSpring has seen riders from all over the country flock to this outdoor attraction. But while Two Rivers is already an impressive success story that demonstrates the value of investing in mountain bike trails, TrailSpring has much loftier goals that will take some work.
To get a better idea of TrailSpring's future plans, talk to its founder, Matt O'Reilly. Since moving back to Springfield from Colorado several years ago, O'Reilly traded his snowboard for a mountain bike, and when the mountain biking trails available in 417-land didn't cut it for him, he decided to build his own. So with a sizeable investment from TrailSpring and plenty of aspiration, O'Reilly turned his family's farmland into a public mountain biking park.
Every trail at Two Rivers is purpose-built, which means these trails were built with mountain bikes in mind. There are steep downhill runs that offer plenty of jumps, cross country trails that offer longer jaunts and a skill course that's perfect for beginners. You won't find any dirt bikes or ATVs, but you will find runners and hikers.
"This idea of using private property for public use is very unique," O'Reilly says. There are legal hurdles, and maintenance is a constant issue, but the payoff is worth it. Just ask O'Reilly about the CAMBA Mountain Bike Trail System in northwest Wisconsin. "This is a town of 10,000 people," he explains. "They have 100 miles of mountain bike trails. So if a town this size can build a national attraction and be slammed with people coming out to use those trails, then surely building mountain bike trails can help our community, too."  
Enter TrailSpring. This non-profit's mission is to introduce more 417-landers to the sport of mountain biking and to provide them with top-notch trails. In fact, the organization has a 30-in-three goal—30 miles of trails in three years, with all of those trails located within 30 minutes of Springfield. 
"Trails are every bit as important to a community as having an art museum," O'Reilly says. "It's student retention, fitness, tourism dollars and job attraction. Trails are a great way to bring money into the community."
With plans to build more trails in the future, TrailSpring holds up Two Rivers Bike Park as the poster child of what purpose-built, single-track trails can offer. 
White River Valley Trail System
Nestled in the woods that surround Table Rock Lake and Lake Taneycomo, this trail system offers 11.75 miles of mountain bike trails. There are four loops that all offer something different, but all the loops are connected, so you can race your way through the whole 11.75 miles. The green loop has the highest elevation, the orange loop is the shortest loop, the blue loop is the longest and most diverse in scenery, and the red loop is the most challenging. 
Payoff: Climb to the top of the green loop for a view of Table Rock Lake Dam.
Directions: Find the office on the north side of Highway 165 at Table Rock Lake State Park (5272 State Hwy. 165, Branson; 417-334-4704). 
Chadwick
With more than 100 miles of trails, it can be easy to get lost here, and since trails are shared with motorcycles, dirtbikes and ATVs, we can't say enough about using caution. You need a permit to ride here, so pick one up for $5 at Kay's Country Store (6356 Missouri 125, Chadwick, 417-634-5225). Most trails are expert-level with large rocks, tree roots, berms and jumps. Trails range from 1-foot single track to full-on Jeep roads. Payoff: Trail 108 is a must. It's a mile downhill with numerous big air jumps.
Directions:  From Springfield, take US 65 south to Ozark and then Hwy. 14 east to Sparta. Take a right at the fork and take Hwy. 125 to Chadwick. The trail system is in Mark Twain National Forest.
Sac River Mountain Bike Trail
Strap on your helmet, and get ready for an afternoon of mountain biking at this 300-acre public park that offers 8 miles of single-track mountain biking trails through the woods. These routes are good for all skill levels, and these are purpose-built trails, meaning they were built with mountain bikes in mind. Prepare yourself for rolling terrain, banked turns and plenty of jumps and boardwalks. These trails are tight and twisty with rocks, roots and more to navigate around. 
Payoff:  This trail is great for all skill levels
Directions: Pick up the trailhead in Northwest Springfield off Hwy. 13, 3 miles north of I-44. Watch for the brown highway sign marking a westbound turn onto an unnamed road.
Missouri's state parks are teeming with trails and must-see sights, and we rounded up five of our favorites that are located right here in 417-land. Plan your trip to these parks by finding them at mostateparks.com.

While hiking on the large loop trail at Prairie State Park, you will have a chance to see bison roaming in the prairie.
1. Roaring River State Park
Besides offering one of the premier trout fisheries in the nation, Roaring River State Park in Cassville serves as a terrific adventure destination. Hiking, camping and fishing abound here, and thanks to the mix of rustic cabins and camping sites with hookups, the whole family can enjoy a weekend in the woods. Once you've set up camp, it's time to navigate your way through the seven trails that vary in length. The Fire Tower Trail is 3.75 miles long and winds through the Roaring River Wild Area and is a great way to experience the beauty of the Ozarks. There are dense woodlands, open dolomite glades and deep hollows. The views alone are reason enough to make a weekend trip of this hike. It's a loop and takes about 4 hours to complete.
Payoff: If it's a great view you're after, grab your binoculars, and climb up into the old lookout tower that was built in the 1930s and is a great stop for photographs and bird watching. 
Busiek State Forest offers a variety of trails that are great for both hiking and horseback riding. 
2. Busiek State Forest and Wildlife Area
If you're in the mood for a leisurely romp through a woodsy Ozarks hillside, then head over to Busiek near Highlandville. This 2,701-acre spot is owned by the Missouri Department of Conservation, and it features two trail systems that wind through the ever-changing landscape. Thick forest opens onto grassy fields, woodlands and glades. The west trail system offers 8 miles of mixed-use trails, and the east trail system boasts 10 miles of meandering trails. Look for trailheads to get info on difficulty, terrain and length of each trail. If you're strapping on your hiking boots in the fall or winter, the purple trail off the west loop is a must. Especially when the leaves have dropped, the purple trail offers great views from its high rocky ledges. Even at a short 3 miles in length, it comes in at moderate difficulty, so bring plenty of water and snacks. Speaking of snack time, hikers will find a scenic lunch stop at the flat ridge that's halfway through the trail. 
Payoff: There's an old cemetery off the red trail on the east loop, so keep your eyes peeled for this spooky piece of Ozarks history. 
3. Grand Gulf State Park
The impressive rock formation at Grand Gulf State Park in Thayer serves as one of southwest Missouri's natural wonders. Dubbed the Little Grand Canyon, this collapsed cave system has formed an expansive gulf that stretches for three-quarters of a mile with towering rock walls that reach 130 feet in the air. Visitors can view the gulf from high up on the trails or on the ground floor where they can walk under the natural bridge, which spans 250 feet with a 75-foot opening. (Use caution if you plan on walking to the bottom. There is no official trail leading the way.) 
There are two hiking trails here: Natural Bridge Trail and Interpretive Loop Trail. The Natural Bridge Trail is about 0.8-mile long and takes 40 minutes to complete. It takes visitors over the remnant of the collapsed cave system that has formed a bridge. The best time to hit this trail is in the late fall and winter months when the leaves on the trees don't block the view. 
Payoff: Call the Visitors Center at 417-264-7600 and ask about the losing stream where you can hear the water flowing underground. 
4. Bennett Springs State Park
It's a short drive to Lebanon, and this state park offers seven hiking trails that range from 0.6-mile up to the 7.5-mile Natural Tunnel Trail. Its signature feature is the Bennett Spring Natural Tunnel, which is 296 feet long and forms an "S" curve through the hill. A large gravel creek bed runs through the cave. The trail is a combination of roads and rugged wooded area, so even beginning hikers can tackle this track with ease.  
Payoff: The Natural Tunnel Trail passes near a small two-family cemetery.
5. Prairie State Park
Instead of rolling hills and rugged landscape, this park features the tall grass prairies that once covered more than a third of Missouri. Today, less than one percent of the prairies remain, and visitors can see panoramic views of these sprawling fields at Prairie State Park in Mindenmines. You can hike and even backpack here. Check out Drover's Trail. It's 2.5 miles long and gets its name from when the cowboys drove cattle across the prairie on the way to market. Bison often roam this small patch of land, and it's a good spot to see Indian paintbrush in the early spring. There are small and large loops available for hiking. 
Payoff: Make your way to the top of the large loop to see more of the prairie and bison.
PRO TIP
Make sure your hiking shoes or boots fit correctly. Try on boots later in the day to get the correct fit, and always try on shoes or boots with the socks you will be wearing, along with any aftermarket insoles to get just the right fit.—Dan Nash, Hiking the Ozarks
Looking for a new spot to explore? While they're a bit more off-the-radar than many popular hiking spots, these trails offer plenty of fun on foot. 
The trail at the Cedar Gap Conservation Area leads hikers through a wooded area into an open field with a valley overlook. Located only 45 minutes east of Springfield, the trail is a great spot to explore on a lazy Saturday.
The Ozark Trail
Many people don't know about the beauty of The Ozark Trail, which is still under construction and currently offers 392 miles for exploring in southeastern Missouri. When completed as anticipated, the trail will wind through 550 miles of Ozarks mountains, valleys and foothills and stretch from St. Louis to the Arkansas border. Today, much of the trail stretches through southeast Missouri, and there are several areas to access it, with one of the most popular located at Johnson Shut-Ins State Park. Dan Nash of Hiking the Ozarks recommends tackling the trail's Taum Sauk section to enjoy igneous glades, springs, grand vistas, odd rock formations and a swimming hole with natural flumes. The section is 35 miles in length, but lends itself to two shorter hikes: one from Highway A to Johnson Shut-Ins and the other from the shut-ins to Taum Sauk. The Taum Sauk trail gives you views from Taum Sauk Mountain, which is the highest point in the state.
How to Find It: Find trip-planning resources at ozarktrail.com.
Graves Creek Gorge
While many of northwest Arkansas's hiking spots have become hotspots, this place has remained a little secret. Recommended by Dan Nash of Hiking the Ozarks, this hike consists of following Graves Creek as it works its way to the Big Piney River. There are no trail markings here (after all, it is a hidden gem), but the spot is gorgeous—the creek has eroded the earth and rock away from the ground and created a gorge. You'll see numerous rock formations, waterfalls and boulders, as Nash compares hiking at Graves Creek Gorge to hiking near a Colorado mountain stream. 
How to Find It: This spot can be reached from Sand Gap, Arkansas, by traveling south on Highway 7 and turning west on Arkansas 164. From 164, turn right onto Pilot Rock Road, follow the road to the top of the mountain and take Graves Creek Road on the right. Follow this to a small parking area, then cross the road and travel west through the wilderness and down a hillside to find Graves Creek, which you'll follow downstream.
Cedar Gap Conservation Area
If you're looking for a new spot to hike but don't feel like traveling too terribly far, head over to the Cedar Gap Conservation Area. You'll hike through wooded areas downhill (there are some beautiful dogwoods to see in the spring), then reach an open field area with a valley overlook. Next, you'll go farther to more wooded areas and the headwaters of Bryant Creek, where you can walk along the stream and enjoy limestone glades. 
How to Find It: Located 45 minutes east of Springfield, the trailhead can be accessed from taking Highway 60 east to Highway O and making a right. This leads you straight to the trailhead parking lot.


More Pro Tips
Be familiar with the area, and carry a map. 
Too often, people get turned around on the trail or get off the trail to look at something and can't find their way back.—Dan Nash, Hiking the Ozarks   
Don't overestimate your fitness. 
Most people think they are in much better shape than they really are, but the outdoors can humble you quickly, especially if carrying weight in a backpack and navigating steep or rugged terrain. Be realistic about your fitness level, and don't get yourself in a position that becomes dangerous.—Dan Nash
Wear a helmet. 
This isn't much of a tip; it's a pre-requisite whether you're biking on the road or mountain biking.—Matt O'Reilly, TrailSpring
Always be prepared. 
You never know when you'll get a flat tire on a ride, so ride with a patch kit and a spare tube. That way, you can do basic repairs when you're out and about.—Jordan Sembler, Queen City Cycles
Bring your phone. 
I've left mine in the car a few times. When you get a flat or have an accident, you'll know why it's so important to have your phone with you.—Ettie Berneking, RAGBRAI veteran and assistant editor at 417 Magazine
Ride in groups. 
Especially if you're riding on the road, it's always best to ride in groups. This helps cars see you, and if you get a flat, run out of water or need help of some sort, there are others who can help you out.—Ettie Berneking
Gear Up
417-land has numerous cycling shops, running shops and outdoor stores where you can find the perfect bike, shoes or gear for your outdoor adventure. Here are a few.
Bike Shops
• A&B Cycle, Springfield, abcycle.com
• Bicycle Specialists, Joplin, bicyclespecialists.com
• Cycles Unlimited, Springfield, cyclesunlimited.net
• Sunshine Bike Shop, Springfield, sunshinebike.com
Running Shops
• The Run Around, Joplin, therunaroundjoplin.com
• Fleet Feet Sports, Springfield, fleetfeetspringfield.com
Outdoor Gear
• Bass Pro Shops, Springfield and Branson, basspro.com
• Ozark Adventures, Springfield, ozarkadventures.com