Things to Do
Best Picnic Spots in Southwest Missouri
Soak up some Vitamin D at some of southwest Missouri's greenest, loveliest picnic spots. We found five that are a sure bet every time.
By Katie Pollock Estes
Sep 2022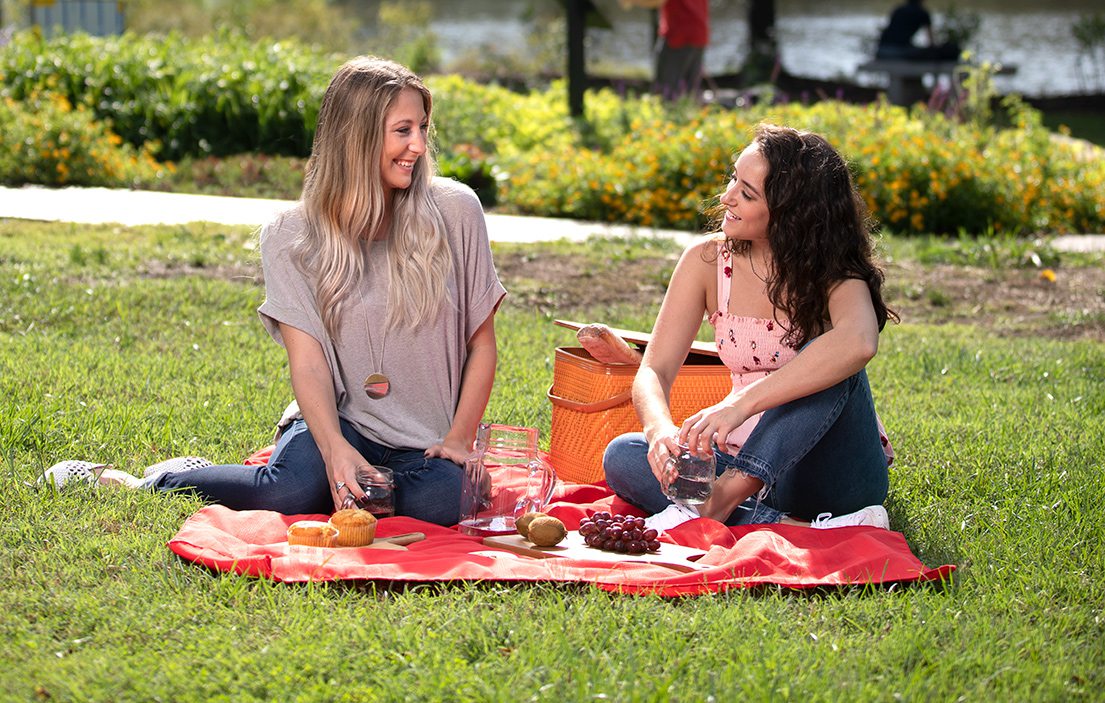 Nathanael Greene / Close Memorial Park
2400 S. Scenic Ave., Springfield
This 113-acre park is so diverse, it's easy to find the picnic spot to suit your mood. We love the south side of the field (perfect for flying kites!) below the botanical garden building. You can picnic in full view of Lake Drummond, and you're steps away from the hosta garden.
While You're There: Step into the Dr. Bill K. Roston Butterfly House
Lake Springfield Park and Boathouse
5324 S. Kissick Ave., Springfield
Whether you use the picnic shelter at Hilltop Pavilion (which has a lovely lake view) or just throw down a blanket on the grass beside the lake, the peaceful waterway at Lake Springfield Park and Boathouse makes for a serene picnic.
While You're There: Rent a canoe, paddleboard or kayak and explore the James River Water Trail.
Grand Falls
At 12 feet tall and 163 feet wide, Grand Falls is the largest continually flowing natural waterfall in the state and one of the Ozark's best swimming holes. It tumbles over a rocky ledge and chert outcroppings, making shallow pools of sparkling water on the surrounding rocks. The sound of rushing water is an instant mood-improver as you hunker down to eat.
While You're There: Wade in the Shoal Creek stream below the waterfall.
Phelps Grove Park
950 E. Bennett St., Springfield
This peaceful city park is filled with tall trees that provide sun-dappled shade on the grass below. You can picnic on a blanket beneath one of those trees, or grab a spot inside the stone pavilion. A walking trail surrounds the perimeter of the park.
While You're There: Take a walk down the block to visit Springfield Art Museum.
Moonshine Beach
This sandy beach on Table Rock Lake is the perfect picnic spot if you also want to take a swim to cool off. You can soak up the sun while you enjoy a sweeping view of the lake. 
While You're There: Visit the nearby Dewey Short Visitors Center.

Jordan Valley Park
635 E. Trafficway, Springfield
If you crave shade, pick a picnic table underneath the shade sails. But if you've packed a blanket instead, there is no shortage of places in the grass to enjoy the vitamin D.
While You're There: If you have kids with you, they're going to want to splash around in the Ozarks Stream and Fountain, where fountain shows run all day long through October.
Take your picnic to the next level with an elegant setting. From fancy picnic baskets to all of the posh serving utensils, we have ideas for elevating your outdoor feast.