Home Profiles
Best Living Room 2022 Winner
The winning designer of the Best Living Room category for 2022 refreshed a small living space with new art, layers of textures and a redesigned fireplace and mantel.
by Colin Shea Denniston
Jun 2022
Project Goal Summary
To refresh a small footprint living space through new art, layers of textures and a redesign of the fireplace and mantel.
When designing for her clients, Beverly Moore, owner and designer of Moore to Love Homes, sticks to strict deadlines and keeps her client's preference top of mind. But when it came to redesigning her own living room, she relaxed her timeline and let inspiration be her guide.
It all started when Moore found the large painting that now hangs over her sofa on a regular trip to a designer's market. "It was the perfect size for over the sofa, so that's kind of what started everything—that painting," says Moore. "Art is so personal—it was just something that I loved." From there, Moore gradually added and subtracted until eventually the only thing that remained from the original living room design was the sofas and a single leather chair. "It was a cool design back then; I think I was just really tired of it. It had been done for about 12 years. I was ready for a change," reflects Moore.
With the room's limited footprint, Moore relied mostly on aesthetic changes rather than a new layout to breathe new life into the room. The fireplace and mantel—Moore's favorite part of the redesign—is the one exception. "I used to have a TV cabinet there, so it protruded out into the room and made my living room smaller," says Moore. The redesigned fireplace extends out only about 12 inches, lightning up the space and allowing for easier traffic flow. The flatscreen TV now floats above the mantel with all of its wires tucked discreetly into the wall. "That is maybe one of my favorite features that we have ever done because it works so much better—it makes it function so much better," says Moore. "It was a beautiful cabinet, but it stuck out into the room too much."
The white marble laid in a herringbone pattern surrounding the fireplace plus the board and batten above the mantel and the room's original crown molding all give subtle dashes of elegance and refinement to the otherwise comfortable, lived-in style of the room.
Another standout feature is the large custom-built coffee table anchoring the center of the room. The original inspiration came from a piece Moore had seen from Restoration Hardware, but she turned to her contractor husband to make one of her own. "I wanted it to look kind of chunky on top and I wanted it to have spindly legs and that doesn't always go hand in hand because of the support issue," says Moore. To avoid having any visible cross supports, Moore's husband hollowed out each individual beam in achieving the desired finished product. "It took him forever to do that," laughs Moore.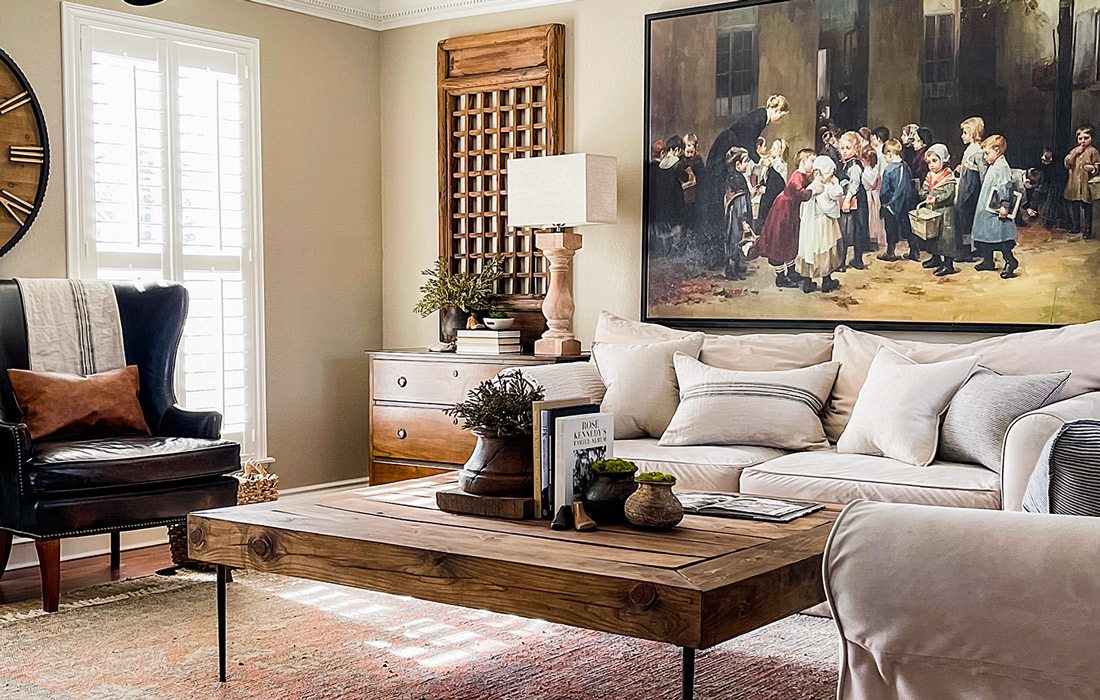 Interior Design/Decorating Project Lead(s)
Beverly Moore
Moore to Love Homes
Home Designer(s)
Beverly Moore
Moore to Love Homes
Contractor and Builder(s)
Brock Moore
Moore to Love Homes
Photographer of Project
Morrell Flowers
Furniture
Moore To Love Homes
Light Fixtures
Moore To Love Homes
Wood Floors
Moore To Love Homes
Architectural Moldings
Moore To Love Homes
Custom Woodwork
Moore To Love Homes
Artwork
Moore To Love Homes