Designers
Best Use of Space 2022 Winner
Take a look inside the Best Use of Space in the 2022 Design Awards.
by Heather Kane Kohler
Dec 2022
Winning Designer: 
Toni Echols, 
Obelisk Home
Project Goal Summary
When remodeling Design Assistant Toni Echols' own kitchen, it was important to maximize storage and keep countertops free of clutter. Valuable square footage was discovered in the garage and was being unused, so the designer created her dream walk-in pantry by utilizing that wasted space.  
During a full kitchen, dining and living room remodel of Echols' personal home, she knew she needed a pantry to maximize space and declutter the kitchen area. "Everyone loves a pantry," says Echols. "I kept thinking of ways to create one." It wasn't until she started looking at a recessed space in the garage that she had the idea for a walk-in pantry. "The space had an old workbench and was just useless," says Echols. The area just happened to run behind the kitchen and after some thorough measuring, Echols knew the footprint would work. 
A project like this doesn't come without its challenges. "The garage floor was a foot lower than the kitchen, so we raised the pantry area up a foot, which made the pantry ceiling height 7' instead of 8'," says Echols. "I also had to make sure the doors would open into the pantry and not cause a traffic jam in the kitchen." The cabinets were designed to blend into the cabinetry in the kitchen and easily open inward to reveal the hidden pantry storage. 
Echols' new kitchen was designed with white oak floating shelves and modern black cabinetry, so the pantry played an important role in maintaining the clean modern look in the kitchen. "I don't like my appliances on the counters," says Echols. "In the pantry there's a water filter, a bottle filler and two different coffee makers." One wall is devoted to floor-to-ceiling pantry storage. Echols strategically carried the design of the kitchen into the pantry using durable Formica countertops that look like white oak. The space was finished off with a unique art piece by local artist Christie Snelson. "I'm an art lover, I have art all over the house," says Echols. "This piece from Christie Snelson matches my style."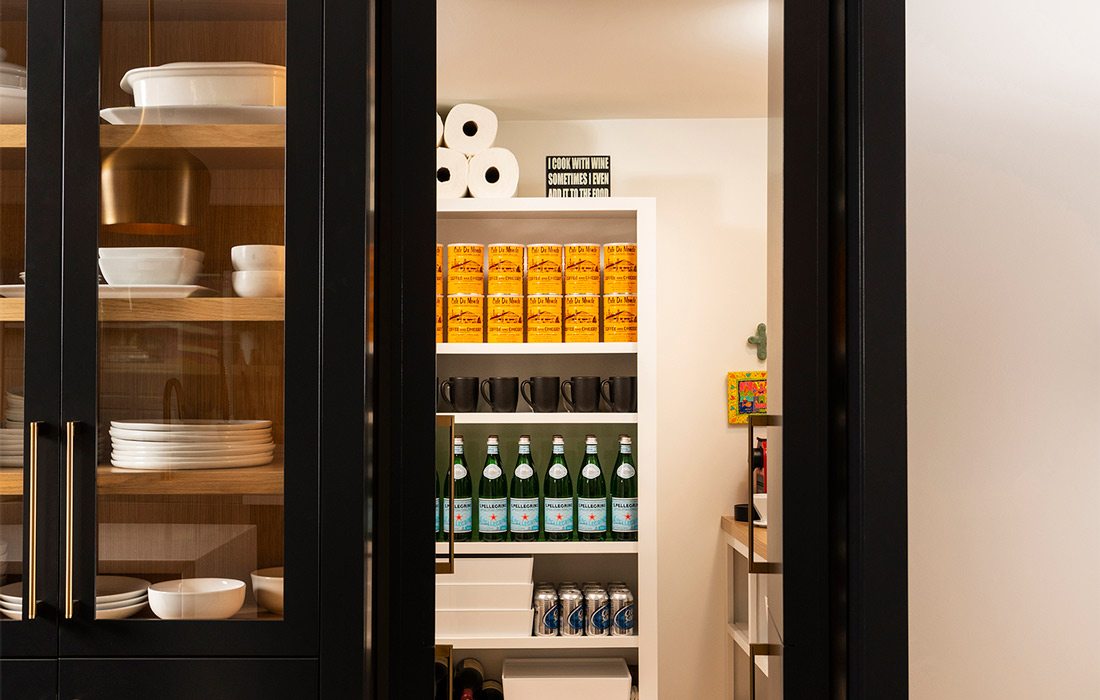 RESOURCES
Interior Designer
Toni Echols at Obelisk Home
Photographer of  Project
Jeremy Mason McGraw, Global Image Creations and Colby Kern
Plumbing
Harry Cooper Supply
605 N Sherman Pkwy, Springfield, MO 65802
417-865-8392

Cabinets
Cabinet Concepts by Design
4123 Hwy H, Springfield, MO 65803
417-725-3400

Counters
Custom Granite
1445 W Chestnut Expy, Springfield, MO 65802
417-864-0999

Flooring
Canales Wood Floors
Paint
Sherwin Williams
Custom Woodwork
Chris Christensen
Artwork
Christie Snelson