Designers
Best Mudroom 2023 Winner
The winner of the 2023 Best Mudroom saw a busy space renovated to keep everything an active family needs in the right place without compromising style.
by Jamie Thomas
Sep 2023
Winning Designer:
Nathan Taylor, Obelisk Home
Project Goal:
The goal of this project was to create a functional mudroom that avoids clutter for a very active family, even with all their equipment and some energetic dogs.
If your mudroom is a mess that you dread walking through when you come back from an outdoor adventure, you might want to look to this redesign by Nathan Taylor of Obelisk Home for some inspiration.
This space was designed for an extremely active family, in Taylor's words, who wanted utility to be top-of-mind from the beginning. "They do lots of sports," says Taylor. "Soccer, baseball and they also do a lot of bike riding as a family."
With so many outdoor activities on the family's itinerary, they also have a lot of gear, according to Taylor. Bikes, boots and bags were just part of the problem when it came to storage and utility—the family also needed to be able to charge batteries for various pieces of electrical equipment. "We planned it so that inside every locker there are outlets to plug in anything that needs charged," says Taylor.
These outlets were all designed in a way that would keep them out of sight, along with battery organizers and even a dog gate that are all recessed and hidden when not in use. "That happened before everything was started and before the cabinets went in," says Taylor of the dog gate. "I came up with the idea, between me and the homeowner, and we had to recess the back of [a] cabinet slightly so that we create this pocket and make it not visible. It's one of their favorite features of the room."
Even with the focus on utility, Taylor still found opportunities for flair—including a stained glass window that came with the property and was previously in the basement.
"When they bought the home there was a wine cellar," says Taylor. "[The family] doesn't drink, so the idea came that we could incorporate that into this space so when you walk down the hallway it isn't just all cabinets."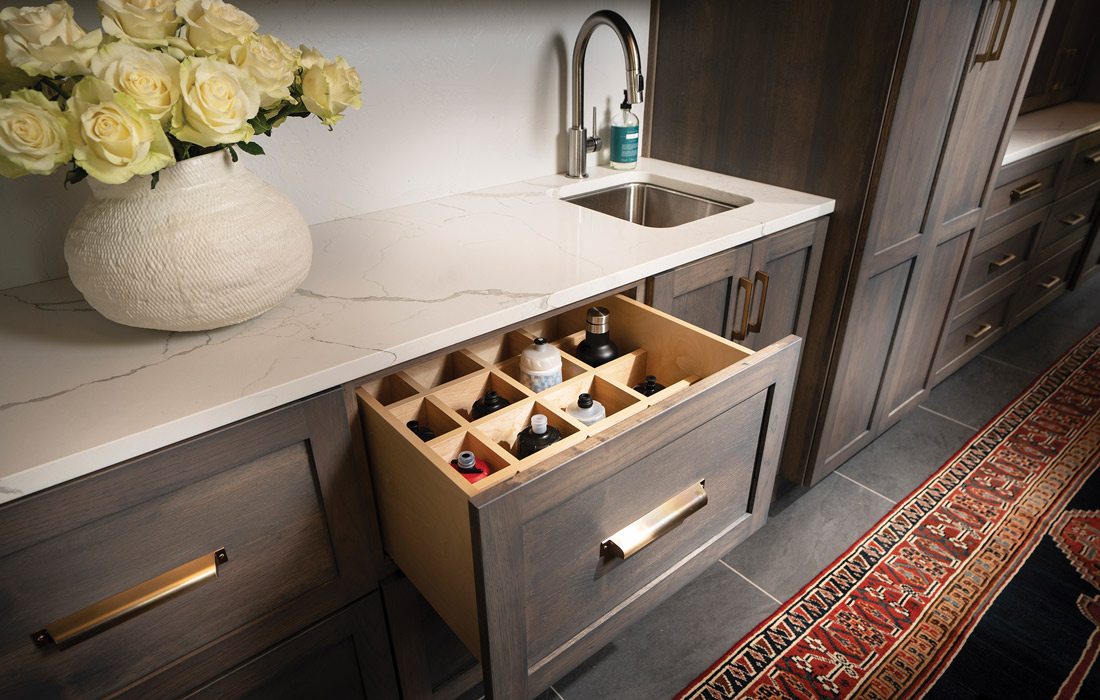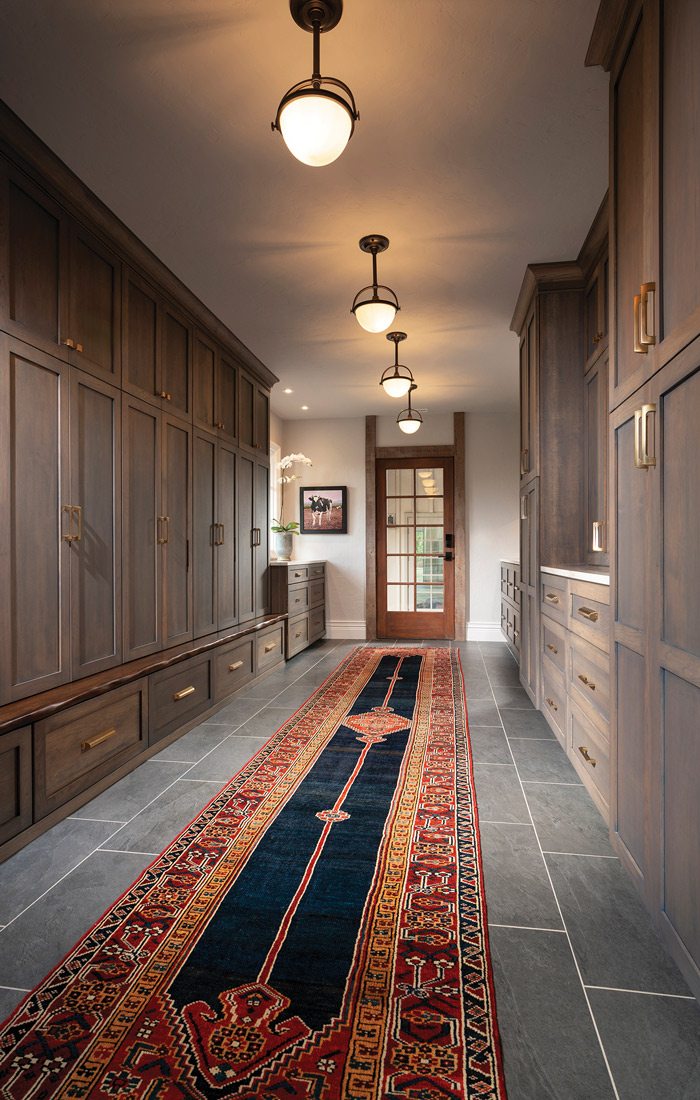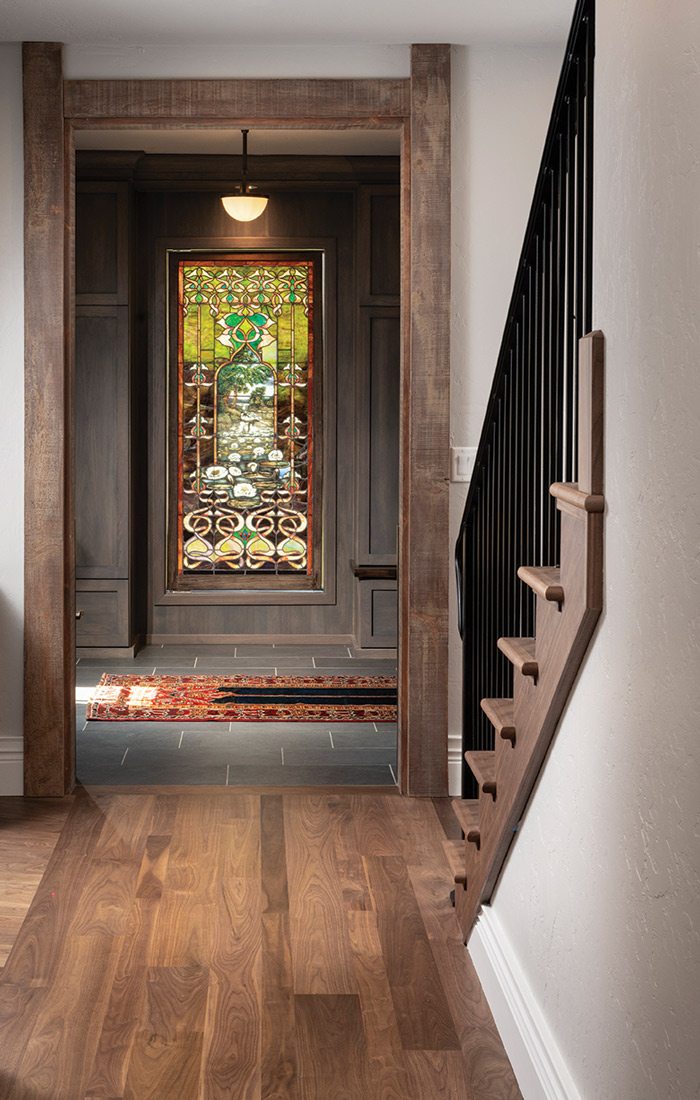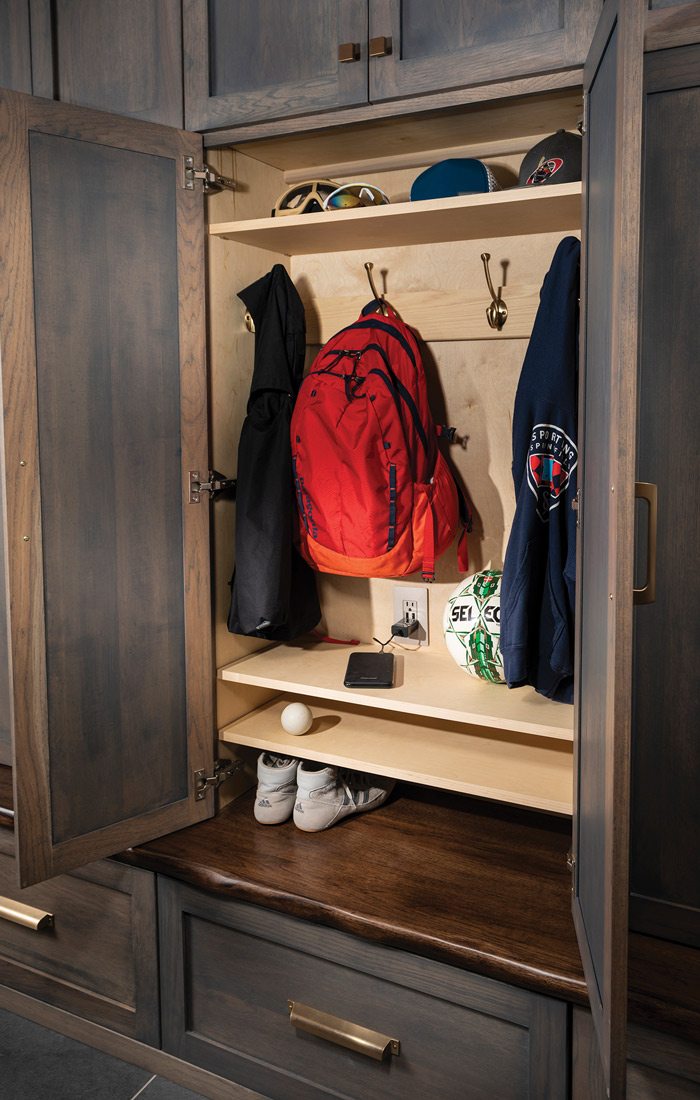 Architect/Home Designer(s)
Don Russell, Obelisk Home
214 W. Phelps Suite 101, Springfield
417-616-6488

Dale Peer
1200 E. Woodhurst, K-100, Springfield
Builder(s)
Monticello Custom Homes, Jason Bekebrede
3250 E. Summit Ridge Dr., Springfield
417-860-7873
Contractor(s)
Monticello Custom Homes, Jason Bekebrede
3250 E Summit Ridge Dr, Springfield
417-860-7873
Wall Coverings
Obelisk Home
214 W Phelps Suite 101, Springfield
417-616-6488
Furniture
Obelisk Home
214 W Phelps Suite 101, Springfield
417-616-6488
Hardware (knobs, cabinet pulls, etc.)
Southern Materials
3358 E. Division St., Springfield
417-865-2822
Plumbing Fixtures (faucets, spa, etc.)
Southern Materials
3358 E Division St, Springfield
417-865-2822