Trends
What To Know About Butcher Block Countertops
Learn whether the butcher block trend is a good fit for your kitchen and lifestyle.
By Lucie Amberg
Dec 2019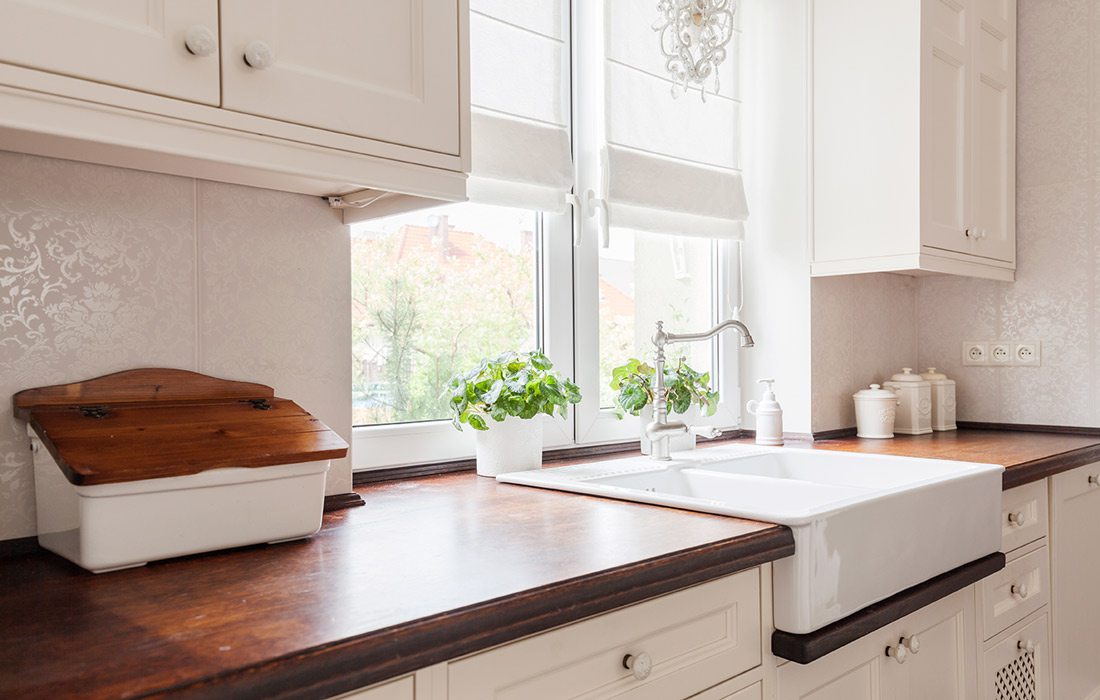 If you're dreaming of a kitchen with all the warmth of fresh-baked bread, butcher block countertops may be for you. Shelley Wehner, who owns Cabinet Concepts by Design with her husband, Matt, says it's critical to get specific about what you want from them. "Do you just like the look?" she asks. "Will you be cutting on the counter? How are you with wear and tear?"
These counters come in a range of wood and grain types, all of which can be selected to meet your goals. It's important to be aware, Wehner says, that no matter the wood you choose, it won't be as strong as stone. Over time, scratches and dents will show. "Really old butcher blocks may even get indented where dough has been kneaded," Wehner says. "They have a beautiful patina, but you have to be okay with seeing the wear."
The lived-in look makes butcher block countertops a good choice for anyone who loves the look of vintage saddlebags. But if pristine patent leather is more your thing, you might need to look elsewhere. If you embrace the patina, Wehner says: "They'll be there until you remodel your kitchen. And it's always an option to refinish them—just like wood floors."
You may want to combine them with other counter types. For example, Wehner often suggests quartz or granite around a sink, then build in wood sections for food prep. A butcher block can be raised for an architectural feel or recessed into the counter. "It's easier to knead dough if the counter surface is a bit lower," she says. "So we'll sometimes drop a butcher block down for people who make pies and cinnamon rolls."


Butcher Block Countertop Considerations
Wood Options
A wide range of wood species is available. Popular choices include hard maple, cherry, walnut and hickory. When choosing, consider appearance, price point and durability. Generally, the cost is comparable to granite. "The price has to do with how much labor and material is required," Wehner says. The counters are assembled from multiple pieces of wood—not a solid block. The different ways the wood is assembled create different wood grains. To select a grain, you'll need to know how you want to use the counter.
For Prepping Food
If you envision cutting and kneading on your counters, consider end grain (often shown in a checkerboard pattern), or edge grain, which is assembled with the skinny edge of boards facing up. These counters will be finished with a food-safe oil and have a very natural-looking wood appearance.
Just For Looks
If you aren't planning to cut on the counters, flat grain is also an option. This will look most like a flat, wood surface. As long as you aren't planning to cut or food prep on the counter, any grain can be stained and finished with polyurethane.
Maintenance
Clean your counters with warm soapy water. If you notice they're drying out, wipe them with a food-safe oil. In general, it's a good idea to clean up spills as quickly as possible. Wood isn't as forgiving, Wehner says, as quartz or granite.