Trends
A Timeless Color Combination for the Home
Two colors that will always look sophisticated and fresh are black and white. Here are some ides for how to use them to freshen up your home.
By Heather Kane Kohler
Mar 2021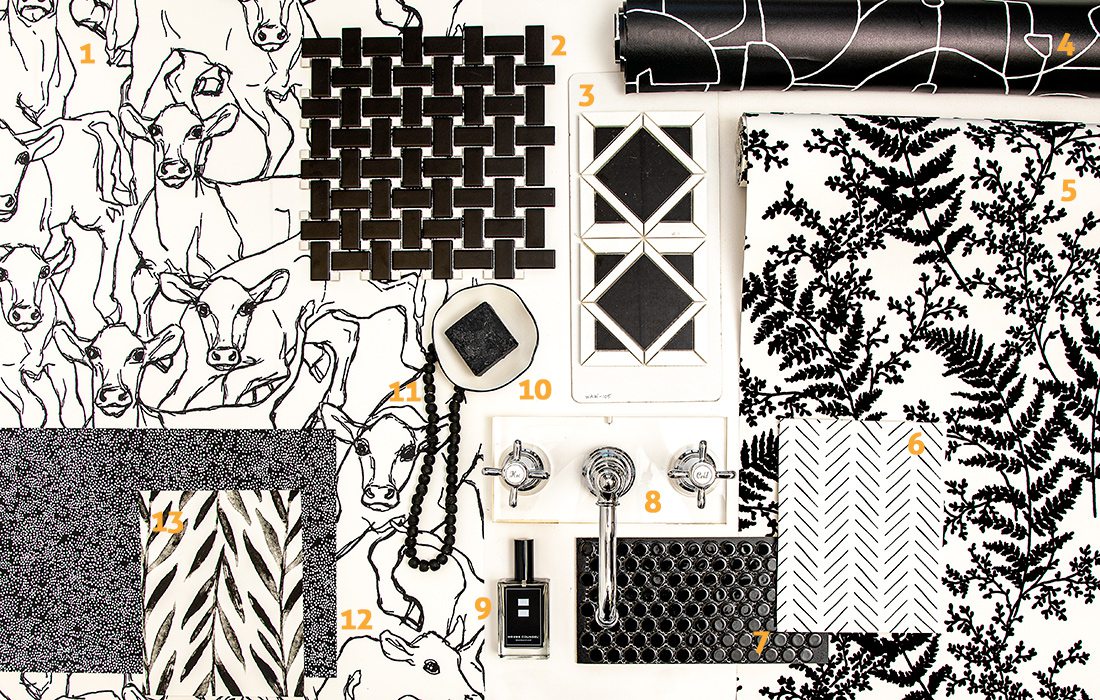 1. Iltavilli wallpaper, $98.99 at Seminole Decor Center 2. US Ceramic Tile black basket weave, $8.89 per square foot at Missouri Tile 3. Glazzio Wright Window Series, $32.12 each at Missouri Tile 4. Black and white abstract peel-and-stick wallpaper, $65 a roll at Seminole Decor Center 5. Magnolia Home Forest Fern wallpaper, $79.99 a roll at Seminole Decor Center 6. Magnolia Home Pick Up Sticks wallpaper, $49.99 a roll at Seminole Decor Center 7. Black glossy pennyrounds, $6.99 a sheet at Missouri Tile 8. Moen Weymouth chrome lavatory faucet, $413 at Harry Cooper Supply Company 9. Intrique Musk Linen Room Spray, $24 at House Counsel 10. Cermaic bowl, $14 at House Counsel 11. African coal beads, $19 at House Counsel 12. Champagne Dots, $45 a roll at Seminole Decor Center 13. Magnolia Home wallpapers in Willow, $43.99 a roll at Seminole Decor Center
Black and white are two neutrals that many designers and decorators use as the foundation pieces in their spaces. This classic combo can stand alone, or it can be used to beautifully complement any color palette. It will never go out of style, so purchasing large foundation pieces in either color makes for a smart investment. Black and white floor tile is another way to embrace these classic neutrals. This tile was popular during the Victorian times and during the Arts and Crafts period. Many homes still have their original black and white flooring intact (lucky them), but there are still many versions of black and white tile available today. Choose from classic hexagons, circles that look like flowers or my personal favorite: a basketweave pattern. Black paint is something we are seeing more and more of, too, especially on the exterior of homes. Wallpaper, drapery and upholstery are other classic ways to bring this duo into your home. You can create a lot of drama with just the right pattern. Perhaps the best part of using black and white in your home is that it can be used in traditional, contemporary or modern ways. The case for using black and white is pretty simple. If you're looking for something timeless that's abundantly available and easy to style and match, then look no further than this classic combo.