DIY
Easy Home DIYs to Transform a Space
Stuck at home but think interior DIYs are too much of a headache? Get inspired by these quick home updates that anyone can do.
By Heather Kane
Apr 09 2020 at 2:03 p.m.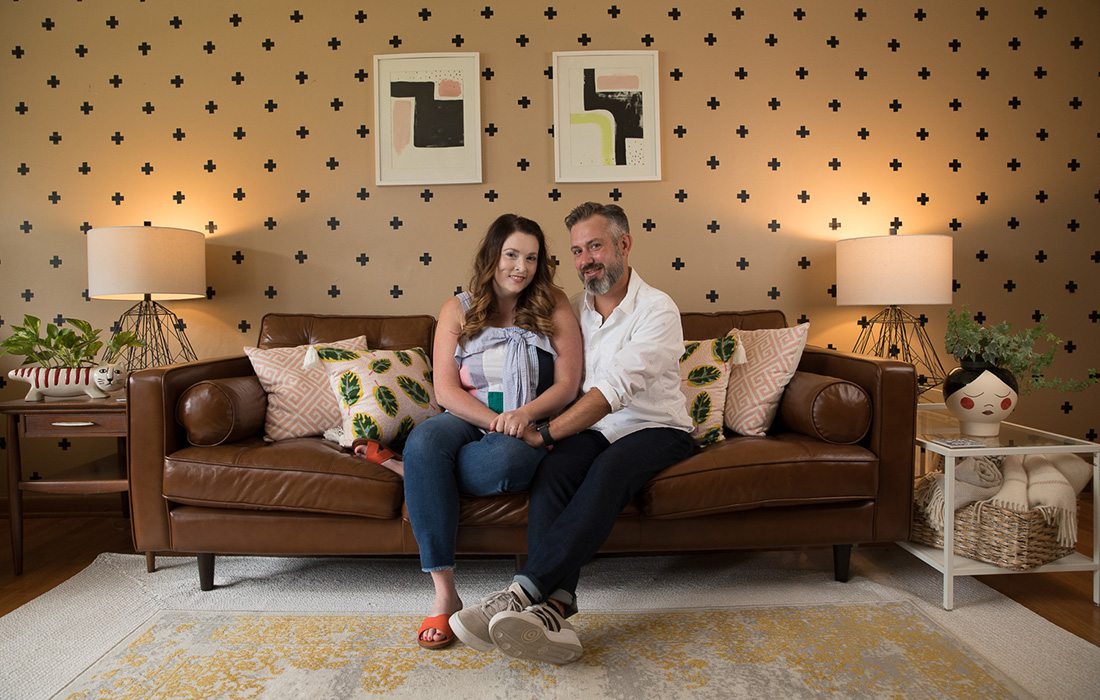 Washi Tape Wall
417 Home: What inspired you to create the washi tape pattern on your wall? 
Jillian Kane: I wanted to do something to break up all my beige/khaki colored walls without the time investment of painting. This also allowed me to get a wallpaper look without the commitment of the high price point. This is a great DIY for renters or for spaces that are transitional, like an office or kid's bedroom!
417: How did you manage to create the pattern so symmetrically? 
J.K.: First, I had to figure out the spacing. I just played around with the washi tape on one corner of the wall. The tape is easily removed so I was able to stick and unstick the tape until I liked the spacing. Once I knew the distance that looked right between crosses, I used a long level and placed marks on the level with a sharpie. I then used the marks on the level to create the pattern. I placed a little pencil dot at each mark until I had created the pattern on the wall. Cutting strips of the washi tape was easy, I used 2-3 rolls for the wall. It may have taken 30-45 minutes to make the cuts. I just turned on an episode of The Mindy Project and started sniping 2-inch pieces of tape. 
417: How long did the process take? 
J.K.: By this point the hard work was done. It took an afternoon to peel the paper off the back of the washi tape and stick it on the marks I made on the wall in a cross pattern. Each cross is 2 strips of tape. The entire project was done in a day and took 6–8 hours.
417: What tips would you give to people who want to do something similar?
J.K.: My tip is to make sure your washi tape will stick to your wall before you go through all the trouble to do it. I worried that after all that work I would wake up the next morning and it would have fallen off the wall. The tape doesn't stick well to textured walls, and some washi tape is not as durable as the type I used (thick black, almost like electrical tape). Also create a template to create your pattern. It would have taken much longer if I tried to do it with a tape measure, and way too much math.
417: Any other fun projects you're working on? 
J.K.: I recently finished another fun wall project, where I took a Rifle Paper Company calendar and framed each illustration for every month. I was able to get 12 beautiful prints for under $40. I made a very symmetrical and beautiful gallery wall with them all. I love how it turned out.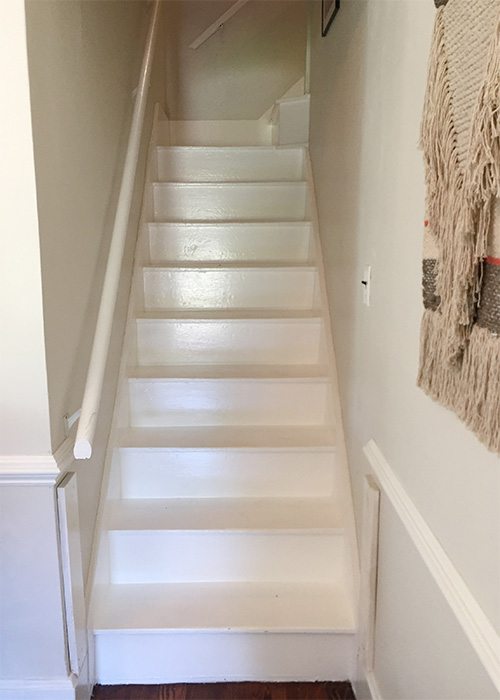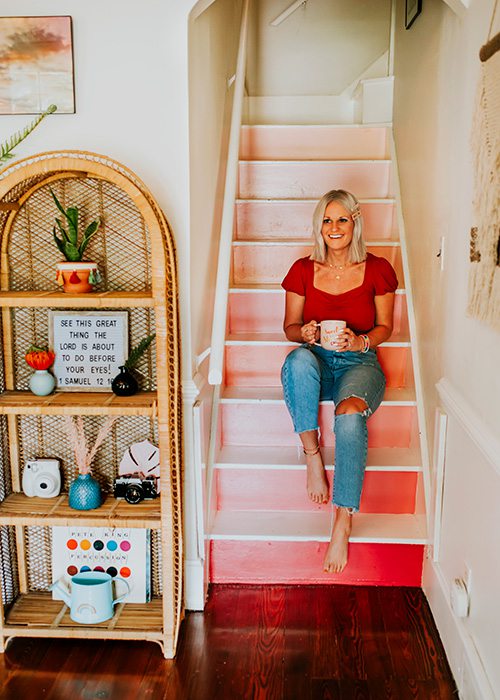 Lindsey Key-Clouse on her finished ombré stairs.
Photos courtesy Lindsey Key-Clouse
Ombré Stairs
417 Home: What inspired you to paint your stairs this way? 
Lindsey Key-Clouse: When we first moved in and renovated our home I knew I wanted to use our wooden stairs for a fun way to bring in color! We had originally painted them a bright shade of blue, and we loved it for a season. However, I also love change, at least when it comes to our home. I knew I wanted the flats of the steps to be white so I painted the entire staircase white to start with. Since they were originally all one color I also knew I wanted to mix it up and use multiple colors this time. We debated between going full on rainbow or doing some kind of ombré. In the end ombré seemed like the better fit.
417: How long did  the process take? 
L.K.: Since I started the ombré project with the stairs already being white, painting the colorful risers was a super quick project that I was able to complete in one day! Honestly the hardest and most time consuming part was taping everything off.

417: What type of paint did you use and how much did you need?
L.K.: I knew I wanted to start with a deeper/brighter shade of pink at the bottom and get lighter as the colors climbed the stairs, ending with a light pastel shade. We used Olympic samples that were sold already mixed and in the perfect size, 1/2 pint each. We were able to find all of the different shades we wanted (9 different kinds) in the sample sizes! I did two coats and had plenty leftover of each color.
417: What tips would give to people who want to do something similar?
L.K.: If you are afraid of it being too much of a bold statement, you could break it up with a muted or neutral color (like I did) or even leave the flats in their original state so it isn't such a shock. Paint is also a great alternative to wallpapered risers if you aren't comfortable with all that math (that's me!). Especially if you live in an older home where your steps are not a consistent size.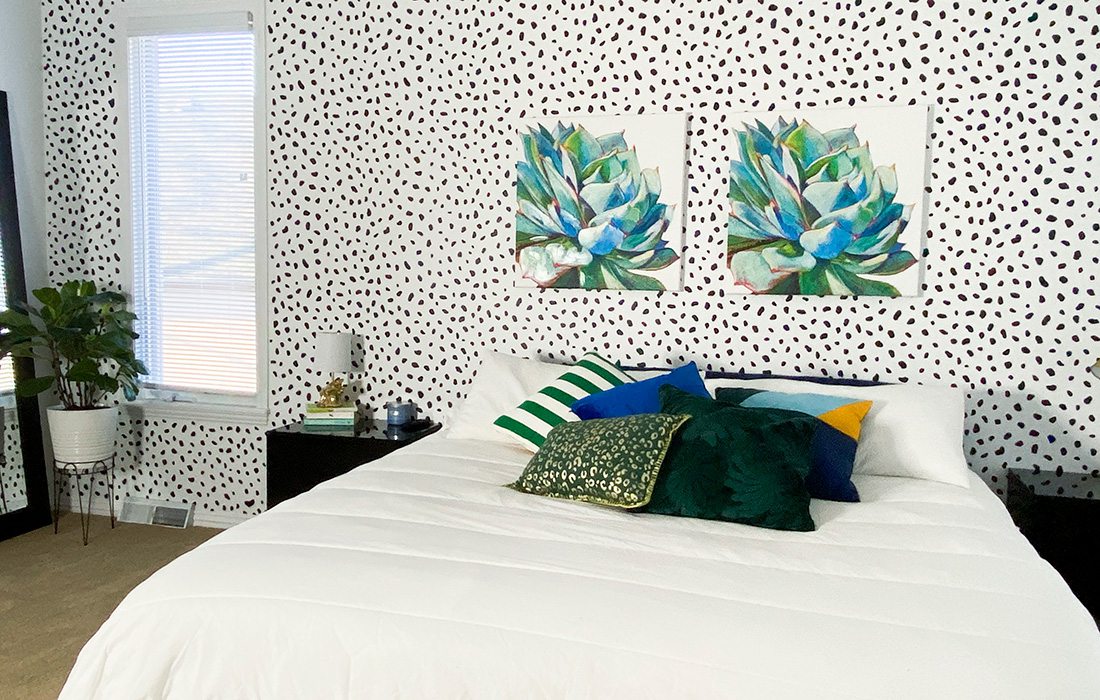 Leopard Print Wall
417 Home: What was the inspiration for your dotted wall?
Nikki Deiedrich: I wanted something bold but I didn't want a ton of color. So I started searching accent walls on Pinterest, of course! After hours of searching photos I came across a stencil company, Royal Stencils. The second I saw the cheetah print stencil I fell in love with it.
417: How long did it take you to paint?
N.D.: It was a two day process. We painted the entire room white then the following day we did the cheetah print. Our stencil day took about 10 hours. Luckily my mom helped me paint and we really had a great time doing it.
417: Are you happy with how it turned out?
N.D.: I'm absolutely obsessed with it!! It's even better than I imagined it would be.
417: Is there anything you would do differently if you did it again?
N.D.: Not at all.
417: Any tips for people who want to do their own?
N.D.: If you're going to use a stencil, do the extra step of drying or wiping the back of your stencil after each section. It's time consuming but it's totally worth the flawless application.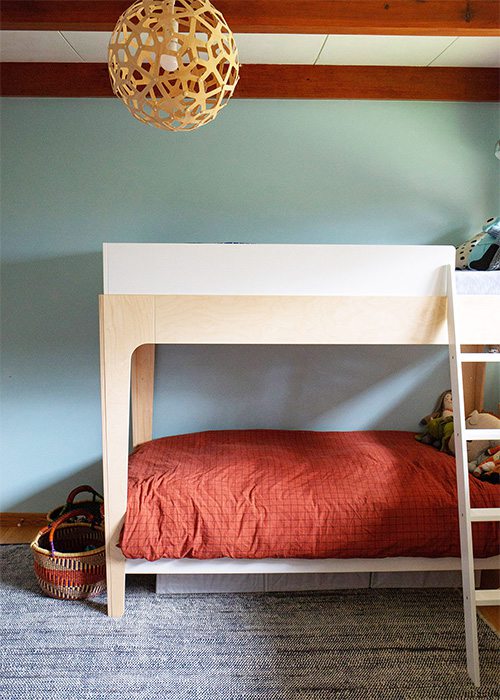 Add an Accent Wall
417 Home: Accent walls are a super easy way to add personality to space. What was your motive behind the blue wall you painted in your sons' bedroom? 
Mara Dockery: When we first moved in, the room was bright red from the previous owners. I painted it white for a clean slate, but it turns out kids love color. I wanted them to have a room they felt like was theirs so I decided to paint at least one wall. One son loves warm colors like orange and red and the other loves blue so I found a way to mix both colors together. I chose a muted pool (light blue/aqua). It contrasts nicely with the rust bedding.
417: How long did the process take? 
M.D.: The accent wall was quicker to paint than I thought it would be. It took only one day to finish the entire wall!