Inspiration
Table Setting Inspo for Fall Gatherings
For your fall time gatherings, find something unexpected to use in your table settings.
Styled by Dylan Lyle, written by Dylan Lyle, Haley Phillips
Sep 2019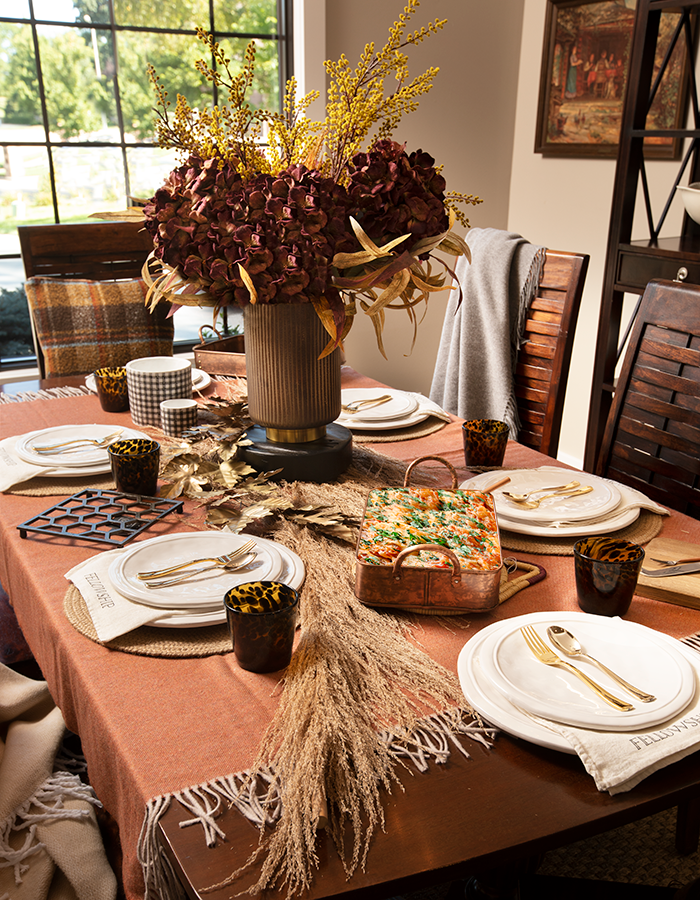 Centered around the dinner table, Thanksgiving is the perfect time to go full ham—or turkey—on your tablescape and impress your guests. Heed advice from these local experts, and have your guests feasting on more than just the turkey.
Choose Your Palette
For every special occasion, it's important to establish a color scheme for your table's design. Jeannie Breshears, owner of House Counsel (1961 S Glenstone Ave, Springfield, 417-501-1331) likes to keep it simple. "[My table] almost always includes a white tablecloth," Breshears says. She adds pops of color through her place settings or accent pieces, like fresh flowers. Once you have your foundation, Chelsee Sowder, co-owner and designer at Nest Interiors + Design (101 W Church St, Ozark, 417-485-4044) suggests building layers of texture with napkins, flatware and a table runner.
Set the Scene
Before settling in for the feast, greet your company with thoughtful details throughout the table like handwritten place cards for every seat, Sowder suggests. To create a cozier ambiance, Breshears lights votive candles at the head of each table setting before guests arrive to symbolize a warm welcome. "It's a subtle indication of a savory dinner that awaits them," Breshears says. "It's also very calming as people arrive from a bustling journey."
Center of Attention
No matter the style of your table setting, carefully consider the centerpiece. Breshears advises keeping the design low to provide easy viewing from all angles. Once the dishes have been cleared, conversation can continue across the table without the fear of obstructions or the need to disassemble the table. Using transitional pieces like a tray or cake stand can also add variety to the tablescape while providing functional space for dessert and hors d'oeuvres.
Know When to Fold Them
Sneak in a subtle but festive pattern with your linens to liven up the table arrangements, says Sowder, who prefers to use plaid or striped napkins paired with matte-finish silverware. Contrary to the age-old belief associated with setting a table, Breshears recommends ditching the classic napkin ring. Instead drape the napkin over the place setting to showcase a special message or pattern.
Mix and Match
Before hitting the stores, check your cupboards. Turns out all those miscellaneous dishes and flatware you've collected through the years could be the perfect addition to your tablescape. "Take into consideration you might already have some of the base pieces," Sowder says. Try reusing items like trays, cake stands, chargers and linen napkins in a new way so you can splurge on the details. Most importantly, don't overthink it. Sowder reminds us that most tables aren't perfect but instead a collection of things we love for that season arranged in a way that looks purposeful.
Check out the slideshow below for some visual aids if you're looking for more inspiration.
Brown hurricane vase, $101; Black wooden trivet, $88, both at House Counsel; Flowers, pricing varies at Nest Interiors + Design / Golden garden centerpiece, $74; Fellowship linen napkins, $19.50 each; Olivia tortoise tumblers, $19 each, all at House Counsel / Decorative 7-foot dried grass, $18 for a bundle of five at Harrison House Market; Tartini throw blanket, $305 at James Décor; Copper casserole pan, $57 for set of two at The Market / Large white charger, $32 each; Small white charger, $23 each, both at House Counsel; Jute placemats, $8.95 each at The Market