Trends
How to Display Art at Home
When displaying art in your home, the secret is to trust your heart. 417-land locals, Kathy and Carl Price, have some advice for choosing pieces and displaying them prominently.
By Lucie Amberg
Mar 2020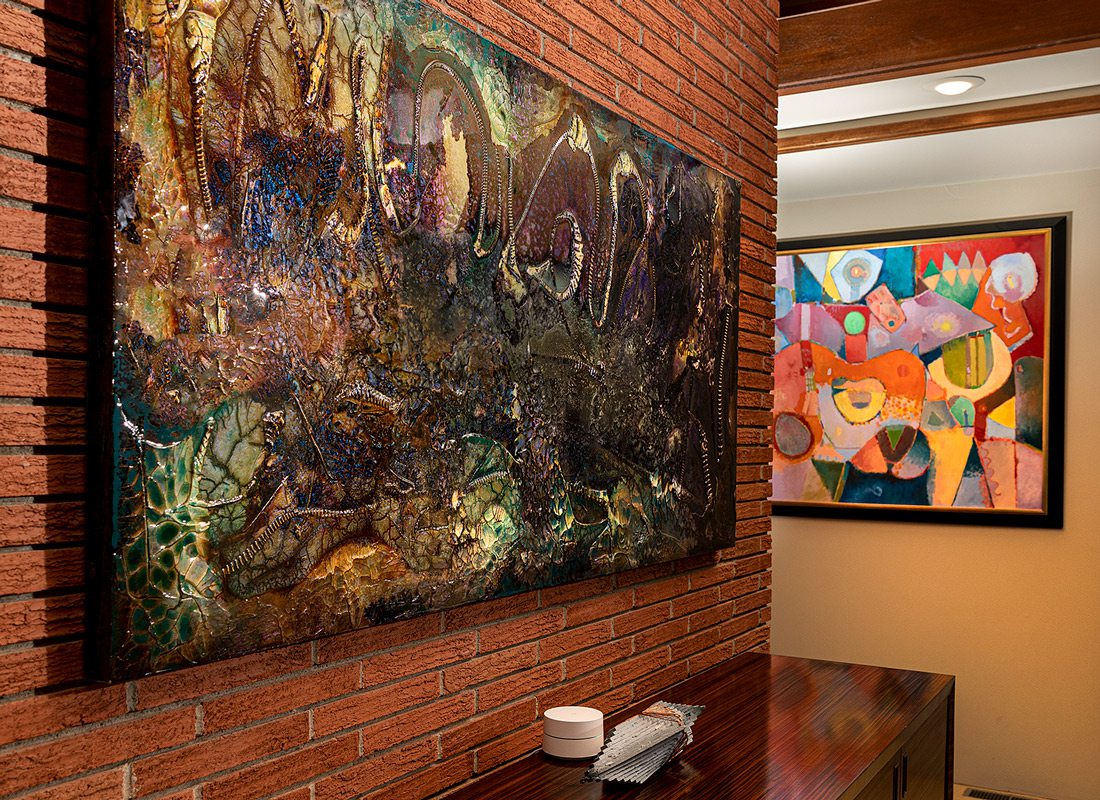 The idea of collecting and displaying art can be as appealing as it is intimidating. Kathy Price has straightforward advice. "Pick something you like," she says. Kathy and her husband, Carl, make a practice of incorporating art they love in their Springfield home. But they don't set out intending to fill a certain space. In fact, Carl says: "We do the opposite. We find things that speak to us." This means choosing pieces without worrying whether the color palette, the style or the aesthetic will match the existing interiors or furniture in the Prices' home. "If anything," Kathy advises, "if it matches, it will blend in,"—which is the opposite end result of what they're hoping to achieve in their collection.
Over the past several years, the Prices have filled their home with works that stand out, many by Missouri artists, including Jacob Burmood, Gavyn Sky and Betty Parnell. Their collection includes sculptures, two of which are prominently displayed in their living room. To place a large piece, particularly a three-dimensional one, Kathy recommends giving it enough room. "You want it out there so people can walk around it," she says. And while special lighting might be in order, she often finds it's not necessary.
When the Prices can't quite find a way to display a piece of art, they call on experts, like Nathan Taylor at Obelisk Home. "There are great people locally who are so thoughtful," Kathy says. She recommends utilizing local galleries, events like First Friday Art Walk and organizations like the Springfield Visual Arts Alliance and the Springfield Regional Arts Council (SRAC) to help discover art that speaks to you. Carl's office serves as a public art space for SRAC's rotating exhibits, and often, Kathy says, he falls in love with a piece there. At home, their collection not only sparks conversation, it also serves as an informal archive of Price family history and interests. "You tend to buy things that speak to you at the time," Carl says. "As your journey changes, it changes, too."