Trends
How to Maximize Space in a Multi-Use Room
Maximize your square footage and give guests a place to call their own with a little guidance from these local builders and designers.
By Jessie Rotton
Jun 2020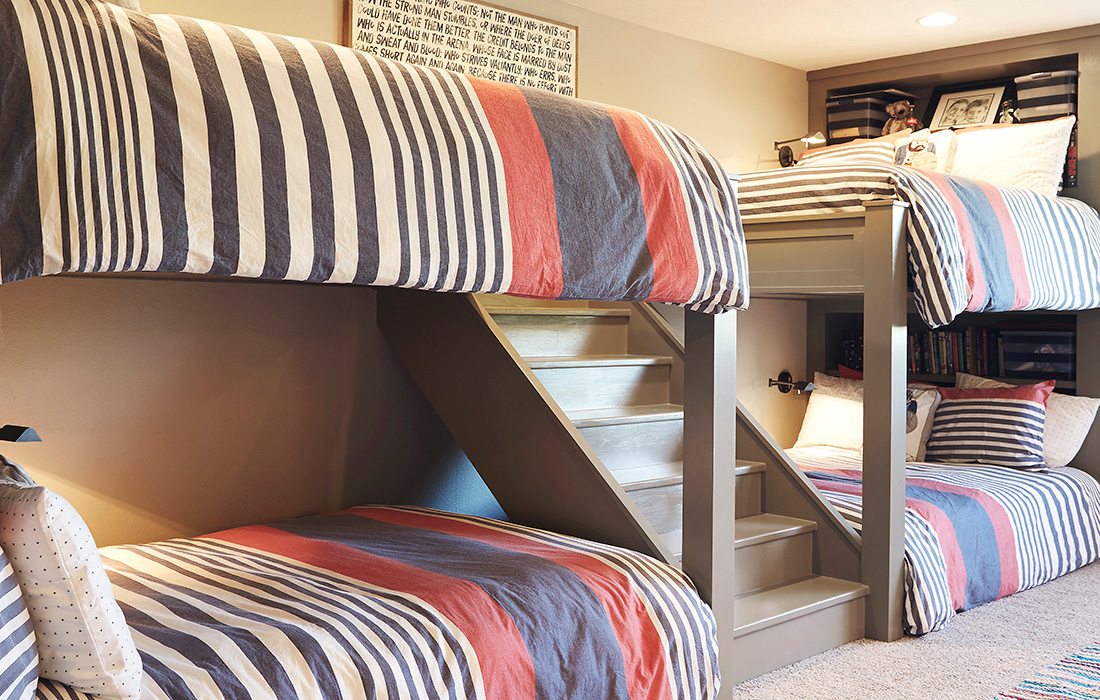 From guests to grandkids, if you've ever wondered whether semi-regular visits really warrant a permanent stake in your valuable floor plan, you are not alone. Instead of trading your guilt for one of your intentional home spaces, consider the possibility of a makeshift bedroom with beds designed to save space.
A Blissful Cocoon
Many spaces have unrealized nook-worthy potential, begging to be brought to life with a tucked-away sleep structure—otherwise known as an alcove bed. These hidey holes sit within small, enclosable areas with three walls, freeing your main floor space with less square footage held captive. Although requiring more preliminary thought, their efficient payoff is what sweet dreams are made of.
According to Susie Wieland of Wieland Studio, alcove beds are perfectly suited for small rooms, so long as the bed doesn't project directly into a window on an adjoining wall. Along with locating the perfect spot for the enveloping effect, Wieland encourages other thoughtful considerations such as bed platform size. "Make sure the bed platform is a few inches wider and longer than the mattress size being used," she says, warning against the annoyance of hard-to-tuck blankets (we'll thank her later).
Perhaps the most impactful design element of an alcove bed, is the opening—typically called the surround— to the alcove. This feature is the perfect opportunity to put your stamp of aesthetic appeal on the project. The options are endless, ranging anywhere from "a simple square opening, to an arched top or elaborate ogee curve," explains Wieland.
Dual-Purpose Dream
If style and function had a baby, you'd get a daybed. It's that furniture piece that you overlooked as a child, but now, as an adult, recognize its chic design and useful nature. Most often doubling as a sofa and a bed, a daybed is a smart solution for anyone looking to keep the intention of a space while still making it versatile for guests.
According to Jason Bekebrede of Monticello Custom Homes & Remodeling, the multipurpose magic is due largely in part to the bed's orientation. "A daybed typically has the long axis running parallel to the wall as opposed to the short axis," Bekebrede says. This, along with the frame structure closely resembling that of a couch, is what makes the style more suitable for lounging.
To achieve a daybed similar to what he built for the cross-functional room designed by Erica Lea Hendricks, Bekebrede recommends starting with an assessment of space—most easily determined by mattress size. Next, he says to consider the height of the bed so that you know where any pillows will fall in relation to a window or other surrounding objects. These small but practical details all work together to bring the unifying design characteristics of a daybed to life.

Vertical Advantage
Sometimes the obvious solution also happens to be the right one. Since there's no quick fix for bed space quite like stacking them high, we say bunker up! Bunk beds are all about achieving a fun, playful vibe while maximizing available room with a blend of ergonomics and aesthetics. With a few thoughtful decisions, you'll fall in love with this bed type faster than you can say pillow talk.
Jacque Pitts of Brashears Furniture knows bunk beds are more than just child's play—although that, too. For adults and children alike, bunk beds come in a variety of designs and themes, from classic loft-and-lower models to options with storage and integrated closets or study areas. To better suit adult guests, one of Pitts's design clients even opted for a custom-built piece with an extra long twin bed on the top and a queen size on the bottom.
While there are so many customization options available, there is one important standard to consider across all bunks, and that's safety. Favoring wood over metal designs, Pitts says, "don't buy pre-made unless it's a sturdy, high-quality build that is not going to wobble or fall apart." Pitts also doesn't suggest standard height bunk beds for rooms with less than eight-foot ceilings, noting the importance of steering clear of ceiling fans and hanging light fixtures for safety purposes.