Home Decor
A Modern Twist on Bathroom Design
Unleashing creativity and timelessness for a funky and modern mid-century bathroom design.
by Angela Rechtfertig
Sep 2023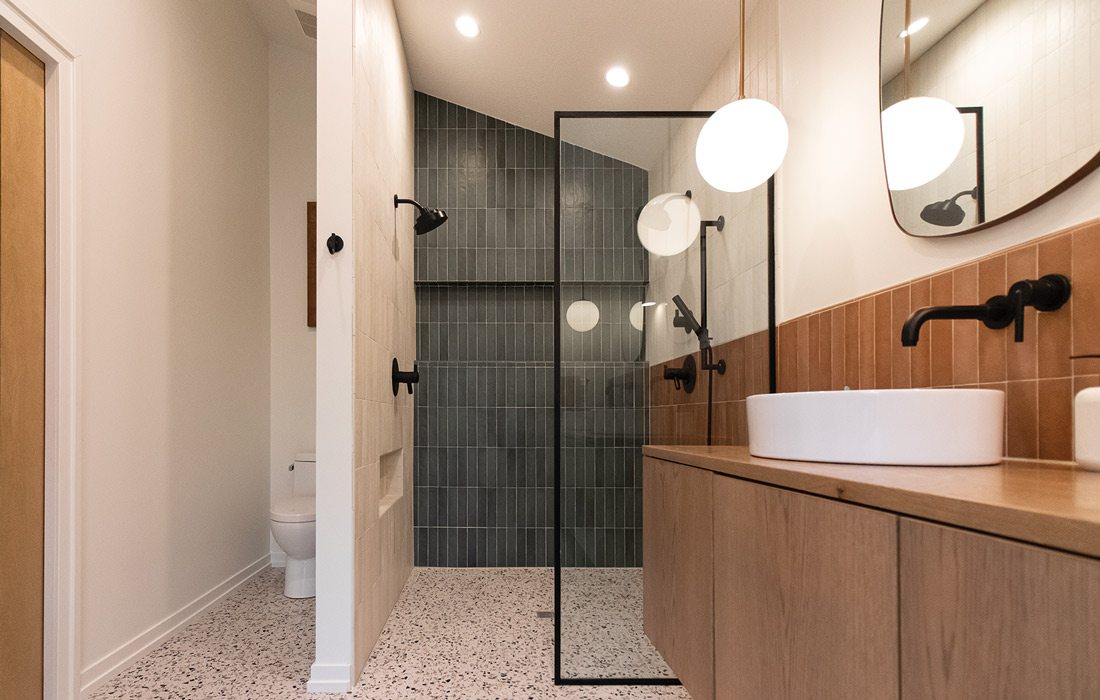 Envisioning a new design for a space can be challenging for homeowners. Fortunately, Madison Reese, a designer from Rock Solid Renovations, has a few tricks up her sleeve when it comes to remodeling. "When walking into a home or individual space for the first time, it is easy for me to visualize the potential," she says. "It also helps to work in a drafting program where I can create realistic renderings. That helps me and the client figure out the best direction for everything involved, down to the type of hardware we are using."
To redesign any client's space, Reese first needs to understand their vision. In this project, she combined the client's love for mid-century design with the existing fun pops of color in their home. Working from scratch, she had the opportunity to get creative with finishes and layouts to improve functionality. "I took both those elements and ran with it!"
Reese describes the bathroom as having a wonky layout, but this provided her with a blank canvas to start with. "When working with old-school spaces I love the opportunity to get creative not only with the finishes but with the layout," she says.
The clients were eager to begin from scratch and revamp the space to enhance its functionality, so she began to plan. "After reworking the layout, I studied mid-century bathrooms along with other modern bathrooms where they got creative with simple tiles but bold installation methods," she says.
Once the research was completed, it was time to move on to the renovations. She focused on enhancing the spatial elements of the bathroom. "Creating a focal wall in the shower with an adjoining large tile band that continued behind the floating vanity helped keep the bathroom visually one big space," she says. "It is easy for showers to feel like their own individual room, which I wanted to avoid for this project."
Lining the shower with black retro tiles and the wall with brown tiles meant that Reese needed to incorporate modern elements into the bathroom to keep the design balanced. She did this by using matte black plumbing fixtures and a floating vanity cabinet. "Overall, I like to have a timeless and classic foundation, then incorporate transitional or modern pieces to freshen up the design," she says. "We went more minimal with this space so the colors and materials could really shine."
Reese shares that the main thing to avoid when redesigning a space is doing what everyone else is doing. She encourages people to look at each space uniquely. "There are so many different directions you can go with for the design of your home," she says. "Don't get hung up on something you saw online. It can hold you back from being able to do something even better for your home. Be unique and stay true to your own style!"