Home Decor
Tips for Making Your Own Floral Work of Art
Think like a florist and create your own beautiful winter arrangement with these pro tips.
BY Heather Kane Kohler
Dec 2022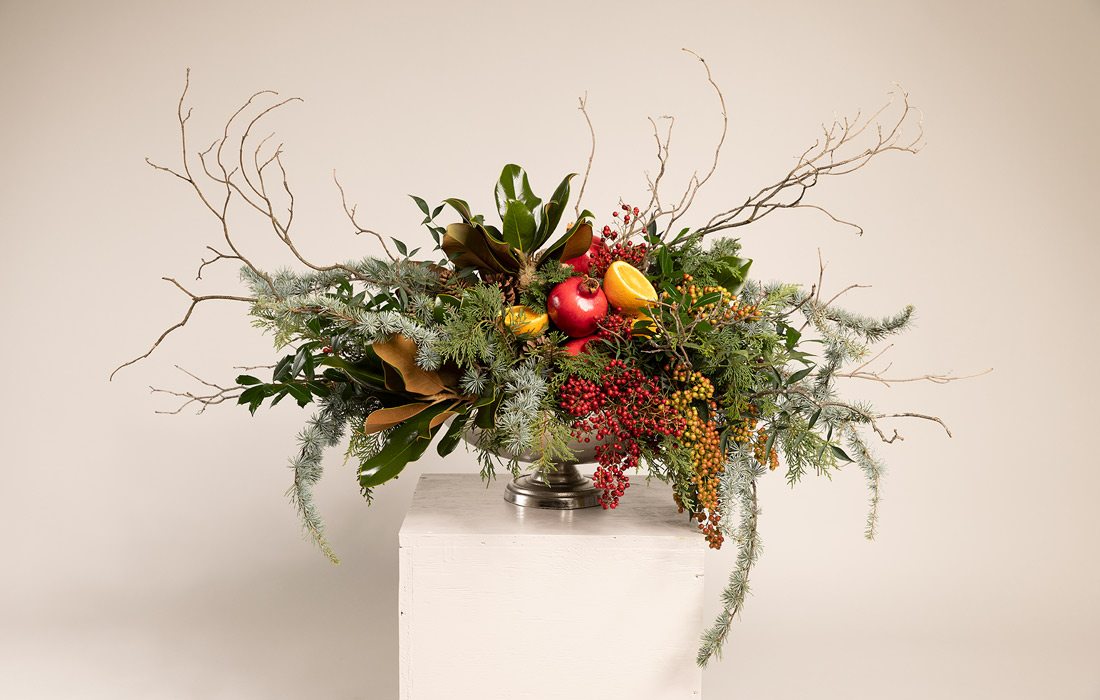 Creating your own floral arrangement during the winter months can seem a bit daunting as the landscapes turn brown and our flowers wilt away. However, with a little creativity and a new outlook you can create a seasonal display that's truly beautiful for your home. 
The Base 
Think outside of the traditional vase and use a champagne bucket, a vintage coffee pot or an antique soup tureen to begin your arrangement. Then you can begin to build your arrangement. "The base for an arrangement is always evergreen for a winter arrangement and if you don't have an evergreen tree, I'm sure you have a friend or relative who does and they wouldn't mind you taking a few clips," says Betsy Schaffitzel of Schaffitzel's Flowers & Greenhouses (1771 E Atlantic St, Springfield, 417-866-6222). Soak your greenery in an ice bath before use and spritz the needles from time to time to keep them from drying out. "I love juniper! It's not just the green foliage, but it also shows adorable little steely blue berries that add the perfect little detail and texture to your winter arrangements," says Haley Day of Sunday Flower Company (417-844-1434). Other great greenery to look for would be magnolia leaves and boxwood. 
Winter Blooms 
Purchase a few flowers by the stem for pretty blooms. You'll likely find blooms like roses, carnations, anemones and ranunculus are readily available during winter months. You can also start your own bulbs indoors and use them in your arrangements. "I've always loved amaryllis," says Day. "It offers such a large, luxurious, elegant bloom that you really don't get with anything else around Christmas." You can choose from white, red or shades of pink. "Paperwhites are one of my favorite winter blooms," says Ron Johnson of The Nest (1856 E Cinderella St Suite C, Springfield, 417-889-6707). Take a look around the inside of your home for blooms as well. "Another great place to forage are your houseplants. They add beautiful texture and color such as a red anthurium bloom," says Schaffitzel. 
Texture and Height 
Head into your backyard or to the park and look for acorns, pine cones and unique looking sticks. "Forsythia stems are great to use for their flexibility and add height and texture, say Schaffitzel. "Pulling off some bark from your trees or bark from cut firewood are great elements." Keep your eyes peeled for dead perennials such as coneflower, black-eyed Susan, and sedum.  You'll find great seed pods on them to cut and add to your arrangement. 
Added Color 
You can add additional color by using seasonal fruits. "Oranges and pomegranate are my go-to fruits to add to arrangements, but you should try a few things and see what works best," says Johnson. You can even add holiday ornaments to your arrangements; just remove them after the holidays for an arrangement that can last into January. A simple ribbon is another fun way to add a pop of color or pattern to an arrangement.