Home Profiles
The Homes of Southern Hills
Welcome to Southern Hills, one of Springfield's most picturesque neighborhoods.
by Ettie Berneking
Sep 2021
Even before Southern Hills was fully built, its creators, John Q. Hammons and Lee McLean Jr., knew it would be a hit. This was the 1950s, and they dreamed of spring-fed ponds, gently rolling hills, spacious lots and winding roads you could happily get lost on. Today, the medley of midcentury houses and spacious ranch dwellings are still dream worthy. Maybe it's all those long-established trees towering over the neighborhood. Maybe it's the wildlife that dots the landscape. Maybe it's the thatched roofs and 1950s charm, but whatever it is, Southern Hills has stood the test of time. Now we're peeking into a few of the homes we've fallen in love with over the years. Some are remodels, some are relics of beloved architects, but they're all part of that Southern Hills dreamscape.
The Pink Front Door
If you're looking for Misty and Chris Ware's home, just look for the colorful entryway.


If you pull up to Misty and Chris Ware's home, don't be fooled by that pink front door. The soft shade of vintage pink was all Chris's idea. He got the inspiration from family trips to Palm Springs where front doors are equal parts design and function, which is exactly how the Wares have remodeled their new home. "Everyone always feels sorry for him, but I swear he picked it," Misty says.
When the Wares first spotted their 1957 ranch in 2018, they say it almost looked abandoned. It was a typical brick home with about 23 box woods that had all grown together to create a 5-foot tall fence in front of the home's entrance. Inside, wood paneling, wool carpet and green paint and wallpaper proved the home hadn't been updated in a few decades.
Once the Wares moved in, everything changed. The kitchen is now all white with pops of color thanks to Misty's design eye. That wool carpeting has been replaced with wood floors, and all 17 radiators were stripped out and replaced with central heating and air conditioning. It was a serious remodel, but the couple was careful to maintain the home's character, which they loved. "We thought we would originally flip this home," Chris says, "but we loved it. It's hard to find 3,000 feet on one level with an acre lot." The fact that the home backs up to one of Southern Hills' ponds was also a big selling point for Chris who always wanted to live in the country. Misty grew up having to ride her bike into town, so she wasn't sold on living outside of city limits.
Southern Hills has been the perfect compromise. It's charming and bucolic but centrally located. "I always loved Southern Hills," she says. "I used to drop the kids off at school and then drive through here to look around and get lost. You can just meander in here." Now, she can meander around the neighborhood and spot her own pink front door.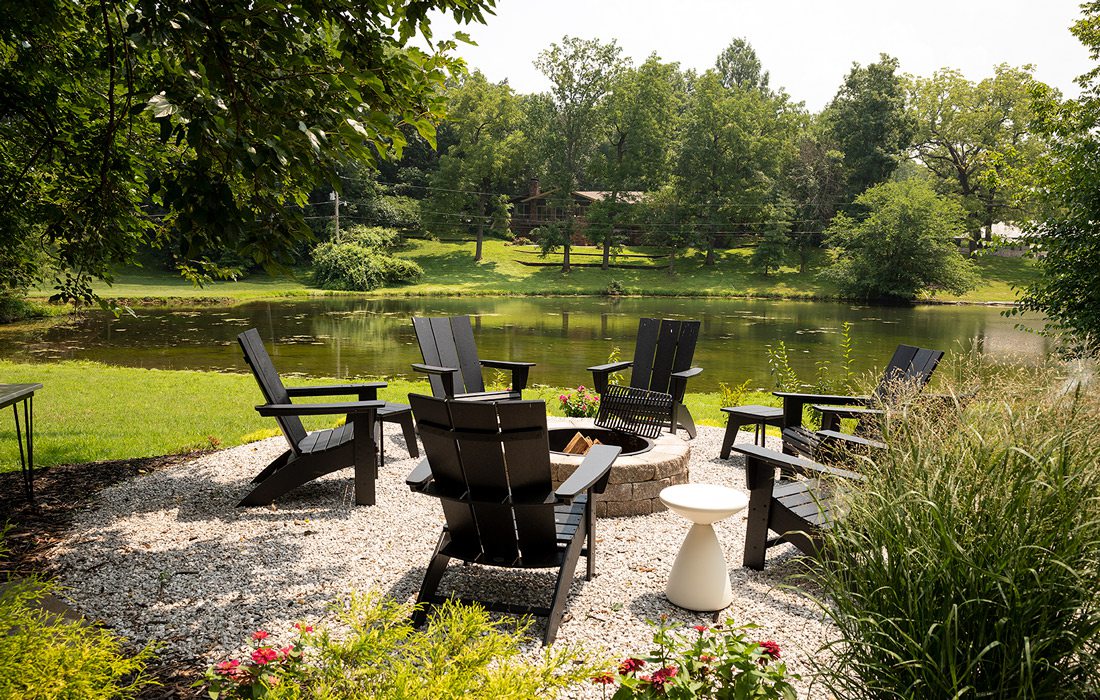 The home backs up to one of the lakes and gives the family a spot to gather around the firepit.
Purchase Photo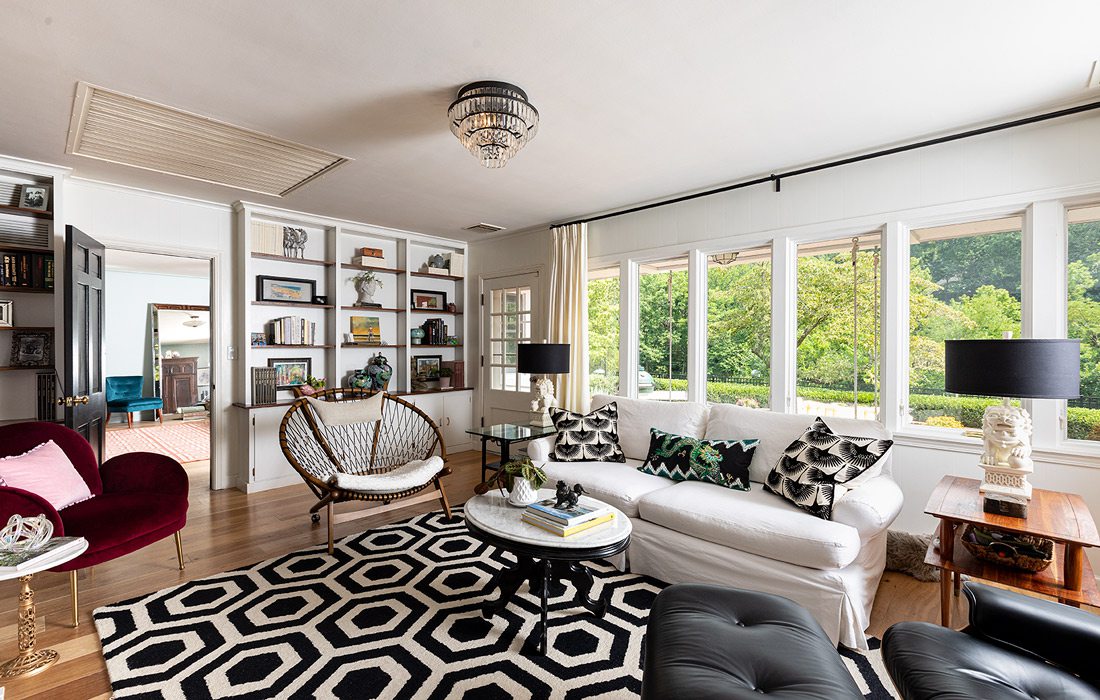 The couple kept the home's original layout in place and updated it with new paint, flooring and windows, The painting (opposite) hangs next to original built in shelves.
Purchase Photo
Photos by Brandon Alms
"I used to drop the kids off at school and then drive through here to look around and get lost. You can just meander in here."
— Misty Ware
Connecting the Community
Watch out Rountree, there's another neighborhood Halloween Parade in town, and this one takes place in Southern Hills. Jay and Lori Hill started the event in 2010. To be fair, Rountree's epic Halloween parade is what inspired them. Before moving to Southern Hills, the couple considered living in Rountree. They were drawn by the sense of community in the neighborhood. "You see a lot of people sitting on their porches and talking," Jay says. "We ended up choosing Southern Hills, but we wanted to figure out a way to get to know our neighbors better."
It took a few years for the Hills to see more young families move in, but once they did, the Hills decided to bring a little bit of Rountree to Springfield's south side. Now, every Halloween, Jay turns the family's front yard into the parade meeting spot. There are popup tents, a firepit, hay bales for seating and inflatables for the kids to play in, and attendees bring all sorts of chili, hot dogs, chips and sides. The first year, the Hills posted hand-written signs around the neighborhood, and Jay estimates 20 people showed up. The second year, the crowd grew to 50, and now more than 100 people gather in costume to celebrate the night.
The event has been such a hit that Jay decided to throw together a similar event for the Fourth of July. The tents are hauled out of storage, tables full of food are set up, and neighbors form a line of golf carts, scooters and bikes all draped in patriotic flair. Someone inevitably brings a vintage car to lead the parade, and the whole gaggle of friends stroll down the half-mile parade route through the neighborhood.
For most people, hosting two big events a year might be enough, but not for the Hills. Jay loves this stuff. His latest event is a kids' fishing derby each May. "Kids ages 2 to 18 are welcome," he says. Contestants spend the afternoon trying to catch the biggest fish. Once they hook a fish, they reel it in, record its length and set it free. (The ponds at Southern Hill are catch and release after all.) The event even has prizes donated from local companies including Bass Pro Shops and Lew's Fishing, and like all of the Hill's annual gatherings, the derby wouldn't be complete without throwing burgers on the grill.

The Don Russell Home
Julie and Pete Garrett loved Don Russell homes even before they found their very own in Southern Hills.


When Julie and Pete Garrett moved back to Springfield after being away for a decade, Julie says she knew she either wanted to live in the country or on the lake. As fate would have it, the couple didn't end up doing either. Instead, they found the perfect hybrid—Southern Hills. The Garretts' chateau-style home looks out on one of Southern Hill's three lakes, and it backs up to another. It also has a natural spring that the Garretts, along with the ducks, turtles and blue heron, all love gathering around. The blue heron actually ate up about 60 koi fish Julie had stocked in the spring before she gave up and let the local wildlife fully move in. "I just enjoy the tranquility of sitting by the water," Julie says.
The Garretts moved into the home 11 years ago after their real estate agent walked them through. "We flew here and bought it within 3 minutes of coming inside," Pete says. Besides the views and the rolling hills on either side of the property, it was the house itself that hooked the Garretts. The home was built in 1984 by architect Don Russell. Russell is arguably best known for building what has been named The African Queen on Lone Pine Avenue.
The Garretts have long been fans of Don Russell homes. Even when they lived on the coast and were collecting nautical-themed antiques, Julie and Pete would decorate their homes in Don Russell's more rustic aesthetic. Like most Don Russell homes, the Garretts' includes a water feature—the lakes. Unlike most Don Russell homes, the Garretts' is contemporary. Live-edge wooden beams and repurposed brick floors have been traded for coffered ceilings, Napoleon grey marble used both inside and outside and lots and lots of mirrors.
The backsplash behind the stove is mirrored, the mirrors in the master en suite fold out for a better view, and the wall flanking the living room fire place is mirrored. There's also a built-in tiki bar because it was the '80s, after all. The Garretts love each and every bespoke feature of their home almost as much as they love the country-esque setting. "There's nowhere like it," Julie says. "It's like having our own nature preserve."

Julie and Pete Garrett's home features grey marble stonework that's used in the back patio and on the living room fireplace.
Purchase Photo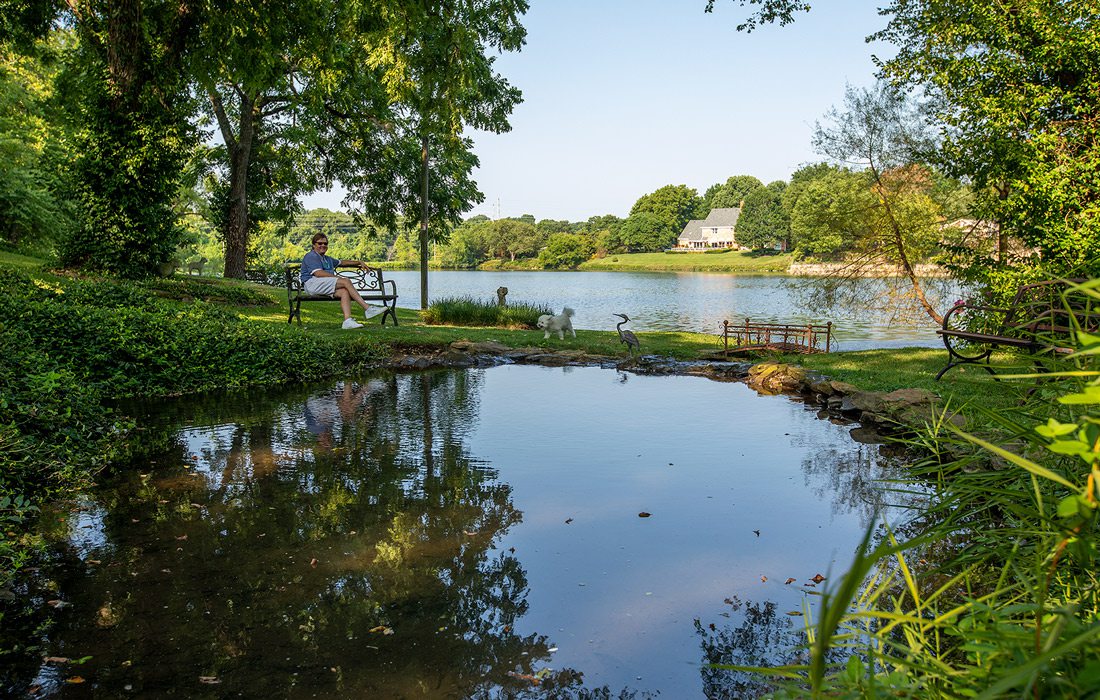 Pete Garrett sits by the picturesque spring on his yard that feeds one of the neighborhood lakes.
Purchase Photo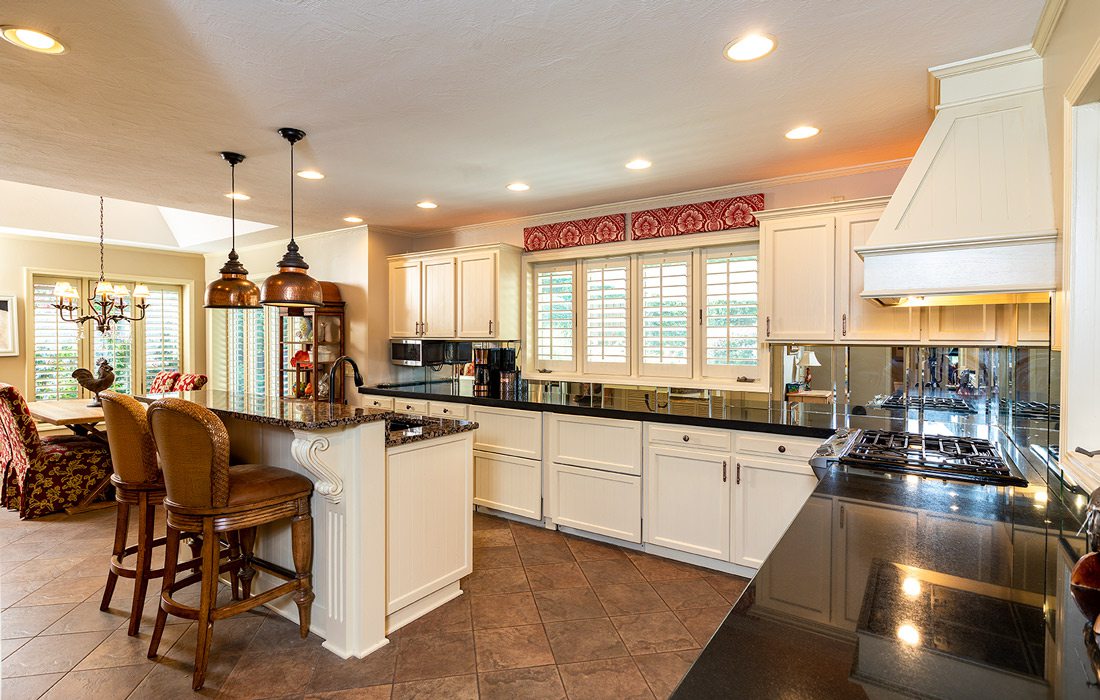 The home was designed by architect Don Russell and features spacious rooms throughout including the kitchen.
Purchase Photo
Photos by Brandon Alms
"There's nowhere like it. It's like having our own nature preserve."
— Julie Garrett
The Character Born from Design
The Heintz home features gorgeous landscaping and a lawn that slopes perfectly down to the water.


You can tell which homes Denise Heintz has updated in Southern Hills by looking at the landscaping. If there are pink flowers or blooms spilling out into the front yard, chances are, that's a home Heintz has remodeled. She remodeled her very first home in the neighborhood in 2007 and is now on her sixth home here. "I just love this neighborhood," she says. "When I finished my fourth home, I thought I wouldn't move unless I can get on a lake." Then she found home No. 6, which sits at the end of a cul-de-sac and faces the neighborhood's upper pond. The Cape Cod-style home was built in the '60s, and Heintz has the original blueprints framed and hanging in her home office, which used to be the formal dining room.
The original plan called for six bedrooms, two dens, one maid's room, but no garage. Each room has been given ample space, which is part of why Heintz didn't remove any walls when she remodeled three years ago. "The new trend is HGTV, gut the home and open them up," she says. "But I try to respect the architecture." As a partner in O'Reilly Development, Heintz spent eight years working in historic preservation, so she wasn't tempted to change this home's layout. Instead, she updated the kitchen, remodeled a few bathrooms, brought the three-season sun porch fully into the home and gave the landscaping some major love. Now, she's seeing more homes undergo their own remodels. "This was an address of distinction back in the day," she says. "Then it got tired, but now it's coming back to life. That's a testament to the builders' original vision. This neighborhood has stood the test of time."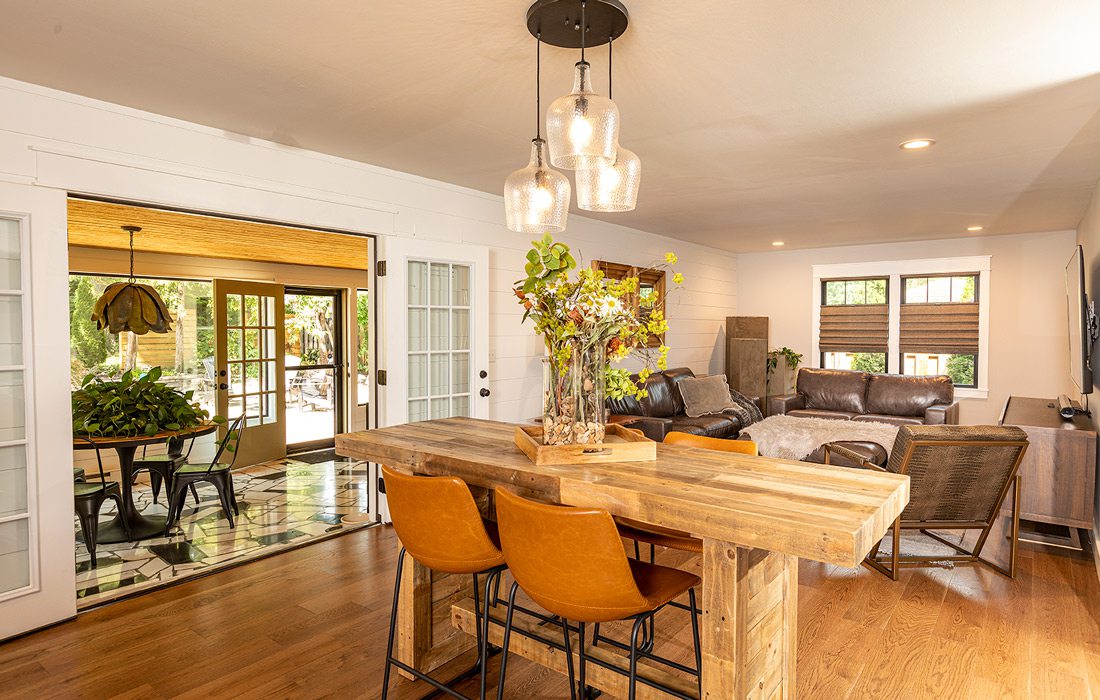 When Heintz bought the home, she did a total remodel to breathe new life into the sprawling midcentury abode. Since the home is so airy, it works great with her more natural color palette
Purchase Photo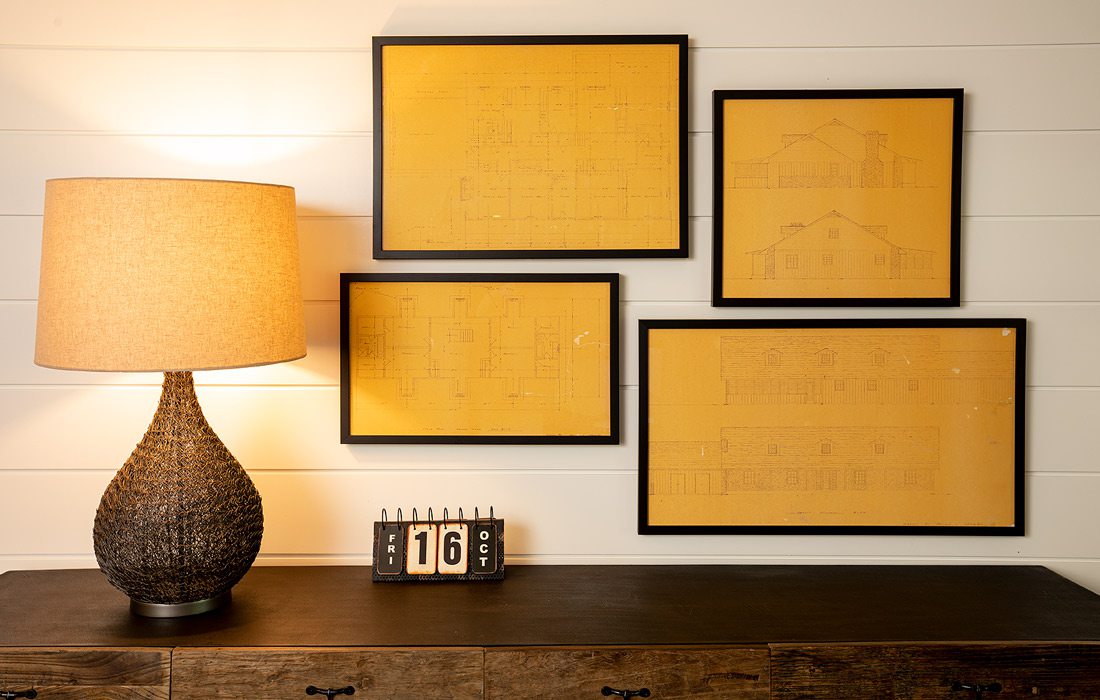 The Cape Cod-style home was built in the '60s, and Heintz has the original blueprints framed and hanging in her home office.
Purchase Photo
Photos by Brandon Alms
"This was an address of distinction back in the day. Then it got tired, but now it's coming back to life. That's a testament to the builders' original vision. This neighborhood has stood the test of time"
— Denise Heintz
The Local Flora and Fauna
The wildlife loves the landscape of Southern Hills as much as the residents do. Here to talk about all the critters they see are two local authors, David Harrison and Jennifer Murvin. Neighbors Harrison and Murvin both own homes with views of the fauna.
Jennifer Murvin: The geese are the most obvious animals out here. They're everywhere. It's so fun to see the baby geese, and you hear them in the morning.
David Harrison: When we bought our lot, the geese were furious. We built on their nesting ground, and they threw a hissy fit. I'd go outside to get the paper, and I'd be greeted by angry geese. It took a while to come to a truce. I even wrote a book about our lake called Goose Lake.
J.M.: We have a beautiful blue heron I've probably taken a thousand photos of, and there are a lot of turtles and tadpoles. At night, you can hear all the frogs start up.
D.H.: One unwanted thing that happens is the occasional run-in with raccoons. We had a bunch in our attic one year. We'd be going to bed, and they'd be getting up to go prowl around the neighborhood.
J.M.: We also have a neighborhood fox.
D.H.: He goes pretty fast. We were standing in the driveway, and the fox came just whizzing by.
J.M.: It feels like a sign from the universe when we see him. It's really idyllic, and you'll see families set up chairs around the lake to fish. It's a magical place.
D.H.: A few years ago, I started to distinguish between frogs and toads, especially during mating season. You can see the boys chasing the girls, and they make a heck of a racket. You can see the frogs at the edge of the pool just yelling their heads out for love.
J.M.: It's like reading Mary Oliver and Amy Dillard. You're walking and closely observing. Like you said, David, you don't realize you're noticing the cues of the seasons.
The Place Where Everyone Fishes
This home has it all: great views, cozy nooks, access to the greenway trail and, of course, great fishing.


Fun fact you might not know about Southern Hills: You can fish here. In fact, the pond behind Brenda Van Eps's home is usually lined with parents, kids and one particularly skilled angler who are all itching to hook a few fish. Some kids even climb the Van Eps's fence to reach their preferred fishing spot, but she doesn't mind. She's often out there fishing herself. Van Eps is the owner of Studio V Design, and part of why she fell in love with this eclectic home at the end of a cul-de-sac is the tranquil lot. She and her husband weren't really ready to move from their home in Brentwood, but as soon as she saw the view from the back patio, she knew it was love at first sight.
"This view sold it," she says. "It was so nice to have a relaxing spot to come home to." The backyard, though small, has all the wooded charm you'd want. Four large oak trees shade the patio, and the previous owner's host as and smattering of perennials grow in lush every summer. "I try to plant a lot of flowers every year," Van Eps says. "I don't know if I do the last owner any justice, but I try." Just across the pond, you can see the greenway trail that zigzags through Southern Hills.
During 2021 when COVID-19 kept the family at home, Van Eps says they were constantly on the trail. Her two boys still use it to walk to school and to their summer swim team practices. Van Eps says she even saw two coyotes standing on the trail one winter after a heavy snowfall. Because her backyard is close to the lake, it's nesting spot for one doomed pair of geese who can't seem to avoid having their eggs stolen each season. It's just charming out here, wildlife, fishing and all.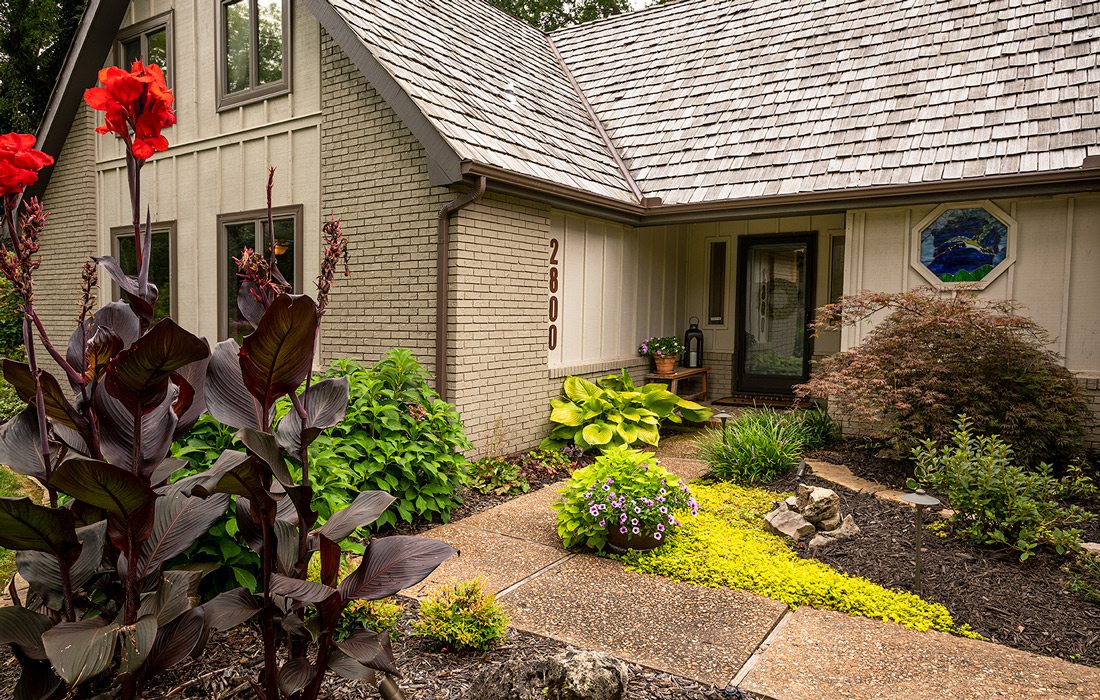 The Van Eps home's landscaping has a mix of tropical perennial and shade-loving greenery.
Purchase Photo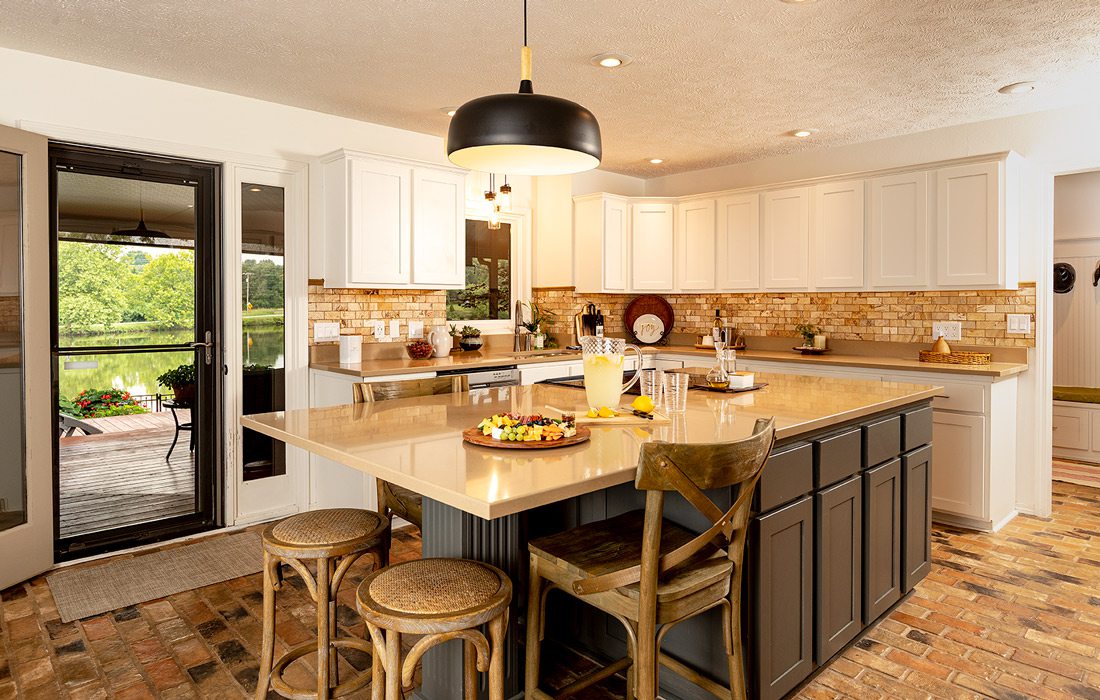 Originally, Van Eps wanted a home with larger bedrooms, but now she loves that this home has a large kitchen and living room where the family can gather.
Purchase Photo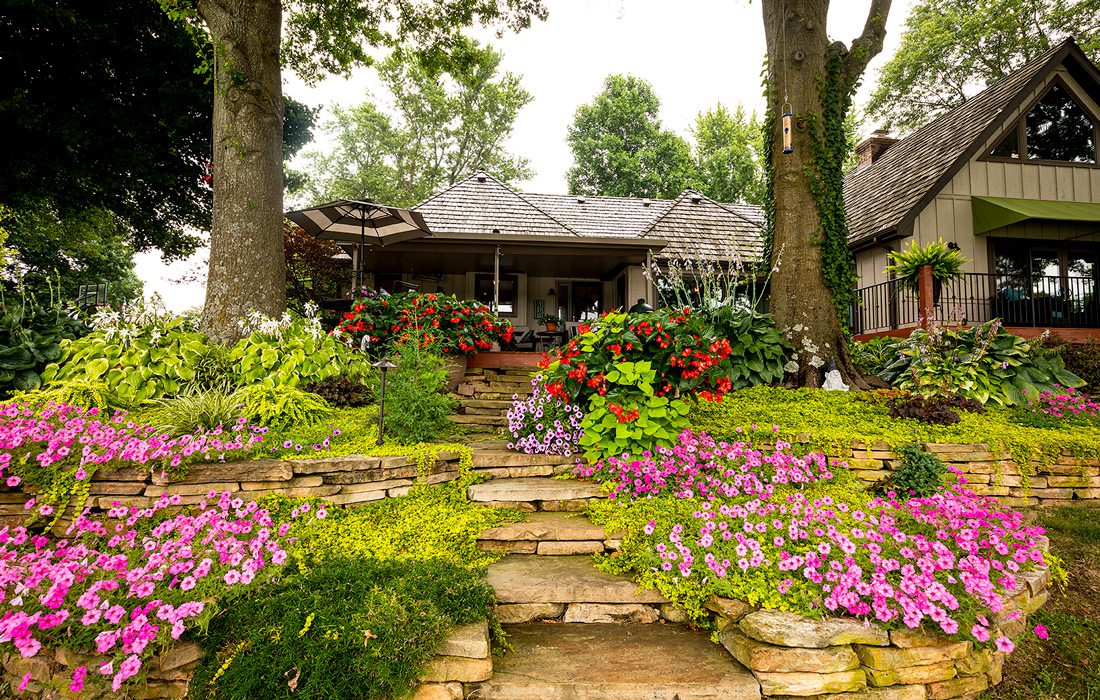 The home backs up to one of the Southern Hills ponds, and it's common to see people fishing on it.
Purchase Photo
Photos by Brandon Alms
"This view sold it. It was so nice to have a relaxing spot to come home to."
— Brenda Van Eps