Home Profiles
How to Turn Your Lake House into an Atlantic Haven
This lakeside home elegantly combines the spirit of Cape Cod with the beauty of southwest Missouri.
By Lucie Amberg
Jun 2021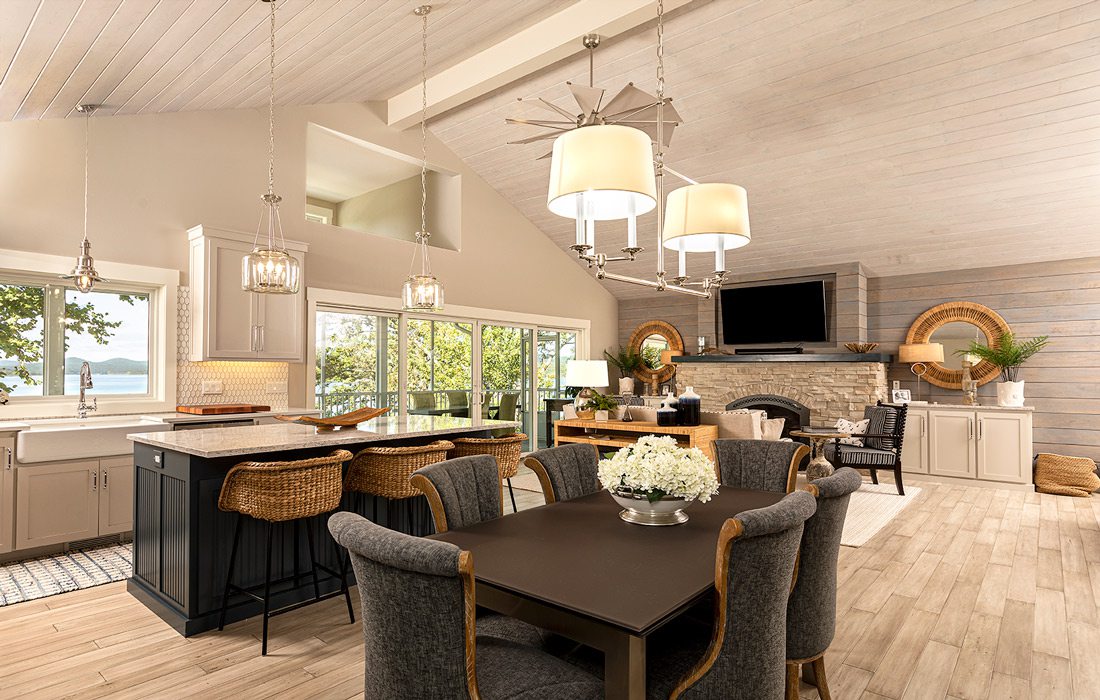 Like many people, Sherri Mocker wanted her home to feel like a soothing retreat, the kind of environment that greets you like a beloved grandparent's hug. For her, these feelings are most associated with the East Coast seashores where she spent her childhood. When she and her husband Jeff built their lakeside home, they infused their piece of Ozarks paradise with Cape Cod style. The end result speaks to the couple's shared love of sailing and the understated serenity of iconic Atlantic towns like Nantucket and Kennebunkport. 
Achieving this vision meant maximizing the property's prime location on a secluded cove, which provides stunning views of the lake, hills and sunset. As Mocker says, "When I grew up in New England, even when it was cold we had places where we could look out at the water. We could snuggle in with blankets and still enjoy [the view]." So the structure features many windows, which illuminate the home with natural light and keep the outdoor beauty front and center. And it offers intimate, "niche-y" spaces where someone can cozy up on their own, a common feature in New England. 
The Mockers collaborated with Cindy Love of Cindy Love Interiors to outfit their dream home in beach-inspired furnishings and designs. On the main level, Love focused on nautical elements, such as weathered wood, along with navy accents and clever touches, like a ceiling fan with blades made from sailcloth. Upstairs, Love doubled down on the energy of a shore-side stroll, bringing soft blues and greens—the colors of sea glass—into peaceful living spaces. 
And it worked. "When I come home, it truly feels like my home," Mocker says. "It makes me feel like I'm back home with my grandparents."
How to Style It 
1. Think texture
Intentional fabric and fixture choices can give your space an Atlantic makeover. First, Love recommends forgoing brushed nickel or bronze fixtures in favor of polished chrome. You know the kind she means — something shiny enough to earn you shore leave. Then, contrast it with weathered finishes, like the custom stains in the main room of the Mocker home, and seaworthy fabrics, like crisp linen. If you need a starting point for classic upholstery, she suggests checking out the brand most closely associated with East Coast style: Ralph Lauren.  
2. Take cues from your own surroundings
For the Mockers' lakeside home, Love avoided patterns with lobsters, starfish or anything that felt closer to Bar Harbor than Branson. Instead, she zeroed in on design elements like anchors and stripes, which easily adapt to either fresh- or saltwater settings. Love placed lanterns throughout the house as both lighting fixtures and accents. As she says, "You want it to feel like it belongs at the lake."
3. Bring green inside
Anyone who visits the Mocker home will be awed by its lake view. Love underscored this indoor/outdoor energy by placing plants throughout the house. One of her favorite tricks? Using high-quality artificial versions, especially succulents. "They look incredibly real," she says. And thanks to their low maintenance, they're an especially good choice for vacation homes and weekend retreats.